Levante means rising in Italian and the SUV now accounts for over half of Maserati's sales. Initially available only as a diesel in RHD, we check for added levity in the petrol-fired S Gransport.
At the launch of the Levante a couple of years ago, all models came with a default 3.0 V6 turbodiesel. But the big markets got petrol power so eventually we'd get the same, and so it came to pass. Here we drive a 3.0 V6 petrol variant of the Levante in S GranSport format, an Italian stallion of sorts.
Well, a colt perhaps for a Levante V8 is promised; the 3.8-litre twin-turbo V8 generates a heady 433kW and 730Nm in Trofeo trim, and that's evidently sufficient for a sprint time of under 4.0sec. The other powertrain coming next year is a PHEV which will eventually replace the diesel. A new smaller SUV is also promised from the group, using a new platform.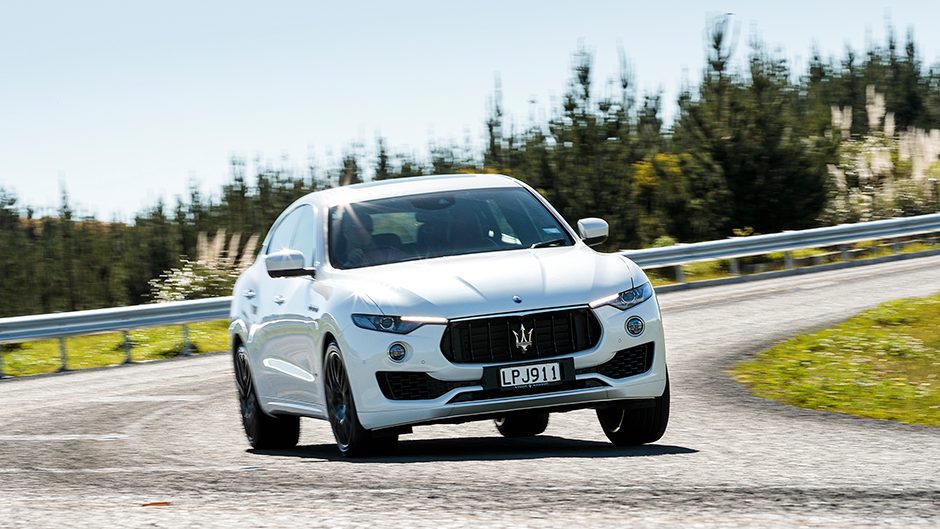 While awaiting the apex Levante, this V6 example with a wannabe V8 soundtrack must do. You'd kind of expect it to make some noise, given the Maser-designed V6 is built in the Ferrari factory at Maranello. They've done a truly swell job of giving the twin-turbo V6 a rebel yell, and on hard-core upshifts there's a metallic whooshing rasp from the exhaust that's rather stirring. Only on Sport modes mind, when an exhaust bypass valve is in action. The GranSport starts up with a pleasing hiss and a roar too. Perhaps not so soothing for the neighbours but sod them.
Also rather alluring is the red leather interior, extending up into the dash tastefully in this up-spec GranSport model. Italians are rather accomplished in this department and the seats themselves are well shaped, powered and heated, with ventilation an option. Not quite so well executed, the rather tight space for the left foot rest but it's something you soon forget, until next time. Still, being able to brace a knee either side is a plus in a dynamic high rider.
A couple of functional aspects detract, the small screen not being a big deal, but the old-school PRNDS gearshift layout certainly does. Unless you're deliberate it's too easy to hit neutral or park instead of reverse, all being so close together. Nowadays, in the luxury sector at least, it's forward for Reverse, back for Drive and Park is set elsewhere. Owners will get used to this, but will curse it in the learning phases. A fix is coming soon.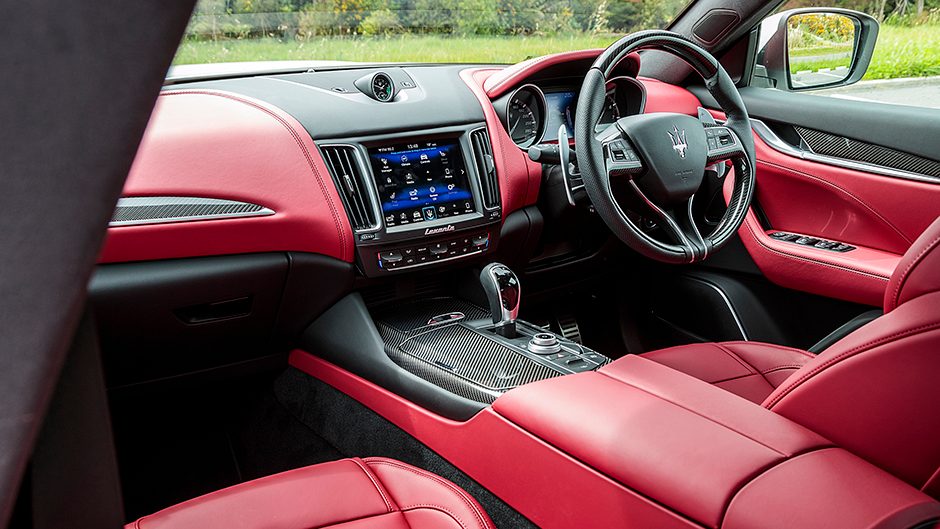 On the style front, Levante scores, partly explaining why every other Maser sold is one of these big boys. It's sizeable at a smidge over 5m, making it reasonably roomy in the back, enough for two adults to lounge, and with decent enough if not class-leading luggage space of 580L. Extending this by split folding is a cost option.
Externally it doesn't look so big on account of it having a coupe-style sloping roofline. Up front the Levante bears the aggressive Alfieri-style grille, and three distinctive vents along the front fender signify its Maser-ness. Exaggerated hips and four tailpipes add flair. Owners will appreciate the doors that overlap the sills, preventing dirt from soiling trousers upon entry or exit. Not that many will take it off-roading, but it's certainly up for that.
It's the added zip though that potential owners will surely appreciate, with no loss of towing ability (2700kg braked). The diesel performs okay, with a sprint time and mean fuel use around the 7.0 mark, but the V6 petrol brings a lot more power to the equation, up from 202 to 316kW, while torque is only 20Nm shy of the oiler's figure.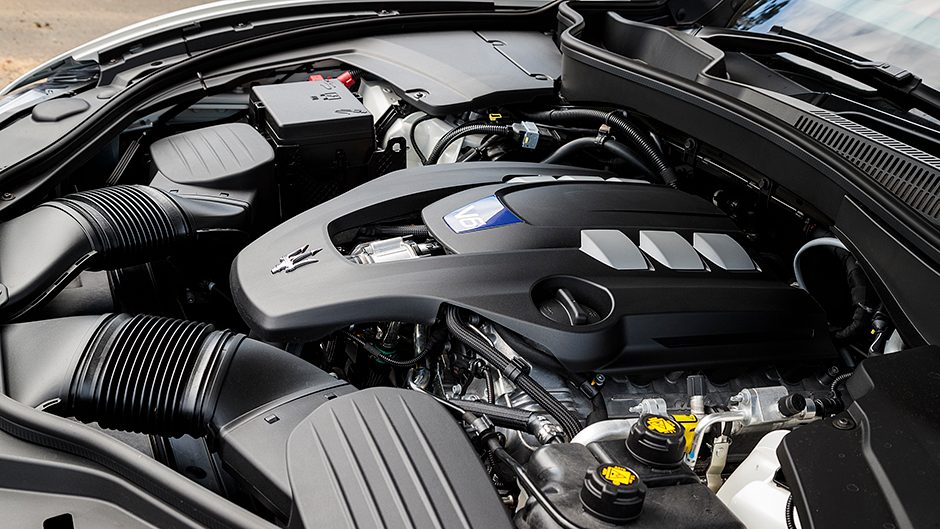 While Maserati reckons 100km/h takes 5.2sec to register, our's didn't quite. But it's quick enough, if not quite in V8 SUV territory. The parallel turbos give solid in-gear bursts of acceleration when using the Sport settings. Even in Normal, there's a heap of low down urge on tap.
Ease back, set active cruise to 100 and fuel use settles around 7.5L/100km (combined figure is 10.9L/100km). Get nasty and it averages out around 16L/100km. Minimising overall fuel use is a smooth underbelly, and reduced ride height at touring speeds. There's also an active grille shutter in which we accidentally trapped a poor little yellowhammer. Levante's Cd rating is amongst the lowest in class at 0.31. Double glazing helps reduce cabin noise too, important in a big mile-munching SUV. Sound levels in the low seventy decibel range seemed acceptable given the big asymmetric 21s under foot.
On the go, you're quickly seduced by the siren sound of the Sports modes, of which there are two. In the first Sport setting (single light) the engine is more responsive while suspension remains in its relaxed mode. In the SuperSport setting (two lights showing) all systems are honed for optimum performance and dynamic duties.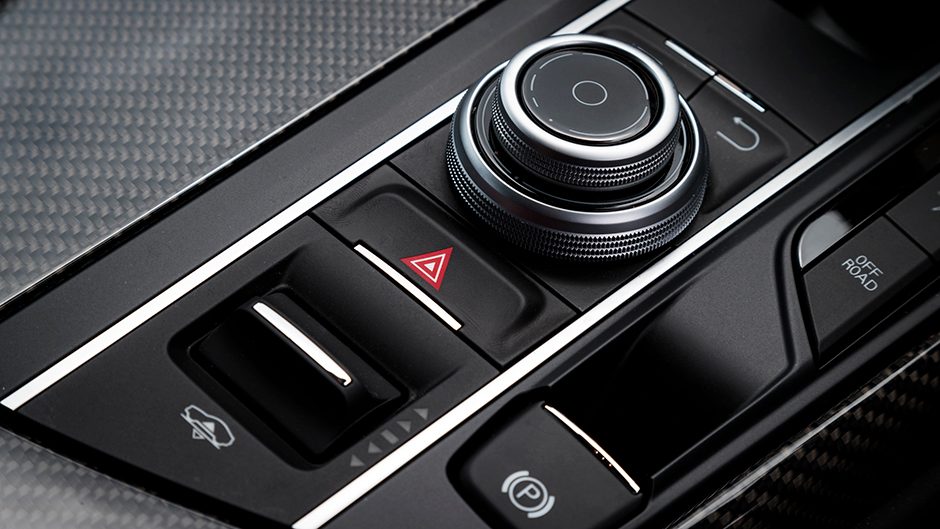 From about 2000-4500rpm in any given gear the acceleration is heady, an 80-120 pass taking just over 3sec for this version versus over five for the diesel. Best performance however resides between 4000 and 6000rpm. It's meant to do 264km/h tapped out, and the speedo extends to 310, presumably in preparation for the V8 version.
Dynamically, it's a bit good too. So it's no GranSport (meaning the Coupe) but with 2260 elevated kaygees, you'd not really expect that. On the other hand, it doesn't shy away from a ridge runner that a sports car might destroy. This merely hacks away with intent. For what lies beneath is a host of engineering goodies aimed at keeping driver and occupants both safe and satisfied.
All Levantes are permanent 4WD, with torque splitting both north and south (centre diff) and side-to-side (torque vectoring by brake). There's also a mechanical LSD at the rear, air suspension and adaptive damping. Set everything to double Sport and the generous ContiSportContact5s hold fast, the body roll reasonably contained and progress relatively quick.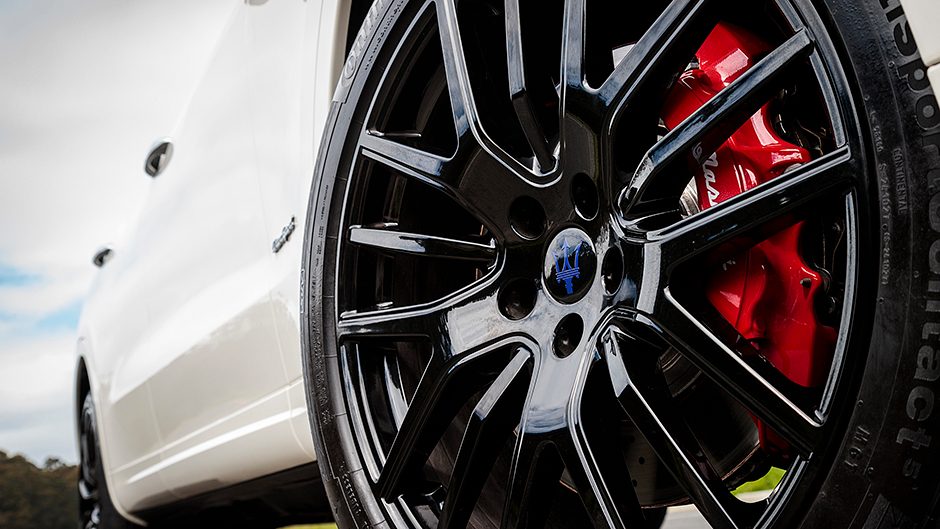 Any incipient understeer is nobbled by independent wheel braking. Mention of those, the Brembos on board are stellar, some of the best stoppers in the sector we've encountered, with excellent bite and pedal modulation. A crash stop of 34m ain't bad either.
Where it doesn't quite compare with the best in class is the ride and handling balance, the former not being quite as nuanced. And that's particularly the case in the lesser of the two suspension modes where sharp breaks in the road surface upset progress, making the ride feel nervy. Much of the time we therefore had this set on the top Sports mode where there's less bodily impact of hard edged bumps. And given there's a button for full manual transmission control, you just drive the car by its fixed paddles. Otherwise, it hangs around in fifth or sixth at 100km/h.
What comes with the upfront cost? GranSport spec includes 12-way electric seats with heaters, a powered steering column and fifth door, a 1400wpc HK audio system, a panoramic glass roof, soft close doors, comfort entry, sonar both ends and 21-inch rims. Bi-Xenons mix with LED daytime running lights. New driver assistance aids include blind spot monitoring, lane keep assist, adaptive cruise with stop and go, and a 360-degree camera to aid parking.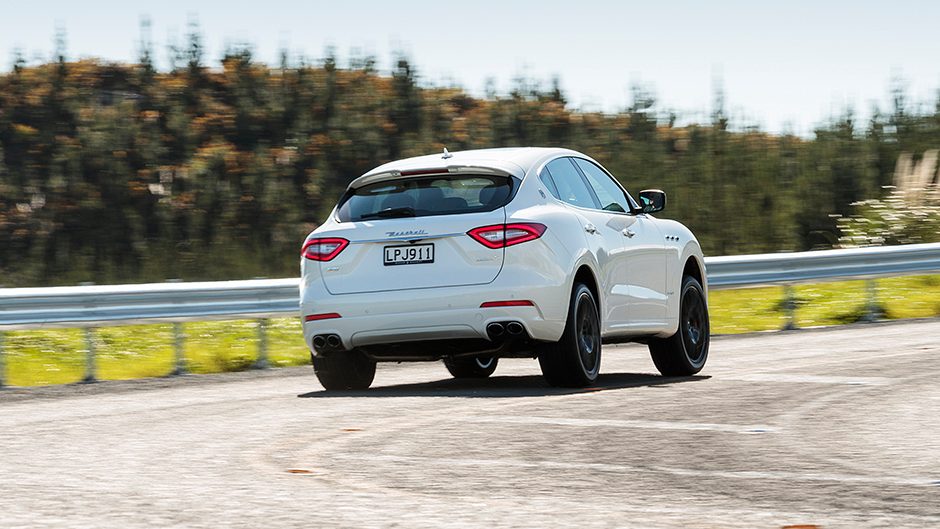 Action in this area is intense, with offerings like Cayenne, Q7, X5, RR Sport, AMG GLC 63, and the incoming F-Pace SVR. The Levante offers something a bit different, something that tugs at the heartstrings, with visual and aural appeal, and a distinctly sporting bent. It has a few annoying foibles – it's Italian, and has been around a while – but on the whole delivers, the only real spoiler being the uneven ride quality accompanying the normal mode setting. Incoming PHEV and V8 versions will generate further interest.
| | |
| --- | --- |
| Model | Maserati Levante S GranSport |
| Price | $174,990 |
| Engine | 2979cc, V6, T/DI, 316kW/580Nm |
| Drivetrain | 8-speed auto, all-wheel drive |
| Fuel Use | 10.9L/100km |
| C02 Output | 253g/km |
| 0-100km/h | 5.47sec |
| Weight | 2261kg |