Audi launches a new, bigger A8 into a market area that is shrinking with people preferring SUVs. But are such buyers missing something by sidestepping the traditional limo like the A8? We find out.
How things change in a generation. Audi's top sedan used to cost almost a quarter of a million dollars, and was powered by a 4.2L V8 turbodiesel. It had 800Nm on hand from 2000rpm, and let rip with a punch that the latest model, the fourth generation, cannot reproduce, the 500Nm peak torque figure of its smaller 3.0 turbopetrol V6 paling by comparison. However, it is developed lower at 1370rpm and extends to 4500rpm. Oddly enough, the power figures virtually overlay one another, around the 250kW mark, as do the fuel use figures of circa 8L/100km. Weight is much the same too and as a result of the similar figures the performance data are little changed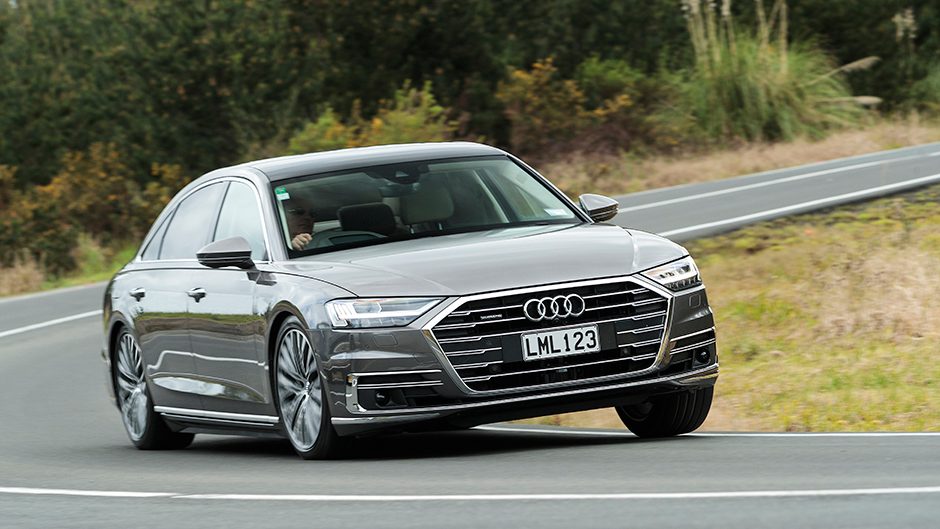 Yet the latest A8 sedan costs just $174,900. That's a saving of over $70k, so moving from diesel to petrol power for these big sedans not only improves the bouquet in the garage but saves you enough to employ a chauffeur for the year or so if you're an A8 owner. But would you want one? Maybe, if you're averse to driving and public transport, given the top Audi sedan only comes in A8 L for long wheelbase format now. Or perhaps if you have really tall family members.
The new A8 not only has more room but also more high tech features so why the major price drop? Demand for such vehicles continues to fall with luxury category transactions dominated by the big full-of-fruit SUVs. And diesel has become a dirty word, with the recognition that no matter how well the manufacturers might clean up exhaust emissions, they still don't really pass muster in real-world testing.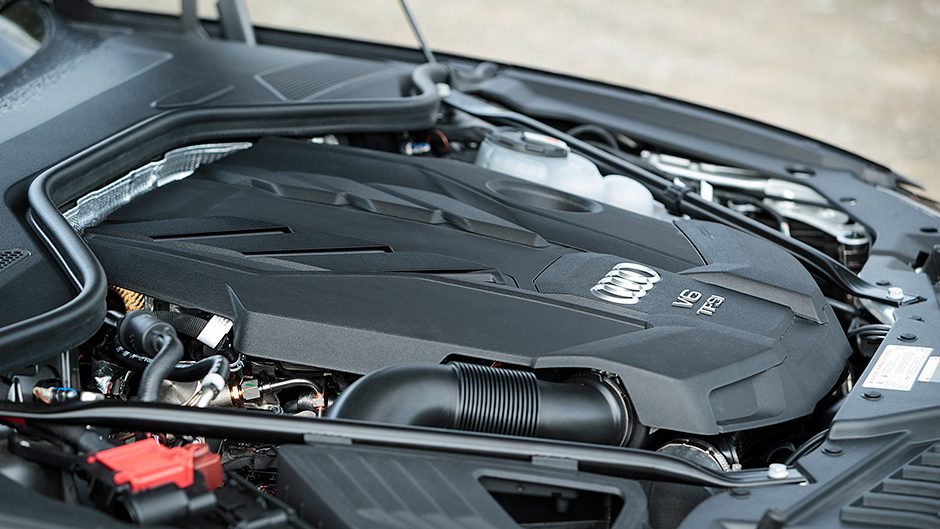 And so the latest A8 doesn't have any form of diesel engine here in New Zealand. Instead, it gets a 3.0-litre turbocharged V6 developing less than two-thirds as much torque. However, onboard is a 48v mild hybrid system so its belt starter generator chimes in to perk up performance when need be, with an extra 12kW and 60Nm.
It can even take over as primary propulsion in certain circumstances (constant speed, on the flat, for up to 40sec). There's also an extended stop/start function. The mild hybrid system supposedly reduces fuel use by a claimed 0.7L/100km, its 8.0L/100km real-world average fuel use figure hardly unreasonable.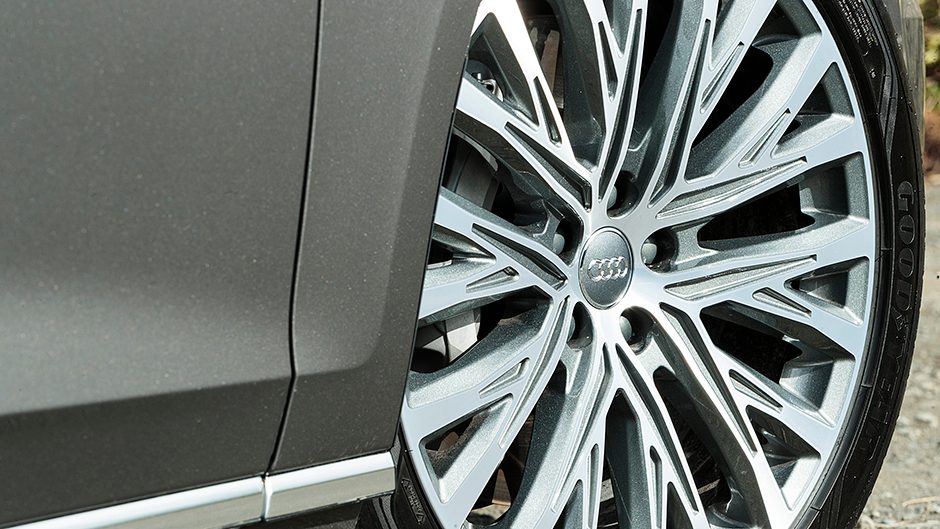 With this smaller V6 engine, you'd rightfully expect the latest light-weighted A8 would weigh less than its forebear. But no, sadly. The chassis is lighter by 10 per cent but the car's heavier overall by 30kg. So the chassis is 24 per cent more rigid but at almost 2.2 tonnes this is no feathery thing, though in this class all weigh much the same.
Explaining the extra kaygees is the added acreage, visible mainly in the rear doors. Length extends to 5302mm, with a wheelbase of 3128mm. There's more technology too; rear wheel steering adds hardware mass. Plus it's AWD. You certainly notice the extra space inside, mainly in the rear of the vehicle, where there's an additional 13cm of legroom, sufficient for all but the tallest of bipeds. It's a relaxing, no, soothing place to be, especially if you're not much one for driving. Smart too; the doors won't open if a cyclist is approaching.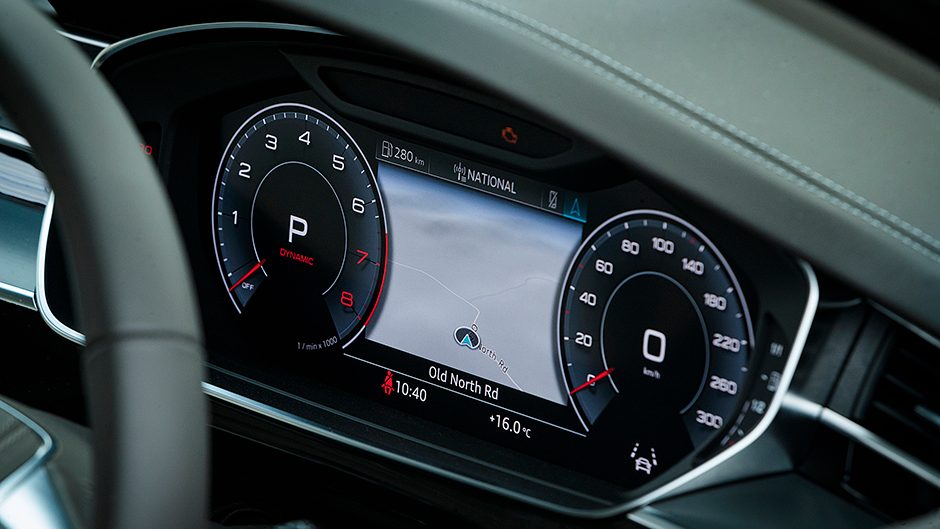 If there's any one thing that suggests the new vehicle is fired by something a little smaller and less Herculean than before, it's the initial lack of drive out of the starting blocks. It's most noticeable when you're not really in a hurry. Perhaps that's a result of a long travel gas pedal, the initial hit taking a bit more foot movement than with other vehicles. It's something I never quite got used to.
If you are actually doing the driving, this never feels as big as it really is, thanks to four wheel steering. Once you've cancelled the lane keeping device, it steers in a manner that feels more A6-like for size. The reason is the contribution of the rear wheels to turning, something that's abundantly apparent in close confines, like parking. Which it can do for you. The turnarounds are simplified too because its turning circle is little bigger than that of a A4 or Q5, at around 11.5m.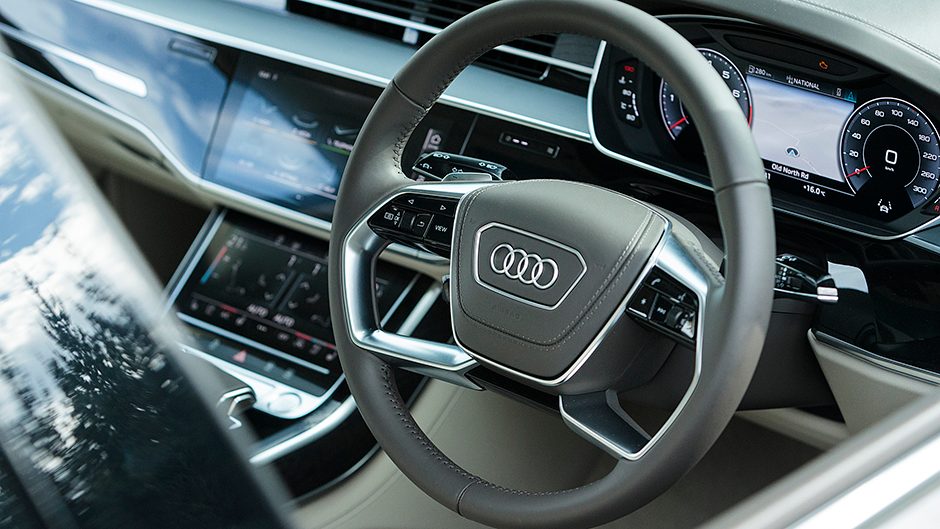 The latest A8 is theoretically capable of Level 3 autonomous drive, but not just yet for technical and infrastructure type reasons. Most western countries are evidently in the same boat as us, Audi's Vorsprung Durch Technik (advancement through technology) somehow leapfrogging existing systems and awaiting their catch-up next year. It's the same for promised items like Traffic Jam Pilot, AI suspension and one-touch self-parking.
As it is the A8 can only do what most other luxury cars can manage at present in terms of autonomy which is essentially maintain lane centrality, and keep the correct distance from the vehicle in front for a given speed. You still need hands on the wheel and eyes focused ahead. The car for the most part steers itself when on a motorway or expressway and under cruise control. There's also new intersection assist functionality, akin to rear cross traffic alert, only for the front of the car.
We drove the A8 in and out of town, even on metal roads where at no time did it ever feel anything other than calm and assured, thanks to constant AWD and adaptive air suspension. Over the occasional sharp bump the air suspension doesn't act quite quickly enough, but for the most part this is pillowy, and exceedingly quiet. The interior is sumptuous, all four pews in our car with massaging seats. Not only do they dig deep into your lower back muscles but right up into the shoulder area, with six or seven different programmes.
In this type of vehicle it's the little things, the attention to detail that you actually do notice. Like powered closing doors, window blinds that open individually or together, separate sunblinds for the dual sunroof set-up, and all controlled from the rear by an iPad Mini-like device.
We had a bit of bother with the new MMI Touch system, which didn't seem to want to respond to the usual stabs. Rather you need to push and hold briefly, and wait for the click. High res screens and various instrument views you come to expect in the upper level offerings these days. There are also matrix reading lights, sound-cancelling devices, wireless charging, head-up display, Virtual Cockpit and two big central touch screens, four zones of air, a powered bootlid and lots more besides.
If you think you've underspent on your new limo, there are some high tech cost option packages available. The pampered pooch would rather one didn't spend $7500 on the individual rear seats, as that seriously reduces the ability to spread across all three pews. You can option full leather everything for $19k, rear seat entertainment (screens etc $9000) and Bang and Olufsen 3D sounds for $15k. OLED and laser lights cost $8k, the latter supposedly illuminating things for over half a km so if you do a spot of night driving, why not?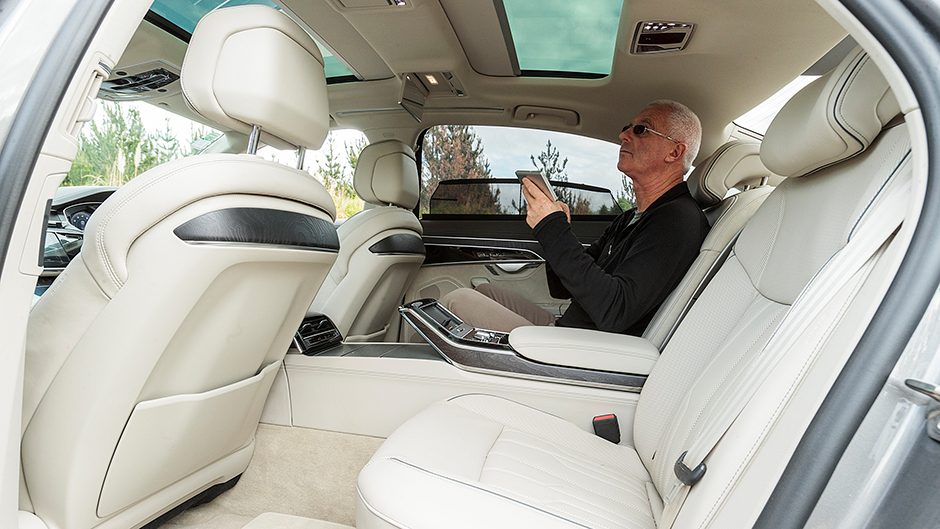 And the competition? Lexus LS500 kicks off at $225k, a 740i costs $202k, and an S560 is $220k. The closest rival is an S350d, a rear-drive 3.0L V6 diesel powered sedan going for $177k. Perhaps the value pricing partly explains why A8 won World Luxury Car of the Year in 2018, beating out Panamera, among others.
| | |
| --- | --- |
| Model | Audi A8 L 55 TFSI quattro |
| Price | $174,900 |
| Engine | 2995cc, V6, T/DI, 250kW/500Nm |
| Drivetrain | 8-speed auto, all-wheel drive |
| Fuel Use | 8.0L/100km |
| C02 Output | 184g/km |
| 0-100km/h | 5.90sec |
| Weight | 2177kg |