Toyota's new cars are changing. Take Corolla. Where it used to be agreeable it's now aggressive, and it sure looks the part. But does it drive sporty and can it compete with Mazda3? We drive the ZR and SP25 to find out.
There was once a time when Corolla and Mazda3 were the best sellers for the respective Japanese companies but those times are long gone. Corolla numbers locally are good but most are rental sales.
However, there seems to have been a minor resurgence in small car interest lately with rapidly escalating petrol prices. Economists are saying fuel could cost around $2.70 per litre by next year so sophisticated small cars like this may get a second wind.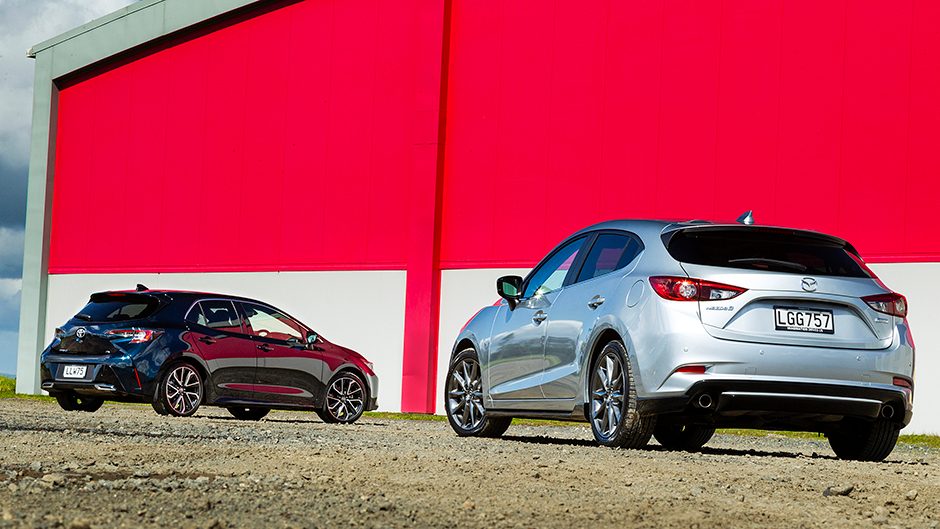 With the launch of the latest Corolla, the 12th generation, we thought it timely to compare the top model, the ZR, with the similarly priced SP25 from Mazda, both selling in the late $30k area. We could only source an SP25 Limited to drive for this comparison. It costs $47,495, whereas a regular type SP25 goes for $39,895, a closer match for the Corolla here.
For the purposes of this comparison, we'll reflect on the specification of this model. It misses out on things like full leather trim, LED lights and the like. Yet the top Corolla has these features plus a full-on safety suite for $37,490 under its Drive Happy (low price, no haggle, drive-away) new vehicle sales strategy.
No doubt with a little negotiation you'd pick up an SP25 for similar money. However, the Toyota comes with WOF and rego and a full tank of gas, though warranty of three-years/100,000km is bettered by the Mazda's five-year unlimited kay warranty which includes three years of servicing. That said, Toyota offers a servicing schedule ($195 a pop) and if all services are ticked off the new car warranty extends to five years. So on the face of it, the Corolla offers more for less. Does that make it the better buy?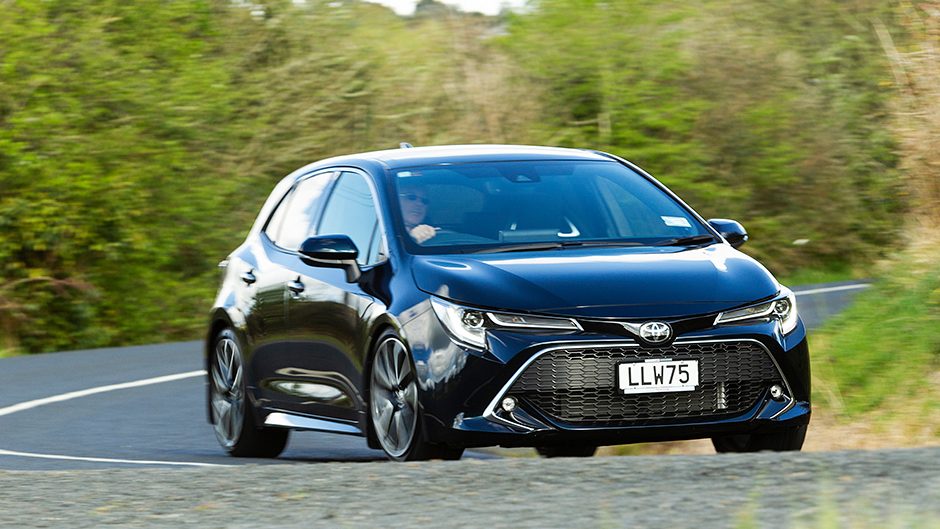 ChChChChChanges
The Corolla really is a comprehensive renewal, with pretty much new everything, and is evidently the biggest Corolla shake-up ever. New underpinnings are shared with CH-R and Prius, being the TNGA platform (Toyota new global architecture). It's said to be 60 per cent stiffer, and offer a lower centre of gravity, along with better front rear weight split, (62/38, but still not up with the Mazda's 61/39). Front suspension is updated, while the rear swaps a torsion beam for a multilink set-up, despite that eating into boot space.
The body is longer, wider and more grounded, and styling's much more aggressive. From merging into the background, Corolla now looks toned, sporty and fun. It's the best looker since they minted the original, roughly forty-four million ago. 'Emotional' the firm calls it, and gives the well regarded Mazda3 hatch a run for its catwalk money.
The two aren't dissimilar side by side, apart from the signature bits like lights. Inside, they're chalk and cheese, though both have big central tacked-on touchscreens. The Mazda's can be manipulated by its a rotary controller, quite intuitive, whereas the Corolla doesn't bother with one of them. The Toyota's instruments feature a trip computer between the main dials, but it's almost info overload, with numbers scattered about haphazardly. Still, Corolla has a vastly superior head-up display, a proper sized one, making the Mazda's look mean and small, which it is.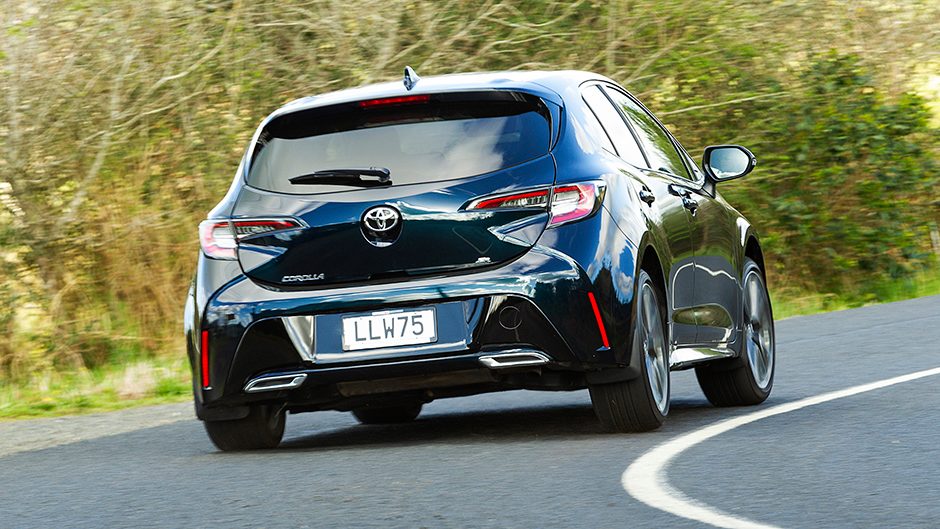 Safety to the fore
Safety fitout improves, with all Corollas being armed with the Toyota Safety Sense package. This includes AEB, dynamic radar cruise control, and automatic high beam assist. The system detects both pedestrians day and night, cyclists during the daylight hours. All models get lane keeping and centring – the system can recognise the roadside when there are no road markings – and road sign speed recognition (M3 also has this). Completing the package is a reversing camera, seven air bags and blind spot monitoring. Both cars come with the top ANCAP safety rating.
The Mazda can't match the Corolla's safety list, with manual rather than active cruise, and no lane keeping but does come with AEB, RCTA, and driver attention alert. ZR gets comfy powered sport seats covered in a mix of leather and suede, heaters too, along with a flash JBL sound system to the SP25s manually operated cloth offerings and Bose sound. LED headlights too for Toyota versus halogens for the SP. Atop this is the Corolla's lower upfront price.
Three still the speedster
The powertrain is perhaps the most interesting Corolla update. It still uses a CVT but incorporates a start-off gear to get things humming more quickly. Oddly enough, there's really little difference in the sprint time compared with the previous ZR, mainly because the new bigger Corolla is also a swag heavier.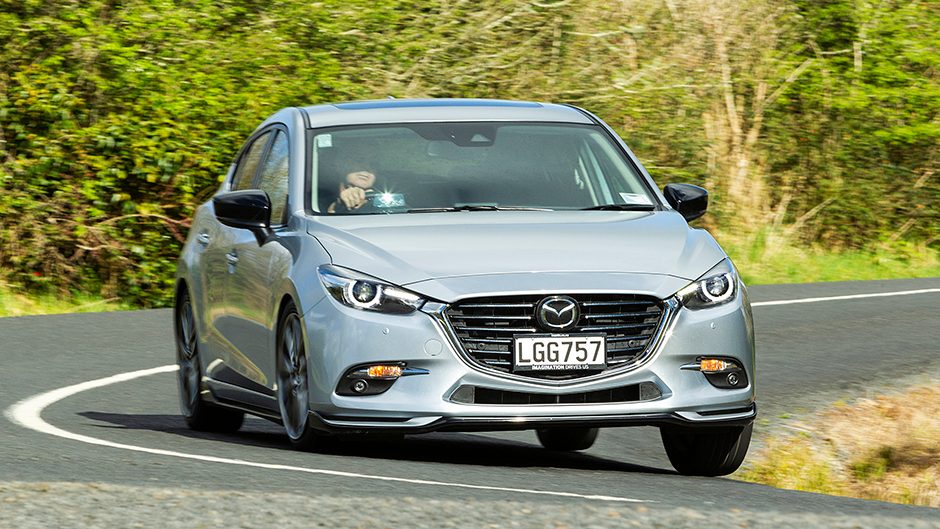 Where it used to weigh 1280kg, the new one scales up at nearly 1400kg. Fortunately, the bigger 2.0-litre engine offers one-fifth more power than the outgoing 1.8, at 125kW and 15 per cent more torque at exactly 200Nm. Despite the increased output the claimed fuel consumption actually drops fractionally to 6.0L/100km.
Respective figures for the Mazda are 138kW and 250Nm from its 2488cc four pot. It has virtually the same overall fuel use figure of 6.1L/100km. And being 23kg lighter than the Corolla it gets a weight to power advantage. Corolla performance improves with the stronger engine, despite the weight gain, the sprint time down from 9.1 to 8.9sec, while the 80-120 overtake improves rather more, back a whole second from 6.7sec to 5.8sec.
That's still not enough, however, to get the edge on the opposition, SP25's respective times of 7.7 and 4.7sec still showing clear air. Still the disparity is rather less than once it was, and the Corolla can now give a good account of itself without having to be beaten with a big stick. Moreover, when you back the hell off a bit its tall gearing and highly efficient engine with port and direct injection systems – said to be the most thermally efficient ever – quickly has fuel consumption out of the double figures (barely) and into the sixes.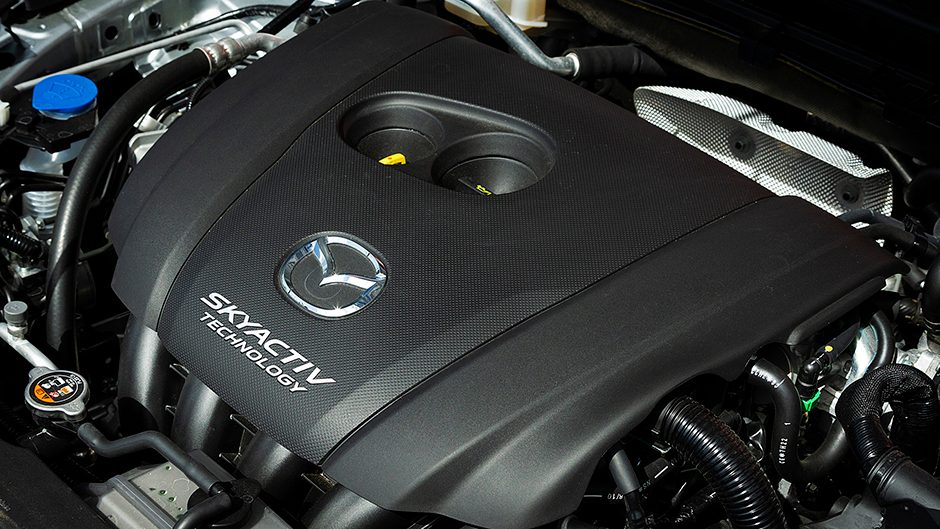 The Mazda isn't much different, and on an out of town jaunt was hovering in the low sevens two up. Both engines perform noticeably better in the Sport settings. And each gives of its best when driven using the paddles. Equally though, they work pretty well in the auto setting, the Corolla doing mock shifts and with a handy 10 steps to the Mazda's six regular gears. We took to the paddles in the Mazda when in Sport mode because it tends to hang out in fourth or fifth at 100km/h otherwise. Brakes on both are right up to speed, each with genuinely decent pedal feel.
Both somewhat noisy
While the Toyota certainly looks sportier than before, the engineers haven't taken things quite as far as Mazda which has been doing its zoomy thing for years. And it shows, though the SP25 is still a bit too loud on chip seal surfaces. This is a long standing complaint with the smaller Mazdas but you can kind of understand the disparate demands of weight saving on the one hand, noise abatement on the other. An in-cabin figure of 75dB compares with the Toyota figure of 73.8dB. Neither engine sounds that sweet when being hit hard either, especially the Corolla. The latter's tyres generate minor harmonics too.
Back to cornering though and there's more roll and squeal on the limit in the Toyota where the SP25 arced through our photographic corner easier, with a touch more wheel heft, though there was little speed disparity between them. As noted in the launch drive, the slightly more compliant Toyota suspension bottoms out gracefully at times, something that was not in evidence when we drove the Mazda over similar roads. But we preferred the ride of the Corolla overall as a result, thanks also to better shaped seats that seem to last the distance well.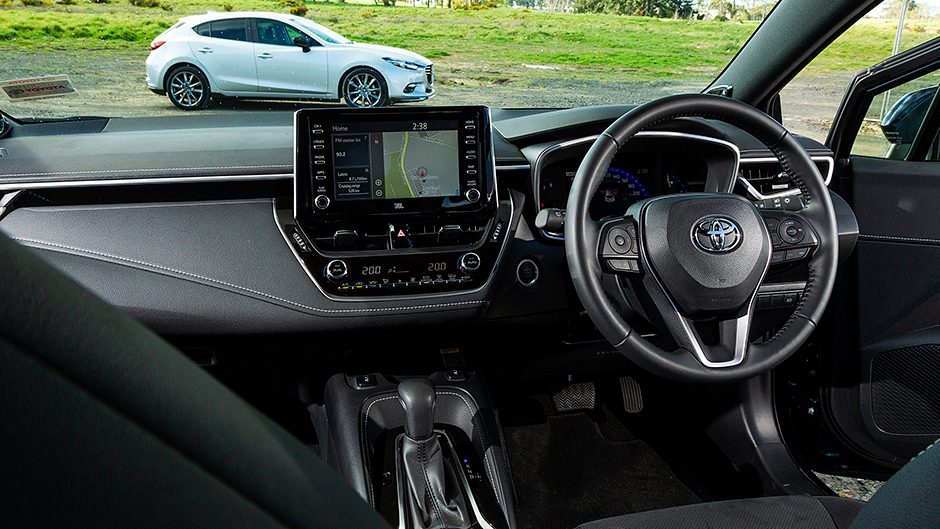 Some won't be happy
Is there any downside to the Corolla going all sportified? Not that we noticed, apart from the fact that the designers forgot to give it any hatch space and were hardly generous with rear seat legroom. For a car that will end up mainly a rental in New Zealand, its 208L of hatch space (294L to the roof) is frankly hopeless. We've seen city cars with more. Hell, even Yaris has 286L. Okay, so when you split fold things there's a perfectly flat load space but if those rear seats are in use (and watch your head getting in there kids) then that pathetic little locker will be problematic.
We had the option of heading south for the weekend in either of these cars, but it was really a Hobson's choice as only half the gear would have fitted in the Corolla. Under the floor there's a spacesaver with a fair amount of wasted space. Evidently replacing the spare with a can of gloop would gain you around 88L, which would be handy. But why should you have to? And then there's no spare tyre.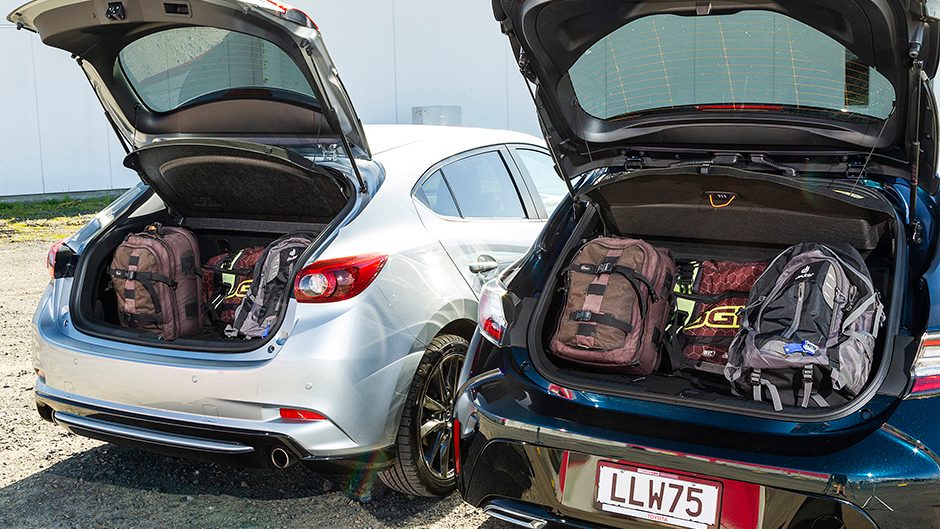 So the new handling comes at great cost. By marked contrast, it's much easier to enter and exit the Mazda3, there's clearly more knee room in the back and its hatch space is a practical enough 308L to the cargo cover, expanding to 1222L with rear seats folded down. Like golf being a great walk ruined, new Corolla seems like it had the potential to be a great small, 'if only'.
| | |
| --- | --- |
| Model | Toyota Corolla ZR |
| Price | $37,490 |
| Engine | 1987cc, IL4, T/DI, 125kW/200Nm |
| Drivetrain | CVT, front-wheel drive |
| Fuel Use | 6.0L/100km |
| C02 Output | 139g/km |
| 0-100km/h | 8.82sec |
| Weight | 1395kg |
| | |
| --- | --- |
| Model | Mazda SP25 hatch auto |
| Price | $39,895 |
| Engine | 2488cc, IL4, DI, 138kW/250Nm |
| Drivetrain | 6-speed auto, front-wheel drive |
| Fuel Use | 6.1L/100km |
| C02 Output | 143g/km |
| 0-100km/h | 7.65sec |
| Weight | 1372kg |