Bike makers have created some lairy monsters by stripping the bodywork from superbikes but not all end up demented. Take this one, for example, the S 1000 R. It's insanely quick but quite tame.
I have a personal interest in fast bikes, always have, and I prefer mine naked, for obvious reasons. The main one, for those whose minds aren't in the gutter, is that rider aeros limit speed. When you're hanging on too hard, you're probably going too fast. Either that or you're anxious. Perhaps a bit of both. The other reason is that naked bikes tend to have less cramped riding positions so are easier on the neck and wrists.
Litre naked bikes tend to be criminally insane fun but with increasingly sophisticated electronics, that's all changing. With the arrival of BMW's S 1000 RR in 2009 came a new era in bike control. BMW needed to make a big splash with its first superbike and that they did. It was unusual in that it was almost stupid-easy to ride quickly, taming Phillip Island on the launch ride. This had electronic control systems that kind of put you at ease despite all that speed. Its brakes were absolutely stupendous too.
In 2014 the naked version, the S 1000 R launched. BMW detuned it from 193 horses to 160 but low and midrange torque were beefed up. It otherwise had pretty much the running gear of the superbike and the full suite of safety electronics. There's even cruise control, which is a sweet handbrake for those with no self control.
The original model was quite something in a straight line. In America the S 1000 R sits fifth equal on the list of all-time fastest accelerating bikes. Ahead of it are the likes of Yamaha's muscle bike, the VMAX, our first sub-3 second machine and the Hayabusa. So we knew it would be quick, especially since this latest model gets five more horses and is 3kg lighter. Its twin cam 999cc engine is now good for 165hp at 11,000rpm while peak torque of 114Nm arrives at 9250rpm. The uptick in power output is also associated with a move to Euro4 emissions compliance and as part of that there's a new muffler, an Akrapovic slip on, that looks lighter than the original and sounds terrific. On overall weight, it's exactly as promised, weighing in at 205kg fueled.
Other new bits and pieces? It picks up the latest electronics from the S 1000 RR while its electronic suspension now has settings of Dynamic or Road, instead of Hard, Normal or Soft. We get only one full-spec model here in New Zealand, with both the Sport and Dynamic packages as standard which means it comes with a quickshifter, ABS Pro (cornering ABS), the Dynamic Pro mode (launch control, pit limiter), electronic suspension, heated grips, LED turn indicators, engine spoiler and HP forged lightweight wheels. Cost is $25,990.
Typical that a monstering road bike arrives in winter for testing. And naturally it's wet most of the time we get to ride it, adding to threat levels. But we soon find the excellent Hypersport rubber means we're not instantly nobbling power by selecting Rain mode, not that a mere 150hp is exactly robbing it of performance. It makes TC more interventionist instead.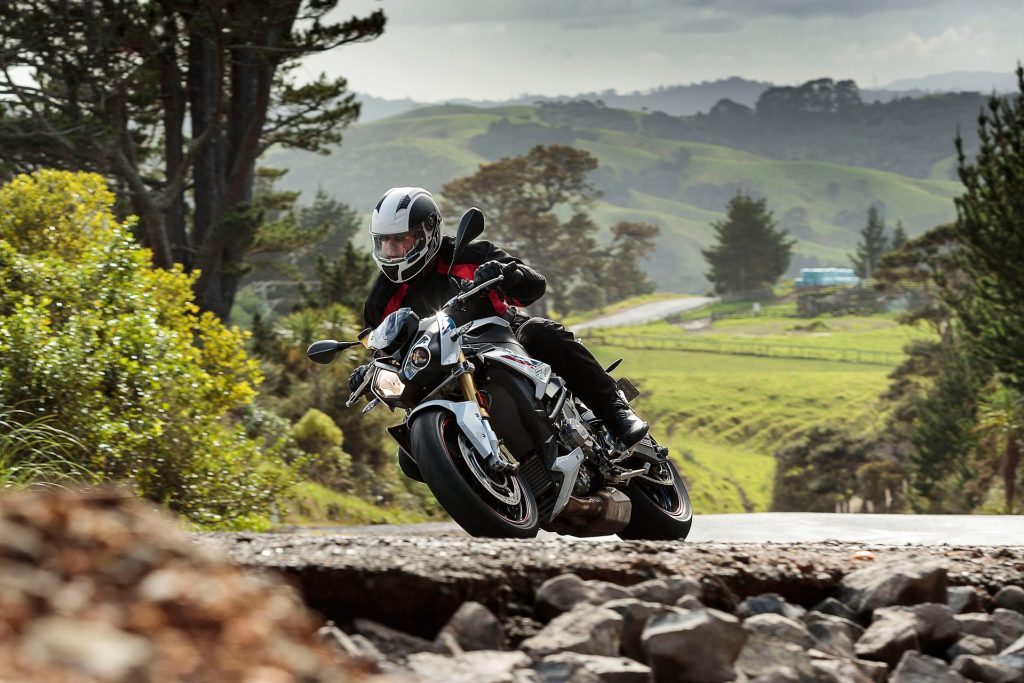 To behold, it's another of BMW's asymmetric-fronted machines, reminding of Janine from The Handmaid's Tale (lost her right eye for insubordination). It too looks oddly alluring, mean and intense. The bike has a pared back look about it. We like the predominantly white colour scheme, while red and grey are other options.
Climb aboard and lean forward, like on a sports bike, but the riding position is a bit more relaxed, the arms set wider. Not much air protection up there, so best rug up on a cold day. We start off with both engine and suspension set to "Road", quickly remembering that this has a quickshifter for the six-speed gearbox that works in both directions. It's great one way, grates the other. To my mind, the quickshifters that work only on the upshift are better, like what Triumph uses. Only the opposition goes in both directions so I guess BMW felt duty bound to follow the trend.
Like the RR this sounds and feels to be low geared, which is kind of the case, and partly explains its monstering acceleration. Yet at 100 it's only doing 4250rpm. The engine noise is all IL4, but when you shift from fourth to fifth an exhaust valve opens, and on a dead throttle the Akra pops and bangs away amusingly.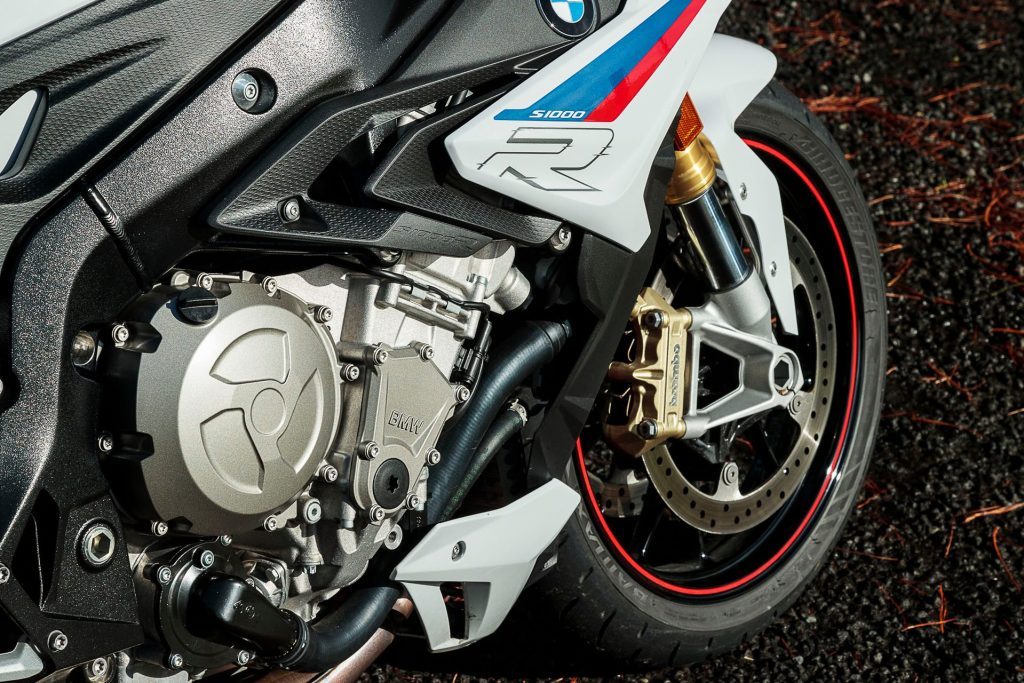 As to speed? It's a regular weapon. We tried first using launch control and got a sprint time of 3.4sec but promptly beat that by 0.2sec with a regular launch in Dynamic mode (TC partly on). The best we got on level chipseal was 2.92sec. That's almost as fast as the quickest machines we've ever tested and confirms what US publications achieved. Its best overtaking time using launch control of 1.28sec we couldn't better. One run ended up in a huge power wheelie so we thought better of things at that point. Fortunately it stops as well as it goes; the Brembo monoblocks are simply sensational, some of the best brakes I've encountered ever on any bike. That's plenty reassuring given the potential for speed. Mention of which, BMW rates top speed at "over 200km/h". Yeah, nah. Perhaps if you only use third gear.
We mentioned how confidence inspiring the S 1000 RR was on track, and similarly on road. This is more of the same once you get dialed in. Part of the reason is that you simply don't need to rev the thing hard to achieve decent performance, by which we mean blitzing every four wheeler around without even trying. It pulls like a mule from 2000rpm so in general town riding and commuting 5000rpm is plenty. Same out on the open road, where it simply feels delicious, pull from 4000rpm sensational. The engine doesn't have that vibey character the XR exhibited. We're not so sure the electronic suspension is ideal for bouncy bumpy Kiwi surfaces; even on the softer Road setting bump absorption isn't spectacular. We'd consider either the comfort seat from the accessory list, or perhaps the longer suspension travel and better air protection of the XR variant if touring's on the cards.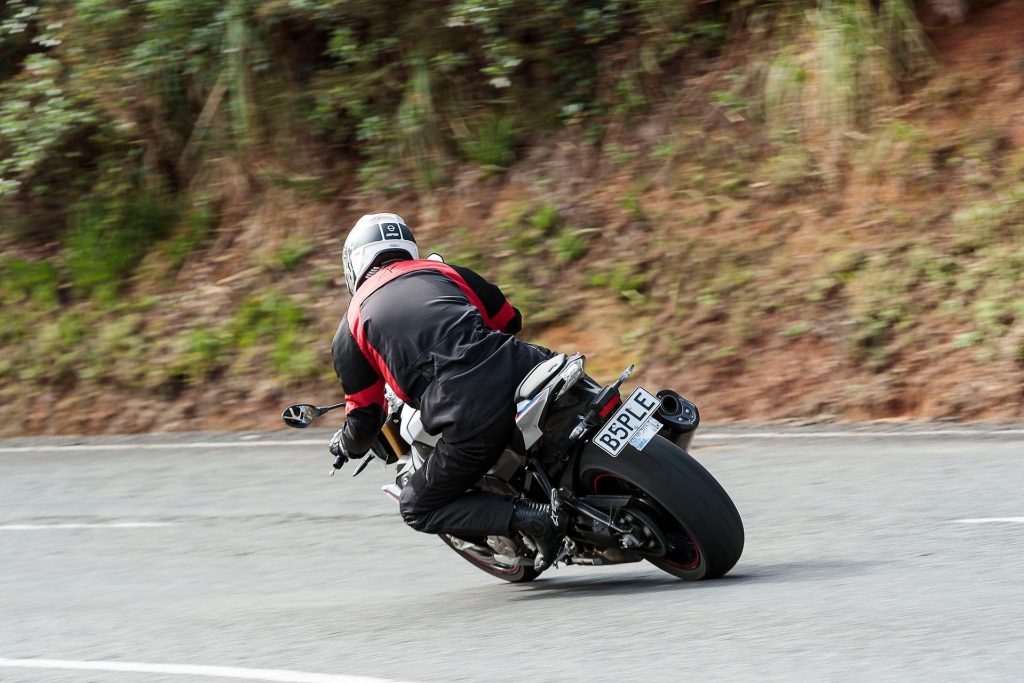 Course this bike is all about quick thrills and it does handle something wicked. The frame, wheels and swingarm are all aluminium so it's light and feels athletic on the move. Lots of leverage too so it turns effortlessly. Not on a dime though; be wary of turnarounds as there's not much in the way of lock left to right.
The choice here is between this, the V4 Tuono 1100 and the KTM Superduke 1290. There's no real difference in performance, weight or price (the Duke's a bit more expensive, not quite as quick) so it's down to more emotional things like look and sound, which the Aprilia and KTM get very right. They have similar electronic suites too. The main difference is that the BMW is easier to ride in most situations; it pulls like crazy from low revs and being shorter geared it's not so easy to overdo things. Call it sophisticated crazy. Given the small differences, you need to be the final arbiter by riding each.
| | | | |
| --- | --- | --- | --- |
| Model | BMW S 1000 R | Price | $25,990 |
| Engine | 999cc, liquid-cooled, fuel injected, IL4, 123kW/114Nm | Drivetrain | 6-speed, chain final drive |
| 0-100km/h | 2.92sec | 100-0km/h | 38.76m |
| 80-120km/h | 1.28sec (37.39m) | Weight | 205kg |