Kawasaki has overhauled its evergreen Ninja 650, imbuing it with a lighter frame and an engine with even more midrange than before. It looks smart and it gets the basics right.
The budget middleweights kind of represent the sweet spot in motorcycling. You get about 80 per cent of the goodness of the most expensive and fastest bikes on the market for about one-quarter of the price. To get that final few percentage points of performance or dynamics, you need to start shelling out big money. It used to be that budget middleweights always had an Achilles heel, sloppy suspension or a weak engine, but that's increasingly not the case, with cool stuff like MT-07 and GSX-S750.
Is the latest Ninja 650 more of the same? Is it a modestly priced marvel? This latest update to the middling Ninja was one of those bikes that kind of got overlooked by us during Kawasaki's change of distributorship here last year. However, a few laps of the Pukekohe track at the launch of the beaut retro 900 RS and the overachieving Ninja 400 were enough to have us pestering them for a loan.
Thinking we'd be getting the LAMS edition, instead we ended up with the full power variant. As it happens, they both cost $12,900, though you can also buy a naked version for $11,695 if you don't really need the weather protection. In each case we are talking about the ABS variants. If you think you're more accomplished than modern ABS systems you can save yourself a further $700. But you wouldn't, would you, not just for safety but also for resale reasons?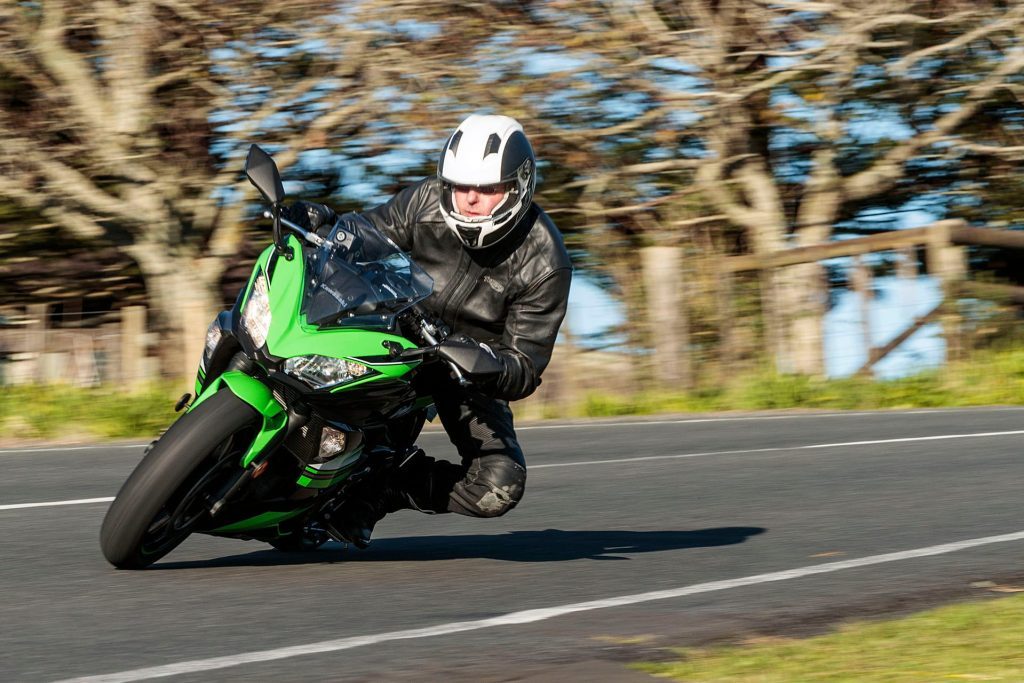 The 650 line-up was amongst the first to adopt the new trellis frame architecture that the supercharged H2 introduced, the idea being to add strength and to slash weight simultaneously. A new lightweight swingarm contributes to further loss of mass. A
nd indeed it does weigh slightly less overall, down from 200kg to 190 fully fueled. The frame itself weighs only 15kg. The weight loss might not seem much in the scheme of things, but even single kilogramme reductions are considered a big deal in the sports bike world. Not that this is a sports bike but it's certainly sporty in pretensions. Just look at the styling; that paint scheme is straight from the World Superbike grid.
What else is new? Nothing much for the engine, though tweaks have eked out an almost seven per cent improvement in fuel efficiency, and power and torque have been optimised for revs in the 3000-6000 area, used 90 per cent of the time. The engine is now Euro 4 ready too, and adopts an assist and slipper clutch for lighter operation and to prevent wheel lock-up during downshifts.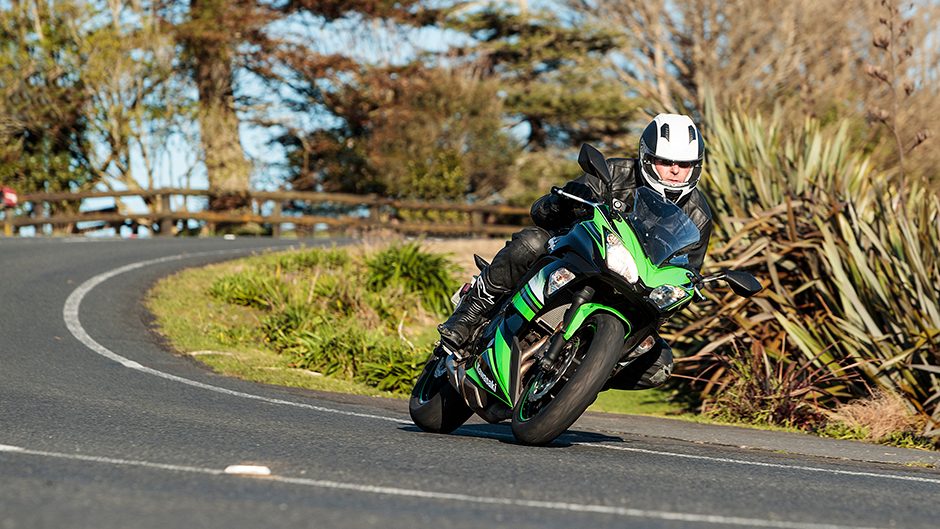 Other changes include a slightly steeper steering head angle and shorter wheelbase for enhanced agility, rubber mounted handlebars for reduced vibration, an adjustable screen over a range of 60mm, improved brakes, more aggressive styling, a rear suspension upgrade, a narrower, more comfortable riding position and enhanced instrumentation.
Plus other minor updates too numerous to mention. So it's what you might describe as a substantial midlife upgrade. The power output of 50kW and 68Nm, is down three and up four units, respectively, but both are produced at 500rpm less, partly explaining the improved fuel economy.
On that, Kawasaki doesn't produce a figure for the middling Ninja but it's sipping away at around 3.33L/100km on the flat at 100km/h where in sixth it's doing about 4800rpm. An even 5000rpm is an odd 107km/h which, according to our GPS equipment, is just legal on regular weekends. As to acceleration, there's no real difference from when we tested this last time, the slight reduction in overall weight likely countered by the small reduction in power. It just snuck into the high threes for the 0-100km/h test, and managed mid twos for the overtake.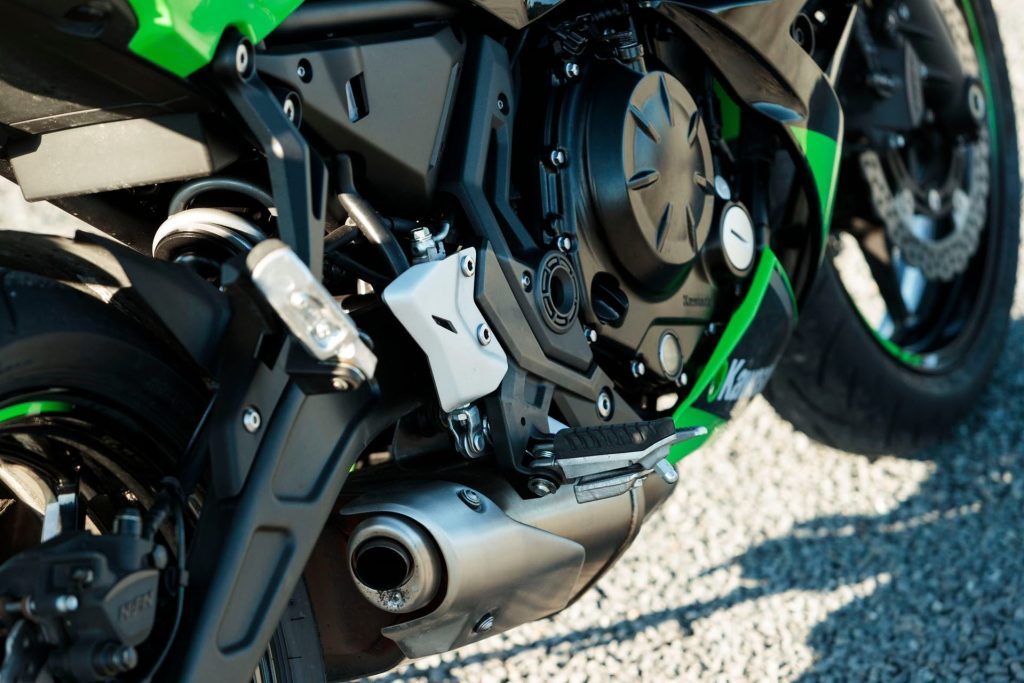 Most of the time you're not working the engine beyond middling revs because you simply do not need to. The engineers stated that they've been working to increase midrange and that aim has been unwavering. With each new model it just seems to have more mid-rev brawn. Twins that rev beyond 10,000rpm generally don't like real low revs, and while the Kawa doesn't mind creeping around town in top gear at 50km/h, it's happier in fifth. From 60km/h or so, anything above 3000rpm in top gear really, this is a vibrant thing, and from around 4000rpm it really starts to feel frisky.
So contemplating a pass at 90km/h you don't even consider downshifting unless it's a lunge-for-the-gap overtake, but then you should be sensible and bide your time; the road toll is bad enough already. That makes it a snip to ride, being utterly the opposite of peaky. In town, you can use engine revs between 3000 and 4000 for commuting. Out of town if you feel like stretching its legs, the power builds seamlessly, and unlike LAMS machinery doesn't drop off at the top end, pulling hard to the limiter at around 10,000rpm.
There's precious little in the way of tingling too, thanks to rubber mounting of bars and footpegs. The mirrors are only ever clear, in part because they're mounted on the fairing instead of the handlebars. But because they're set a ways forward, vehicles can get overlooked in the resulting blind spots.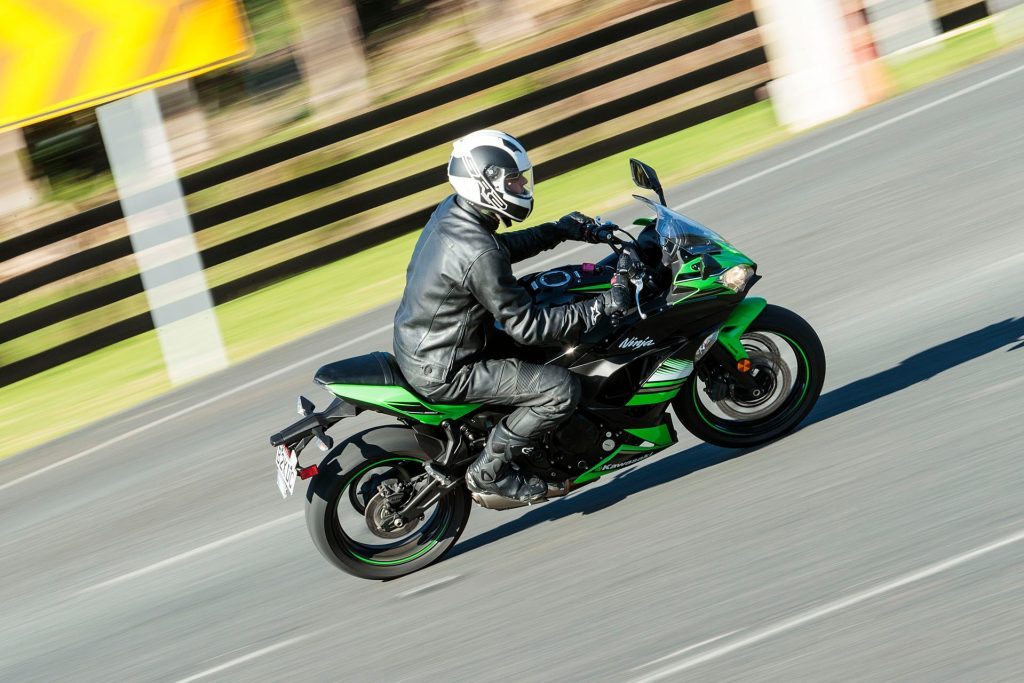 Does it sound special? Not really, though most parallel twins aren't sonically inspiring. At least the exhaust is stubby so isn't overly heavy and doesn't threaten to ground out anywhere. The pegs don't either, though the standard rubber doesn't exactly promote exaggerated lean angles. Not that it's substandard, just built to a price. It's the one thing I really have no quibble with a manufacturer scrimping on, so long as the rubber is at least reasonably decent and these Sportmax D215s are that but once worn an upgrade is certainly worthwhile on a bike that's such a little ripper on road.
Kawasaki is well on top of frame and suspension designs nowadays – one wonders how much WSBK racing influences things. Despite it being fixed up front and adjustable for preload only at the rear, there's no hint of wallowing in turns, and no big hits either, most of the familiar bumps on our ride loop ironed out reasonably well. The seat plays its role too, though the covering is a bit too slippery, at least so it seemed in wet weather clobber.
With steeper forks, shorter wheelbase and lots of bar leverage, this turns good and keen in to turns and is fun to fire down your favourite winding road. We didn't hit too much of the dreaded winter weather while aboard this bike, but there's a decent degree of protection from wind and rain. The small screen is adjustable if you've Allen keys handy. It's about a 10-min job so best to try it in the lowest position for summer, the highest for winter, and try in between for the other two seasons. A final word must go to the brakes, which don't look much different from before but sure function better. In the past, non-radial brakes on Kawasakis haven't been exactly inspirational but these work a treat.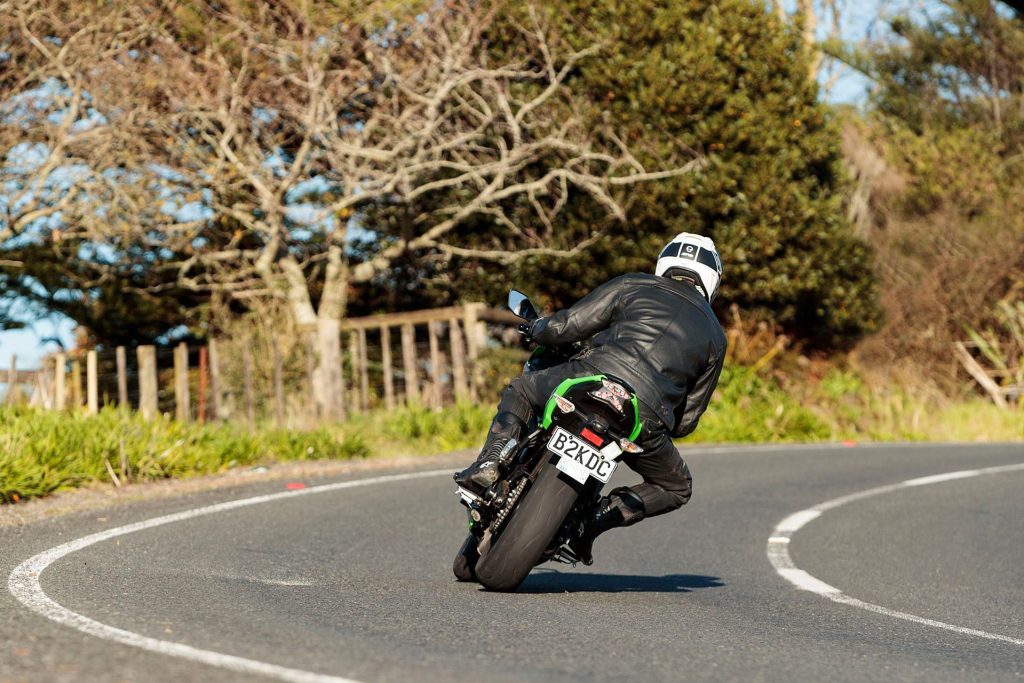 Amazing how small changes, like different brake pads or improved master cylinder pressure, can make such marked differences to stopping power. Even the rear disc works well on this. So does the instrumentation, basic enough but with most of the important data there.
There's some formidable competition at this level, the MT-07 at $1000 less being an example. However, it doesn't have the weather protection of the Ninja 650, evening things up. The naked Suzuki 750 is quicker but costs $1000 more. Similar in price but a bit quicker because it's a four potter is the CB650F.
However it has little in the way of rain protection. It may have been a while in the making, ironing out the rough spots, but the Ninja 650 has finally matured into something that ticks almost all the boxes. Plus, there are examples at different price points.
As the amicable John Campbell might say, it's marvellous.
| | | | |
| --- | --- | --- | --- |
| Model | Kawasaki Ninja 650 ABS | Price | $12,900 |
| Engine | 649cc, liquid-cooled, fuel injected, IL2, 50kW/66Nm | Drivetrain | 6-speed, chain final drive |
| 0-100km/h | 3.95sec | 100-0km/h | 39.87m |
| 80-120km/h | 2.64sec (75.37m) | Weight | 190kg |