So, just what was the 31st best selling car in the world for the first six months of the year? The photos give it away but yes, it was GM's Equinox with over 215,000 finding homes around the globe. We can't tell you how many of them were diesel-powered however, but the oiler is the subject of this review, joining the line-up as one of three engine options for the Equinox. It is tested here in LTZ-V guise.
Holden launched Equinox late last year but it's not yet a common sight on road with 510 sold so far this year. Contending in the hottest segment of the market where Mazda has moved 2200 CX-5s, buyers of family-sized SUVs wandering into a Holden dealership are finding it hard to bypass the value of the Captiva.
That has sold over 1400 units this year. Most have gone with the LS Equipe but if you're after a diesel the LTZ Captiva has seven seats, more power from it's 2.2-litre diesel and can be had for just over $40k with Holden's three-year servicing deal. We thought it was okay when we last drove it and until they run out of the Captiva, we think Equinox will struggle, even if it is superior in every regard. Value is hard to beat when shopping for an SUV as general conveyance, and the Equinox's LTZ-V $59,990 ask is steep in the context of the segment.
Still not deterred? The Equinox does have more than a few redeeming features for a family SUV, one being space. There's good lounging room in the rear of this five seater, the comfy bench complemented by a flat floor and all sorts of charging points. Boot space is expansive, with a wide opening and handy underfloor storage area while the load bay increases easily thanks to a straightforward conversion of the rear seats via remote levers.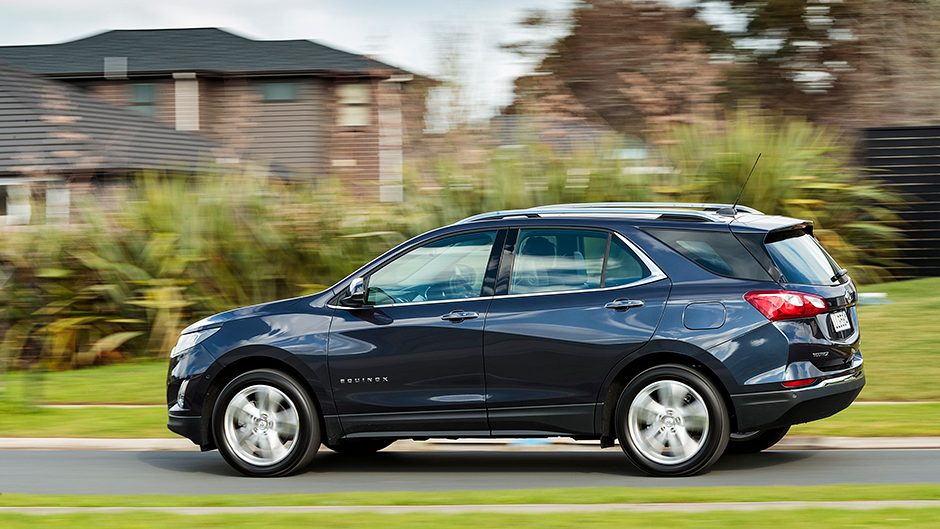 There are aspects of the cabin's build quality that don't equate to its $60k ask, like too many hard surfaces, and while control of the infotainment is easy to grasp, the screen resolution is underdone. Storage is sorted and there are a few nice convenience features added to this top model like the charge pad and self parking. The LTZ-V will be good in colder climes with seat heaters front and rear, and a warmed steering wheel. Active cruise is absent but there is a lane keeping system and the seats will vibrate to warn of potential danger lurking both front and rear.
Holden's localisation programme for the Equinox involved adding more roll control via thicker bars both ends, stiffening the bushes in the rear subframe and tweaking the dampers to ensure the ride remained calm. And it's a job well done as the Equinox's progress is dignified over most bumpy bits considering its big wheels. And the added rubber means it holds on quite well, helped by the torque vectoring by brake function. And it's a job well done as the Equinox's progress is dignified over most bumpy bits considering its big wheels. And the added rubber means it holds on quite well, helped by the torque vectoring by brake function.
The steering assistance was also tuned for Down Under consumption and is well weighted and accurate though filters most of the action. One aspect of the Equinox I forgot about was its switchable AWD system. I wondered why the front wheels were uselessly spinning as I tried to extract it from a slight incline following a period of rain, and then remember you needed to switch the AWD into action.
And how about that diesel? At 1598cc, it's a smallish donk for a sizeable SUV but does a quite reasonable job of things. It makes up for a lack of capacity with a willingness to rev, and GM has tuned the six-speed auto to keep it perked up, rather than jamming itself into a tall gear for economy.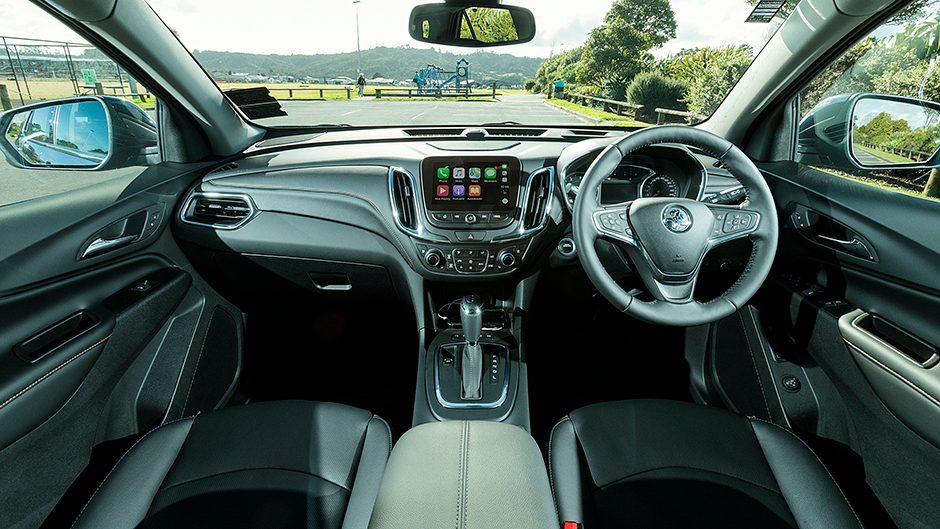 There's a moment of turbo lag to endure if you're keen to get underway promptly, but otherwise the auto keeps the diesel working up around the 1500rpm mark, where it's already on boost and raring to go. It's best zone is the usual 2000-4000rpm range for a diesel, and with determined throttle input the smooth shifting auto will help keep it there. While the diesel's a little noisy in operation, it is easy on the fuel reserves as we averaged in the high-sixes (L/100km) zone, which is good for a sizeable five seater.
So the diesel version is not overly hasty (sorry, no numbers as our VBOX decided it didn't want to work on the day) but if you want a dose of speed with your Equinox you'd go for the 188kW 2.0, which we prefer, while this is more for those looking at better mileage.
| | |
| --- | --- |
| Model | Holden Equinox LTZ-V diesel |
| Price | $59,990 |
| Engine | 1598cc, IL4, TDI, 100kW/320Nm |
| Drivetrain | 6-speed auto, on-demand AWD |
| Fuel Use | 5.6L/100km |
| C02 Output | 149g/km |
| Weight | 1737kg |