Last year Range Rover updated the Sport model range introducing a plug-in hybrid capable of 3.0l/100km. It also updated the PHEV's guzzling doppelganger, the supercharged SVR. Muscular and carbonic to behold, and available in retina-searing orange, the overpaid footballer's choice, it also comes in silver or black for mere mortals.
Bear in mind that sonically this is only ever effusive, for SVR is short for Sounds Veritably Riotous. The quad exhaust features electronic valves, and there's a resonator that pipes induction noises to the interior where you'll also find a Meridian 825wpc surround sound system, upgradable to 1700wpc and 22 speakers for $7300.
The latest iteration of the range topping SVR hasn't changed that much. New bits include active LED headlights, different bumpers, and the fenestrated carbon bonnet which can be had au natural, adding $$$ for questionable taste. SVR rolls standard on 21s, while ours had the $4k optional 22s.
At its heart remains the 5.0 supercharged V8 but with more huff it now outputs just over 420kW, up from 405 while torque also rises from 680 to 700Nm. New seats and a carbon bonnet ostensibly remove a few kaygees but ours weighed 10kg more than in 2015 so yeah, nah. The performance rating changes little, down a smidge from 2015 to 4.68sec but not quite to factory standards (4.5sec).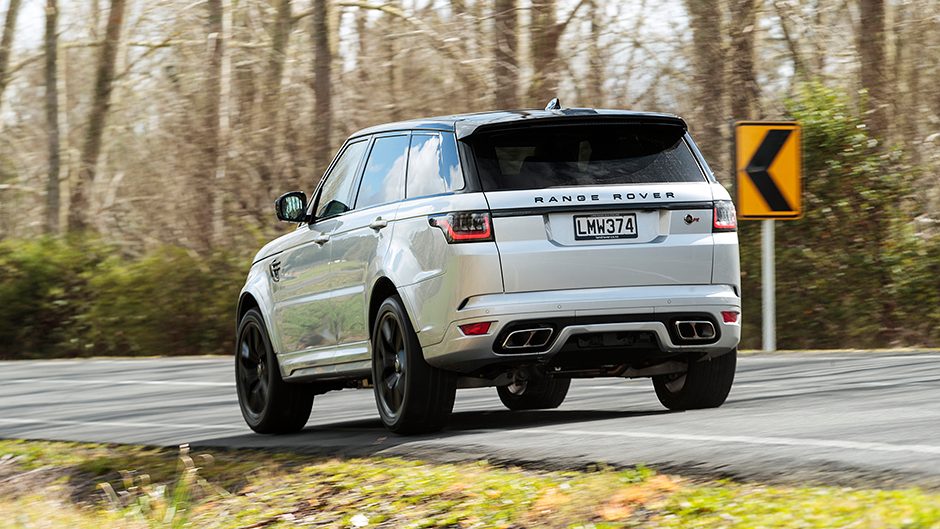 That's quick for a high-rise vehicle, but there are quicker, some competitors into the high three-second area. For the SVR it's as much about how it corners as how it goes. Moreover, it retains the offroad creds of any Rangie. With SUVs it's as much about the potential, no?
For instance, it handles stair hopping, a RR Sport on YouTube ascending the 999 steps of Heaven's Gate, on Mt. Tianmen in China. If you'd rather go by road, nothing will get through the 99 turns and 11.3km of Tianmen Road quicker than the SVR, smashing by 40sec the record set by a Ferrari Italia 458.
We'd been city bound in this for a couple of days and it's an easy-going luxury liner, if a big one. There's no hint of lag at the lights. Even the exhaust noise isn't too much as it wombles around town pulling right down to 1000rpm happily. The fuel use meter seemed stuck on 17L/100km but we figured that was a long term average. Time for a rejig then and that's when the Mastodon trumpeted.
Holy hole in a petrol tank, Batman; 37L/100km? After a bit it steadied at 27 so the 17 overall is probably about right but really you'd want a company fuel account for this thirsty baby.
The SVR can hustle through corners though. With weight evenly split over each axle, permanent 4WD, and acres of decent rubber, this just hangs on for grim death when in the Dynamic setting, torque vectoring by brake eventually intervening. It's no Remuera tractor, shooting through corners as quickly as some low riding sports sedans manage. As eye-opening as the noise is ear raising.
And the noise? You'd not credit this is only a 5.0L V8. It rages and bellows, pops and bangs, and the added resonance around 4000rpm enhances the effect. Yes, it's a fuel furnace but is one of motoring's sonic rockstars.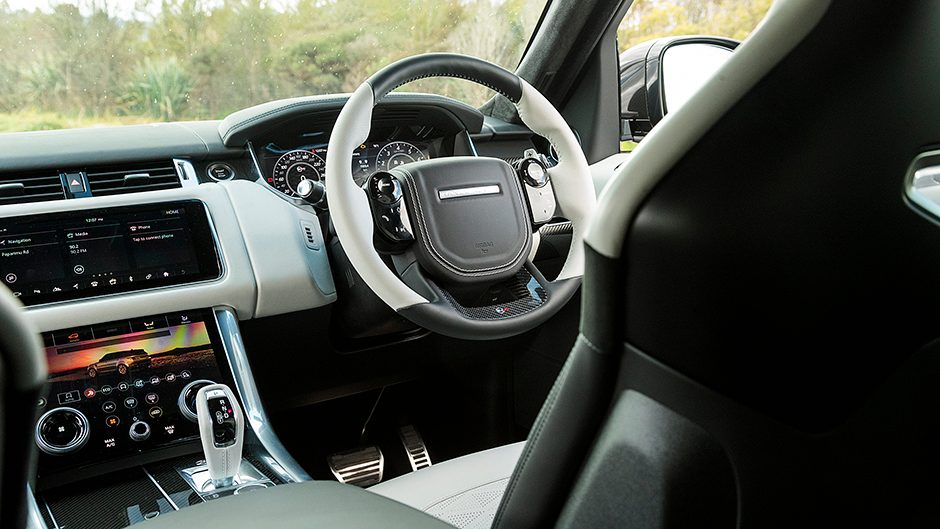 Inside, and off the gas it's an oasis of leather and luxury. Ignition off there's a mass of black screens emblazoned with SVR. They're borrowed from Velar, eventually light up and with a bit of fumbling in time you learn how to turn on and adjust heated seats but a button would be simpler. Guess it's all about the theatre.
Seats are magnificent. This wafts around in Comfort mode nicely, albeit with a degree of underlying firmness that befits something with Sport in its name.
Standard kit on the SVR is good, but we'd have expected head-up display. You get powered and heated seats, along with adaptive cruise, blind spot monitoring, lane keeping and driver fatigue detection. Other safety kit includes AEB, rear traffic monitor and cross traffic alert, a surround camera, and roll stability and corner braking control.
Convenience items include heated folding mirrors, comfort entry and push button start, and a powered gesture tailgate. There's also extended aluminium trim, Navigation Pro, three zones of air, suede headlining, aluminium shift paddles, sports pedals, and split folding. The latter takes the 780L luggage space with all seats in use to 1686L. The rear isn't that roomy though, with space for two adults and a child, and even then legroom is hardly generous. There's no seven-seat option like in regular RR Sports either.
Back in 2015 when we initially drove the SVR the cost was $228k before hitting the options list, so this is better value. Our vehicle had five options, taking the total from $209,900 to $224,850. It's a surprisingly satisfying drive this but you can get a V8 diesel for $168k and that makes more sense to us. That said, the SVR is a heart decision, not a head one. Enjoy, but steer clear of environmentalists.
| | |
| --- | --- |
| Model | Range Rover Sport SVR |
| Price | $209,900 |
| Engine | 4999cc, V8, SC/DI, 423kW/680Nm |
| Drivetrain | 8-speed auto, all-wheel drive |
| Fuel Use | 12.8L/100km |
| C02 Output | 294g/km |
| 0-100km/h | 4.65sec |
| Weight | 2462kg |