Mazda has a long association with winter testing in NZ, so it seems fitting that thirty years after the original MX-5 slid around what was then a crude track in a snowy sheep paddock, we find ourselves at the same spot, the Southern Hemisphere Proving Ground to drive Mazda's latest MX-5, the hard-top RF.
The SHPG has evolved substantially since its creation in the Eighties; tracks and courses have been added while existing ones have been made wider and longer to cater for the higher speeds clocked by modern motors. The rise of EVs has required an overhaul of the electrical infrastructure to provide power and charging points.
There were several electric vehicles testing this year with many more expected next season. The 490 hectare site operates 24/7 between June and September hosting many of the world's car and tyre manufacturers along with hundreds of engineers. We were hoping to spot a camouflaged mule while exploring the complex but it turns out we're the last group of the season so no scoops for us. Mazda Japan was one of the last to leave with their 'hatchback sized' test rig – the new Mazda3 perhaps?
We rarely get handed a car and told to drift it to our heart's content but that's exactly what Mazda did with the MX-5. This was my first experience of snow driving and I was surprised by the level of grip the studless snow tyres offered on the fresh powder. And equally surprised as to how easily it was overcome with a quick stab of the throttle. Before I knew it, I was sliding sideways on full opposite lock giggling like a schoolboy.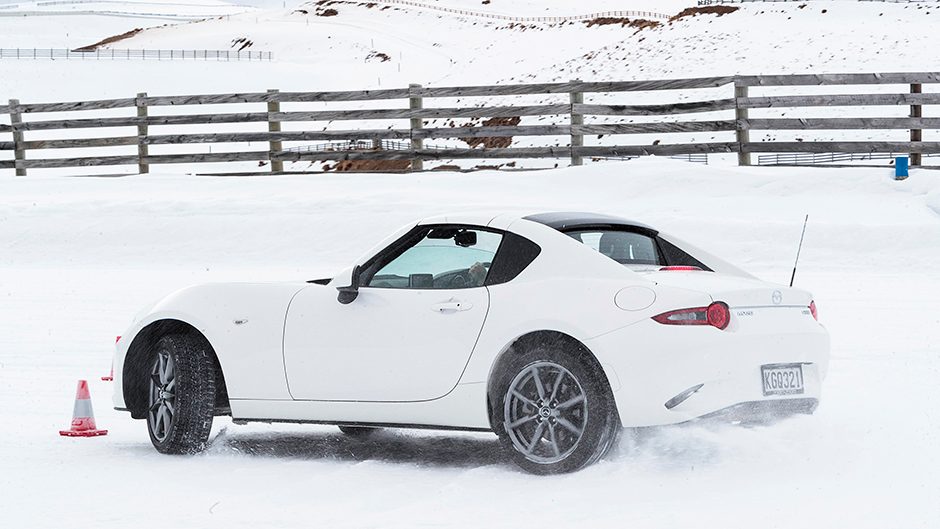 Ok, ok, in reality it took several attempts to pull off anything remotely drifty, and while I improved with every pass, I overcooked it often, resulting in undignified spins that sent showers of snowflakes into the cabin. But in between the unplanned rotations and the inevitable expletives, I was wearing a grin as big as the one on the front of the MX-5.
We soon graduated from a circle- to a kidney-shaped course with the purpose of linking multiple slides. Cue more opposite lock, colourful language and spins. Can't say I nailed that exercise but it was a hoot trying. And I only clobbered one cone.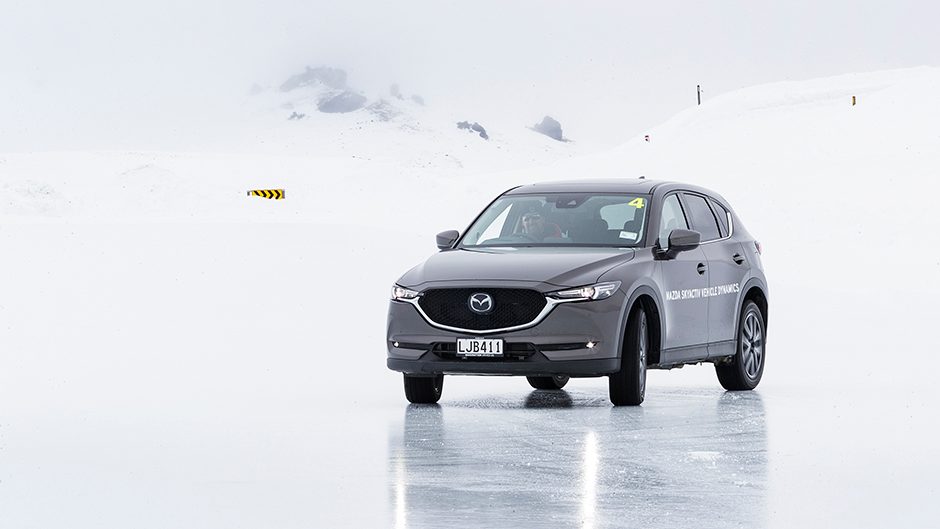 We traded MX-5s for CX models to experience Mazda's trick AWD in action. The i-Activ AWD uses 27 sensors to monitor everything from throttle and steering input, incline and even wiper position. Torque distribution is managed by an electromagnetic coupling that can apparently respond instantly at any speed. We started with sprint races, scurrying out of a box, around a cone then stopping in our opposition's box.
The AWD did its shuffling thing, allowing for an enthusiastic start with just the right amount of wheel spin. Taming understeer around the cone was a bit tricker, as was coming to a complete stop on the slippery surface without bothering the ABS but with careful pedal modulation we avoided sliding too far, unlike some of our rivals, er, peers.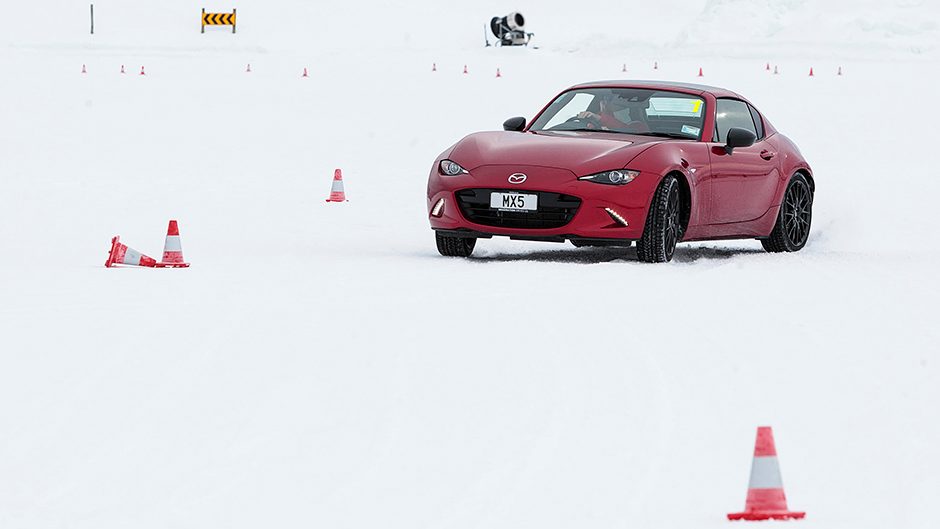 Next up, a slalom to tackle as fast we dared. Mazda's engineers work hard to keep driving fun and part of this philosophy requires designing stability control systems that are less intrusive, giving the driver a greater sense of control. The slalom highlights this perfectly; the communicative nature of the chassis and well sorted electronic aids made it easier to thread the CXs through the cones without the safety nets nobbling progress.
But no four-wheel drive system is infallible and to experience this we took to some polished sheet ice with the sole task of circling a cone. Even with the traction control armed, this proved extremely difficult; too much steering or throttle input resulted in painfully slow slides in any direction but the right one.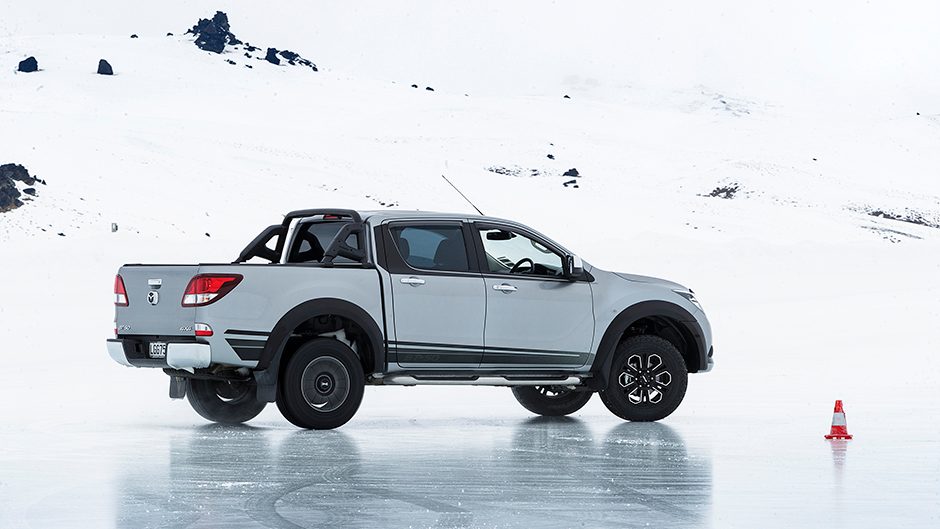 Repeating the task in a RWD BT-50 proved to be an exercise in frustration and hilarity with the ute pirouetting all over the place. We gave up after a few attempts, engaging 4WD to exit the rink.
After lunch it was back into the MX-5s for more circle work. This time it was a bigger circuit with two cars rotating at once. Yikes, but it wasn't as daunting as it seemed and soon all that could heard over the limiter-nudging Fastbacks was the sound of laughter.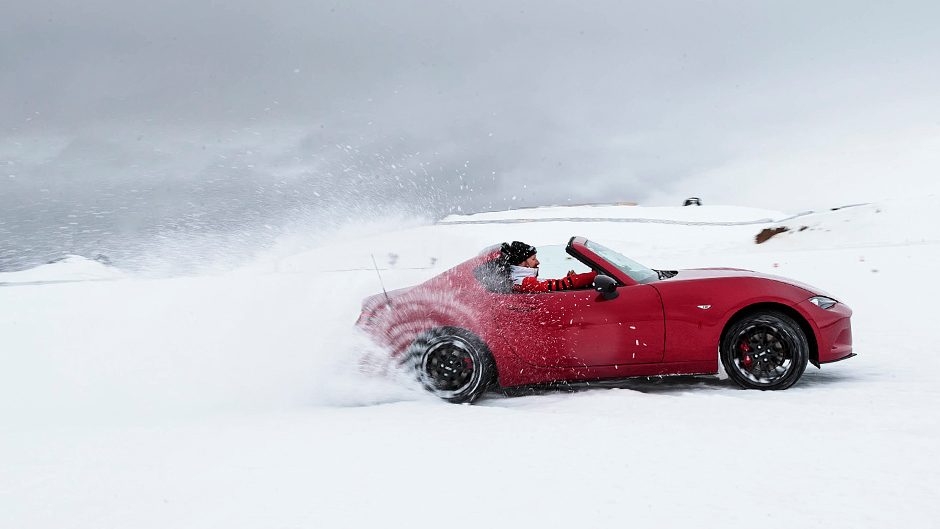 The trickiest part of this sliding business – aside from initiating the slide, holding the slide and not spinning out – is that the surface is different, slipperier with each pass so the throttle and steering inputs that worked so well on that last lap… doh! Another spin! Well, you get the idea…
With some talent behind the wheel the MX-5 is a competent corner carver, so we finished with a er, hot (actually rather chilly) lap on one of the ride and handling circuits. We rode shotgun with instructor and race ace, Gene Rollinson, who slid us swiftly through the narrow winding course. How we didn't end up buried in a snowbank, I'll never know.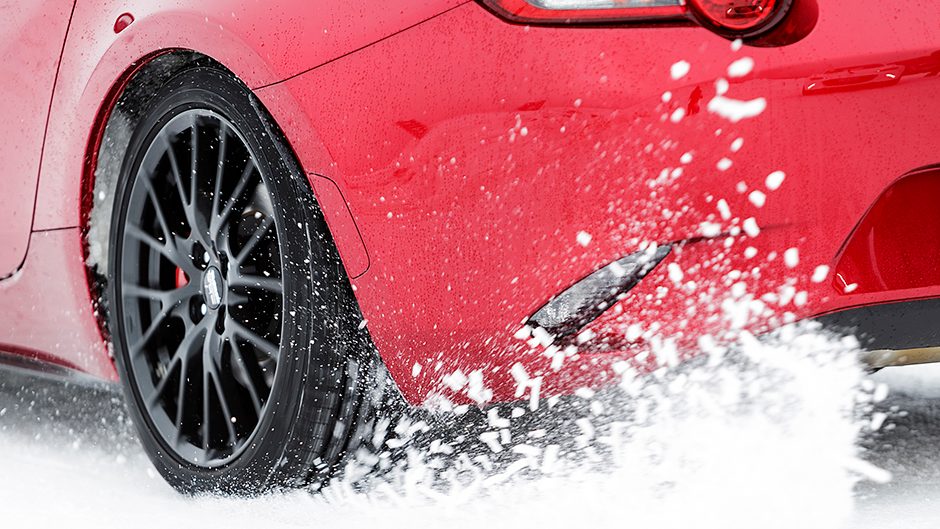 The ice driving experience is some of the most fun I've had on four wheels, so if the opportunity ever presents itself, grab it. But what did we learn?
Well, in a world where the driver is increasingly being taken out of the equation, Mazda's driver-centric cars stand out for those of us who still enjoy the thrill of driving. Heck, even their SUVs are fun to pedal; sliding cars on ice is addictive but I did learn I'm sure as hell not the next Mad Mike.