Back in second-gen guise with myriad powertrains and spec levels, Kia's Niro is again set to conquer the world.
As everyone chases electrification, including local car distributors now that there are disincentives for importing high-emitting vehicles, hybrids like the new Kia Niro will become increasingly popular. Hybrids don't need charging, offer great range (750km) and modern variants can genuinely do some useful EV mileage, enough to get the combined fuel use figure down to 4.4L/100km (101g/km, $3418 rebate) in the case of the HEV GT-Line on test.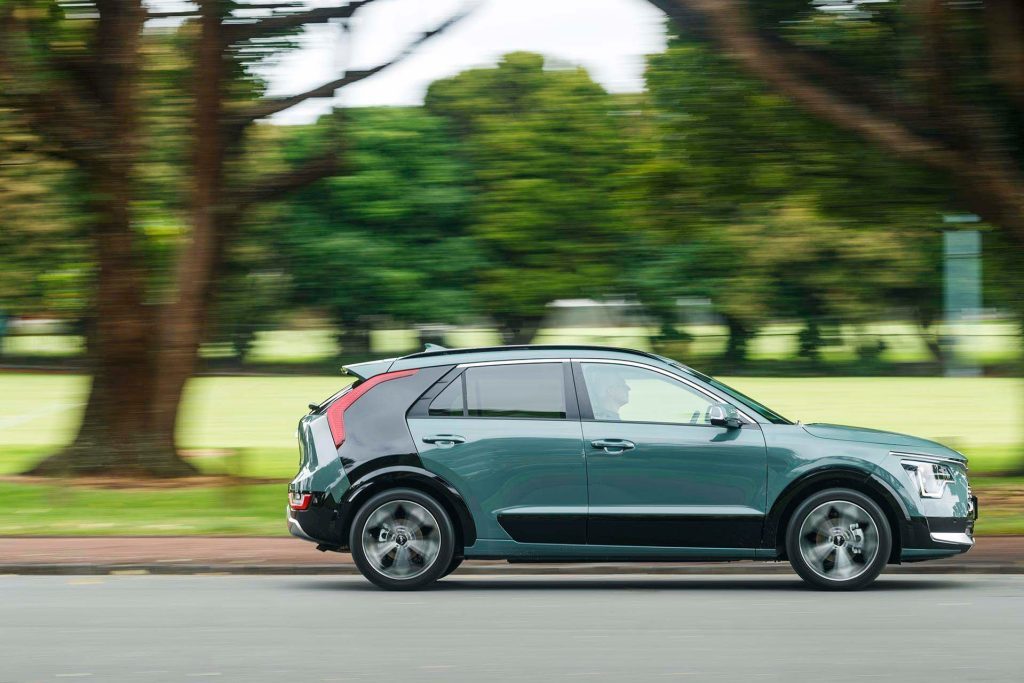 We should mention that this is the top-of-the line Niro hybrid and costs $57,990 plus onroads. For less of an outlay ($53,990) you can buy a lower grade plug-in variant that gets more power, a better rebate and has an 11kWh battery for a claimed EV range of 65km. At the basic end of the HEV line-up is the Light version which has the same powertrain as the GT-Line and costs $43,990 (launch price of $39,990). There's also the Niro Plus which is effectively an update of the previous generation model, the former kicking off at $37,990 plus onroads. So there are lots of Niro models from which to choose. As a point of interest, some of the pricing now is less than what it was a year ago.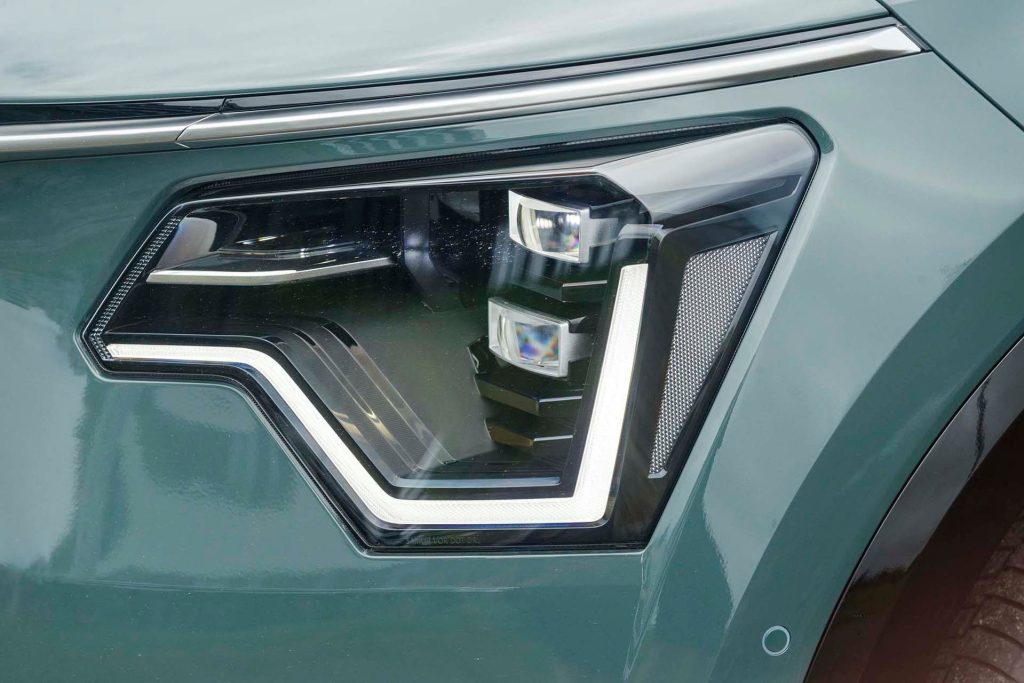 New Niro is bigger, sassier and rather clever
This new Niro has a fresh design, and is larger in all dimensions apart from height (it rides lower). That imbues it with more passenger space – adults will be suitably impressed with head and legroom in the rear – while luggage capacity rises by 15L to 425L in its two-tier boot, expanding to 1445L. The rear seat back has a couple of different rake angles, allowing for better rearward visibility – it's good anyway – or to encourage sleepy time for overtired children.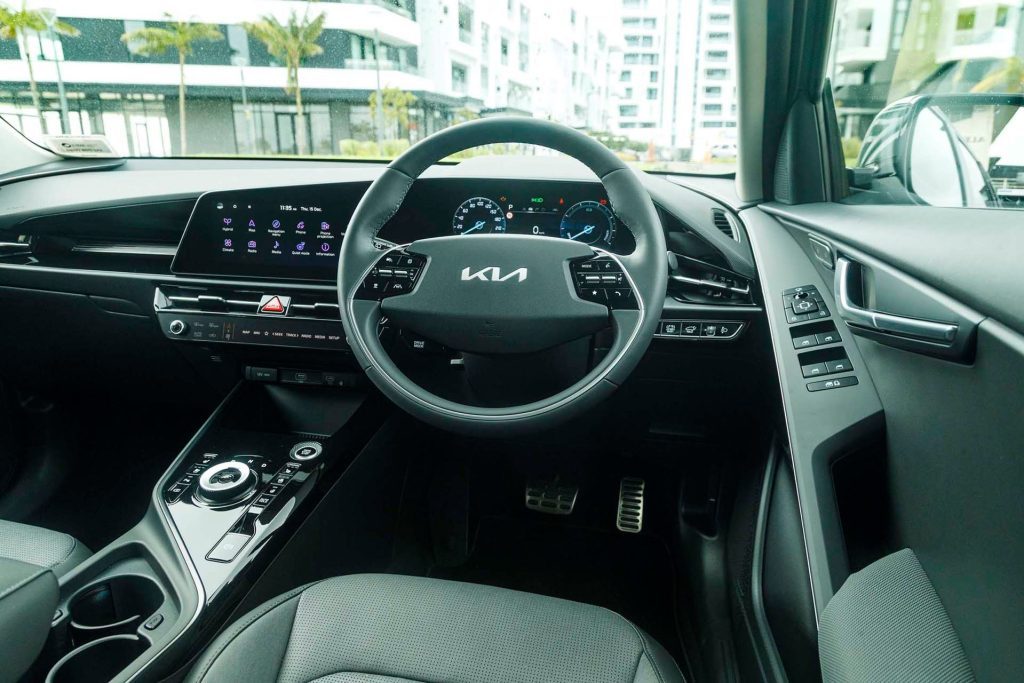 New Niro seems like a styling evolution to me and while there are some interesting design flourishes, like the optional piano black C-pillar blade (reminding slightly of the Audi R8 innovation) along with other piano black sill and bumper inserts, this isn't quite on the same exalted plane as the Kia EV6.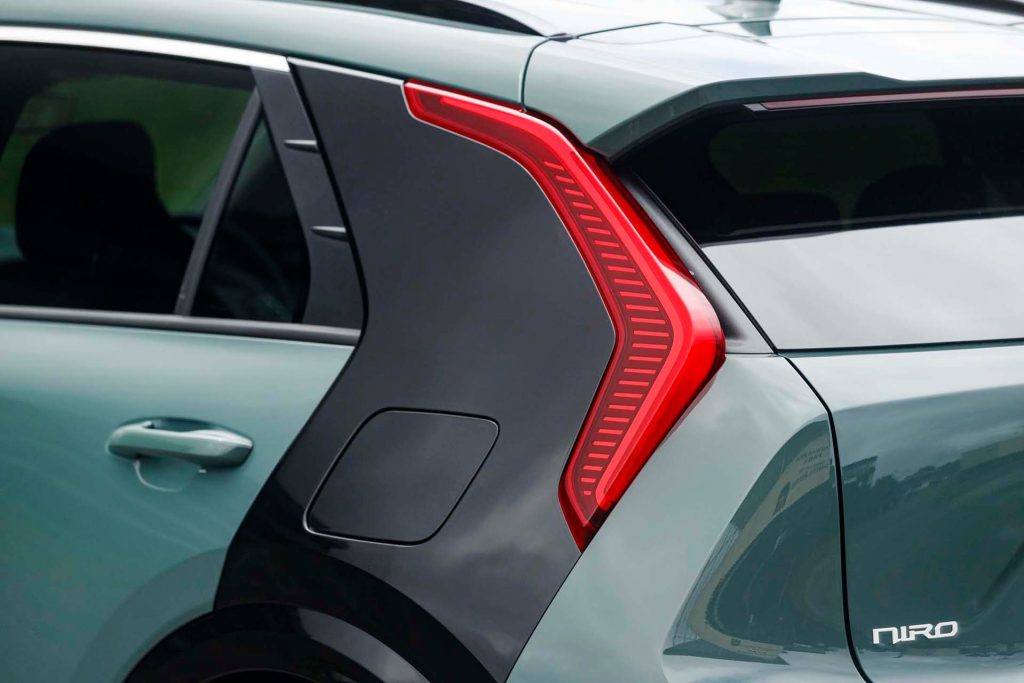 However, Kia has made quite a splash on the Niro interior which not only features sustainable trim materials but also a pair of sizeable screens (one of the touch variety, the other the digital instruments) housed behind a widescreen section of glass. Below the infotainment screen is a row of buttons and dials that run the HVAC system, but at a touch they also switch over to infotainment controls. Quite clever, as are the paddle shifters and drive modes. There are just two of the latter. When you're driving around in Eco, the paddles act as brake regen settings of which there are three, along with a coast mode. This makes for excellent single-pedal driving conditions, by the by. Switch to the Sport mode however, and the paddles act as gear shifters.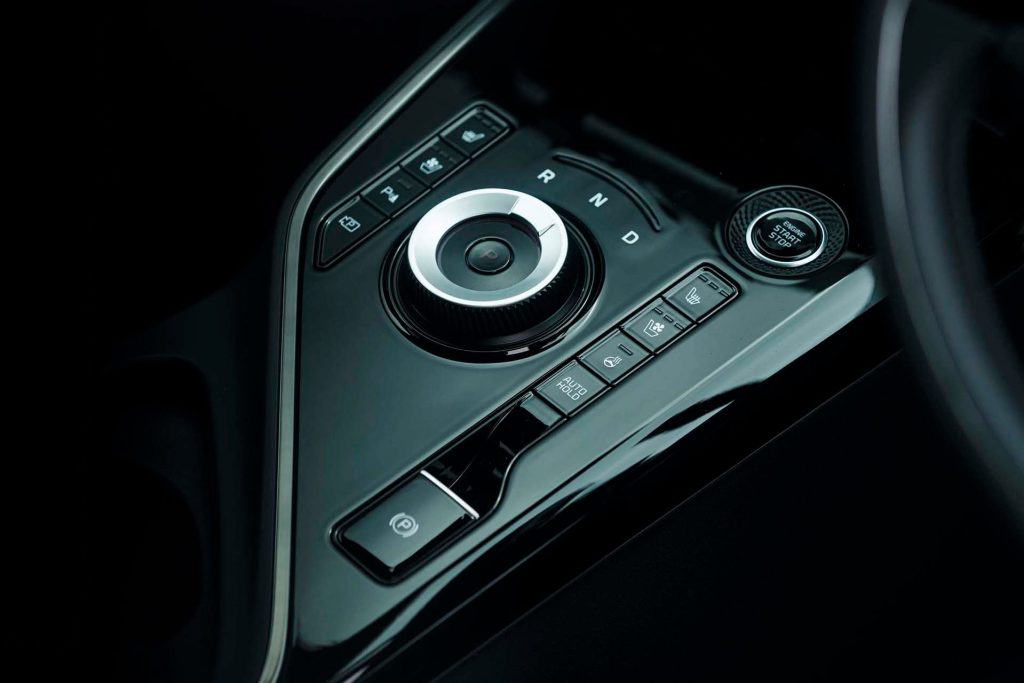 What's under the bonnet?
The powertrain is carryover because the combined total of 104kW and 265Nm is unchanged. As a refresher, the Atkinson style naturally aspirated engine makes 77kW at 5700rpm and 144Nm at 4000rpm but within the dual-clutch six-speed tranny is an electric motor that adds 32kW of huff and 170Nm of puff. We liked it back then and still do. We'd say that for performance this is sufficient – it's all about chasing efficiency, after all.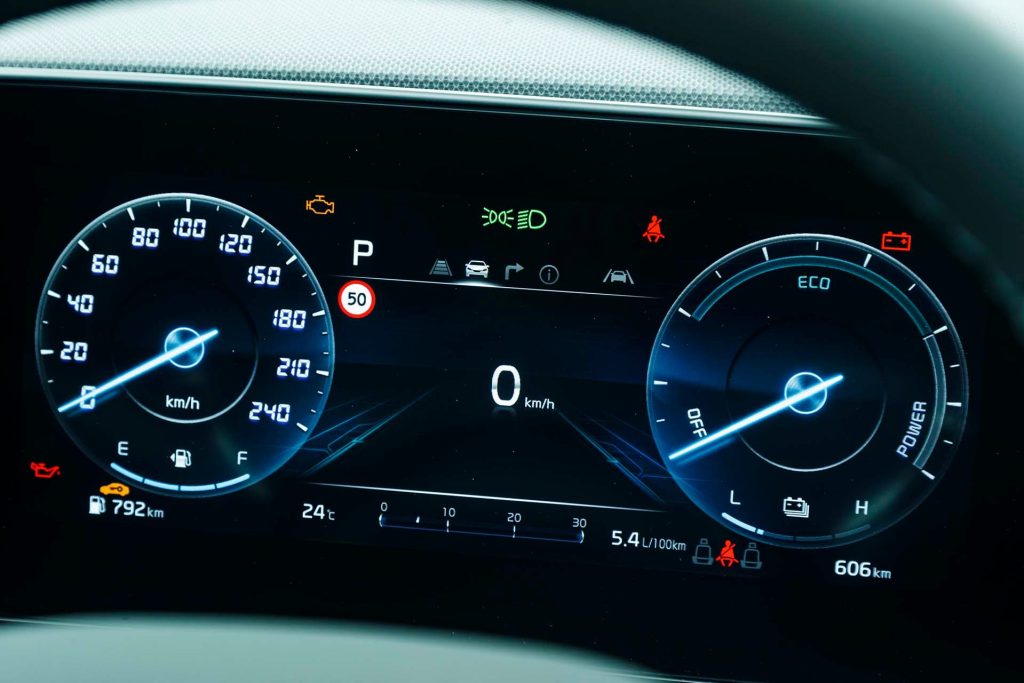 The two different power sources working together seem synergistic. Where the Atkinson engine alone might not pull a hen off its nest, metaphorically speaking, the hybrid mode is another thing altogether with the added puff of the electric motor. Even in the Eco setting where we saw fuel use figures as low as 4.2L/100km on the motorway, this feels quite sprightly in the 2000-3000rpm range (actually we must have been in Sport cos there's no rev counter in Eco). Anyway at such revs it gets along just fine. It will get to 100 in under 10sec, while an overtake requires seven sec, no different from the prior model then.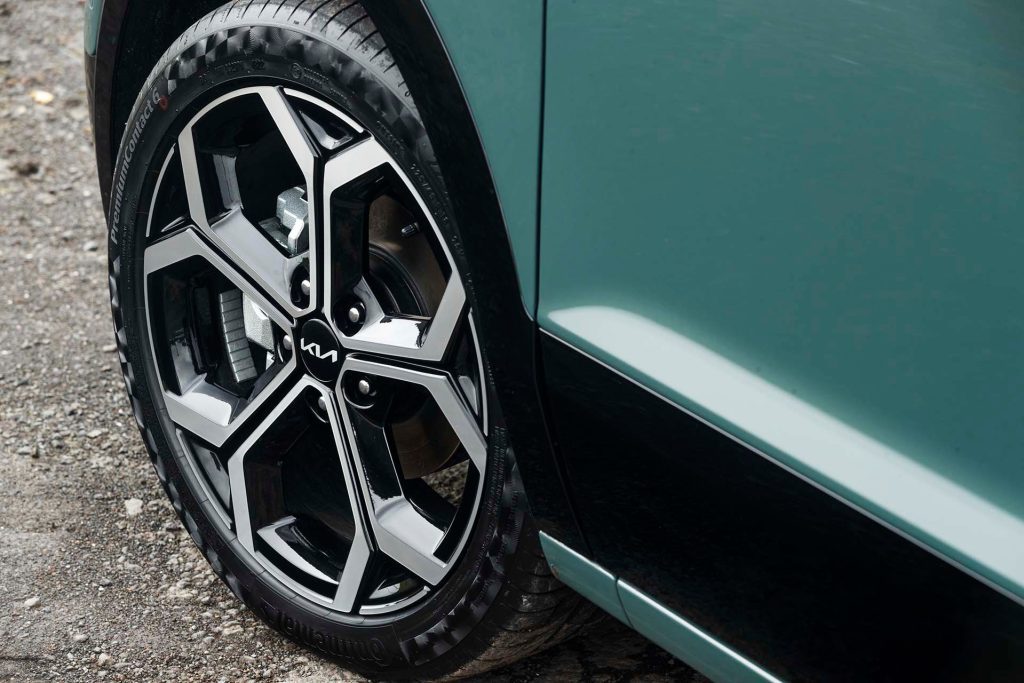 I think the 4.4L/100km is genuinely achievable, mixing up some motorway driving with the stop and go and EVing of urban streets. Not that we did hit that figure (5.2 was our average), because of performance driving and checking out how it went around our regular urban/rural loop but a figure in the low fives is still pretty decent, all things considered.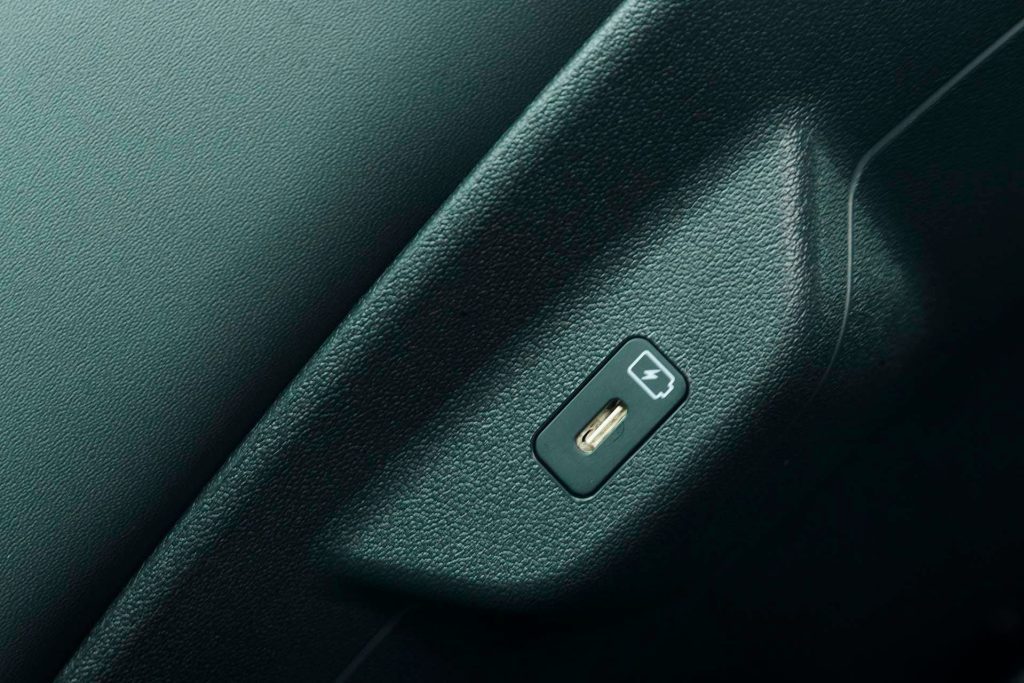 What is the Kia Niro like on the inside?
As we said the interior is pretty nifty. Push the lock and unlock tab, release the wide opening door and it's an easy slide across into the raised seat driving position. The powered pew then eases forward to its saved spot when you hit the go button. Being a by-wire shift system, there's a rotary controller to select R or D and off you go, an auto hold system convenient for stop lights on hilly roads. There's a lot of gear on board this, as you'd hope for a car costing as much as an entry level EV, only without quite the rebate ($3418). Much of it is dedicated to safety; all models come with adaptive cruise featuring stop and go for motorway work, lane keeping, RCTA, BSM, and the full range of airbags, right down to the head and knee protection devices. Safety sells, right? The result is that the range carries a five-star ANCAP crash rating, with scores in the high eighties for the most part. Thoughtfully, holding down on the lane keeping symbol neuters the self-centring device and beneath all the electronics there's actually quite sensitive electric steering, with generous off-centre feel.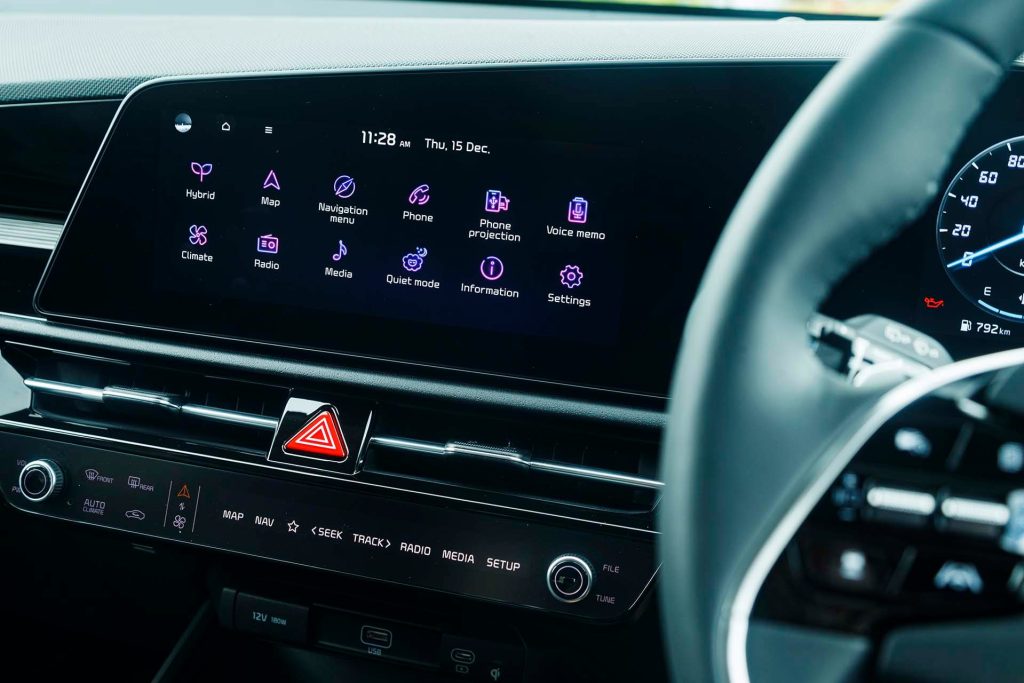 The underpinnings have been through the usual Kia optimising procedure for Australasian conditions, offering a more balanced ride and handling package. Thread it through a winding road and it responds with crisp handling thanks to a reasonably well contained kerb weight of 1450kg, while the ride is supple and quiet enough that it seldom draws attention to itself. As we mentioned, it goes well enough in the mixed Eco and Normal mode, while selecting Sport gives it a bit more zing, and paddle shifting between its six gears.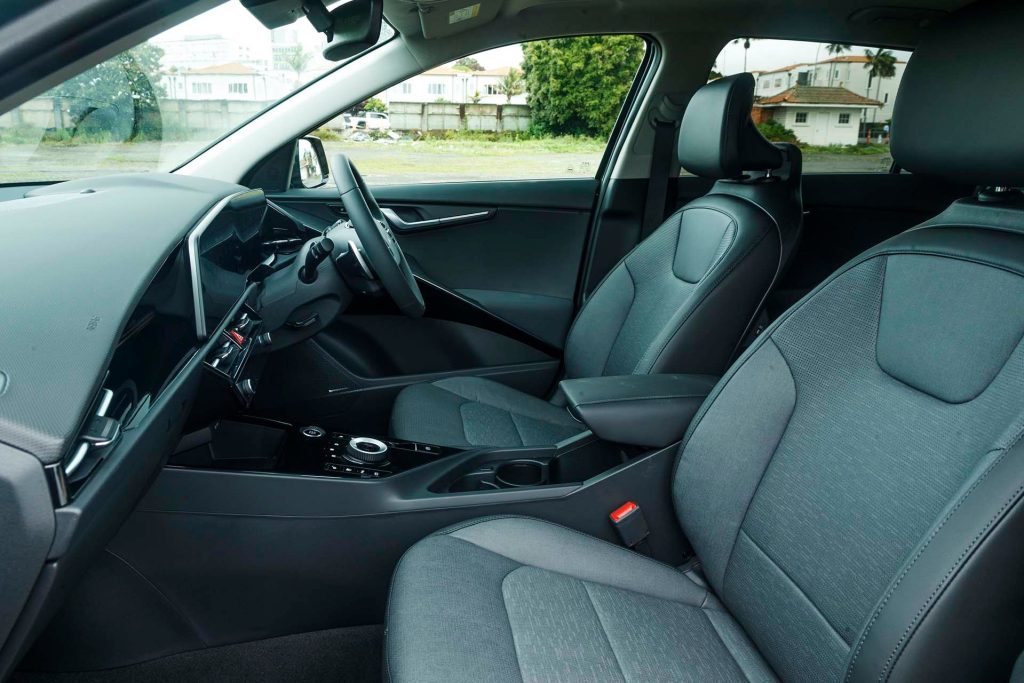 How does the Kia Niro drive?
Back into town and it's the simplicity and ease of the drive that appeals. It EVs away from a stop and under low loads often until 50, sometimes to 80km/h in higher speed areas. Not for long mind you, given the small battery capacity (1.32kWh).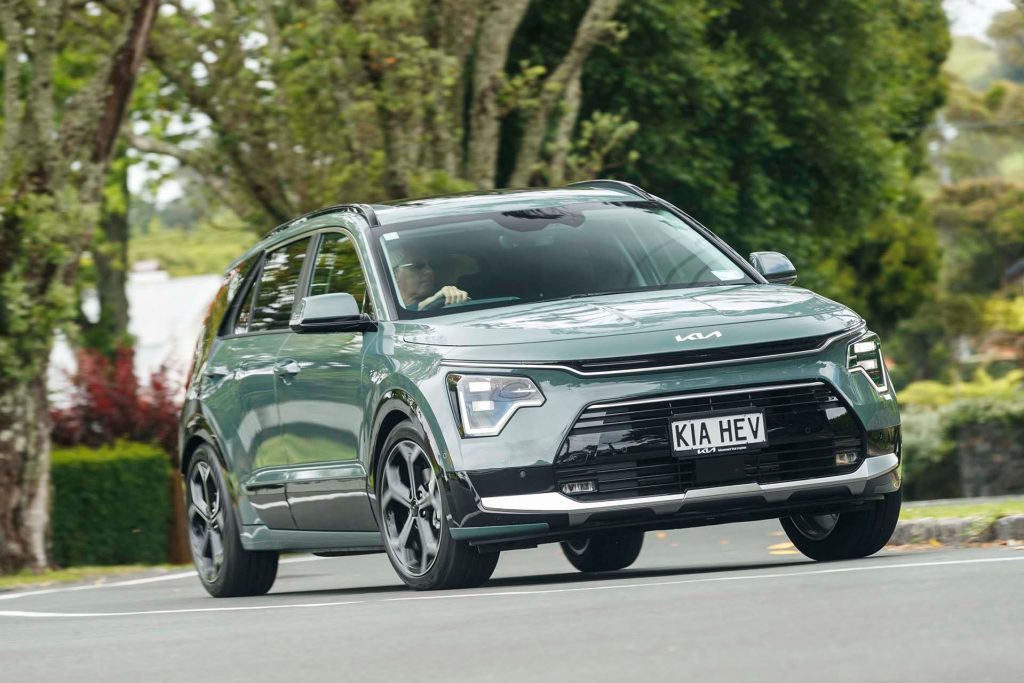 Helping ease the way is the head-up display of the top HEV model, though the vehicle has a lot to say on the go, warning of school zones, like everywhere, red light cameras, and bonging if you're over the recommended speed limit for the particular area you're entering.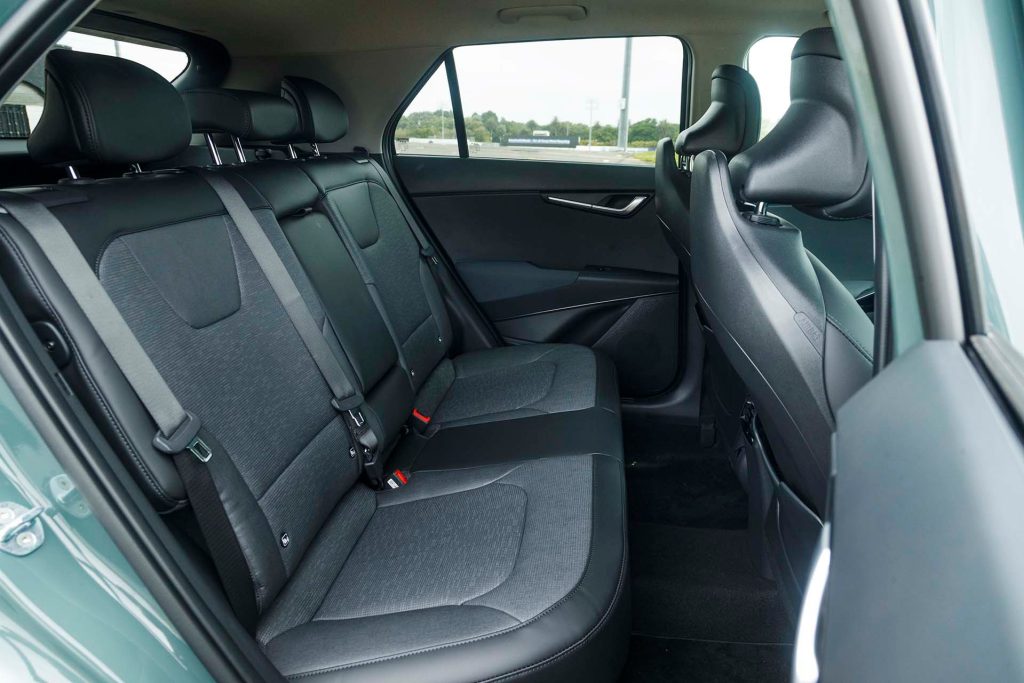 Luxo items like privacy glass, sunroof, head-up display, heated seats and wheel, sports pedals and powered tailgate are exclusive to the upper two HEV models, the GT-Line getting all of those.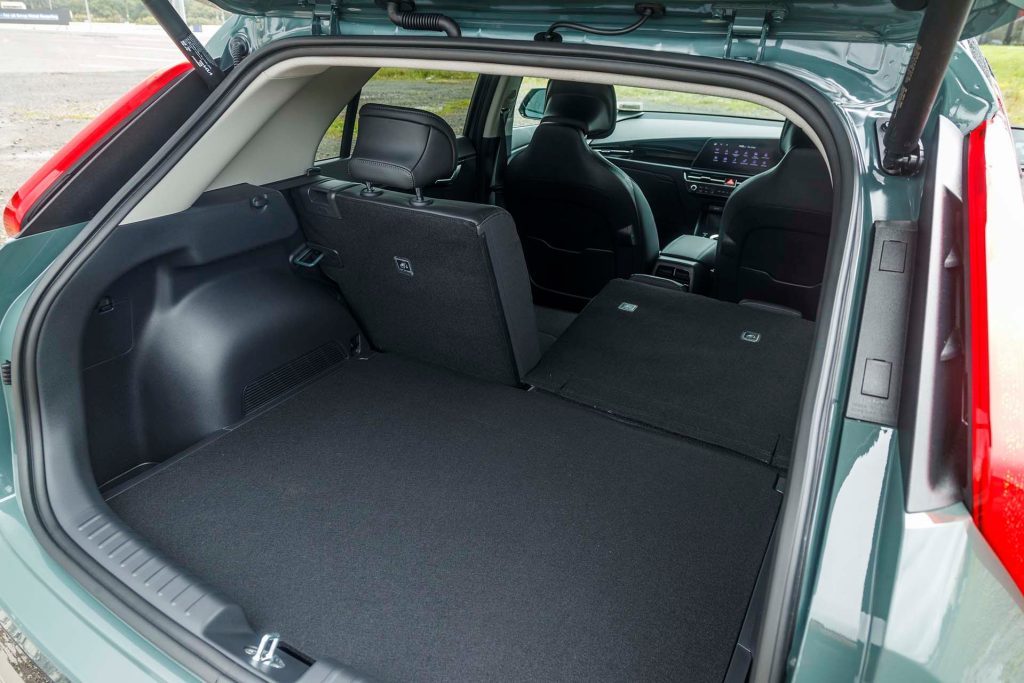 Radio stations are easy to find and save as favourites, the sound from the HK eight-speaker system is decent and the dual zone air has its own simple-to-use controls. About the toughest thing we had to do was turn off the annoying little start-up ditty that's hidden in some submenu in the infotainment screen. Once expunged it doesn't return on each restart.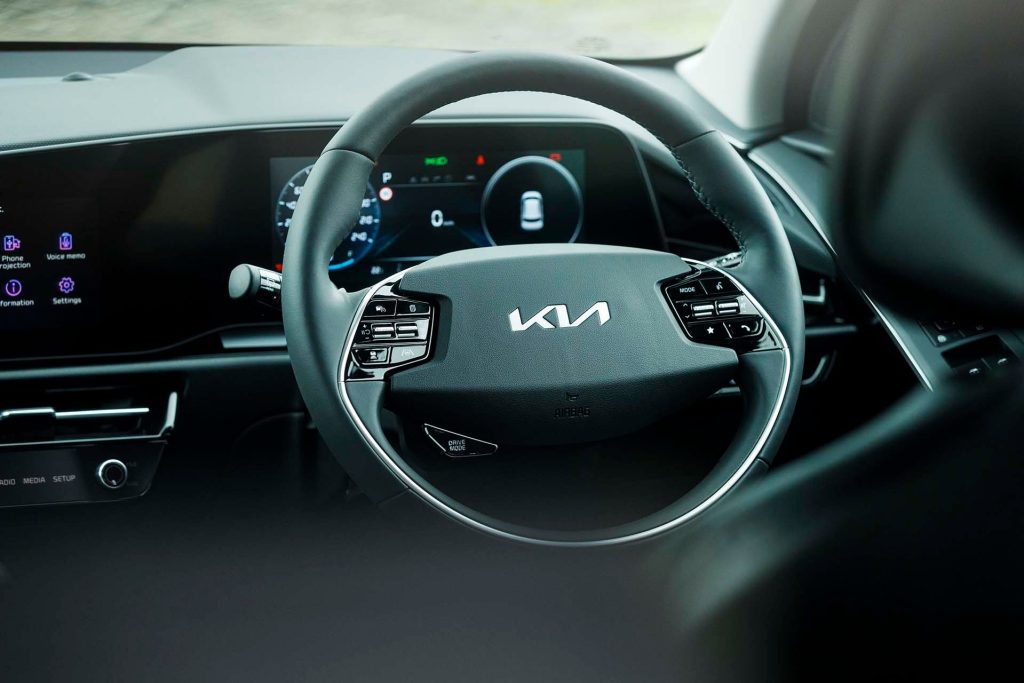 If you're planning on towing, the HEV can manage braked loads of up to 1300kg but we'd image light trailers is about all that will be dragged along behind.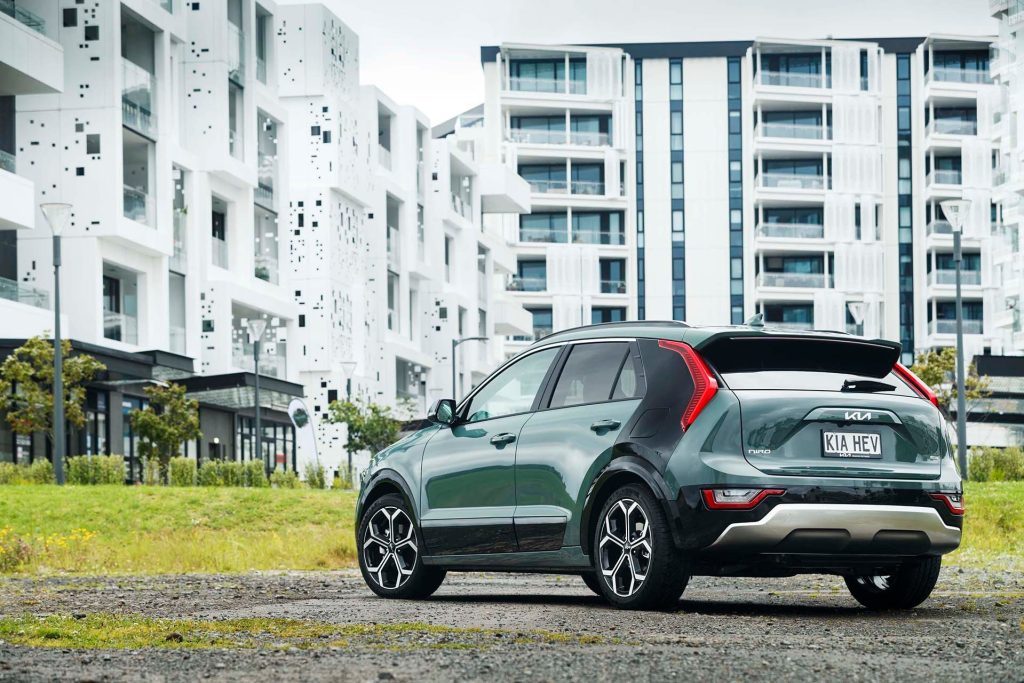 Back in 2018 I drove the EX Niro which went for $40k but didn't have anything like the kit this gets. The equivalent model now is roughly $44k, but gets the rebate that takes it back to very nearly where it was originally. We'd probably go for the Earth model at $47k because the Light is so named on account of how much kit it doesn't get, safety items aside.
Model
Kia Niro Hybrid
GT-Line
Price
$57,990
Clean Car Discount
Rebate – $3418
Engine
1580cc, IL4, DI
Power/Torque
77kW/144Nm
Motor Output
32kW/170Nm
Battery
1.32kWh
Drivetrain
6-speed twin-clutch,
FWD
Fuel Use
4.4L/100km
C02 Output
101g/km
0-100km/h
9.64sec
80-120km/h
6.92sec (197.7m)
100-0km/h
35.57m
Stability systems
ABS, ESP
Safety
AEB, ACC, BSM, LDW,
RCTA, ALK, AHB
Luggage Capacity
451-1445L
Tow rating
600kg (1300kg braked)
Scheduled servicing
3 years/45,000km
Warranty
5 years/100,000km
ANCAP rating
5 stars 2022
Weight
1494kg (claimed)