Ghibli has undergone a recent update, the most spectacular aspect being the addition of a Ferrari-infused V8 engine. Is it a case of too little too late?
"They should have had the V8 available right from the start" was how the friendly salesperson from Maserati described the new Trofeo model we've been driving recently. I'd say he's probably right, given back when it debuted there wasn't the prospect of an ICE power ban. Now though, this represents last-chance saloon if you're after a V8-infused Italian super-saloon.
Ghibli emerged in 2013, the four-door sedan actually being a third-generation vehicle; the first couple of generations were two-door coupes. We've driven Ghibli in 3.0-litre biturbo V6 guise and also as a diesel, the first to be produced by Maserati. Now, in the twilight of its life, there's finally a V8 variant, known as Trofeo, which means 'trophy' in Italian.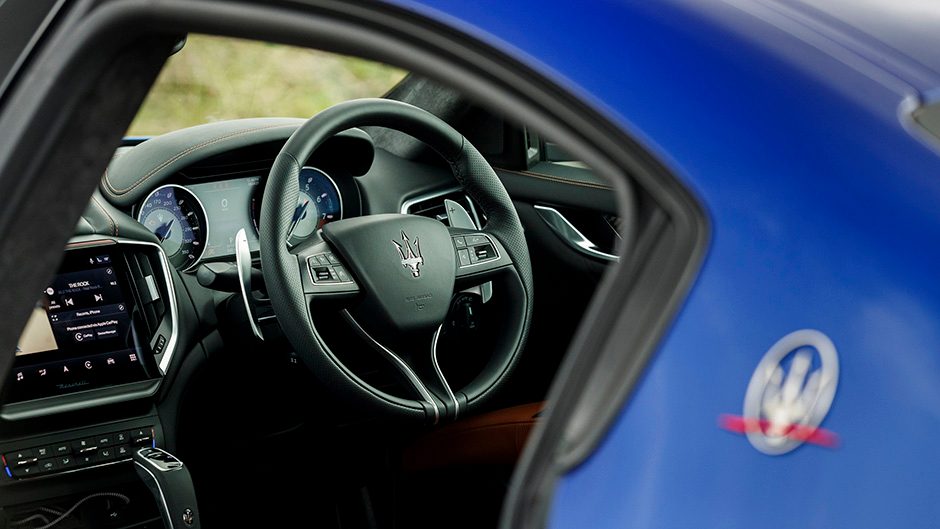 It's not the only model to get the new V8 either; there's also a Levante edition, launched a couple of years ago, and a Quattroporte Trofeo, released at the same time as the Ghibli in Europe, midway through 2020. You can pick out the Trofeo version by special logos on its flanks, in red on chrome colours, and also by the red and chrome vents on the front guards. There's also a carbon exterior and interior pack which is part and parcel of the $240k Ghibli Trofeo specification.
Included in the lightweighting are a front splitter and rear diffuser, a lip spoiler atop the boot lid, and the entire centre console top, along with other interior trim highlights. Oddly, the mirror caps are left out of the package, finished here in body colour. Because of the carbon diffuser there's no electric boot lid operation (in other models it's available and includes gesture control).
Beneath the Trofeo bonnet, which features unique meshed fenestrations, lies a Ferrari-derived 3.8-litre bi-turbo V8. Maxed out it generates a claimed 433kW at 6250rpm, and 730Nm of torque from 2250-5250rpm. There's evidently enough shove to get it to a superhero-rivalling 326km/h (203mph), making it the fastest Maserati ever, which would explain why the speedo ends at 350km/h.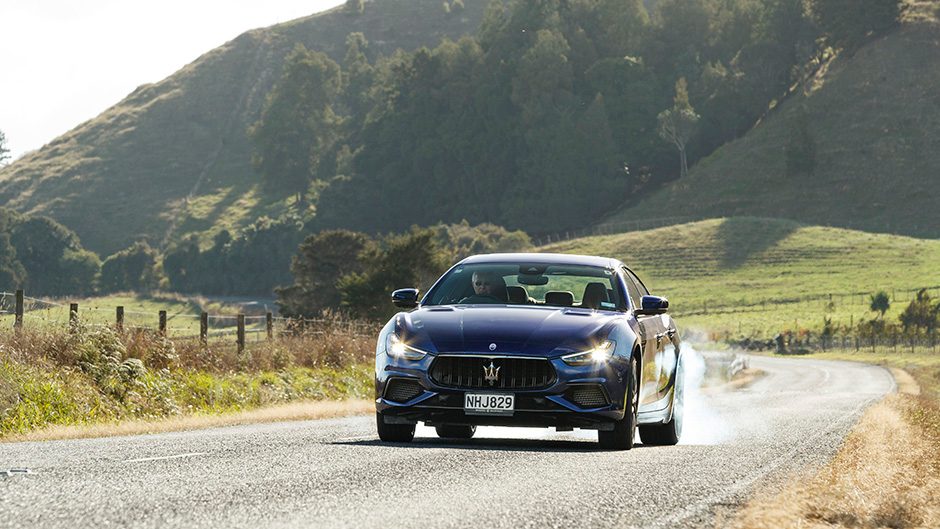 And while we're on dials, the redline kicks off at 7200rpm, and whaddya know as it upshifts precisely at that speed. Lift the hood and there are red heads capped with a polished carbon fibre noise suppressor. Maserati claims a 0-100 sprint time of 4.3sec for Trofeo. Some left-hook countries get an AWD variant which supposedly cracks into the high threes.
Red rocket?
The engine looks like a Ferrari and that's because it is built at Ferrari's Maranello plant "to Maserati's specifications". It is mated to an eight-speed auto, operated if desired in the manual mode via generously sized aluminium paddles affixed to the steering column. There's evidently also a launch control function which we completely overlooked during our short time with the Ghibli but, as it happened, no biggie. By selecting the Corsa drive mode, which turns off TC completely but not ESP entirely, we matched the 4.3sec sprint claim on our second attempt, and that was using a test strip with fairly coarse chipseal. On hot mix, you'd run it close to 4.0sec flat.
So it's no slouch, despite weighing in at almost 2100kg, ready to riot. Well, not quite that; this is a luxury sport sedan, after all. It's meant to be a mix of sports and luxury and this tricky path it really does manage to nail down pretty well, thanks to its Skyhook adaptive suspension. Sensibly you can mix and match powertrain characteristics and ride completely as the situation or mood suits. You want a firm and controlling ride and ballistic driveline response? Simply dial up Corsa which, along with calming the electronics, dials up the engine and transmission to their most energetic. Or you can leave it in Normal, which still affords a reasonable degree of body control with a more cosseting ride, while the engine works more off the torque than the revs. Alternatively, you can opt for a comfy ride and an angry engine, or a civilised powertrain response and controlling progress. Just whatever takes your fancy.
Sounds a mixed bag
In the Italian-style drive mode (Corsa) or even just Sport, the exhaust valves open at idle and the whole show takes on more menace but once underway there's not really a whole lot more mechanical noise as it's drowned out by tyre roar. This never really gets to the point of being shouty, although over the worst surfaces it does come close, with mean SPLs of around 75dB. We'd imagine it might be even louder inside if there was less in the way of double glazing. Mind you, there's a swag of rubber beneath so it's small wonder the PZeros produce a bit of a din. They're low profile too, 30s at the rear, making the ride quality all the more impressive.
This may be a model in its twilight years, but it sure can hustle and, as is so often the case with Italian machinery, the more you egg it on, the better it seems to enjoy things. To a point, that's also true of the engine, which seems to really come alive at 3000rpm when you're out in the wilds, awakening the livestock and encouraging them to take their daily exercise. And yet dribbling around town there's so much energy bubbling away below 2000rpm, you'd swear peak torque began way below 2250rpm. Thank the twin turbo design for that.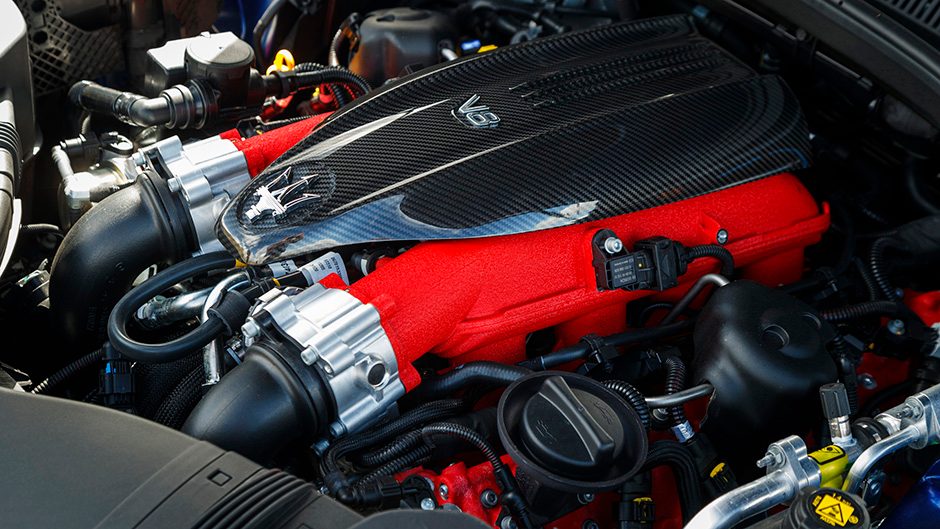 Special stoppers
It's almighty quick given its head this car, and as a point of comparison achieves an overtake quicker than the M550i, an AWD sports sedan also featured in this issue (2.16 vs 2.25sec). Unusually, Maserati claims a 100-0 stopping distance of 34m which is almost exactly what we found. The brakes on this are a bit special, six-piston calipers up front, four-piston units on the rear, all clamping down on ventilated and drilled discs. The bite and tactility at the pedal are something else, not quite matched by the same degree of sensitivity at the wheel.
Nevertheless, with an almost even weight split and power flowing to the rears via a limited slip diff, this eases into and through corners with the sort of alacrity you'd not expect of something weighing the better part of 2.1 tonnes. You do notice its size on narrower back roads but it still manages to thread a fine path at pace down these. Cornering lines are well held, thanks to its Integrated Vehicle Control system (independent brake intervention and torque reduction) and, like decent rear drivers, this will round up into the turn under power. Providing you're not in Corsa mode where TC is conspicuous by its absence, this will try to unload the rears when you're exiting hairpins and there's sufficient torque to hang the rear if you're in the right gear. But then there's also the potential for disaster in this situation, something you're cognisant of in a vehicle costing just shy of a quarter mill.
That's not so much in housing terms perhaps, but it's getting up there for four wheels.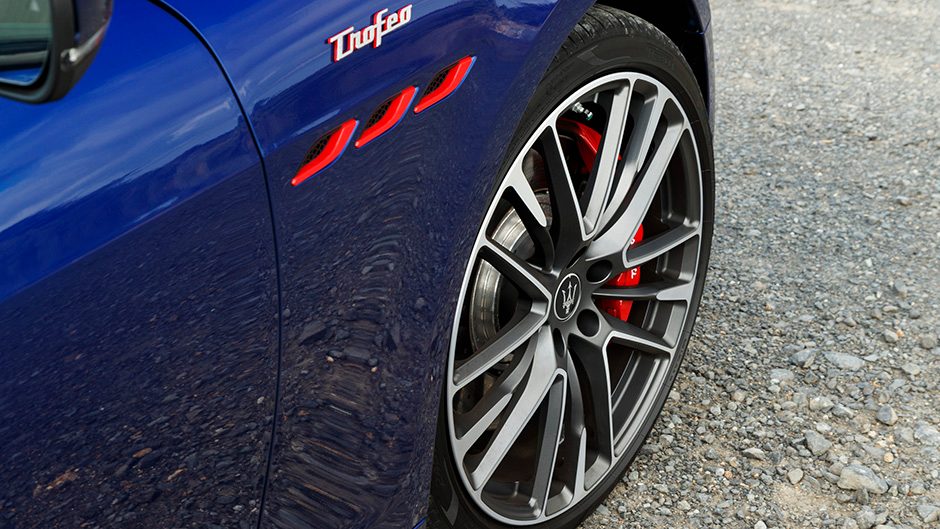 Where's it fit?
The sedan range is naturally outsold by the roomier, more versatile Levante in New Zealand, unsurprisingly, for Ghibli's least impressive aspect is its rear seat occupancy space. There's not a whole lot of leg room back there if folks up front are stretching out, and while there are belts for three, the middle seat passenger will necessarily be tiny, given the limited headroom.
However, boot space of 500L is hardly stingy, even if the usual boot lid entrance is somewhat restrictive for bulkier items. Split folding is possible.
There's little left to the options list in the Trofeo, though our car featured beautiful Zegna leather upholstery, with almost a woven look to the squab coverings. Heated rear seats, mica paint, a powered rear sunblind and laminated rear glass helped tip the end price over the $250k mark. However, it gets things like a powered sunroof and alcantara headlining as standard, the leather trim extends right up into the upper dash area, and there's every safety item present, right down to lane keeping and centring, adaptive cruise with stop and go, blind spot and tyre pressure monitoring. Figure also on seat heating, surround camera and, in pride of place, a new 10-inch central touch screen. Incorporated in this are myriad apps, and the car links to both Android and Apple phones wirelessly.
It's not without competition the Ghibli Trofeo in the form of the, ahem, M5 Competition from BMW, a car that's much the same price, but with all-wheel drive, which some would no doubt contend is not an advantage. The M5 is a bunch faster in a straight line, and will be stickier in corners but hasn't the velvety ride of the Trofeo. And not much will in this class, apart perhaps from the air-sprung RS 7, another expensive AWD rocketship. But it's the rarity of the Trofeo and its adherence to rear-drive character that will ensure a degree of exclusivity.
| | |
| --- | --- |
| Model | Maserati Ghibli Hybrid GranSport |
| Price | $160,000 |
| Engine | 1998cc, IL4, T/DI, 246kW/450Nm |
| Drivetrain | 8-speed auto, rear-wheel drive |
| Fuel Use | 9.4L/100km |
| C02 Output | 213g/km |
| 0-100km/h | 6.04sec |
| Weight | 1991kg |