Ford's Everest is back, and swisher than ever. It's gunning for a higher standing in the automotive social strata. Does the new Platinum version measure up?
The Ford Everest returns, all new and ready for extreme adventuring. Or just dropping the kids off at school on your way to work. But it's nice to know you have 30-degree approach and 22-degree breakover angles with which to tackle the wilderness, along with full-time AWD, low range and a locking diff. And don't forget the 800mm fording ability and 229mm of ground clearance. Even rural owners will be unlikely to need the Everest's ultimate capabilities (okay, a few will get it up to its axles in mud), but most will covet its 3500kg braked tow rating, and appreciate the fact that Ford fits a tow bar as standard equipment.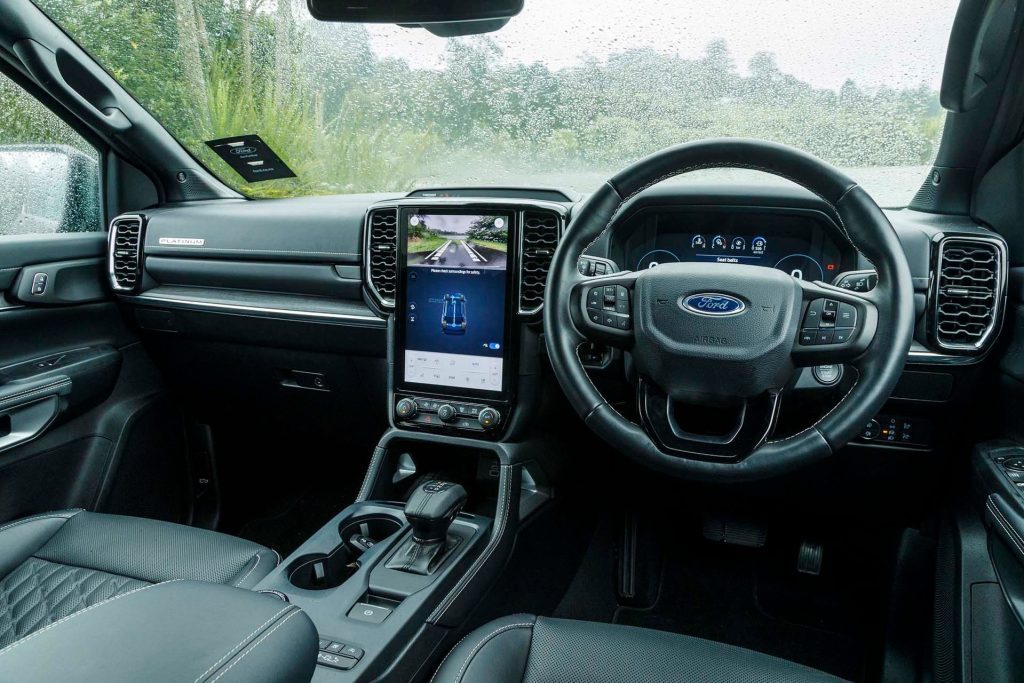 How much is the Ford Everest?
The Everest lands with three choices starting with the Trend at $71,990. This is the lone option with the 2.0-litre bi-turbo engine (154kW/500Nm), and with lower emissions (8.3L/100km, 219g/km) buyers pay a lower fee of $1897. Stepping up to the Sport with its 3.0-litre V6 requires nearly $10k extra at $81,490 while emissions of 256g/km (9.7L/100km) means double the fees ($4025). Ouch. Both the Sport and the Platinum ($86,990 and on test here) have the 184kW/600Nm V6 but all models roll with the 10-speed auto, full-time AWD with selectable drive modes, low-range and all have the same tow rating.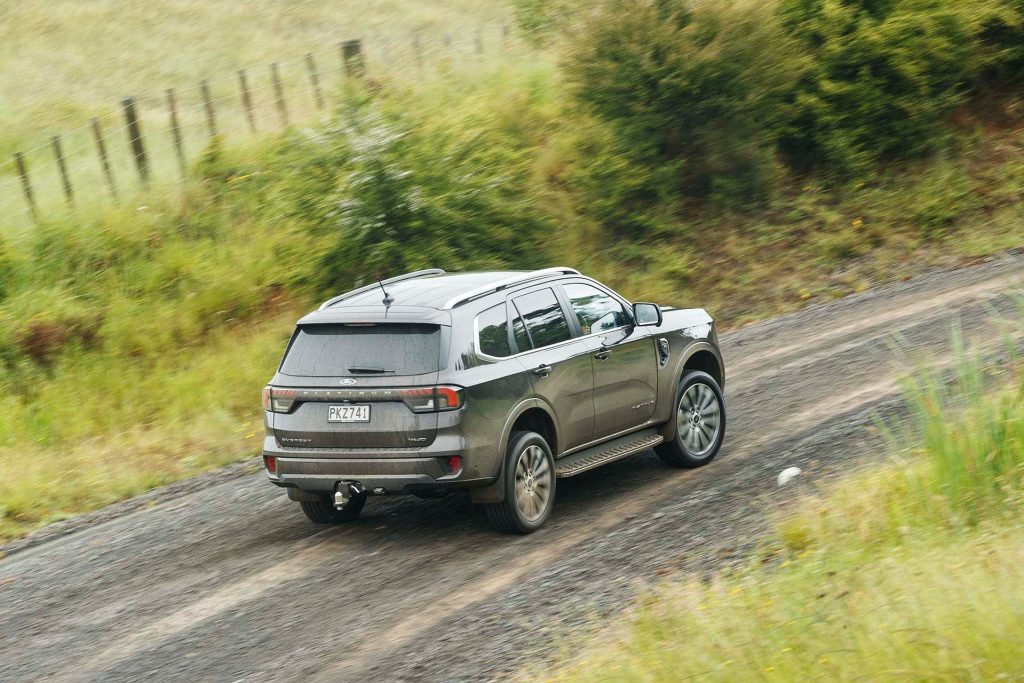 The Platinum looks fancy
Yes it sure does on its shiny 21-inch alloys and with its chromed grille. It packs extras like Matrix-type LED headlights, a glass roof, a power folding third row, quilted leather trim with heating elements, ambient lighting, and B&O sounds; you get the picture. All models have a replete active safety kit including stop and go cruise, lane keeping and auto braking. There are extras like evasive steer assist, reverse brake assist (helping you avoid backing into those pesky bollards), traffic sign recognition, a surround view camera and nine airbags if it all goes horribly wrong. Looking at the specs, the Platinum packs the extras but the astute buyer will see the Trend is no stripper with leather seats, wireless charger, the large format touchscreen and a smart key. It is certainly the value option, if you can live without having all that V6 torque.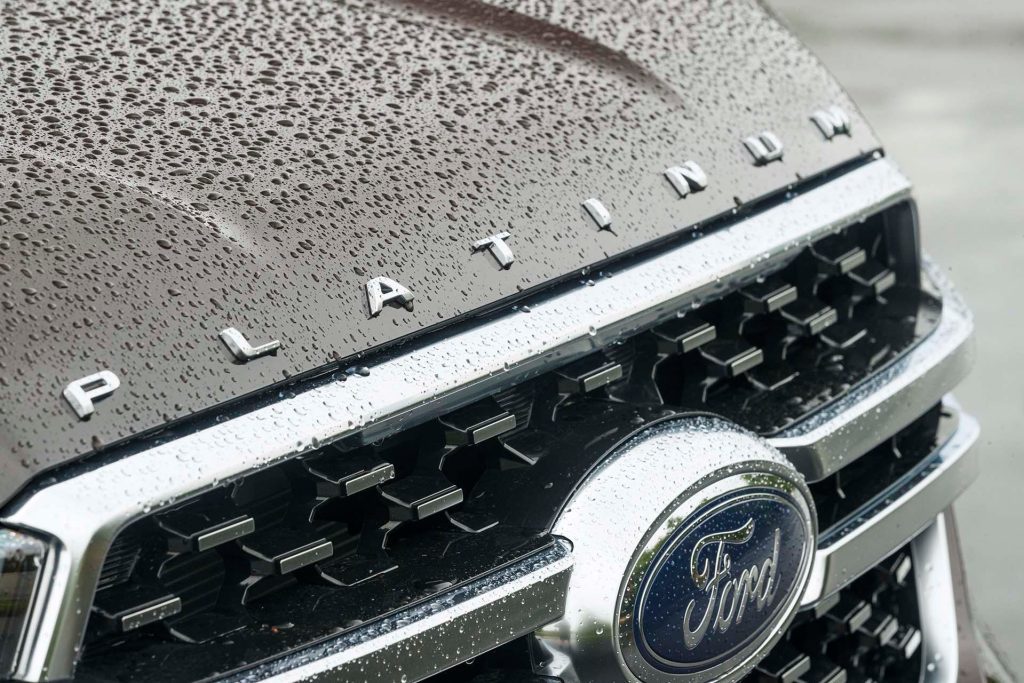 Is the Ford Everest any good on-road?
Typical of these big 4x4s, its ability to romp off road comes with a compromise on tarseal. It's to do with the weight (a substantial 2492kg) riding up high. And so it leans into its cornering work before it gets set. While it's weighty, the mass feels decently distributed so it's not too prone towards understeer. We didn't think we'd been giving the brakes a hard time but when we tried to haul up in a hurry, the pedal suddenly felt a bit soft, suggesting some subtle brake nipping is helping it turn as well as it does. While there's a good initial response from the steering, the sensation is light, though it's only an issue in the wet to be fair, when you should be driving with more caution anyway.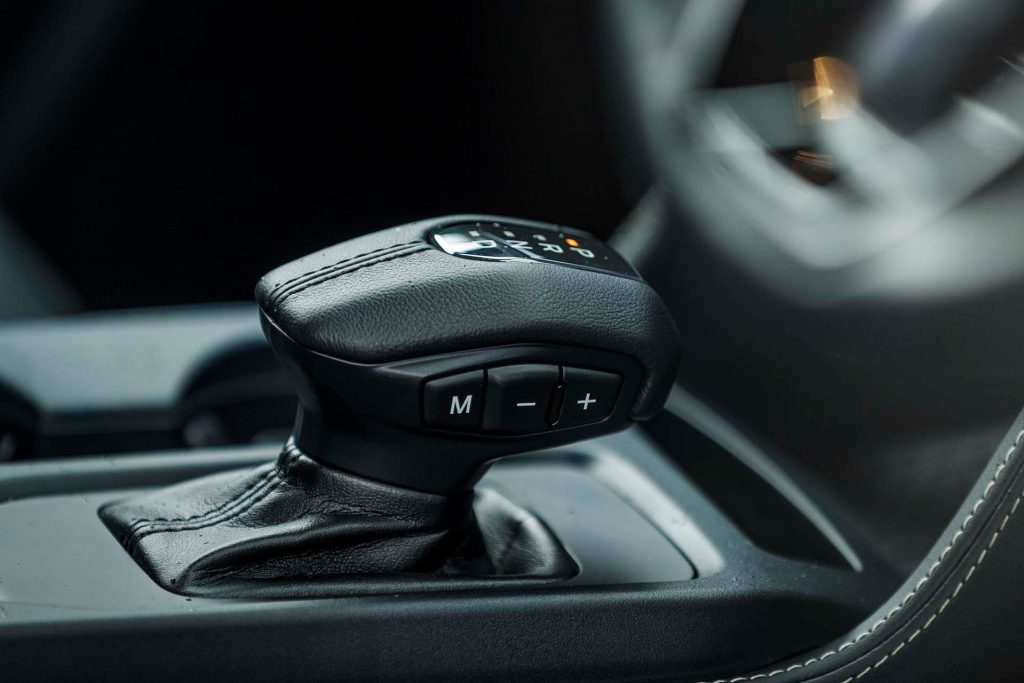 Good off road but?
Erm, we didn't actually take it too far off piste but our time with it on the Australian launch confirmed it indeed goes off-road. It's darn good on metal trails, gobbling up gravel in its 4A mode where the on-demand system will set itself a more forward-orientated torque bias for best traction. With ample suspension travel and decent shockers, this smooths those horrible corrugations flat, and there's no awful diff hop either. It points nicely in the loose, the ESP only intervening when it's really needed.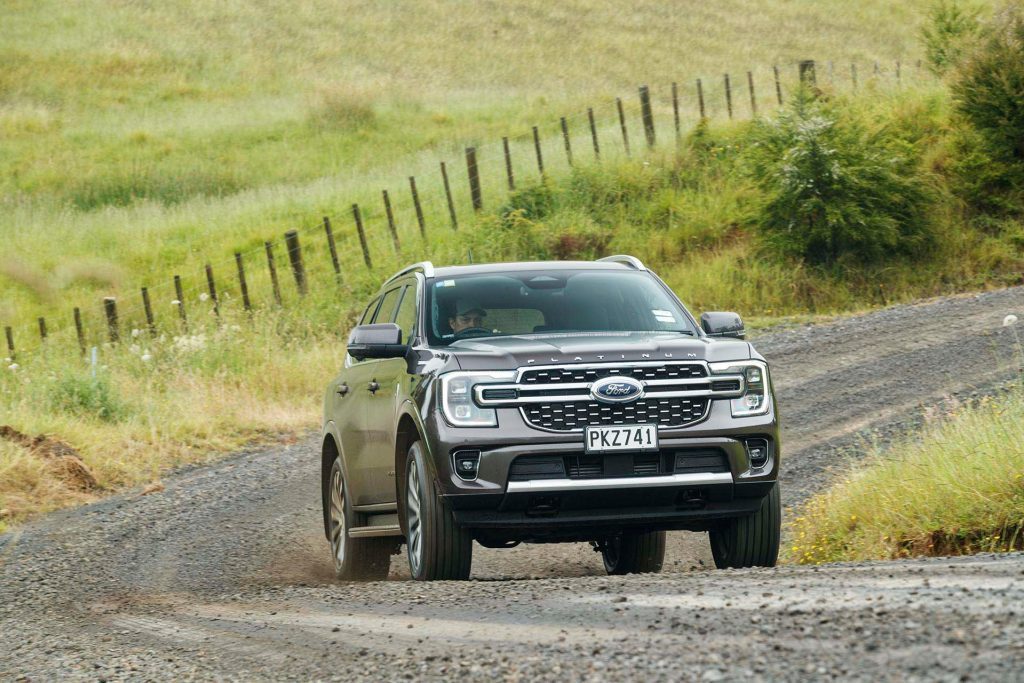 Works okay in town too I hope?
Yes, it's a machine that fits both a town and country lifestyle. While it's more than you need on the average urban school run, it is Ford's only seven-seat SUV option. It sits on a full chassis (based on an altered Ranger platform) so it's not as refined in the ride as a car-based crossover. That said, it's not bad either as it has a coil-sprung rear end with trailing arms and a Watt's link. While there is some jiggle to your progress, it's got that spongy aloofness that drivers of these big SUVs tend to like. The steering is super light (though with three turns lock-to-lock) and it spins around okay, being shorter in the wheelbase than the Ranger. If you think it might be hard to park, it's not. The surround view camera helps you line it up, and though it activates in conjunction with the parking sensors, a quick access button to summon it would be good (having to tap the screen twice in different spots isn't that smart). The bonnet height means you have no idea what's directly in front of you or what's behind, so you are reliant on those cameras. The Platinum also has a self-parking mechanism that got us into a tight space we wouldn't have been game to attempt otherwise. And it takes care of it all for you; simply select neutral and hold a button while it wiggles its way in.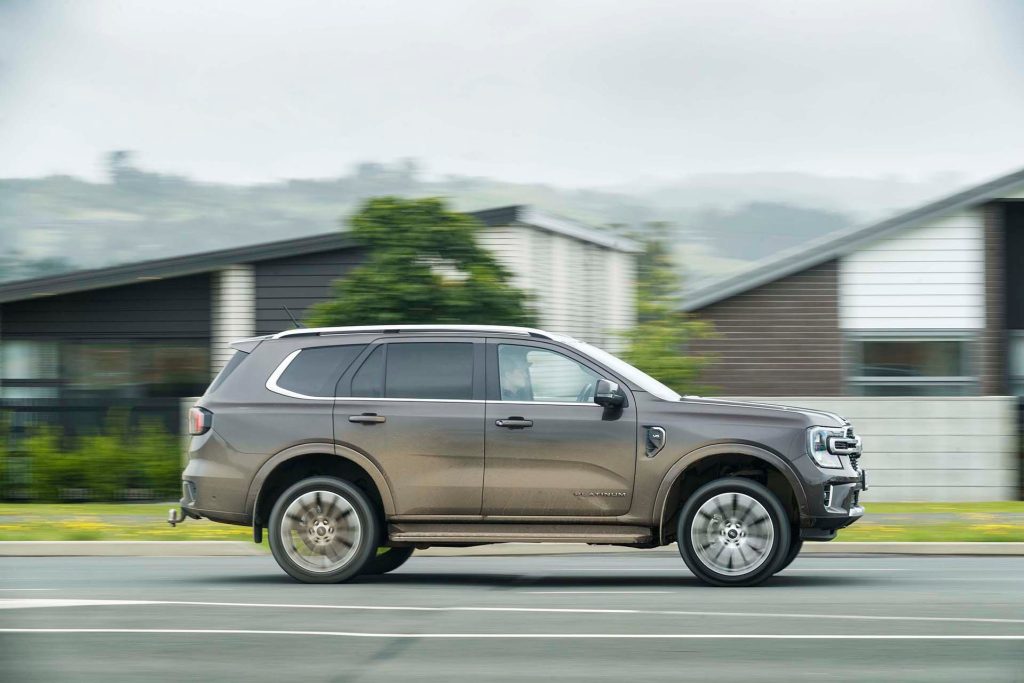 Grunt to go
There are aspects of the Ford Everest that remind us of the Land Cruiser. You can't buy the big Toyota currently, so this is about as close as you might get. It doesn't feel as substantial as the LC, which is like a mobile nuclear bunker, but it has a reasonably refined, and grunt-laden V6 propelling it. Apart from the odd shunt when chopping from R to D, the auto is otherwise a smooth operator, gearshifts going almost unnoticed. And with so much torque and so many gears, it's not often caught napping. Except maybe out of the blocks when you really must jet; there's a bit of a moment before it hits the boosters at 2000rpm and takes off. For your more sedate getaways, the 3.0-litre V6 moves this mountain well.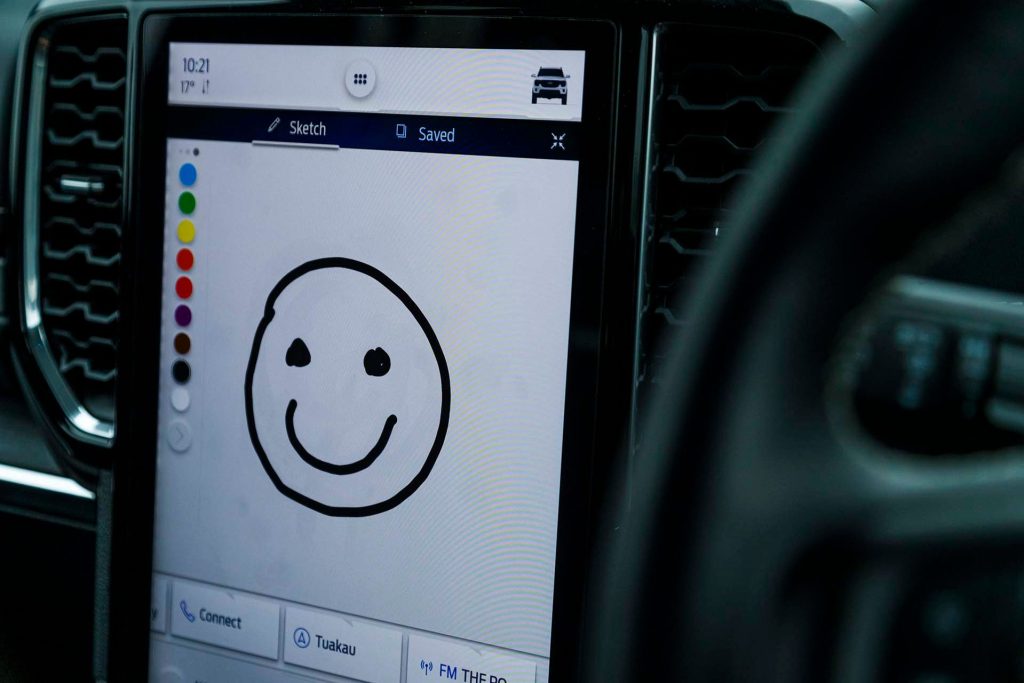 The V6 is more a slugger than a revver; even when asking for max thrust it doesn't stretch much past 3700rpm before the auto is hooking another gear and driving off that fat midrange pull. As for diesel use, we averaged in the mid 12L/100km range.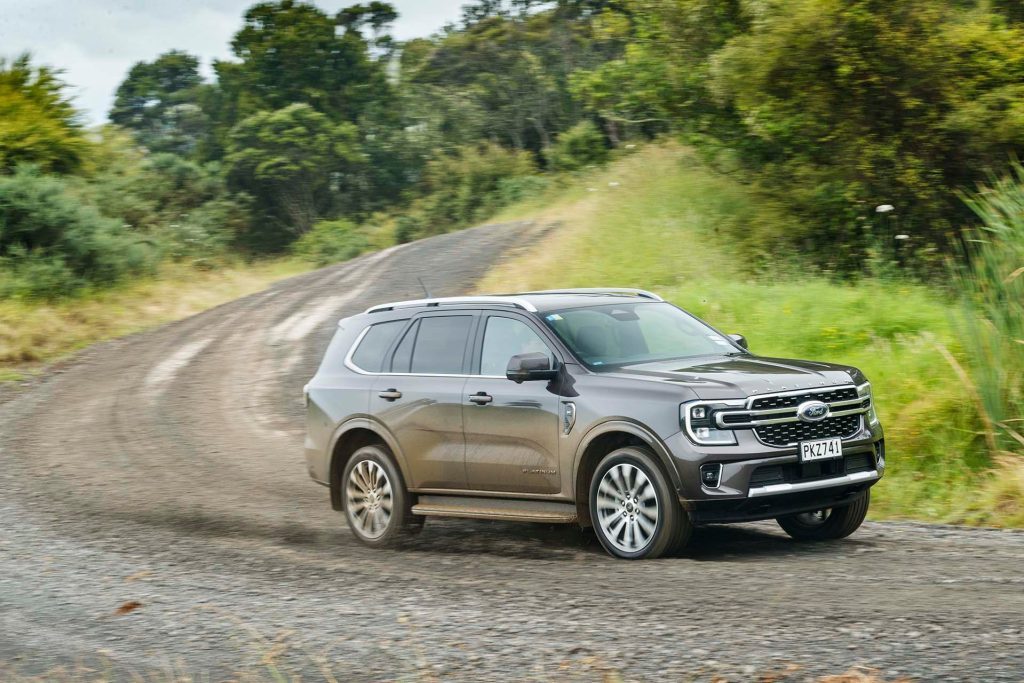 What's the Ford Everest like inside?
While the interior has an upmarket vibe about it, you can still pick its truck roots. Luckily the Ranger has spruced up its cabin act, and the Everest in Platinum guise builds on that with trimmed and stitched surfaces covering more of the hard plastic bits. The seats are so-so – while they are tarted up with a quilted texturing and perforations, they ought to be a bit more sumptuous and supportive at this money.
Most of the modern tech is present with a big portrait-oriented screen and digital main dials offering a multitude of info to scroll through. The shift-by-wire gearlever, or e-Shifter, looks the part but isn't as user friendly as it should be; you have to carefully select reverse or else you find yourself in N or P more often than not.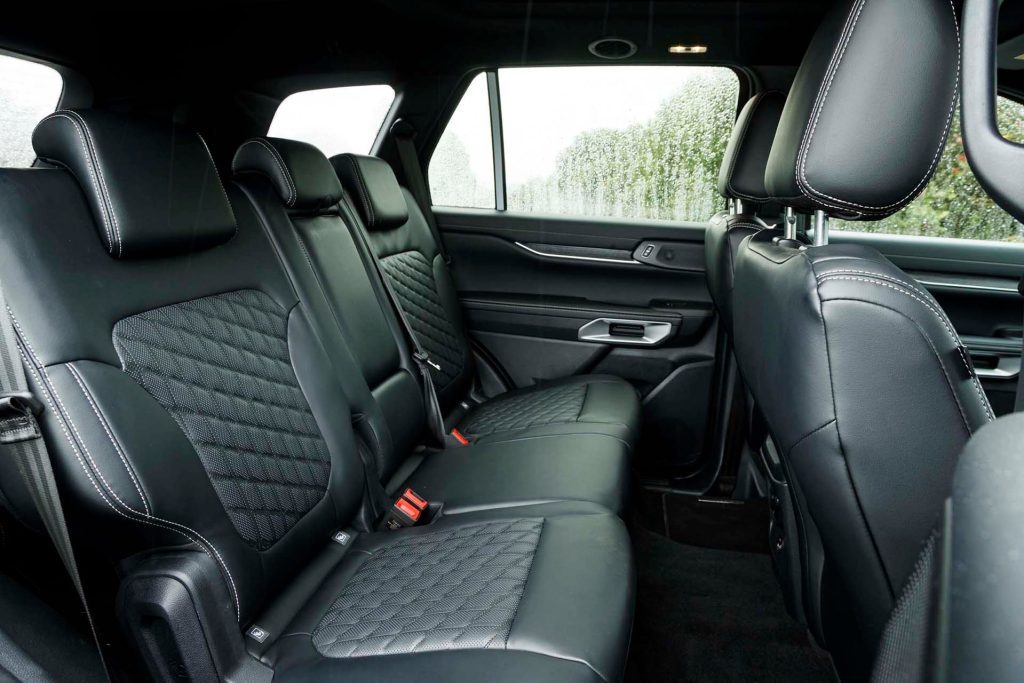 How big is the Ford Everest?
Yes, you shouldn't struggle for space here. There's good leg room in the rear, though adults will find that the floor height means your knees end up being higher than your hip point, which isn't great for long term comfort. This second row has the usual attributes with a recline function, and the bench, split 60/40, is on sliders to give those perched in the rear some extra leg room when needed. It's also heated, there's a separate fan controller for the A/C, and the easy-to-operate door handles feature in the rear too. The running boards are a help for both adults and kids alike when it comes to clambering on board, as this does ride up high.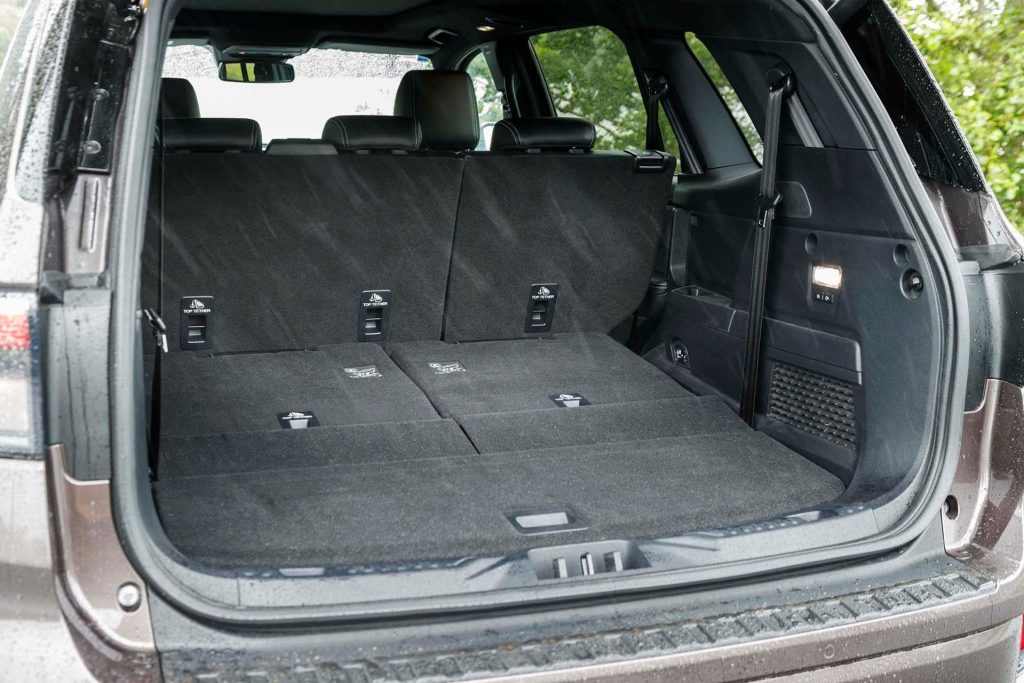 The powered tailgate has a reasonably speedy operation, as do the third-row seats. And they will fold when the second row is pushed right back too; some don't so you have to fiddle around with the middle row first, but this one works seamlessly. Access to the third row isn't shabby either with the seats tilting and sliding forward, and it's a one-hand job. You'll be able to squeeze a couple of adults back there for shorter journeys as there's just enough room for legs and feet but kids fit best. There are top tethers for the third row, with Isofix on the second row.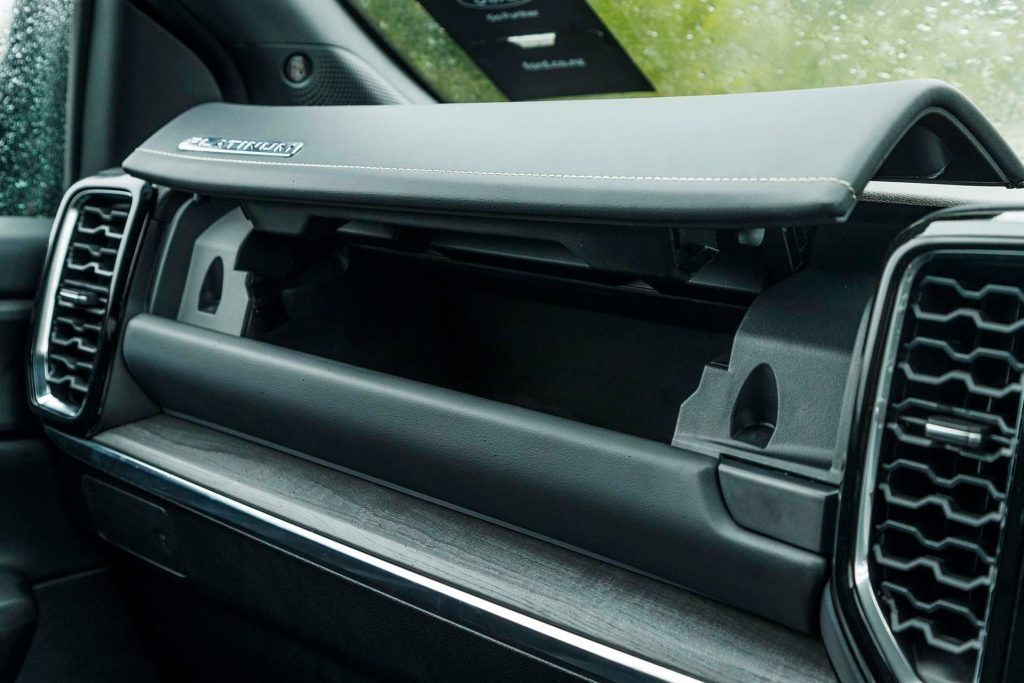 While the load height is elevated, the boot is sizeable, being wide and deep. And when all three rows are used, you've got enough space for a day trip's worth of stuff.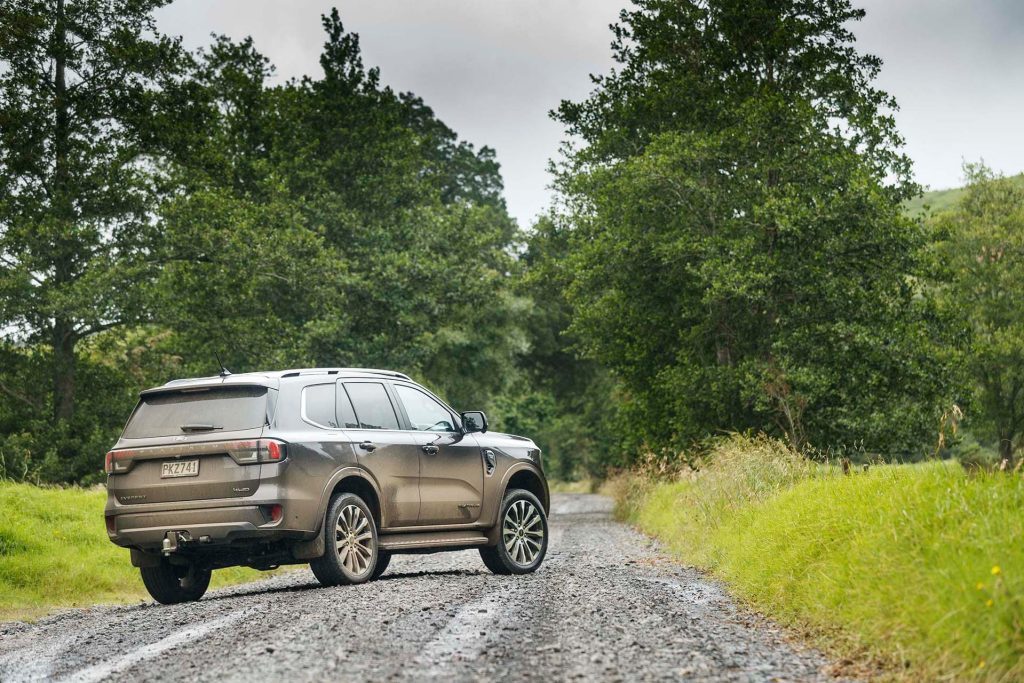 Is this the top dog then?
Everest sits in an in-between pricing point in the market. It undercuts the likes of the Grand Cherokee L and Land Cruiser Prado but is more expensive than the Fortuner, MU-X and Pajero Sport. On specification and capability, it bests those ute-based SUVs while it has the refinement and amenities to be favourably compared with the more expensive 4x4s too. For those after a big, capable tow machine, this should be top of the list.
Model
Ford Everest Platinum
Price
$86,990
Clean Car Discount
Fee + $4025
Engine
2997cc, V6, TDI
Power/Torque
184kW/600Nm
Drivetrain
10-speed auto,
AWD
Fuel Use
9.7L/100km
C02 Output
256g/km
0-100km/h
8.91sec
80-120km/h
6.715sec (189m)
100-0km/h
38.97m
Stability systems
ABS, ESP, TV
Safety
AEB, ACC, BSM, LDW,
RCTA, ALK, AHB
Luggage Capacity
259-898-1818L
Tow rating
3500kg braked
Service intervals
Variable
Warranty
5 years/150,000km
ANCAP rating
5 stars (2022)
Weight
2492kg (claimed)