Isuzu's new MU-X hasn't followed the soft roader path of some other once-trail-capable nameplates. The new generation stays true to the past, but is it the way forward?
There have been plenty of 4×4 nameplates that have gone soft over the years, those that were born with big bones but have since traded them for urban-friendly, car-like underpinnings. But Isuzu, maker of trucks and pick-ups, hasn't given up on the 4×4 SUV, with the latest MU-X still true to form. It's once again based on the D-Max, but adds refinement and niceties. However, this new generation also comes with a hefty price rise.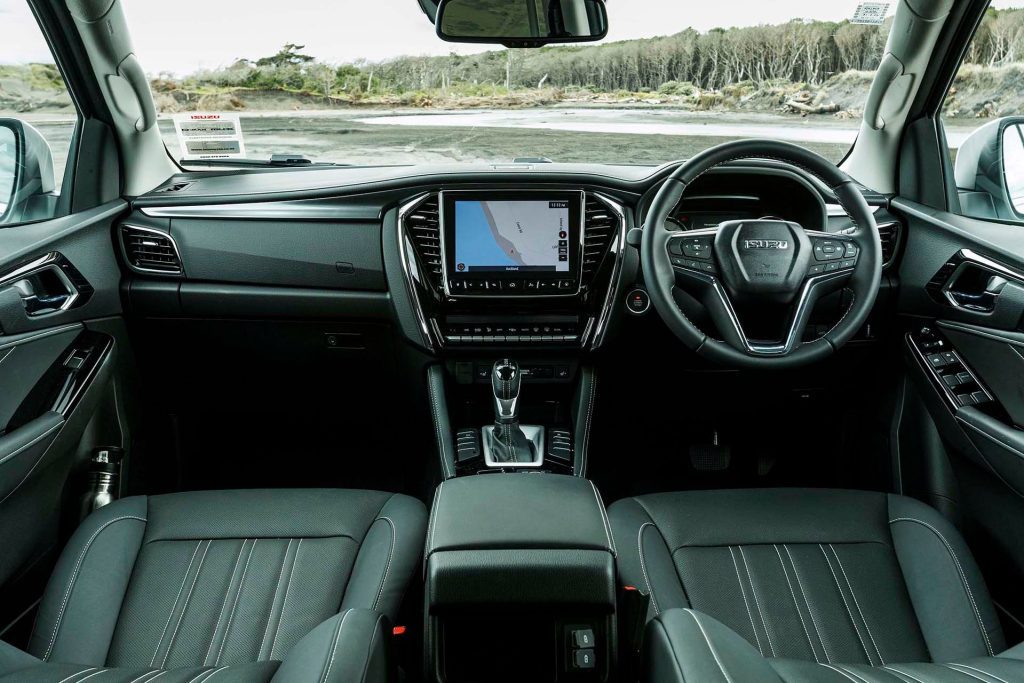 What used to be one of the more affordable rigs in the rugged 4×4 market is now one of the more expensive, with just one model offered listing at $80,990. If you're wondering, the full chassis competition includes the Toyota Fortuner ($57,290-$60,290), Mitsi Pajero Sport ($68,990) and the Ford Everest ($72,990-$79,990). For the ultimate in value the Rexton is $49,990-$76,990 and the LDV D90 a bargain at $43,990-$53,990.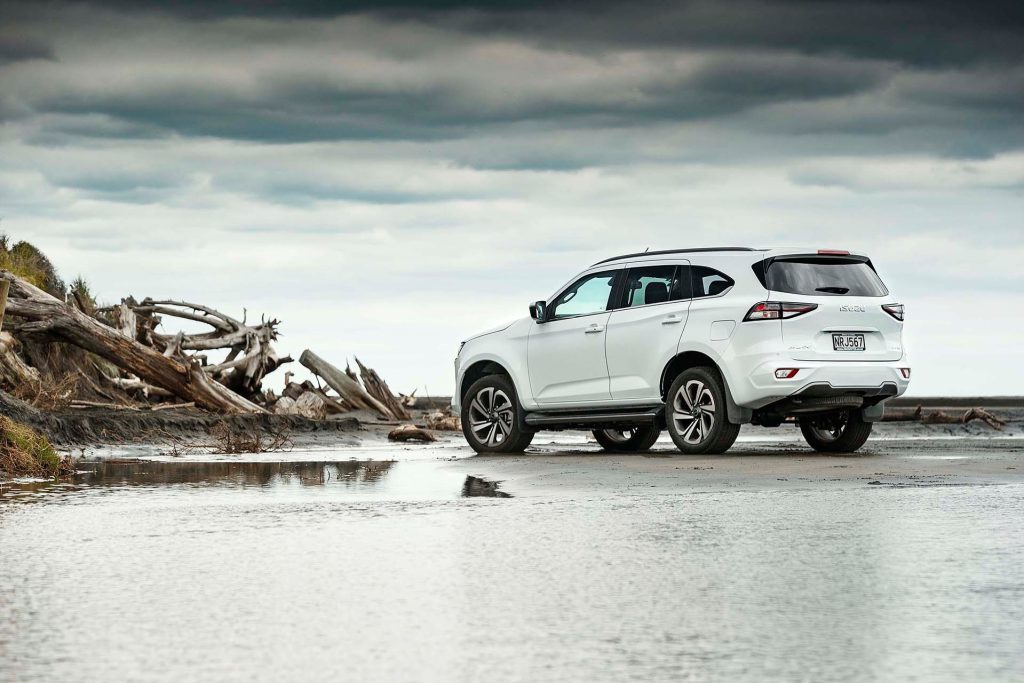 So the competitive set isn't what it used to be, with large, three-row SUVs like Sorento or Pathfinder now more in demand. Those nameplates have long since traded live axles and chassis rails for a life less rugged. However, the MU-X still offers genuine off-road hardware. Its new stats are more impressive with ground clearance up to 235mm, a 23-degree rampover angle and with breathers on the differentials it can also ford rivers up to 800mm deep if you're keen. Although you'll likely start floating in that much water if you can't keep your momentum up. Helping out in that regard  is a proper 4×4 transfer case with a low range, a locking rear diff and a Rough Terrain mode for the traction control system to keep spinning wheels in check. We didn't put this to the ultimate test, as the 20-inch wheels and Dueler HT (that's Highway Terrain) rubber would stymie any real adventuring. Serious truckers will need to upgrade those immediately. There's disc brakes all around but a live axle still lives on the rear. Unlike the ute, this has upper and lower trailing arms and a panhard rod for added stability, and coil springs to soothe the ride. This makes for a more cultured progress than what the D-Max puts you through; it's rubbish in the ride department (at least when you don't have a load on). Progress in the MU-X is generally okay (for a 4×4 on a big chassis), though it jiggles along on a bumpy road, never really settling. For city folk, it charges over speed humps at pace, but if your school run involves 20 kilometres of gravel each way, this is more up to the task of being shaken about than those unibody SUVs. The steering is super light and while the connection with the front wheels is vague, it's easy to tool around the burbs in. Even the turning circle is livable, MU-X with a shorter wheelbase than the ute.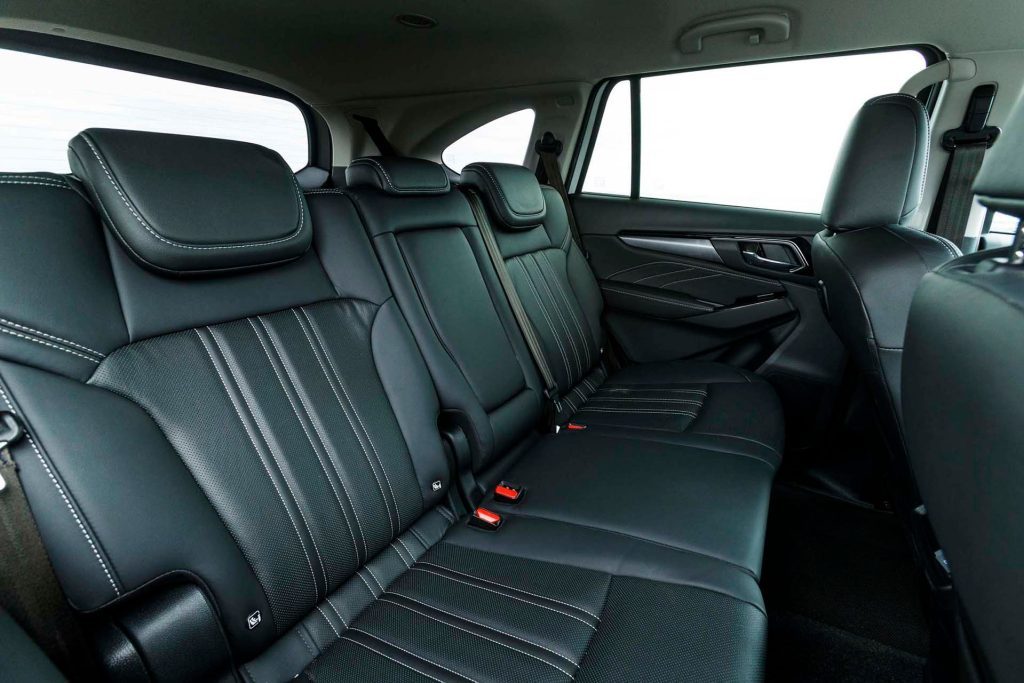 Motivation is provided by Isuzu's 3.0-litre workhorse, made over for the new generation of D-Max, and fronting with 140kW and a stout 450Nm. The auto is a reasonably responsive six-speeder, changing gears with an emphasis on the smooth rather than the slick. The torque converter lock-up can go AWOL when you're off the throttle, so you're in effect coasting along with the engine idling. And when you're back on the throttle, you get that old fashioned 'auto flare'. You can manipulate the gears manually to circumvent this, while it manages to hold in gear on a descent to add engine braking. The 3.0-litre has a decent response (once the auto is hooked up again that is), and isn't too laggy, or loud (for a ute-sourced oiler). With strong midrange pull, the average fuel use was registering in the 10.5L/100km range.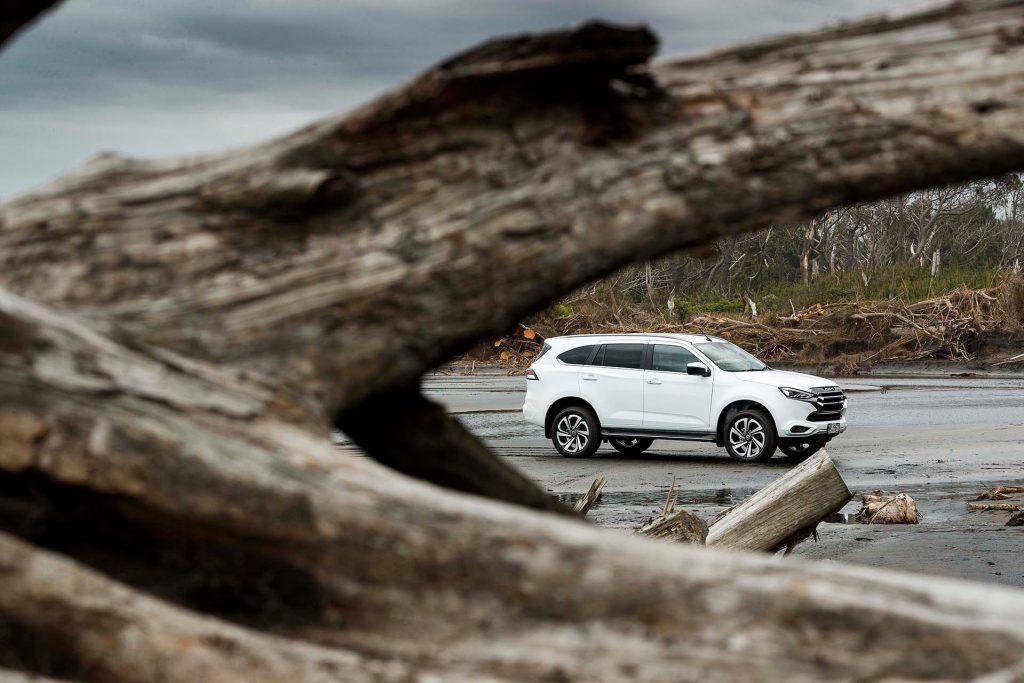 When you push things along, there's a fair amount of roll, some understeer and then ESP intervention. It chews up gravel trails nicely, however, with only some minor diff hop over the big corrugations in the bends. It manages to soak up the nasty potholes that would eventually shake a crossover to pieces if you did it every day.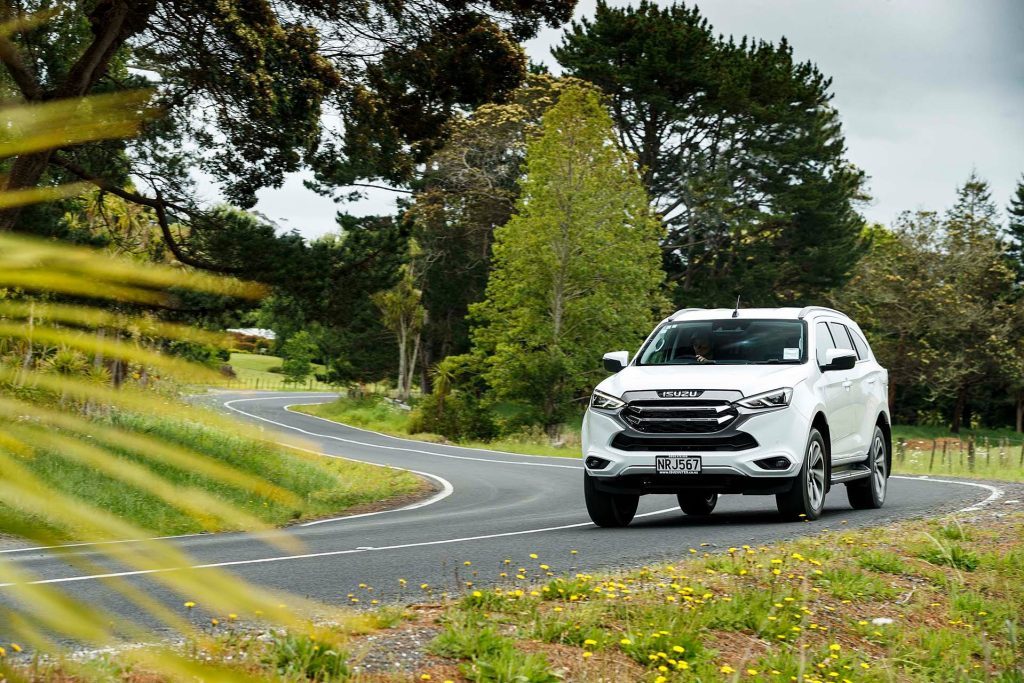 The MU-X gained a five-star crash rating thanks to the full range of active safety kit and eight air bags. However, some of the safety widgets need toning down; the lane keeping is always pushing you back into the centre of the lane when you are trying to stay left, for instance. And disabling them is a real mission, only permissible when stopped. The active cruise takes care of traffic flows, though the braking is noisy when it brings you to a halt, and it can be slow to restart again. There's just an ordinary reversing camera and parking sensors front and rear to help with docking duties.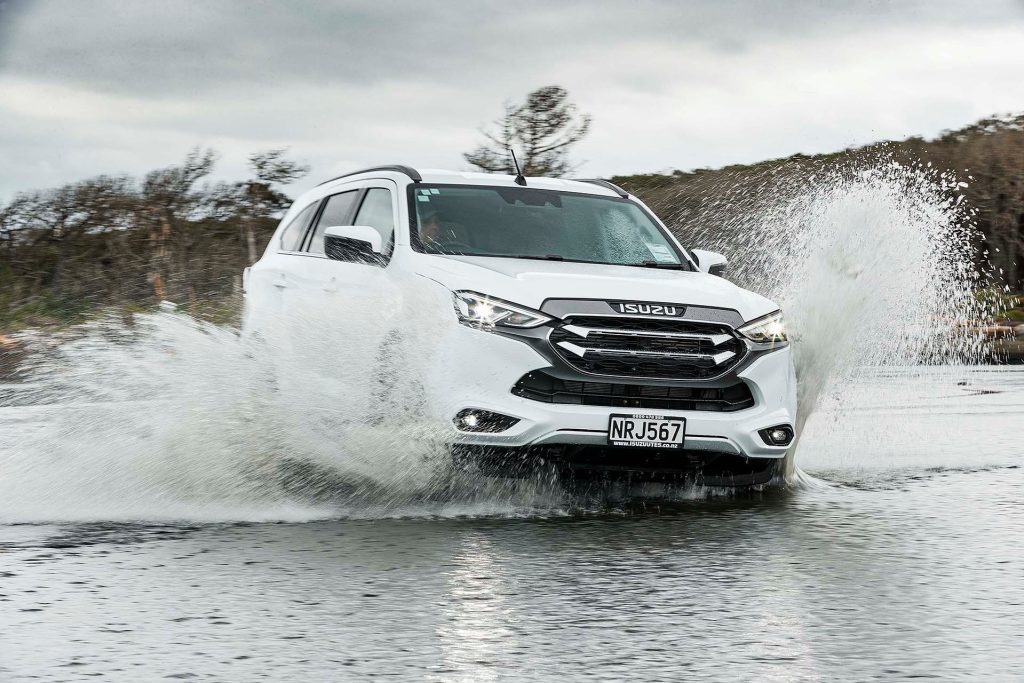 In the cabin, the MU-X has a few more upmarket fittings than its D-Max donor. Hard plastics are still in abundance but there are fewer sharp edges and more soft touch points; this even has some ambient lighting and an electric park brake. The infotainment system is pretty basic but includes CarPlay and Android Auto. The seat is accepting of a broader frame and is well padded while the steering column has four-way adjustment.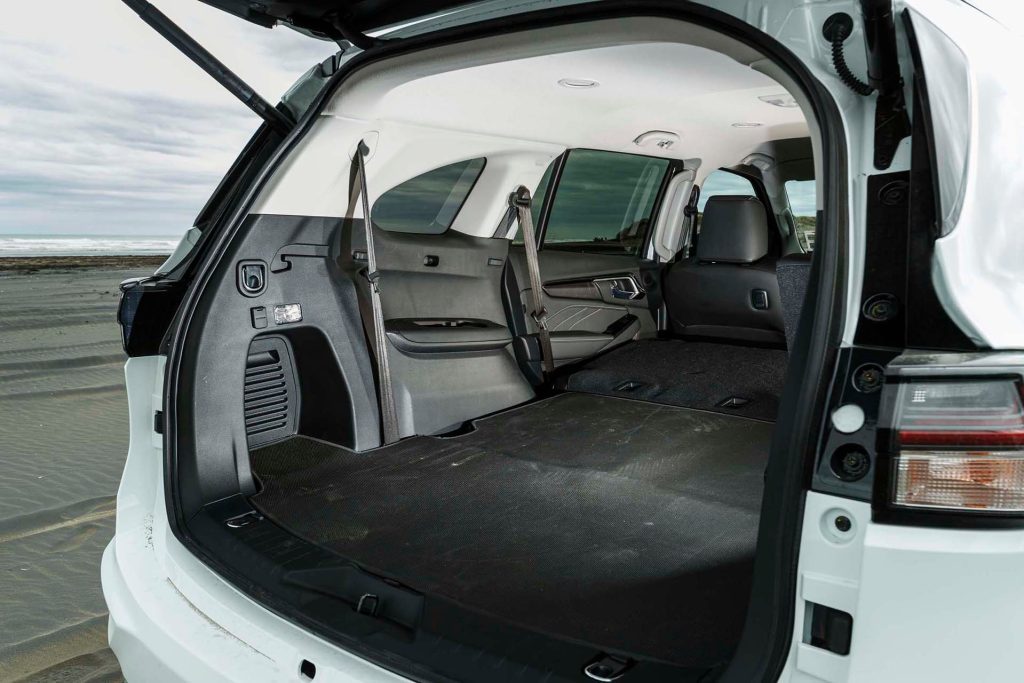 MU-X is a seven seater, and while the second row isn't set on sliders, it's positioned for optimal interior space. While there's not an excess of lounging room there, it is certainly sufficient, and even the centre seat is acceptable for legroom and squab comfort. Accessing the rearmost seats is easy enough as the middle row can tumble forward, right out of your way. And it's not too bad on room back there either; you don't need to be a hobbit to fit. With seats stowed, the boot space is typical of the genre with a high-set floor as this has the big axle underneath and a need for max articulation. The hold is long and wide, and the tailgate is powered, but slow in operation and the safety alert is percingingly loud.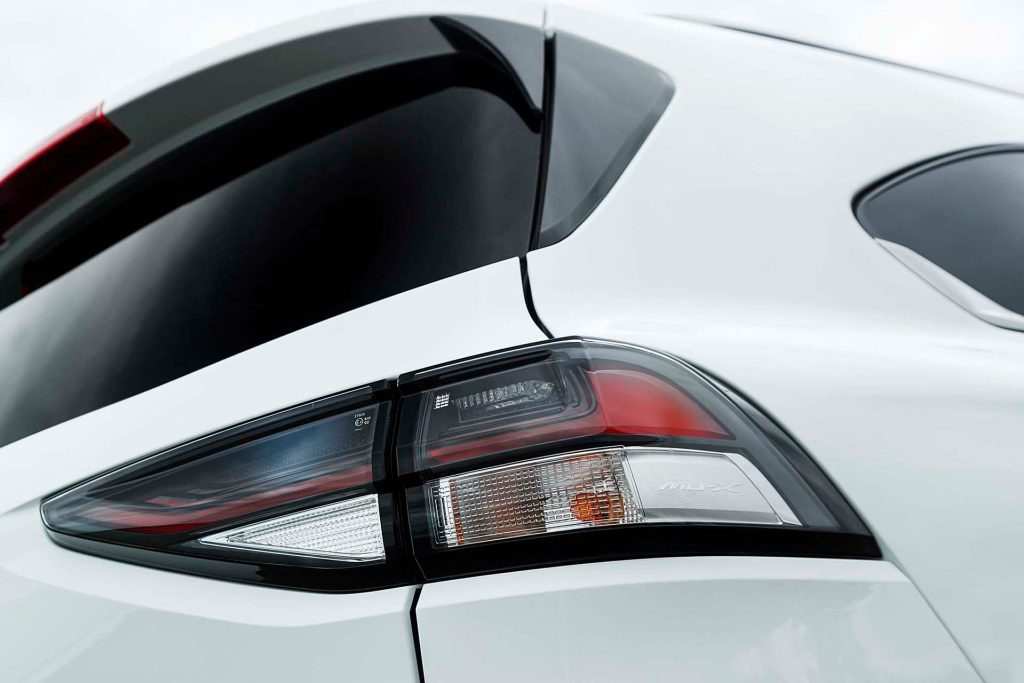 Adding to the MU-X's versatility is a 3500kg braked tow rating, the best in class by around 400kg and on par with most utes. 
So it's certainly capable, and practical but, like the ute, it's expensive, and soon to be even more so, likely to be stung with around $3000 in Clean Car fees from April thanks to its excessive CO2 output. For the same money, we'd find it hard to go past the Ford Everest. If you're not in need of such a capable rig, a more road-oriented three-row crossover like a hybrid Highlander or Sorento is cheaper, more refined and far less gassy.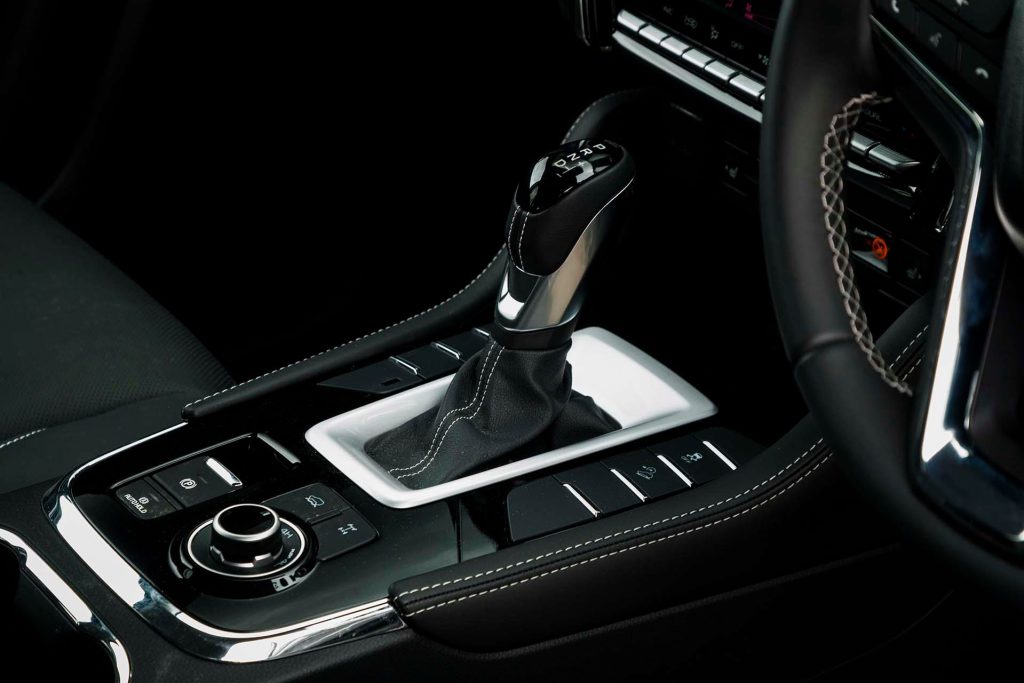 | | |
| --- | --- |
| Model | Isuzu MU-X |
| Price | $80,990 |
| Engine | 2999cc, IL4, TDI |
| Power | 140kW/450Nm |
| Drivetrain | 6-speed auto, AWD |
| Fuel Use | 8.3L/100km |
| C02 Output | 220g/km |
| 0-100km/h | 9.98sec |
| Weight | 2174kg (claimed) |