The all-diesel Sorento line-up is no more, with electrification taking over. Is the hybrid worth considering?

Back not so long ago when it won best in class at the NZ Autocar COTY awards, you could get a Kia Sorento in various spec levels, all with a 2.2L turbodiesel packing 148kW and 440Nm. This made for a spacious, economical seven-seater that would also tow. There was around a $20k price spread, with most models in the sixties.
Things have changed this year because, like all manufacturers chasing lower emissions, Sorento is now available as an AWD Plug-In hybrid or an HEV variant, a parallel hybrid mixing a 1.6 turbopetrol with a 44kW/264Nm electric motor and a 1.5kWh lithium-ion polymer battery. You can buy this in EX or Premium spec guises, and in front-wheel drive or AWD, from $64k-$83k. It's the Premium all-paw version that we've been checking out. How does it stack up?
Well, its carbon footprint is slightly better than that of the 2.2 turbodiesel but is not quite in the league of the PHEV (1.6L/100km, 36g/km). The HEV has a combined fuel use figure of 6.16L/100km for the AWD variant (141g/km) while the front-drive model is rather more abstemious at 5.42L/100km (124g/km).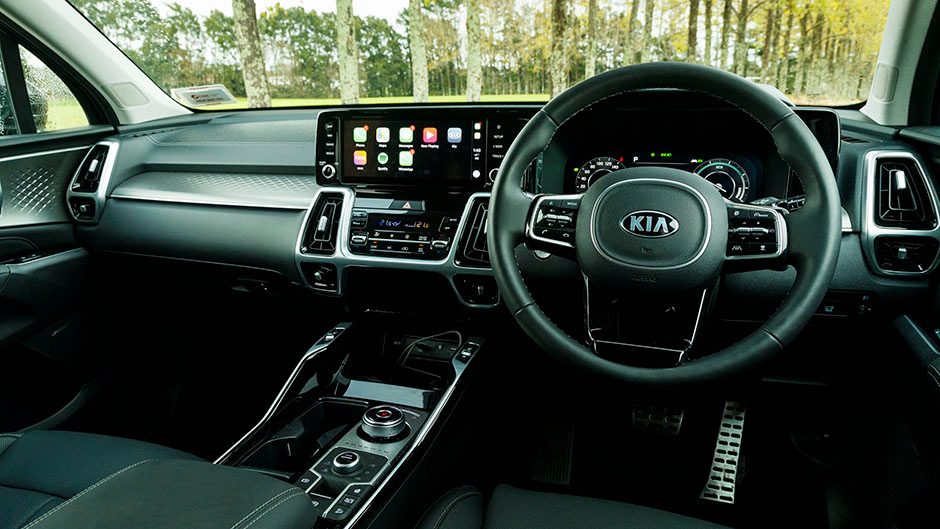 In our first day of driving, which was entirely in town, so stop/start progress in the main, the trip computer suggested average fuel use of 6.2L/100km. Not too bad then, except that you have to remember the 2.2L turbodiesel models mainly cost in the $60k area (though the equivalent Premium diesel costs $76,990) and this is $82,990, so you'd never recoup the fiscal difference with such a meagre fuel use difference, even taking into account the RUCs of a diesel. On the other hand, there are other less expensive HEVs available. And you'll likely feel a mite less guilty driving the HEV as it will run on electricity alone for a bit, just not for that long or far. Our worst fuel use figure was mid-11s. On a full tank you might get around 900km of range so long as you don't go mental.
Under the hood is something small and potent in the form of a 1.6L turbopetrol, the direct injection mill good for 132kW and 265Nm of peak torque, available from 1500rpm. Working alongside is an electric motor that develops 44kW and 264Nm. Kia rates system power at 169kW and 350Nm. The PHEV makes a bit more power, 195kW, but overall torque is the same. The electrified Sorento's use a six-speed auto, the diesels get an eight-speed twin-clutch.
This vehicle never wants for power. Even when you drive it in the Eco mode, which is the default, it doesn't feel emasculated like some do. Mainly we left it in the Smart mode because this all-knowing setting just seems to intuitively provide the appropriate amount of oomph for any occasion, without over- or underdoing it. At take off, it's in EV mode alone but mostly you'll soon hear the engine beavering away in the background, except in slow going. Compared with the diesel Sorentos the HEV is a bit quicker and the oilers weren't tardy.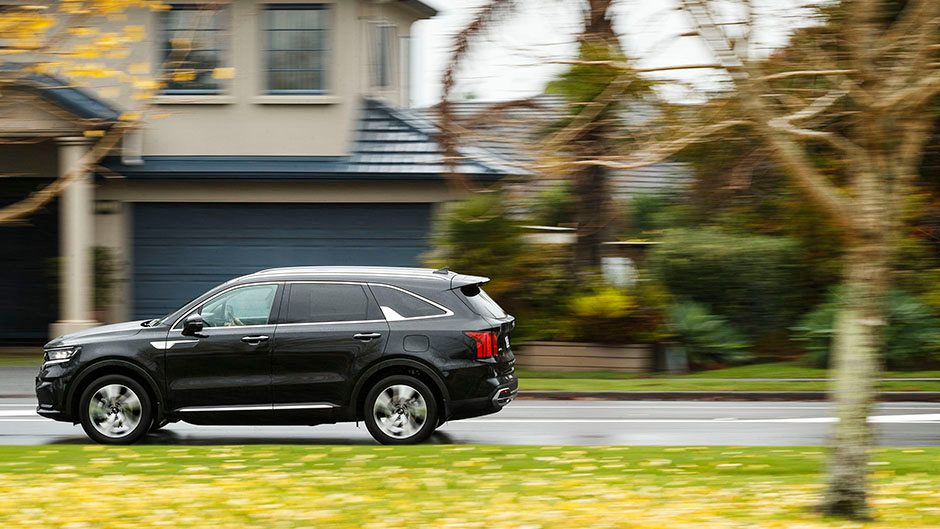 This is rather a sensible family vehicle, for it ticks many of the boxes family types will want ticked. Passenger space is truly generous. Open the rear seat doors and you're looking into a limo-like area, the lounging effect magnified by seats on sliders and a 35mm stretch in wheelbase for the 4th-gen Sorento. These also ease entry into the third-row pews.
Move around to the rear, and the fifth door opens by itself to reveal a large flat load space, and a pair of generously sized sixth and seventh seats stowed away. With five seats occupied there's still 608L of cargo capacity. None of the hybrid gubbins impacts on either cabin or load space. With split folding the seats lower as they move forward, resulting in a flat, near-as-dammit 2000L load bay.
At a price in the early 80s, you'd expect a fairly comprehensive spec list and here the Sorento doesn't disappoint. Naturally there are things like keyless entry and pushbutton start, along with adaptive cruise control that should be considered essential if you've an hour-long commute across town on a typical day.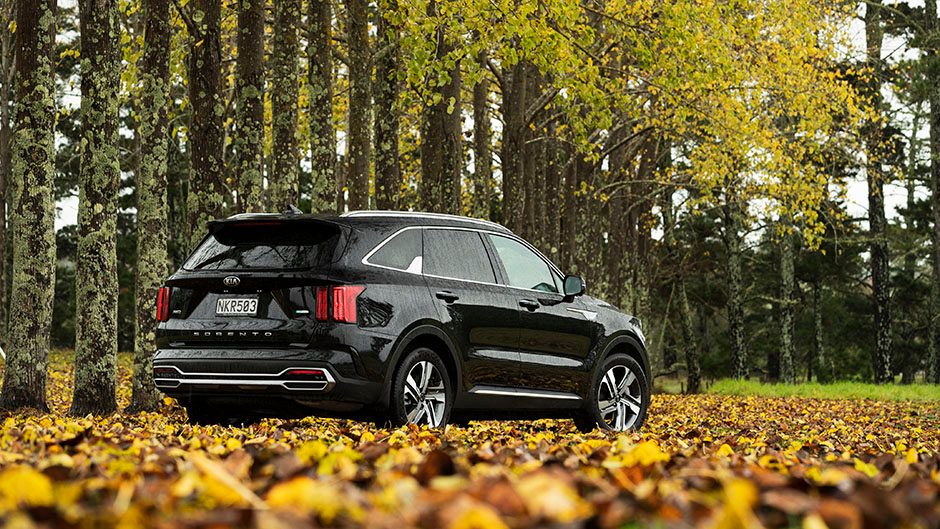 And there's lots more besides in terms of creature comforts with leather upholstery, a clear, compact head-up display, wireless phone charging, heated and ventilated seats and even a steering wheel warmer that some will appreciate on early starts. The Bose 12-speaker audio system comes with a dedicated subwoofer.
Safety systems run to Kia's blind spot cameras that relay side views of the vehicle when the indicators are activated, autonomous braking (the vehicle recognises pedestrians, cyclists and oncoming cars when turning at junctions), and RCTA warning which is handy when reversing onto a busy road. One of the seven airbags prevents head collisions up front during horror crashes.
On the go, the driver can monitor where the power's coming from on a trip graphic, given there's no rev counter per se, just a power meter. We were surprised how often the EV mode activates. It's always there at take-off and if you're in slow stop/start traffic, and driving gently you're more likely to be EVing than not. Same with off-gas moments. At speeds above about 80 kays though, ICE power rules.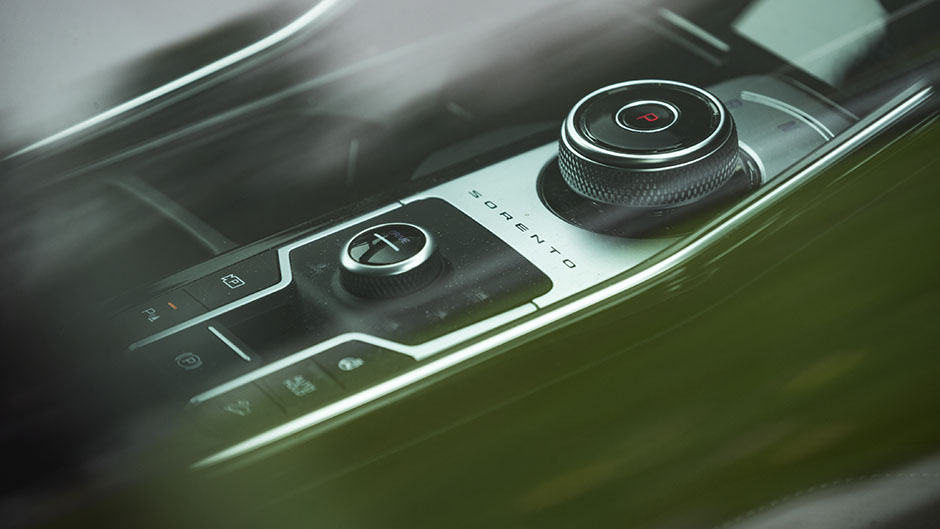 It's pampering the Sorento. The ride is only ever accommodating and yet when pushed around it resists roll rather well. On a damp day, you'll appreciate the AWD and the provision of decent PremiumContact rubber. Moreover, the brakes are better than what we're used to from Korean car makers, tactile, and strong from the top of the pedal travel. A best stop in the 33m range reflects as much, impressive given our Sorento weighed in at precisely two tonnes.
It's one of those vehicles that doesn't really set a foot wrong. If you want even more electric motivation, the smart move would be to opt for the PHEV, and in particular the AWD EX variant which costs $74k. This model is eligible for the new PHEV rebate of up to $5750, reducing the price into the late sixties. It can do up to 57km of EV travel per day. If you remember to charge it up each evening the fuel might go stale in the tank. Whatever choice you make, Sorentos have a five-year warranty while the hybrids enjoy four years/40,000km of free servicing.
You can expect the various Sorento hybrids to slowly supplant the turbodiesel in time, with Kia aiming at 40 per cent of its sales being of electrified vehicles by 2030, amounting to 1.6million units annually. Don't bet against it.
| | |
| --- | --- |
| Model | Kia Sorento HEV AWD Premium |
| Price | $82,990 |
| Engine | 1598cc, IL4, T/DI, 132kW/265Nm |
| Drivetrain | 6-speed auto, on-demand AWD |
| Fuel Use | 6.16L/100km |
| C02 Output | 141g/km |
| 0-100km/h | 8.80sec |
| Weight | 2003kg |