For 2021 the Indian Vintage has been updated with this Dark Horse model that swaps chrome bling for matte black paint. It's quite the dark knight.
We'd only just returned the BMW R 18 and were days later riding a close rival, the Indian Vintage Dark Horse, so it was quite the big cruiser coincidence. How similar? These two are both big retro-style cruisers with hulking twin-cylinder engines, weigh the same and have virtually identical torque figures. Where they differ is in engine design (v-twin vs boxer twin), and price, the American being $10k less expensive, so is the BMW worth the extra? That's what we wanted to determine in our week with the black shadow.
And that's precisely what the Dark Horse descriptor is all about. Where once there were chrome highlights, now there's black paint on this updated version of the Vintage, right down to the exhaust and the engine cases. Only the polished cooling fin edges break up the noir theme, and help outline the shape of that whopper Thunderstroke 116 cubic inch 1890cc V-Twin.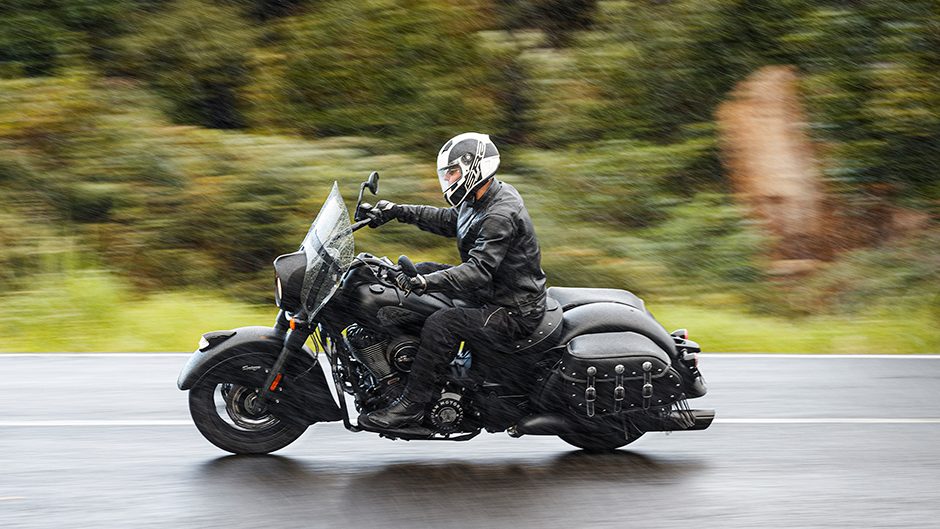 What's nice about this model is that it comes with leather panniers – about the only part of the bike sporting chrome, weirdly – while an easily removable screen is an option that means you can also tour with the DH. It also gets standard-fit cruise control, which you'd rate as pretty much essential for long distance riding.
The other main difference between this and the BMW is that the Indian is belt drive (as opposed to shaft drive for the German), and while there's essentially no maintenance with either, the belt needs replacing every once in a while. On the upside, this final drive system is not as heavy as a shaftie, nor as wasteful of power. Cruisers are all about fair weather riding, but windless days aren't common. And when it's hosing with rain or blowing a gale, naked bikes suck. That's when a detachable screen comes into its own. This one moves as you steer, not ideal as it can affect your lines. But we didn't notice that with the 14-inch unit supplied.
They come in various sizes and are quick-release items; it takes about ten seconds to unclip or reposition. The one on our bike was a bit short and produced some buffeting but it sure did keep the rain off. For touring a taller screen might be the go, though this shortie certainly looks the part. On still days you'd go without. With bikes such as this, long of wheelbase and rake, the turns are generally large arcs, a point not lost on this rider when making a U-turn on a tight road. Thankfully the mass is nicely centralised – it's a much easier bike to ease off the side stand than the R 18 with its outrigger slugs. And it's also easier to manoeuvre as a result. There's no reverse like with the BMW and it isn't missed.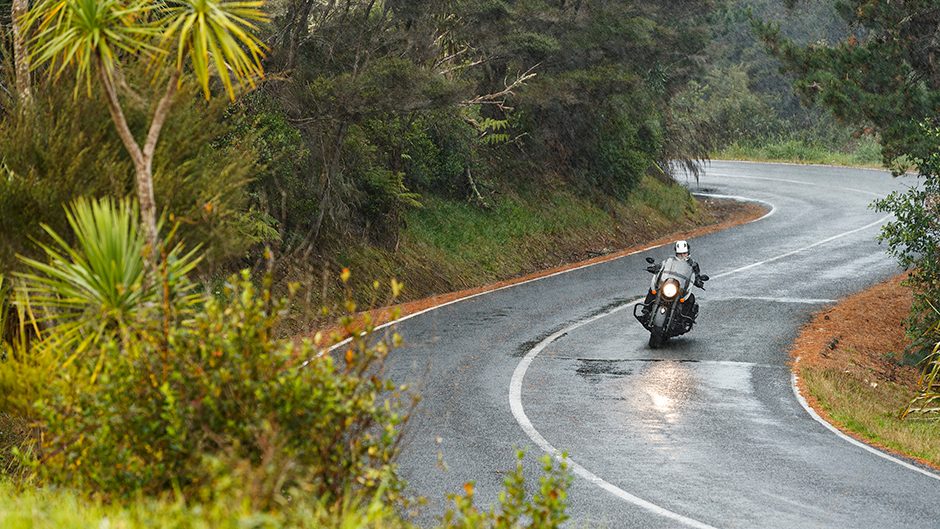 Anyhow, the DH also comes standard with running boards, laid back bars for a natural upright riding position and just a single seat. You can use the rear fender as a base for extra gear that doesn't fit in the panniers since it's solid and sited right between the two luggage holders. A black-skirted front fender features the Indian war bonnet figurehead, a traditional item.
As mentioned, black is the new chrome here, right down to the single tank-mounted instrument which is really set too low for a quick speed reference. Fortunately its natural gait is around 100km/h anyway. Revs you scroll to in the info screen, which is pretty typical of bikes like this. There, you'll note car-like revs at 100km/h, around 2300rpm.
This particular bike sounds a bit ornery because it has undergone the stage one upgrade which includes a high-flow air intake, and slip-on oval mufflers with an eight per cent hike in output, up from the 69kW and 171Nm at 3000rpm stock. While there's plenty of noise it's not excessive, enough to let others know you're coming up the inside. When you're downshifting and throttle blipping this can sometimes result in an explosion of petrol in the pipes. Unexpected and epic.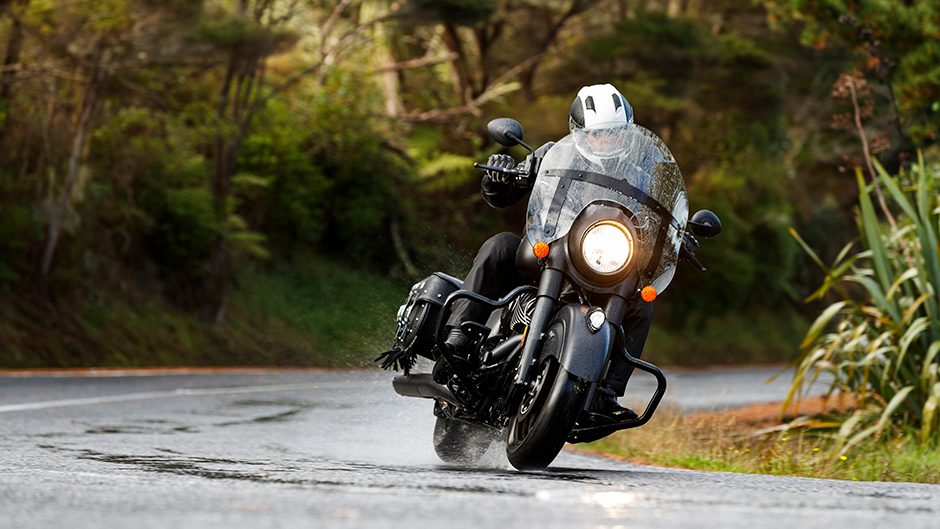 The output figures pretty much overlay those of BMW's big boxer, only this pulls from lower down in the rev range without complaint, from 1300rpm happily. Neither, it should be said, is found wanting in the torque department. And both are vibe-free with crystal clear mirror images at all legal road speeds.
Like the R 18, the DH has three ride modes. Once you've experienced the throttle response of the Sport setting, there's really no going back. For acceleration, these two behemoths are neck and neck. Funnily enough, the Indian got to 100km/h quicker when starting off in second gear. The BMW proved faster by 0.2sec, but the Indian turned that around by being 0.2sec quicker on the overtake. For quick stops the American also took the honours, with three ABS efforts from open road speed inside the best the BMW could produce. The Vintage's optimum of 36m and change easily beat out the 39.36m effort of the R 18.
So for performance you'd probably say not much in it, perhaps the Indian by a nose. It's certainly much quicker than the Indian Chief we rode a few years ago when it first touched down here. But then this has a bigger capacity motor too.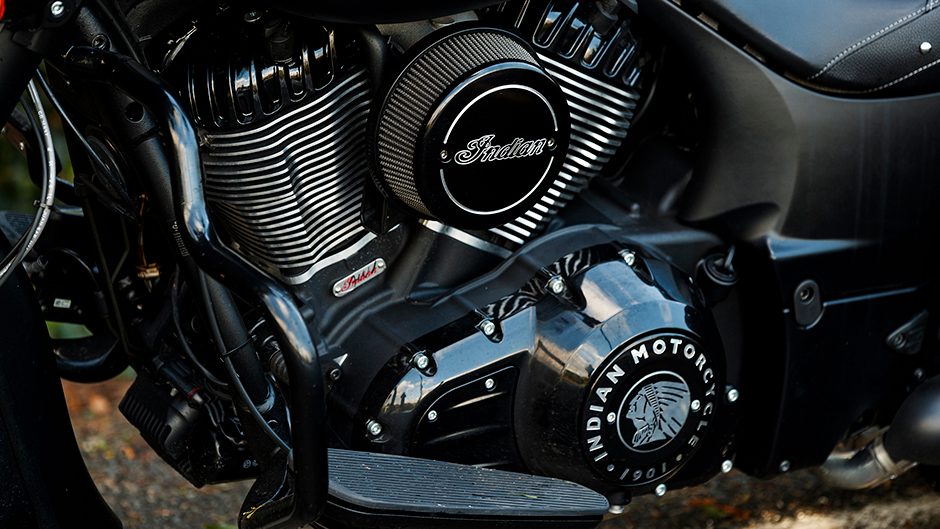 And on touch down (that's when you run out of ground clearance when cornering), that's the major difference between the DH and the R 18. The BMW is sharper in the steering, entering corners in breezy style but the DH certainly clears out on the BMW at the other end of the turn. That's because of its astounding ground clearance, despite a seat height of just 660mm. Nor does the Indian have slugs sticking out either side. Indian developers reckon the bike has 31 degrees of lean capability and that means that you actually have to try to get the boards to grind. I rode it through on my usual loop in cruiser style and it didn't touch down once, unlike the R 18.
And there's one other aspect about the Indian which shows the R 18 the way; it has genuine resilience in the rear end. Not only is the single seat plusher but the suspension is also more forgiving of sharp-edged bumps that are often punishing for cruiser riders. If you're into riding in winter you can also accessorise your pony with heated grips and a toasty seat.
One final thing we liked about the Indian; it has what feels to be a bullet-proof transmission for a cruiser. Upshift early with a bit of upward lever pressure beforehand and the cog swaps are liquid smooth.
So while this is hardly a head to head compo, the Indian Vintage Dark Horse to my mind does enough to outpoint the R 18, all at a significantly more attractive price point. Luxo cruisers really don't get much better than this. Truly a vintage machine.
| | |
| --- | --- |
| Model | Indian Vintage Dark Horse |
| Price | $31,995 |
| Engine | 1890cc, air/oil-cooled, fuel injected, V2, 69kW/171Nm |
| Transmission | 6-speed, belt final drive |
| 0-100km/h | 4.63sec |
| 80-120km/h | 2.77sec |
| Weight | 366kg |