Subaru has released the second of its Saigo series, this time the WRX STI variant, of which New Zealand gets just 20. We drive this future classic.
Subaru, fresh off launching its new GOOAT, aka Outback, will be busy at present with orders, even more so when the turbo variant arrives down the line. Meantime, for those with a nose for appreciating classics – and room in the barn for the next 25 years – there is this limited edition Saigo WRX STI, available only really in one colour, WR Blue. You can opt for white or black also, but you'd have to be mad to do that when World Rally Blue is also available.
This follows hot on the heels of the sold-out limited edition Saigo WRX, the 18 numbered units snapped up quickly. With the STI variant, already half of the allocation is spoken for. It's the last gasp before the new model arrives, due mid-2022.
Anyhow, Saigo, as everyone will be aware, is a type of sweet pudding popular in Asia. In Japanese, however, it refers to "the last one". Likely this will also be the last featuring ICE power alone.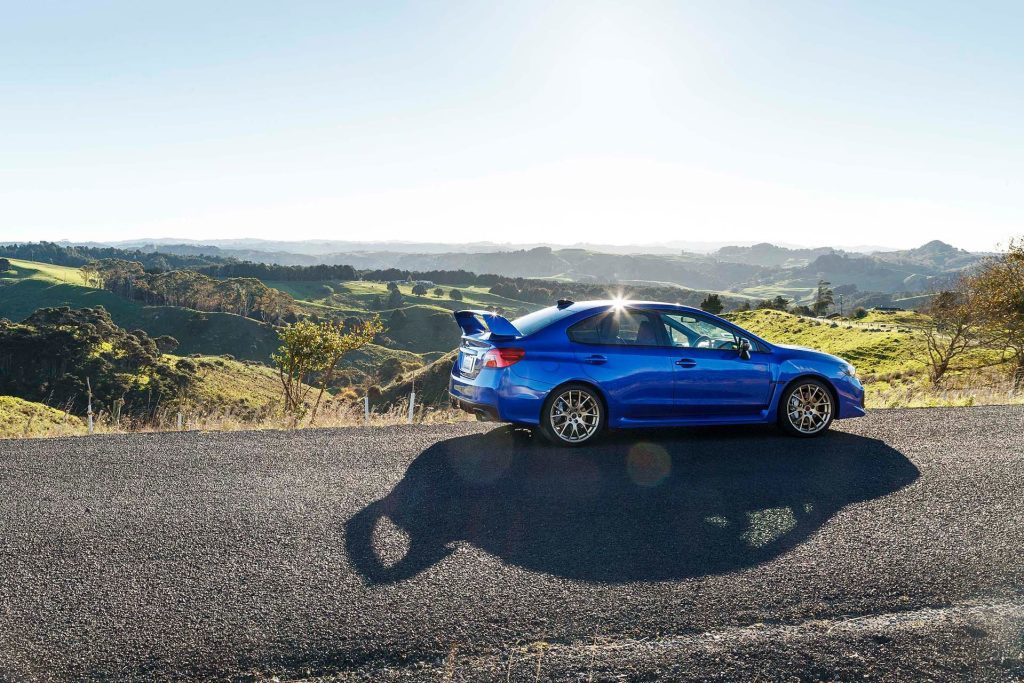 Up against what?
Around since the previous century, the STI came up against various Evos but that boat has long sailed, and Ford's RS Focus is no more either, replaced instead by a still-convincing front-drive ST variant. Even without as much power (206kW and 420Nm) the fast Focus is neck and neck with the STI for performance and at $59,490 you'd probably consider this its main opposition. It's as fast because it uses a conventional automatic to the STI's manual only. On a point-to-point basis, in the dry at least, there wouldn't be much to choose between this pair. Other contenders include the Type R (while manual only it's a front driver) and Skoda Octavia RS, also a front driver, but it isn't as quick and nor is it a saloon but rather wagon only, and costing slightly less money at $58k.
About the only other four-pot offerings with AWD are a fair amount more expensive, the likes of Audi's S3 with much the same power as the STI only it comes at a $20k+ premium, and the Mercedes AMG A 35, around $18k more expensive. Both have twin-clutch transmissions, and produce sprint times in the high fours.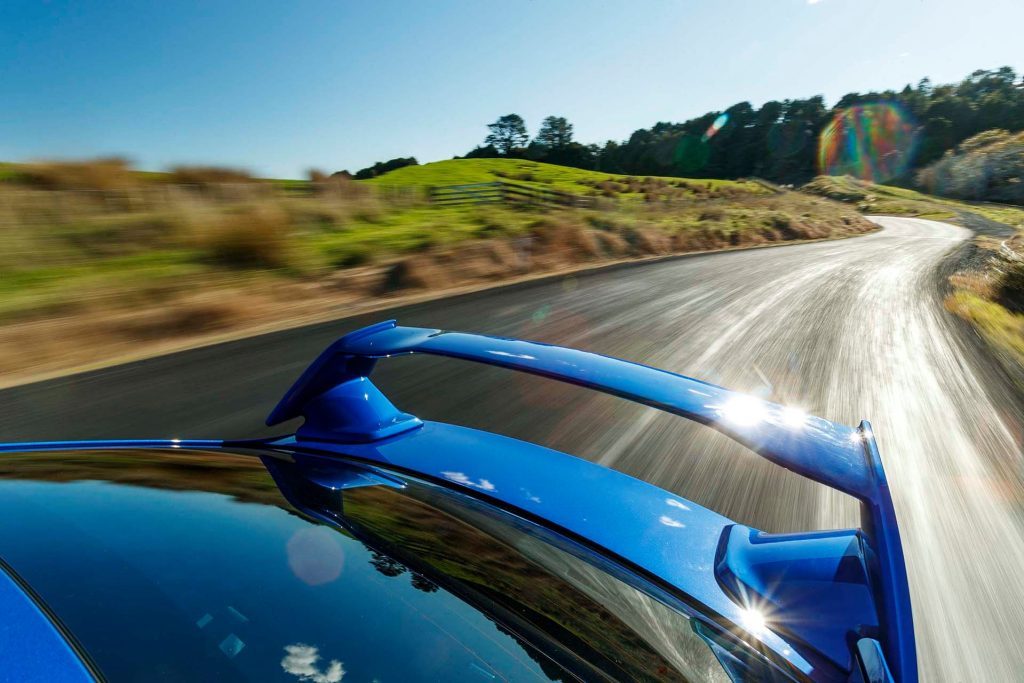 Quick but not rabid
So in some ways the STI is in a class of its own, and it's the same for its steering, one of the few cars left on the road that maintains hydraulic assistance and damn the torpedoes. It reminds of how good things once were.
Subaru's devotion to a manual transmission is also laudable. You can have an auto if you want, but not if you're buying an STI. Day to day, it's perfectly acceptable, shifting smoothly, sweetly. The clutch has a precise bite point too and is tough, the STI getting off the line likety-split. But for best performance you have to be holding your tongue just so to nail the shifts from 1 to 2 and 2-3 or it baulks, refusing to shift, especially at top revs.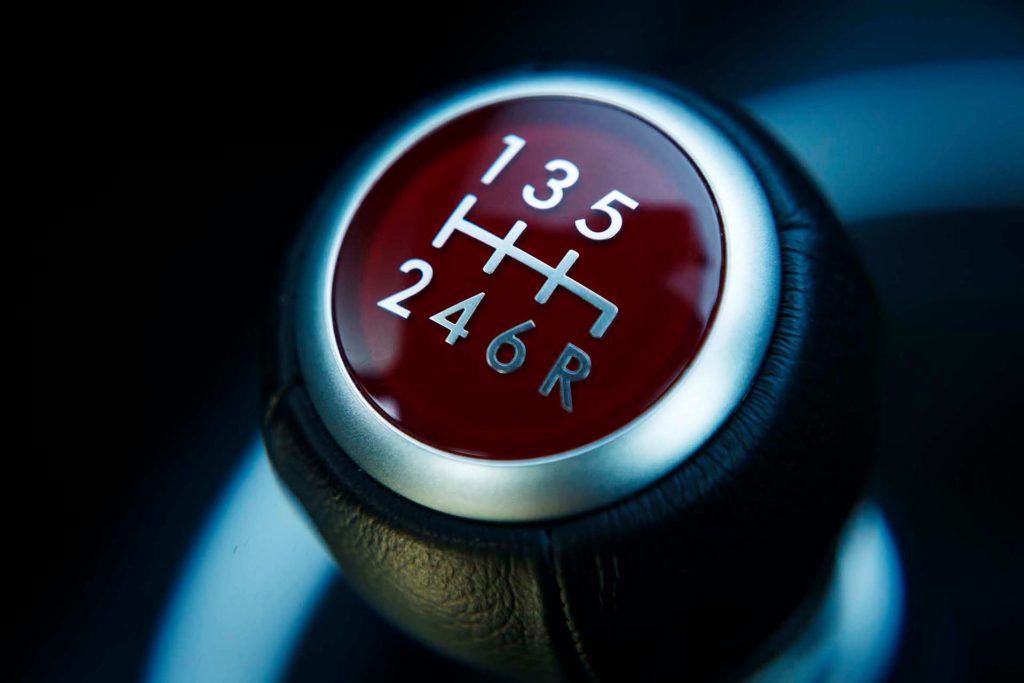 By contrast, 80-120 is a snip; just slot third, and 3.2sec later you're done. These days that's considered quick but certainly not reference level. And the flat four isn't that great on fuel use either (we managed in the early teens for the most part, vs 10.9L/100km the claimed combined figure) but then that's a bit beside the point. Engine modes give quite different day to day performance. In regular driving, select SI engine mode for town use, but it livens up in the Sport setting, even more so in Sport Sharp. We just left it in Sport mainly.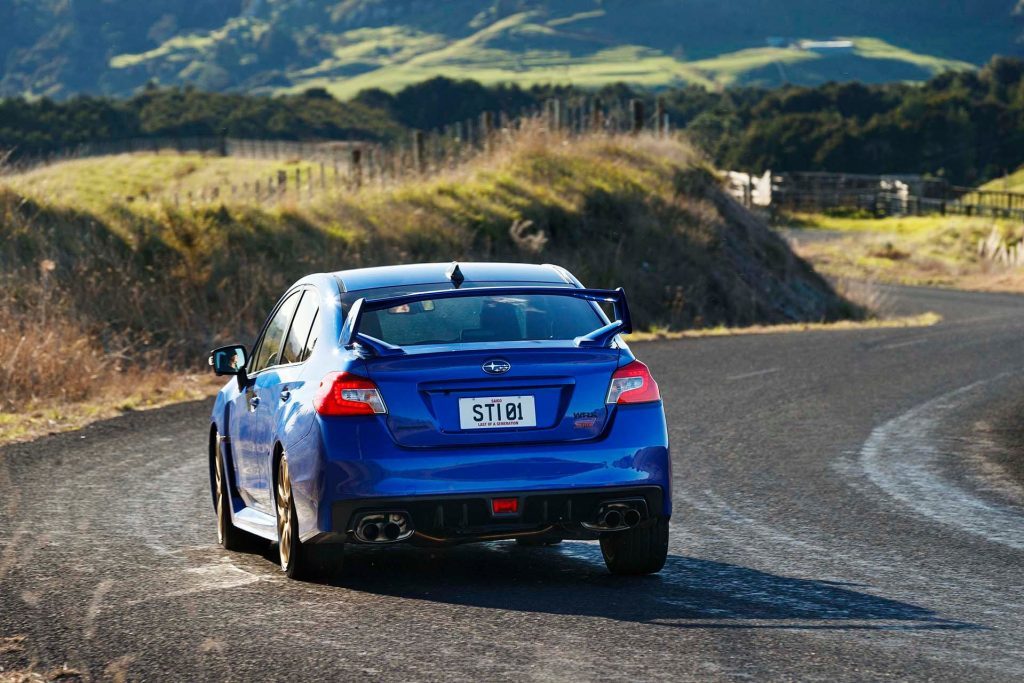 Adaptive nought
There's lots about the STI that's old school, for it had its last refresh in 2017 and this really isn't an update; think of it as a spec add-on. For the extra $3000 over the existing Premium model ($67,990) you still don't get adaptive damping (which would be nice to calm the busy ride) or adaptive cruise. Regular cruise control in today's heavy traffic scenario isn't good for much, except speed control perhaps. STI is a middle distance champ – it takes constant monitoring to keep below 120km/h where the turbo is just getting into its stride around 2700rpm. Perhaps you subconsciously allow the blue meanie to do that because the fixed suspension set-up works better the more speed you add.
This is Subaru's top rally rep so you know the suspension is going to have some resolve. Springs are nicely set, but the fixed dampers especially are made of staunch stuff. Big bumps are well dealt to at highway speeds but in slower going you sure notice them, the firm ride amplified by low profile rubber. Recaros are comfy and soften the blows some.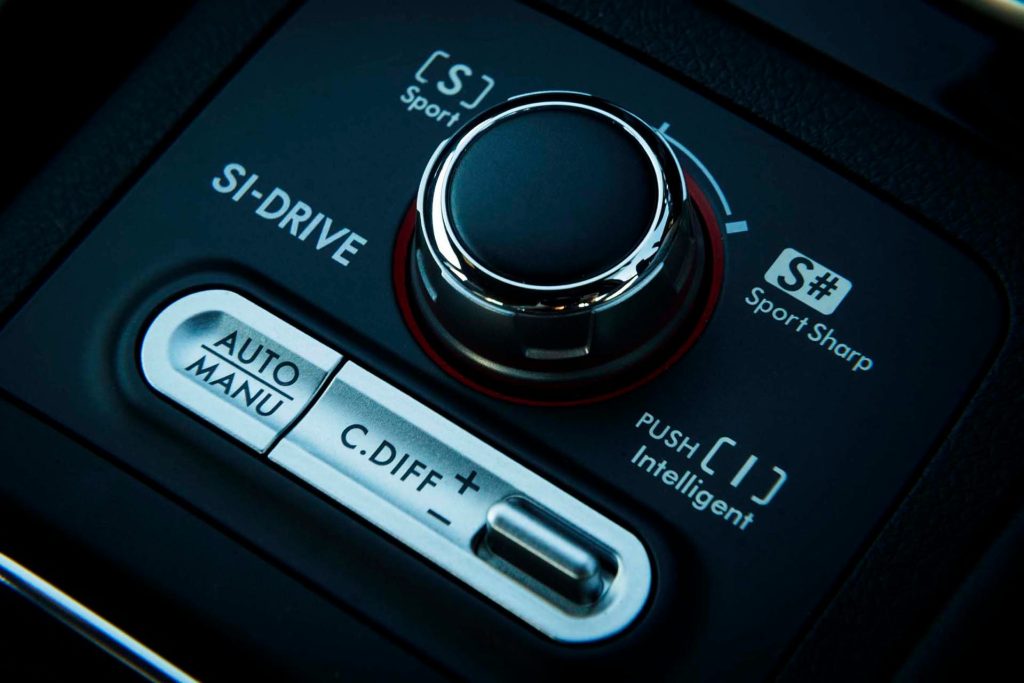 Wheely good
Mind you, there are better things going on that you'll be concentrating on more, like how well this holds the road, how flat and well balanced it feels through corners, aided at the grip limit by torque vectoring and variable diffs, how deft the brakes are and how beautifully it turns (with a trace of understeer). And that's just on tarmac.
It's the wheel feel that's the calling card of the STI; if you're a steering nut this is amongst the most touchy-feely of the sports saloons. Yes, there's the odd moment of bump steer and some heft at slower speeds but that suede lined D-shaped wheel is the real tactile deal.
Safety fittings reflect its age. There's none of the Eyesight safety whatsits you get on the Lineartronic Subarus, though there's blind spot monitoring, and RCTA. A few cameras show what's up front and at the left wheel, images appearing on a teensy weensy screen made smaller by distance from the driver, while the main touchscreen is similarly microsized. Expect a safety arsenal in the STI's replacement and a much bigger infoscreen.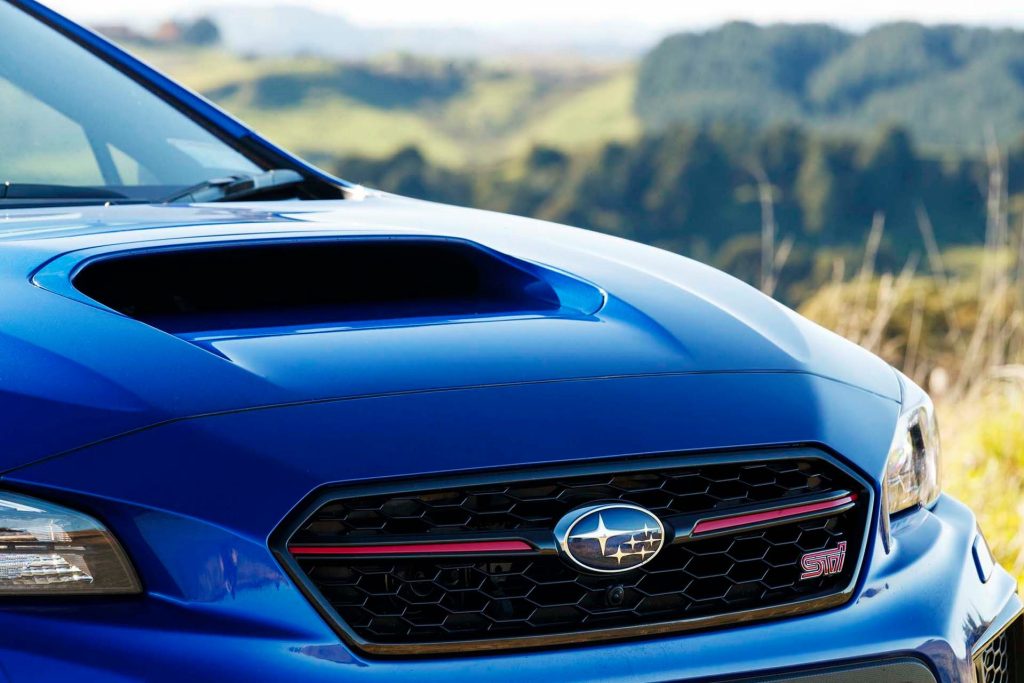 Extra kit
As to what this gets for the $3k over the regular Premium STI, it's essentially cosmetic, outside and in. There are 19-inch gold forged alloys, powered and heated Recaro seats (no lumbar adjust but still comfy), and a silver theme going on for the seatbelts, stitching and Brembo calipers. Pick this model by its red pinstripe across the front grille, black badging and roof antenna, and EJ25 Final Edition atop the motor if you're taking a squiz under the hood.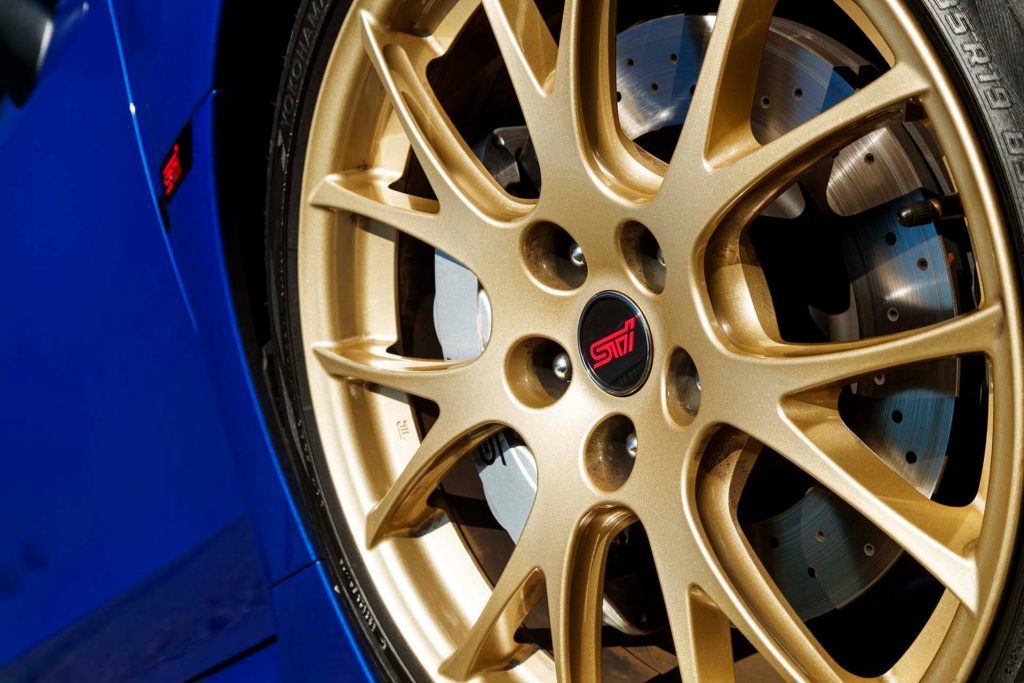 Inside is some 'matte carbon' trim (in colour only; it's nothing like CF), along with a powered tilt and slide sunroof. Keys come in a special presentation box, attached to a keyring engraved with the run number. There's also a replica Nürburgring WRX STI model car thrown in. This marks the fact that the STI has won its class six times at the 24-hour race held annually at the Green Hell.
Prices of classic Japanese machinery have been heading skywards over the past few years. We'd expect limited edition runs like this to hold their value too, all in good time of course. Meantime, you'll be savouring your Saigo.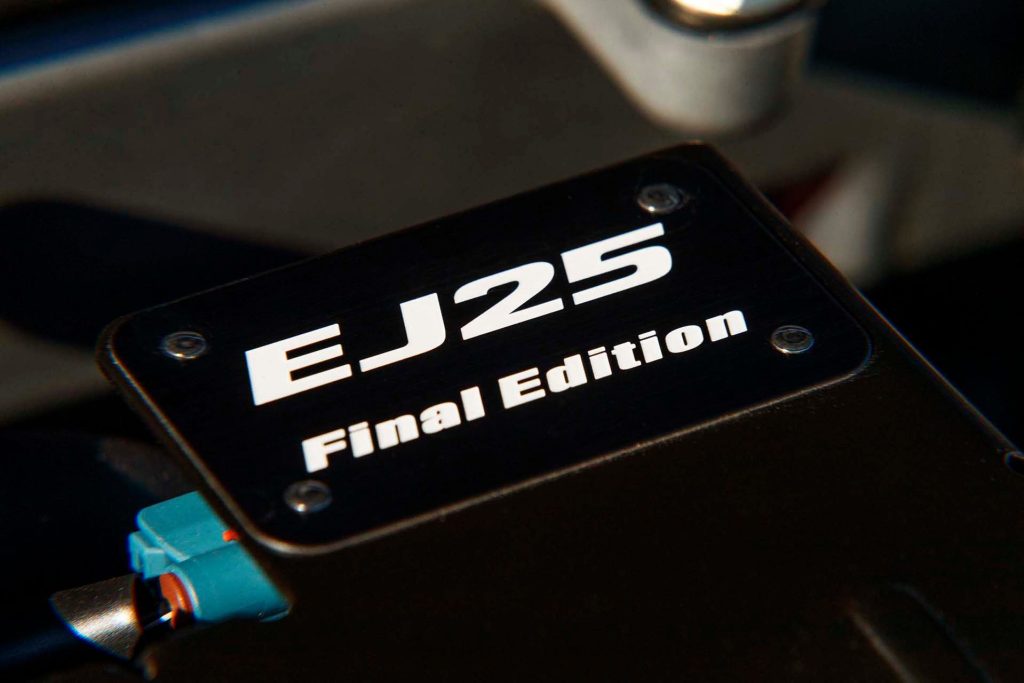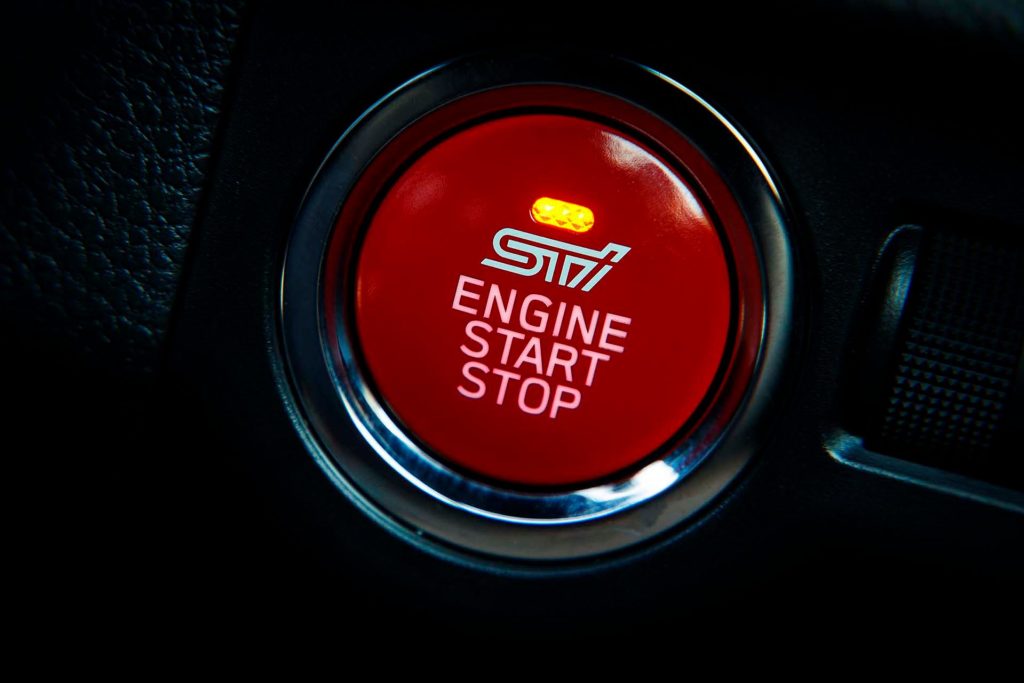 | | |
| --- | --- |
| Model | Subaru WRX STI Saigo |
| Price | $67,990 |
| Engine | 2457cc, B4, T/EFI, 221kW/407Nm |
| Drivetrain | 6-speed manual, AWD |
| Fuel Use | 11.2L/100km |
| C02 Output | 259g/km |
| 0-100km/h | 5.25sec |
| Weight | 1565kg |