No, stop! Before you click your back button while quietly muttering "not another bloody SUV", listen!
This one's different. This one's a proper SUV. This one can go off-road, traverse steep hills, articulate like a centipede on LSD. Oh, you're still not interested? Hmph… that's fine. I hear Difflocks' column is another beaut this month.
But if you're still with me, there's a certain charm to traditional SUVs. While the number on offer hasn't necessarily declined, they're now comfortably outnumbered by monocoque SUV pretenders. Ironically, the adventure marketing that's helped build the SUV segment has ultimately resulted in the decline of real 4x4s that can actually take you bush bashing.
But they still exist, the updated Toyota Fortuner being one. Kiwis missed out on the first-gen model, which established a cult following across South East Asia and South Africa. Given its family ties to the Hilux, it's no surprise that its latest updates are almost a carbon copy to those applied to the pick-up.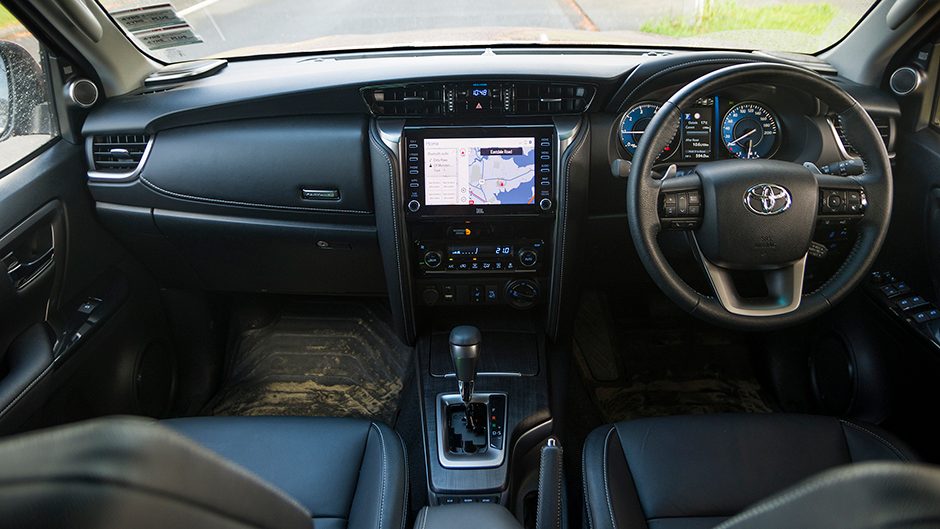 The front end has been given a tidy up with new headlights, a larger grille, and a simplified bash-plate area. The nine-inch touchscreen now contains Apple CarPlay and Android Auto and there's more standard kit across the range. And it also gets Toyota's more powerful and more economical 2.8-litre turbodiesel, packing a generous 150kW/500Nm.
Despite the Fortuner sharing its bones with the Hilux, it's hardly a grand seller for the marque — not unlike Ford's equivalent Everest. Just two variants are offered here; the $56,990 GXL and the $59,990 Limited as pictured frolicking through the mud. The pricing ensures the Fortuner is well clear of the 70 big ones you'll need for a base Land Cruiser Prado. That makes it look like a bit of a bargain. The Fortuner seats just as many people, it has the same engine, it's theoretically just as rugged, it benefits from the same Toyota tried-and-true resale value hype, and if you opt for the Limited you get leather upholstery and a faux-wood-topped steering wheel. "It's basically a Lexus" … is the line a dodgy uncle at a family barbecue might deploy.
Practicality is the main space where the Prado gains ground. Its third-row seats fold into the floor, unlike the Fortuner's, which fold upwards to be stowed on their sides when not in use — eating into precious cargo space. The Fortuner's four main seats are plenty commodious for adults, while the central second-row seat's raised profile means those with heads will struggle. The third row is really only for kids. Seats stowed away, the boot can host 716 litres of guff.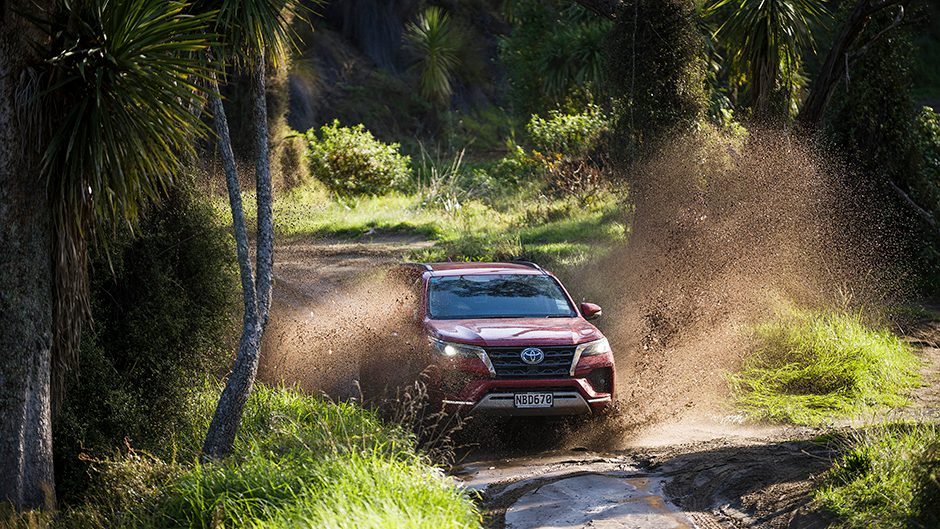 After a week of urban crawling, we treated the test car to a trip through the woods along a favourite path of sand and gravel. Here it does a bang-up job. Ground clearance is rated at 215mm, and it can wade in waters up to 700mm deep. Slotted into four high, it feels like it can do anything, even with the relatively humble Bridgestone Dueller rubber.
One of the best improvements is Toyota's reworked hill descent feature. Unlike older systems which would creak about constantly like the Costa Concordia, this one operates near silently. We found it to be smooth, too, with less sudden halts during moments of hesitation.
While it's not a Lexus, the Fortuner isn't quite a straight copy-paste of a Hilux either. It gets a coil-sprung rear end, which improves comfort at the expense of towing capacity ('only' 3000kg). On pavement it still wallows around in a truck-like fashion, but this is the price you pay for that gravel-bashing ability.
The seats are more comfortable, too, and the unique dashboard layout is less utilitarian — but only a little. The updated infotainment is generously equipped with satnav, real-time traffic updates, and a fairly handy JBL sound system. Radar cruise, lane departure alert, and road sign recognition are also present.
The Fortuner has always been slightly quieter than the Hilux inside and more so now with the updated 2.8. As noted in our report from the Hilux launch, the gutsier updated powertrain's secret weapon is how much more reserved it is on start-up and during most commuting. There's less of that traditional diesel 'ugga dugga' to wake the neighbours each morning.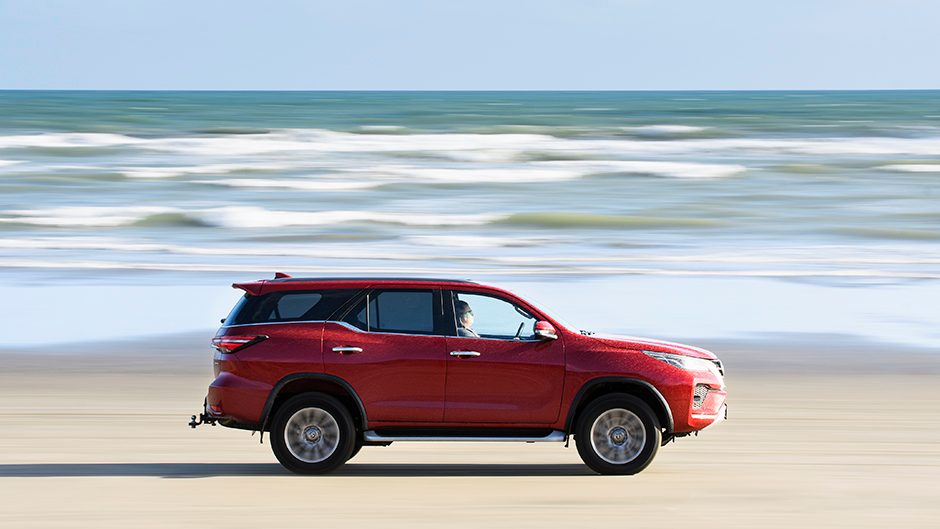 Less tangible are Toyota's claims of more performance. On paper it produces 20kW more power and 50Nm more torque, but the difference in reality isn't immediately night-and-day. The added output is best felt in the proverbial motorway passing lane. I never felt myself craving more power while off-road, either.
Deftly guiding it through the bush to an empty beach (and back again) served as a handy reminder of just what good value the Fortuner is for adventurers keen to use all of its capabilities.
Those who simply want seven seats will be served better by a Highlander.
| | |
| --- | --- |
| Model | Toyota Fortuner Limited |
| Price | $59,990 |
| Engine | 2755cc, IL4, TDI, 150kW/500Nm |
| Drivetrain | 6-speed auto, switchable 4×4 |
| Fuel Use | 7.6L/100km |
| C02 Output | 201g/km |
| 0-100km/h | sec |
| Weight | 2190kg |