It's an SUV, a big solid seven-seater example at that. The Mitsubishi Pajero Sport's main claim to fame is that it undercuts most of the seven-seat 4wd competition, such as Trailblazer, Fortuner and Everest.
Let's get one thing straight from the get-go; there is utterly nothing sporty about the Pajero Sport SUV. Utilitarian? Certainly, but it's the opposite of sports, being slow, tall, heavy, lumbering. And yet, it isn't entirely without its virtues.
SUVs based on utes seem to be a bit of a thing currently. There's Everest, Colorado 7, sorry Trailblazer, Fortuner and VW and Nissan are evidently brewing something. These heavy tall 4WDs are the sauropods of the SUV world, built on hulking full chassis designed for off-road work. Their makers mess with the rear suspension to make them a little more roadworthy but ride and handling champs they're never destined to be. Tow rigs, with seats for seven? That's more up their alley, as they're powered by torque-laden diesels.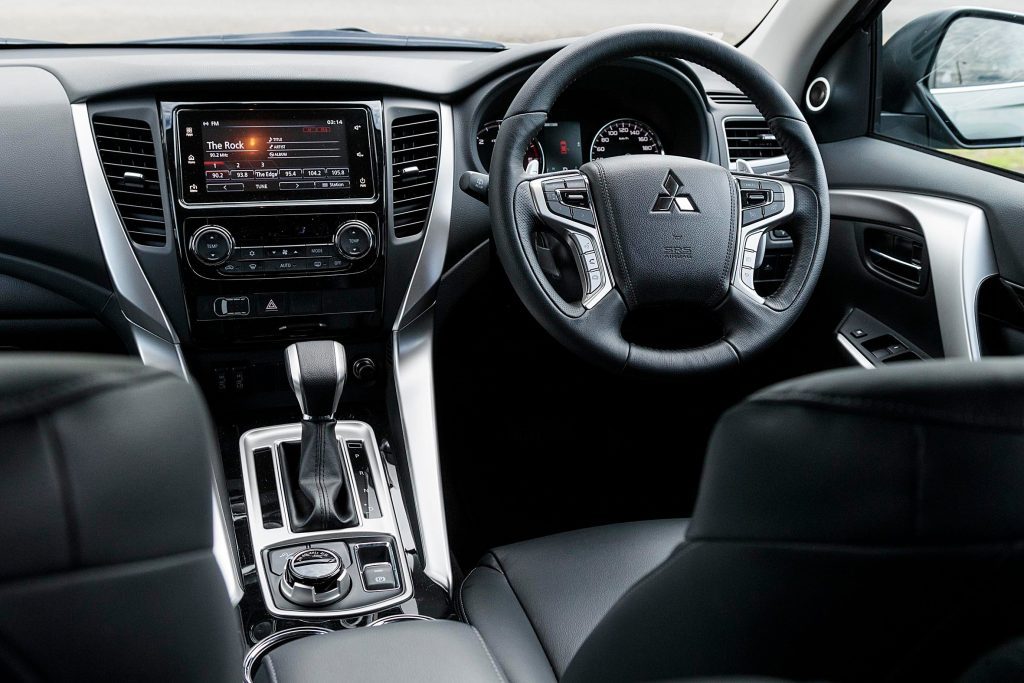 We're more or less describing perfectly the $62k Mitsubishi Pajero Sport VRX you see here. Based on Triton it is motivated by a 135kW 2.4-litre VVT turbodiesel good for 437Nm and capable of towing a 3.1 tonne braked load. Our vehicle came equipped with a towbar but given how fast it wasn't towing nothing – an overtake requires 232m or clear road or 8.16sec – it's perhaps just as well we had no trailer or boat to check out how that scenario went. Mind you in all likelihood speed wouldn't change much, down 10kays for legal towing speeds.
We took it for a leisurely two-hour drive to the northern edge of the Bay of Plenty and it managed that trip well enough. Even on highway settings, it's upshifting at around 2000rpm and canters along merrily at 100km/h using up just 1600rpm in eighth gear. Yes, it has eight cogs in its auto box; only VW's ute has as many. At this sort of pace it's imbibing fuel at a rate of around 10L/100km. Mitsi claims 8.0L/100km overall.
The engine isn't the quietest you'll encounter, especially when pressed, but we only did for performance testing. It just isn't necessary, the revs thing. Ride quality in ute-based rigs is never flash, a bit like the handling really, but in the SUV derivatives it's always a minor step up, being less abrupt over bumps, aided by tall side walls on the 265/60R18 rubber.
We appreciated the 360-degree camera, and the three-way seat heating, but there's no lumbar adjustment for the powered seats, always a disappointment when you've wrenched your back again. The sixth and seventh seats unfold from the floor of the luggage hold easily enough, and access is good via the rollover middle row seats, though the additional pews are really only for children. By contrast the middle row will take three adults at a pinch. And within a minute or two, both secondary rows of seats can be folded out of the way, producing a flat and fairly voluminous load area, good for over 1600L of guff.
At its price, the VRX undercuts opposition like Colorado 7, Fortuner and Everest, though with its surfeit of hard plastics inside, and fairly basic finish, you might expect that. Given how utilitarian these vehicles are, the less you pay the better, and this isn't the slowest of the breed either.
| | | | |
| --- | --- | --- | --- |
| Model | Mitsubishi Pajero Sport VRX | Price | $61,990 |
| Engine | 2442cc, IL4, TDI, 135kW/437Nm | Drivetrain | 8-speed auto, all-wheel drive |
| Fuel Use | 8.0L/100km | C02 Output | 208g/km |
| 0-100km/h | 10.42sec | Weight | 2100kg |