What does this high-riding roofless machine remind you of? Not a whole lot really as it's in a tiny market segment of its own, but it does rekindle memories of the Freelander three-door, so no surprise perhaps that the Evoque convertible emerges from a closely related firm
Back then it was expensive, and sold in minuscule numbers. The Evoque, being a Range Rover, is even more expensive but the styling is much more on the money. Speaking of which, you'll need to free up $118k to purchase this, and that's before even perusing the options list, which you will want to do. This particular model featured a host of them, taking the ask to $130,450. For that money, you can buy an F-Pace S or a Macan, both with 3.0 V6 turbopetrols. The RR EC makes do with a 2.0 four-pot turbopetrol. And a 252L boot (half the five-door's capacity) that's dark, with a small opening, and hard to access. It's similar then to the room in the cheap seats. There's plenty of head clearance but space only for two adults, and that's provided those in front are short, or at least generous enough to move their pews forwards so those in the back can have some actual legroom. Rearward visibility isn't flash either.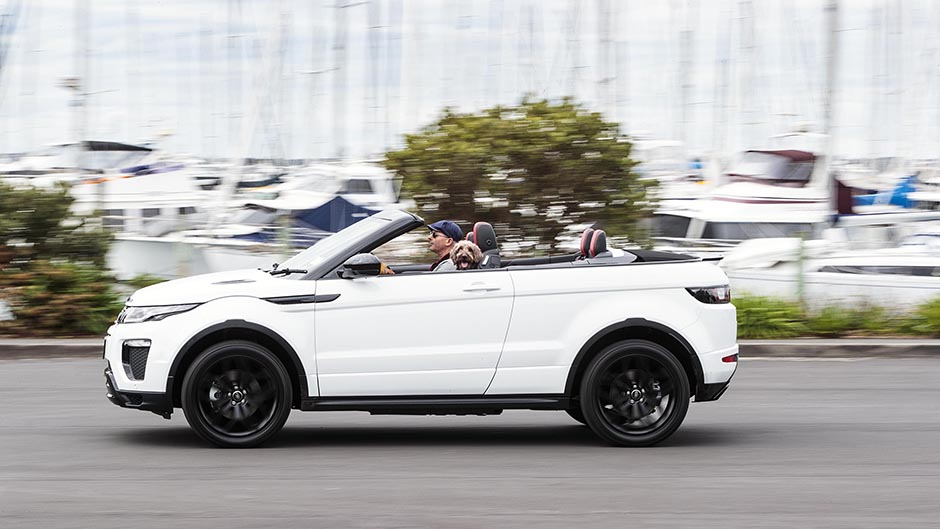 Those aspects aside, a convertible SUV is a rarity, no? Nissan chopped the top off its Murano at some point but it was never available here. There are various sundry workhorses like Wrangler and Defender soft tops, but nothing else much in the luxury area.
As it happens, the EC features AWD so could go off-road complete with its Terrain Response System but we all know that the all-paw system is there more for safety on road; few owners will go bush in this. They'll more likely be hanging out at coffee haunts, or marinas, like us.
And did Aucklanders notice? You bet, several commenting favourably about the look, realising it was Evoque-based but not that it was available in this guise. None asked about cost. We guess they feared the worst. So what exactly do you get for your outlay? Something unique for starters, at least down in our neck of the woods. The car debuted at the LA motor show, appropriate given that's where most of the 10,000-odd produced each year will end up. Precious few will make their way to New Zealand, so it's appropriate ours are the top-of-the-line HSE variants, petrol only.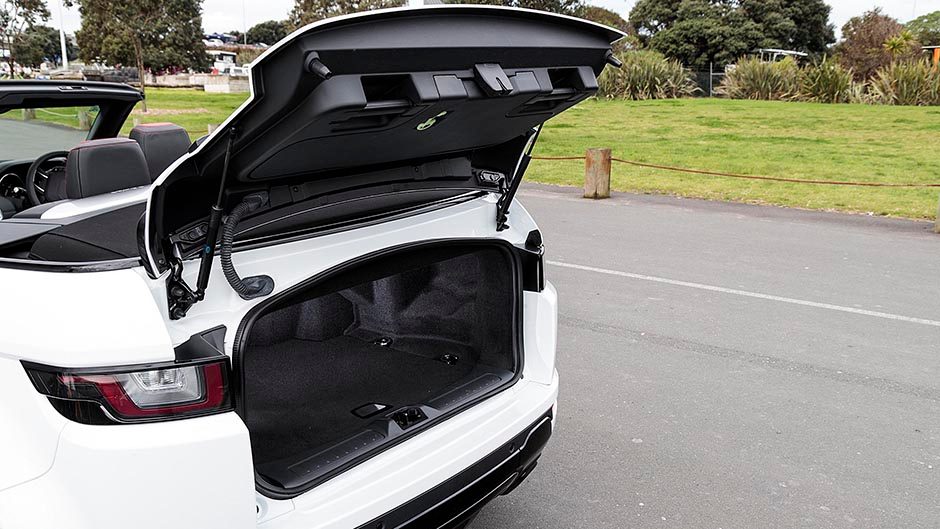 The process of getting this to production took the better part of a decade. An LRX Evoque concept was first shown in 2008, and a convertible concept in 2012, at the Geneva show. It proved so popular that RR heads opted to put it into production. That involved shoring up the body, to the tune of 270kg of extra strengthening. So you can see where costs start to add up. A sideline off the main production area is needed for interior and electric soft top fit-out.
Powering the machine is a 177kW and 340Nm turbopetrol. It needs every Nm it can muster because it scales up at over two tonnes. That compares with 1772kg for the Si4 Evoque we once drove. So does that affect performance much? Less than you'd imagine; both getting to 100 from nought and managing an overtake in seven and five seconds, respectively, the fixed head five-door at the lower end of each, and the Convert at the upper. RR reckons 8.6sec 0-100 but they're pessimistic; you can subtract almost a second from that.
Initially we thought performance a touch flat, but the evaluation vehicle had done few miles and with time acceleration was more forthcoming. It fires best from 4500 to 6500rpm, but gets up and goes well from 3000-4000rpm thanks to direct fuel injection and VVT. It's a bit tardy off the mark, a mix of turbo lag and transmission dithering, the latter also evident on occasion when kicking down, but then it's a nine-speeder. The upshot is that it aids fuel use when touring. RR claims 8.6L/100km overall but we saw 11-16 in a mix of town and country running.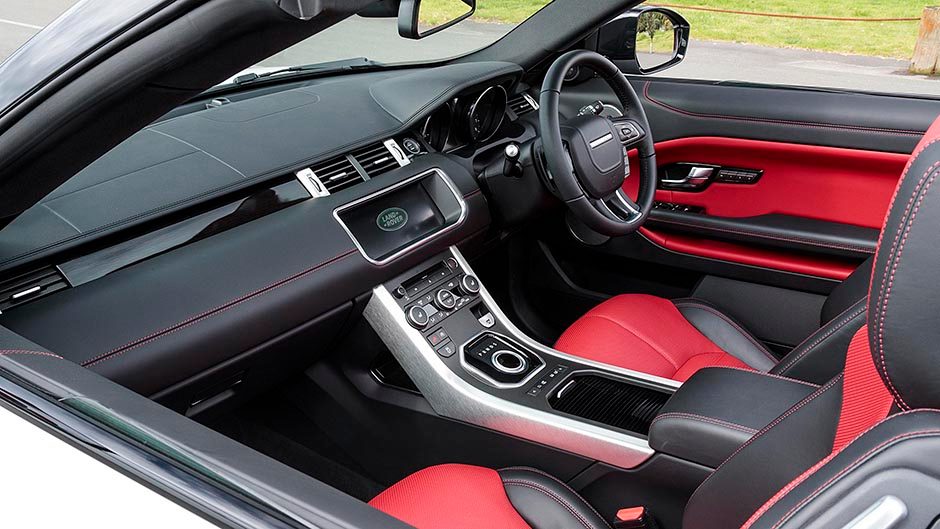 It may weigh as much as a small elephant but with torque vectoring by braking on all four wheels and that tricky rear diff, it tracked up and down our reference hill in surprisingly civilised fashion, its quite reasonable front to rear balance reflected in decent steering and turn-ability. But what impressed more was the cosseting nature of the ride, and given most people will be cruising to be seen in this, that's entirely appropriate.
The interior is tasteful, specified as it is in full leather, with a flash InControl 10.8-inch touch screen including sat nav, and full-force Meridian sound system. There's also mood lighting, cruise control, paddle shifters, and sports pedals but you pay extra for things you might expect on a car costing this much, like active cruise, seat heaters, active safety items, comfort entry and auto dipping. What price elegance and exclusivity though?
| | | | |
| --- | --- | --- | --- |
| Model | Range Rover Evoque Convertible | Price | $118,000 |
| Engine | 1999cc, IL4, T/DI, 177kW/340Nm | Drivetrain | 9-speed auto, all-wheel drive |
| Fuel Use | 8.6L/100km | C02 Output | 201g/km |
| 0-100km/h | 7.76sec | Weight | 2027kg |