It's been a while since we've driven a Ford Everest, so we took the opportunity to reacquaint ourselves by taking a road trip in the new model.
Ford launched the Everest back in 2016. The range has since undergone a few tweaks, the biggest being in 2018 when it copped the bi-turbo motor and 10-speed 'box. More recently the Trend model was replaced by the Sport. For an entry level model, it wants for little. Figure on goodies such as a smart key, leather trim (seemingly from an artificial cow), LED headlights, CarPlay and 10-speaker audio system. It gets all the important safety features too, like multiple airbags, AEB, adaptive cruise (which only works down to 30km/h) and lane keeping (which can be extinguished permanently with one button push). Sport gets unique styling with a mesh grille and 'Everest' lettering on the leading edge of the bonnet. It's had the blackout treatment too so there's no chrome anywhere which, to my mind, makes it look better.
The original Everest is memorable as we took it on holiday to the Far North incorporating a roadie to Cape Reinga. That turned into a 12-hour epic taking in all the sights. I have fond memories of that expedition but my wife, not so much. Too many photo stops considering we had our six-month-old daughter on board too.
So with a sense of deja vu, I found myself with the keys to an Everest over the Christmas break. And where were we headed? The Far North again, of course. I was game enough to suggest another day trip to the Cape. Hazel has since morphed into a five-year-old and has been joined by brother Jack. At two years old he can just about cope with a long trip without losing the plot.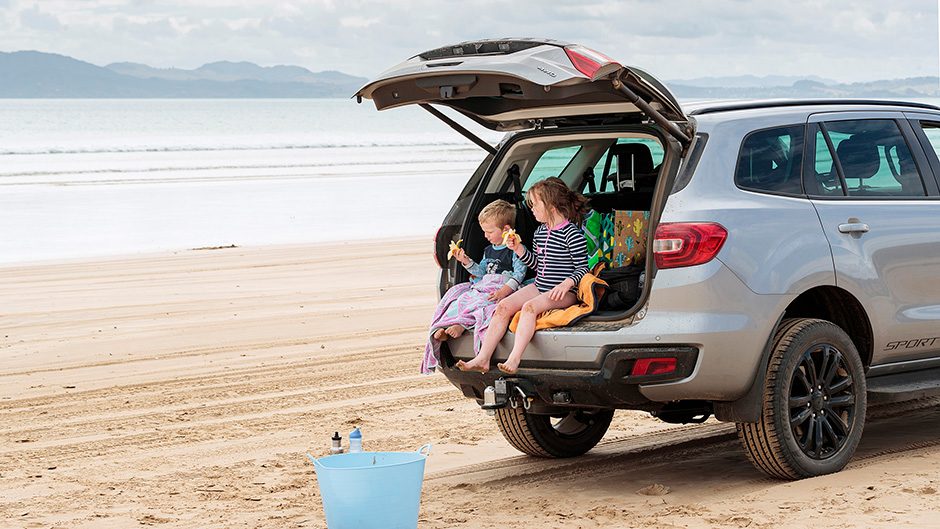 Everest is a comfortable cruiser and a compelling drive. The ride quality is better than that of any double-cab ute, except perhaps Raptor, but it's still a full-chassis rig with a solid rear axle so there's only so many bumps it can absorb. The motor's a peach with plenty of snot for safe overtakes and the two snails spool up quickly meaning no OMG moments when going for a gap or taking off from an intersection.
When it's not under the pump the engine is hushed, the active noise cancelling no doubt helping. The driver assistance systems all work well, and the lane keeping is less annoying than we remember, so we didn't feel the need to turn it off. We spent a fair bit of time traversing metal roads and Everest excels here too. It carves through loose gravel while the ESP allows the rear to slide around a little before gently reining you in. Dust sealing is tops.
December 28th dawned a stunner so we hit the road to the Cape. It's an easy drive from Kaitaia, taking a little over an hour if the traffic is light. Once at the top, a walk to the lighthouse (20mins return) is a must. It was pretty crowded up there, even with a lack of international visitors, so getting a decent selfie with the signpost or lighthouse was impossible. Hazel was disappointed that Captain Turbot wasn't home (Paw Patrol fans will know who I'm talking about…) but that's because the last lighthouse keeper left in 1987.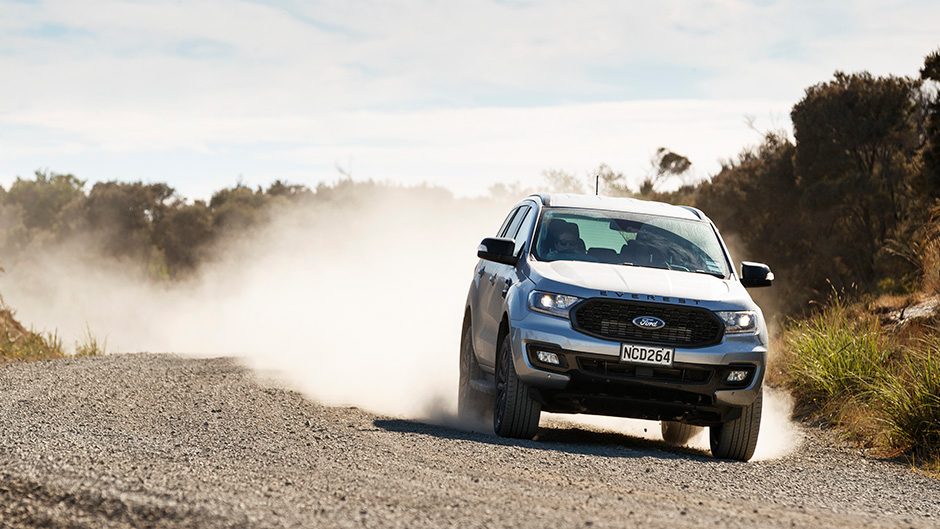 With the prerequisite family photos acquired it was time to start the return journey and this is where the going gets interesting with a four-wheel drive. Fifteen kays south of the Cape lie the giant Te Paki sand dunes and the most northerly entrance point to Ninety Mile Beach. Accessing the beach here requires driving down a stream. Four-wheel drives are advised but we saw all sorts braving the water. Be aware that on a good day this is probably one of the easiest entrances to navigate. Getting off the beach can be trickier. Everest was at home splashing through the water as was the wife in the driver's seat. Only once she had successfully saturated me while I rattled off the action photos did she relinquish driving duties. Everest is dwarfed by the 150 metre dunes that flank the stream so we stopped for a gander and a bite to eat. The kids tired themselves out trying to scale the heights while I tried not to break bones sliding down the sand on a boogie board.
Once on the beach proper the going is easy and it's around 70km back to Kaitaia this way. There is plenty of hard sand to drive on and only a few hazards, the tide being one of them. Best check as some parts become impassable on high or king tides. Otherwise it's just the usual things to look out for – long lines, other vehicles (often randomly stopping to execute a few donuts mid beach) people and critters (dead stingrays make a satisfying pop when you run over them). We didn't bother engaging Sand mode when cruising down Ninety Mile Beach but found it perfect for negotiating the entrance points and softer beaches elsewhere in the region. In this mode the throttle becomes more sensitive and the traction control much less so, allowing wheelspin so that the vehicle can maintain momentum over the sand. Truth be told, we did almost get stuck simply because I didn't give it enough jandal when exiting the beach. Engaging diff lock and a helping hand from a local gave us the motivation we needed to extract ourselves. Others weren't so lucky – we saw more than a dozen cars that required towing out during our two-week stay. If sand safaris are likely to be a regular occurrence, swapping out the road-oriented rubber for something more aggressive would be a good bet (and how good would Everest look on a set of knobblies and steelies?!).
When it comes to the interior our original gripe remains – there's just too much hard plastic for a vehicle of this price. The seats are comfy but we'd like the option of cloth to save a few bucks. The third-row pews are pretty firm and access isn't great, especially with the kids car seats in situ. The touchscreen is now SYNC3 and features sat nav and smart phone support. There's a heap of drink holders and the centre bin swallows all the snacks that kids could possibly desire. Sport misses out on rear floor mats which we reckon is a bit mean. Some deep rubber jobbies to catch all the sand and crumbs would be ideal.
We averaged 800km between fills, or 9.0L/100km. This is an improvement on the 10.5L/100km we achieved with the five-cylinder, but somewhat wide of Ford's 7.0L/100 claim. Expect upper sevens on the motorway.
Everest is a handsome beast; the kids nicknamed it the 'monster truck' and with its smart and chunky styling it's not hard to see why. Unfortunately it is also lumbered with a lofty price tag to match. At $74,990, the Sport is at least $10,000 more than the Japanese competition, while the Korean offerings undercut it by more than twice that. Everest fights back with the best drivetrain in the class, a 3100kg tow rating (tow pack fitted as standard) and a five-year unlimited kilometre warranty. If you're dead set on an Everest, you won't be disappointed. The Sport is the pick of the range so just try to cut a deal.
| | |
| --- | --- |
| Model | Ford Everest Sport |
| Price | $74,990 |
| Engine | 1996cc, IL4, T/DI, 157kW/500Nm |
| Drivetrain | 10-speed auto, all-wheel drive |
| Fuel Use | 7.0L/100km |
| C02 Output | 181g/km |
| 0-100km/h | 10.17sec |
| Weight | 2488kg |