There's Meta and then there's Mega, like this beast of burden, Toyota's latest Land Cruiser 300. We saddle up for a spot of high and mighty cruisin'.
It's big and it's back, the Land Cruiser 300, renewed after 14 years – good things take time after all – and remodelled ever so slightly for modernity's sake. Naturally, it retains its legendary off-road chops, with a body-on-frame chassis, permanent 4WD, locking centre diff and low-range transfer case but gaining a smaller more potent and fuel efficient V6 bi-turbodiesel mill mated with an also new 10-speed auto. So essentially it goes on road almost as well as it goes off, kind of.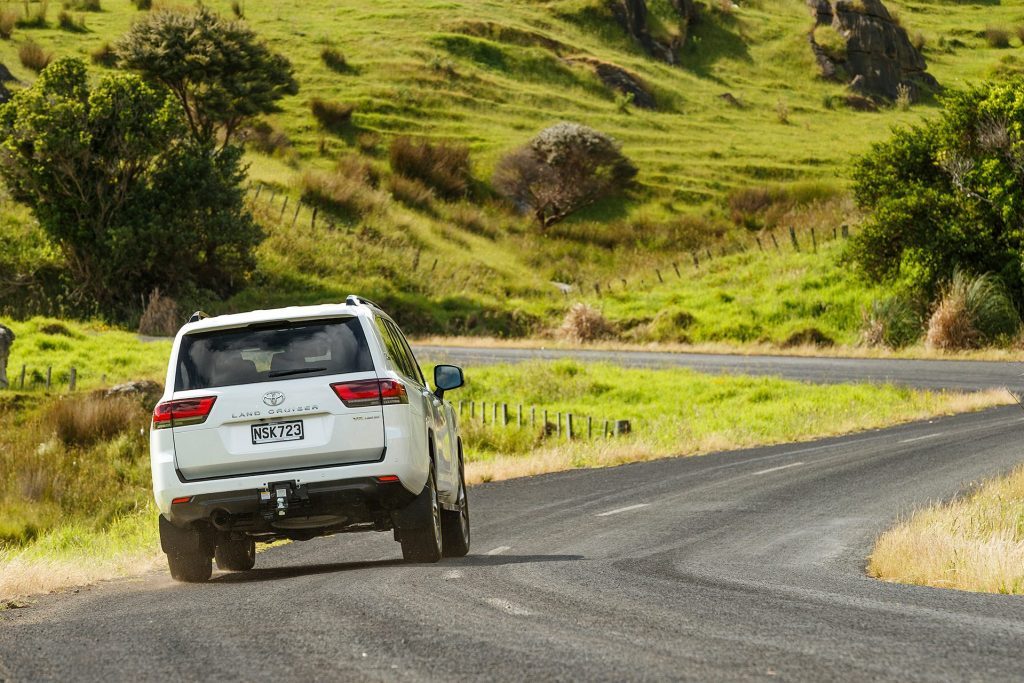 There's even more power and torque, in the move from a V8 to a V6 bi-turbodiesel. And there's a GR version if you can believe that, though not quite in the same vein as the Yaris hottie. Think of this as a slightly sportier version of the other two 300s in that it gets adaptive damping and two Sport modes. But with its height adjustable suspension, and locking front and rear diffs it makes you think the GR aims at being even more capable off road as well. All-terrain competent then.
We got to sample the VX Limited, which gets 20-inch wheels and more road-oriented AT rubber. We didn't therefore do too much on the terraforming side of things, just some excursions on sand and gravel. Needless to say we didn't fall off the road or get stuck anywhere. Not even close actually. On gravel it takes a fair amount of persuasion to get the rear unhinged, though if you lost the plot you'd might end up two paddocks over. This is a heavyweight, no question, Toyota reckoning on a minimum kerb weight of 2630kg. And it feels all of that. While it has generous ground clearance of 235mm, a wading depth of 700mm and decent departure and approach angles of 25 and 32 degrees, we'd imagine that most owners won't be subjecting their $139k ride (driveaway pricing) to anything more serious than a trip up a snow-laden access road.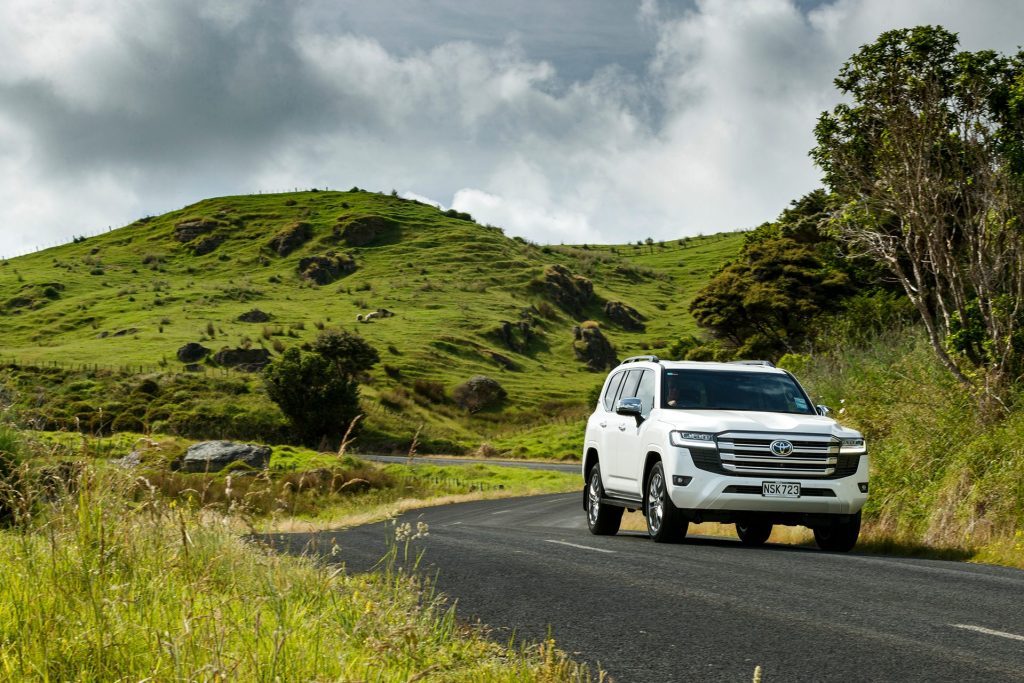 And because the opposition has Terrain Response, this too has modes (MultiTerrain Select) that will pretty much sort the acceleration and braking for you whether the surface beneath is mud, sand or almost anything you might encounter in your off-road escapades. And there are cameras to show what's happening outside.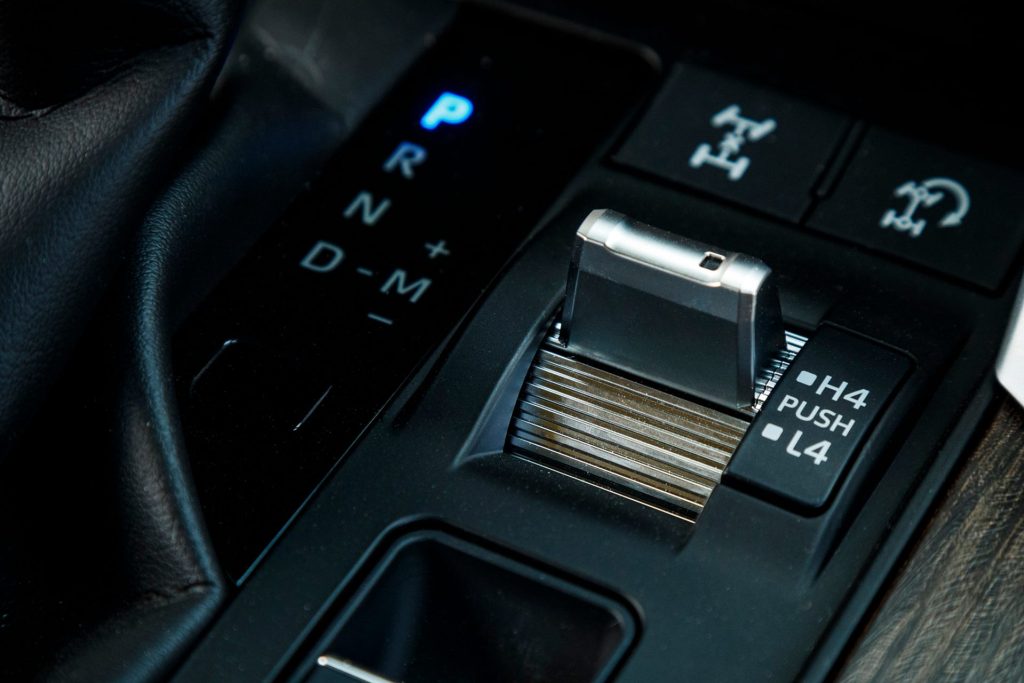 We didn't so much as touch a thing during our time off the blacktop, apart from nixing the ESP and TC temporarily while trying to be stylish on the pebbles for the camera. Like we said, it's reluctant to get its wheels out of line.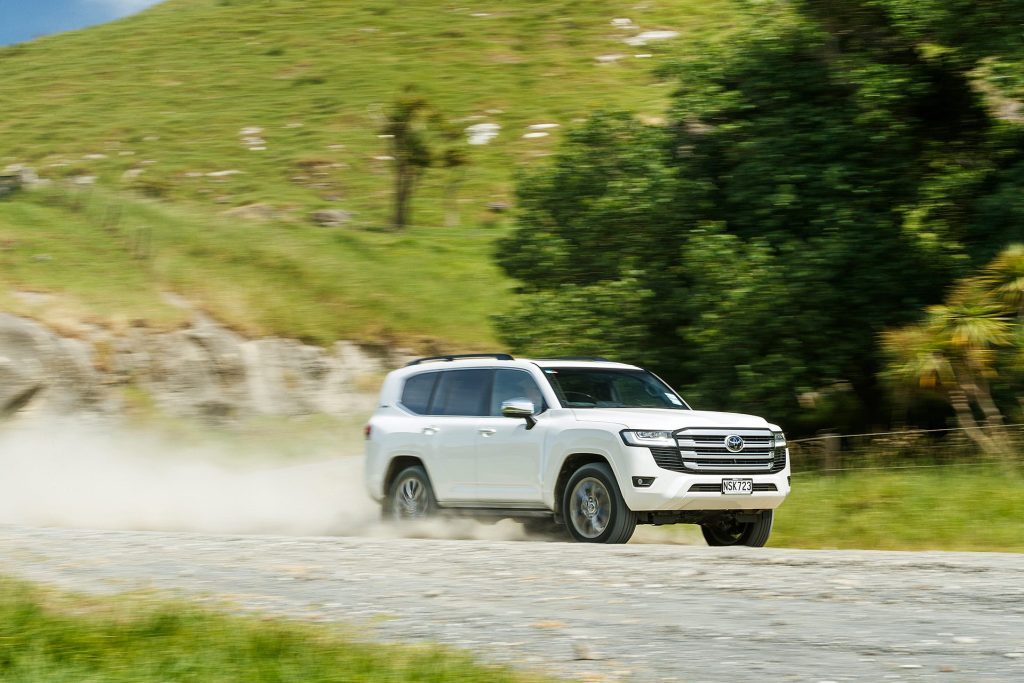 About the most arduous stuff urban owners will likely subject it to is a spot of kerb hopping to make parking a little easier. Does that make it a good urban vehicle? Not exactly for it is a whopper, at just under 5m in length and 2m in width, and almost the same for height. When parked appropriately it seems to jut out into the road about a foot further than anything else.
The distaff, who is somewhat vertically challenged, found the VX a bit of a climb, the need to clamber up into the passenger seat all a bit too conduct unbecoming, despite the provision of hand grips. However, once up there, the seat comfort is ace, and you can look down upon the plebs from on high. She's right though, it is a hike up, even for those of us not from Lilliput. Helping with driver access are wheel and seat mechanisms that automatically move. We liked the soft knee rests too, while the outward view is aided by the large external mirrors, a sizeable glasshouse and a great 360-degree camera.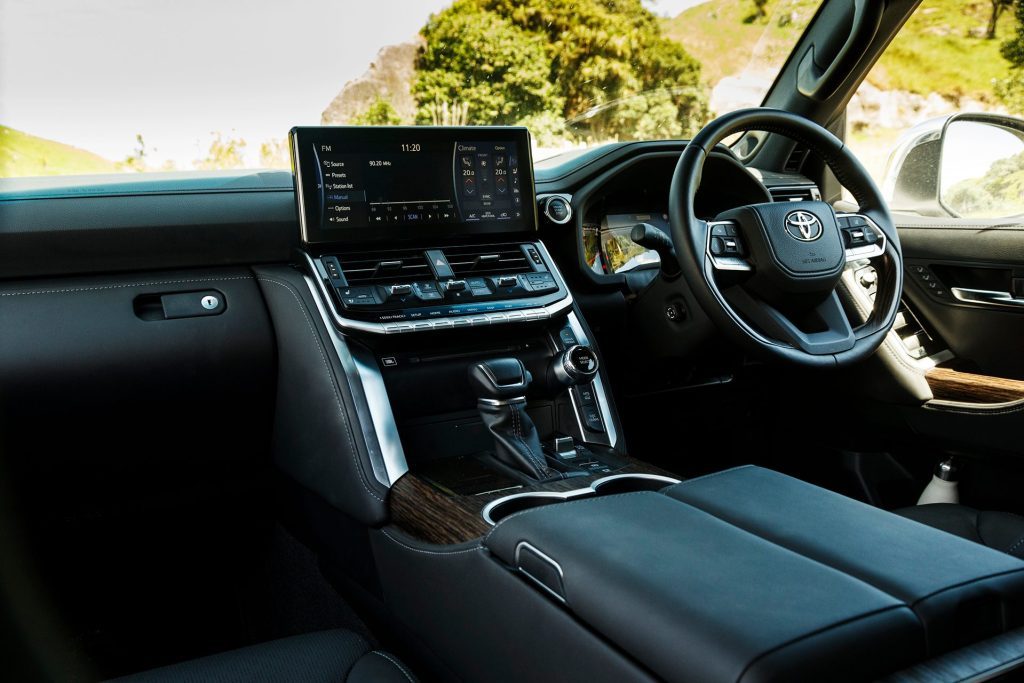 Another stellar aspect is the refinement here. Admittedly there's not the V8 rumble of old, but you can scarcely hear the V6 diesel in action, and even over the worst surfaces our SPL meter didn't register anything in excess of 65dB. The high sidewalls and acoustic glass must help. It's first-class hush, the 300.
Also contributing to a decent ride is the suspension set-up. You don't expect something riding high and weighing over 2.6 tonnes to be the last word in dynamics, and this isn't but it certainly rides with aplomb, despite not having air suspension or adaptive damping. Yes, it lolls around if you push the boat out but you can make decent progress nonetheless, providing you know when to ease off. It doesn't even squeal in protest that much, and while similar vehicles from Toyota, like Prado, used to have ESP conniption fits if you were in a hurry, this doesn't miss a beat. Given size, height and weight, it's actually rather impressive on tarmac and you can still get from A to B quickly and quietly enough. That's what the LC 300 has always been about, with a reputation for forging on no matter what.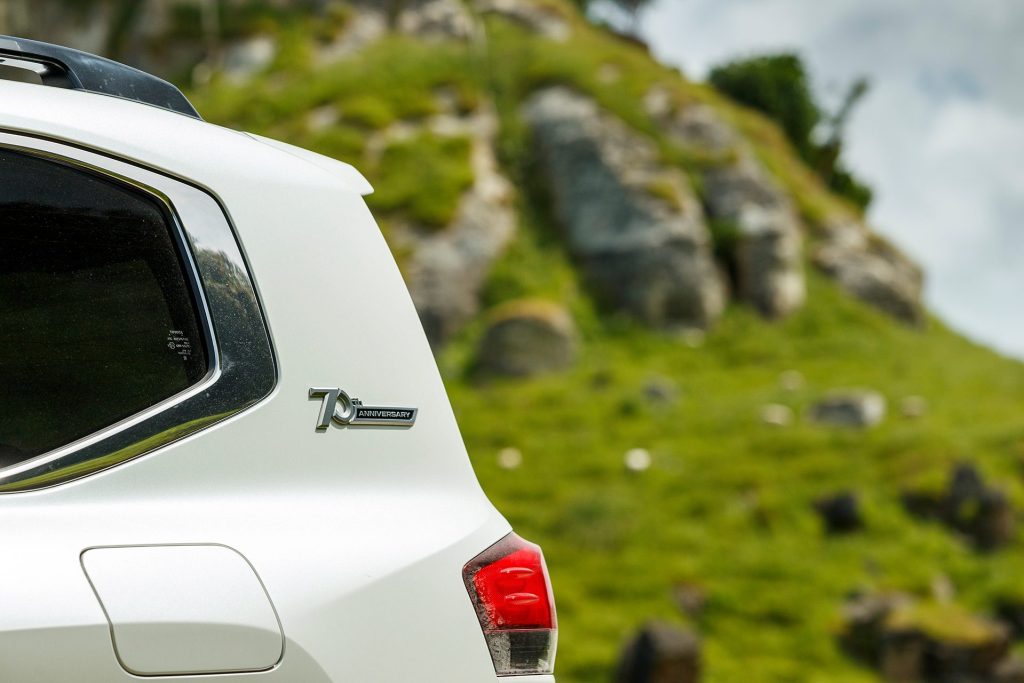 This is the 70th Anniversary, with badges as confirmation, and Toyota reckons there are still forty- and fifty-year-old versions trucking around. Certainly it feels to be built like a fortress, with not a miscellaneous noise heard, no matter where we took it. That's if you exclude the parpy little excuse for a horn that wouldn't sound out of place in a Yaris. Which is possibly the parts bin it was sourced from. A regal truck should have an appropriately resolute warning device.
Especially as this goes better than ever before. Previous iterations have hardly been racy and nor is this but the silky 10-speeder helps extract the best from the new mill, a 7.8sec 0-100 time accompanied by a 5.3sec overtake. The modes don't seem to do much, and Eco feels similar to Normal. Sport just holds gears a bit longer.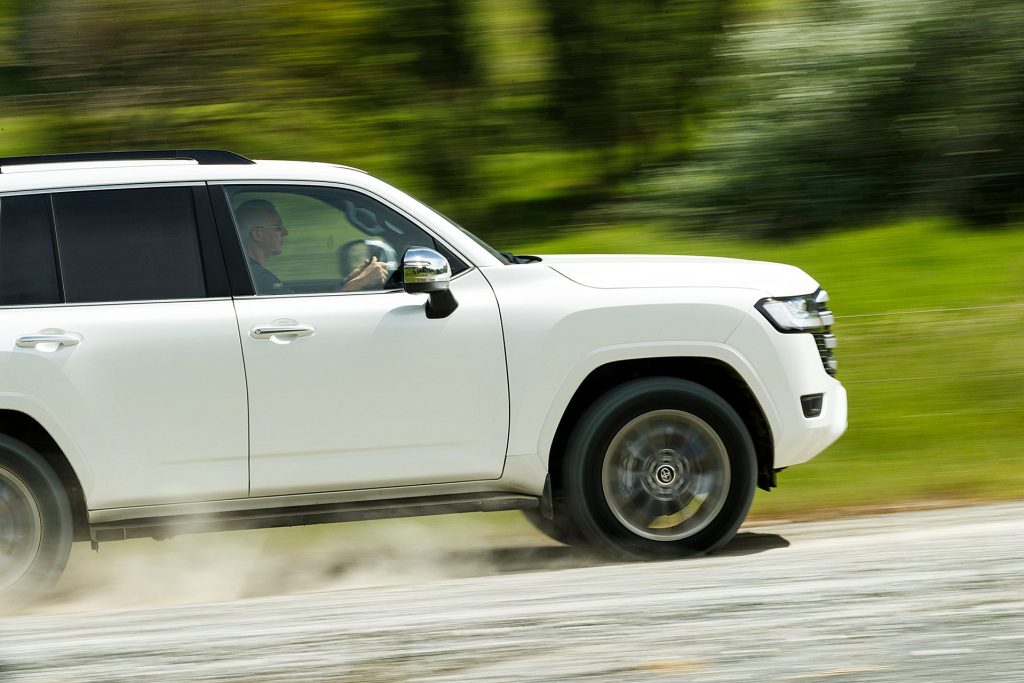 Helping lift performance is added use of aluminium in the body, reducing overall weight significantly, while chassis rigidity is up by a claimed 20 per cent as well, benefitting both ride and ear comfort. There's still the 3500kg braked towing maximum too. Toyota reckons on average fuel use of 8.9L/100km but every time we looked the figure was in the 11s or 12s. Whatever, you can expect at least 700km per tank because it's a whopper, the main one holding 80L and the reserve another 30. We returned the 300 after a week of motoring, and there was still one-third of a tank left.
This makes quite the family bus if you've six others to transport and drop off, the hindmost with reasonable room. The pair of occasional seats are accessed electrically, unfolding from the luggage bay floor. Those in the middle row fare rather better with great all round lounging space, the outer occupants with their own screens for whiling away the hours on road. Oh and seat heating and ventilation too.
Hard to moan about spec here then, but at this price you expect the kitchen sink. And you get all but that, right down to scrolling indicators. The centre console is busy but there's lots of goodies to control, with heated, vented and powered seats, five USB-c charge points, compatibility with both smartphone tribes, 14-speaker JBL audio, sat nav with SUNA traffic info, and all the safety gizmos, including hill descent control, trailer sway and 10 airbags. Not forgetting head-up display, a phone charging pad, and a central chiller box. There's even a crawl mode for off-roading. Exterior features include a powered fifth door and sunroof, sidesteps and the sharp-looking new LED headlights with active high beam. We liked the unusual hollowed out bonnet look too.
Seven seaters have grown in popularity along with the large SUV market. There are oodles of 'em. Nissan Patrol V8 petrol ($110k), Defender 110 5+2 with a 3.0 six-cylinder turbodiesel for VX Ltd money, Hyundai Palisade 2.2 TD (up to $120k, 7-8 seats), Santa Fe featuring the same powertrain at up to $90k, and Sorento seven-seater with hybrid petrol power from $66k in AWD guise. Others include Ranger-based Ford Everest, also with a 10-speed tranny, for $80k. And from Toyota there's the $90k Prado seven-seater. For even less there's the AWD Highlander petrol-electric hybrid without quite the lugging power. The least expensive seven-seater is LDV's top D90, for $54k, about as big as the others, with a 2.0 turbodiesel, eight-speed auto and low range for off-road sorties.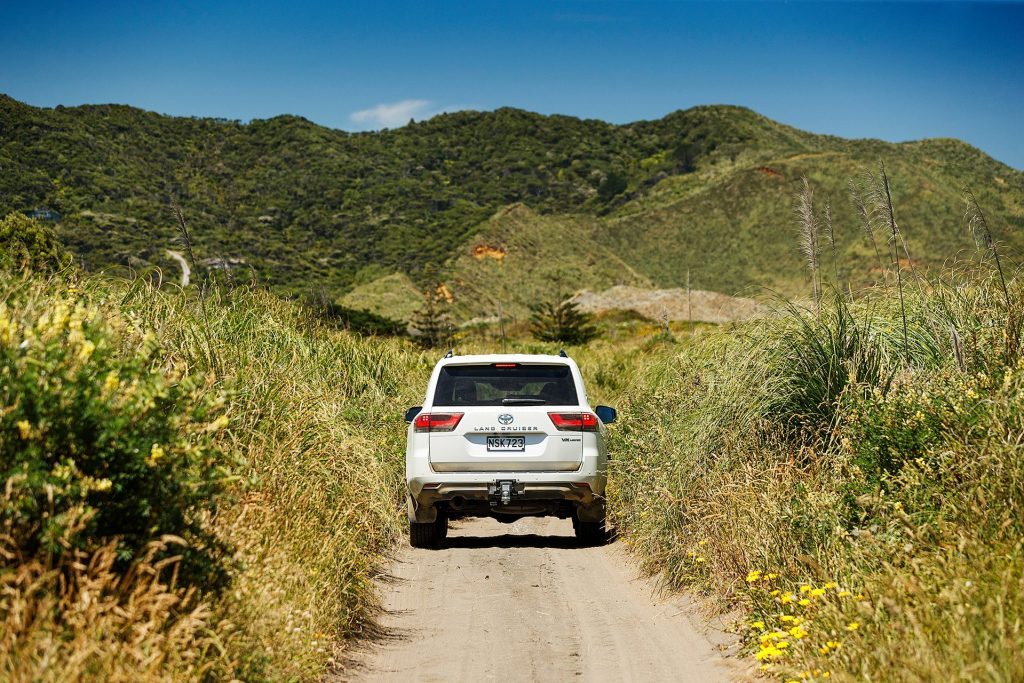 And finally, if the house sale returned more than expected and you're out to treat yourself, there's the inbound Lexus LX600 based on this vehicle with the same powertrain, only it's even more luxurious inside and more capable on road. Pricing should be to hand soon, but we'd not expect too much change from $200k.
Model
Toyota Land Cruiser
300 VX Limited
Price
$138,900
Engine
3000cc, V6, TDI
Power
227kW/700Nm
Drivetrain
10-speed twin auto, AWD
Fuel Use
8.9L/100km
C02 Output
235g/km
0-100km/h
7.78ec
Weight
2630kg (claimed)