Don't want seven seats but would like a little more economy and pace in your Nissan X-Trail? The e-Power variant offers an EV-like drive without the need for charging.
Nissan has added to the X-Trail and Qashqai ranges with new e-Power models. And we were fortunate to get a sneak preview of the range-topping X-Trail e-Power Ti-L over the Christmas/New Year holiday period.
The e-Power variants are somewhat different from other hybrids in that they are like electric vehicles in the way they drive, but instead of having big battery packs and plugs for charging they utilise a petrol engine as a generator. Its job is to keep a small 1.8kWh lithium-ion battery topped up and, unlike the Outlander PHEV, the engine cannot contribute in any way to powering the vehicle. So if you ignore the background noise of the 1.5L IL3 petrol engine, this feels much like an EV to drive. The torque is on tap from the outset, and there are no gearshifts (direct drive) so just a linear surge of acceleration.
A benefit for those without off-street parking is that there is no plugging in. You refuel it at the gas station. I drove the vehicle over the summer break but never had to visit a servo. We picked the car up with 800km of range showing and returned it with over a quarter of a tank remaining having travelled almost 600km.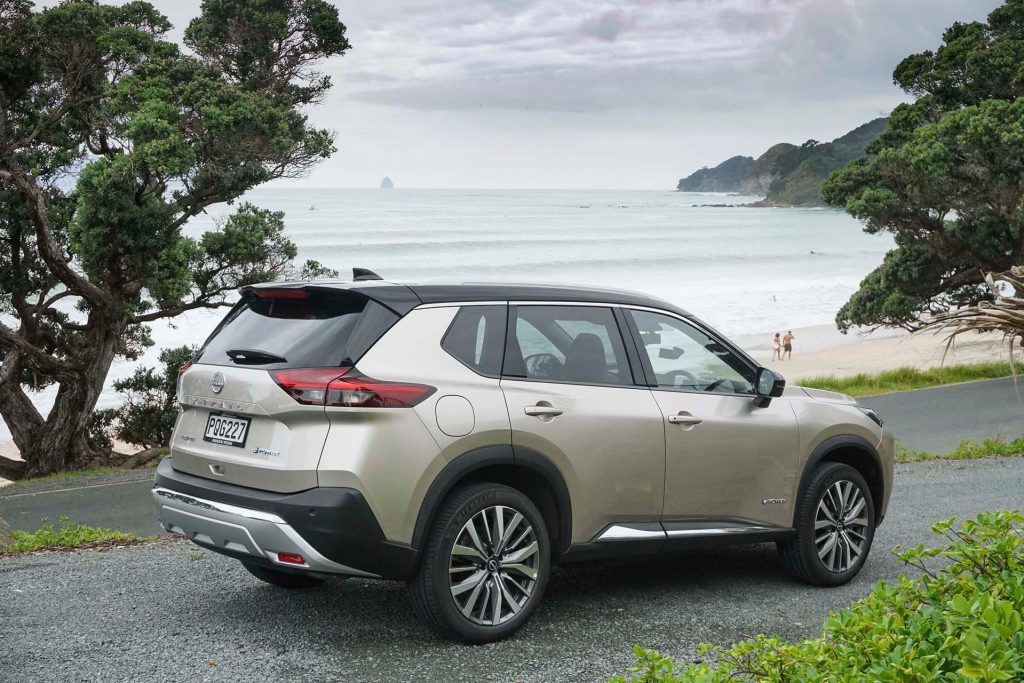 While fuel economy is pretty reasonable, it's not in PHEV territory by any means. The Nissan X-Trail 2.5 AWD is rated at 8.7L/100km WLTP whereas the e-Power AWD is 6.8L/100km (154g/km, fee neutral) so it's a hybrid that doesn't get a rebate. Also worth mentioning is the $7000 premium the e-Power commands over the 2.5-litre Ti-L (although the difference is $6k once you pay the fee on the 2.5).
We saw a best of 5.3L/100km when driving on a busy SH1 leaving Auckland along with the rest of the populace at the start of the statutory holiday period. A worst figure of 7.8L/100km showed up after performance testing, while for the most part we saw low sevens while just cruising at the open road limit and in the sixes while mooching around the burbs.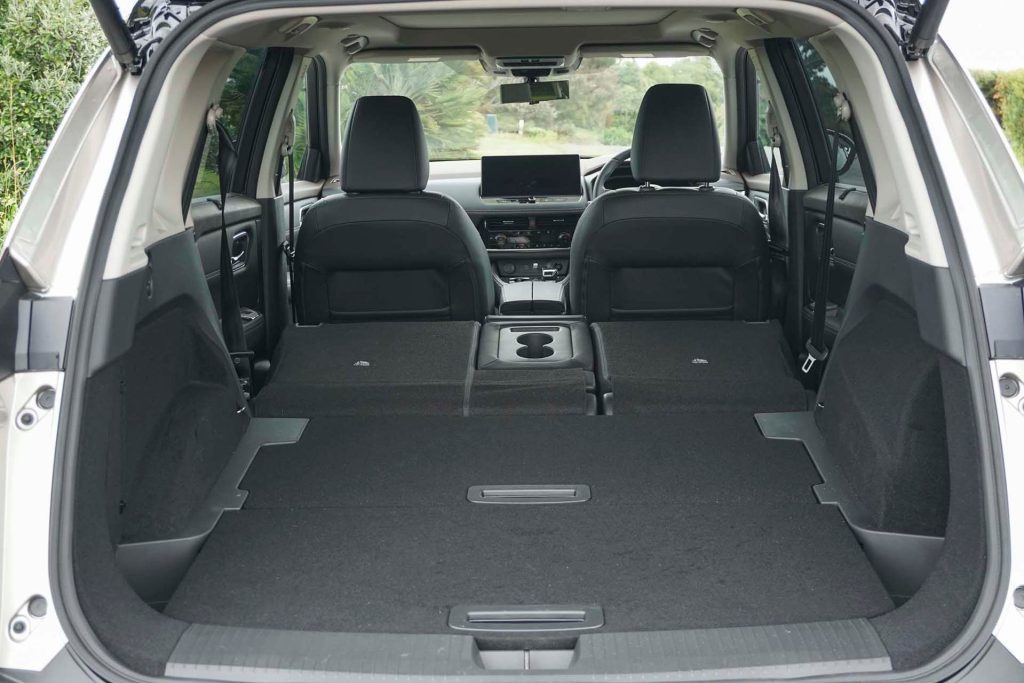 How does the Nissan X-Trail e-Power drive?
As to how this drives, and in fact its overall demeanour, think EV refinement. Day to day, it is quiet, relaxed, effortless, starting off in EV mode and the engine chiming in quietly to boost the battery when required. With good under bonnet and engine soundproofing, you're seldom aware of the 1.5 triple's thrum on the go. At slower speeds sure, but at modest speeds it's all but silent.
Along with the aural refinement there are the physical updates that complement it. Beginning with the exterior; this seems like a bigger vehicle than its predecessor largely because of gains in width and height of 20 and 15mm, respectively. Moreover, it rides on 20-inch alloys so just seems larger. It's actually shorter than before by 10mm (4680mm) and has the same 2705mm wheelbase.
However, the chassis itself is new, and is shared with Outlander and Qashqai. Both of the e-Power X-Trails are five seaters, generous five seaters at that, whereas ICE-powered models can be had with seven seats if desired. Entry into the rear is easy with doors that open almost to right angles, and with a virtually flat floor and extra width there's room for three adults to sit comfortably. Leg room is variable, for the rear seats can slide forward or aft, on 200mm runners. Set right back there's vast amounts of legroom and, despite the standard fit panoramic sunroof and sunblind, generous headroom as well.
What's the new Nissan X-Trail like on the inside?
Step round the back, activate the powered fifth door and there's 575L of luggage space available, down just 10L on the ICE-powered X-Trails because of the 1.8kWh battery pack that sits under the rear seats. The boot floor on its top tier facilitates a flat load space after split folding, or extra room in the rear for taller items with the floor set lower. Said floor comprises two halves, and the rear unit can be sited vertically to hold goods in place in the front half of the luggage compartment. There's no spare wheel beneath, however. For size, we fitted our bag of golf clubs sideways in the back with the trundler in behind, no problem. Like we said, this is sizable but not too much so. It doesn't feel overly heavy either, despite being the better part of 1900kg, around 250kg more than the rest of the X-Trail range. That's on account of it having a motor at each axle (150kW/330Nm up front and 100kW/195Nm at the rear). There's also the battery pack and inverter, amongst other things.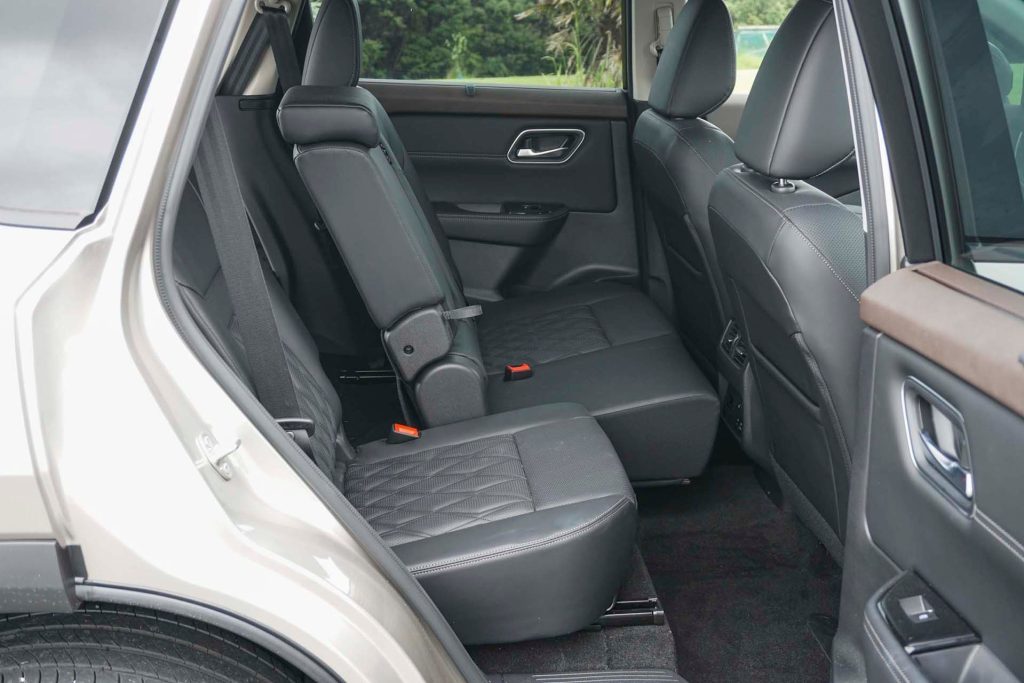 Can romp
As for performance, it's said to be around a second quicker to 100km/h than the ICE powered variants, and indeed it met its claim of 7.1sec with a best of 6.94sec. It doesn't take off with a hiss and a whine like some EVs do but builds up a head of steam progressively. An 80-120km/h overtake requires 135m of roadway (4.75sec). We found that you never really need to be in anything other than the Auto drive mode. It's just so easy going in this mode too, urban or rural, Sport not adding much, Eco removing too much. The handling is similar; well controlled with firm damping and multilink rear, along with a smooth ride, apart from over uneven surfaces at slower speeds. Steering is also well judged.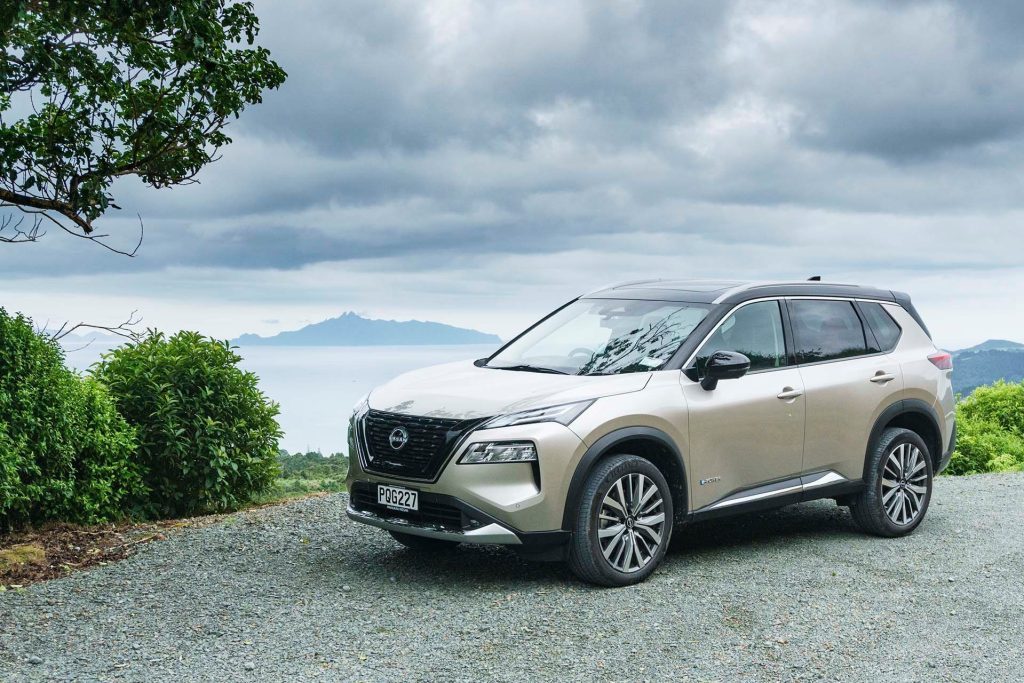 The regen system is a two-fold affair, though you'll likely only use one of these, that being the one attached to the shift lever. Give it a pull back and that selects the B setting (presumably for brake) and it acts to gently slow the vehicle. Evidently the Eco setting allows coasting but when we used it there still seemed to be some braking.
Push the E-pedal button and there's a whole lot more regen happening; this is the one-pedal driving mode but it's a bit much overall and brake sensation is adversely affected. We found on the open road that shifting to B for a bit gave enough retardation that braking per se wasn't needed that often.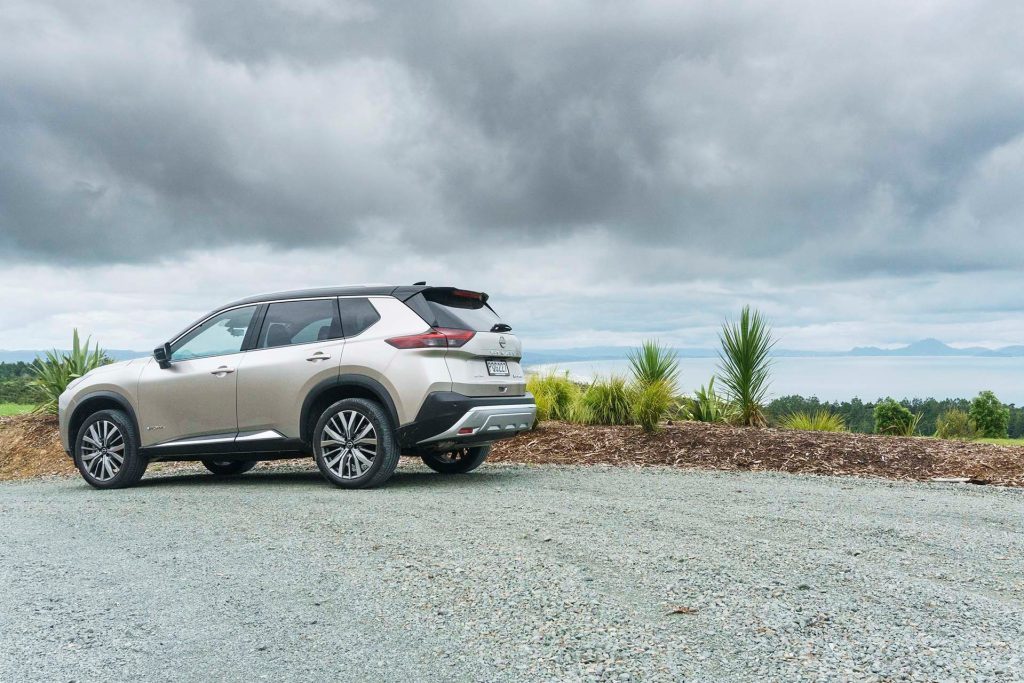 Quality and finish
This is a serious step up in quality and refinement from the outgoing X-Trail. There's chrome and gloss black finishings on the exterior, leather-like materials on the dash, quilted leather upholstery, a huge legible touchscreen and instruments, and an equipment and safety list that's almost daunting. Despite that, this is almost simplicity itself to operate day to day. There are separate HVAC buttons so the trizone system is easy to run. Seats are fully powered and ease back at shut down to make exit easier. Turning off lane keeping is a one-step affair so you're not distracted by touchscreen controls too much. And there's a whopper of a head-up display that shows handy info like traffic signs, nav directions, speed etc.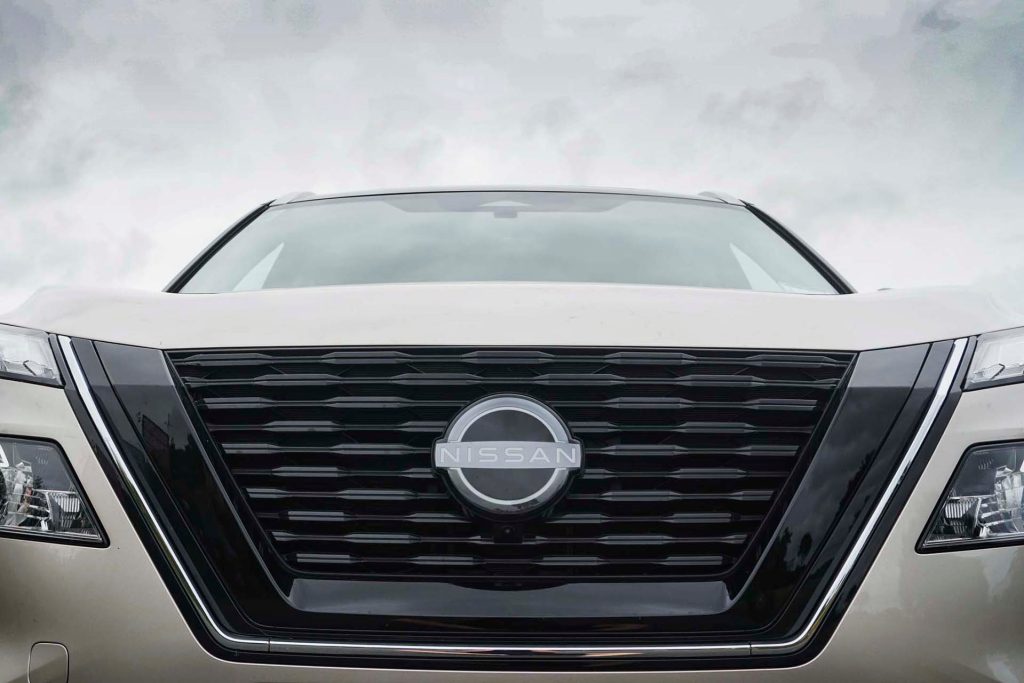 What's not to like about the e-Power X-Trail?
There's little in the way of negatives here; some might find it a bit big for their needs so they may want to check out the e-Power Nissan Qashqai instead. Others might be wanting more in the way of economy, which PHEVs can offer, some for less outlay than this. You can buy the Ti-L with the 2.5 motor (Ti-L $59,990) while other X-Trail variants can be had with seven seats if that's your thing. Either way, Nissan seems to have most of your family needs covered rather handily with the latest X-Trail.
Model
Nissan X-Trail
e-Power Ti-L
Price
$66,990
Clean Car Discount
Neutral – $0
Generator
1500cc, IL3, T, DI
Power/Torque
195kW/330Nm
Drivetrain
Single speed auto, AWD
Fuel Use
6.8L/100km
C02 Output
154g/km
0-100km/h
6.94sec
80-120km/h
4.75sec (135.4m)
100-0km/h
35.26m
Stability systems
ABS, ESP, TV
Safety
AEB, ACC, BSM, LDW,
RCTA, ALK, AHB
Luggage Capacity
575L
Tow rating
750kg (1650kg braked)
Service intervals
12 months/15,000km
Servicing cost
$385-$524
Warranty
5 years/150,000km
ANCAP rating
5 stars (2022)
Weight
1911kg (claimed)