Stinger used to be Kia's most dramatic machine but now the EV6 GT wastes that and becomes the new hero model for the brand. Is it any good?
You see increasing numbers of this new EV on the road now. And we're not referencing Tesla's Model 3 or Model Y but Kia's EV6. How come? Well, two models, Air Standard and Long Range, both rear-wheel drive, sell for under $80k so attract the full $8625 EV subsidy. Not bad for a family wagon with decent performance and range.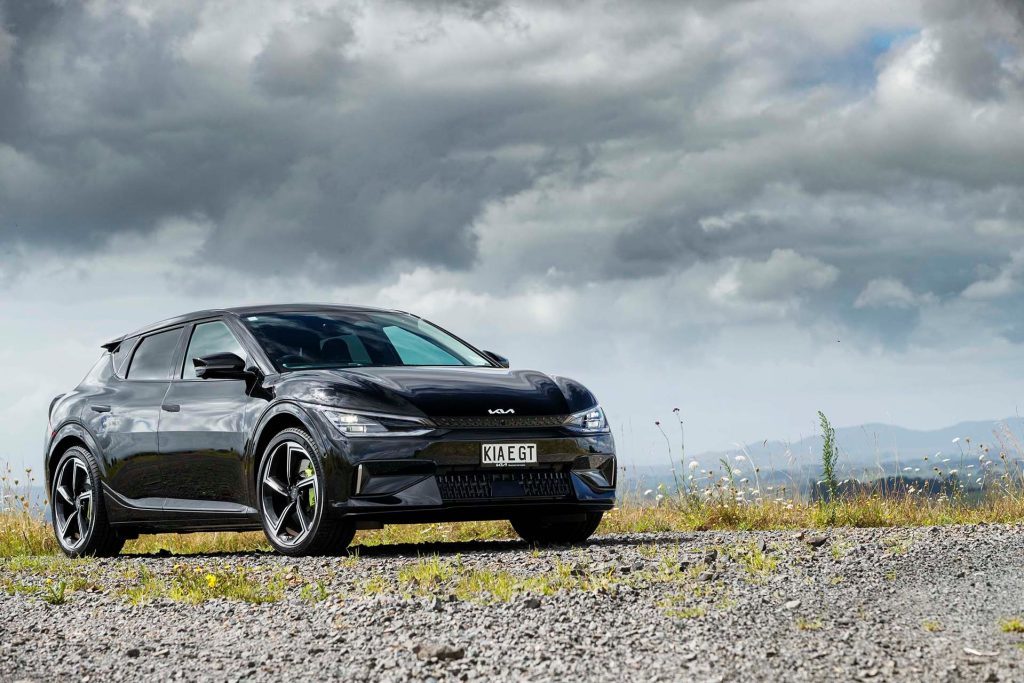 Secondly, this is a substantial vehicle, riding on a wheelbase of 2.9m, while it is 4.7m long, almost 1.9m wide and has seating and generous space for five adults, plus a hold good for their away gear (490L-1270L). The frunk is a piddly 20L but is just big enough to hold a charging cable.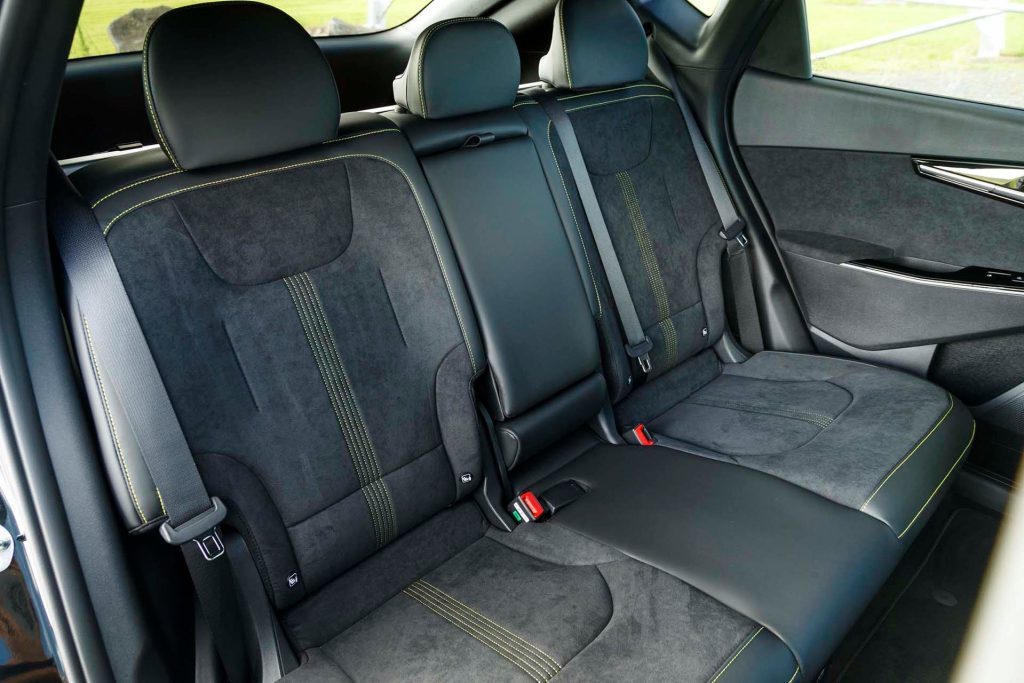 Thirdly, it looks unique, utterly different from its close relative, Hyundai Ioniq 5, despite the two riding on the same E-GMP electric platform and sharing the same basic powertrain technology. Where the Hyundai is almost shy and retiring with its angular hatch-like shape, the Kia is smoothly organic, with a sportier coupe-style roofline and muscular look. We like the abbreviated clamshell bonnet; the creases and stubby front end remind of driving a 911 from the wheel, though without quite that level of agility.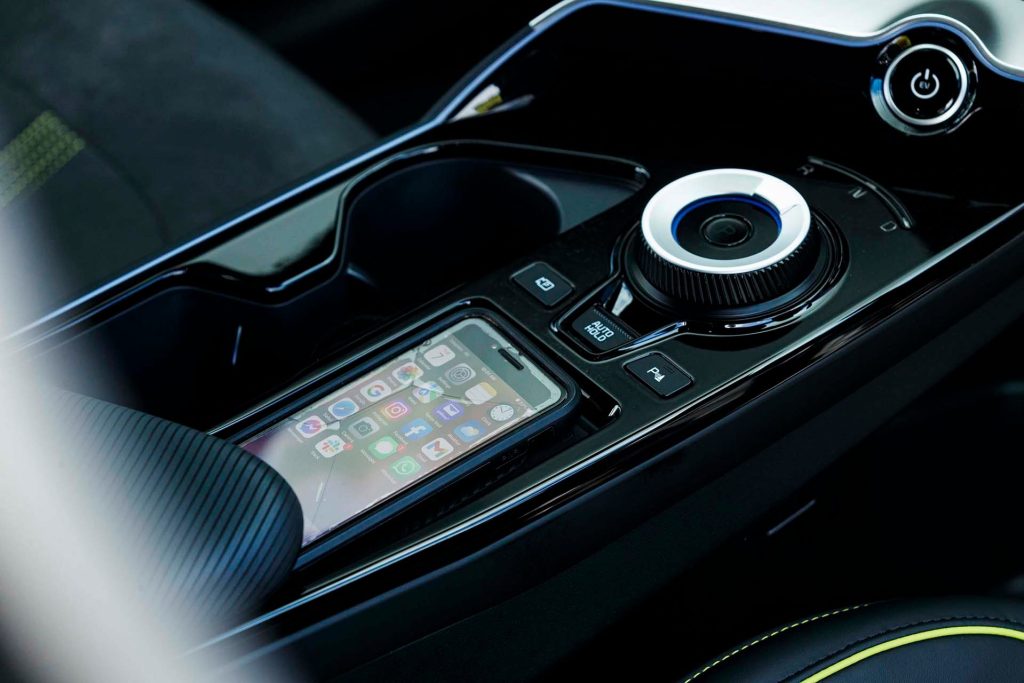 The top-of-the-line model featured here, the GT, gets a special look with an extended roof spoiler and more prominent bumpers and diffuser, along with 21-inch alloys. I'm not sure that the simpler look of the former range topper, the EV6 GT-Line (now $111,990) isn't preferable. However, black never does much to bring out the subtleties of car design.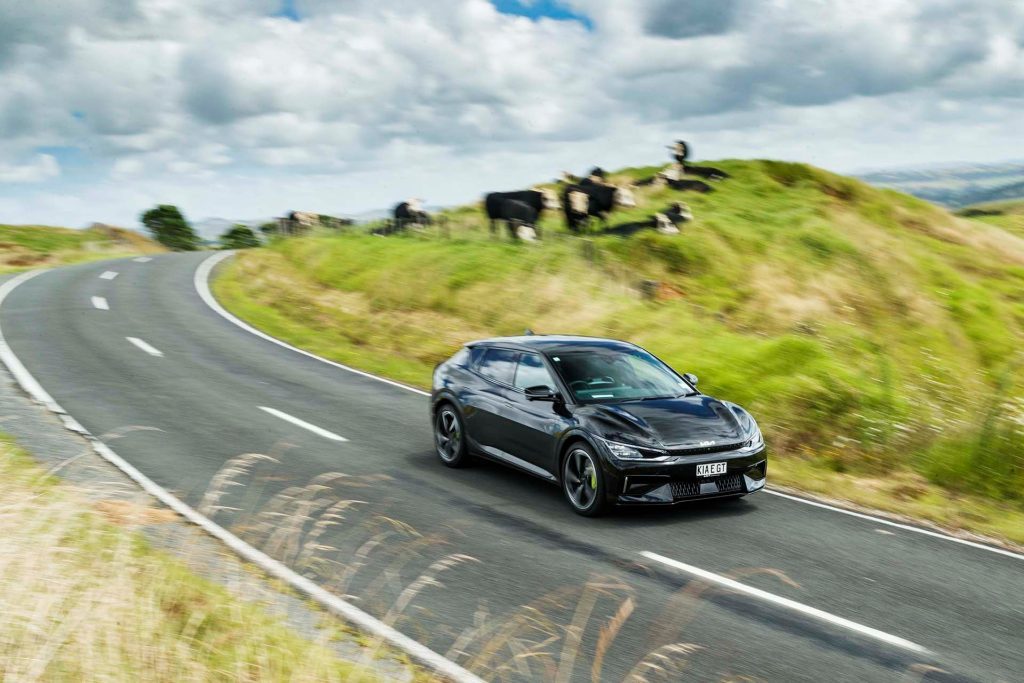 Move to the inside and it's really striking. You'd want it to be and all, given it is the costliest Kia yet at $139,900. That said, it is also far and away the quickest but we shall get to that anon. Pull on those aero-optimised door handles and you're instantly drawn to the lush look of the form-fitting buckets covered in suede-like material, the grippy grey texture contrasting with the lime green stitching on this and the D-shaped sports wheel.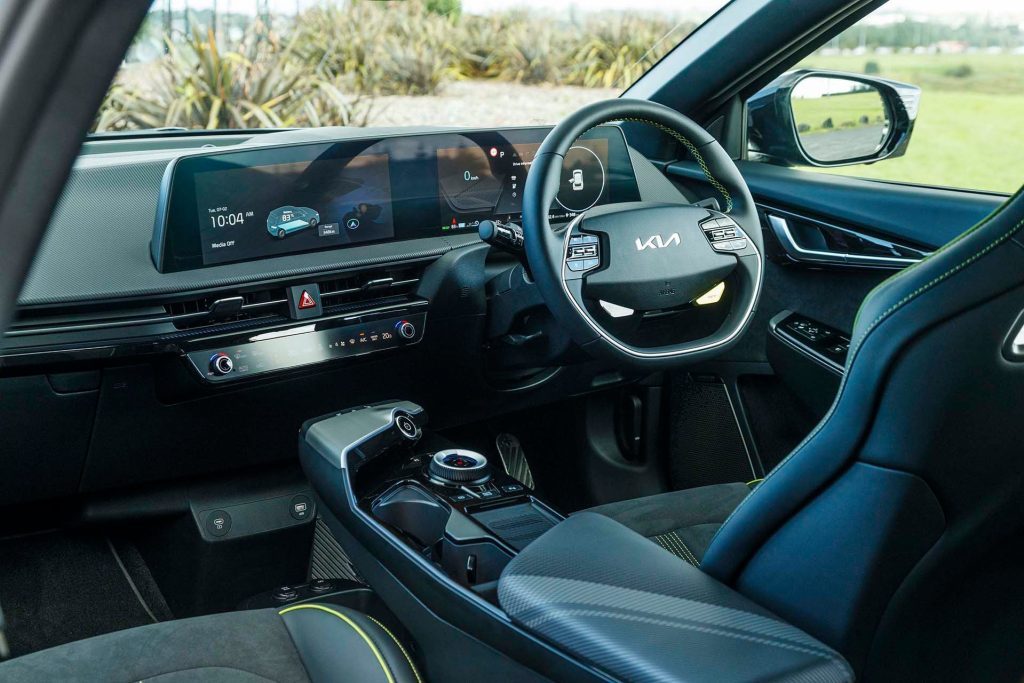 It's a shock, however, to find that seat operation is entirely manual, without any lumbar adjustability. Not that they're not plush as they are, heated too, but for this sort of money you do expect electric pews. At least the fifth door is powered. This, however, is about the only glaring omission.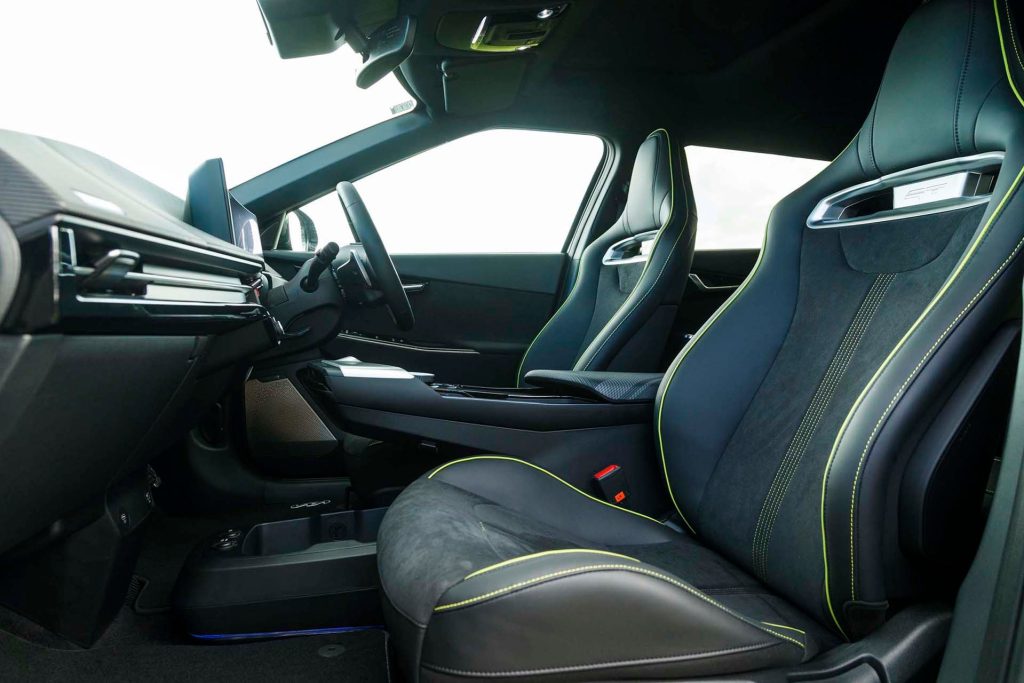 To the nitty-gritty
Anyhow, the $28k premium over the GT-Line model concerns performance and dynamic enhancements. At the rear is a substantially more potent 270kW motor (plus an electric LSD) while up front is a 160kW unit. System output of 430kW and 740Nm of torque compares with 239kW and 605Nm for the former flagship, while 0-100km/h straight line acceleration improves from a hasty 5.2sec to a supercar-baiting 3.5sec for the GT. Pin the throttle for long enough and you might see 260km/h in the right environs.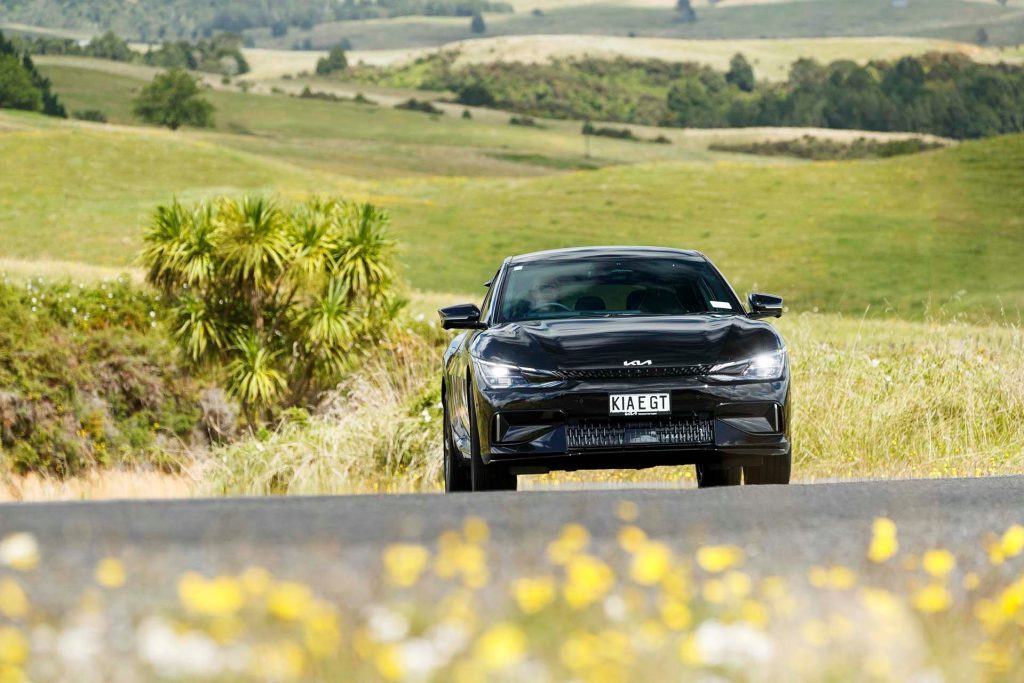 This uses the same 77kWh battery pack as the GT-Line, so WLTP range is less but still respectable (425 vs 484km). At pick-up ours was only at 85 per cent charged with 340km indicated. Later on that day after a fairly vigorous 150km of travel down some seriously bendy roads, we had 30 per cent charge left and a bit over 100km so decided to take a pitstop at a 50kW fast charger. It will handle superfast zappers this, up to 350kW (adding 100km of range in under five min, a recharge takes 18min).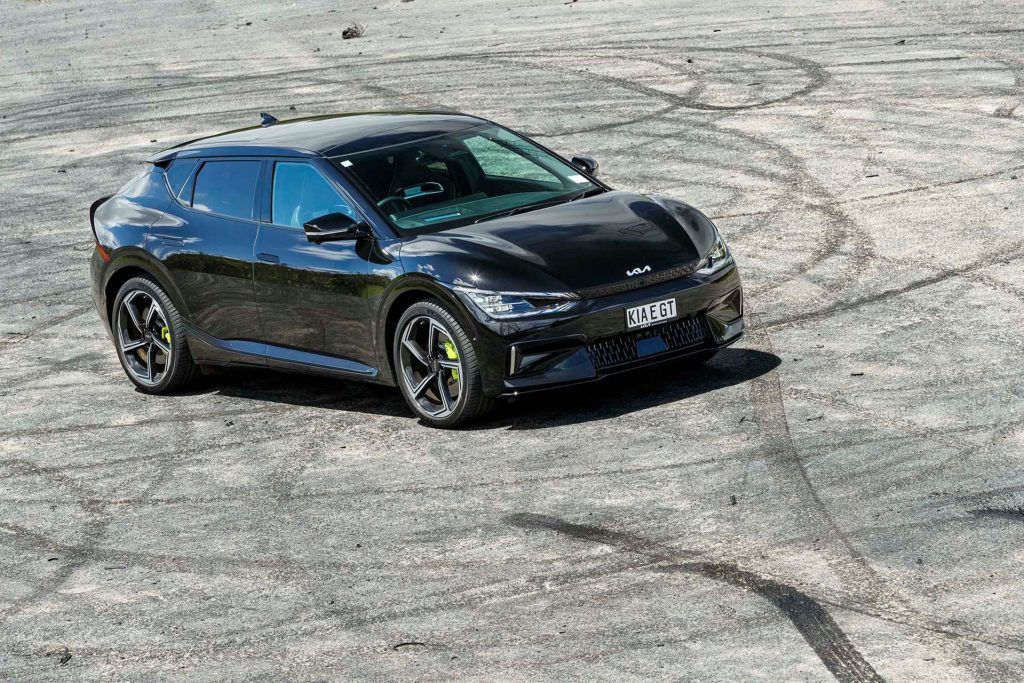 On the 50kW cooker it took a half hour to add 200km, while an 11kW AC recharge takes seven hours. An overnight home charge on the supplied 'emergency' plug took the battery from 60 to 80 per cent. In town driving expect energy consumption of between 16-20kWh/100km, in harder running around 23-26kWh/100km.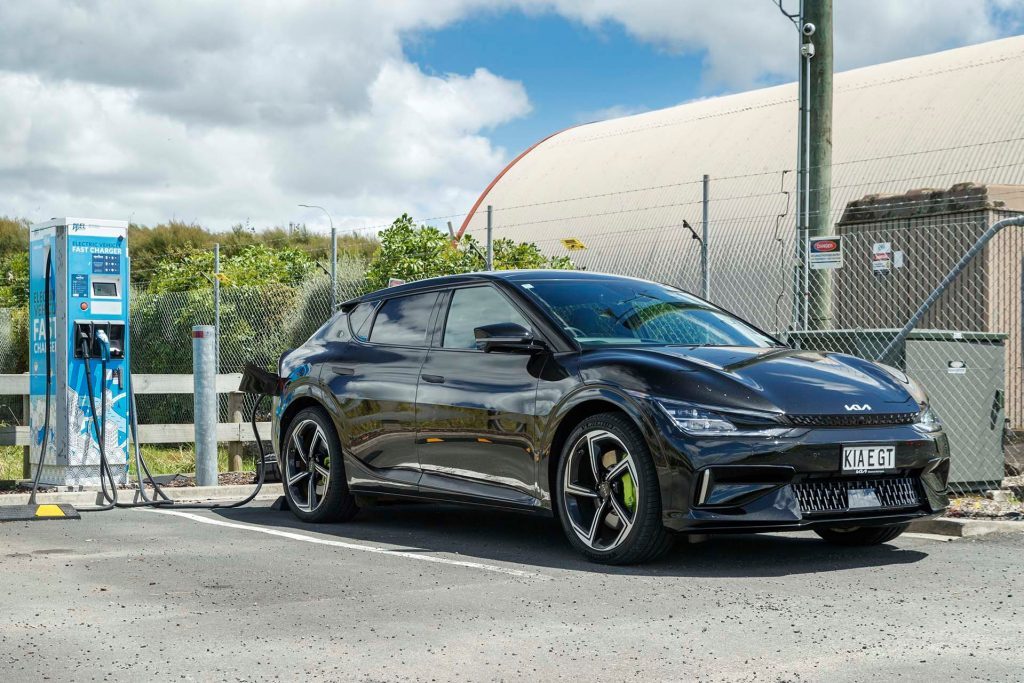 Tell us about the EV6 GT's drift mode
And on that harder running mention, we accidentally came upon a deserted carpark out in the middle of nowhere so we thought we'd give Drift Mode a whirl. A quick gander at the handbook and we were underway…instantly looping out, not for the first time either. But after a bit of trial and error we were able to fashion some semblance of tidy circle work, holding a constant throttle and steering angle. However, it's not something we'd recommend you try other than in a controlled environment. And it seems to be fairly hard on battery reserves too – who'd have thunk?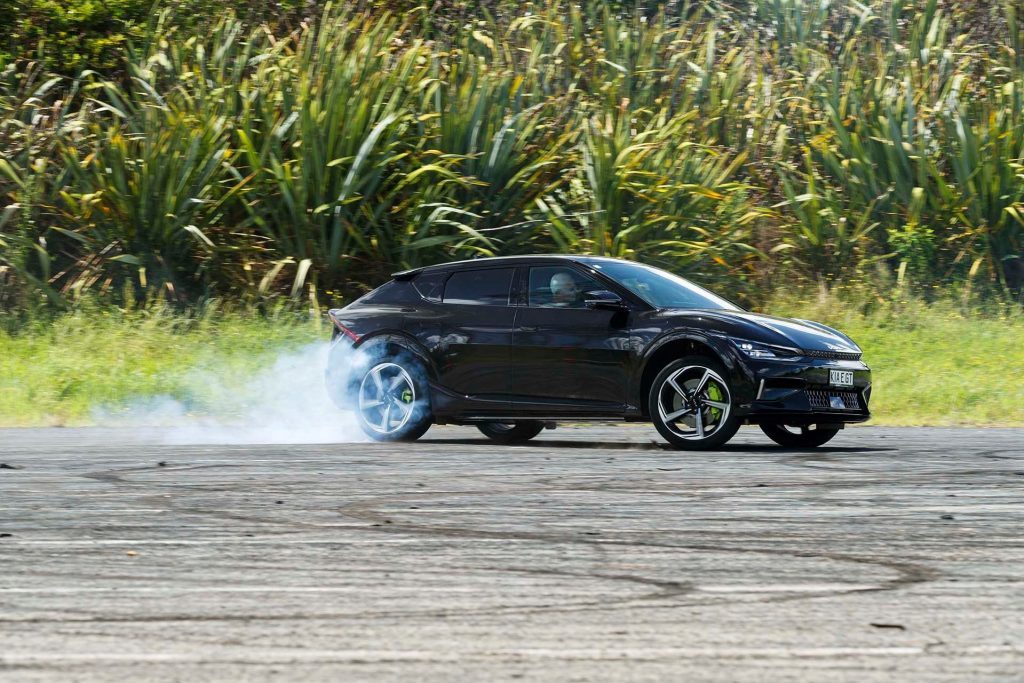 Prior to that we'd taken the GT into deserted backroads that we reserve for rarified or special machinery. And this is rather different from the rest of the EV6 line-up, not just because of its added power. It has uprated brakes, four-piston calipers up front with larger rotors and fettled suspension, optimised for Australasian conditions. Specifically, it rides 5mm lower than the GT-Line model, has slightly softer front and firmer rear spring rates, and an uprated antiroll bar at the rear. There's adaptive damping and also a GT mode that turns off stability control. Or you can relax it to a half-way-off house by a single push of the ESP button. All the lane keeping and centring functions can be nulled at the wheel easily enough.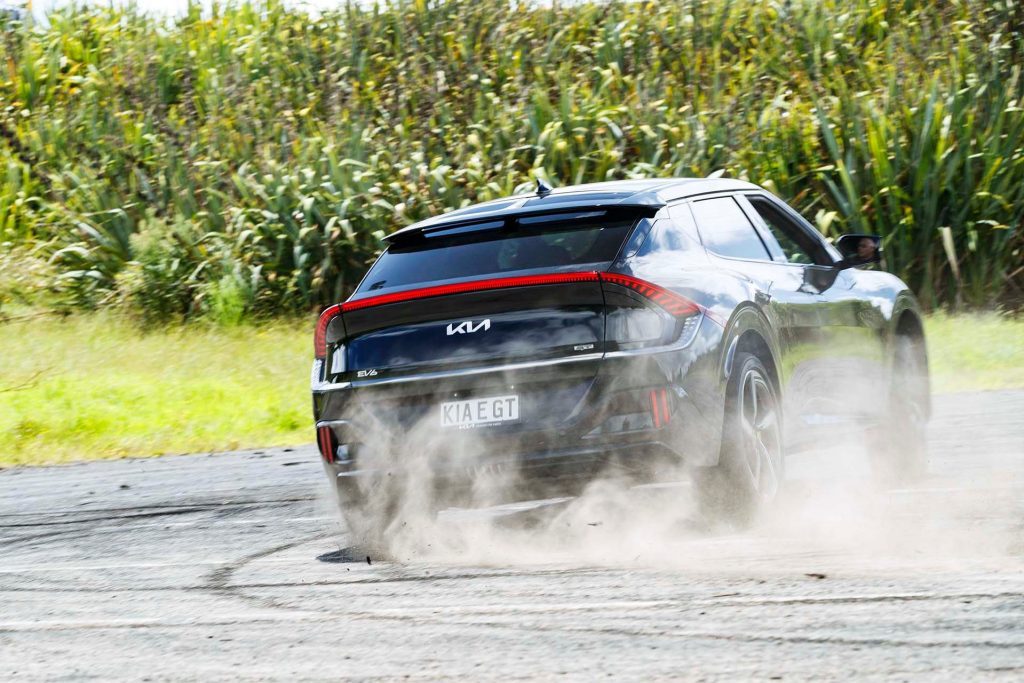 How well does the Kia EV6 GT handle?
On those lonely backroads of interest we stuck to default Normal mode most of the time for its sensible mix of power, handling and ride comfort. To conserve battery charge we tried the Eco setting and were pleasantly surprised by performance and a slightly more resilient ride, though handling is less secure. This is probably best reserved for town work.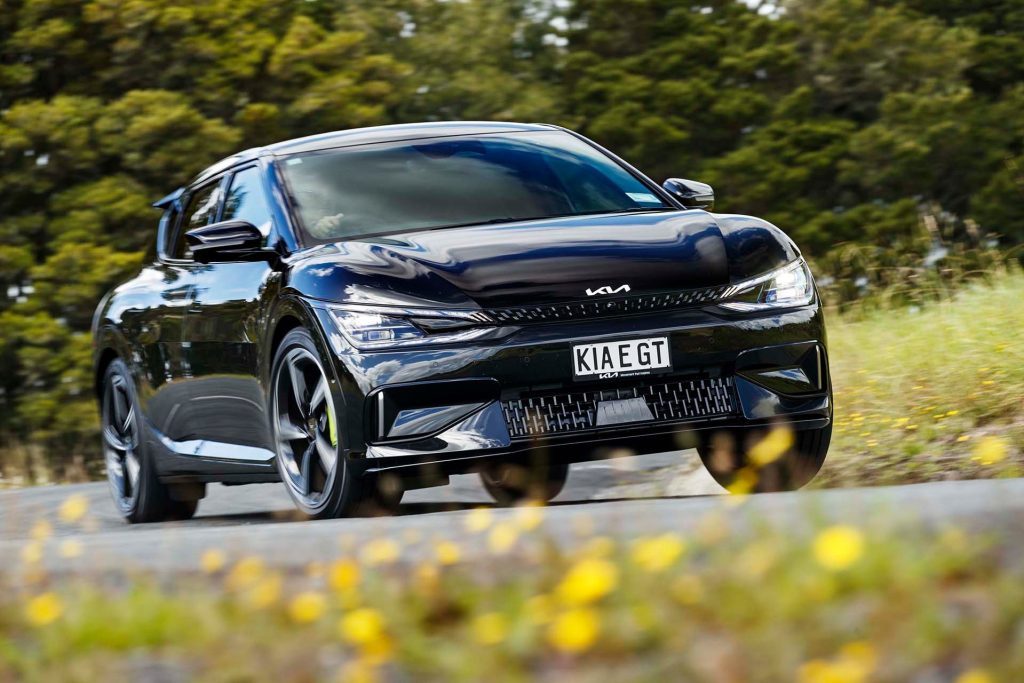 Overall, progress is reasonably firm and controlling, in part dictated by the 255/40R21 tyre set. Plush this isn't. Sport we reserved for the cornering shots and twistier sections. We didn't bother with any artificial noise although there's plenty on offer in the Active Sound Design submenu. No sounds seemed best, the cabin a calm cocoon, even with the rears spinning up. No dB readings came within cooee of 70dB, the average in the mid60s. It's serene, even when all hell is breaking loose!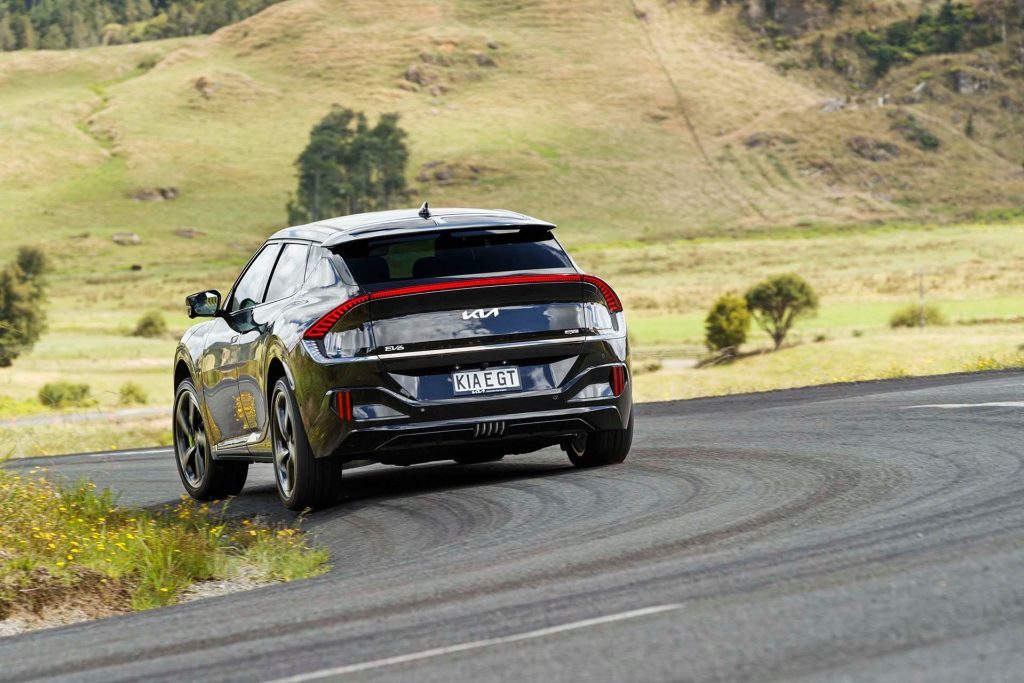 At nearly 2250kg, you can feel the weight as cornering forces rise, though the balance is good at 49/51 front/rear and it turns into bends like a champ. As with any modern EV, the C of G is low thanks to the underslung battery pack (486kg) so cornering is more lively than what you might expect of something this substantial. In tighter going and when pushed, it's quite amazing how much corner speed is retained, roll minimised by the chassis settings. Eventually, tyre squeal arrives just before the understeer, while easing back on the electric horses tightens the line. We were suitably impressed with steering feedback, once all the lane keeping gubbins had been nixed. And the uprated brakes are strong, a best emergency stop of 35m way better than Kia's pessimistic 42m suggestion.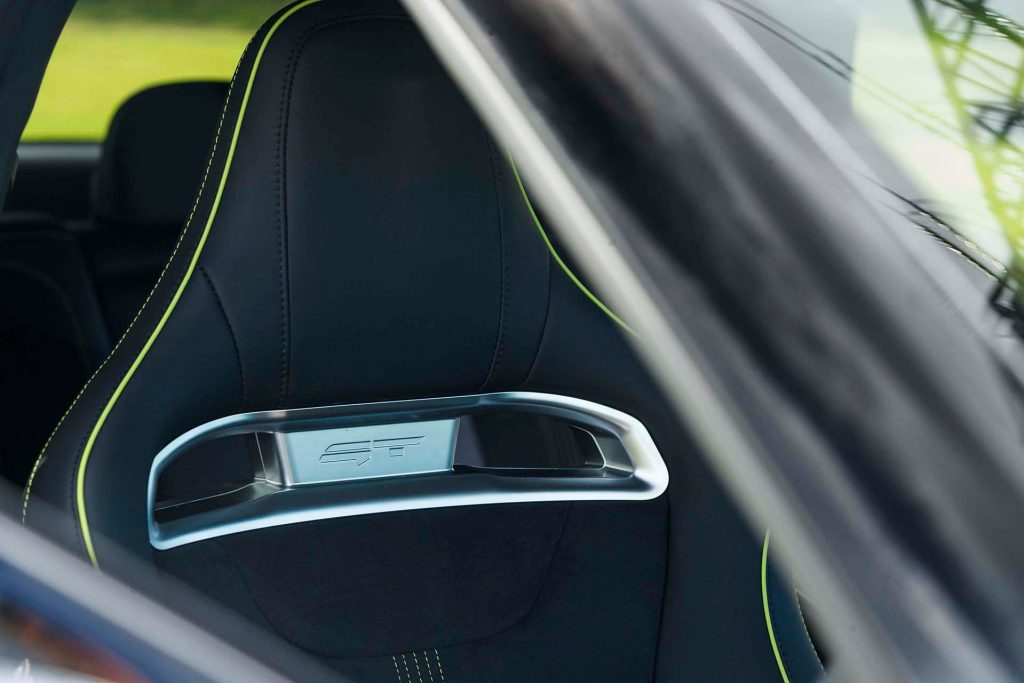 Not that you need the brakes that much anyway because it's more fun using the i-pedal. This offers four levels of regen, five if you include coasting, and any of the four levels can be used for setting corner entry speed, depending on how fast you're going and how tight the next turn is. We returned to coasting after each bend because the car lunges forward better without the regen on. But you don't have to; your call really.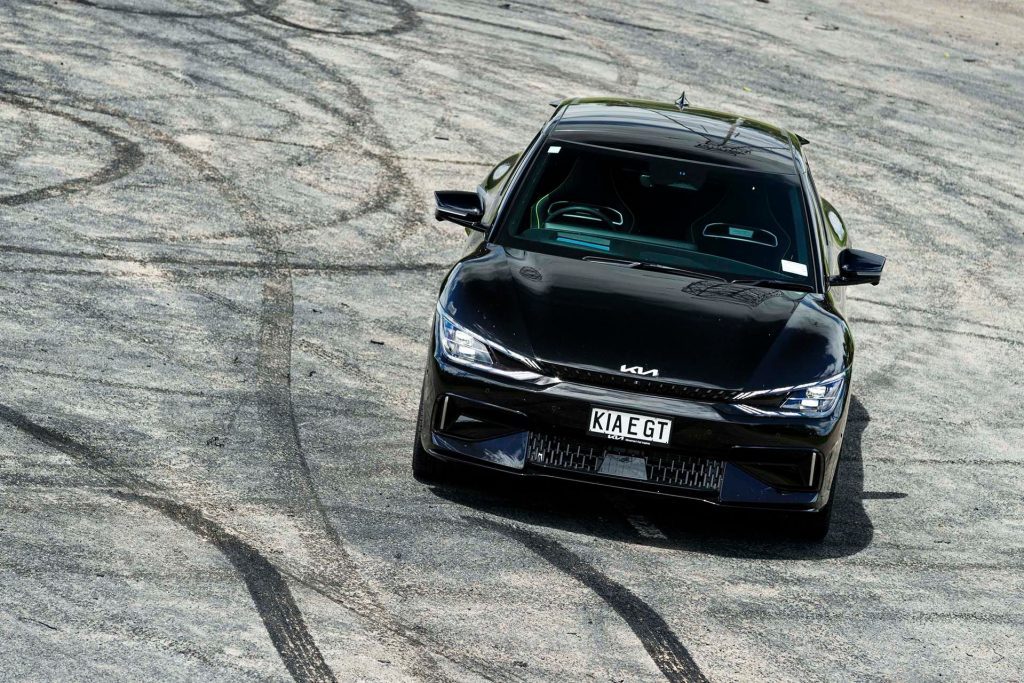 Any downside?
Driving position is a subjective thing but without power adjustments you're somewhat limited in the GT. We found the squab too uptilted, partly offset by raising the seat slightly. This aside, and the fact that the head-up display is not always a model of clarity, depending on sun angle, the GT interior is really rather engaging, very well equipped, sensibly laid out and nicely finished, right down to (mainly) lined oddments bins and the like. There's a floating centre console concept, with power outlets a fair old reach down, and a huge (unlined) open compartment beneath. Under your elbow is a big lined central bin. In the back is a 230v outlet so V2L functionality is possible.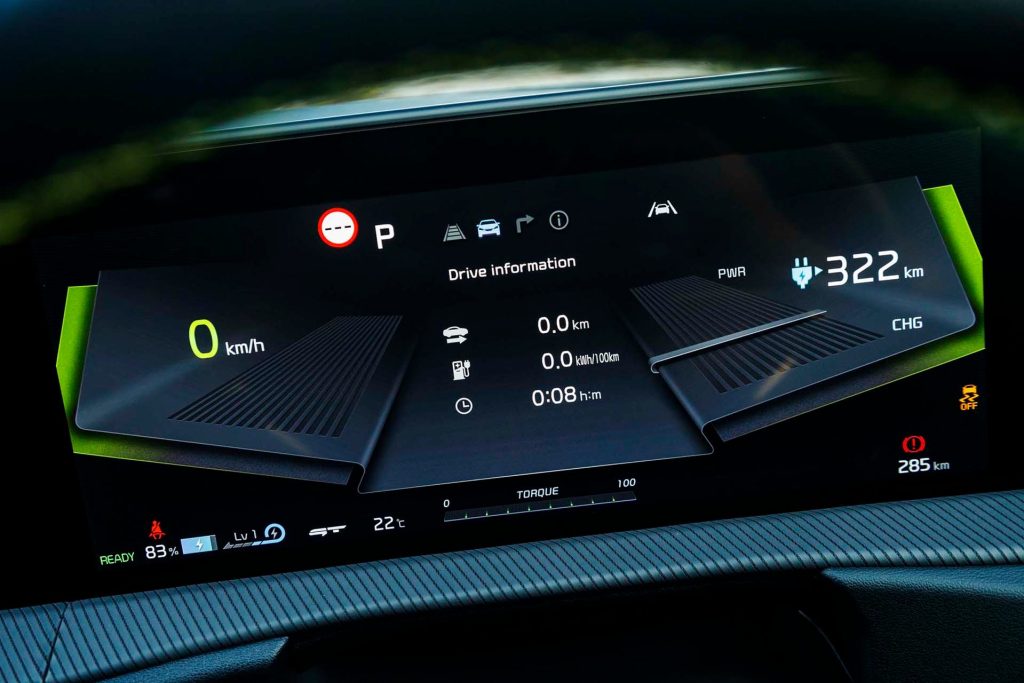 Dual 12.3-inch curved digital screens keep you amused. There's not too much in the way of distraction in the trip data area. Alongside instantaneous energy use is a running average. We like that HVAC controls double as infotainment buttons as well. You simply swap between the two menus.
How fast is the Kia EV6 GT?
As to how fast this is in a straight line, well plenty really. Using the GT mode, we achieved a best 0-100 of 3.31sec and an overtake in under 2.0sec (1.92sec). The latter used to be the benchmark for a truly fast ICE powered vehicle, most of which cost double or more what the EV6 GT goes for. It's only a whisker slower than Audi's RS e-Tron GT that costs twice as much. This also outruns Tesla's $101k Model 3 Performance model that we tested in 2020, though hasn't quite as much range. It's faster than the similarly priced BMW i40 M50 xDrive too.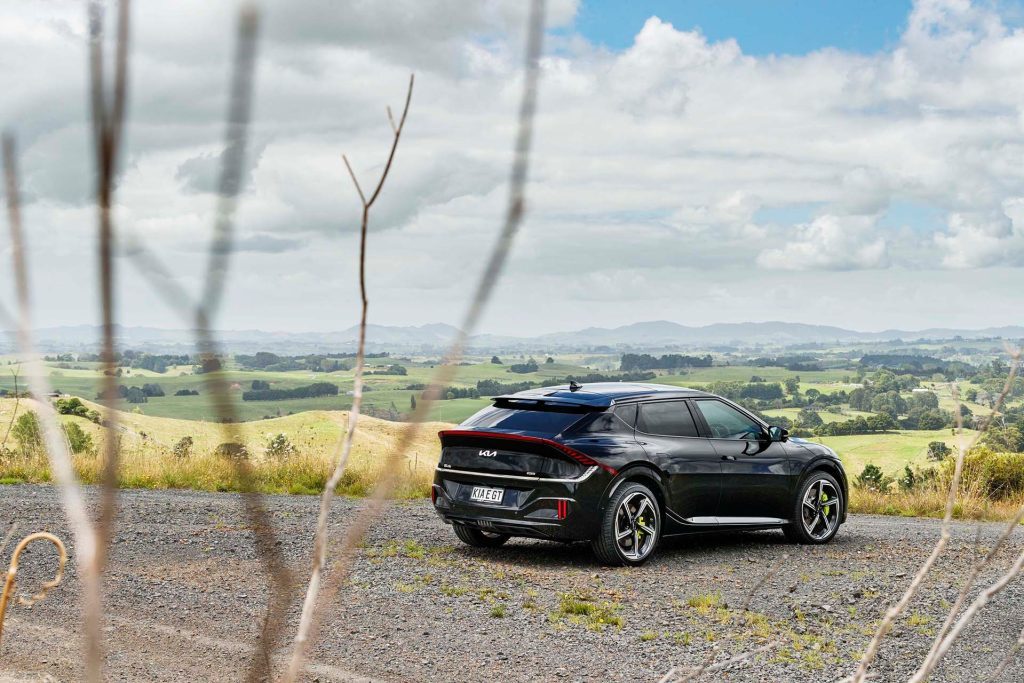 Anyhow, you get the gist; it takes serious petrol power and plenty of added expense to run with this AWD electric hare which also happens to be amongst the most practical vehicles if its main purpose is family duties. And in day-to-day running you'd not suspect how monstering this is, for it's just smooth, linear, and silent. Hit the afterburners though and you need to hang on!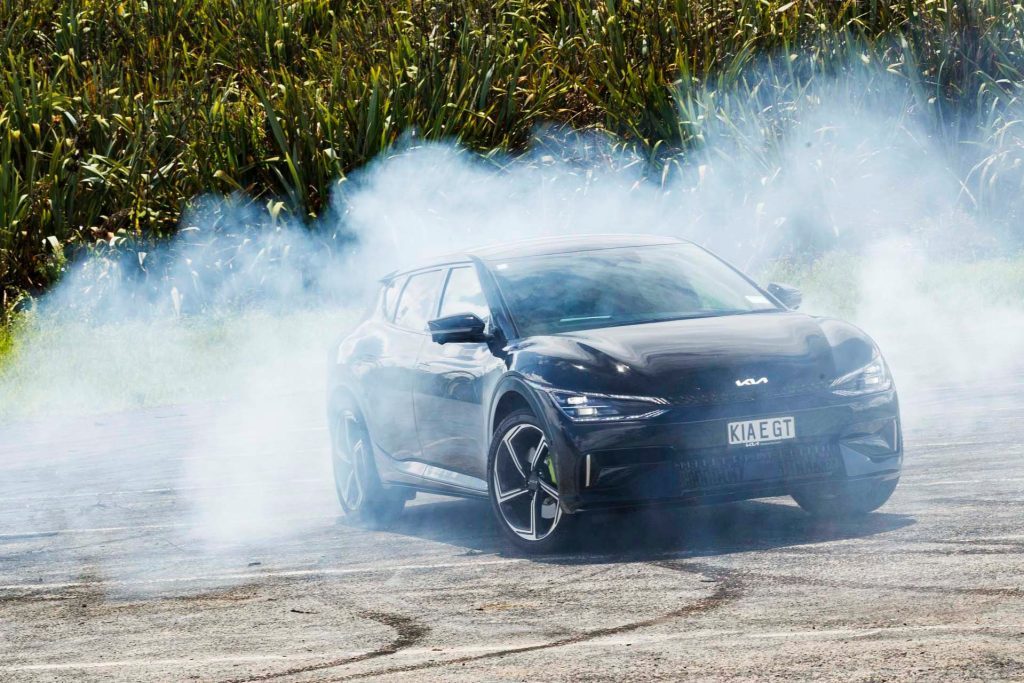 So a new stealth weapon in Kia's stable supersedes the Stinger as its halo model. If this is the future of the GT, then it's looking bright.
Model
Kia EV6 GT
Price
$139,900
Clean Car Discount
Neutral – $0
Motor
dual, 430kW/740Nm
Battery
74.5kWh net
Range
425km (WLTP)
Drivetrain
single-speed auto, e-AWD
Energy Use
20.6kWh/100km
C02 Output
0g/km
0-100km/h
3.31sec
80-120km/h
1.92sec (55.30m)
100-0km/h
35.51m
Stability systems
ABS, ESP, TV
Safety
AEB, ACC, BSM, LDW,
RCTA, ALK, AHB
Luggage capacity
480-1260L
Tow rating
750kg (1800kg braked)
Service intervals
12 months, 15,000km
Scheduled servicing
3yrs, 45,000km
Warranty
5yrs, 100,000km
ANCAP rating
not yet rated
Weight
2254kg (claimed)
Watch Kia's own tribute to the Stinger below