What goes as hard as a supercar, is vastly more practical, emissions free and costs about one-third as much? It's the extraordinary Tesla Model 3.
You have to hand it to Tesla; the company has done a bang-up job on developing electric vehicles from scratch. All the conventional car makers that are being forced down an electric pathway are wondering how they've been outsmarted at their own game.
But is that really the case? Until Tesla came along, no-one was making electric cars, apart perhaps from GM who didn't cover themselves in glory.
It took someone with vision, passion and determination to do what Musk has with Tesla, even if there have been a few road bumps along the way. Still, it's now the most valuable car maker in the world, according to the stock market.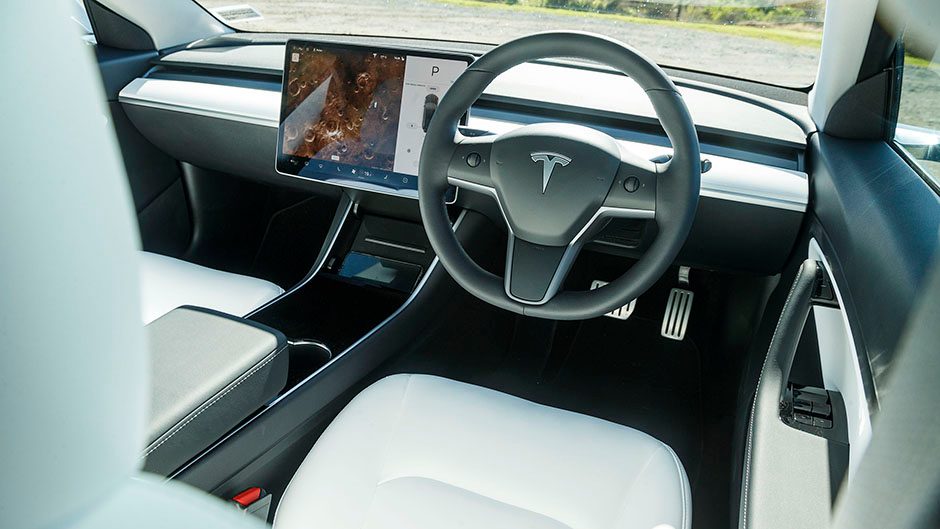 And here we are, primarily reviewers of fossil-fuel vehicles, being thrown a curve ball with electric cars at last. I've only driven a handful, and prior to this a 15min drive of the Tesla Model S P100D performance vehicle. We managed one acceleration run away from the lights in ludicrous mode and at that point I saw a lightbulb flash. I now own an EV (a two-wheeler admittedly).
That (really) quick blast in the P100D was memorable in that it was the fastest accelerating car I had ever experienced. However, pushing it through one corner at speed suggested it wasn't the best handling thing I'd ever helmed.
Three years down the line and we're thrust the key card to a Tesla Model 3, the top performing version known simply as Performance (there are also Standard Plus and Long Range versions). On the back of our one was the Dual Motor sign, meaning AWD.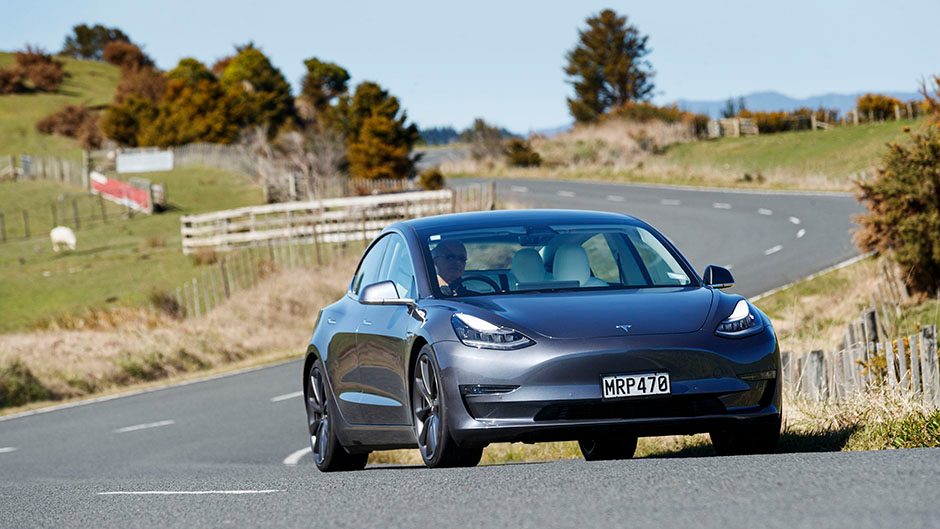 Viva les differences
You can understand the appeal of Tesla; the company dares to be different and the cars are distinctly not run-of-the-mill to operate. There are just three buttons on the Model 3, all on the roof, one being for flashing lights, the others for reading lights.
Everything else, apart from wands for indicators and gear selection, is activated by diving into the central touchscreen. Why there aren't even any instruments in the usual place, nor a head-up display. How come? Well speed readout is on the top right of the largely square fixed central touchscreen, far enough away that you don't have to accommodate vision too much when looking away from the road. And given there are no gears, no gear indicator is needed.
Nor are there any drive modes as such; there's essentially the choice of Chill or Sport, the former saving on energy expenditure, the latter not sparing the watts whatsoever. There's quite a difference in output too; in one setting you can literally set about supercar baiting, and in the other you're merely going to crucify most of the mass market cars in an on-ramp drag.
It's dauntingly different at first. Download the Tesla app and your cell phone quickly becomes the default key; less chance of losing that.
The door handles are flush mounted, contributing to one of the lowest drag coefficient figures in cardom (0.23 on standard wheels). Step inside and you go to the central touchscreen to do almost everything except change the position of your powered seats which is done conventionally! Even mirrors, active cruise, steering column position and wipers are on the touchscreen. You can change temperature by touching a haptic button on the touch screen. If it's cold first thing, switch the setting to say 27 degrees and warm air is flowing before you get to the end of your driveway. Little things like this endear you to the Model 3.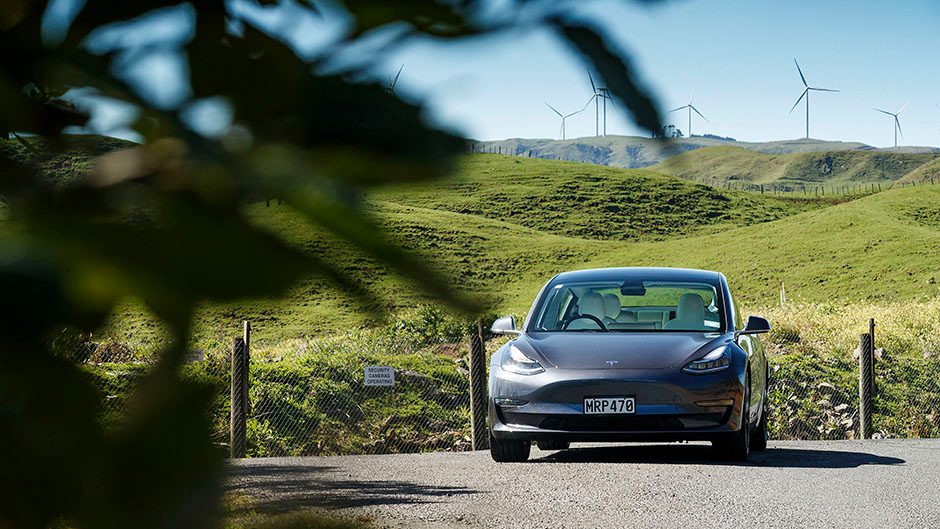 Any real issues then?
Not deal breakers, except perhaps for the phone addicted; there's no smartphone compatibility. Boo hoo. This is quite a low flying machine; it is built for speed, so entry and exit aren't SUV easy, but then it doesn't handle like an SUV either.
I quite like the looks of the Model 3, from most angles it is modern and the profile shows how nipped and tucked the overhangs are. But from front on, this has a geeky look.
There are some super annoying entertainment options in one of the submenus too, revolving around toilet humour and bad music, but of course you don't have to look or listen to these.
And apart from some road rumble that sounds like drumming from the excellent rubber and the doors not shutting quite as solidly as you might want in a $100k car, that's really about it on the downside. Some might also bemoan the lack of engine noise. In an EV you kind of never miss it, and just enjoy the quiet (the highest SPL figure in cabin was 72dB; it's mainly in the high 60s).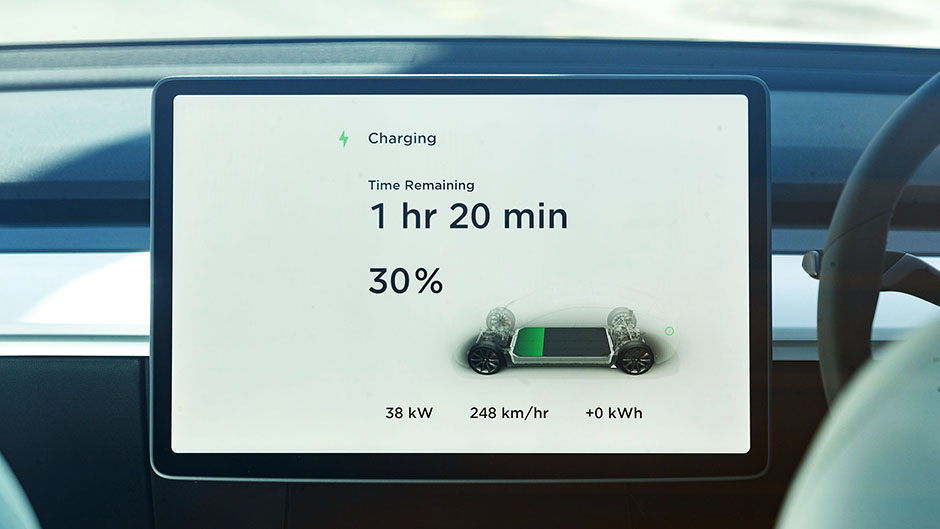 The main drawback? Probably time spent during a battery freshen up versus a five-min stop for a fossil fuel burner.
This has enough range that for most people most of the time a simple top up at home will be sufficient (the car comes with its own charger that adds 10km per hour).
Otherwise, it takes about 30min on a Tesla supercharger or an hour on a 50kW fast charger to achieve a 30 to 80 per cent refill. While waiting, we got to see a whole side of Raglan we might never have otherwise so these side adventures can sometimes be seen as an upside. Not always of course.
We drove back the 160km to town at around 100km/h and arrived in central Auckland having used 50 per cent of the battery charge. So in more mixed conditions at least 400km should be possible with this model. Tesla reckons 560km, 460 for the Standard Plus and 620 for the long range model.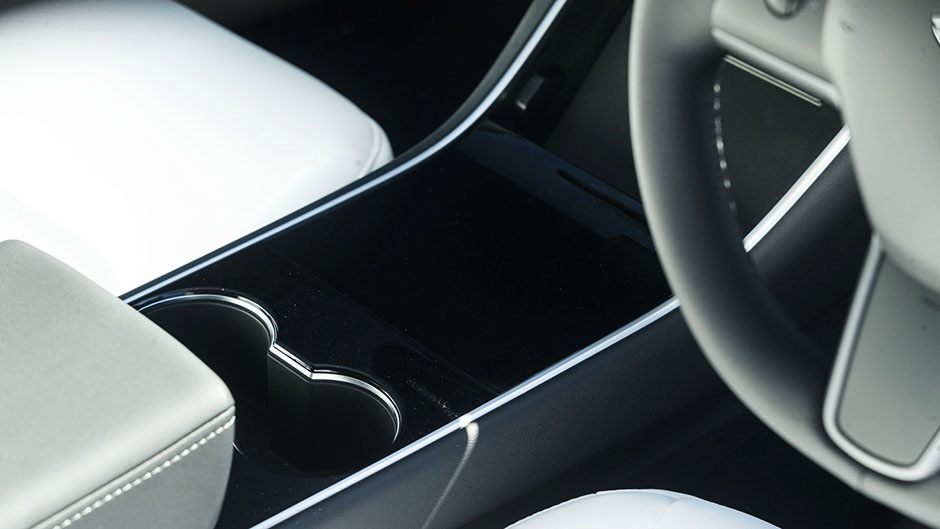 Is it ludicrously quick?
Hell yes! In Sport mode at the stop lights to a motorway onramp, few will outrun you. This will see off most anything with a turbocharger because it has maximum torque on hand right from the outset, and it jets away from a standstill. Only there's next to no noise.
Tesla claims 3.4sec to 100km/h. We couldn't quite match that on a damp day, but it consistently did 3.55sec. That puts it in the top few percent of cars for straight line acceleration. Having to not shift gears helps.
The downside is that if you drive in the Sport mode for long the battery will run dry. That only dawned on us after an hour of driving. Slip it into 'Chill' mode (nothing is Normal in a Tesla!) and suddenly you're not forever looking at a dwindling battery; the percentage points tick down much slower in this mode. In Chill it takes twice as long to dust the 0-100 run (actually 7.8sec), but it's plenty fast enough for both town and country running and you'll get around 400km of 100km/h running, perhaps more depending on the terrain.
| | | | |
| --- | --- | --- | --- |
| Model | Tesla Model 3 Performance | Price | $106,900 |
| Engine | 430kW/750Nm | Drivetrain | e-AWD |
| Fuel Use | 0L/100km | C02 Output | 0g/km |
| 0-100km/h | 3.52sec | Weight | 1832kg |