Before the Defender, there was the Series III. And this Camel tribute has had a colourful history.
In the realm of classic motoring there are the pampered treasures that don't get much use but they sure look nice on display. There are the concours-grade, numbers-matching, frame-off restos that wealthy enthusiasts buy once the hard work has been done. All they have to do is write the cheque and then hoard them away in a warehouse somewhere.
This 1980 Land Rover is neither of those. It's a well used survivor that's now a little different from when it emerged from its assembly plant in Australia all those years ago. But it's still going, still used for what it was intended for and still cherished by its owner, Land Rover enthusiast, John Hickey.
His Land Rover affections began more than 20 years ago with the arrival of his fourth daughter. The family needed a bigger vehicle and John wasn't keen on the forward control people mover vans that were the alternative at the time. And so he found a Defender 110, a nine-seater at that.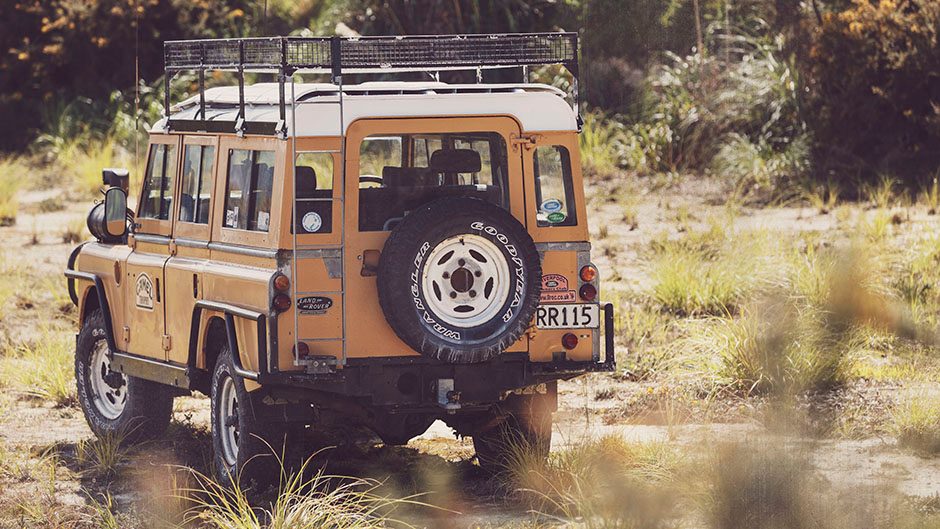 But after a few interior mods to rearrange the pews, the Hickey's had themselves an 11-seater wagon to take all the kids, their friends and the dog along on their adventures. It wasn't long before he joined the local Land Rover club which had him wallowing in the fun off road in the 110.
This, however, led to a few too many bumps and bruises on the family car and so he needed to find an off-road mount, which led him to this Series III 109, of the Stage One V8 variety. This was one of the last Series III models before Land Rover introduced the One Ten in 1983 with its coil-sprung suspension. These were renamed Defender 110 in 1991 after the Discovery was introduced to the Land Rover range. A Stage One V8, made between '79 and '85, used the engine and gearbox of the original Range Rover. The 3.5-litre Rover V8 was detuned to just 90hp, but the low end torque was the thing. It was in response to the Japanese machines like the Cruiser and Patrol which could be had with larger six cylinders engines, whereas the Land Rover only had a 2.2-litre petrol or diesel offering. Using the Range Rover bits meant it had full-time four-wheel drive.
When John acquired the V8, it was a three-door hardtop, which he says was a bit of a nuisance with the family, practically speaking. He got talking with a fellow club member, Brian Harvey, about converting the V8 to a five-door wagon. John accumulated parts over a six-month period and late in 2006, they started in earnest, pulling it apart. It was pieced back together using the tub and side doors from a Series II A with a few other bits from a Defender, like the B pillar and rear door. John admits Brian did the serious work while he made the cups of tea. The powertrain and chassis remained, while atop was a more practical five door. About four weeks later, what John calls his Series III Camel tribute was certed for use. Not long after the rebuild, it was parked outside one night when John heard a big bang. He went out to discover the Landie was now parked a few metres from where he had left it. Luckily, parts are still readily available for these things, and with a few bits off an ex Army Landie, it was back in business. But it needed a repaint and that's when it got its Camel Trophy hue.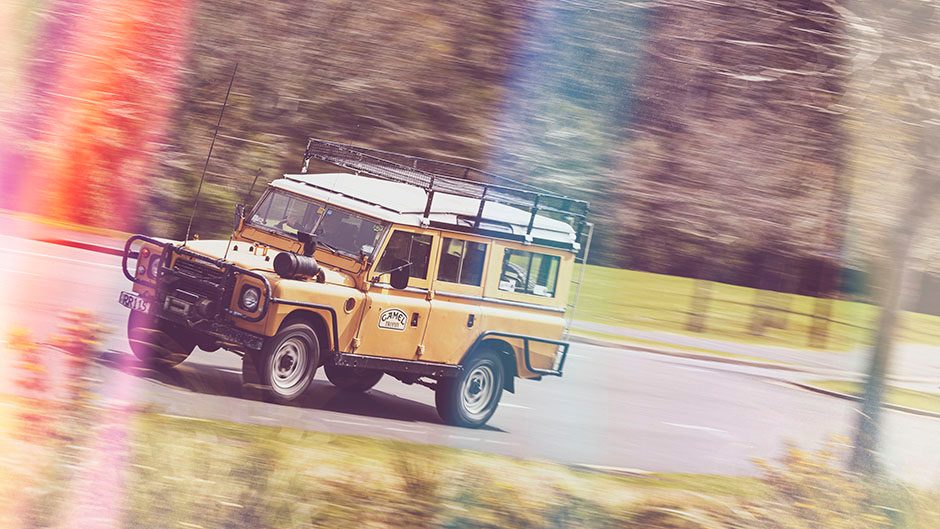 John asked us 'what is a camel?' Cue a blank look. It's a horse designed by committee, he says, with bits and pieces cobbled together and he reckons it's a good description for his Camel too.
John says he's done plenty of off roading in his Series III, even had to use the winch a few times. Though he also says the chances to get dirty these days are fewer around the Auckland region as most places they previously used now have very limited access, or none at all.
While it's still running a V8, it's not the one it was birthed with. The original was on its last legs and instead of reconditioning it John replaced it with a V8 from an early Discovery. It's still an alloy Rover engine, carb fed and all, and he says the conversion went without much problem; they only had to fashion the original water pump to make it fit.
It doesn't sound like an eight banger on start-up and it whispers at idle. Yet with the throttle on, it starts to burble like it should. Riding shotgun for the drive-by photos, it's clear it has ample torque from right down low, and sounds better as the revs rise. There's plenty of mechanical gnashing going on up front to indicate its permanent AWD is still operating as it should. With the solid axles located by semi elliptical leaf springs, it's constantly on the move, but it's made to traverse great ruts and all, not take the kids to school like a modern Land Rover. Ouch.
It has a typically wide turning circle but a minor concession to convenience is a Defender steering column with power assistance. He has also fitted a set of early Disco wheels which allows him to run a wider, grippier tyre.
This particular example is an Australian import, which is where it acquired its interesting looking snorkel set-up. The air filter usually lives in the rear of the engine bay, but a popular modification sees the whole unit relocated to the front wing (it's not like aerodynamic efficiency is a LR thing) while the stubby snorkel helps for water crossings. It makes the filter much easier to access in order to clear out the dust and debris when crossing the outback.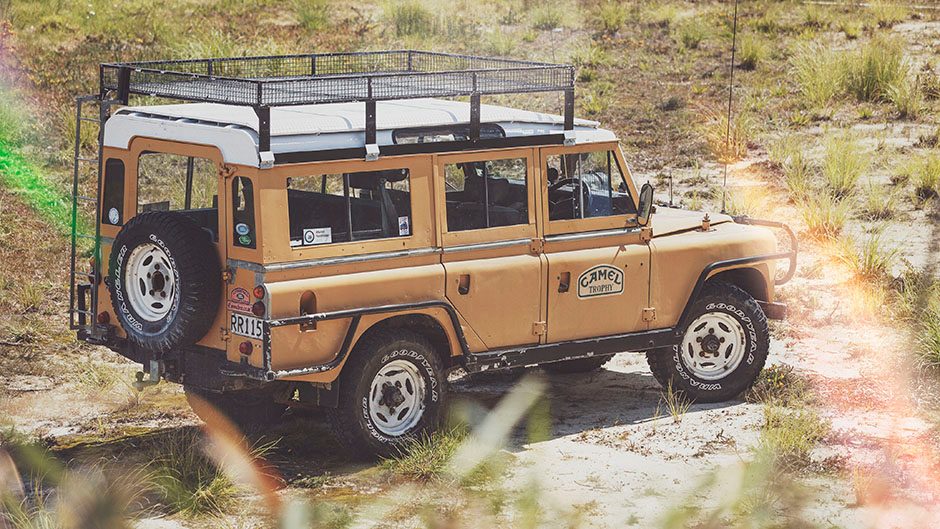 The original four-speed manual remains, as does the low range and diff locker. The Stage One also benefited from a Range Rover-derived overdrive via a separate lever to give it longer legs on highway driving. John's not sure what it gets to the gallon, but he reckons he can get from Auckland to Turangi, just, on its 80L tank.
The lid is interesting. A so-called Safari roof, it has a double layer which was devised to keep the cabin cooler in hot climes, as well as reducing condensation during cold desert nights. It's vented on the inside, allowing air flow into the cabin.
John says you need to look after the mechanicals with regular, preventive-type maintenance, carried out by those in the know, as they become expensive to fix when things go wrong. As he says, it's 40 years old so it needs looking after.
He thinks it's a shame that Defenders are escalating in value as this pushes them beyond most people's price range while preventing some from enjoying them as they were meant to be. He still has his first 110 Defender, which is up to 220,000km now. That doesn't get as many outings as it used to, having been retired from family duty sometime ago but he can't sell it as the wife and his daughters simply won't let him. A very lucky man indeed.