As any owner of an XR6 turbo already knows, forced induction enlivens Ford's 4.0 litre inline six. So what happens when ford performance vehicles turns up the boost? Meet the new FPV Typhoon.
No point beating about the bush here. Ford now has a new standard when it comes to Aussie muscle-cars. And it's not a V8.
The turbocharged six-cylinder FPV F6 Typhoon does just what we all expected it to do when it was first revealed as the world's most thinly disguised 'concept' in Melbourne back in March. It takes the very good basis of the Falcon XR6 Turbo and simply makes it better – that is, if going faster and handling even more assuredly fits within your definition of 'better'.
Before we get to the nitty gritty of just how and why the F6 does this, it's worth revelling in the car. There's familiarity of course. There's no doubt it's a Falcon to look at it and to sit in. But it's the driving where the experiences start to diverge. This car is very much the silent assassin. There's none of the familiar resonance that a V8 delivers; instead, a distinctive whistle as turbo pressure builds up and then the signature chaff-chaff-chaff as the wastegate dumps boost. It is all done quietly though, suggesting there has been plenty of emphasis on sound deadening inside the cabin. Indeed, the noise of the wastegate is much more evident outside the car.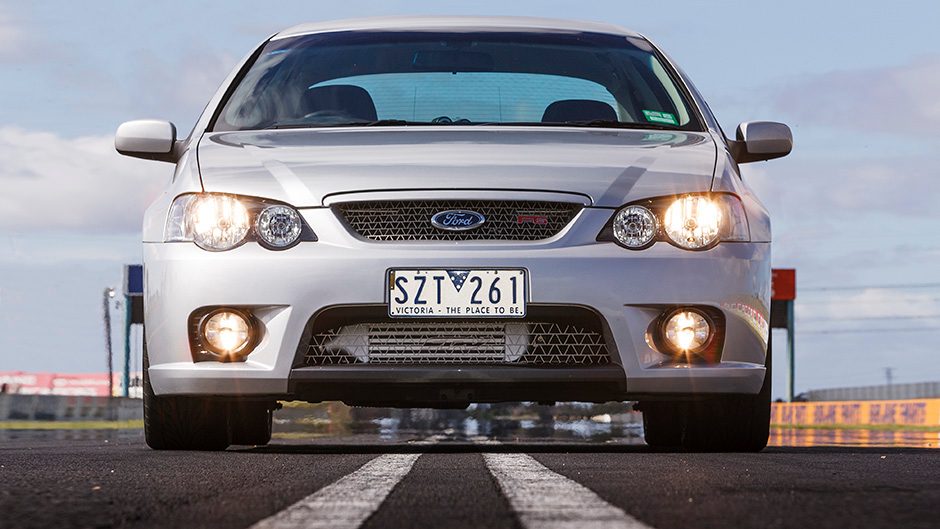 Have no doubt, with more torque than any Australian production car ever, a 'mere' 550Nm kicking in from 2000rpm, this is a true rocket ship. Time and again during our drive the F6 would launch hard off corners in a fashion that felt like it was in second gear. Wrong. One glance down at the new-look gear knob established it was third or fourth.
A glance at the speedo registers a needle swinging toward 160km/h awfully quickly and a glance in the rear-view mirror establishes the following FPV GT is receding rapidly. Then comes the staccato beep-beep-beep of the new shift alert, as the engine spins rapidly through its 6000rpm redline and heads for the soft cut-out. Quick, snatch another gear and still there's no hesitation from the speedo as it hurtles on for 200km/h plus. Spock would be impressed – hyper-space anyone?
The F6's great wall of torque stuns. It's that simple. On paper it's not a curve so much as an outline of Ayer's Rock: a curve up, a long flat bit, and then a curve down. Out in the real world, it's press the accelerator, wait a millisecond for boost to build up, and then BANG – gone into the distance. There is plainly no doubt that in V8-mad Australia, a 4.0 litre dohc turbo inline six has wrested away the mantle as the fastest point-to-point car in the Ford range.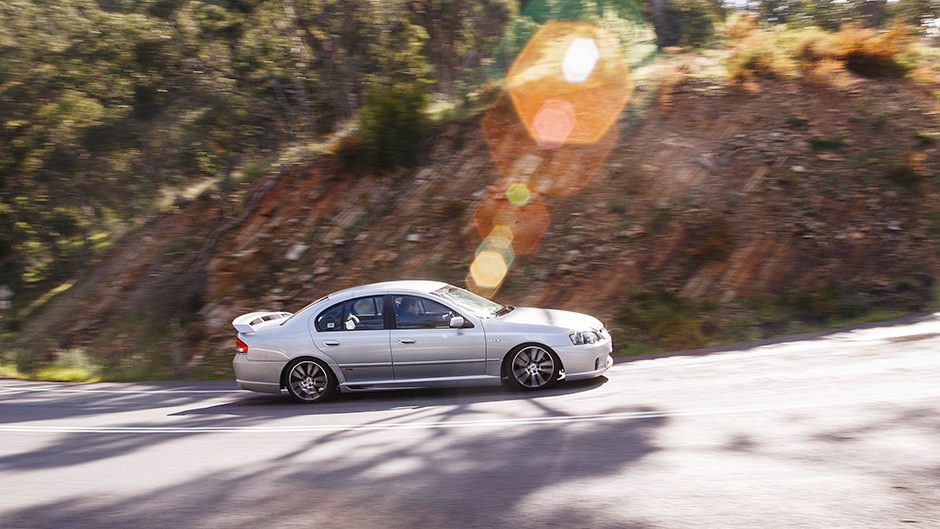 And, most assuredly, the fastest as well in the theoretical but crucial world of drag strips and acceleration bragging rights. FPV V8s are low six- and low 14-second cars, but for F6, Ford engineers unofficially claim 5.6s for the 0-100km/h dash and 13.9s for the quarter mile. Our testing with VBOX at Melbourne's Calder Park produced a 6.06s best effort for F6. But there is definitely an art to getting a turbo, rear-wheel-drive, mega-torque monster off the line which takes some working out. I'll leave that for Peter and Kyle when they do the test on home soil.
By the way, that opportunity should come very soon as the F6 will be available in New Zealand in February, priced from around $70,000. In Australia it goes on sale in November and is $58,950. That means it actually undercuts both GT and GT-P V8 here. Faster and cheaper? Just what is going on?
"There was no directive for F6 that it must not eclipse GT," says FPV product planning and brand manager, Mark Behr. "There are two streams of business – one is turbo, one is V8 – and they should stand on their own two feet.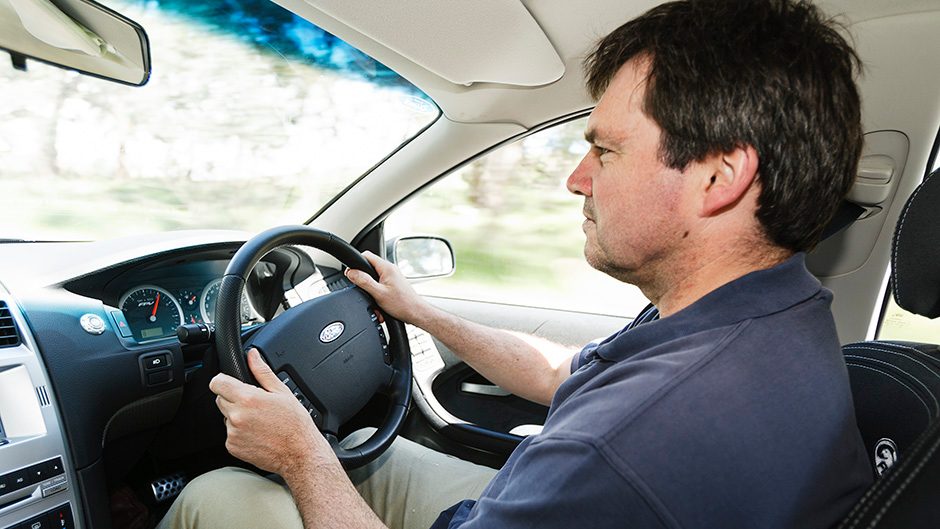 "The F6 audience is different. It's probably younger, more white collar, and we want to be able to speak to them. But we also don't want to distance our heartland because that is critical to our success."
What's not being said here is that the FPV V8 will respond. GTHO anyone? It's got to happen at some stage. Whatever the story there, the forecast from FPV is that there will be 600 buyers for F6 in 2005 in Australia, while the V8s will account for 1300 sales in the same period. In New Zealand the ratio is expected to be the same but the numbers obviously smaller.
F6 follows on from the XR6 Turbo just as assuredly as GT and GT-P followed on from the XR8. It's as Aussie as a car can get these days. The engine is built at Ford's inline six assembly plant in Geelong, is mated to the transmission, and then trucked up the highway to Melbourne where it goes into the Falcon body, along with the suspension modules and other mechanical bits and pieces. It is then shipped across the highway to FPV for final fit-out.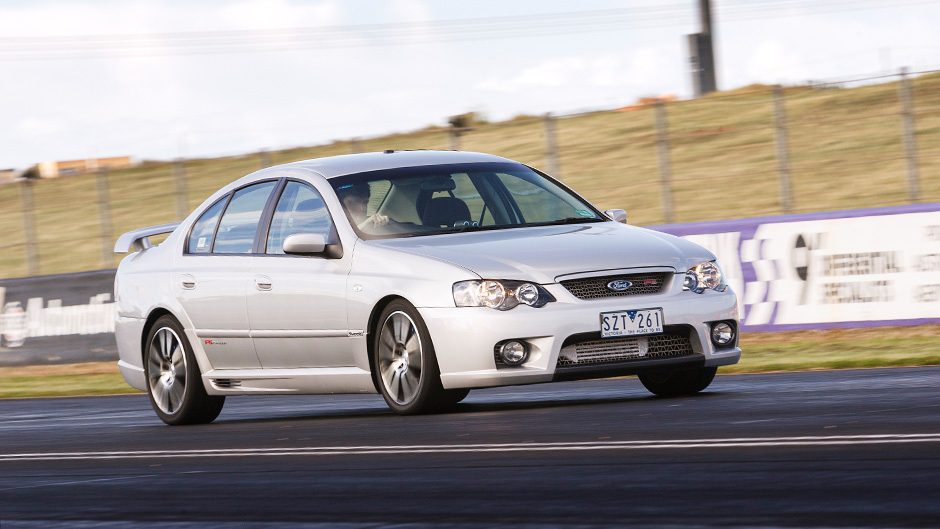 Development of both turbo engine variants was conducted pretty much hand in hand by Ford and Prodrive (the two partners in FPV) and the final result is a lift from the Barra 240T's 240kW and 450Nm to the F6 270's 270kW at 5250rpm, and 550Nm at 2000-4000rpm. That power limit was not set so much by the need to keep F6 output below the 290kW FPV V8s, but by the simple fact that 270kW was about as far as the development team could go without significant investment in upgrading the fuel injection system and improving under-bonnet temperature control, meaning looking at the radiator and the like.
Of course, there are other independent tuners out there who have produced far more dramatic power and torque figures than this engine, but not many of them (if any) would have the same stringent testing and warranty standards FPV has to apply as part of the Blue Oval empire. The F6's power and torque boost is achieved without trading the Garrett GT3540 turbocharger of the Barra 240T for a higher-capacity unit. Instead, pressure is lifted from 0.3 to 0.64 bar courtesy of a 50 per cent larger aluminium intercooler and by replacing the standard airbox with a dual entry design.
"What we have basically done is increased the boost without increasing the turbocharger work too much," explained Ian Downing, Prodrive Chief Engineer, Powertrain. "So we have added the second air intake duct to the airbox, which reduces the pressure drop on the air intake to the compressor.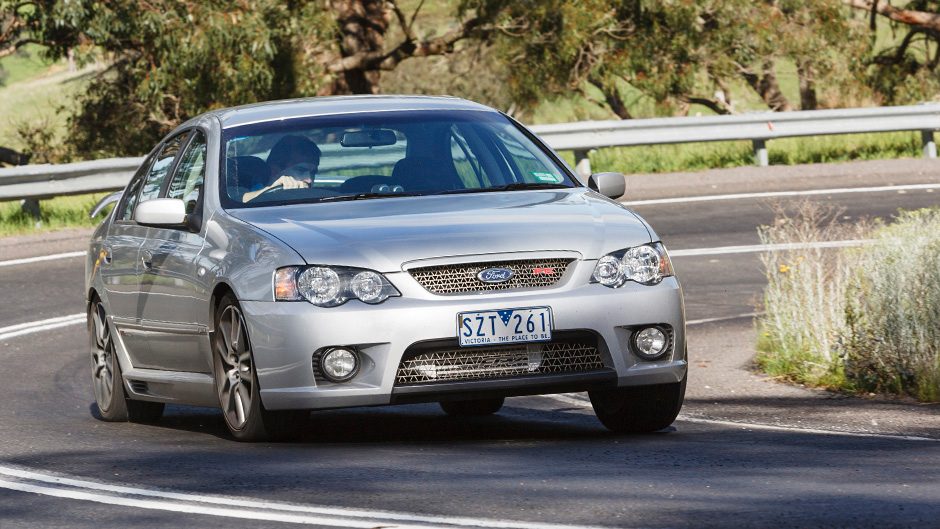 "The benefit of the bigger intercooler is two-fold. We get an overall improvement in charge temperatures but it also reduces the pressure losses between the compressor and the throttle body, and those two factors mean we can increase the manifold pressure without putting a lot more work through the turbocharger."
Meanwhile, durability was the motivation behind heavy-duty valve springs, higher-strength con-rods with a thicker shank, a sandwich-type oil cooler fitted between the oil filter and the block, and a unique engine management programme that changes fuel delivery compared to XR6T; this varies low rpm settings for the engine's two VCT camshafts to improve torque below 2000rpm, the benchmark where the turbocharger starts spooling up. That has resulted in 80 per cent of torque being available from 1500rpm and 98 per cent from 1750rpm. Twisting force galore!
But no change to such things as camshaft profile or compression ratio, although 95 RON fuel is now standard (it will run on 91). Speaking of fuel, the official fuel consumption claim is 14.0L/100km, although our drive came up at 17.2L/100km.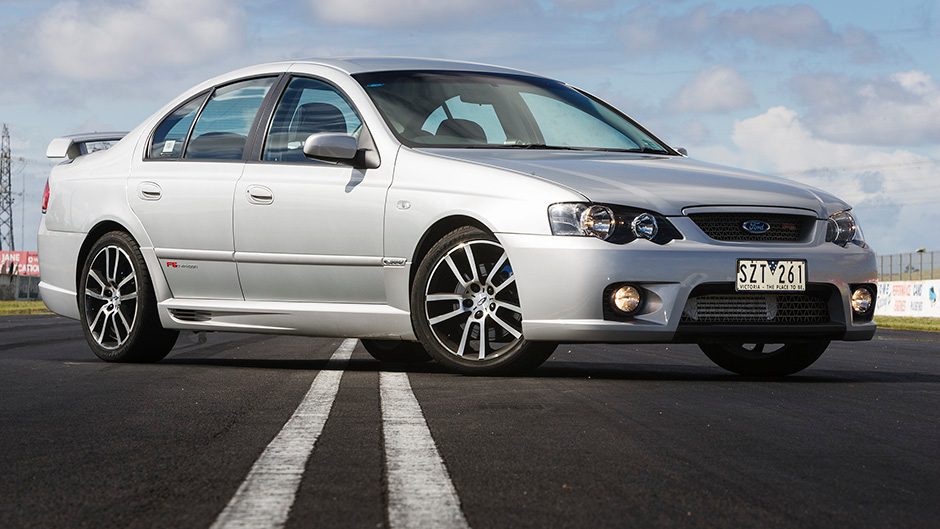 It's immediately in behind the engine where the hardest work was encountered. Ford Australia simply didn't have a manual gearbox or clutch capable of taking F6's torque loadings. The solution was the Mexican-sourced Tremec T56 six-speed, replacing the grungy Tremec T5 five-speed that was seen as the XR6T's Achilles' heel when it was launched in 2002. Of course, Holden also uses the T56 in its V8s, while the new VZ Monaro and Z Series HSVs get a version called the M12, with shorter gear ratios. The Ford version of T56, which flows down from F6 to XR6T and across to the XR8, GT and GT-P (replacing the T3560 in the case of the V8s) have various differences to the Holden, like some altered ratios, the use of double instead of triple synchros on the first two gears, and a direct rather than indirect linkage. There are also some ratio (internal and diff) and installation variations from inline six to V8 Fords, but the overall intent is a closer spread of gears and a smoother-shifting manual gearbox.
It is the F6 where it gets really interesting though. The torque loading meant that there were concerns about using a single-plate clutch, so after much testing, in went a 240mm AP Racing twin-plate unit. With the clutch's maximum torque capacity now up to 800Nm, it can easily cope with F6 (as well as even higher outputs in future applications).
As is typical in these sorts of developments however, the bottleneck has simply been moved to another point. Now it's the axle and bushes at the rear that require further beefing up before torque can be raised again.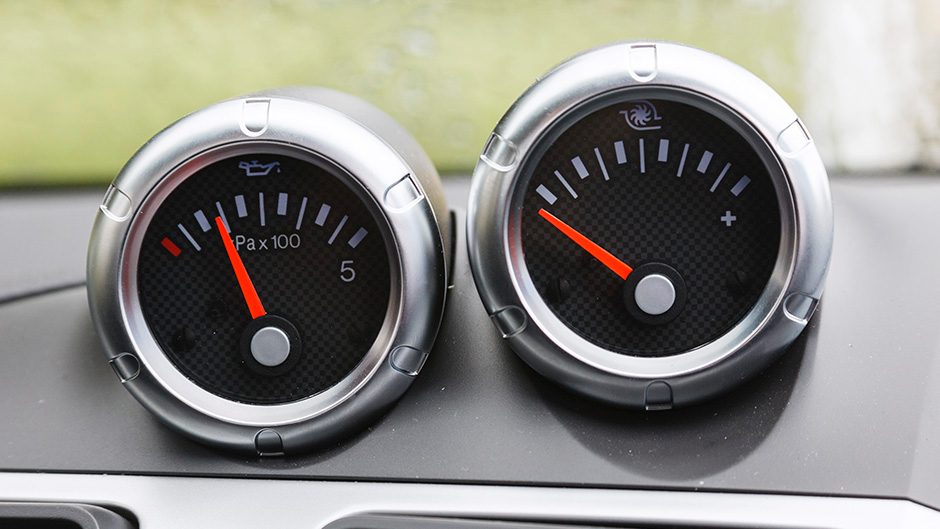 The AP clutch is the same design as used in the Ford GT supercar, and F6 is claimed to be its first adaptation into a six-cylinder car as well as the only Australian-built car with a twin-plate clutch.
"It is as much a packaging need as anything else," explained Ford Performance Vehicle Planning Manager, Gordon Barfield. "A big clutch and flywheel just wasn't on, and the bigger you go with single-plate clutches, the more you start to compromise efforts.
"Being a twin-plate, this clutch keeps efforts acceptable, which is very significant for this car, as we believe it will have a lot more appeal to females than the V8s, considering that you obviously want something that is very easily drivable and is comfortable."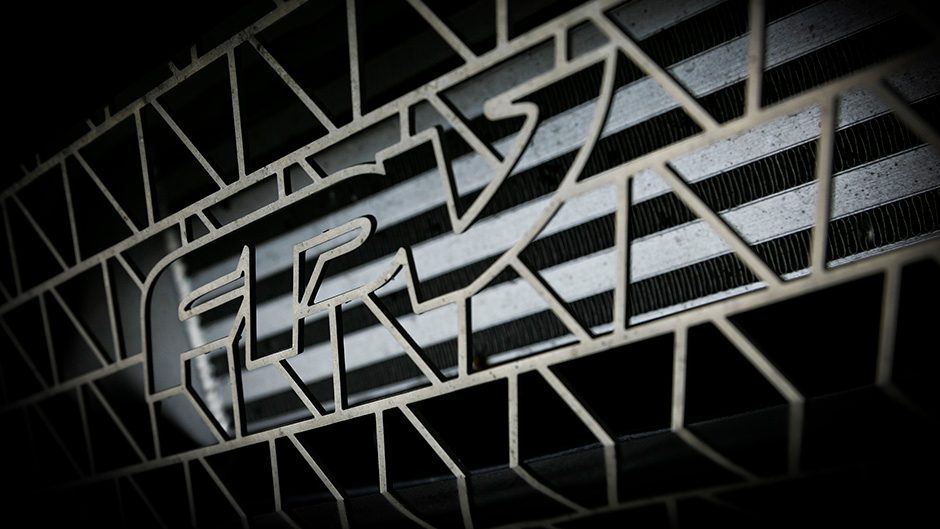 The combined effect is simply a huge step forward on the only appropriate reference point, the BA XR6T. No more graunching and missed shifts; no more feeling like you're stirring a screwdriver in a bucket of bolts. A precise and pleasingly mechanical (snick-snick) shift quality is complemented by a set of ratios and a shorter 3.73:1 final drive ratio that means the engine always delivers on time every time. And the clutch? We tried to kill it and failed miserably. Barfield's spot on about the pedal pressure too. You can live with it without having to pump up at the gym.
If you're into two-pedal cars, sorry. That torque loading prevents the current Falcon BTR four-speed auto from being pressed into service, and it wasn't judged financially prudent to go out, find, and then develop a self-shifter for F6 at this stage.
From here the engineering story is orthodox. V8 Supercar ace, John Bowe, played his usual FPV role in developing suspension, the front end finishing up with the same spring rate as the original FPV V8s at 70Nm/mm (the MkII V8s are firmed to 80Nm/mm), but the rear-end adopting the MkII's 41Nm/mm, up from 38Nm/mm. What does it all mean? Barfield explains again.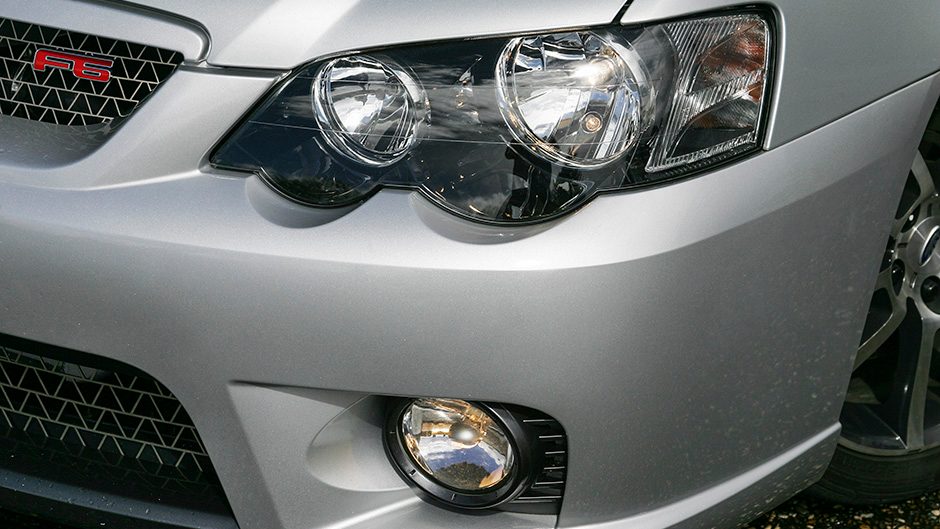 "We believe this gives the Typhoon that little bit more edge it needed because of its performance capability. With the ability of this car to punch through a corner with a lot more torque, I think the guys felt that we needed more rear control."
If anything, the F6 steers a little heavier than GT. But that's actually a good thing as both XR8 and the FPV V8s have a lightness about the tiller that belies their strength and weight. One thing that's common across all the 'big mutha' Fords is a decent-quality ride, and this car is no exception. But F6 turns in noticeably better than the V8s, no doubt a direct result of having less weight over the nose. It will still understeer in the tighter stuff, and oversteer can easily be provoked on throttle.
However, with switchable traction control and a limited-slip rear differential working on your behalf, F6 is no light switch. The only time during our drive that it felt unpredictable was on some slimy mountain roads that had just been doused with rain. There's not much LSD, TC or any other acronym this side of SOS can do then, particularly when the rear tyres are fried!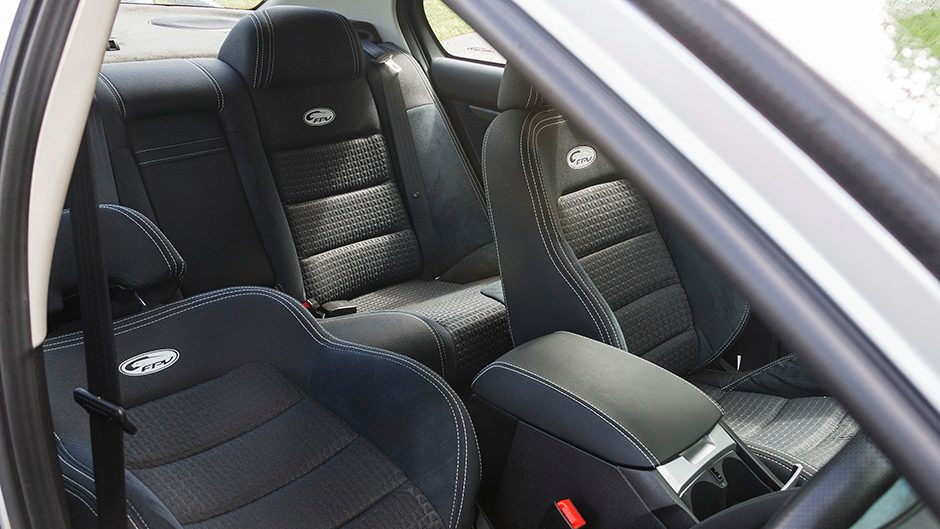 But back on dry land, pounding around the same tricky corner for Tom's cameras with traction control off and plenty of experimentation with line and throttle going on, there was no shortage of grip. Too much throttle, big imperfections and the wrong line could unsettle things, but it was either provoked deliberately or by clumsiness.
All that to-ing and fro-ing tested but didn't drain the brakes, which are the usual PBR two-piston grooved items seen on FPV V8s. However, if I were buying this car with its truly outstanding performance potential, I'd plonk down the extra for the optional Brembos with four-pot calipers.
Styling outside and in is restrained. Simon Butterworth's design crew at Ford have produced a unique mesh grille and lower air intake with the FPV badge worked into it. Behind that they have made a point of showing off the intercooler rather than hiding it, as is the case with XR6T. The details of the body kit, such as the front splitter and side-skirt flutes, are finished in a gun-metal grey; there's a subtle (compared to the V8s) three-post rear wing and somewhat under-whelming 18×8" alloy wheels shod in 245/40 Dunlop SP9000s.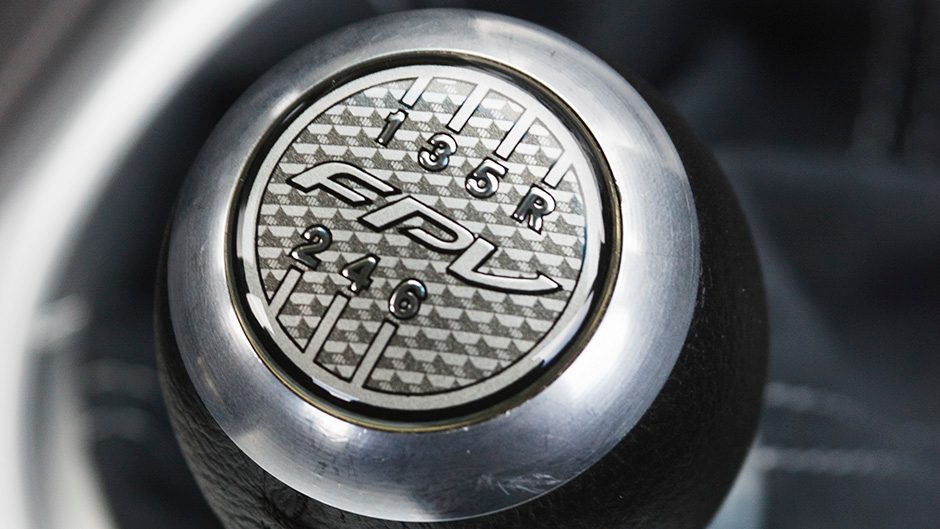 Inside, it's just as understated and identifiably FPV and Falcon. There's a unique 'Technik' cloth trim to go with the gun-metal exterior touches and a twin-pod instrument gauge at the top of the centre column that displays turbo boost pressure and oil pressure. This car also gets the top-spec colour TFT screen for the information centre, as well as drilled alloy pedals, starter button, aluminium-look trim and build plate, as well as all the usual standard equipment, including front and side airbags, in-dash six-CD audio, dual climate control and reverse sensing system.
But something's missing, isn't it? Wander around it, stand and stare. It's only when a GT burbles past that the penny drops: it's the V8 bonnet bulge. It might have seemed a bit naff when the FPV V8s first broke cover but now it's a styling statement. F6 just doesn't have anything as significant and as memorable. Bonnet scoops? Think someone else has done that recently…
In every sense except its presentation, the F6 is an exciting and thoroughly memorable Aussie muscle-car. It certainly deserves its place in the Pantheon as one of the greats, despite its slightly under-stated look. On the other hand, maybe that fits. We are talking about the silent assassin, after all.
This article first appeared in the November 2004 edition of NZ Autocar Magazine
| | | | |
| --- | --- | --- | --- |
| Model | 2004 FPV F6 Typhoon | Price | $69,990 |
| Engine | 3984cc, IL6, T/EFI, 270kW/550Nm | Drivetrain | 6-speed manual, rear-wheel drive |
| Fuel Use | 0L/100km | C02 Output | 0g/km |
| 0-100km/h | 6.06sec | Weight | 1785kg |