In recent news, experts say excessive use of three letter acronyms within the scientific community make studies incomprehensible to the public. You discover new TLAS on the daily, many of them baffling at first but they are soon interwoven into the lexicon; WFH becoming commonplace for those of us stuck in Auckland enduring further SAH orders.
Do acronyms work for car names? Not often, people simply forget what they stand for. It was en vogue for the Japanese back in the 90s, when Honda first devised the HR-V, or Hi-rider Revolutionary Vehicle. Like the RAV4, it pre-dated the current small SUV boom by a decade or two, before they were really a thing. It was a LOL moment when we learnt Honda thought the HR-V was a legitimate replacement for the Civic back then, and yet now HR-V comfortably outsells it. Guess it was revolutionary afterall.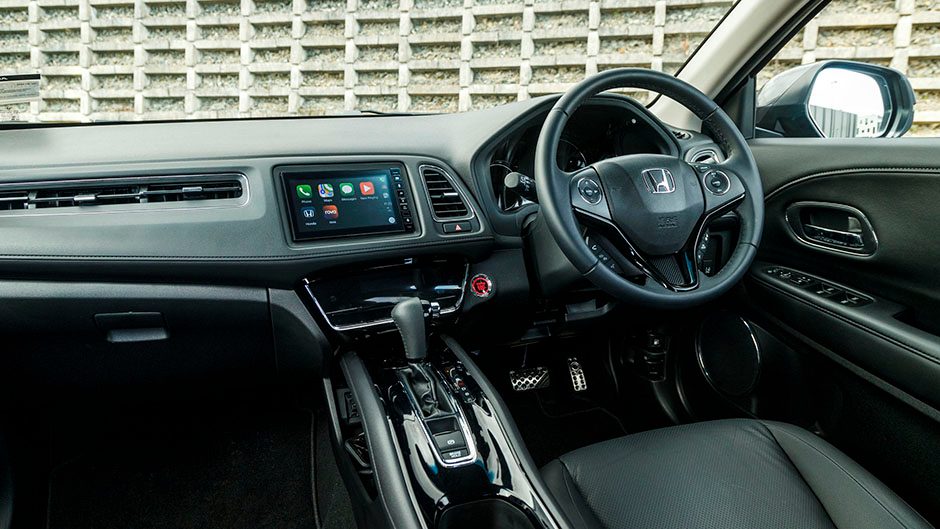 Unlike the other HRV (heat recovery ventilation) that people might have heard of, Honda's version certainly doesn't suck. It might be getting on in its term, having debuted in 2015, but after a spin in the top Sport NT model, it still has its merits amongst a class now brimming with new models. Unfortunately Honda's HR-V doesn't blow either. Its engine forgoes any turbocharging, and so the 1.8-litre 105kW/172Nm four and CVT combo is our least favourite aspect of the HR-V. The full Newton count isn't realised until 4300rpm, so it lacks for the easy go of the turbo brigade in the class. It goes ok however, but we know it could be a much better thing with a version of the 1.5 turbo the Civic and CR-V enjoy. It can get a tad raucous on those occasions you need to stretch it past 3500rpm, so it's not one recommended for people always in a rush. Even when driven in a mild mannered fashion, consumption is likely to be in the 9L/100km bracket for urban commuters, so not the most economical either. The ride is otherwise pleasant, so too in-cabin noise levels and the outward vision from the driver's perch is good.
The Sport NT model is the most expensive HR-V, asking a firm $40,990 (no haggling at Honda remember). It comes with a five-year, unlimited kay, transferable warranty too.
Compared with the $38,500 RS, you trade 18s and sports tuned suspension for 17s, extra sound deadening and more luxuries like a powered driver's seat, dual zone air, a big sunroof and front and rear parking sensors. It also adds a few more safety bits; on top of the standard AEB there is a collision alert, auto high beams and lane departure warning. That's not nearly as many as newer competitors offer mind you, and don't expect anything as fancy as radar cruise to help out on your journeys. The cruise is of the old fashioned kind, and not easily adjusted to your desired speed, while it lacks a limiter function too. The dials are conventional without a digital speed readout and the trip computer is fairly basic.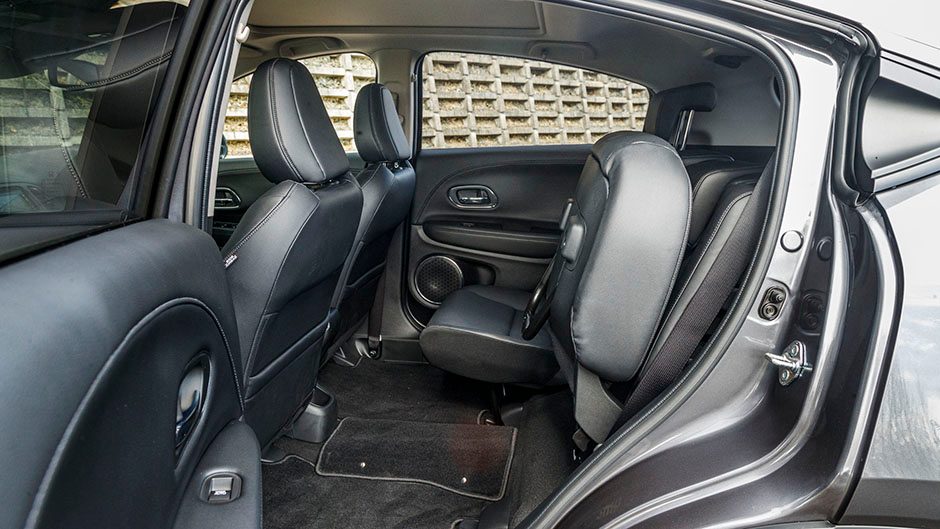 Honda has updated the infotainment system with a new head unit offering smartphone hook up with both Android Auto and CarPlay, each having voice command via Google and Siri wizardry as well as sat nav. The USB ports are hidden below the console so there's not a mess of cables about the cabin. Though the touchscreen has an aftermarket vibe to it, it's quick to respond and once you crank the brightness right up, the screen gives a decent image of what's behind and alongside you via Honda's lanewatch camera system.
The driver's seat has enough form to lend it a comfy fit and it's covered with a mix of leather and leather-ish claddings, while being heated too. While the oddment storage isn't so flash in the cabin, the passenger and cargo space in the HR-V is. The back seat is like that of the Jazz in that the base flips up for those oddly shaped packages you may find yourself carting around (they call this the Tall Mode, with 1250mm of height on offer for something tall but skinny), and when you fold the rear seats, the base sinks down so that the seat backs form a flat and low load space with 1460L of space available if you pile everything to the roof. You can also recline the front passenger seat right back and you'll have a quoted 2445mm load length. With the seats in play, HR-V still has one of the best boots in the class at 437L measured to the top of the cargo blind, which is best discarded as it's not a user friendly design. The rear seats are generous on legroom, recline a little for a more relaxed seating posi and the headspace is okay too given there is an oversized sunroof that reduces the clearance to the headlining for taller folk.
So while some of the newer players offer more interesting powertrain options with more driver tech thrown in, the HR-V still has its merits if maximum interior space in a small, SUV-like package is what you're after.
| | | | |
| --- | --- | --- | --- |
| Model | Honda HR-V Sport NT | Price | $40,990 |
| Engine | 1799cc, IL4, EFI, 105kW/172Nm | Drivetrain | CVT, FWD |
| Fuel Use | 6.9L/100km | C02 Output | 158g/km |
| 0-100km/h | 9.81sec | Weight | 1334kg |