Is this a Taycan Turbo S alternative or something quite different?
Interesting times for the motor industry and also for buyers as the world gradually transitions to electric power. Some folk have already embraced the new, many with used import Leafs, others with Model 3s, of which there seem to be almost as many on the roads these days.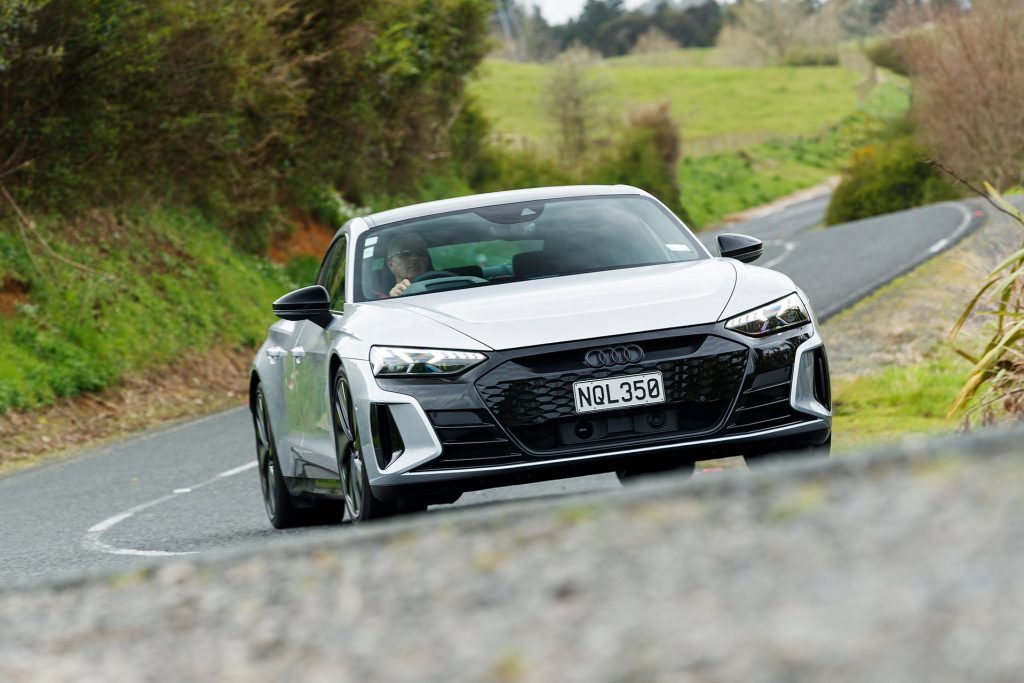 Increasingly, especially with the clean car rebate, others who might have been on the fence are thinking ahead and deciding to make the jump sooner rather than later. For some it's because of concern that a new ICE powered vehicle will have poor residuals in future, while others just want to reduce their carbon footprints now that the push has begun for a greener transport sector.
However, many still have their heads in the sand or are doubting Debbies. I met a pair of them recently. The first told me in no uncertain terms that climate change doesn't exist, citing zero evidence, except that he believed scientists are using selected evidence. But then he would, wouldn't he, given he sells real estate on the coast. The other, my barber, is a more interesting case. She's a boganne, if there's such a thing, and owns a sixties V8. I asked whether she'd ever go electric? Never, stating she didn't like electric cars. I asked if she'd ever driven one and she said, and I paraphrase, not on your nelly. So another with an uninformed opinion but then she's set in her ways.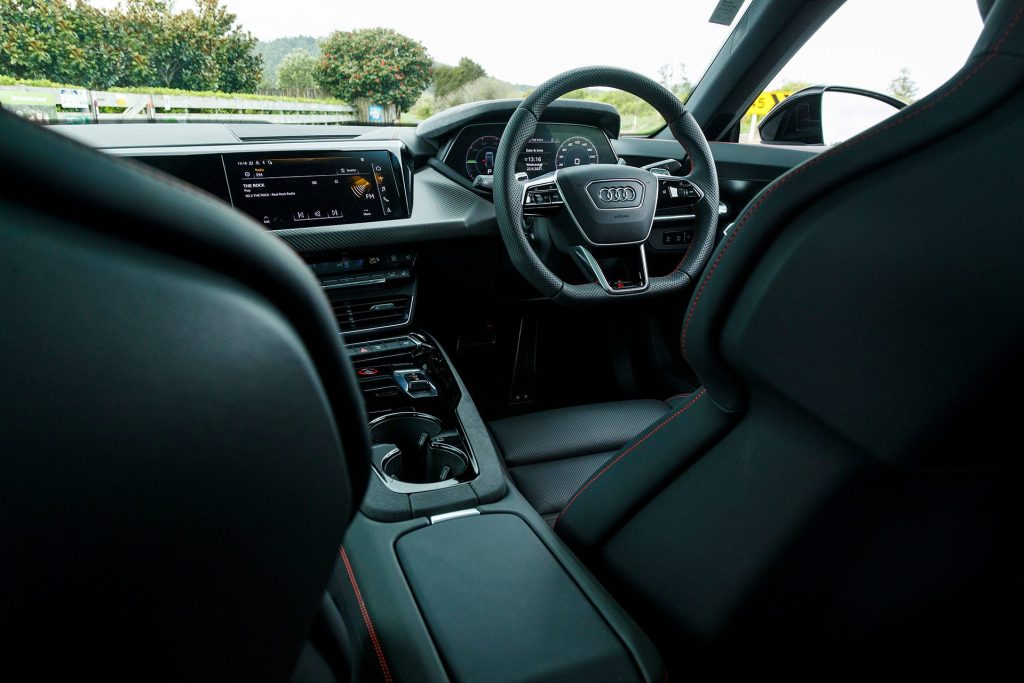 The thing is for those who haven't tried electric, it does offer a different but no less valid take on motoring. Not as noisy, and what noise there is doesn't really sound mechanical. However, if you like luxury cars there's a good chance you will fall head over heels for a top-flight electric offering like this-here Audi RS e-tron GT. Because for the most part it is dead quiet. If you've driven or been in a Lexus LS of any sort, you'll know what we mean. But the other sounds the RS makes are also interesting; you want a bit of mechanical clamour to add to the dynamic drama and the acceleration antics. So Audi acoustic engineers played around with synthesised sounds, going eventually with the noise of a fan amplified through a plastic pipe. Which sounds rather like transmission line design to us. Anyhow, there are amps and speakers dedicated to producing this synthesised noise, standard fit in the RS e-tron GT you buy here, and they are able to generate sound down to 65Hz which is reasonably low, something transmission line designs are good at. Some say it sounds like a spaceship but never having been in one, who knows? George Jetson might have a more informed opinion. Photographer Tom says it almost sounds like a V8 from outside, but that's not evident at the wheel.
What's a bit unusual for this particular RS is its weight, heavier even than the RS Q8 SUV. Sure, it's a big four-door coupe, not far off 5m long and closing in on 2m wide, but it's also not far off 2.4 tonnes. Something not terribly dissimilar in size or shape, the RS 7 Sportback, is over one-third of a tonne lighter. Oddly enough, the RS 7's actual 0-100km/h time of 3.3sec that we achieved is exactly the same as that claimed for the RS e-tron GT. Only it went even quicker. And it trounced the RS 7 for the overtake.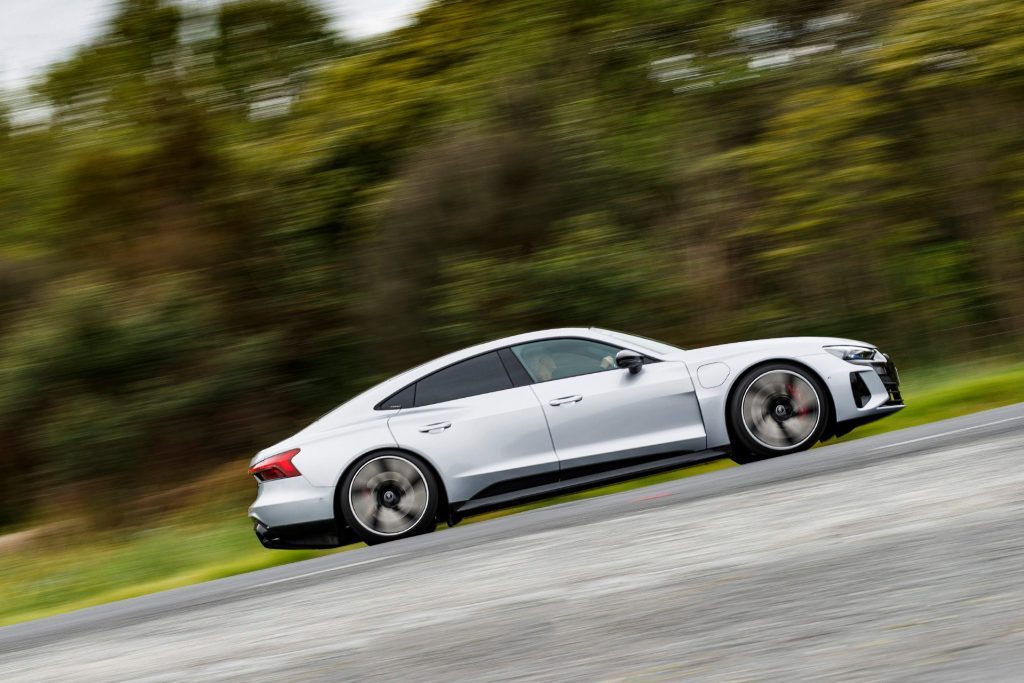 In the default Comfort mode, you can tell there's a fair amount of weight beneath, the 84kWh battery pack is said to weigh around 700kg, more or less the difference between the two vehicles. However, the weight is carried low, and the RS e-tron's C of G is evidently lower even than that of the R8 supercar.
Anyhow, acceleration is brisk without being bristling in Comfort around town. Having said that, out of town this goes just so well in Comfort mode, which is where we set it for about 80 per cent of running. For there's excellent suspension compliance – adaptive air springs take a bow – and it's an almost soothing ride, as it is around town over speed bumps and broken tarmac. This is especially impressive given the thin strips of rubber they call tyres fitted to this vehicle, 305/30s on the rear, 265/35s up front. On the speed bumps thing, you can raise the suspension if you like to peruse the submenus but, if not, beware of taking these at anything more than walking pace. Away from roads littered with these nasty things, and for ultimate control, use the Sport mode, and be amazed at how little compliance is compromised.
I'd only driven this 50-odd km, all urban and motorway, after pick up before the lockdown hit. By then I recall thinking that if I had to own this for the rest of my days, I'd die happy. Not that entry and exit are exactly easy but you're prepared to put up with some things, right?
So what are the nuts and bolts of the thing? It shares the same J1 platform as Taycan but styling is different. Both you'd regard as stunning design pieces. This is long, low and wide, smartly aggressive, with aero-inspired 21-inch wheels. You'd never tire of seeing this in the garage. Mention of which, for convenience sake, it has an AC charging port on either side of the car, though only one for the DC fast charger.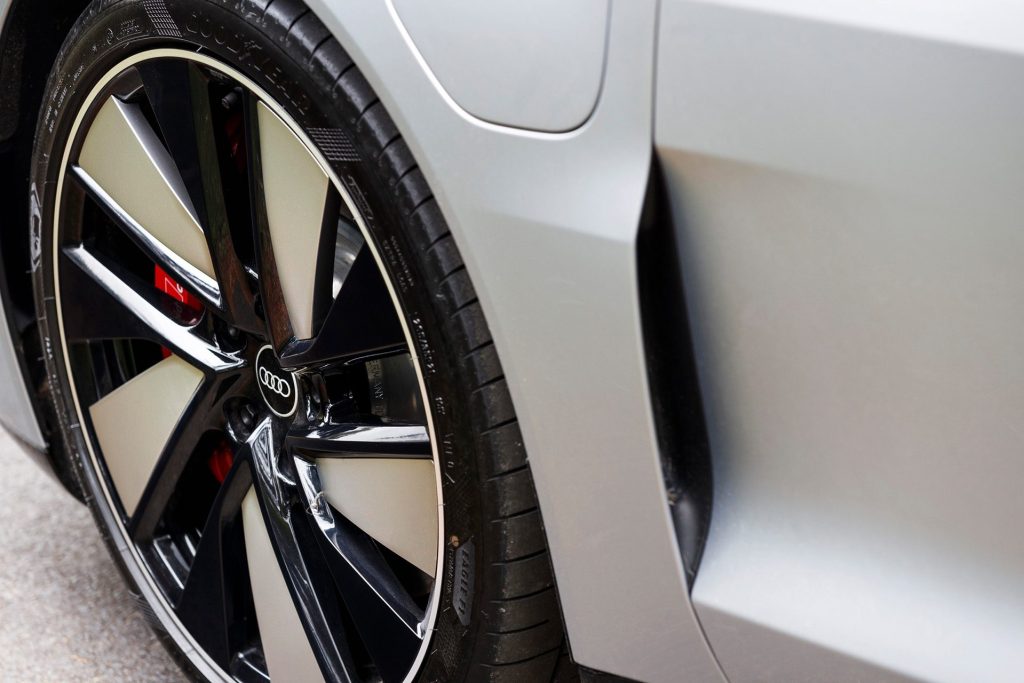 There are two models available here, a base variant selling at just under $195k (0-100km/h in 4.1sec) and this model with 440kW of power (from a 175kW front motor and 335kW motor for the rear axle). Both use quattro drivetrains. The RS also has 830Nm to tap into, available as soon as you hit go. With launch control activated there's a 2.5sec boost mode; hence the 3.3sec quoted optimal sprint time versus 3.6sec without the turbo shot. We didn't have the RS for long, and never got to actually see launch mode invoked. But it must have been active because when we selected Dynamic drive mode, and turned off ESP it instantly recorded a 3.23sec 0-100 run, and our best was 3.11sec, with a tail wind, both on chip seal. Impressive yes but the Taycan Turbo S was half a second quicker, and the fastest vehicle we've ever attached GPS gear to. But then it costs $100k more too ($373,400 vs $273,500).
On the other hand, the RS e-tron GT gave the TTS a much better run for its money on the overtake, repeatedly managing around 1.8sec to the Taycan's 1.62sec, and ended with a best of 1.75sec. This is literally a weapon on the overtaking front; you need but 50m to pass and response is utterly instantaneous. You're almost done before you know what's happened.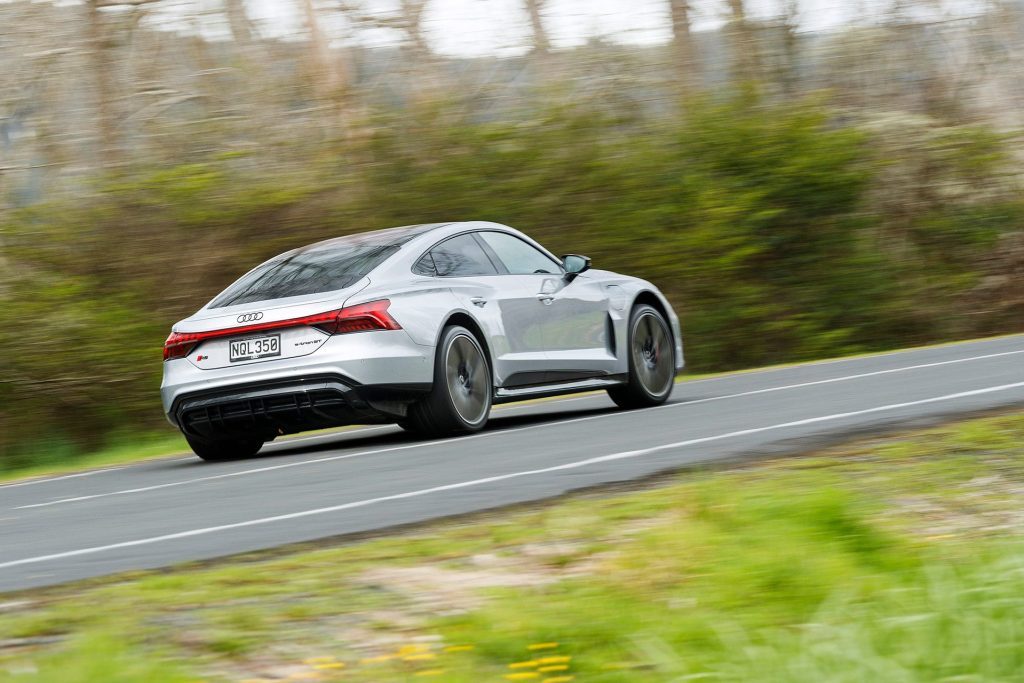 The battery pack is essentially the same as that in the e-tron SUVs, with a useable 86kWh giving an optimised claimed range of 488km. This, like Taycan, is capable of 800V charging, so in theory a five to 80 per cent recharge takes just over 20 minutes. However, that's when hooked to 350kW device. We visited a 50kW charger twice, and it took 90 odd minutes to get from 25 to 75 per cent. Charging at home you'll need a grunty wallbox.
The RS features an aluminium double-wishbone suspension set-up paired with adaptive, three-chamber air springs. Steering is electromechanical and involves all four wheels. There's also a variable electronic locking function for the rear axle.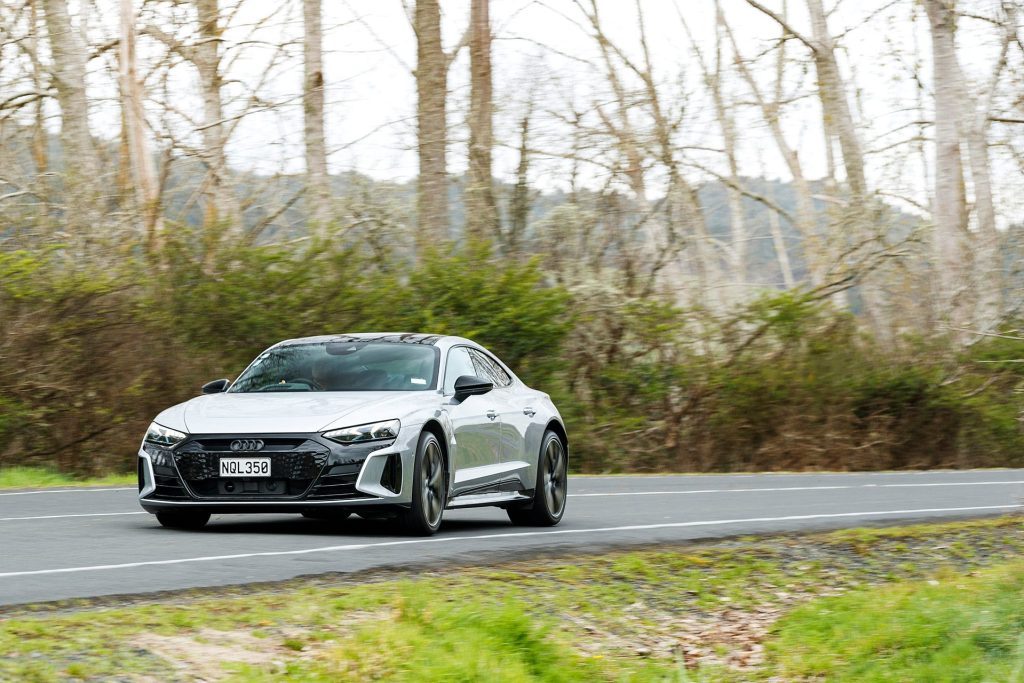 On road, this is sharp to turn, as you'd expect with all-wheel steering (making it easy to U-turn as well) and naturally it's fast through corners. Amazing that something this heavy can be so composed but then the weight is carried low. The brakes are a bit strange, not that we haven't heard that with regenerative devices before. On road they seem just fine, well up to the task, but during testing, under full ABS conditions, the pedal feels spongy and travel is extended while stops are a disappointing 35m plus. Taycan did this better.
The interior is a bit special, as you might expect of Audi's first electric RS, featuring quilted sports seats finished in artificial leather, and lots of red stitching and carbon fibre. While low, it's not especially difficult to seat yourself as the bolsters aren't too exaggerated. And those in the back aren't bad either, providing you're not too tall. Boot space is only ok for such a large car, at 350L, but you can fold the seat flat for a bigger load, though the opening is a bit mean. There's 85L up front too, but it's better used to store the charging cables.
Overall we'd say it's difficult to justify the extra for the top Taycan, unless you preferred the styling of the Porsche or hankered for the badge, and wanted those 0-100 bragging rights. In the real world the RS e-tron GT is just as quick and competent, and costs much less.
| | |
| --- | --- |
| Model | Audi RS e-tron GT |
| Price | $273,500 |
| Motor | dual, 440kW/830Nm |
| Battery | 93kWh (85kWh net) |
| Drivetrain | two-speed auto, AWD |
| Energy Use | 22.5kWh/100km |
| C02 Output | 0g/km |
| 0-100km/h | 3.11sec |
| Weight | 2347kg (claimed) |