Hyundai's stylists are earning their money, turning out vehicles that keep you guessing. Are the Staria's grand looks enough to tempt buyers away from three-row SUVs and into a people mover?
We don't typically harp on too much about looks. It's generally accepted that our readers have eyes, tastes, and the willingness to completely ignore what we think when it comes to aesthetics. But there are certain cars (and evidently, certain vans) that are an exception to the rule.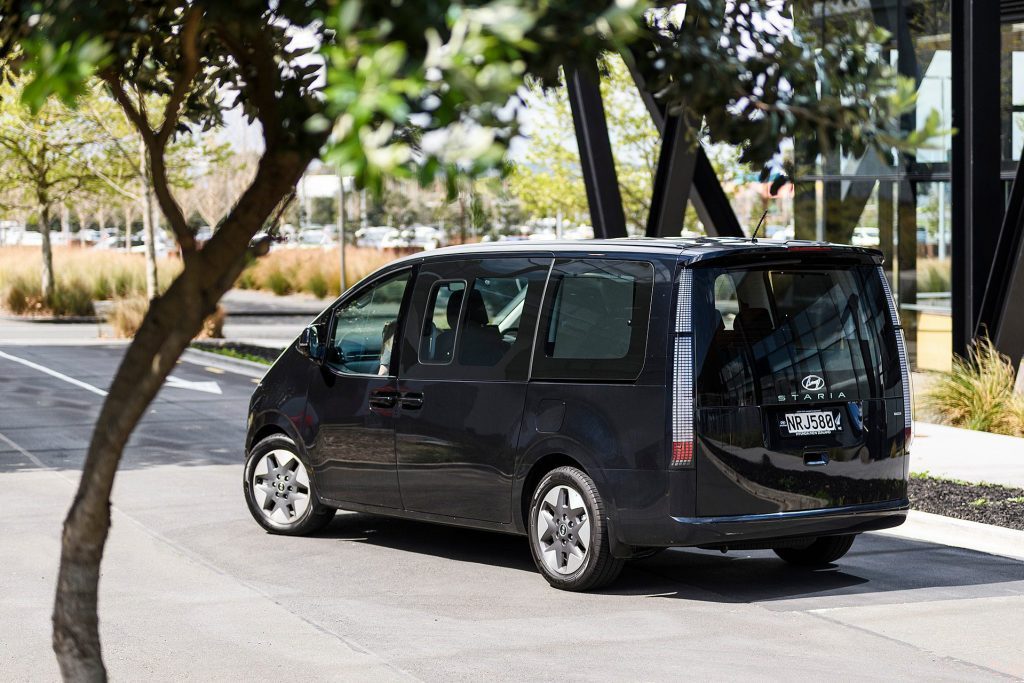 It's worth taking a little pause to appreciate the pencil twiddlers at Hyundai. At present, it is the most erratically eccentric mainstream manufacturer in terms of design. The Ioniq 5, Tucson, and this incredibly odd Staria are three of the most 'different' looking vehicles on sale today. Companies willing to take risks like these are inherently more captivating than those who just graft the same fascia onto every release. I won't name names; you know who you are.
Those with an appreciation for Tron, Robocop, and the good Back to the Future films will likely appreciate the Staria's rounded edges. Its nose, with that thin LED strip and grinning grille, looks like a cross between an electric leg razor, a dust buster, and a storm trooper's helmet. As a design, it's at least 10 years ahead of any other van on the market. I reckon it looks fantastic.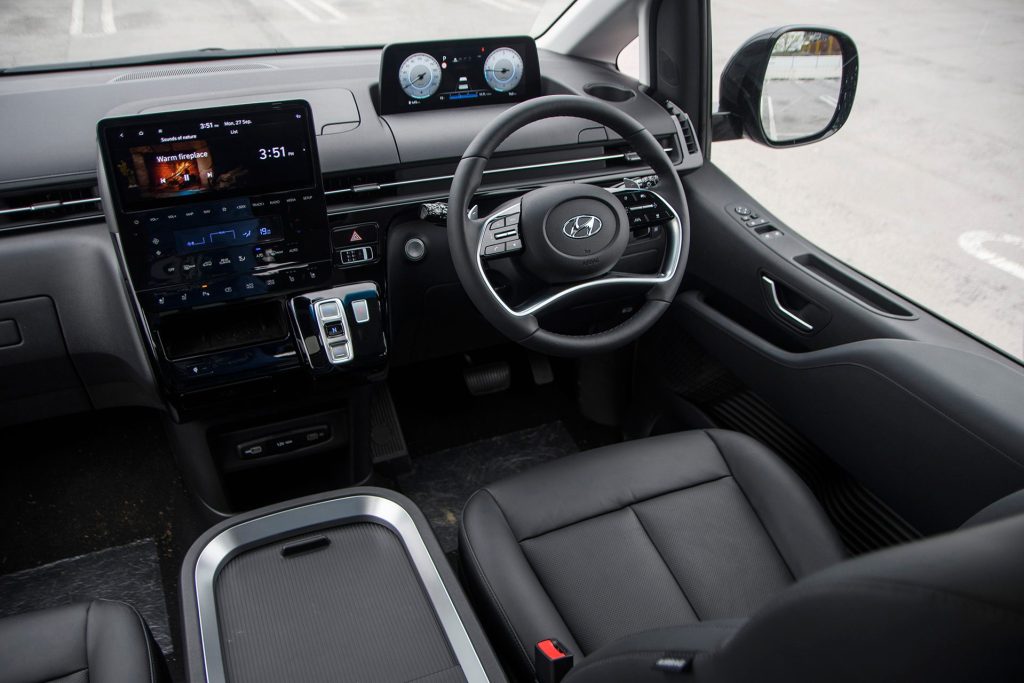 In this instance, 'Van' is a loaded word. Beyond its marmite looks, the Staria's most interesting detail is its attempt to jump between segments. While it's true that most contemporary vans are offered with some kind of three-row option, few come with an equipment list that's this long.
Few also come built on a passenger car platform. The Staria's underpinnings are shared with the Santa Fe and, understandably given the company links, its Kia Carnival rival. Not that the Staria has any great dimensional deficits to the van mainstays. It's slightly wider, taller, and longer in the wheelbase than a Toyota Hiace, while being just a smidge shorter overall. It can tow 2500kg, a tonne more than a Hiace and just 300kg shy of the Ford Transit.
It's an ambitious project for Hyundai; to offer a platform with the utility and affordability to be competitive with the Hiaces and Transits of the world, but then at its top end to be capable of passenger car ride quality and comfort. And, although it's not without fault, the Staria mostly overcomes the challenge.
Along with being based on a familiar platform, the Staria also features a well known engine. All models come with the same 2.2-litre turbodiesel four, a regular fixture in Hyundai and Kia's line-ups. Here it produces 130kW of power at 3800rpm and 430Nm of twist at 1500-2500rpm. It's the same engine as featured in the Carnival, but with 10kW less power and 10Nm less torque. It's also a little louder here, with more of that tell-tale diesel rattle during idle and acceleration. In our time with it, we averaged 11.8L/100km (Hyundai claims 8.2L/100km).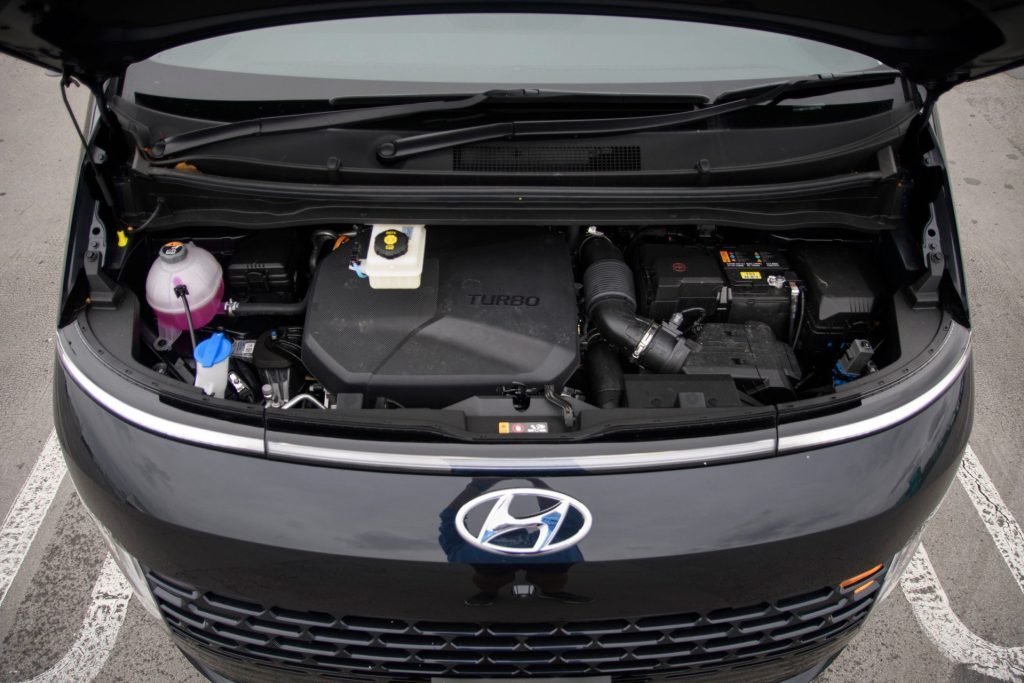 While the entry-level Staria Load van gets a six-speed manual, all other models come with an eight-speed automatic (and paddle shifters in the top model). The engine and transmission work together neatly most of the time, the former providing a competent level of pep and the latter dropping through gears without much fuss. There are multiple drive modes on offer, but with Sport mode being mostly ineffectual (steering firms up a touch and throttle sensitivity grows), it's best to just hold the drive mode button and leave the powertrain in the versatile Smart mode. The auto hesitates from time to time, and the paddles can occasionally feel redundant but for a van the level of refinement on offer is excellent and comparable to a lot of dedicated three-row SUVs and MPVs.
Its steering is maybe the Staria's most anti-van characteristic from behind the wheel. Whether you're performing parking-lot gymnastics at the supermarket or hurtling along the motorway, it's pinky-finger light and very precise. Body roll is well tempered too. Ride quality is good on most roads, but can become brittle when on broken surfaces.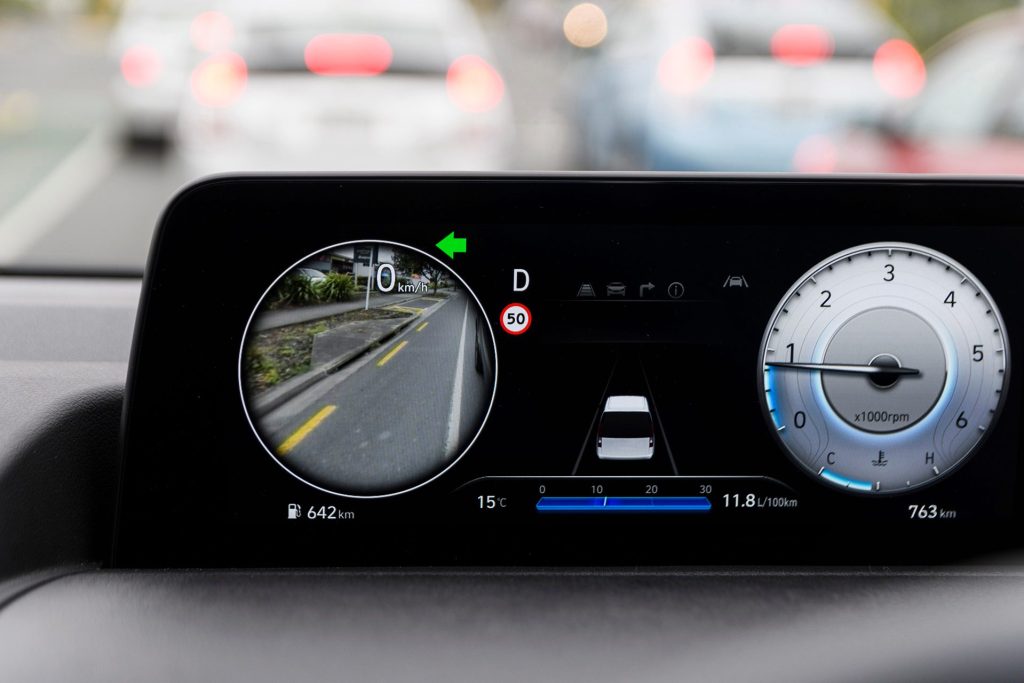 Little blemishes such as this are a shame because in most other facets the Staria looks and feels incredibly up to date. This is no more evident than in a scan of the features list in this AWD model. Dual 10.25-inch screens, check. Dual electric sliding doors, check. Heated and ventilated seats with a heated steering wheel, check. Dual-zone climate control, check. Two sunroofs (well, the main one is a panoramic), check. Wireless charging, USB charging points in each row, power tailgate, and Hyundai's excellent suite of safety tech? Check for the lot.
Space ship
In the midst of all the gadetry, the Staria's secret weapon is actually space. Because of its van proportions, third-row seating is more comfortable than in any three-row SUV I've come across (although the lack of Isofix anchor points is disappointing), and boot space is rated at a huge 831 litres behind the third row, and 1303 litres when the third row is folded away. Complementing this is the Staria's very low belt-line and subsequently huge glasshouse. Visibility is impressive, no matter which seat you're sitting in.
The most notable elements of the Staria's tech assault are Hyundai's adaptive cruise control and lane keeping system, the cameras, and the screens. The former is amongst the best offered in mainstream brands, particularly when it comes to the challenge of hands-free steering. The cameras and screens, meanwhile, push the Staria into a new realm. Its 360-degree camera is clear enough to shame some premium offerings and includes Hyundai's 'Surround View Monitor', allowing you to spin the camera around an animated version of the car in order to spot any objects in your blind spots. There's also an interior camera for monitoring what the kids are up to in the second and third rows. And, when you hit your indicator stalk, the corresponding wing mirror camera beams its view to the driver's digital cluster, showing you what's hiding in your blind spot. And, all of this works seamlessly.
On top of cleverly integrating the aforementioned camera tech, the two big 10.25-inch screens feature sat nav, Apple CarPlay/Android Auto, and Hyundai's oh-so-weird 'Sounds of Nature' ambient noise playlist. The screens work well and are laid out nicely, although the digital cluster's lengthy distance from the driver means spotting your speed can require some squinting. The touch-based 'hard buttons' can be tricky to navigate while driving and, oddly, there's hard buttons for both navigation and map, but no hard button for the all-important home menu.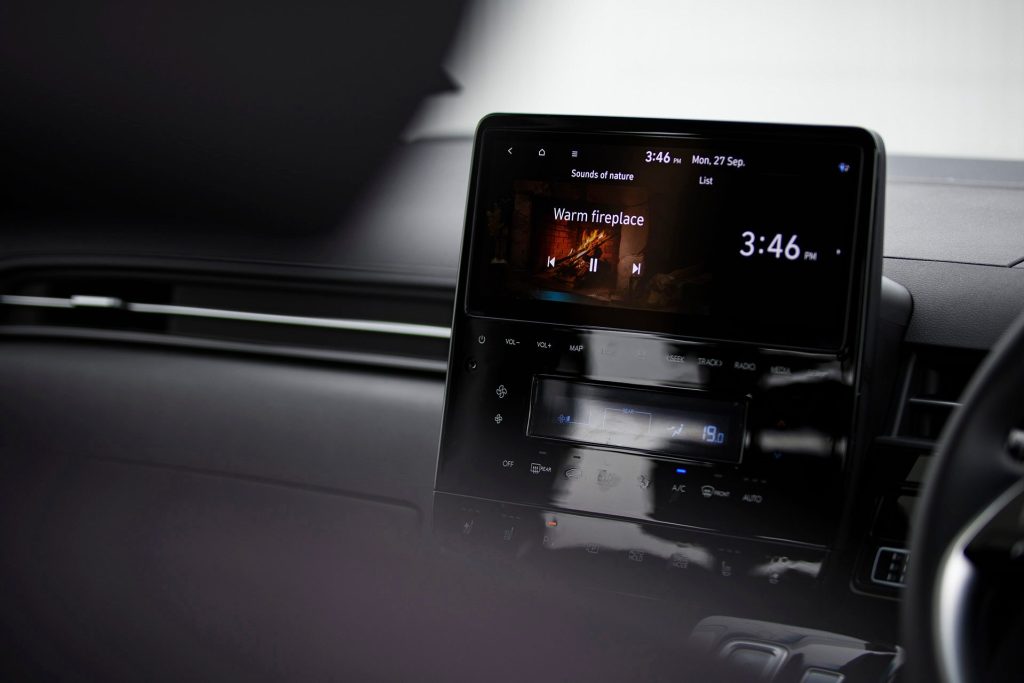 Despite the deluge of tech, there are some artifacts of van-like utilitarianism inside the Staria too. While its layout is fairly handsome, the dashboard is crafted entirely out of hard plastics, as are the centre console and the door tops. The lifted floor makes it a smidge more awkward to clamber into than a typical MPV. And then there's the biggest elephant in the room to consider; its price.
The Staria is priced from $59,990 in its white-paint, steel-wheels, manual-transmission commercial Load trim. Eight-seater MPV versions start at $69,990, with the pictured all-wheel drive Limited priced at $85,990. It's a hefty pill to swallow, given that the Toyota Hiace starts some 13 grand cheaper in its base form and 15 grand cheaper when comparing 10-seater three-row models. The flagship Kia Carnival Premium meanwhile, with the same engine and same platform, is $10,000 cheaper.
Nevertheless, the Staria is a big lump of sci-fi style with plenty of substance to back it up. There are areas where its oddball cross-segment position sees it blow apart the opposition, and there are also times where its van roots frustratingly hold it back. We're just glad to see more brands pushing the design envelope though.
Model
Hyundai Staria 2.2 Limited
AWD 8-seater
Price
$85,990
Engine
2199cc, IL4, TDI
Power
130kW/430Nm
Drivetrain
8-speed auto, AWD
Fuel Use
8.2L/100km
C02 Output
218g/km
0-100km/h
13.5sec (claimed)
Weight
2325kg (claimed)