It sounds a bit like a VW 4×4, but this Tuareg adventure bike from Aprilia is a little more trail ready. Is it the ideal all-road tourer for NZ?
After being thrilled by Aprilia's RS 660 and Tuono twins, you just knew that an adventure bike based on that firecracker of an engine was going to be a winner. And it really is, being nearly ideal for Kiwi explorers.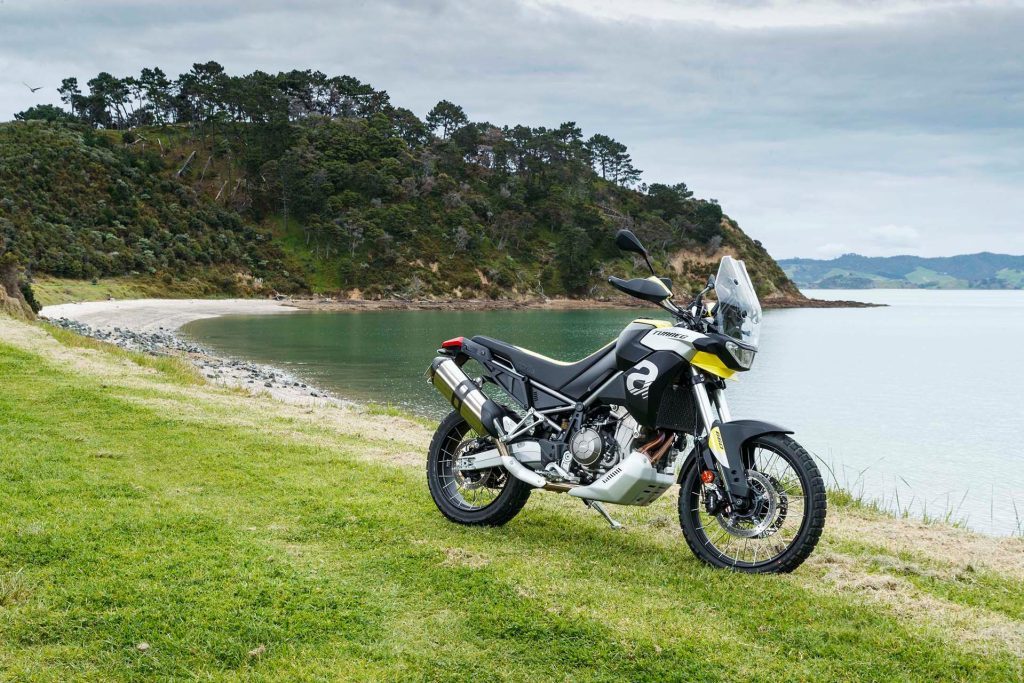 The original Tuareg launched in 1985 and was a Dakar race replica. Production ended in 1994. We guess the fact that they have reprised it now is because they have a stellar 659cc engine available.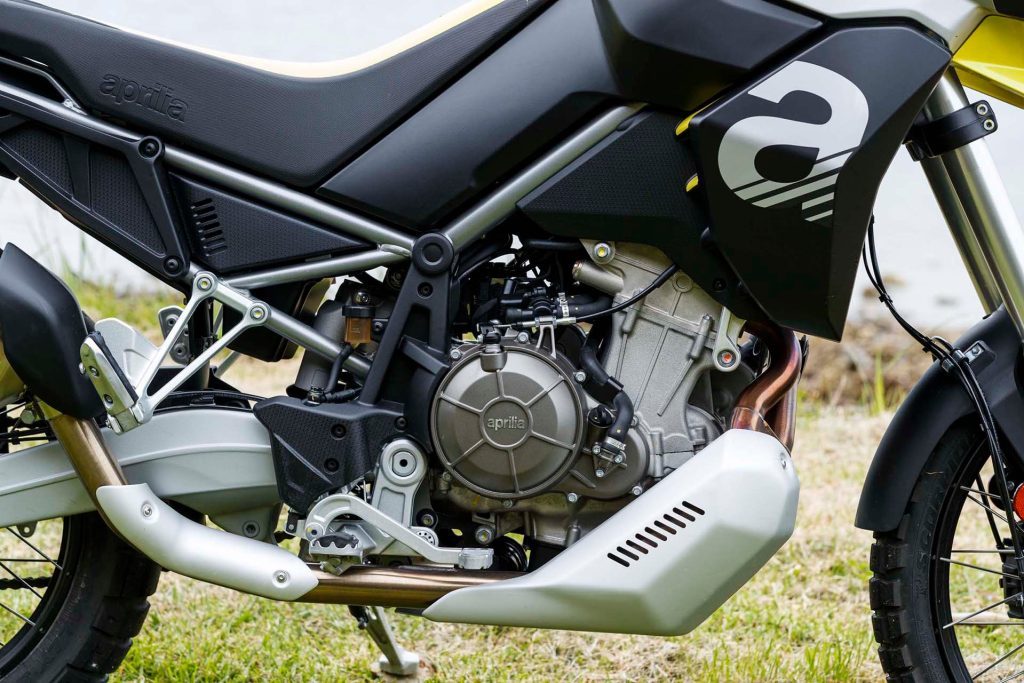 For adventure bike work they've softened the top end and bulked out midrange torque, such that its peak of 70Nm now arrives at 6500rpm instead of 8500rpm. Three-quarters of that is on hand from 3000rpm, meaning you can commute and lane split sweetly in the 2500-3000rpm zone. Those bulked out mids work well out of town too but this engine spins so sweetly that sometimes you just want to let rip. Recall that this engine is based on the front cylinder bank of the RSV4, one of the killer great engines of recent times. LAMS buyers need not apply, if you're wondering.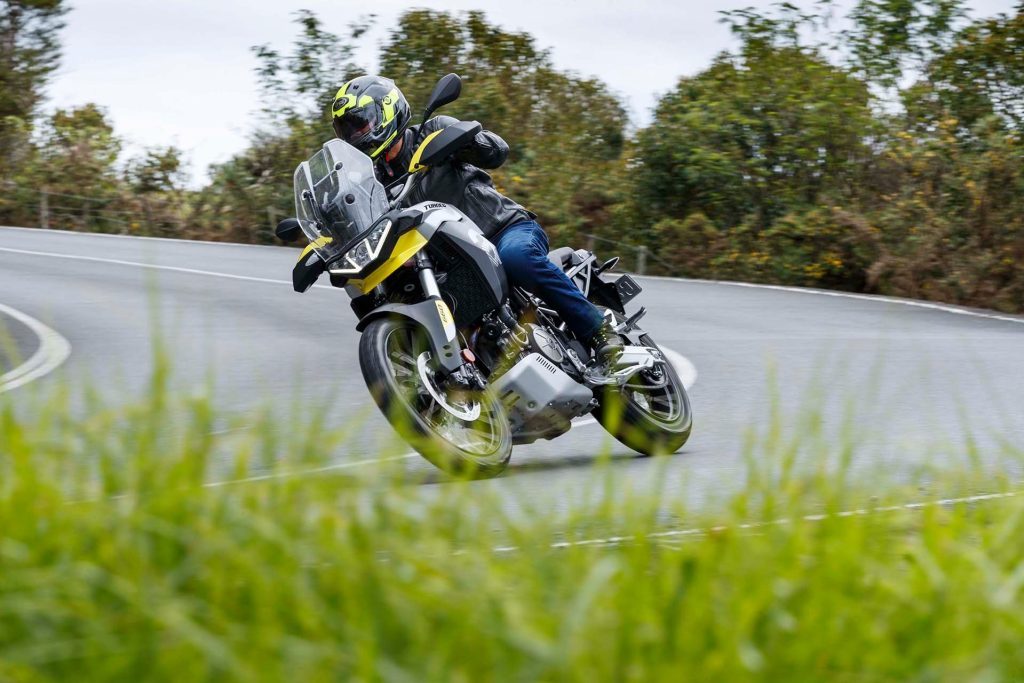 Anyhow, the new Tuareg, as you're probably aware, is named after a famous VW SUV. Oh wait, different spelling, though both are named after a nomadic Saharan tribe. The styling is pretty cool, and it was evidently penned by the same guy who did Guzzi's V85TT. This is better though, and the bike itself is in another league of more suitable for dual purpose work, crazily good on road and seemingly as handy off, thanks to its relatively reined-in wet weight of 206kg.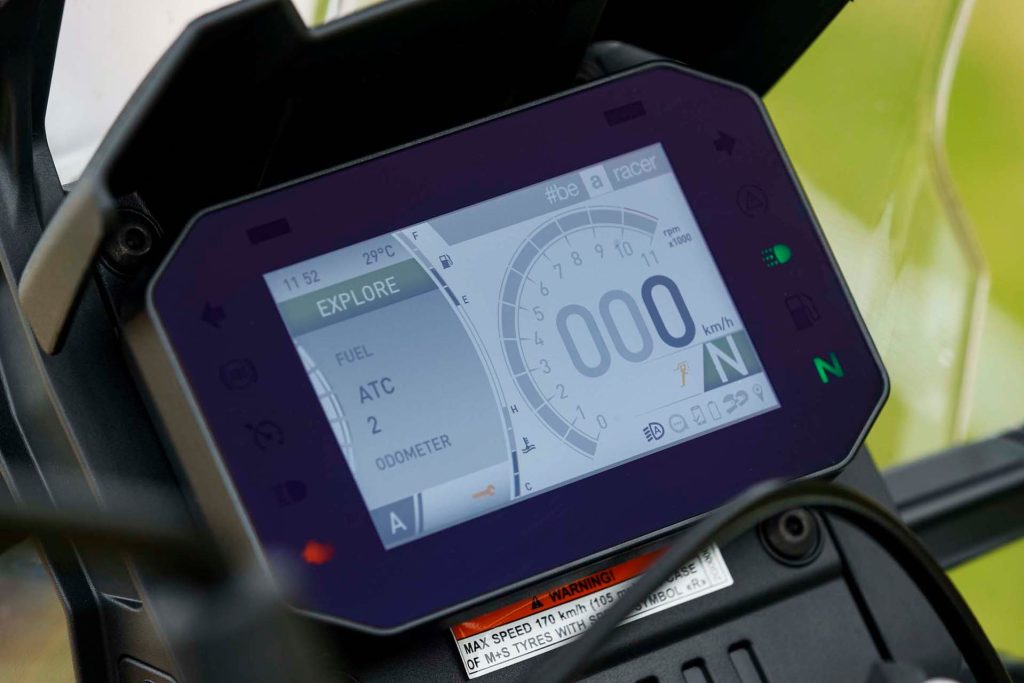 Ours wore banana yellow highlights (Acid Gold sounds sexier) and it looks smart with its standard fixed screen while bodywork is broad enough that you get some reasonable weather protection.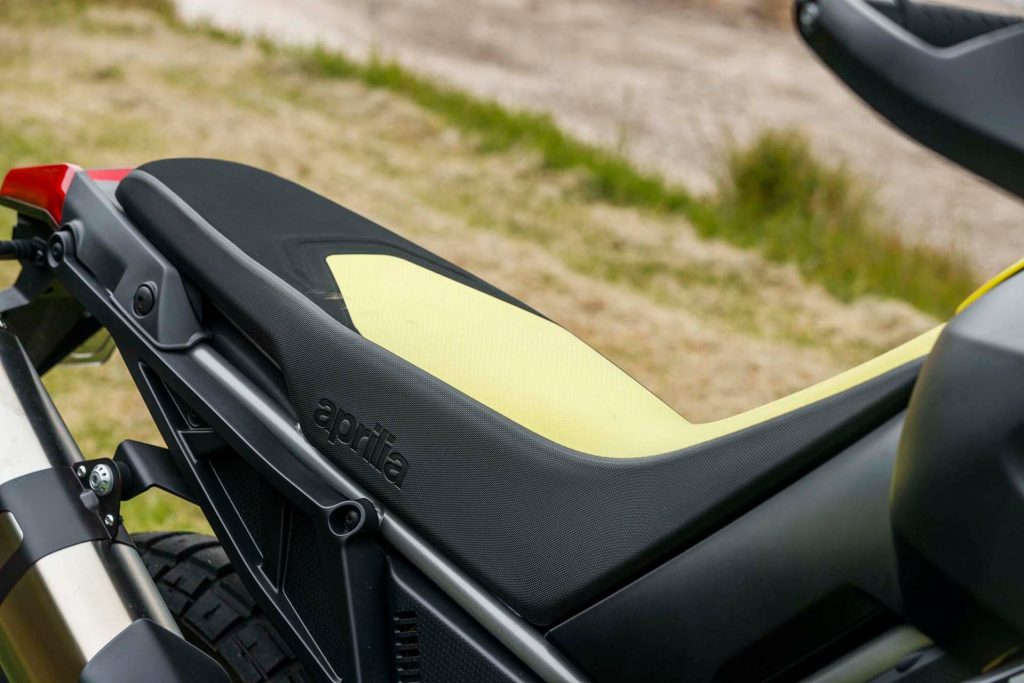 Yes, it's tall but we've encountered worse. With a seat height of 860mm and no ability to lower that, this won't fit everyone – I could barely swing a leg over but once aboard could balance astride it okay, feet flat. The seat is slim up front but it's broader where your sit bones naturally fall. While there's a reasonable amount of foam padding, we could only manage about an hour's stint at a time.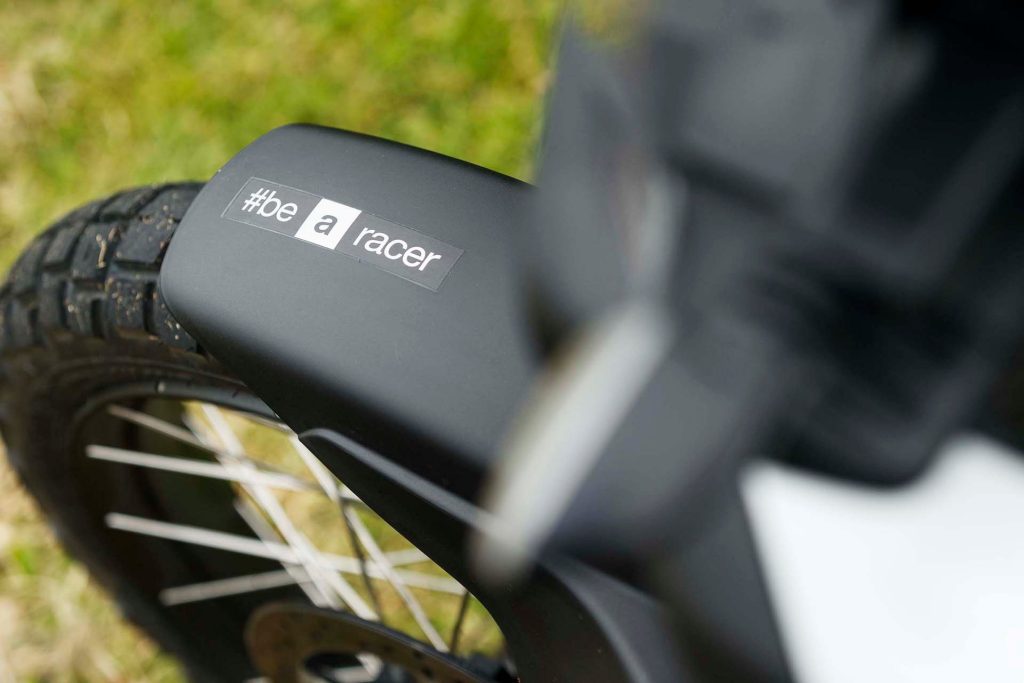 This has a relaxed riding position with the high and wide bars, low(ish) set pegs and oodles of suspension travel, 240mm overall. It's that extra travel that affords it a plush ride quality on road. Up front the 43mm Kayaba USD forks have full adjustability. We dialed them back a click each side from maximum, while at the rear preload can be easily changed thanks to the provision of a remote knurled knob. No tweaks needed there.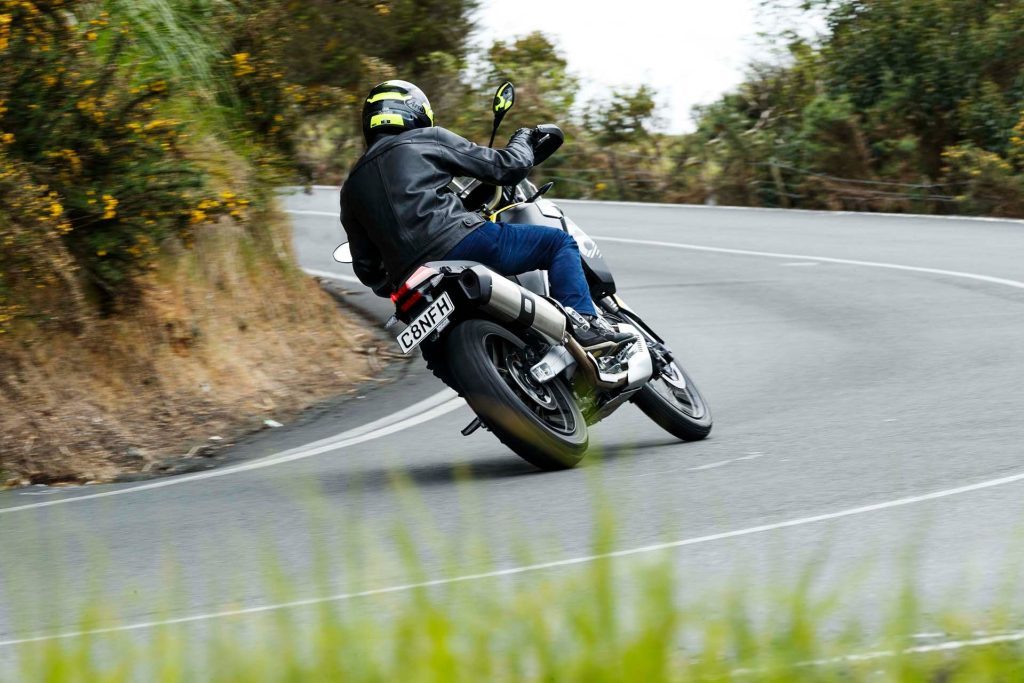 Despite its height this is sufficiently light that pulling it up off its stylish aluminium side stand is no chore. The frame is steel, and the engine is a stressed member, in part explaining the low wet weight.
To the ride then. Climb aboard, fire it up and the parallel twin mill growls into action. It's a known quantity this, apart from the retune which seems strongest in the Explore ride mode. Because it's detuned and heavier by about 20kg, this can't match Tuono or RS 660 for performance, and the Pirelli Scorpion rubber doesn't help it off the line as quickly either. But it still hits 100 in four seconds flat, an overtake requiring 2.4sec. That's only 0.3sec slower to 100 than the Tuono 660 and 0.6sec down for the 80-120. In other words, plenty fast enough for your day-to-day needs.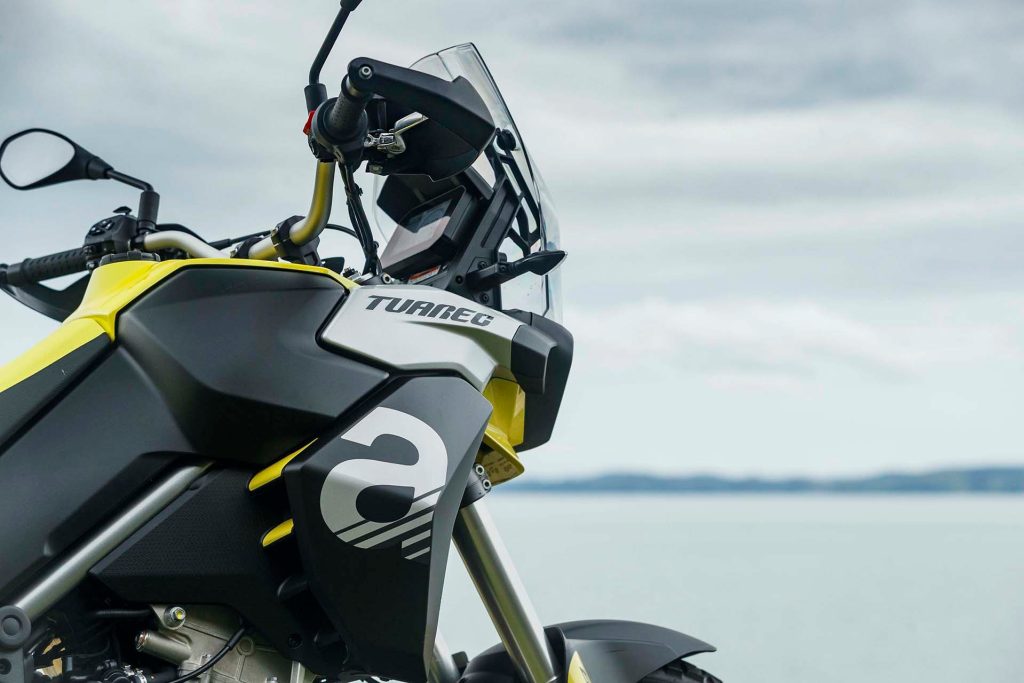 This is producing 85 per cent of peak torque at 100km/h, roughly 4500rpm, with 5000rpm an indicated 110. So it is perfectly relaxed at highway speeds, with few vibes and clear mirrors that only show what's behind rather than elbows and clothing. Fuel use is handy, typically in the low fours (rated overall at 4.0L/100km), though it drinks more 95ULP than its road-oriented sibs, being taller, heavier and shorter geared, along with that fixed upright screen. The latter is handy for keeping the weather at bay, though doesn't provide quite enough cover to ride visor up. There's some wind noise off the top of the screen too. A touring item is on offer, as are bags and a centrestand.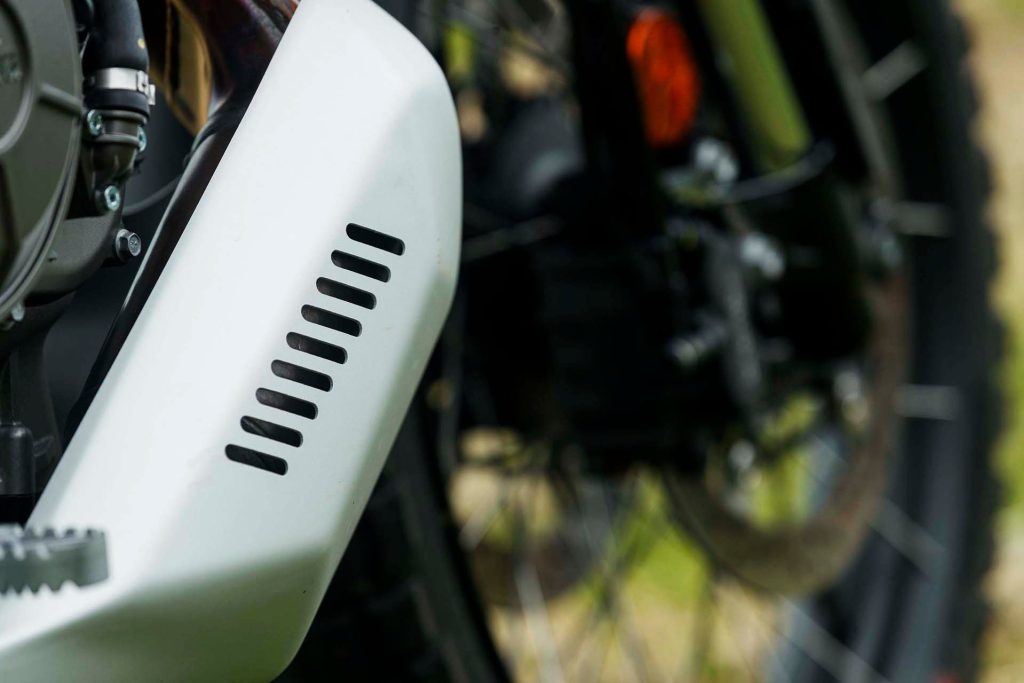 Tuareg 660 runs a skinny 21-incher up front with spoked rims, and an 18-inch rear with a 150/70 tyre. This is amongst the best handling of the ADVs available at present. On tarmac it tips in virtually by just loading the pegs, and applying gentle bar pressure. It's such a joy to ride through twisty sections of road, within the limits of its rubber. Like its 660 sibs, this feels lightweight, despite being a tick over 200kg. A lovely natural open riding position adds to both comfort and ride enjoyment, as does a wide lock for easy turnarounds.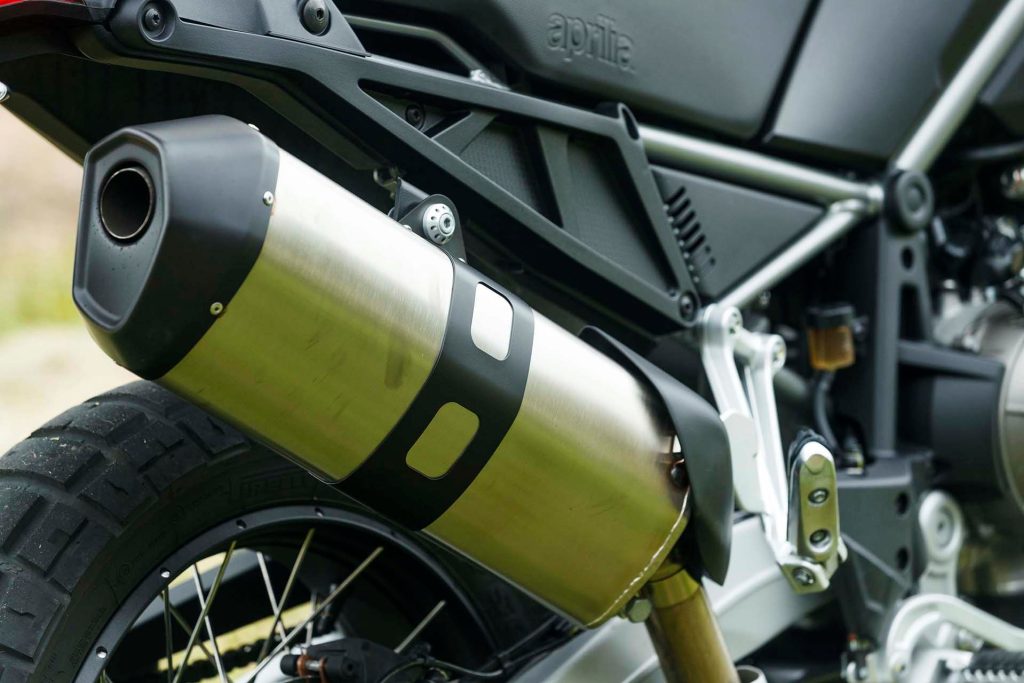 Unlike the RS 660, this doesn't feature radial brakes but they're up to the task regardless, aided by an adjustable lever. There's minimal dive under heavy braking too. IMU-based cornering ABS is a non-starter here. A quickshifter is an option but we wouldn't bother as the standard box is cracking, smooth shifting and neutral is always easy to locate. Cruise is likewise effective in operation.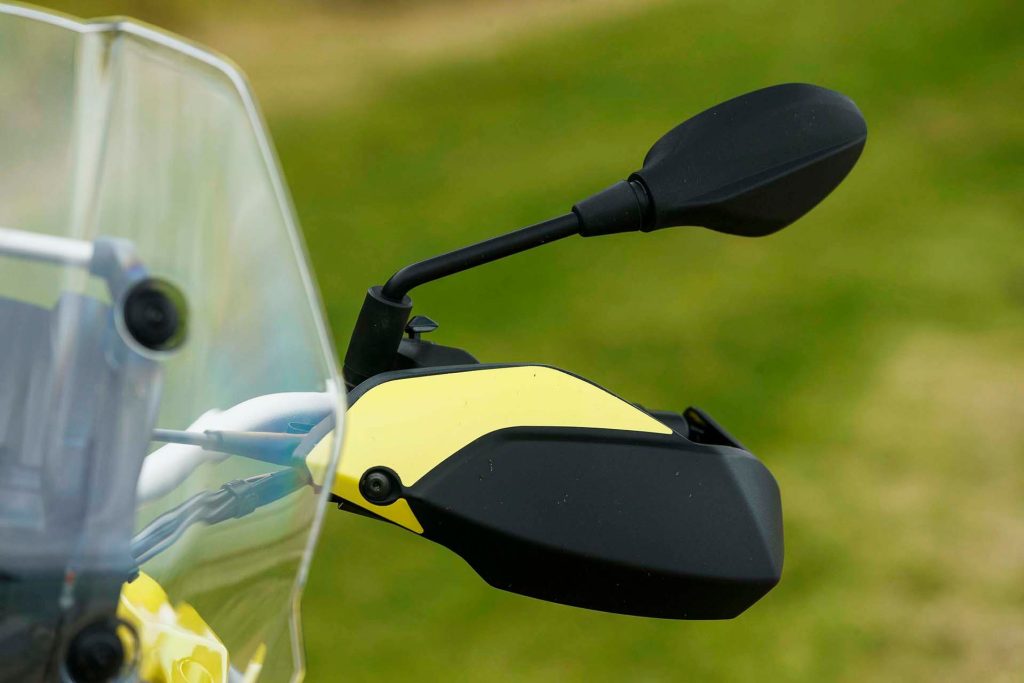 The most annoying aspect to this bike? It's way too easy to knock the high beam switch inadvertently with your left hand. Can't think of much else on the deficit side of things.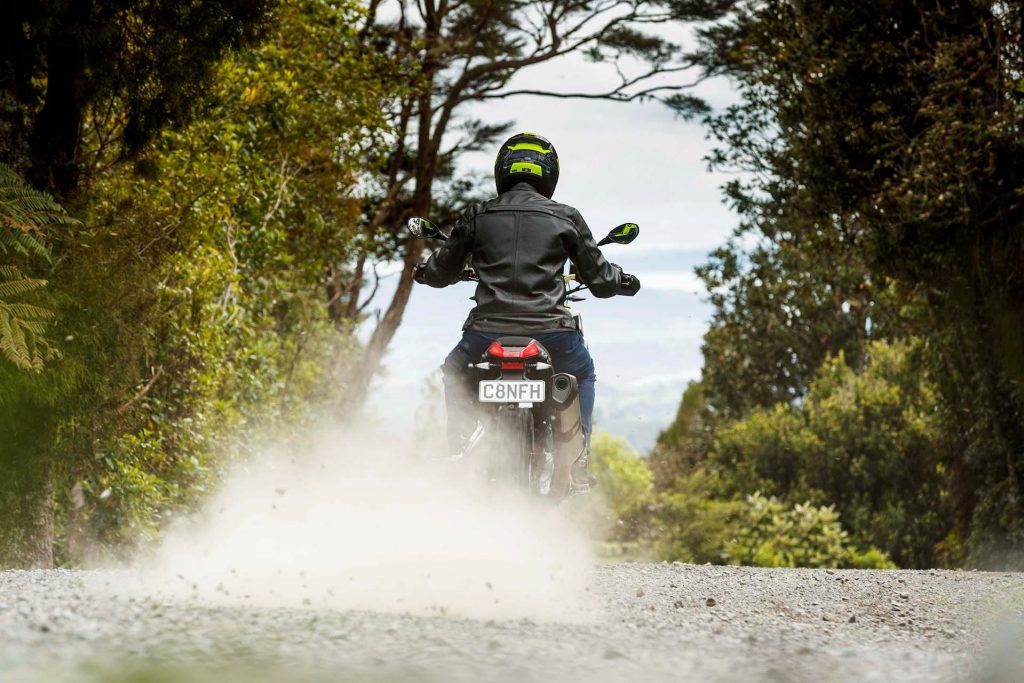 As to middleweight rivals, there's a host at them, my value pick being the Moto Morini X-Cape kicking off at around the $13k mark. The Tuareg ($21,490) is more expensive than Yamaha's Tenere 700 at just under $18k, and these two are line-ball in many ways. On road the Aprilia is lighter on its feet, faster in the turn and its suspension is classier. It's a shade quicker too and is arguably worth the extra.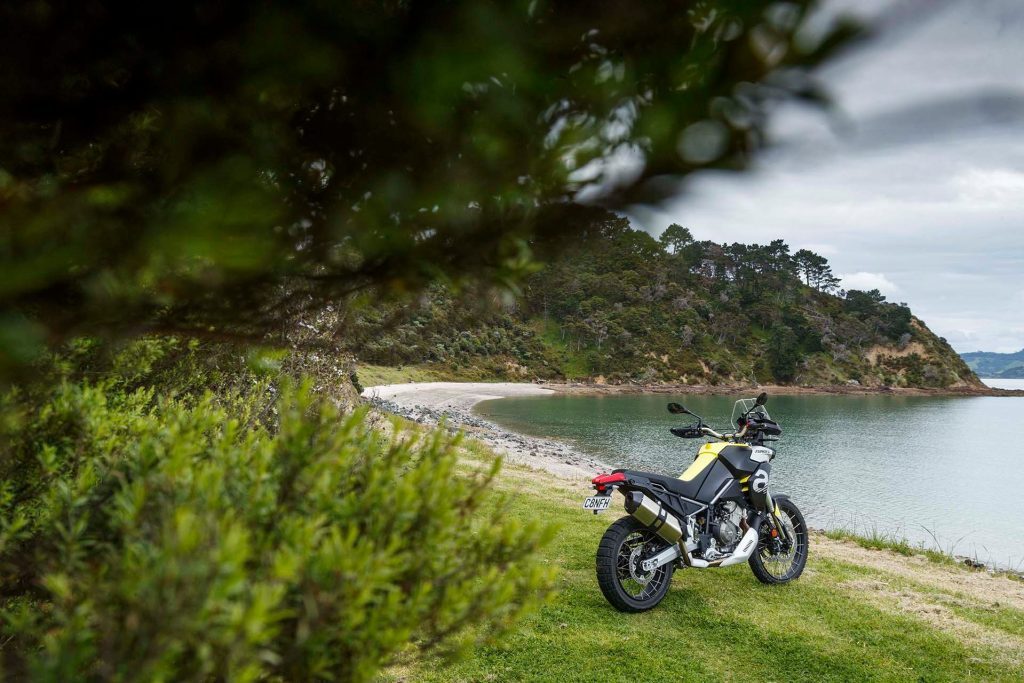 Tuareg is the third offering from Aprilia with this 660 engine, and even detuned it's still a remarkably good thing. The rest of the bike ain't half bad either.  
Model
Aprilia Tuareg 660
Price
$21,490
Engine
659cc, liquid-cooled,
fuel injected, IL2
Power/Torque
60kW/70Nm
Transmission
6-speed, chain final drive
0-100km/h
4.02sec
80-120km/h
2.43sec (67.7m)
100-0km/h
41.35m
Safety systems
ABS, TC
Seat height
860mm
Weight
204kg