Good things take time, great things seem to take forever. Yamaha's Tenere 700 has been under development for around five years. Has it been worth the wait?
It's a hot item, the middleweight ADV, but it doesn't come cheap. Prime examples like the Tiger, F 850 GS and 790 Adventure start at around $23k. Sure, you can buy the likes of a DR650 or KLR650 for around $10k but these aren't in the same league for modernity of design, performance, or on-road civility.
Into the fray late comes Yamaha with its Tenere 700. OMG, they've dragged this out. It has its roots way back in the day, with the launch of the XT500 in 1976. That bike won the first Paris-Dakar race in 1978.
Skip forward a couple of decades and Yamaha is doing well with its MT-07 LAMS bike and Tracer 700, a road-oriented tourer with ADV looks.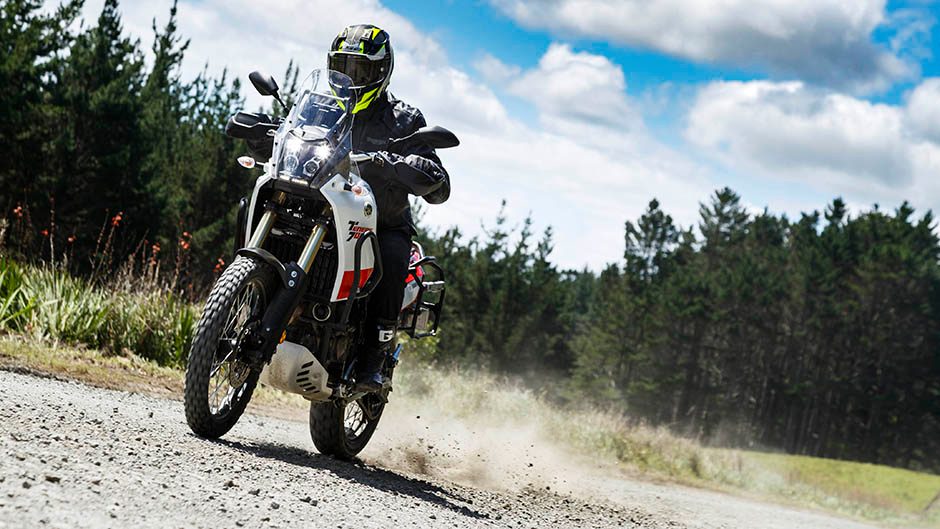 A proper dual purpose effort was always on the cards, after the T7 concept was shown off in 2016.
Some four years of prototyping later, the Tenere 700 is here at last, and it has little in the way of competition at its price point ($17,299). It has been on sale for a good part of this year, but only now are we able to ride a demo version because all stock that arrives here is already spoken for. By midyear, over 115 had been sold, and in Australia it was the best selling new motorcycle in Q1 this year, and fourth overall for the first half.
Class of one?
That's no great surprise really. For while there are myriad smaller displacement bikes that can handle proper off-road adventure riding, there's not much out there that will do a bang up job on road as well as off. Perhaps the biggest competition is Ducati's entry-level Scramblers, which go for similar money to the Tenere 700, only they're not as off-road ready until you get to the $20k Desert Sled with its added suspension travel.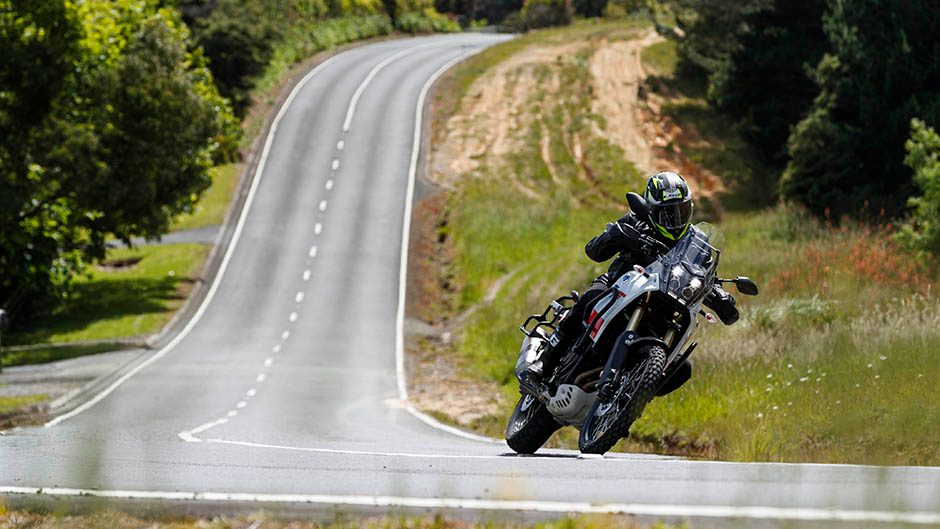 The concept behind the Tenere 700 is that it is accomplished both on- and off-road. Simple really, and Yamaha has kitted the T700 with great off-road potential – lightweight, agile frame, long travel forks with protective plastic shrouds, a 21-inch front wheel, switchable ABS – while also retaining the kind of components that endear it for tarmac and gravel use – great weather protection, legible rally-inspired LED instrument, dual purpose tyres, twin discs, and fully adjustable suspension.
Moreover, they've kept things relatively simple. There's a refreshing lack of the usual high-tech must-haves. So no engine modes, just on or off, and no TC, just less or more throttle.
Looks peachy
To behold, this is a screaming buy. The Tenere is high-riding, off-road eye candy, its quartet of LED headlights poking out from under a fixed screen, behind which is a clever bar for attaching cell phones and the like. Up front are fully adjustable Kayaba forks offering 207mm of travel, and at the rear a KYB monoshock with 200mm, preload adjustable by a knurled knob. Ground clearance is 240mm. A nicely integrated 16L tank offers a touring range of up to 350km – we saw 3.5L/100km at 100km/h, averaged 5.2L/100km (300km range) – and is just the right width for gripping with your knees while either seated or standing on the pegs. Mention of the seat, its foam is firmish, so I was squirming after an hour but it's easy to ride standing for a bit, which gets the blood flowing again.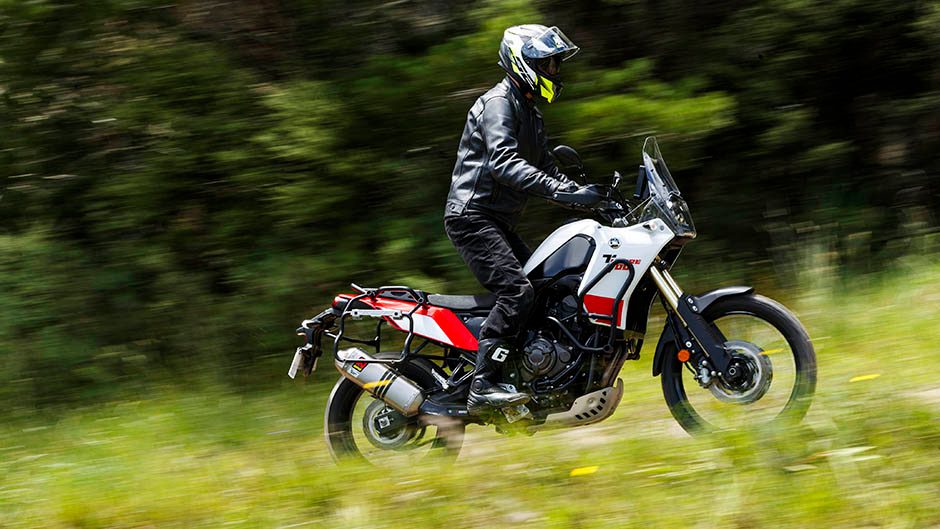 Varied roads
Yamaha describes the Tenere 700 as being designed for 'next horizon adventures'. It was sodden underfoot so the going was softly softly off road. Its balance at slow speeds and 200mm plus of suspension travel make it handy on unformed tracks but we'd prefer something even lighter. On gravel, it is outstanding, the skinny 21-inch front wheel finding grip where road tyres would skitter every which way. And it's the same on new tarmac with loose gravel; it's essentially unfazed.
On seal this is genuinely accomplished, despite what might look like rubber oriented more for gravel or grass. Fact is, the more I rode this the more I wanted to ride it some more. It does so little wrong and so much right.
The T7 has a fabulous engine, the 689cc twin borrowed from MT-07HO and lightly modified, delivering 72hp at 9000rpm and 68Nm at 6500rpm. This CP2 engine (crossplane crank) has 270/450 degree throws, endowing it with a generous spread of torque.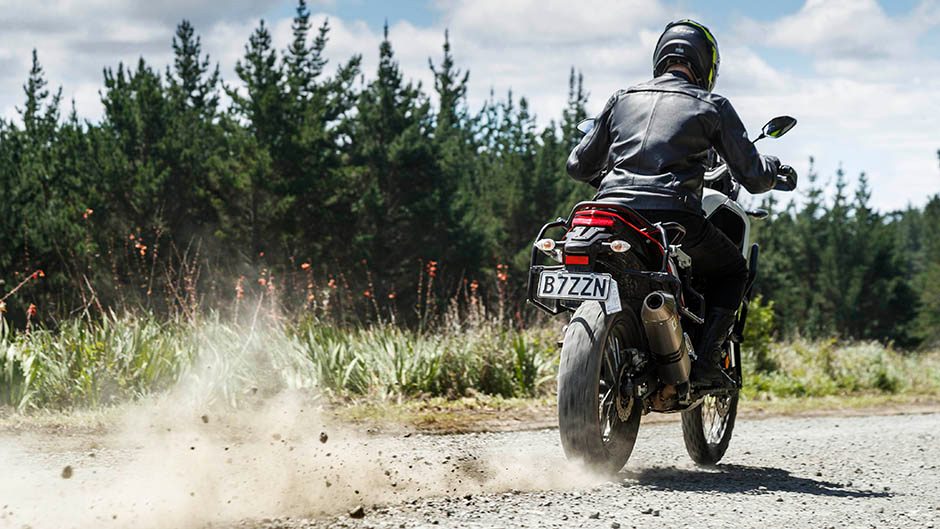 Gram strategy
Yamaha developed a new frame for this bike, a compact double cradle steel tube example weighing in at under 18kg. The firm claims a dry weight of 189kg and kerb weight of 204kg. Ours had a mess of accessories added, so weighed in at 214kg. But once underway it feels like it's under 200kg. Perhaps that's because the gearbox and engine are so compact, and there's so much leverage from the tapered bars. Or maybe it's because that torque-rich engine feels so damned strong from low revs. How strong? Second gear loping wheelies are easy. That's partly because of a 48/52 front/rear weight bias, designed to make it easier to hoist the front wheel over obstacles.
It's a jackrabbit on road too, plenty quick enough for the grand NZ tour. Figure on four seconds flat to hit 100km/h and 2.6sec, or 75m for the overtake. That's lineball with a V-Strom 650. It feels effortless at 100, but that's partly because the speedo is optimistic; you're doing 91 in reality. Up the ante to a true 100 and the engine is silky smooth, the tacho registering 5000rpm, the mirrors reflecting truthfully what's behind.
At the low end, this slugs away from just over 2000rpm, around 50km/h in top so aced our coast road torque test in sixth gear. And servicing? Every 10,000km for oil, 25,000 for valve clearance.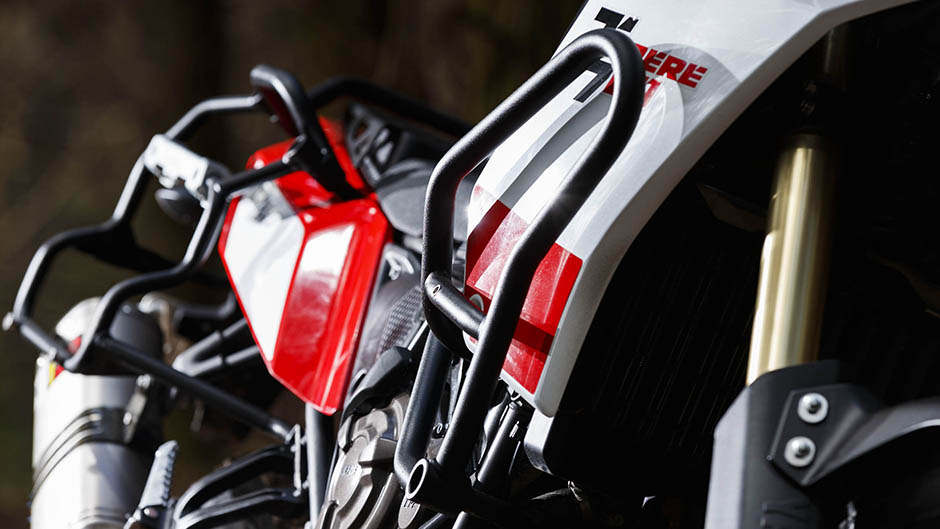 Big guy
Not everyone will be able to ride this tall boy; seat height of 880mm precludes that, although a lower seat is available. It's a high bar to swing a leg over too, so using the left peg as a kind of ladder up helps with mounting and dismounting.
The ride itself is plush, thanks to the sorted suspension. It almost feels soft at the front but just seems to absorb everything in its path. And the rear is similar, offering a magic carpet ride. About the only thing we adjusted was the brake lever. And on that, the brakes work fine; they're Brembos, conventionally mounted, acting on 282mm wavy discs. We didn't expect stellar stopping distances, the front tyre being a 90/90-R21 but the bite at the lever is good.
Tour ready
Anything that can manage 300km-odd between stops should have at least a modicum of protection from the elements and this does, the compact fixed screen keeping off some but not all weather; there are myriad aftermarket options available that divert air above your helmet.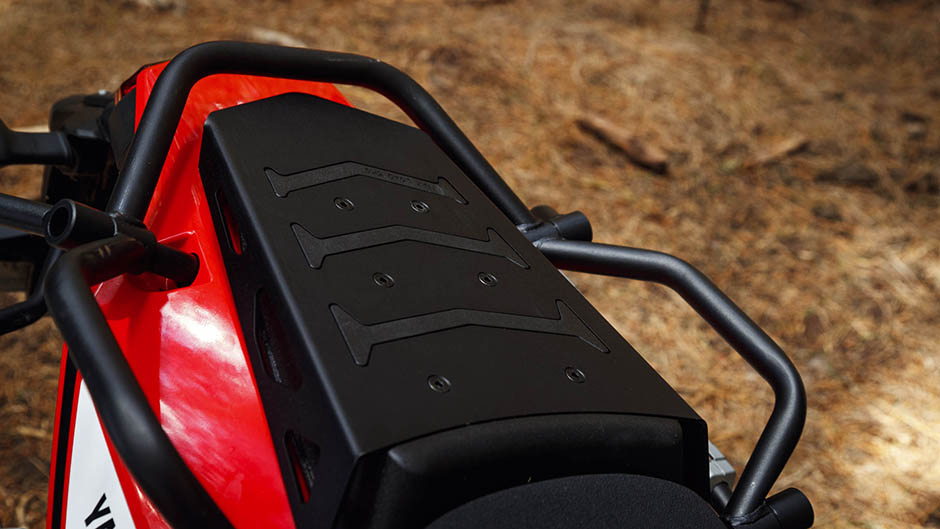 I really like how this feels on road, given its tyres aren't especially tarmac shredders. With mass centralised it leans easily with a bit of peg and bar pressure. You'd not call it a fast turner but there's stability in spades. Bumpy corners it shrugs off well.
This seems ideal for that great Kiwi road trip. For those less off-road ready, a Tracer 700 would suffice.
| | | | |
| --- | --- | --- | --- |
| Model | Yamaha Tenere 700 | Price | $17,299 |
| Engine | 689cc, liquid-cooled, fuel injected, IL2, 54kW/68Nm | Drivetrain | 6-speed, chain final drive |
| 0-100km/h | 4.04sec | 100-0km/h | 43.17m |
| 80-120km/h | 2.61sec (75m) | Weight | 215kg |