Anything with the Mercedes-AMG label comes primed with power, luxury items, and exotic components. The top-flight 63 models are also muscle bound. Of the bigguns, the GLS 63 kind of takes the cake but it's too much of a bus for me.
Down one rung and there's this, the Mercedes-AMG GLE Coupe 63 S 4Matic+. What a mouthful but whatta machine! And providing you're not overwhelmed with urchins, it's much closer to being the practical fire-breathing family wagon one might genuinely aspire to. Yes, it's overdone in many ways but there's nothing quite like excess to parade your success.
If it were canine, this would be an American pitbull or an English bull terrier. It exudes squat muscularity, especially with the standard 22-inch rims and the aggressive front end, resplendent with power domes. Pick the latest model by its redesigned rear end, arguably an acquired taste.
Under the skin is a 4.0-litre bi-turbo V8 from the GT, with a healthy 450kW/850Nm output, boosted further by a 16kW/250Nm starter-alternator. All this is funnelled through a slick-shifting nine-speed automatic transmission and power is grounded via AMG's Performance 4MATIC+ all-wheel drive system that not only features fully variable torque distribution but also a limited-slip differential on the rear end. As if that's not enough tech to do the stick trick, this is also a 48v mild hybrid, so runs active sway bars, all but cancelling body roll. And underpinning the big dog is air suspension with adaptive damping. There are even dynamic engine mounts. Talk about a technological tour de force.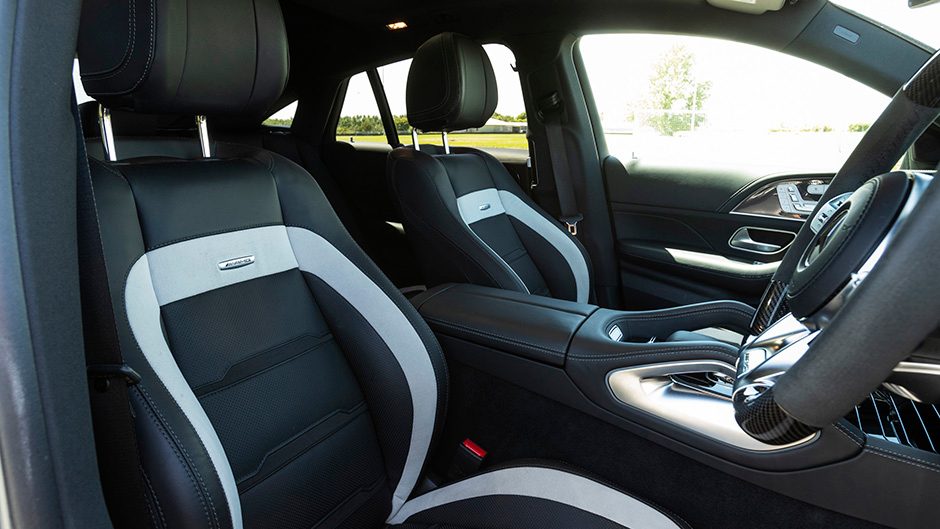 On the downside, all the equipment makes this 5mx2m rig a genuine colossus, weighing in at 2.5 tonnes. Yet still it hits 100 in 3.8sec. The composite performance brakes do a fine job too, though you need to be firm with them.
Oh but it is quick. On the open road, trying to keep below the speed limit is the hard part. At this rate, it is genuinely quiet with the engine turning 1500rpm in ninth. It's hushed, unless you push the exhaust button that releases the baying hounds of noise. The plodders ahead who choose not to look behind will be forced to peer rearward, and might notice some big toothy carnivore, slavering to get by.
Perhaps the most unusual aspect of this big rig is just how well it handles, despite all that elevated weight. It's no sport sedan but it isn't without talent either. Luxury buyers want to sit in a high chair and cannot do without the practicality of an SUV – this tows 3500kg and totes 655-1790L of gear – even if it means sacrificing dynamics. But here you kind of don't have to. Yes, this is on the wrong side of two tonnes compared with an E 63 S 4Matic, but it would give most vehicles a run for their money. How come? Active sway bars mainly. In any of the myriad Sport modes – there are three if you include Race, (yes, there's a track setting with a data logging system) – this stays spirit level-even through corners, meaning the tyres get the maximum bite angle to the tarmac. With all the other handling aids, this just seems to keep on rounding up into the turns until eventually ESP steps in to cool its heels. Despite the cornering proficiency, the ride is only ever civilised, thanks to the sports air suspension system, with three levels of adaptive damping. The cabin is quiet too, averaging in the 72dB area, while the Multicontour front seats feature adjustable everything, and multiple types of heating, venting and massaging. There's even armrest heating. It's hedonistic stuff.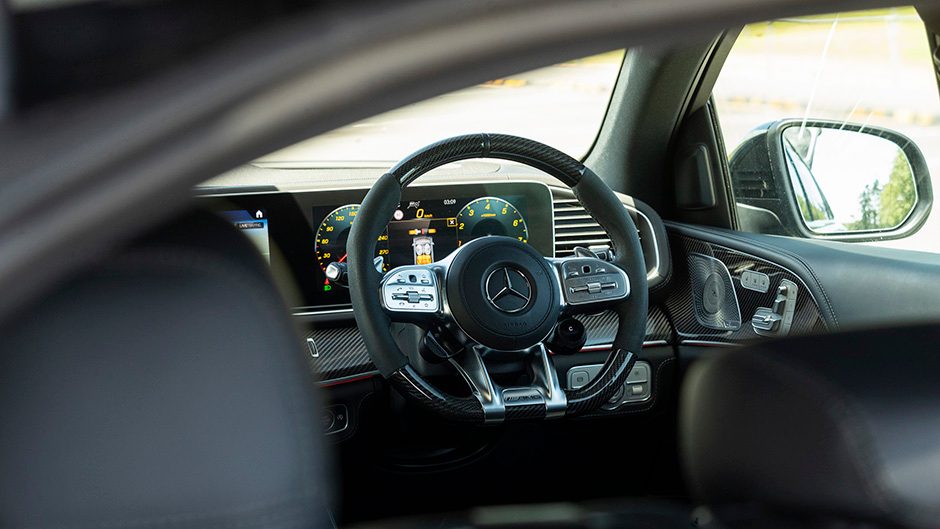 Fuel use is as expected – we never saw a single-figure average – but in Comfort mode the V8 is forever defaulting to a four-potter with its cylinder deactivation function. It's rated to use 11.2L/100km overall and we saw about 14 averaged. In future, expect a smaller engine with more reliance on electrification.
The interior is pretty flash, as it should be for a vehicle costing $236k. Standard spec is replete and includes power closing doors, four-zone air, temperature controlled cup holders, and nappa leather trim. There's active cruise, naturally, and the vehicle often rolls to a stop with the engine off. Restart is seamless, thanks to the on-board EQ boost technology.
So this is a fully specced, fully sick five-seater that will do it all. I was sceptical at first, but after a week was won over by this big talking, fine walking cuddly attack dog.
| | |
| --- | --- |
| Model | Mercedes-AMG GLE Coupe 63 S 4Matic+ |
| Price | $236,000 |
| Engine | 3982cc, V8, T/DI, 450kW/850Nm |
| Drivetrain | 9-speed auto, all-wheel drive |
| Fuel Use | 11.5L/100km |
| C02 Output | 265g/km |
| 0-100km/h | 3.84sec |
| Weight | 2496kg |