Looking like a Wrangler with a tray, the Gladiator is Jeep's one-tonne ute equivalent, and there's now an entry-level sport model. We take it down country.
The Gladiator Sport – a model you just know Russell Crowe would approve of – has joined the Overland and the Rubicon variants to complete the New Zealand Jeep Gladiator line-up, lowering the entry price point by $10,000 to $79,990. That's still quite an ask for a double-cab ute. However, this isn't like your average out-of-Asia offering.
Instead of having a four-cylinder turbodiesel under the hood, it packs a naturally aspirated 3.6-litre V6 petrol mill, operating through an eight-speed automatic gearbox. Performance is obviously better than you'd expect from a diesel ute, most of which aren't that quick, especially on the overtake. This has 209kW and 347Nm, so takes a claimed 7.7sec to make it to 100km/h. Only one other brand offers a V6 engine option, and in the case of VW's Amarok V6, it's a turbodiesel. In general use the lack of engine noise is notable compared with the competition. While it gets through a bit more fuel than the typical diesel, we found an average in the 10s easy enough to achieve, either in or out of town.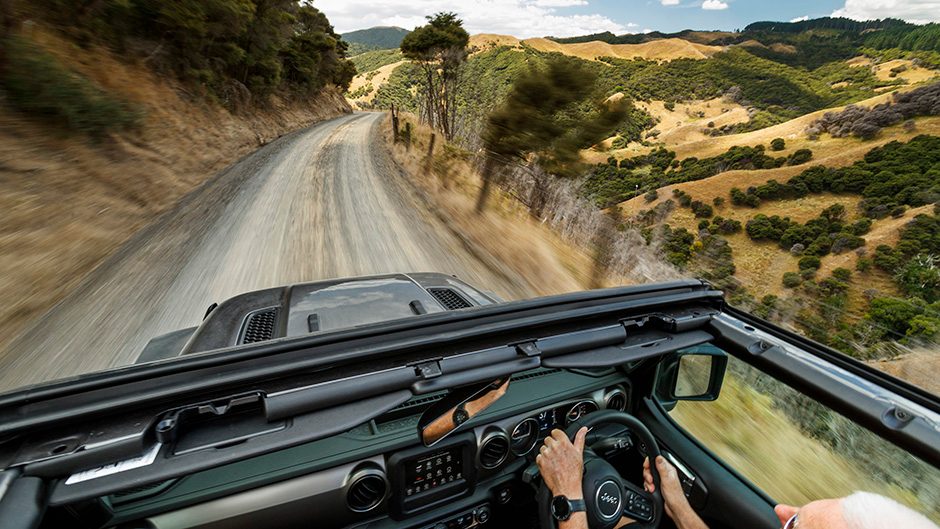 Other differences
And there are a couple of other aspects that set the Gladiator apart from the rest, aside from its traditional slab-sided styling. It doesn't ride on leaf springs at the rear, and that's absolutely apparent as soon as you start driving it, the ride more supple than in any of the Japanese-designed and Thai-built utes. It's more compliant even than Raptor and Navara. That measured ride is particularly obvious when you take it off-road and start to really extend the suspension, just as it is mopping up speed bumps in town. It's progress over rutted tracks and uneven ground is comparable with that of Raptor which costs $5k more than this.
The downside of the plush suspension is that it won't tow quite as much as some of the others (2700kg braked, not dissimilar to Raptor's 2500kg), although trailer sway mitigation is standard. Its payload is less too (527kg vs 758kg for Raptor), but if you've no real intention of towing massive boats or lugging anvils around, and are sick of the jittery ride that's part and parcel of driving or riding in most other utes, then this may be to your liking.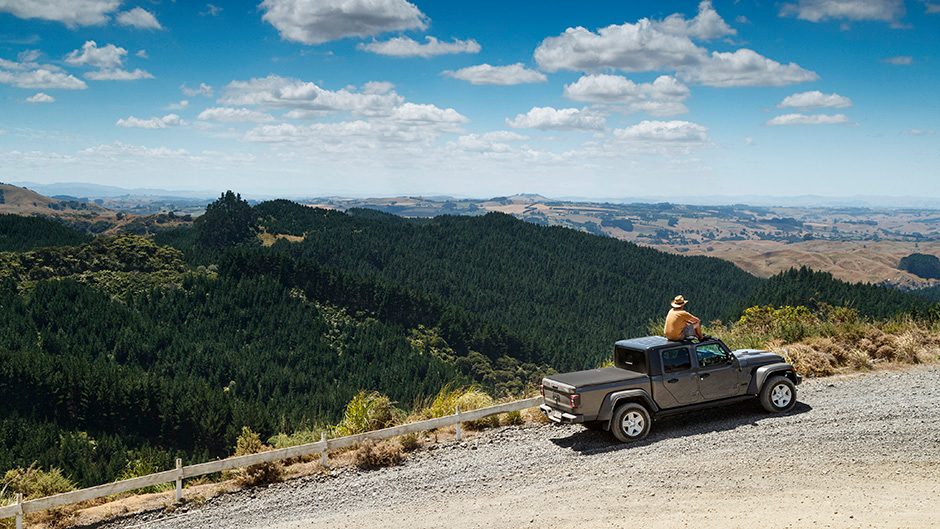 Sunroof like no other
There's one other unique aspect to this ute too, and that's its open air sunroof. Instead of a push-button system and sliding glass, you unclip eight latches and lift off the two overhead roof sections. It only takes about 20sec to do, and maybe twice or thrice that to reverse. The doors are easy enough to remove too, if you really want that wind in the leg hair experience.
You can fit the two spare roof pieces in the purpose-built bag which protects the finish if you then store it on the tray (which in our case came with a $1000 rough and tough spray-in protective liner). There's also a canvas cover for the load bay which is easy enough to unclip and roll back, although that's also a $1000 cost option. Sweetening the deal is a damped tailgate that gently lowers all by itself. This feature is so much safer if you have tots around. The front bumper is broad enough to act as a seat for two at sporting fixtures and all.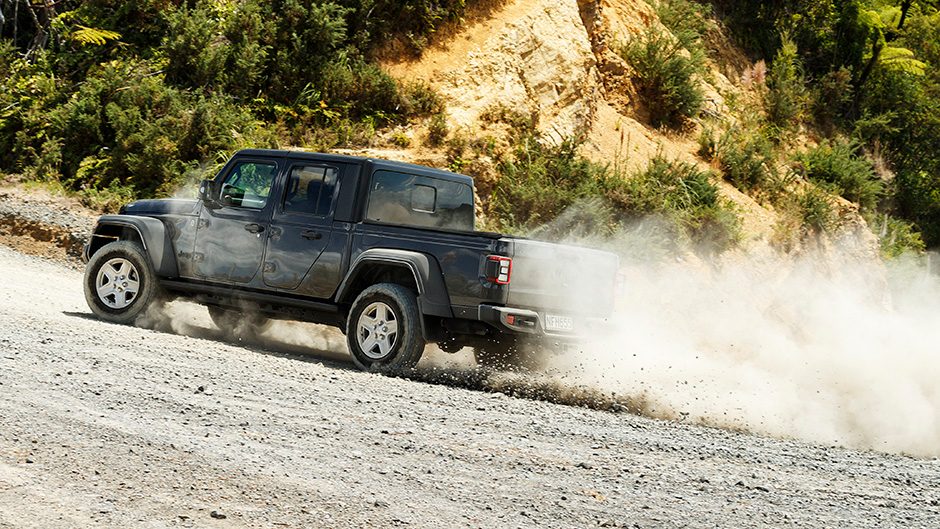 Toughs it out in the dirt
We picked up the Roman conqueror and headed straight to an off-road area to check out its general dirt abilities. This is long in the wheelbase and doesn't appear to have a whole lot of ground clearance at first glance so I thought it might get stuck on big humps. However, this wasn't the case at all. Initially the tow bar touched down so we simply unhitched that. Its gound clearance is actually quite generous, at just over 250mm, and there are skid plates for the fuel tank, transmission and transfer case. In 4H it did everything and went everywhere we asked it to, the soothing ride quality making it a joy to steer. It never looked like being troubled in this setting and even full-lock turnarounds were no drama, with little binding evident.
For ultimate off-road ability you'd pick the Rubicon model with its front and rear locking diffs; the Sport has the Selec-trac Active On Demand 4wd system with high and low ratio, which should be sufficient for most folk.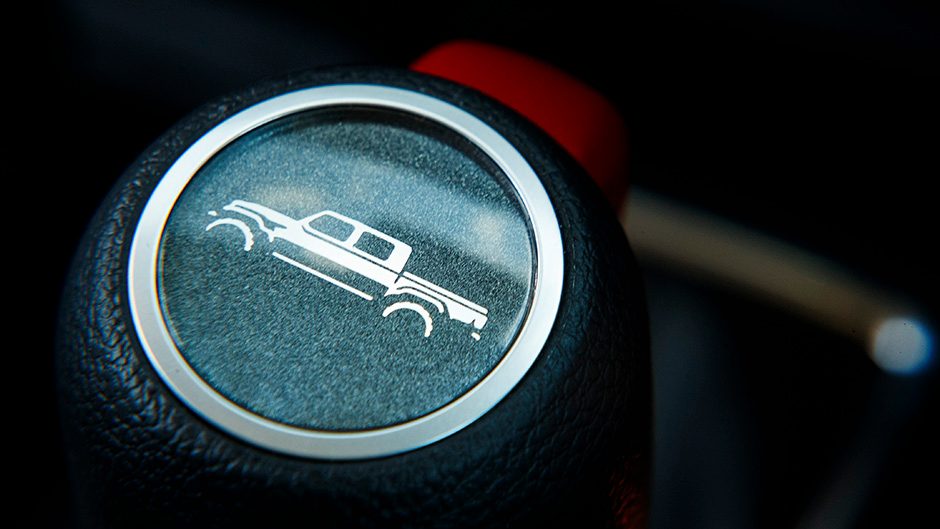 Easy on tarmac
Back on the black stuff and it quickly gets into a loping stride, the legal limit requiring 1500rpm in eighth and it seems to be using low 10s while drifting along at the legal limit. We saw a high of 14L/100km when hustling some. The claimed combined figure is 10.8L/100km which seems right on the money.
Heading down the line to the King Country, the ride is more soothing than anything else out there we can think of, and in general use it is so quiet (db average of 68.5) that you notice air turbulence around the top of the screen, especially into a head wind. It's likely the result of the removable roof. Ours also had what sounded like an HVAC fan whistle, but that wasn't the case as it stopped when we pulled to a halt. Overall, though, you'd rate this as quiet on the go.
Because the engine is generally beavering away around the 2000rpm mark – that's where it upshifts in town – and it's a V6 there's little to hear mechanically. The exception is when using active cruise. Here, it can sometimes rev up a bit high, attempting to catch what's in front, or when trying to keep speeds constant on descents.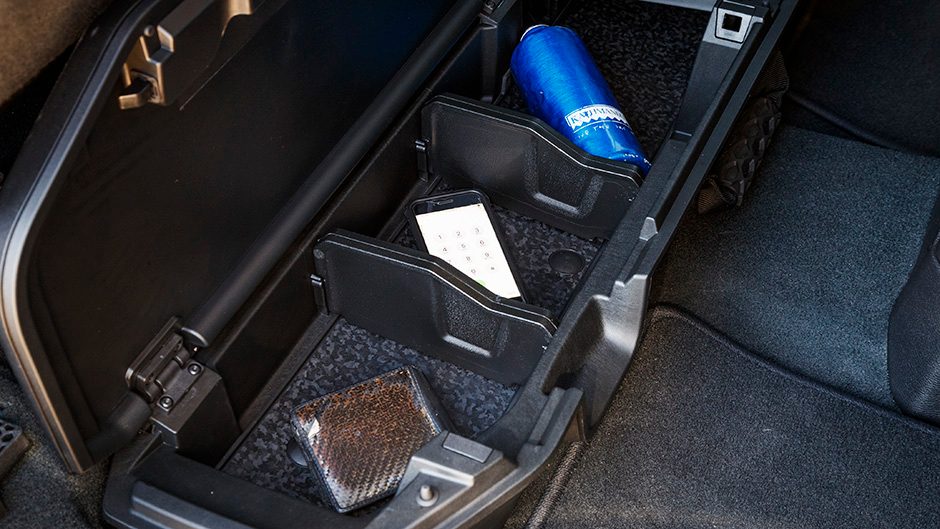 Utilitarian interior
The cabin seems narrower than what you might think, perhaps because of the upright doors. And while there's pretty decent room in the back for three, the narrow rear doors, like those on Wrangler five-door, don't make entrance and exit as easy as in some others.
The interior features few soft plastics, although perhaps that's because it's washable. Seats, cloth covered in Sport, seem to hold out pretty well on a trip. We missed not having a left foot rest. Even a skinny one would help as your leg kind of dangles otherwise.
On road, it's hasty enough on the overtake, requiring a tick over 6.0sec to accelerate from 80-120, meaning passing manoeuvres don't require vast tracts of empty road on the danger side, as with some diesel utes.
Off the line acceleration isn't quite as intense as Jeep claims. In fact, how they got to 100km/h in the sevens is beyond us. We managed 8.5sec, which still puts it at the pointy end of the ute sector. It would be even faster if the eight-speed auto shifted cogs a bit quicker. Still, that's two seconds faster on both counts than the Raptor, and its best emergency stop also easily eclipsed that of the Ford at 38.72m (Raptor 45.78m).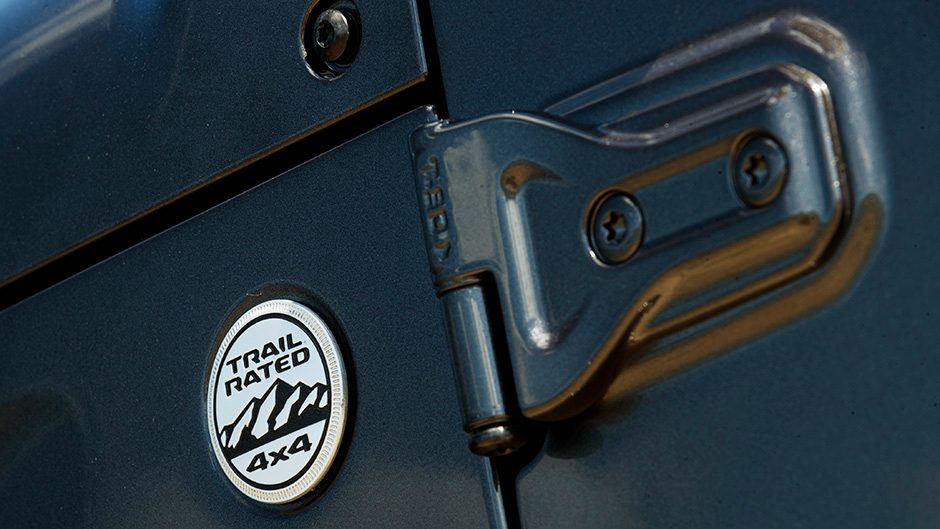 Nicely specified except safety bits
It may be the base model but it fares relatively well on the specification front, with comfort entry and push button start, dual zone air conditioning, seat heaters, full LED lighting and adaptive cruise control. The Alpine sound system is compatible with Apple CarPlay and Android Auto.
There's not quite the safety kit of some rivals – just the four airbags, and no lane keeping do-dads. While there's AEB it does not detect pedestrians or cyclists, and for these and other reasons Gladiator, which is based on Wrangler, gets the same three-star ANCAP safety rating.
We found the blind spot monitoring and adaptive cruise that works down to a full stop particularly useful when grinding back to Auckland along a clogged southern motorway full of long weekend traffic.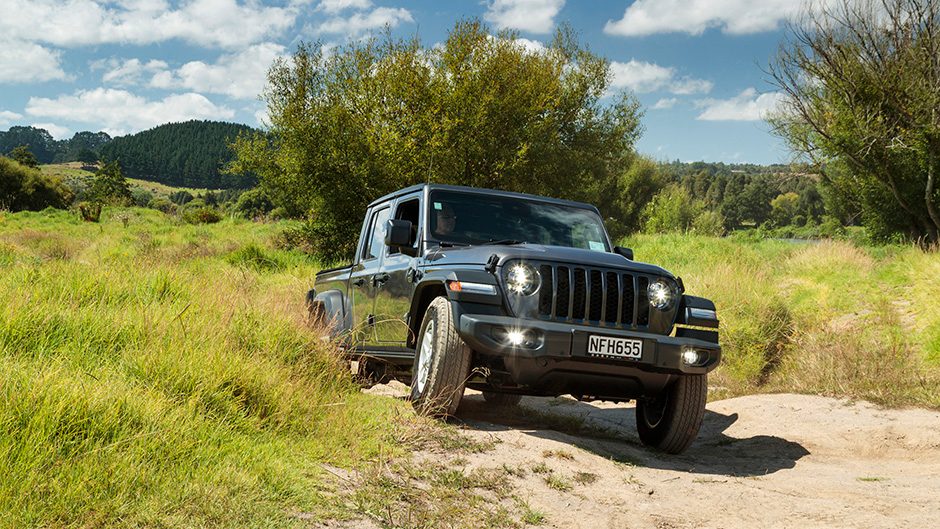 This, like all double-cab utes these days, is a big machine, almost 5.6m in length so the provision of rear cross traffic alert, a crisp image in the reversing camera and front and rear sonar certainly help with manoeuvring. Compared with Rubicon the seven-inch central touch screen is smaller but still handy for reversing accuracy. In the rear, the seat backs lift up for accommodating bulkier packs and the like. And there are a couple of (optional) storage cubbies back there as well. The tray is similar in size to Raptor's.
Perhaps the most priceless aspect? People recognise and respect the fact that it's a Jeep and that it's different from the run of the mill diesel-powered ute that everyone else drives. We got more thumbs up and hollers in this than anything we've driven in a while.
While it's not without its foibles, it is certainly worth considering if you're halfway tempted by Raptor.
| | |
| --- | --- |
| Model | Jeep Gladiator Sport |
| Price | $79,990 |
| Engine | 3604cc, V6, EFI, 209kW/347Nm |
| Drivetrain | 8-speed auto, on-demand AWD |
| Fuel Use | 10.8L/100km |
| C02 Output | 245g/km |
| 0-100km/h | 8.52sec |
| Weight | 2240kg |