If you want the best sportster in Triumph's Bonneville range, the Thruxton RS puts its hand up. Is this superior to the R model?
So if you're a regular reader of the bike pages, you might remember we reviewed the Thruxton R in the March 2020 issue, so how come we're on about it again? Well, there's been a motor refresh, and also this is an "all-new" RS model. Besides, we thoroughly enjoyed our ride on it before so it was no great hardship to tackle the top-of-the-line variant.
Apart from the riding position, that is. And for this style of bike, cafe racer, it's actually not too bad, certainly nothing like the torture of the original. For they turned the clips-on upside down, so now the bars are sited 22mm above the triple clamp. Not that it imbues the bike with a great turning circle but there's enough steering lock to be able to U-turn on a regular two-lane country road, just. It takes a few back and forths to about face in a garage though. Fortunately, at 215kg this isn't too heavy or arduous an undertaking.
So how is this new? An overhaul of the 1200cc parallel twin sees a 20 per cent reduction in engine inertia thanks to use of lightweight components. This adds eight horses (77kW vs 72 for the R), and it now spins 500rpm higher. Its 112Nm of torque arrives 700rpm lower than before (4250rpm) making it even more responsive in the mids. It's also Euro5 compliant. And there's better fuel efficiency, while its first major service interval is at 16,000km. The 270-degree firing order and RS exhaust system with megaphone silencers deliver a rich British racing twin bark.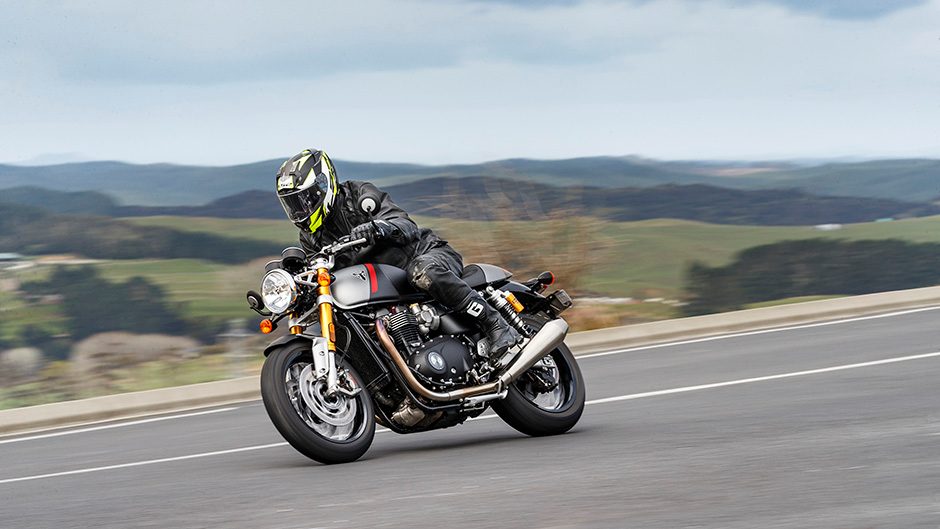 Thruxton's chassis is also updated and is now 6kg lighter. It features fully adjustable Showa big piston USD forks, similarly capable Öhlins twin shocks at the rear, Metzler Racetec RR race-derived rubber and Brembo four-piston M50 monobloc calipers radially mounted. These act on 320mm discs for better bite and feel, and reduced fade.
So this new Thruxton RS takes up where the Thruxton R left off. It has three riding modes, each with a dedicated throttle and TC map.
Handy bits include LED lights, a USB charging socket, engine immobiliser, and a twin clock set-up that includes riding mode, gear position, fuel level and odometer.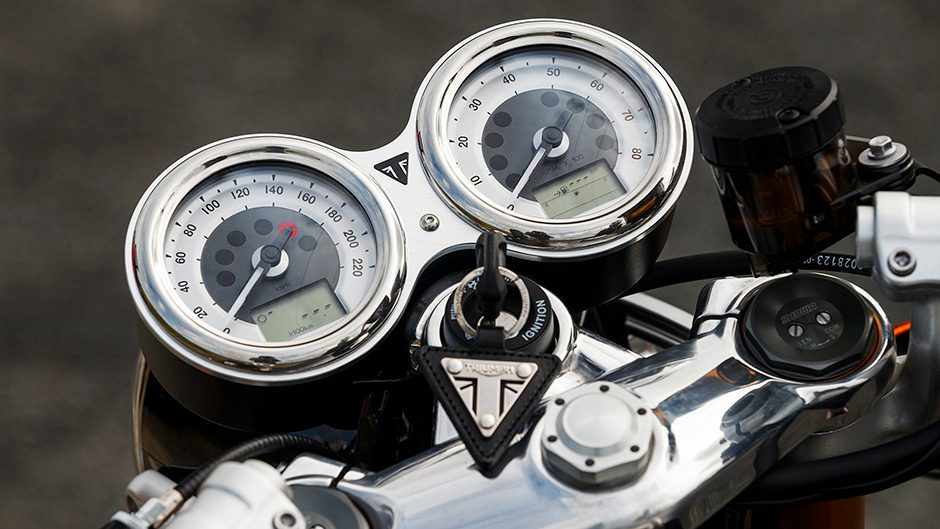 Design features run to knee-pad indented sculpted Thruxton fuel tank, a Monza filler cap, a brushed stainless steel tank strap, a single bench seat, an aluminium swingarm, Daytona footpegs, and body coloured seat cowl. A fully blacked out look is new, with powder-coated engine covers, black Öhlins springs, side panels and sprocket cover with integrated heel guard, and black anodised wheel rims.
There are over 80 accessories to choose from, and a kit that includes the Thruxton Dolphin fairing with lower clip-on handlebar option.
If you like your sports bikes to hark back to another era, hold a line doggedly, stop on a dime and be acceptably quick without the need for lots of revs – its all over by 7500rpm – then the RS might be a piece of you. It has beautiful components, partly explaining its $26,990 price, and delivers midrange power and torque that makes it a breeze to ride quickly. Most of the time we were using 3500-5000rpm so it's real easygoing. The legal limit in sixth pops up at 3250rpm where there's a mere hint of vibration and the bar-end mirrors (which give an immaculate rearward view) are totally clear. Roll on torque from here is generous, though overtaking is best done a gear lower for proper haste.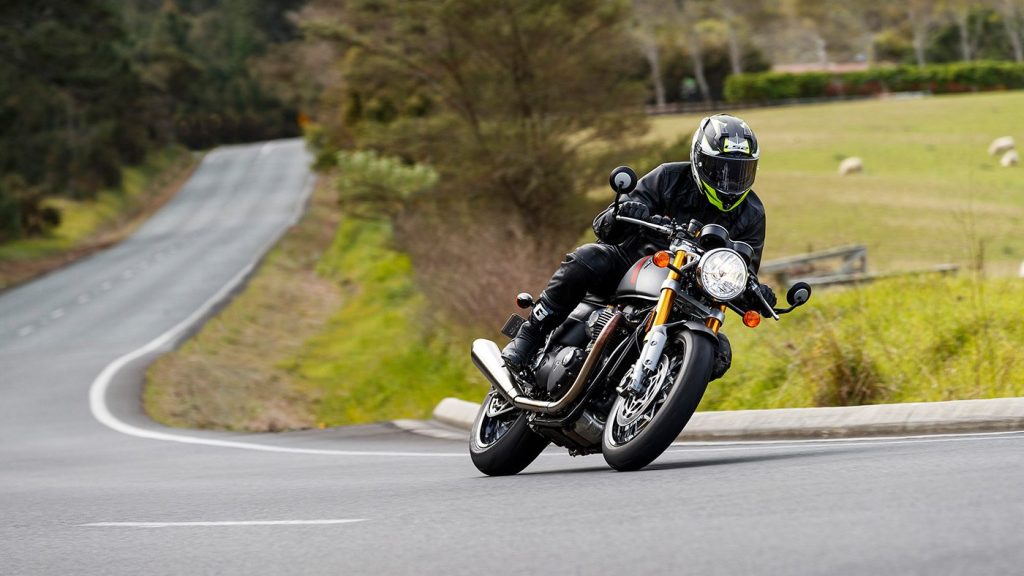 Mention of, we couldn't really improve much on the 3.7sec sprint time of the Thruxton R, but it was a totally different story 80-120. In third gear alone, it took 2.2sec, precisely as before. However, it became clear we'd not checked out acceleration using second and third gears, where we achieved a best of 1.74sec, much more like what it should do (with roughly two seconds between the two performance parameters).
We'd not ridden an unfaired bike in blustery conditions for a while; this was essentially unruffled but it is hard work holding on into a head wind. The riding position is quite acceptable for a bike of this genre, though my hips ached after a while. A cup of concrete fixed that.
On the go, this is just sublime; with so much midrange urge roll-ons are the order of the day. But the gearbox operation is so slick you just want to downshift for the sheer mechanical pleasure of it, and the sound from the megaphones is so musical. The ride you'd not describe as plush, but nor is it overbearing. We mussed with suspension settings but returned them to how they were originally as they seemed best.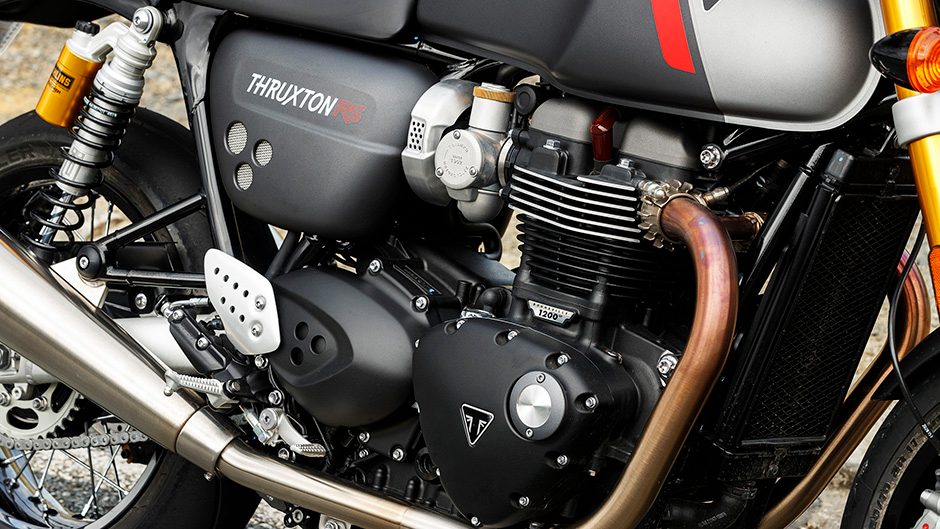 It likes affirmative action this bike; take it by the scruff of the neck and deck it into corners, knowing the RaceTec rubber will hold fast, and this long shanks maintains its line well too. It doesn't even mind the tight stuff, often the downfall of something with a long wheelbase. At slow speeds it can seem reluctant to turn but who cares at this rate? Its natural gait is about 110km/h where it feels incredibly relaxed. As for brakes? The M50 monoblocs stop it on its nose, no kidding, only we couldn't replicate the best stopping distance because of cool conditions, not that 38m isn't decent.
Anything not to like? Well, your pillion might not be too happy about your purchase, given this is for one only. The sidestand likes to play hide and seek, not always easy to prize it from its home. And the brightwork around the instruments can be blinding with the sun behind you. The tank is really too narrow at the rear for easy gripping with the knees and range isn't stellar; 14.5L gets you 250km. However, at a constant 100 it's only using 3.5L/100km.
So is it any better than the R? There's a bit more power and a touch less weight, but otherwise they're similar, only the R is evidently no longer available so RS it is then.
| | | | |
| --- | --- | --- | --- |
| Model | Triumph Thruxton RS | Price | $26,990 |
| Engine | 1200cc, liquid-cooled, fuel injected, IL2, 77kW/112Nm | Drivetrain | 6-speed, chain final drive |
| 0-100km/h | 3.70sec | 100-0km/h | 38.70m |
| 80-120km/h | 1.74sec (50.65m) | Weight | 220kg |