Moto Morini makes a return to New Zealand, kicking off with a model that ticks both the dual-purpose and LAMS boxes. Meet the X-Cape 649.
Well here's a company name that many of you probably won't recognise and that's Moto Morini. It has made a comeback, with product styled in Italy and built in China by scooter makers Zhongneng.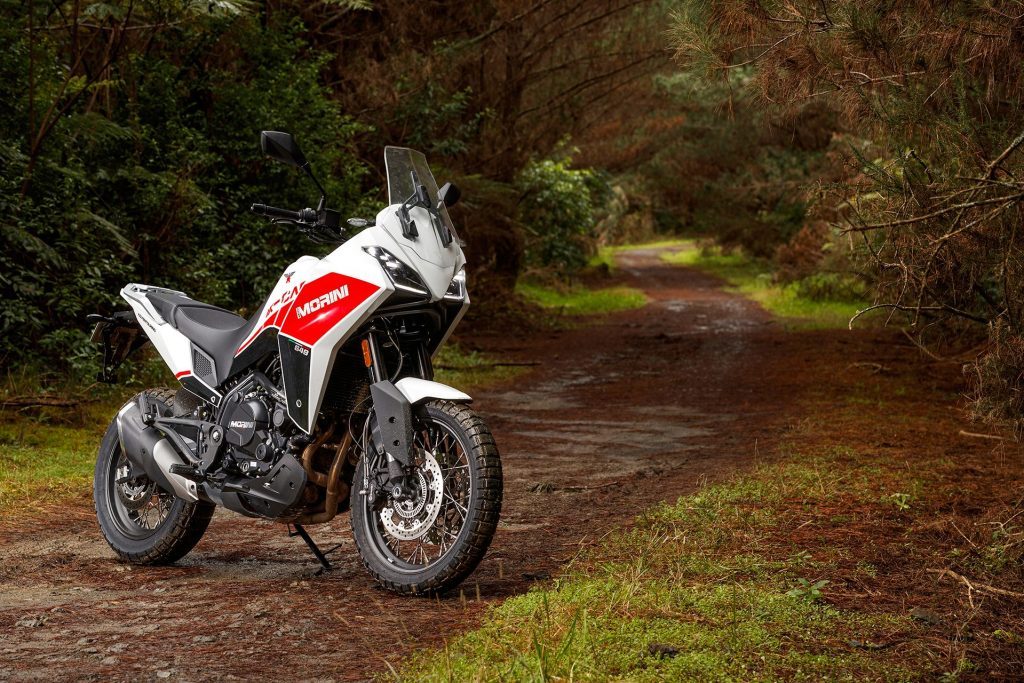 Do you remember the brand? Back in the 70s I put a friend onto a Morini 3 and a half, later to be known as 350 Sport. He liked it well enough.
Like so many small Italian bike makers, Morini went through hard times, and following ownership by Cagiva and Ducati it was eventually sold in 2018 to Zhongneng.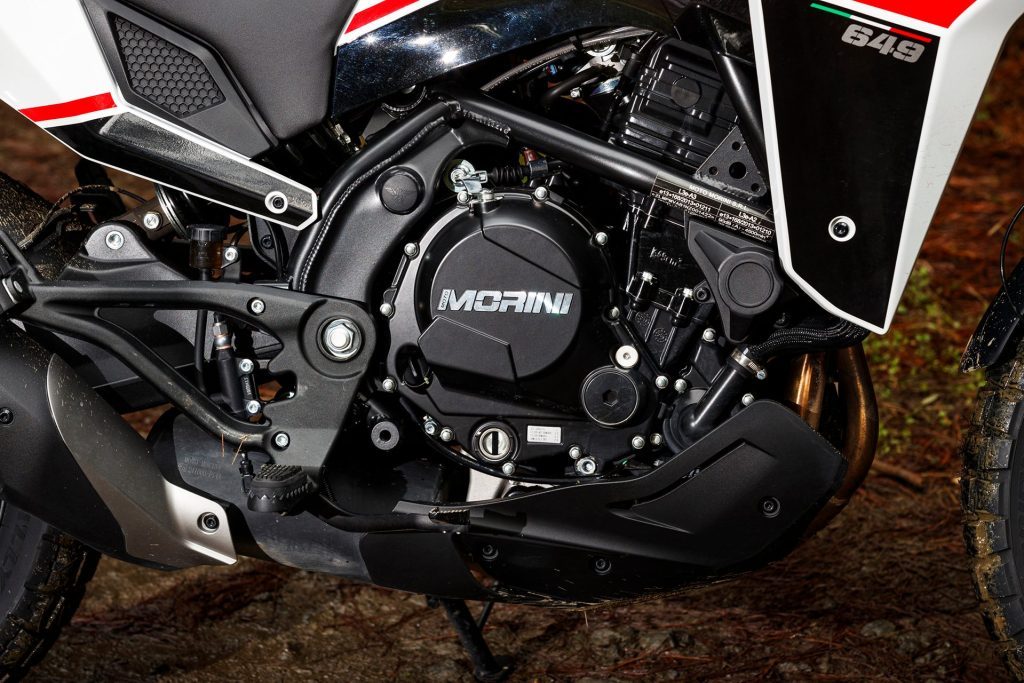 The featured machine is the 649cc X-Cape adventure bike. If you weren't sure about that by looking at it (tall, wire spoked wheels, 19-inches in diameter up front, dual purpose rubber) then the 'Adventourer' label is a bit of a give-away. This isn't MM's only model either; a standard bike is on the way called the Seiemmezzo which is Italian for six and a half (also uses the 649cc parallel twin engine).
The name X-Cape is obviously a play on words, and not a bad one for a Sino-Italian firm. X kind of signifies crossover or off-road ability, while X-Cape is clearly an alternative spelling for 'escape' (as in the confines of roads and cities). A bit cheesy, sure, but not a bad effort, especially from non-English speakers.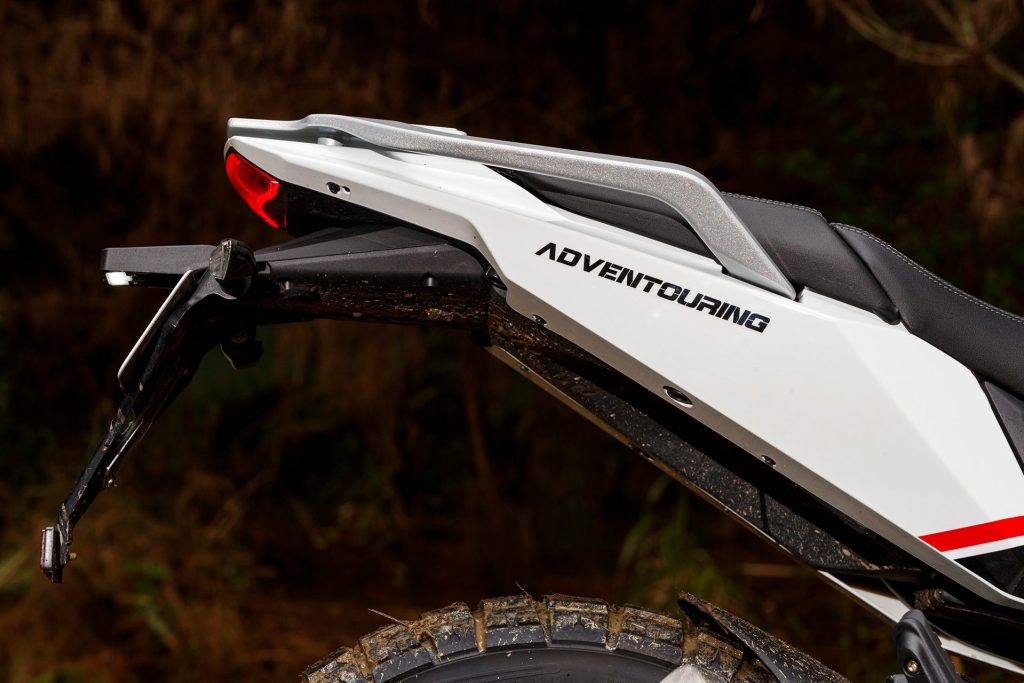 Looks the part
We were keen as to ride this as soon as we saw it, for the X-Cape is amongst the sexiest of the busy midsized ADV sector and, to add to the lustre, well priced. It kicks off at $12,990 for the model with cast wheels. That undercuts almost everything else in that 650cc LAMS sector, except for CFMoto's 650 MT ABS at $8190 before onroads. Buy the example you see here with the black spoke wheels and you're looking at $13,590. Go for the gold spoked wheels (we would) and it's another $200.
Damn but this looks good, even with the black wheels, and you can't say that about many bikes in this popular sector. Most look a bit toppy but this is just well proportioned. There are no hand protectors presumably because these detract from the overall appearance. We especially like the slimline, upright screen, adjustable on the go one-handed over a 50mm range. At maximal extension, the wind noise is cut dramatically and you can ride visor up, without all of the cry-baby tearing-up antics.
It has a full TFT screen, highly legible, with all bar fuel use figures (there's a graph for fuel remaining only). Such tech items are usually found on more expensive machinery.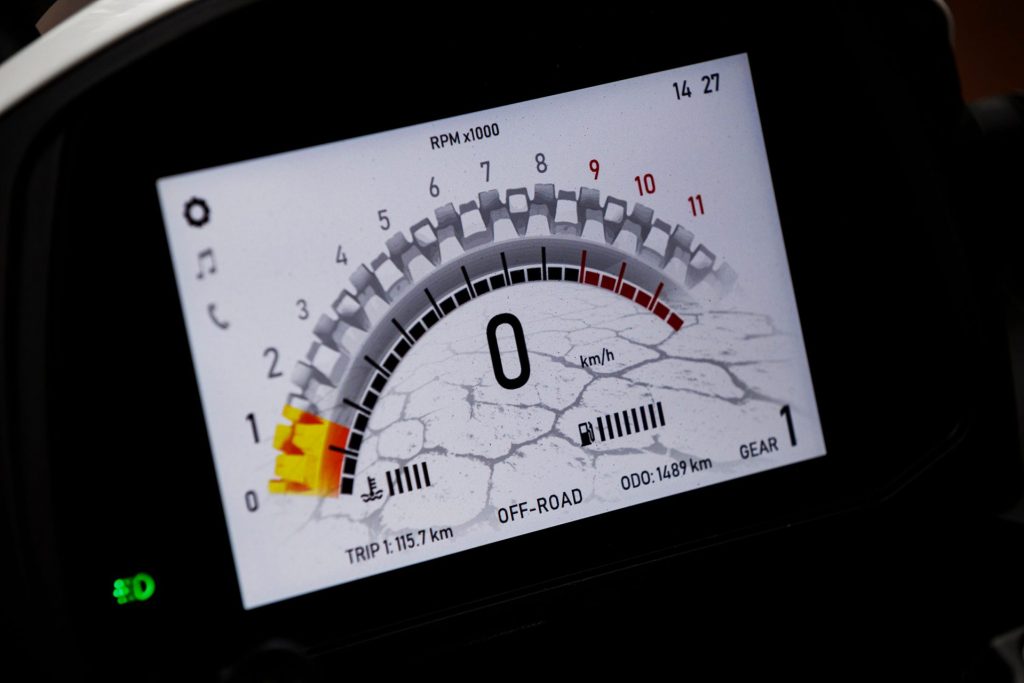 The seat looks the part and feels plush too but not for so long, as you tend to slide forward on it and sink in somewhat. It's set at 845mm on this example, though by removing the rear section and undoing two bolts you can lower it to 820mm. We didn't feel the need, given we could balance easily enough while sitting astride the bike. And the knees felt optimally flexed as is, the tank just the right width for applying inward leg pressure both sides.
There's a mild lean forward to the wide set tapered bars that rest on 60mm risers, so the riding position is fairly easygoing, a hallmark feature of most all ADVs.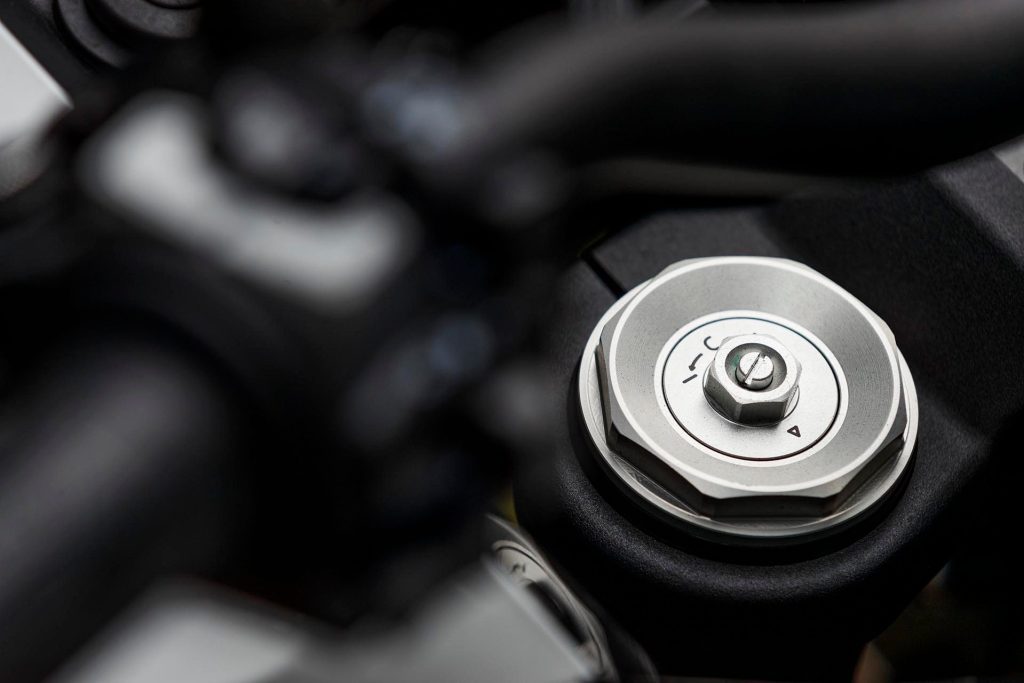 Steel frame adds flab
About the one issue we have with the MM is its weight which we measured at 233kg (115kg front, 118 rear). So that makes it a trifle tricky to manoeuvre by hand, being tallish. A decent lock helps, as it does in slow speed turnarounds. On the move, that feeling of weight seems to evaporate. This has rather delightful steering characteristics, with a little inside peg weighting more than enough to initiate the turn. This is achieved easily and confidently with the standard Pirelli Scorpion rubber. It's really rather fun on road, the twin-disc Brembo brakes up front doing their job handily enough. Even in the wet the rubber seems to do a good job.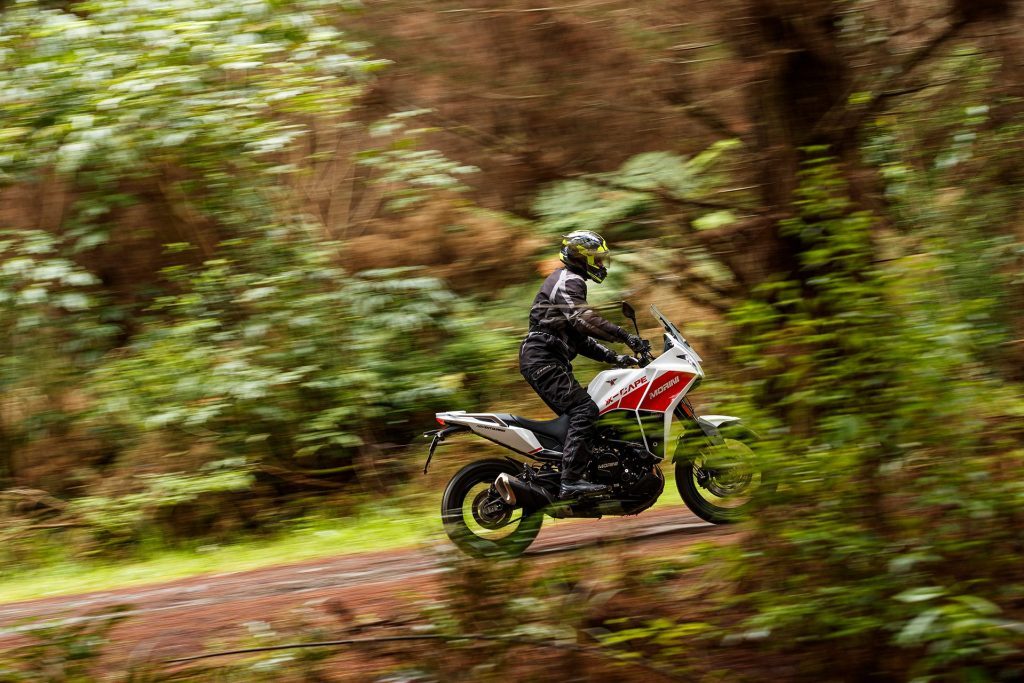 Performance is pretty acceptable too. Yes, this is a LAMS-rated bike but being a 650 parallel twin, it is at the top end of the scale (138kW/tonne, max permissible being 150), with 44kW of power to play with at 8250rpm and 56Nm of torque at 7000rpm. While hardly plumbing the depths, unhappy below about 2500rpm, the CFMoto-made engine pulls happily enough from 2500-3000rpm and is onto it by 4000 which roughly equals 100km/h in sixth. Tripping along at an indicated 105 has the engine reciprocating at around 4500rpm, under half revs. There's only a single counter-rotating balancer device so expect a few vibes which seem worst around 90km/h when the mirrors aren't much use, but better around 100km/h, though a bit of shimmying remains. Overall though, the high frequency shaking isn't especially annoying. Shifting is positive but could be lighter, like the clutch action.
Performance is pretty good. A tallish first means it bogs a bit off the line but still managed to complete the sprint run in under 5sec (4.7) and under 3s for the overtake, while a full ABS stoppie from 100km/h of around 42m is fair given the skinny dual-purpose rubber up front.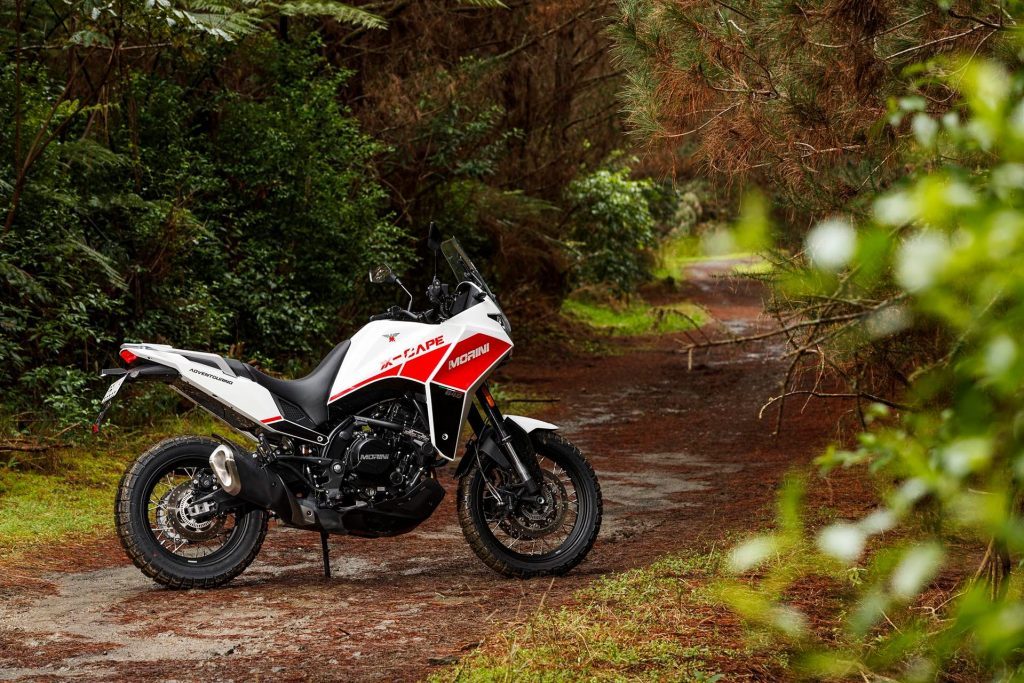 Easy rider
What's rather pleasant about almost any ADV is a cossetting ride and here the X-Cape doesn't disappoint with its fully adjustable Marzocchi 50mm USD suspension up front and rear monoshock adjustable for preload and rebound damping. Travel is a pleasing 160mm at the front and 135mm at the rear. On road, it soaks up the bumps dutifully and maintains its composure. No suspension adjustments were needed and so we didn't fiddle.
We also took this off-road in conditions I'd describe as pretty awful, wet and muddy, and while first gear is a shade tall and the off-road mode a bit fiddly to select, we had fun mucking around. It's not so heavy as to make turnarounds on narrow tracks impossible either.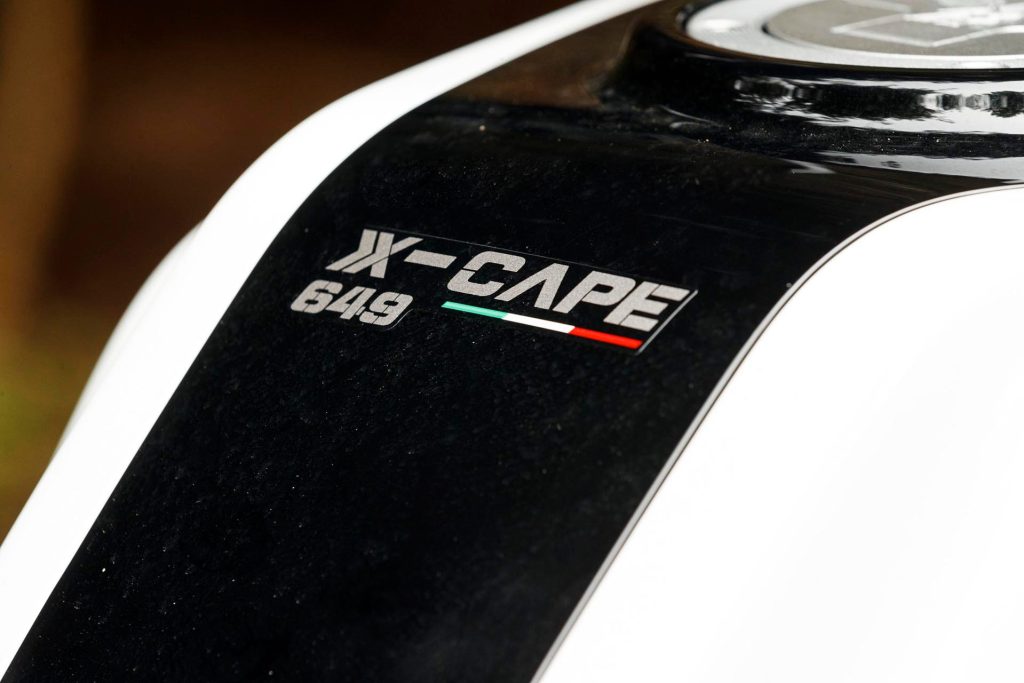 The middleweight adventure market is hotting up with Yamaha, Suzuki, Aprilia and Triumph, among others, all fighting for the biggest slice of the pie. Don't ignore the Moto Morini X-Cape 649 for it comes equipped with quality gear and retails at a sensible price.
It's capable, comfy, practical, pleasing and easy on the eye. There are also seven dealers nationwide so you can see for yourself how it goes.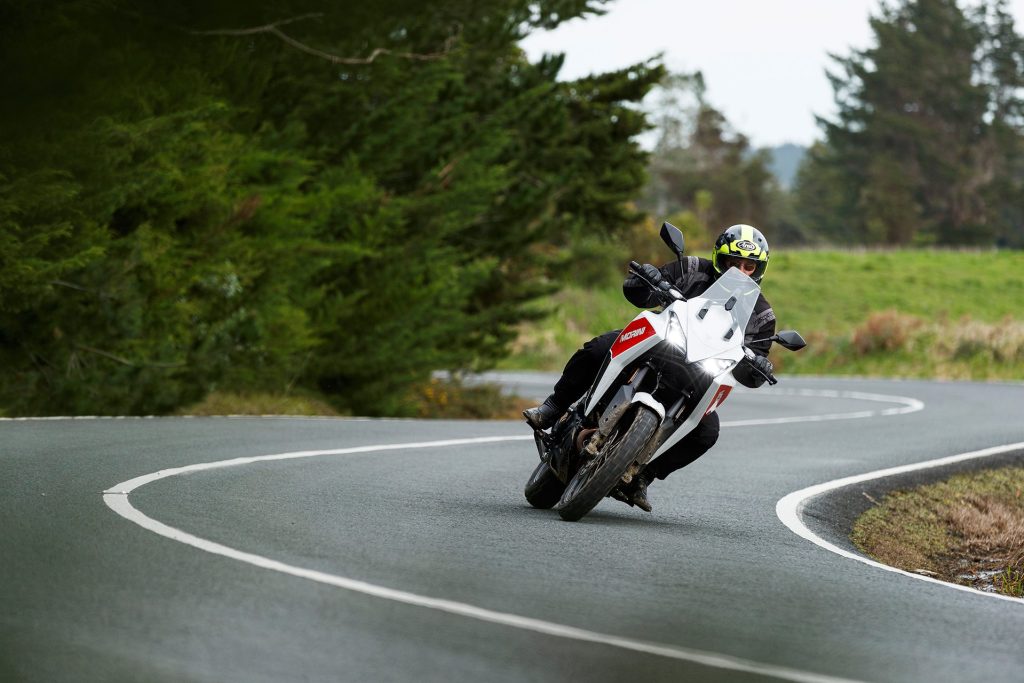 Model
Moto Morini X-Cape 649
Price
$13,590
Engine
649cc, liquid-cooled,
fuel injected, IL2
Power/Torque
44kW/56Nm
Transmission
6-speed, chain final drive
0-100km/h
4.77sec
80-120km/h
2.63sec (84.61m)
100-0km/h
42.43m
Safety systems
ABS
Seat height
820-845mm
Weight
233kg