Porsche released its seventh-gen GT3 last year, a honed evolution of that before it. What better place to sample its talents than in its homeland with a three-day road trip over mountain passes.
There are few better sounds than a performance engine at wide open throttle. Trouble is, these moments are short-lived in NZ where speed limits are becoming ever more restrictive. Even on a Kiwi race track, the chances to crack 200km/h are few and far between. But on Germany's unrestricted autobahn, you can really let rip. Sure, it's not something many will get the chance to do, but if you do… Lucky us then, as we found ourselves in Deutschland last month, finally breaking out of the hermit kingdom and trekking to Stuttgart to pick up a pair of GT3s from Porsche HQ.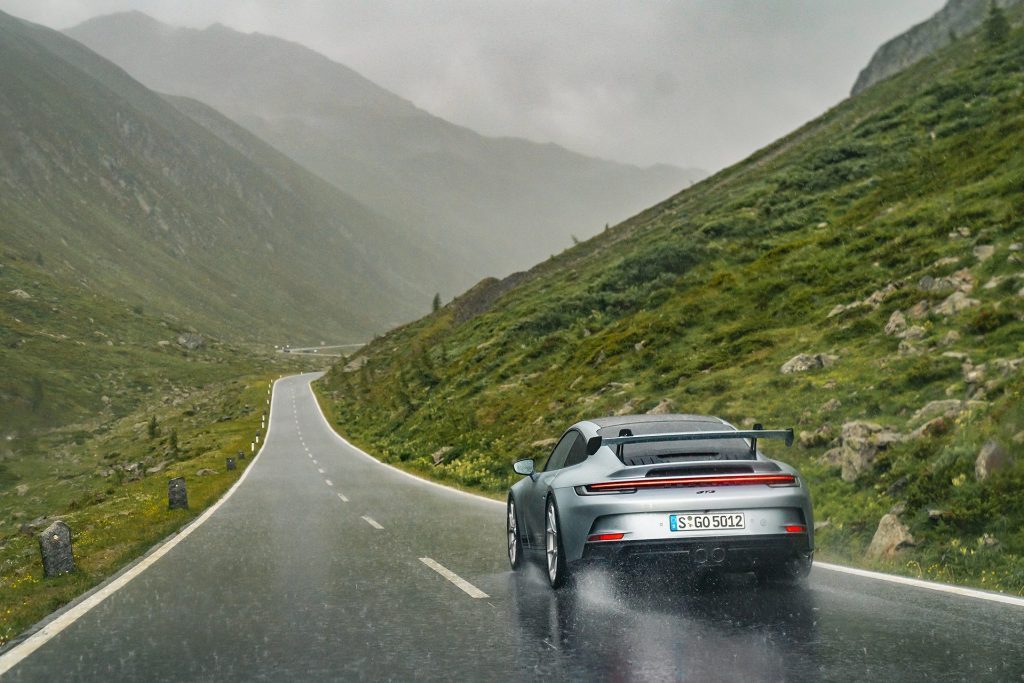 Our mission was to blast our way south to Austria, traverse a few mountain passes, revel in the scenery and evaluate the GT3s en route. We had both the bewinged GT3, equipped with the seven-speed PDK, and a Touring sans big spoilers but sporting a clutch pedal and a six-speed manual. And as there were six in our touring party, there was a Turbo S along for the ride.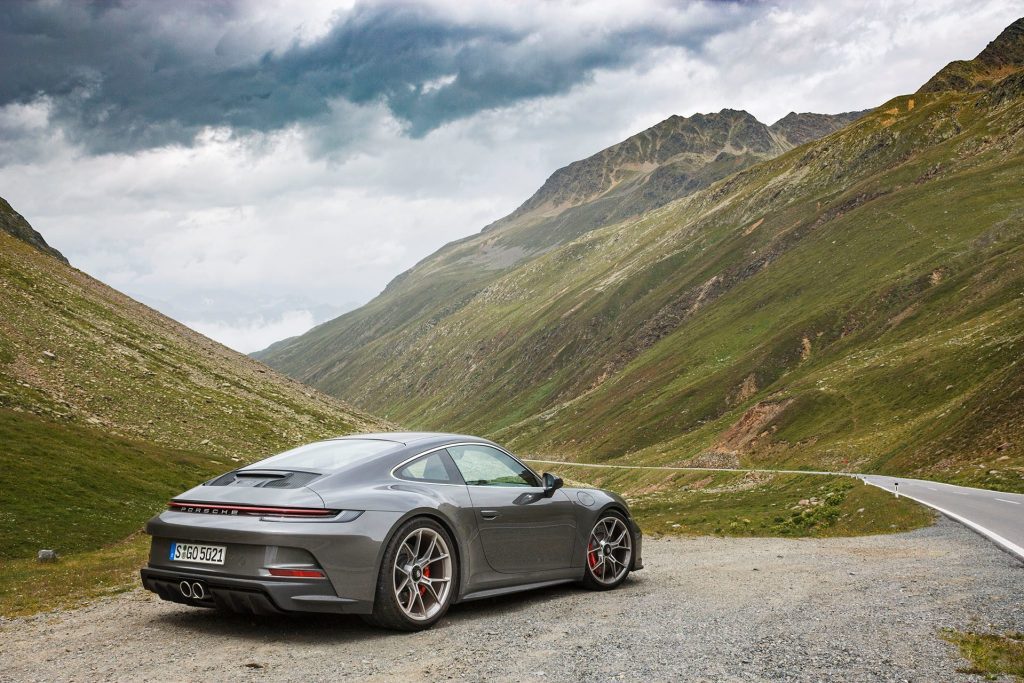 The GT3 will now set you back $349,300 (prices lifted across the line-up recently) in either Touring or winged forms, regardless of transmission. These GT3s are low, wide and aggressive, even the more subtle Touring. This latest version is wider than its predecessor with larger wheels stuffed up under the pumped guards. We struggled to open the door at first, forgetting GT3s don't get luxuries like keyless unlocking, which isn't even an option. Popping the froot to stow our luggage (we packed conservatively), the bonnet felt honed for lightness with its vents and CFRP construction. Our test Touring and GT3 were fitted with the ego-enhancing buckets which look the biz but are made for lithe racer types. Still, we managed, somewhat inelegantly, to squeeze ourselves in. With less sound deadening in the GT3, you can really feel that six fire into life but, as we discovered over the next three days, it's not such an uncivilised devil to live with.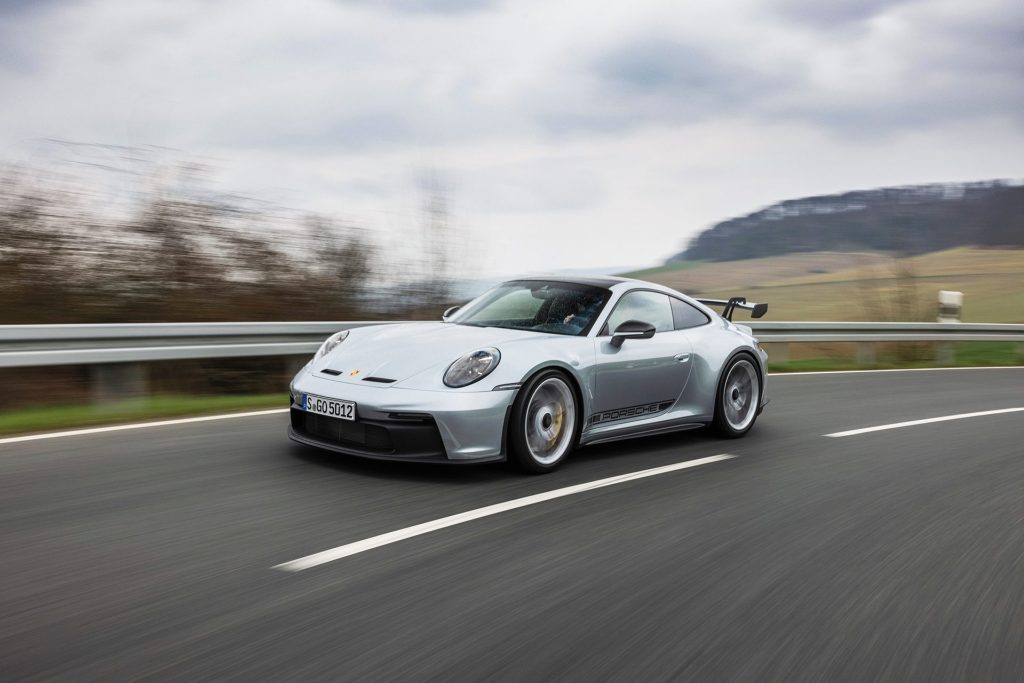 We were riding shotgun to begin with, getting a chance to moan about the unforgiving ride. And yet Porsche's active suspension systems are so darned good there's nothing much hard or harsh about it. It's lumpy on rough stuff and there's not much suspension travel but for a car with such a focus on performance, you really can't complain. It doesn't even tramline much with a considered 255 cross section tyre on the front while massive 315s stick the rear. My first stint is straight onto the autobahn following a pitstop. There's little time to acclimatise to the GT3's nuances as we're quickly into it, cruising between 150 and 200km/h, the machine hardly raising a sweat at these trifling speeds. We get a brief chance to touch 250km/h, which it does easily, but then we're in Austria and the unlimited fun will have to wait. Over the next few days we take in some famous mountain roads such as Hahntennjoch, a tight and twisting path up and over the mountains. Another is the Timmelsjoch, which starts in Austria but after cresting the summit, you find yourself in Italy. And then you realise that the road, which was smooth and unmarked on the Austrian side, is now broken and patched up in piecemeal fashion, so very Italian. It's really narrow in places too but what a view to the valley below.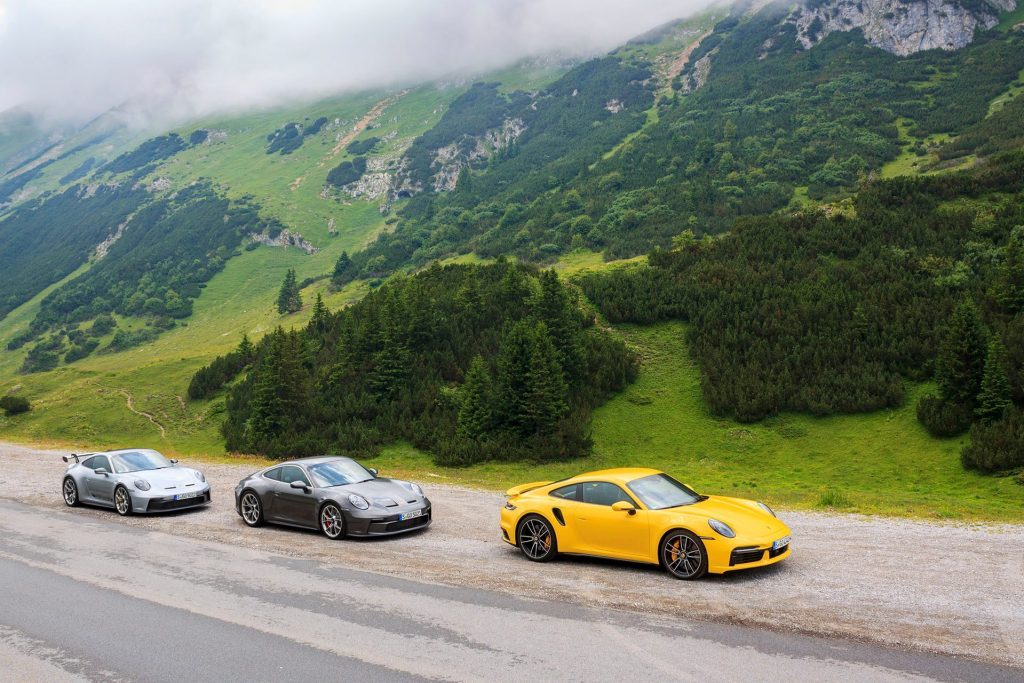 These roads are popular destinations and we saw hordes of bikers, in their thousands. There are plenty of mad cyclists too. Tours for enthusiasts are common; we saw a convoy of Alfa 4Cs, SL Mercs, numerous other Porsches, the odd Ferrari, even a procession of vintage tractors going over the pass, and a few Trabants. Expect hordes of campervans.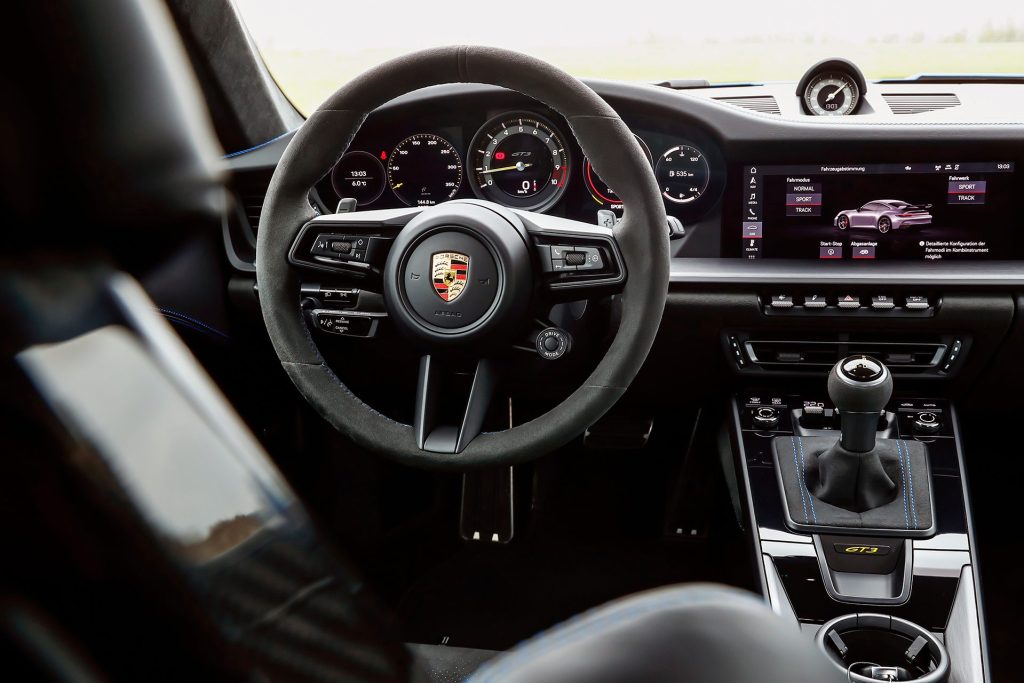 While these are breathtaking roads, there's not the endless flow of open corners like on a good driving road back home. But the views, when the clouds haven't descended, are spectacular.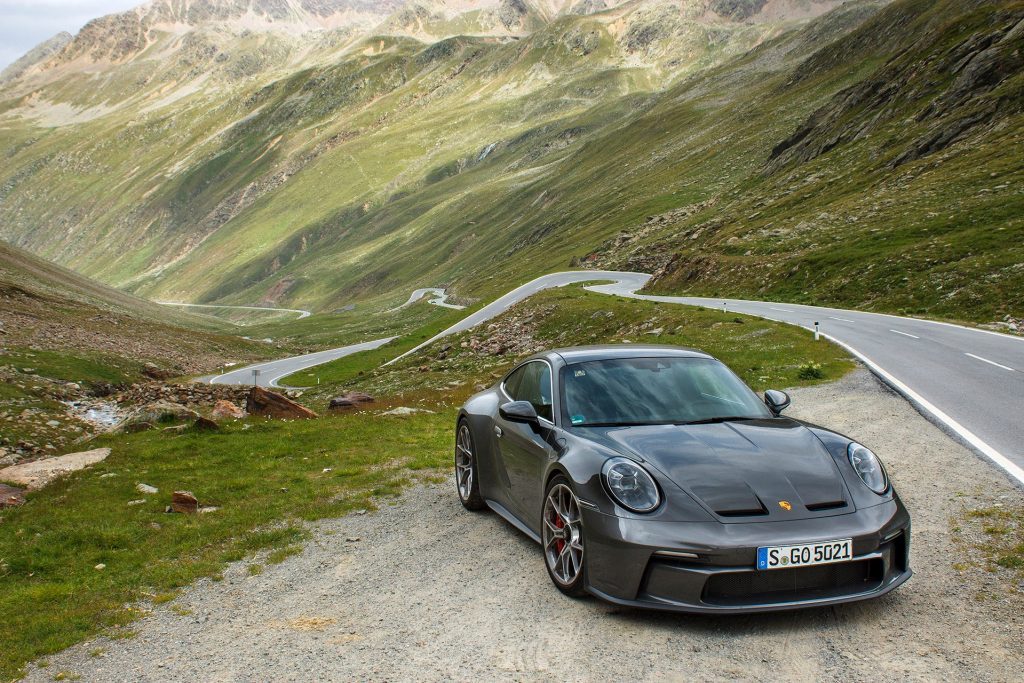 The Grossglockner pass has 48km of mountain roads, 2.5km above sea level and it's the highest road in Austria. One path even leads to the base of a glacier. Like the Timmelsjoch, it's a toll road (€36 a car!) but is well maintained. A depression-era public works scheme, the road is a marvel of engineering in places. However, it was treacherously wet and slippery on our visit, so we took it easy, and enjoyed what we could see of the scenery.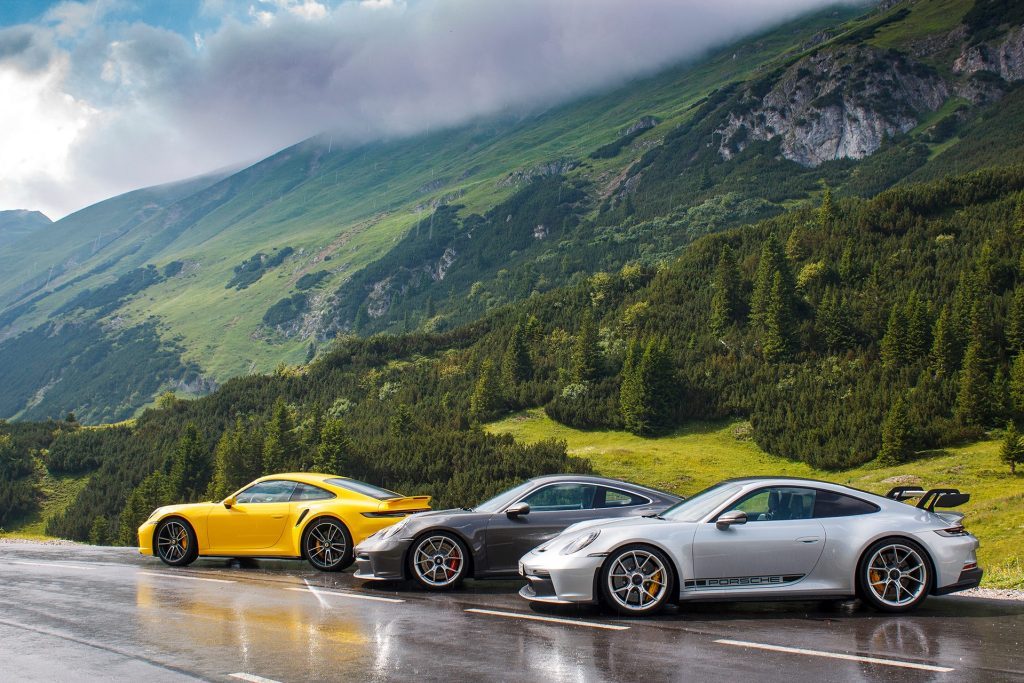 On the other passes, where we had a dry line, we found the Touring's manual to be a mechanical pleasure, the well weighted clutch with a sure bite point, the lever slipping deftly through its gate. Even our uneducated right hand slotted the gears easily. And there's a blipper for heroic downshifts without trying (switchable if you want). The Touring with a manual is the keyboard warrior's dream machine, a no contest as to which to choose, right? Well…driving these cars back-to-back, it felt like the manual had taller gearing but the PDK has the same ratios in the first four gears. However, it processes it all more seamlessly; it's ruthlessly efficient. In the hairpin bends on these passes, you're torturing the Touring's syncros, wrenching it into first gear to find the power for a quicker exit. Second runs well past 120km/h, so you don't get to swap too many gears on road, removing those romantic ideals of slicing your way up and down the gates endlessly all day. The PDK adds a few negligible kilos to the weight (1435kg vs 1418kg) but makes the drive flow better, and more quickly (against the clock, the PDK is 0.5sec faster to 100km/h at 3.4s). We found you could induce a whiff of power-on understeer in the Touring, the nose slipping a little wide under duress out of the bends where the front of the winged GT3 was more resolute. The difference is the diff; the manual with a mechanical locking device and the PDK with a fully variable, electronically-controlled lock up. So it's working to give you optimal traction, further negating understeer. This will embolden those championing the manual – 'it's the real driver's car' – so yes, buy the manual if you want the more immersive drive but buy the PDK if you want the more evolved one.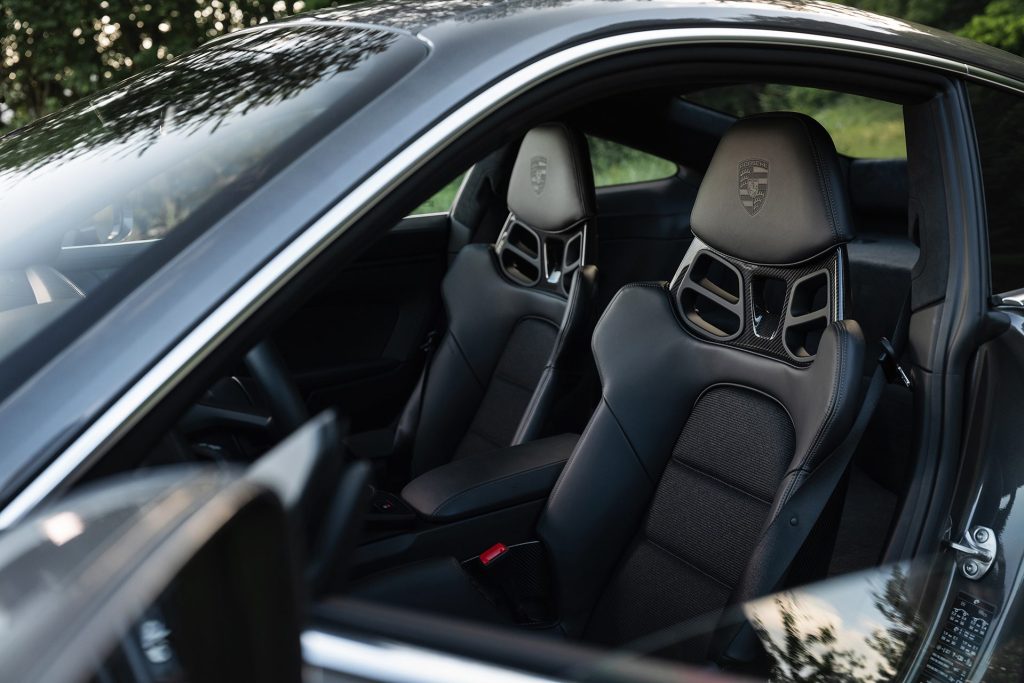 Jumping into the Turbo S highlighted the differences in philosophy. The AWD turbo is a brute, the slug of torque that erupts from the blown six is mammoth. You have to wait for the boost to build but then from 2500rpm that mythical sledgehammer smashes you in the back as the full effect of 800Nm jets you forward. Coupled with the lower geared eight-speed PDK, and with AWD stick, this leaves the GT3 standing. It alters the time space continuum as it feels like you've arrived at the next bend before you've left the last one. And yet it's not quite as enthralling. The GT3's 4.0-litre engine has been tinkered with, given a few extra horses and Newtons, now with 375kW at a screaming 8400rpm and 470Nm at 6100rpm. Where most engines are starting to sigh at 5000rpm, the GT3's 4.0-litre is just coming to life. There's a noticeable uptick in enthusiasm as the VarioCam gets on its high lift mode and this will race through to its 9000rpm limit pretty quickly. And the sound…with the variable intake manifold and six individual throttles, this sings a mighty induction note. And the exhaust can't be overstated, a lightweight device with two particulate filters to meet stricter emissions standards, and yet it plays such a marvellous tune. It makes the growl of the turbo seem flat.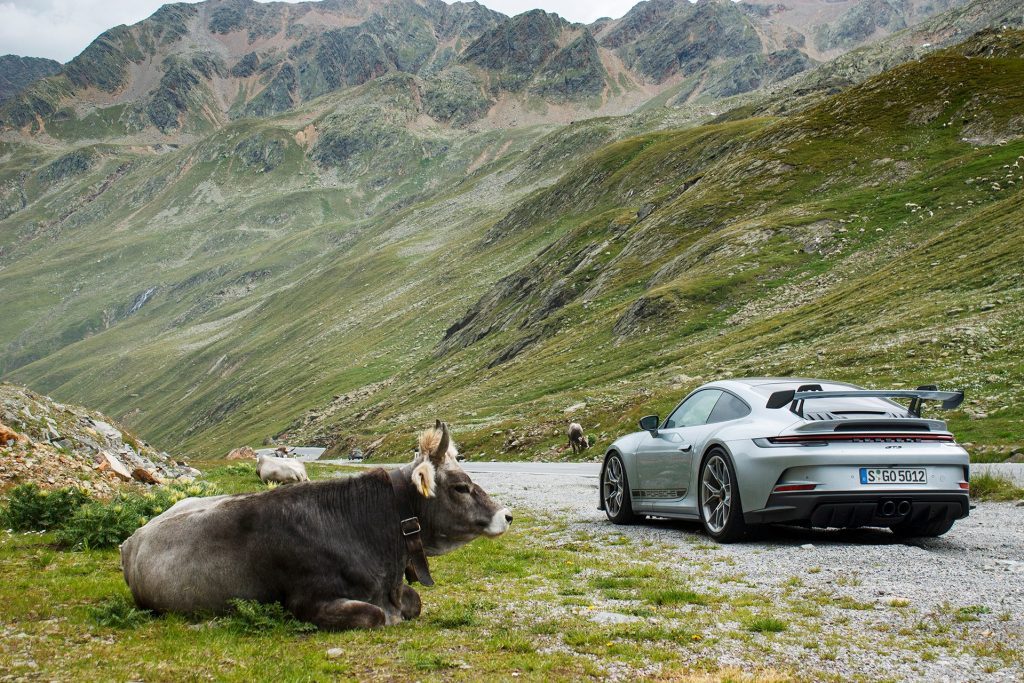 There's decent traction out of the bends in the GT3 yet it squirms about under full load, whereas the AWD pulls the Turbo straight, without drama. But it's the front end that is most telling. The GT3 has a lighter helm, it points much better and there's more feedback. This has the benefit of a double wishbone set-up, the first for a production 911 and gleaned from the racing RSR. It helps maintain the suspension geometry, particularly the camber setting, so you get a sharper, more predictable turn in. Along with the GT3's ball jointed suspension, the front end is pure precision and super grippy, the wide front tyres sticking the nose properly. It's nimble, turning quickly and accurately, helped by the return of rear-wheel steering, handy on those endless hairpins you get on alpine passes.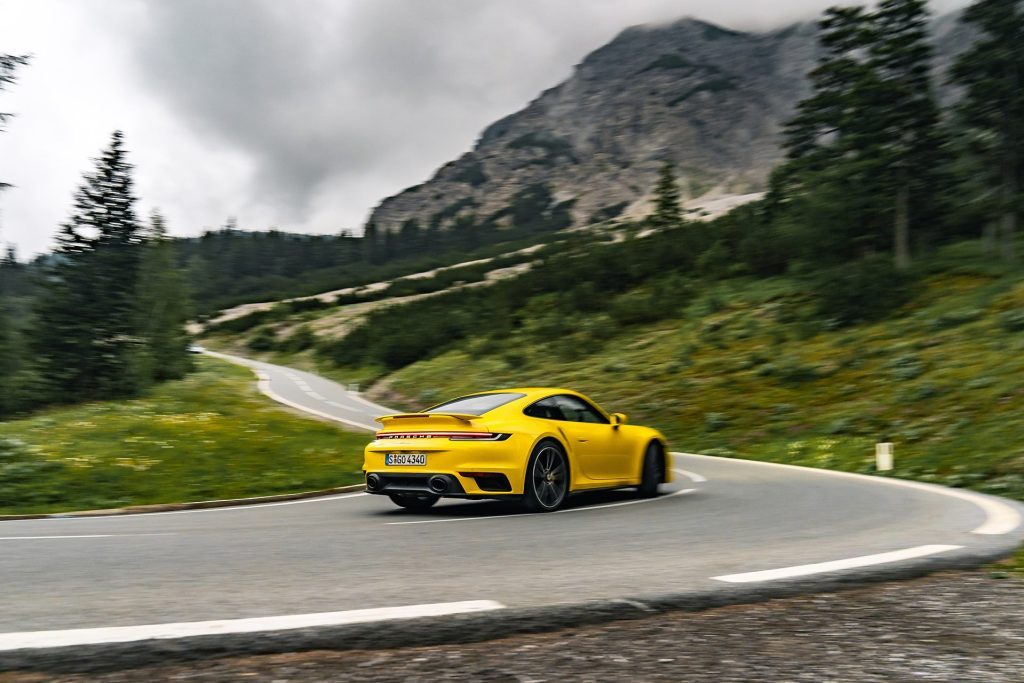 We endured a mix of conditions, such is summer weather at high altitude. One moment it was sunny and fine, the next visibility reduced to nothing and it's raining Datsun cogs. And suddenly we all wanted to drive the Turbo. Not just for its added grip either. For the seats are infinitely more accommodating and they're heated. These are the same as the standard GT3 seats, and are both supportive and comfortable, so you can save yourself $10,500 by not optioning the full buckets. Both your pocket and back will thank you.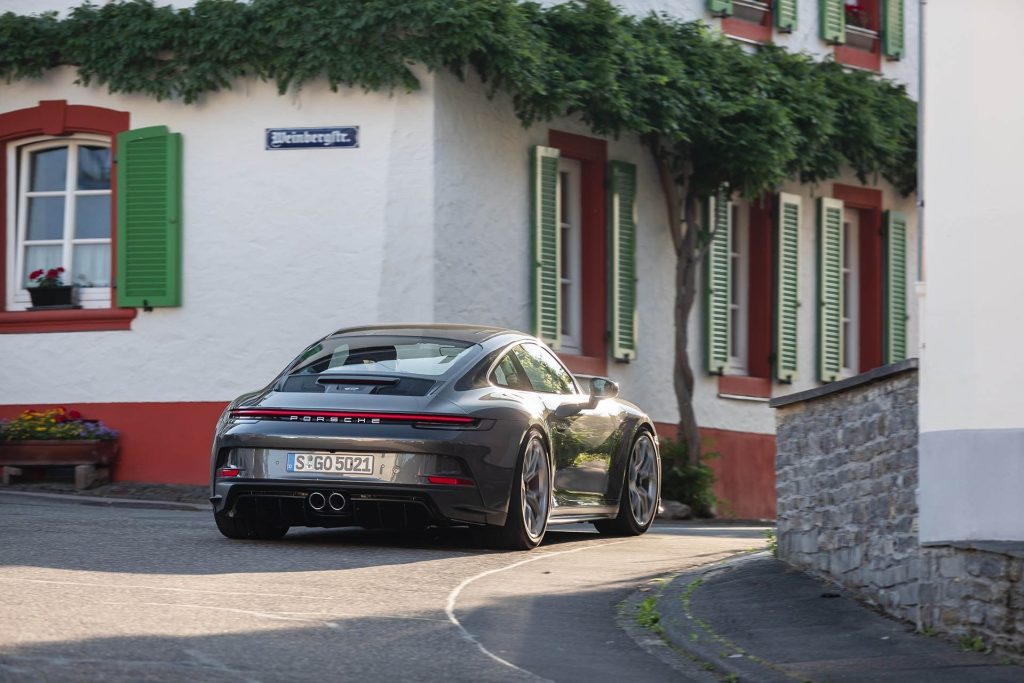 Making our way back to Stuttgart, we found ourselves again on the autobahn in the PDK-equipped GT3. It's mind-blowing how quickly you can cover hundreds of kilometres when you're not constantly checking your speed, or worried other road users are going to do something stupid. It's a combination of well constructed roads and educated drivers that make it all possible. We cruise behind a few Skodas at 220km/h for a while. It's a good speed for the GT3, the engine merely humming at 4500rpm in top. But we were keen to crack 300km/h at least once. It's not quite as easy as it sounds though, even with 500hp. We get to 250km/h many times, though have to slow for traffic ahead. Pressing on beyond that, things have to go your way. We have a few cracks at 300, nudging 270, and then 290. So close, but we lose hope as we just don't get the clear run with traffic, road works, and various speed restricted areas. Ah well, it sure is something to hear the wailing howl of the six with those forged titanium pistons pumping away around the crankshaft as it routinely touches its 9000rpm limit. At home it's all tyre noise that sends your ears ringing; this engine-induced cacophony is far more preferable.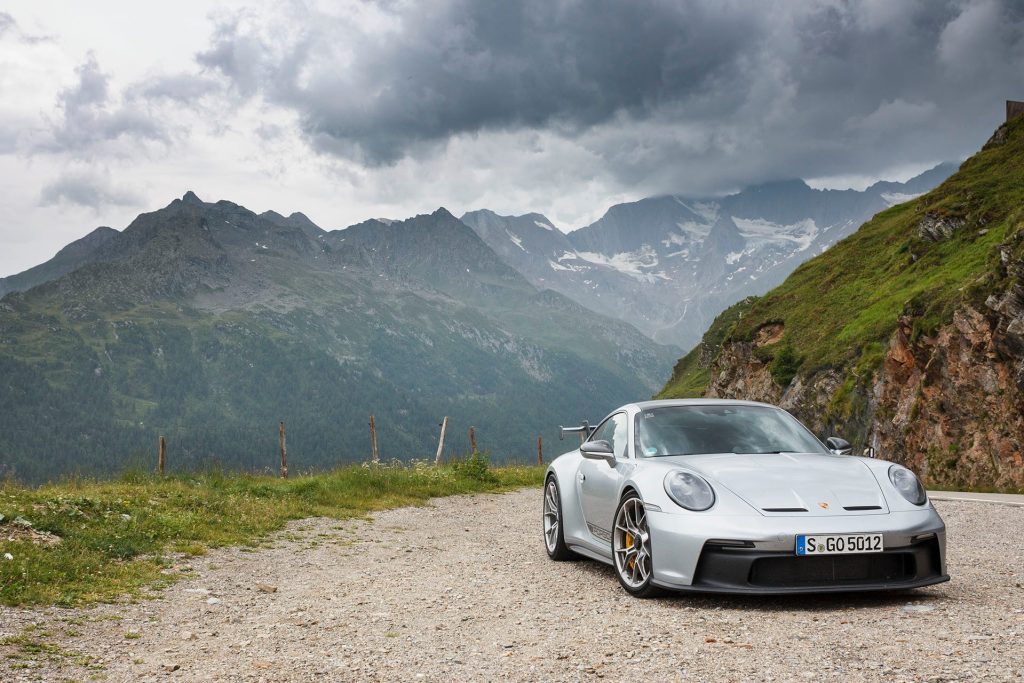 But then a dash of hope as we stare down a long straight with no one ahead and we duly bury the gas. The PDK snaps a few gears and winds the six out. We briefly glance at the speedo but keep a keen eye on the road ahead as we rip past slower cars at warp speed. Gripping the steering wheel ever tighter, the GT3 nudges up past 280, then 290 as the PDK changes up into seventh at full chat. We glimpse down at speedo, see 302 and start buttoning off. A wee fist pump, then a gander at the fuel gauge sees it has dipped considerably, and quickly. And with fuel use hitting 29.9L/100km, we can see why. But mission accomplished, and a fine way to end a highly memorable road trip.