Post-covid, we finally get some time behind the 'bars of Guzzi's most sensational looking bike in years, the V85TT premium. Is the beauty just skin deep?
Sometimes the universe has other ideas about your destiny, and mine clearly wasn't to ride Moto Guzzi's beautiful V85TT. We attended the launch of the ADV last year, and it was enough to know I really needed to check this thing out in more depth. Unfortunately, it proved so popular that we missed out, and when another opportunity came along so did coronavirus to spoil proceedings. By the time that had been beaten back to the border, the demo bike was up for sale.
Fortunately however, we got a few days aboard big red before it went to a new home. Actually, it's a mix of red, white and black. The colour scheme is something else, and there's a red, white and yellow option as well. That's for the Premium model; a base grey variant with more road-oriented rubber can be had but you'd pay the extra grand in a heartbeat for the tricolour scheme.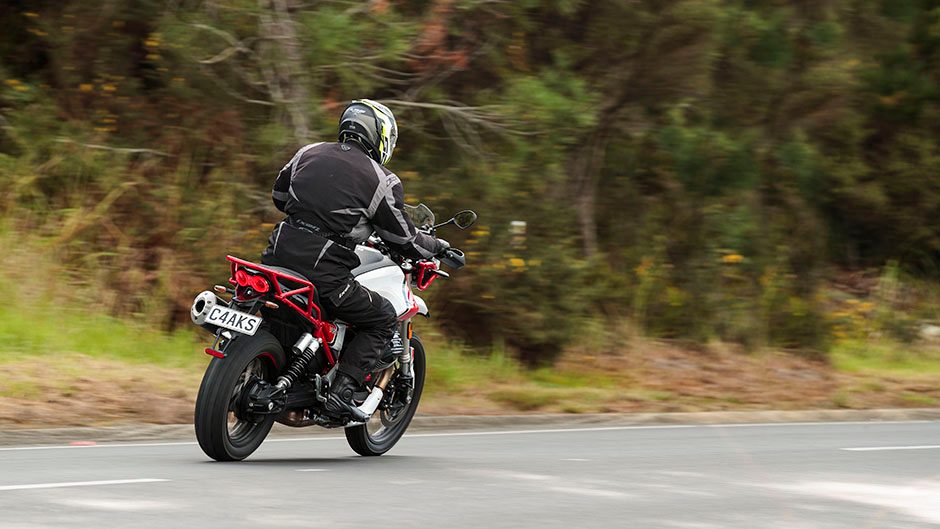 The TT which means Tutto Terreno, or all-terrain in Italian, is from Northern Italy, and therefore has a great chance of looking fabulous. And this V85TT is a work of art. It replaces the V7 Stelvio, and is essentially a retro ADV. The double bubble fly screen is natty, as are the retro-round headlights and then there's the mandatory transverse V-twin that looks so elegant.
Also eye catching are the shapely fuel tank, the single-piece two-step seat covered in suede-like material, and the red painted frame, much of it comprising tubes in trellis style. Because this is an ADV that's mainly set up for road work, it is fitted with a 19-inch front tyre and 17-inch rear, both on spoked rims. One other fancy item is the handlebar set-up, tapered and in polished matt aluminium. Rounding things out are smart components like Brembo radial-mount brakes, a bright TFT screen with trip computer, adjustable levers (a pity the hand guards make this difficult) a luggage rack at the rear and standard ABS brakes, along with TC. There are also three ride modes, road, rain and off-road. The latter cancels ABS to the rear and offers minimal TC intervention.
Moto Guzzis have never been about rip snortin' power and while this is essentially an entirely new engine it is based on the ever-so-mild V9 mill. The updated 853cc Euro 5 air/oil-cooled two-valve-per-cylinder V-twin produces 59kW of power at 7750rpm, and 80Nm of torque from 5000rpm. However, over ninety per cent is available from 3750rpm, and the way it pulls in top gear from 100km/h – precisely those revs – has to be experienced to be believed. On our first ride we noted intrusive vibes above about 5000rpm, and while we still noticed some tingling at higher cruising speeds, they're of the V-twin type and aren't especially annoying.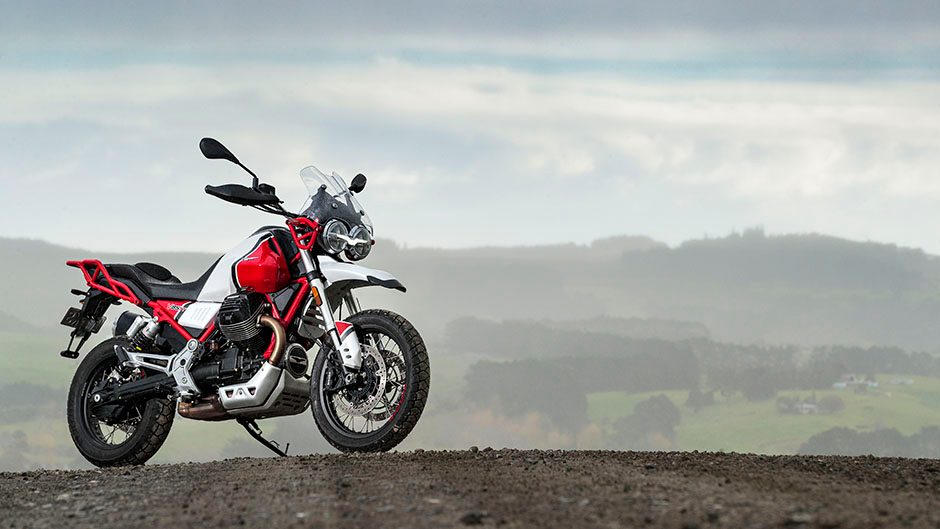 Best riding revs for a mix of optimum go and fuel efficiency are about 3500-5500rpm. And on efficiency, it's meant to do around 4.9L/100km, precisely what we recorded. At fill-up the trip recorder suggested a range of just under 500km from its 21L tank. It's ready to tour then.
One aspect that might not suit all who plan to go the long way round on this, however, is its 830mm seat height. If your hip flexibility isn't quite what it used to be this isn't the easiest of things to swing a leg over. No worries though for you can always use the footpeg as a step up while it's leaning on the side stand. That works well, both for mounting and dismounting.
Once aboard this is a typically ADV-style riding position, upright, hands set wider apart than normal, knees and hips not too flexed and plenty of seat space. This has an amazing lock too, which is distinctly un-Italian. U-turns feet up are too easy, and so too manoeuvring the bike. On the downside, that lovely looking seat is thin on padding but not too firm and the riding position allows plenty of wriggle room, except at the pegs. It's quite tight there so those who like to ride on the balls of their feet are out of luck.
As a tourer, this is set up sweetly right out of the box. Suspension is adjustable for preload and rebound both ends. We backed off the latter and it rode even smoother.
Compared with the V9, the engineers messed with the shaft drive unit, straightening the link to the engine and in doing so extending the swingarm. As a result this bike has stability in spades and there's not a hint of any torque effect from the shaft drive. During emergency stops, the bike was simply unflappable. It's the same in corners; lay it over and it holds a line just so. Get too aggressive and occasionally it will touch a peg down but cornering clearance you'd deem generous.
Initiating the turn is a joy too, as it is with most V-twins, even when they're transversely mounted. It's not a quick steer but it certainly is an easy one, going with the road's flow. Being a torque-laden mill riding this machine is all about effortlessness. This is optimised for midrange torque and while the engine will rev out beyond 7000rpm it's at its best before this. Speedy it isn't for acceleration, at least compared with, say, an F 750 GS. And like all Guzzis we've ever tested, its clutch surrenders early. But its overtaking time of 3sec flat isn't bad and it certainly feels much stroppier than the V9. Easy going too, as mentioned, an indicated 110 (actual 103) a bit over 4000rpm. Even the mirrors give an okay indication of what's behind at these engine speeds.
Our one misgiving about the V85TT is that great looking fairing. There's too much dirty air hitting your visor, though no buffeting. Stand up and the wind noise all but disappears. A casual glance at the fairing and it looks like your only option is a taller touring screen but it adjusts from the rear mounting point. So we tried that using a 5mm Allen key. There was no real wind noise difference but it offered some extra weather protection. And overall that's pretty good, given the standard hand guards and the outy-sticky heads shading your legs. It was wet during our ride but we stayed essentially dry.
So providing you're not one of the more-power litre-plus set and you don't really need the bulk or expense of a top adventure bike, the Guzzi V85TT has lots going for it, especially at its RRP of $21,990.
Is this the best Guzzi yet? Could be and there are evidently more models to come off this platform.
| | | | |
| --- | --- | --- | --- |
| Model | Moto Guzzi V85 TT Premium | Price | $21,990 |
| Engine | 853cc, air/oil-cooled, fuel injected, V2, 59kW / 80Nm | Drivetrain | 6-speed, shaft drive |
| Fuel Use | 5.0L/100km | C02 Output | 239g/km |
| 0-100km/h | 5.05 sec | Weight | 239kg |