If you're agin big SUVs or double-cab utes, perhaps a generously sized wagon is the go? Does the recently returned Passat Alltrack fit the bill?
You gotta hand it to Volkswagen; they know how to make vehicles that people want to buy and own. The Beetle sold in excess of 20million units, and then Golf arrived in the 70s and managed double that. Polo being a small car only managed 14 million sold. The surprise VW package? That would be the Passat (meaning trade wind in German). Would you believe over 30 million 'traded' in its lifetime? Talk about a quiet achiever. Mind you, it has been on sale since 1973, and for seven generations. Moreover, it has been available 'on every continent in the world'. Antarctica too? Doubt it.
Here it enjoyed a decent run in the late nineties and 2000s, even picking up an Autocar Car of the Year award (remember the W8?). But with the unending rise of the SUV the Passat range went the way of most large sedans; gone with the wind.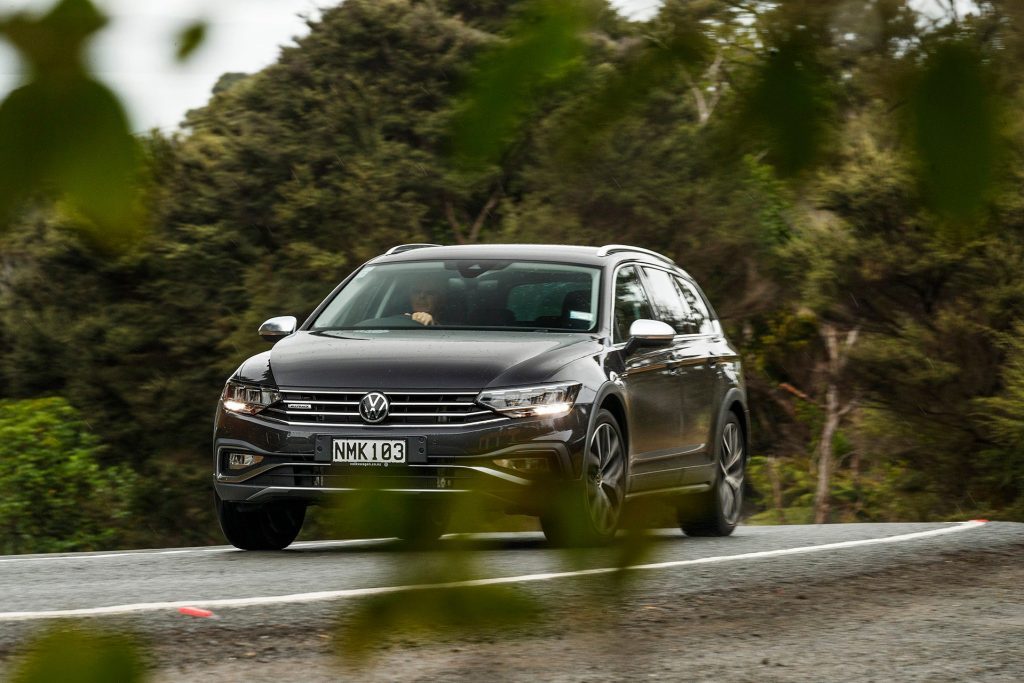 It's back but
And yet now Passat is back, but in a very limited capacity. Here, it's available only as an Alltrack wagon, sporting a 2.0-litre turbopetrol engine hooked up to a seven-speed twin-clutch and with a sticker price of $59,990.
The local price makes it a few grand more expensive than the top Subaru Outback, the Touring version of which goes for $57,490, but then the turbo engine of the Alltrack is stronger, its 162kW/350Nm mill giving it something of a performance advantage over the atmo 2.5 of the Subaru. The two are neck and neck for fuel use, both with combined figures in the early sevens.
The only other real rival for the Alltrack is the Skoda Superb Scout, exactly $5k more expensive, though with extra power (200 vs 162kW) and the same torque tally (350Nm) it's quicker with a claimed sprint time of 5.7sec against the Passat's 6.8sec, both pretty respectable.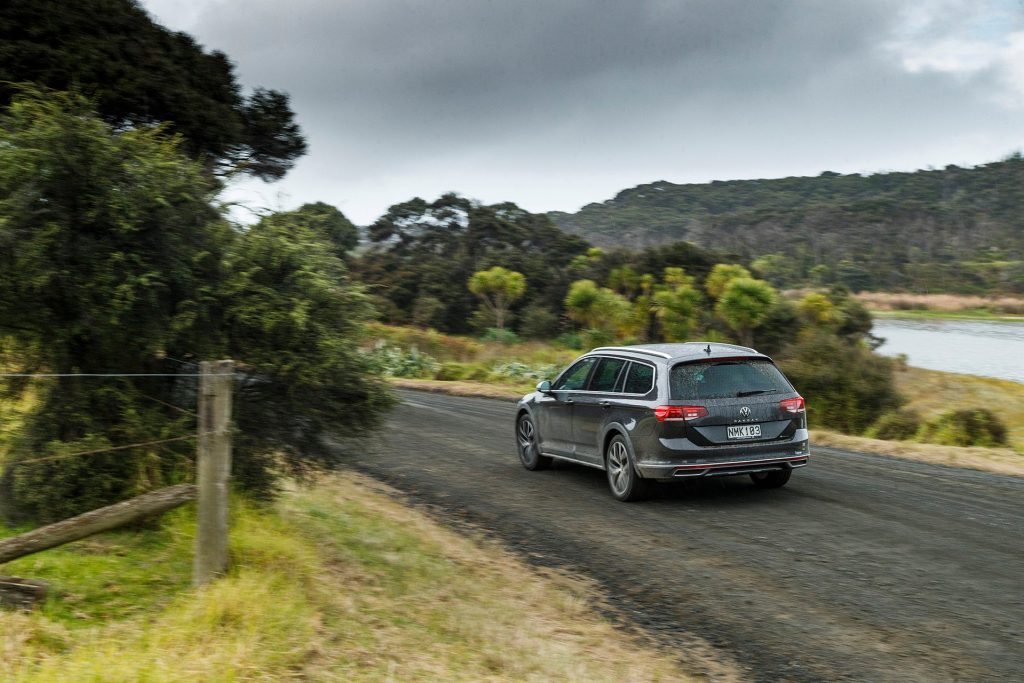 Roomy as
This is an alternative for those who don't want a bulky SUV but still need the luggage carrying capacity, especially the cargo length a wagon delivers. At 639L accessed through a self-opening door, you'd fit a lot of clobber in here, expanding to 1769L with the rear seats out of action. Its nearly 4.8m stem to stern and 1853mm wide, with generous space in the rear for two adults and a smaller person in between, straddling the transmission tunnel.
For the Alltrack is, as the name suggests, AWD and capable of getting its feet dirty without getting stuck. Amongst the many modes available is Off-Road, and while it may not look like it would go far off the beaten track, for ride height isn't adjustable, there are plates beneath to protect vulnerable bits from damage during off-piste excursions. And mention of that, this is likely where the Off-Road mode would be used the most, for ascents of ski field access roads when others might have to use chains.
But nothing much more serious is envisaged. Ground clearance is rated at 173mm, way shy of Subaru's 213mm, which also runs a full-time AWD system. The Haldex system in the Alltrack can shuffle torque from front to the rear when needed, to where traction is best and it's also rated to tow up to 2200kg braked (Outback 2000kg).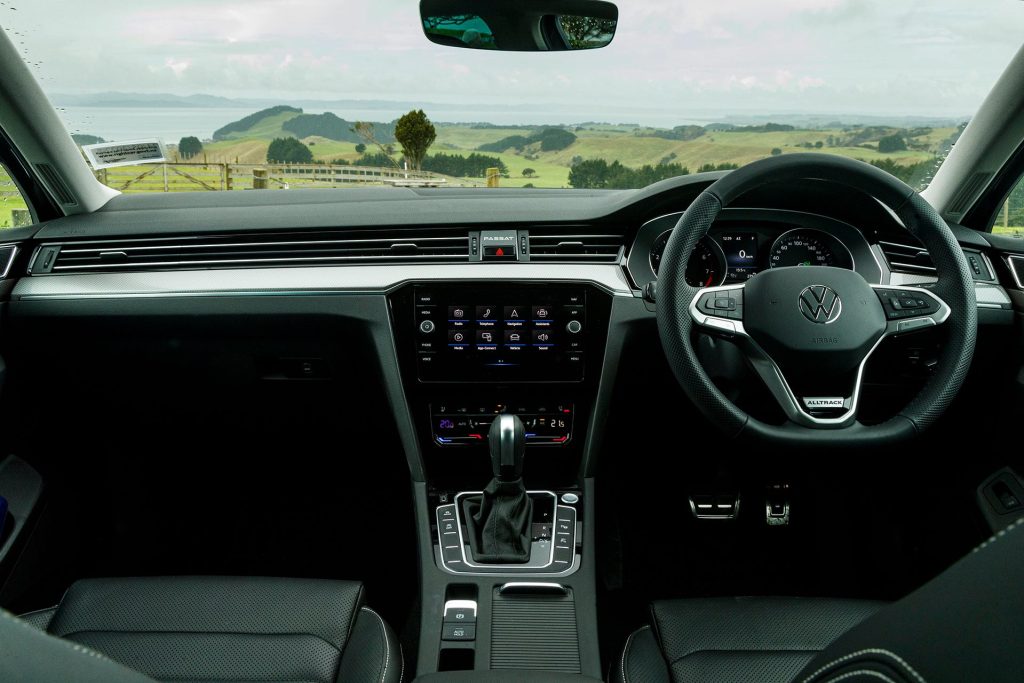 Subtle update
The Alltrack we are now getting is a facelift or "Update 2" version, not that you'd necessarily pick that right away, at least from outside the vehicle. There are now LED headlights with active cornering lights and auto high beam function. It's inside where changes are more obvious, though it's not as modern as Golf 8. Instruments are still analogue, with a digital aspect between the tacho and speedo. A little lower is an odo retrip button, which makes zeroing the distance counter a one-second task. It's more like one minute in Golf 8 where the touchscreen is boss.
Passat's suitably appealing within too, Alltrack featuring nappa leather upholstery, powered and heated seats with memory settings, lots of soft touch plastics and nice trim finishes. Safety is well catered for as well, with adaptive cruise and lane keeping, working together as a semi-autonomous 'Travel Assist' system. Expect also self parking technology, an inductive charging pad, hill start assist and auto hold, a surround view camera, front and rear parking sensors, heated external mirrors, three zones of air conditioning, a full spare, and brushed stainless pedals. For the under $60k ask this seems like an impressive list to us.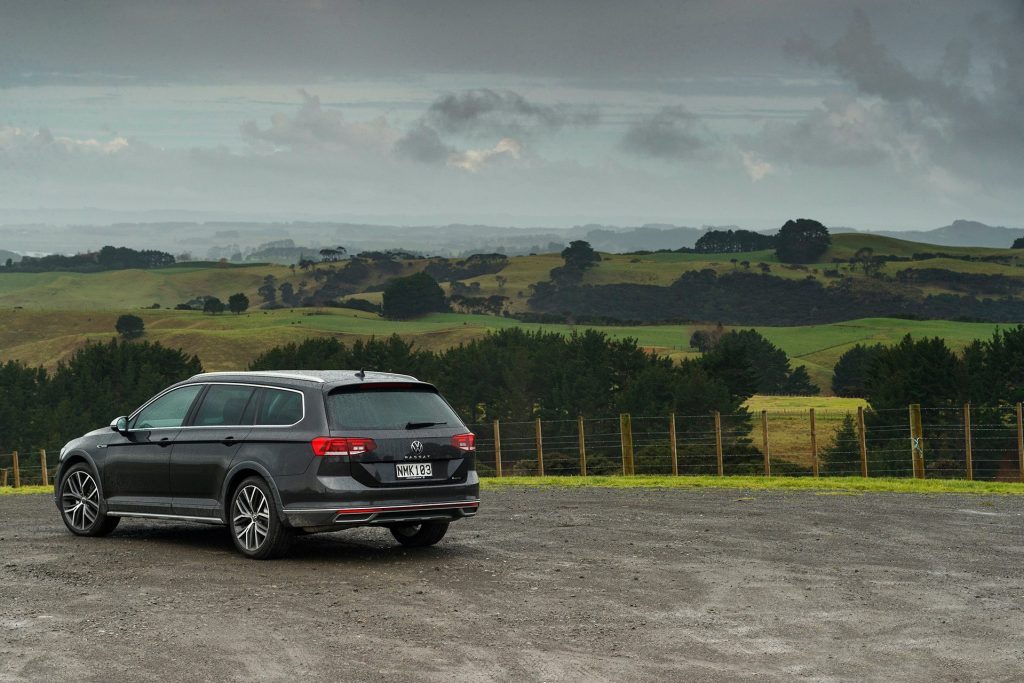 Goes well on road
As to how it goes, it's not dissimilar to the similarly expensive Octavia RS, only without all the wheelspin off the mark. Being slightly down on power (162 vs 180kW) and torque (-20Nm) the Alltrack compensates by having drive to both axles and a form of launch control. In the Sport setting, it spins to 3000rpm while stalled on the brake so gets off the mark much cleaner than the RS, and is all but as fast to 100km/h, both with seven-speed twin-clutch seamless shifters (6.52 vs 6.45sec). They feel quite similar in the corners too, both with an e-diff lock sort of system. The Passat has the edge because of its AWD and slightly better weight balance. The line doesn't tighten much for either after a lift off on corner entry. The VW gets out of the turn a bit quicker with its superior grip.
You can mix and match engine and transmission responsiveness with chassis set up (firm to control roll or favouring ride quality with the family aboard), as the Passat has adaptive damping as standard.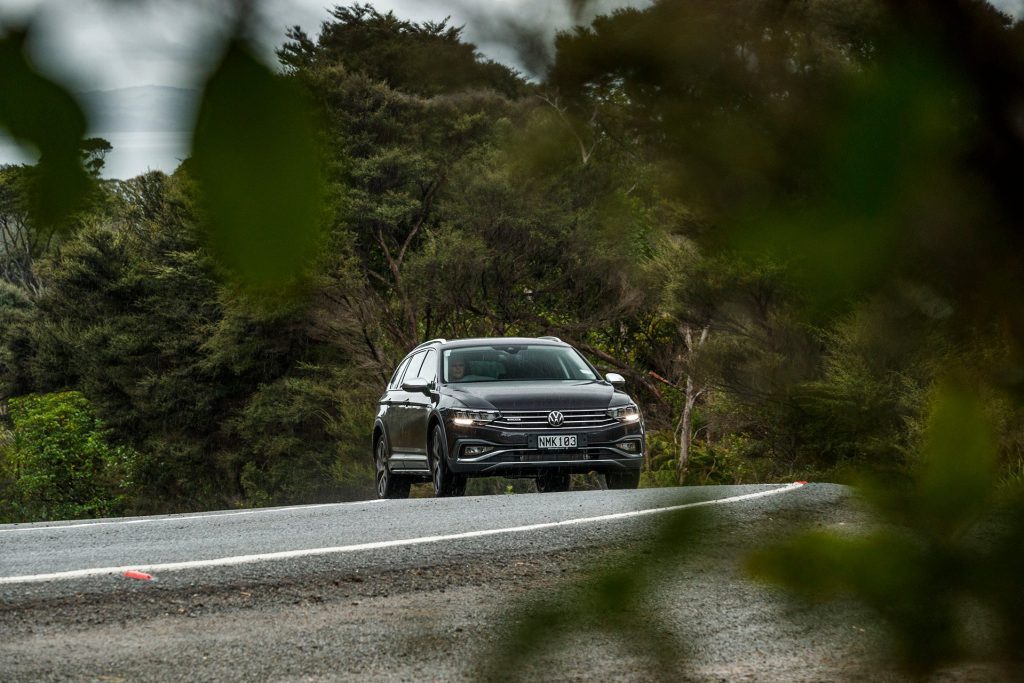 It can be rather rowdy on our usual secondary highway surfaces, edging into the 75dB zone. Still, it counters by riding in quite luxurious fashion. Even in the Sport setting, this has agreeable bump absorption. And while the transmission is somewhat hyped (not as much as some) you can always override it at the lever, and return the setting to D instead of S. At which point it settles back in seventh to 1900rpm in top at 100. And it pulls well from there, given peak torque is available from 1600rpm onwards.
So while this is not quite so up to the minute on the tech front as some of the newer VWs, it's still a handsome, well equipped, spacious practical wagon that gets down the road in convincing fashion, can lug serious loads and isn't a fuel hog. Plus, it carries VW's five-year/150,000km mechanical warranty. A consummate allrounder then, the Alltrack.
| | |
| --- | --- |
| Model | Volkswagen Passat Alltrack |
| Price | $59,990 |
| Engine | 1984cc, IL4, T, DI |
| Power | 162kW/350Nm |
| Drivetrain | 7-speed twin clutch, AWD |
| Fuel Use | 7.9L/100km |
| C02 Output | 180g/km |
| 0-100km/h | 6.52sec |
| Weight | 1689kg |