Subaru's Outback returns for another round of adventuring. While it is 'all-new', it follows an evolutionary path. Is it enough to keep the buyers signing up?
Subaru's Outback has been with us for more than 25 years. It's true to the mantra that only the strong survive, having outlived the Legacy on which it was originally based. While many buyers around the globe now scorn the traditional wagon, they'll buy one disguised as an SUV. And it's no different here. Subaru NZ staff were a little anxious a few years back when the Legacy wagon was axed. They shouldn't have worried; the Outback scooped up wagon buyers of old and sold well. And with this new sixth-generation taking an evolutionary approach to its renewal, it should continue those successes.
This wagon-turned SUV is an in-betweener, suiting those who want a bit of everything; car-like comfort and road holding, a big hold to accommodate that 'lifestyle', AWD for adventuring, and added ground clearance and body cladding to suit the persona.
There are three Outback choices, differing in spec alone, as the only engine offered now is the 2.5. The six-cylinder donk is being retired. Outback's entry price rises $5k to $49,990 but it gets the new full-size touch screen (more on that later), powered front seats, the full and updated safety suite, 18-inch alloys and a smart key. The X adds 'adventurer-friendly features' along with bits like the front view cameras, seat heaters, sat-nav and the powered tailgate, all for $54,990. The top-grade Touring is $57,490 and gains Nappa leather upholstery, a heated steering wheel, sunroof and upgraded audio.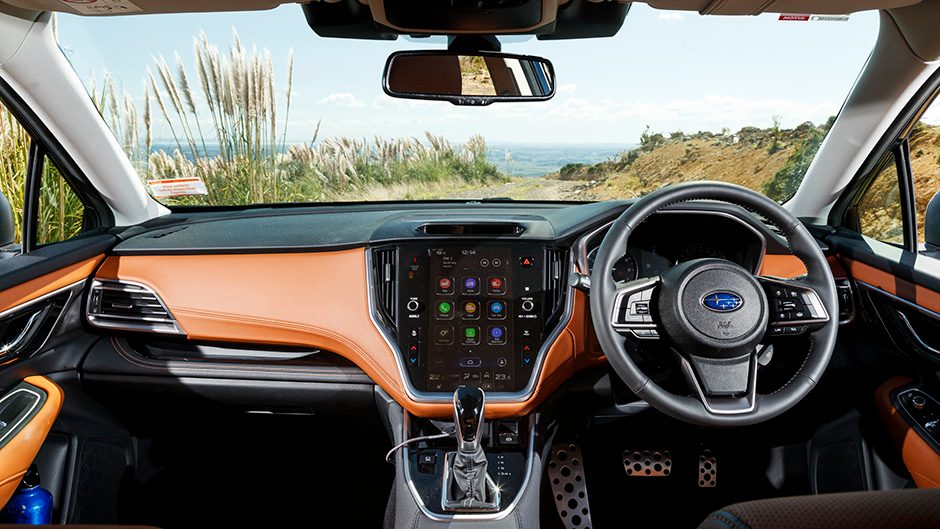 The Outback is the last of Subaru's vehicles to switch to the firm's common global platform. The key traits of these new underpinnings are refinement, predictable dynamics and an emphasis on safety. Outback is a quiet main road cruiser without much in the way of road roar and the much revised suspension is hushed too when it deals with bumps. The way it sops up big blemishes at speed is impressive, such is the competency of the damping.
The 2.5-litre flat four is the same but different, most aspects revised and tweaked to deliver a dab more power (up nine units to 138kW) and torque (up ten to 245Nm). The CVT returns, again most of its bits massaged, including a wider spread of the overall ratio, meaning it has a lower launch ratio and a taller 'top gear' when cruising. There's an eight-step paddle-shift function too and Outback can now haul up to 2000kg, up 200kg on the last model thanks to improved cooling for both the engine and trans, and a beefed up rear diff.
The general smoothness of the flat four and CVT combination is a plus. On the commute, the 2.5's outputs are sufficient, though it's not exactly well endowed when it comes to effortless low down torque. Should you find yourself rushed, you need to search for added urge up past the 3000rpm mark. Once up to speed, the CVT will chop the engine revs right back to stem the fuel use. Figure on something around the 9-10L/100km mark on average, while the claim is 7.3L/100km. Those accustomed to the ease of their six-cylinder Outback best wait and see if the 2.4 turbo engine from the US-spec XT eventuates for local consumption.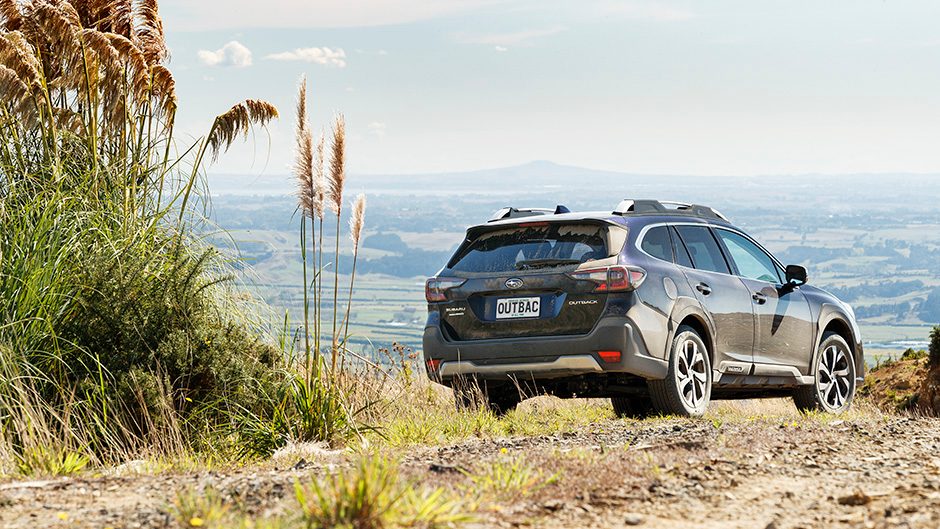 On the open road, you'll have to flatten the gas pedal to access the power that lives beyond 4000rpm for the overtake. The CVT is smooth with its faux gear changes, though its 'kick down' effect isn't as snappy as a proper auto, and only a little better in the S drive mode. If you're heading into the hills, you might find the manual mode helpful. That stops it from continually searching for the right spot to be in as you get on and off the gas.
Despite the off-roader pretence, this handles the bends well. There's some tyre flex as you round up tighter corners, which dulls its initial turn in, but it holds a line quite well thanks to some astutely tuned dynamic aids in the form of brake-activated torque vectoring and variable AWD. We drove like a delinquent for a brief moment (or two) and giving it the welly heading around an uphill hairpin had it tracking diligently through the corner, no push understeer whatsoever. Such traits make it a safer bet when firing out of an intersection too.
While Subarus from a few generations ago were more intent on pleasing a driver, they are now more concerned with getting everyone there safely. And if you have to get there via a gravel road, this is a good thing to be in. The dynamic helpers are well honed here too, keeping it all tracking tidily through tricky corners, the individual wheel braking activated calmly to keep you pointed the right way. The permanent AWD lets it power through deep gravel and the long travel suspension smoothes deep corrugations. The ride is glamorous on these surfaces; rarely will you smack the bump stops. So it's a decent car to see the country in, as it'll take all roads in its stride.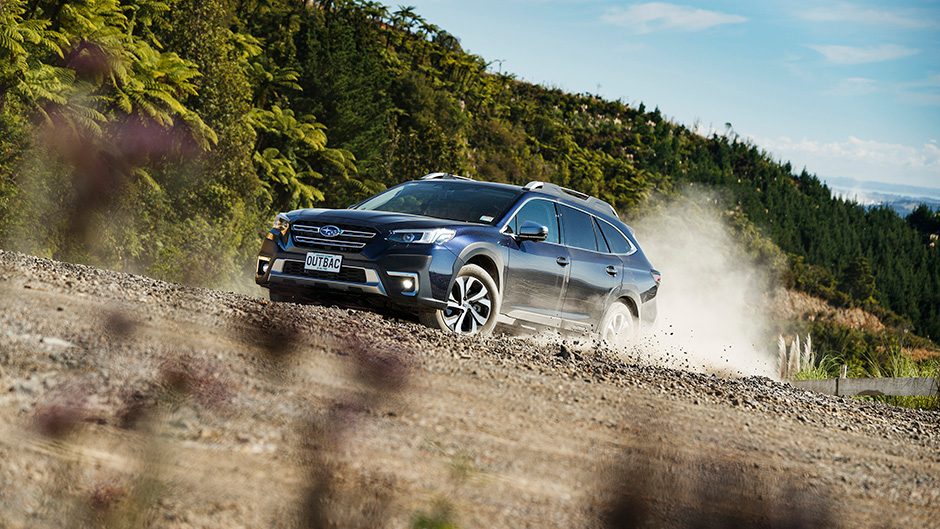 There's not unreasonable ground clearance (213mm) though the front overhang is a tad too long to get overly adventurous with. Take things slowly and it'll traverse reasonably challenging tracks while the traction control helps maintain speed on descents and nips any wheels that may get hung up, ensuring traction is maintained as best it can be. You might not devour the Dunstan in the depths of winter but you'll see a fair chunk of the backcountry in a car like this. And it's equally at home on the gravel back road in Southland as it is on the high street in Auckland.
Keeping things safe in the city, Outback has a few more chaperones on board including many functions to keep you in your lane like lane centring, autonomous emergency steering and emergency lane keep assist. It's more persistent now and, as per the regulations, they've made it harder to switch off. You have to delve into the touchscreen and four taps later, it's semi-defeated, as aspects still remain. And it rearms itself on start-up.
We complain a lot about active lane keeping systems, like we used to with early ESP systems. These were overly intrusive and so we often turned them off. But now we hardly ever need to, being tuned so well. And we hope the lane departure systems will follow suit. But otherwise the minders are good to have, the blind spot monitors adding to the generous view from the wing mirrors. Active cruise helps out in slow moving jams, and it keeps an eye out on the speed limit with speed sign recognition. The speedo is a tad optimistic, a true 95km/h at 100, so using the cruise it should be hard to get ticketed in this.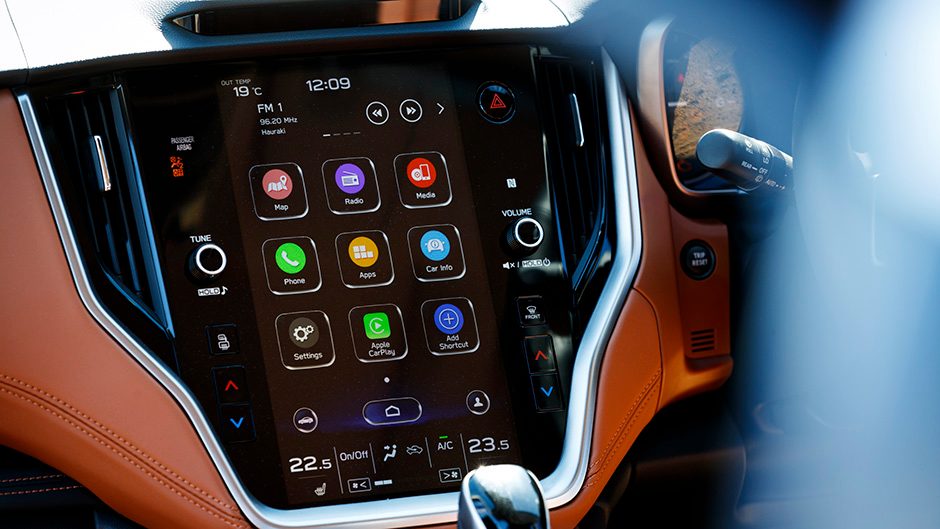 The Outback's styling is evolutionary, every panel new but it's born from the same mould as the previous model. The front end is quite different and there is additional cladding which now extends over the wheel arches. The big roof racks return, with their integrated cross bars. Easing egress, the exaggerated sills narrow at the point of entry, this made easy thanks to large doors and raised seat heights.
The new interior is dominated by a big touchscreen on the dash. Some functions require a few taps to get things done, but the operation is straightforward and it's not completely devoid of buttons with a few for the radio and ventilation functions. Being a portrait-orientated display, you get a decent sat nav map, but the reversing camera image is small compared with what they could have had. In lieu of a surround view set-up there is a camera up front and another on the side mirror to give you a few additional angles when parking.
This Touring model gets two-tone, tan and black leather, and soft, well padded surfaces are everywhere. The seats are well stuffed too with just enough support in the right areas. Outback is only marginally longer and wider than the old wagon, and though the wheelbase dimensions remain unchanged, Subaru is claiming improved interior space. And this it has plenty of in the rear, plus you now get seat warmers back there too, and USB chargers. The boot is wide and long with a full-size spare under the floor. Split folding is easily invoked but the cargo blind is a hindrance; there are better solutions for this.
The evolutionary approach works here, Outback improving in refinement and active safety. It has a stable and unflappable chassis, regardless of the terrain under the treads. Outback also looks the part and is priced okay as well. Here's hoping the XT turns up at some point.
| | |
| --- | --- |
| Model | Subaru Outback Touring |
| Price | $57,490 |
| Engine | 2498cc, flat 4, DI, 138kW/245Nm |
| Drivetrain | CVT, all-wheel drive |
| Fuel Use | 7.3L/100km |
| C02 Output | 168g/km |
| 0-100km/h | 9.72sec |
| Weight | 1656kg |