Peugeot launches the latest 208 in lone GT guise. Is it really a discounted premium compact as Peugeot is suggesting?
This is by far the flashest 208 yet, though also the most expensive, rising by $8k. The company has said in the past that it has premium aspirations but these haven't always come to pass. Maybe this time though, things are different, the 508 being a good indication of the company walking the walk.
And as if to prove its merit, new 208 was named the European COTY in 2020, comfortably outpointing the Tesla Model 3 and Taycan. Doubtless the Euro motoring press voted it tops because you can have ICE power or electric propulsion; you just pay the difference.
That the $37,990 GT (the lone variant) looks smart and drives well adds to the company's conviction that this is an Audi A1 competitor at a lower price. Is it really fit to compete against premium compacts?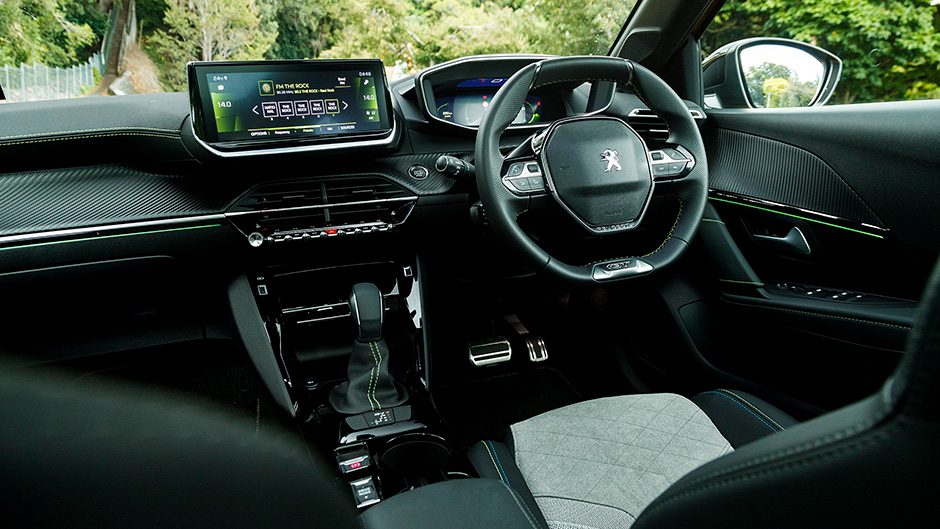 Lots of competition
The comparable A1 is the 110kW/250Nm 35 TFSI that costs almost $50k, much quicker than the 208 but not quite so spec laden. However, it gets adaptive cruise and seven-speed DSG. Here, 208 dips out. Realistically, it's the A1's cousin Polo in the similarly named GTI guise, costing $3000 more, that the 208 vies with. The VW offers next-level power and performance, thanks to its 2.0-litre 147kW/320Nm turbo engine and six-speed twin-clutch transmission. Moreover, it closely matches the 208 on specification, except that heated sports seats, and active info display cost extra. However, it comes standard with adaptive cruise and dual zone air, bringing them closer in price.
Another rival that happens to be identical in price to the 208 is the slightly bigger Gen8 Golf TSI Life. It offers added power output (110kW/250Nm from its 1.4L four-pot), while it also gets an eight-speed auto so 0-100 is wrapped up a second quicker. And it comes with adaptive cruise as standard. You could say much the same for the Skoda Scala Style at $39,990.
The 208, which has grown in size and is now over 4m in length, counters with starry auto-(un)locking like a BMW so long as the proximity key is, er, approximately handy. Aside from the usual safety prerequisites, there are full LED headlights, alcantara- and leatherette-clad seats, speed limit recognition, configurable 3D instruments, black mirror caps and roof, gloss black 17-inch alloys and wheel arch accents, and twin chrome exhaust.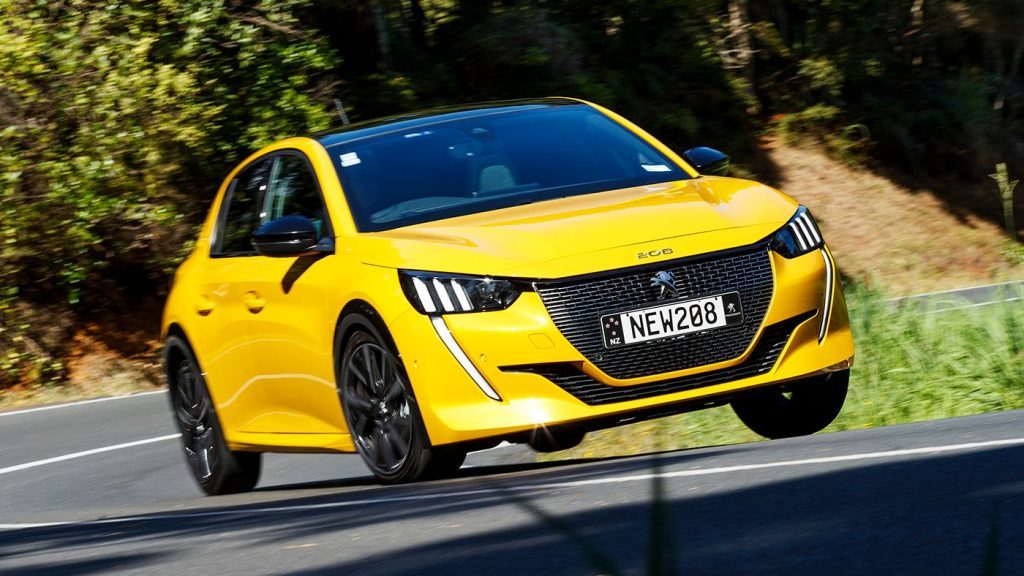 Figure also on Peugeot's unique i-Cockpit set-up, heated mirrors and front seats, a trio of drive modes, front and rear parking sensors, window tints, touchscreen with navigation, wireless charging, ambient lighting and a five-year warranty. If you like gloss black and carbon plastic trim, there's plenty of that inside too, along with piano key toggle switches, sports pedals and metal scuff plates. In the back there are a couple of USB ports to keep the kids occupied. Apple and Android phone users are covered. The main option is a fixed panoramic glass roof with electric sunblind ($1000).
Where the 208 dips out compared with the others is its six-speed auto – the competition mainly gets dual-clutch seven-speed boxes. There's also single-zone air conditioning, no big deal, but manual cruise, not adaptive, is. Plenty of less glamorous superminis get active cruise gratis because it's considered a safety feature. It prevents collisions, just like autonomous braking.
Fronts up in style
How then does 208 front up? Er, rather well, for the most part. For it's a stellar look the newcomer, aggressive without being overtly so with its claw-marked lights, fancy clam-shell bonnet and new frameless family grille.
Only one paint colour is gratis, Faro yellow you see here; the others are metallic or pearlescent and cost $550-$950 extra. The only other cost option not already noted is a three-year/45,000km service plan at $1700. New car warranty lasts five years and 100,000km.
The interior is downright funky, with its 3D configurable instruments set above the compact oblong steering wheel. You can opt for a range of readouts but the traditional ones are best, those that show digital speed readout at the very front of the screen, floating out to greet you, and revs alongside. The central screen is sensibly angled towards the driver, and while the row of piano keys is unusual, it's not that intuitive to operate. Still, different has its place, and in that regard the lime green and blue contrast stitching in the cabin looks good, as do the mixed material seat covers. So inside and out, this is an appealing compact. It even feels well built, doors closing solidly and the maze of soft plastics tasteful.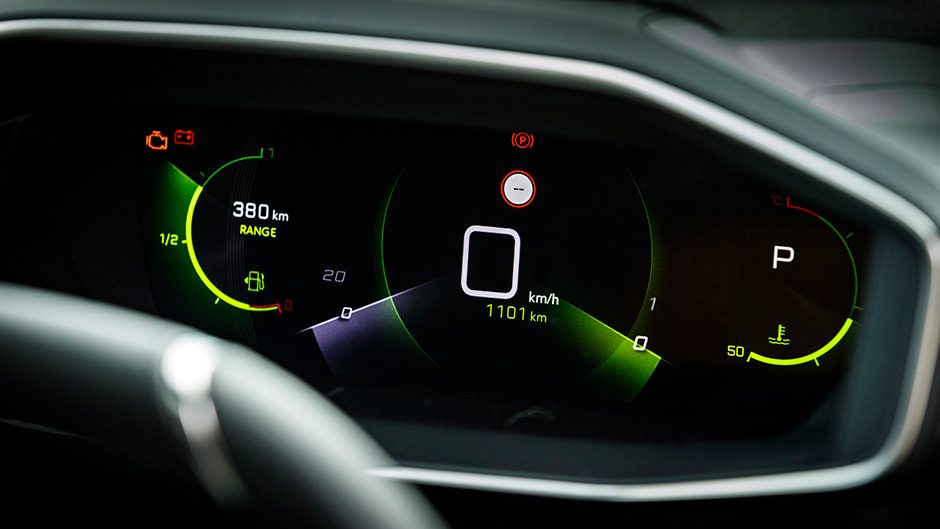 GT performance
Of course, it's only a Peugeot if it goes okay and here the message is not quite so convincing. Apart from an annoying tendency to not start/stop when you push the go button – one must hold it down for two seconds – we've no issue with that little peach of a 1.2L turbocharged triple. It's especially tasty in Sport mode, which is kind of mandatory on rural runs where it fires beautifully, its 230Nm available from 1750rpm and easily a match for its 1186kg kerb weight. This pulls hard in the gears from 3000-4000, so overtakes are completed swiftly. But it's hampered by a six-speed auto, particularly its straight line acceleration which isn't exactly GT-like as shifts take their good time. We couldn't match the 8.9sec sprint run of the 308 we drove in 2018, falling short with a best of 9.1sec (claim of 8.8sec). Okay, this is largely irrelevant given the midrange available in Sport mode. We settled for Normal mode in town and it just grunts about merrily without a care but each time you select Sport again, the extra pizzazz makes you forget about the default Normal mode. There's also an eco-setting for those interested in limiting fuel use.
While it's easy to have a downer on gappy six-speed autos, this one has a handy manual-sequential slot at the shift lever. Only in Sport mode, the box behaves well enough that you'll not bother shifting yourself. Sixth is tall for easy cruising so fuel use is decent, never exceeding double figures and for the most part in the mid-eights (6.3 is the claimed average), rising to nines during testing. Fours on the motorway are possible.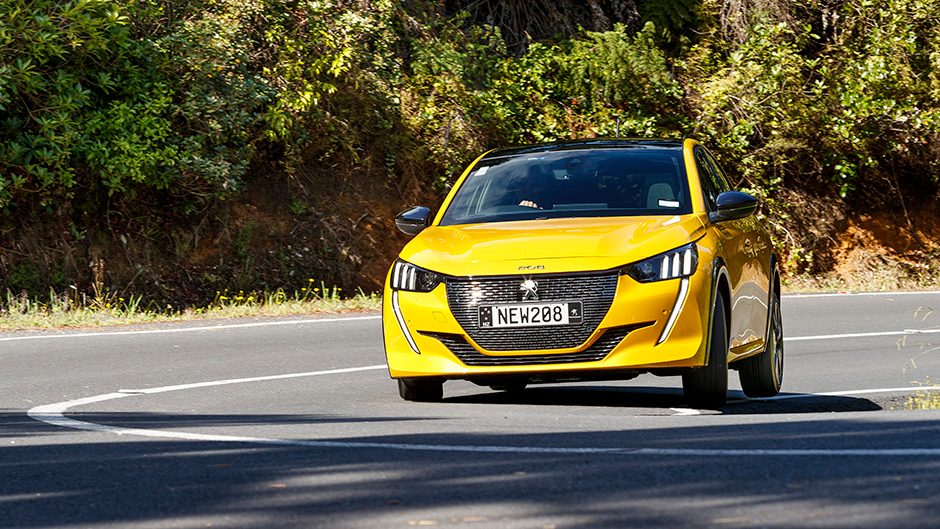 Chassis is sweet
Because it looks up for it, the suspension and steering set-up are biased towards sports, yet there's no real compromise on ride quality. Occasionally it feels a bit firm in town, but well shaped supportive seats help disguise this, and while there's no lumbar adjust it wasn't greatly missed.
Peugeot has worked hard at making electric steering like the hydraulic of old and in the 208 it all comes together rather well. This heads into turns like it's enjoying itself, the little wheel rim alive with banter from the road surface, the sports rubber locked fast, body roll nicely contained. Brake pedal modulation is excellent, making progress down your favourite roads easy and breezy.
Because this new CMP platform is designed to take a range of power sources, including full electric, we had high expectations for refinement. And we were only slightly disappointed with in-cabin noise levels averaging 73dB. There's some suspension noise through rougher corners too, but pleasingly only one minor extraneous buzzing noise, from a tweeter cover. The engine itself kind of growls away, as some three-potters do.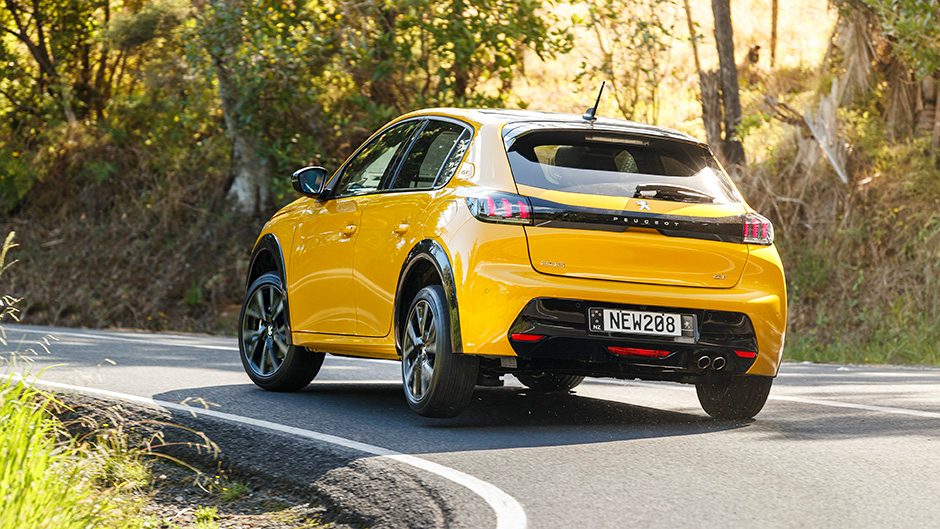 In the rear there's enough breathing space for a pair of adults and in the hatch there's room for 311 litres of gear, expanding to 1106L with rear seatbacks lying flat. So all round this is a great look, with reasonable performance, and fancy dynamics and fit out, as you'd hope for a supermini costing $38k. But a premium compact rival without an eight-speed auto or adaptive cruise? Perhaps if these were options.
To get the quicker Fiesta ST or Polo GTI you'll need to compromise with a manual trans and firmer progress (Ford), and extra cost without quite the style for the VW, but a decent lift in performance with both. New Golf will also loom as serious competition for the same money.
Overseas, there's an e208 that's coming here, a bit quicker than the GT but with less range, 350km from its 55kWh battery pack. What exactly the premium will be for a zero emissions experience is unclear, but likely the sticker will begin with a five.
| | |
| --- | --- |
| Model | Peugeot 208 GT |
| Price | $37,990 |
| Engine | 1199cc, IL3, T/DI, 96kW/230Nm |
| Drivetrain | 6-speed auto, front-wheel drive |
| Fuel Use | 6.3L/100km |
| C02 Output | 143g/km |
| 0-100km/h | 9.09sec |
| Weight | 1186kg |