We subject Volkswagen's Grand California to the ultimate acid test by loading it with kids and clobber and heading away for a weekend camping trip.
It seems that Volkswagen couldn't have timed the arrival of their new campervan any better. Here we are mid-pandemic and international air travel is sadly off limits for some time yet. With cash previously earmarked for overseas trips, Kiwis are looking to purchase new cars, houses and trips around our stunning countryside instead. And what better way to combine all three than with a new campervan?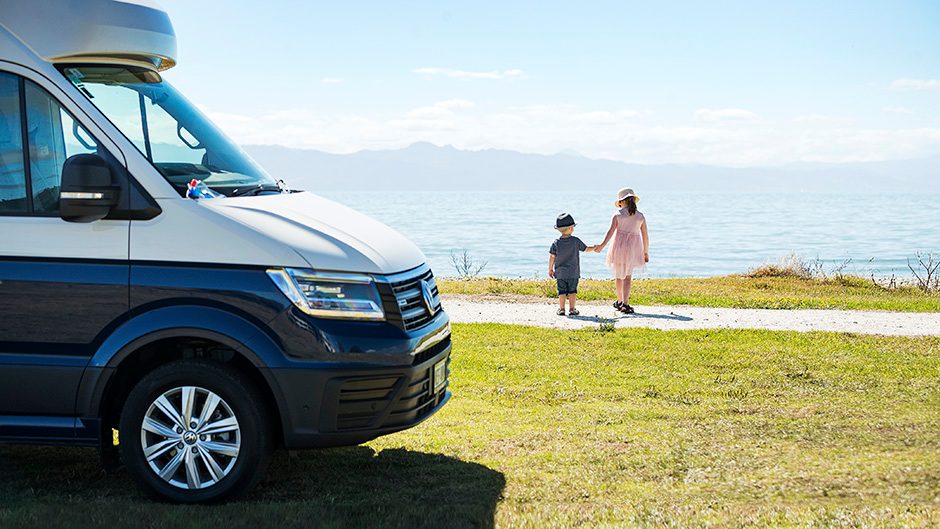 Enter the Grand California which is available in two sizes; 600 – big and 680 – bigger. Curiously the larger model sleeps just two while the smaller 600 has beds for four. The extra length of the 680 (6.8 metres) is said to give the interior an added air of luxury with more space to er, do whatever it is two campers do. It also gains a wardrobe and an 'Olympic queen size bed' (presumably for conducting athletics on). The 680's bed faces north-south while the smaller bed in the 600 runs east-west. The 600 stands a whopping three metres tall thanks to its extended roof which houses the extra bed up top over the cabin.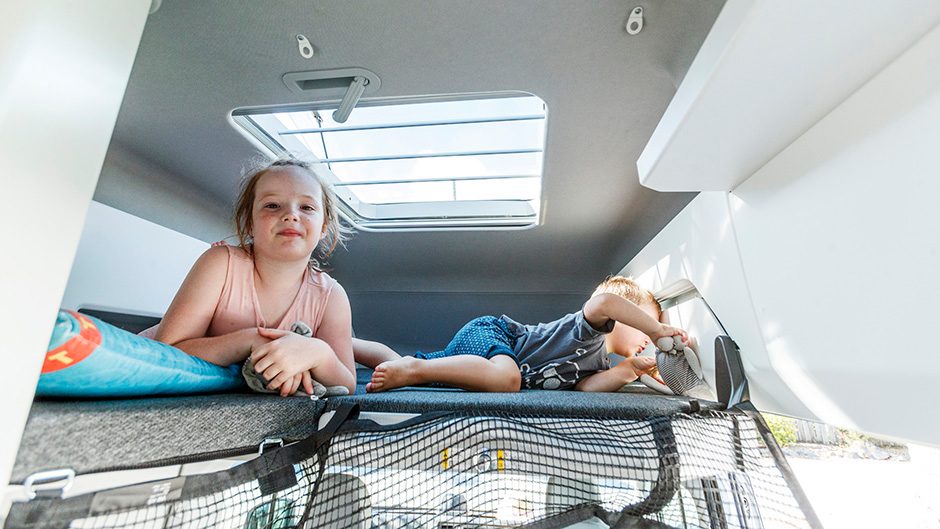 Interior space aside, the two Californians' spec is identical and impressive but then it should be with price tags of $159,000 and $163,000, respectively. There's only a handful of cost options and of those we'd only spring for the spare wheel in lieu of the goo kit.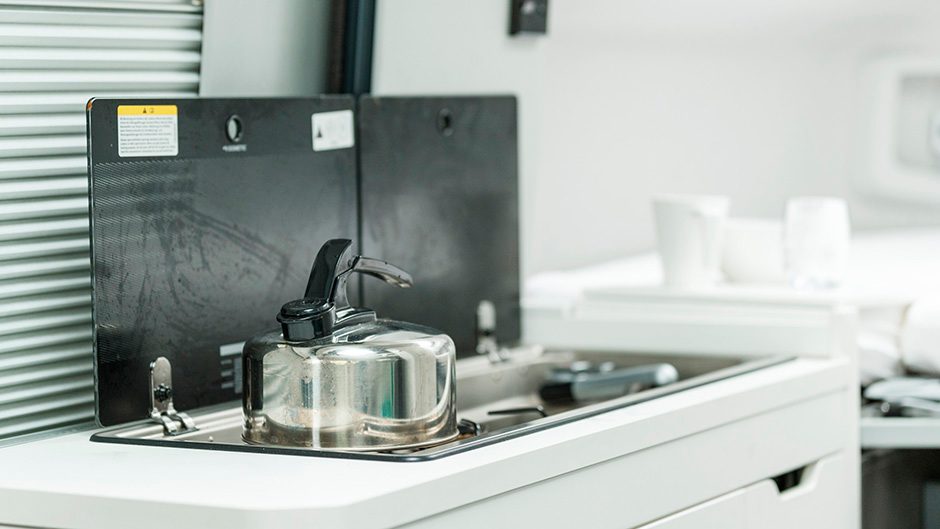 In terms of campervan-specific equipment, the GCs are loaded with some interesting tech, as well as everything you need to go off-grid for a few days. A central touchpad controls functions such as the dimmable lighting, cabin and water temperature. It also keeps tabs on the on-board water levels (fresh 110L, not so fresh 90L). There's a kitchen complete with sink, gas hobs and fridge/freezer which easily swallows a dozen beers (perfect for a night away with or without the kids). Rounding out the amenities is a 'wet room' which boasts a cassette toilet, sink and shower in a space we'd describe as snug. There's even an outdoor shower inside the rear doors.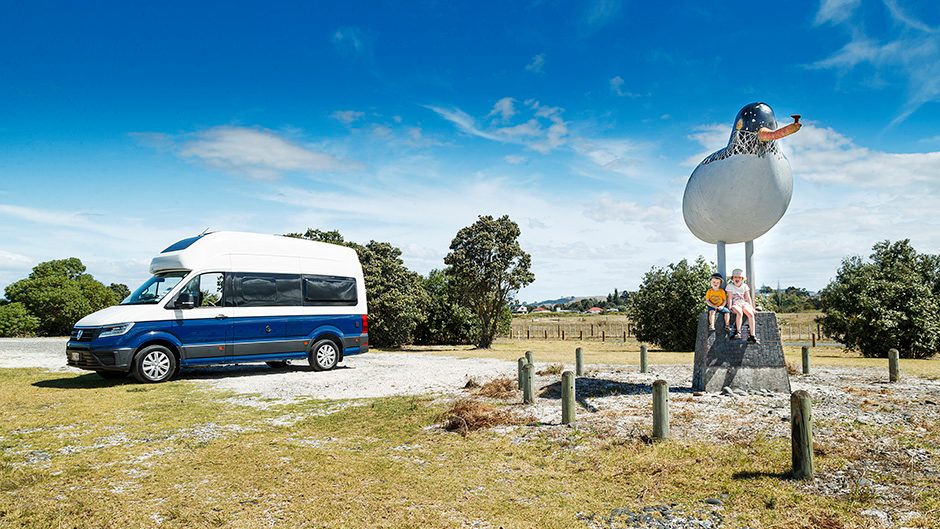 To fully immerse ourselves in the camping experience the kids and I headed for the Seabird Coast which is around an hour's drive south of Auckland. The roads to the coast are interesting and, while the GC might be imposing to look at, it certainly isn't to pilot. The driving position is excellent and the steering even relays some semblance of feel. Its 2.0-litre engine is well suited to this big rig, the changes from the eight-speed auto seamless. The 130kW/410Nm diesel is EU6 compliant and sips fuel at a claimed rate of 9.2L/100km. We averaged 10.5L/100km. Power is sent to all four wheels – a pretty unique feature for a campervan – meaning it's perfect for venturing off the beaten track. On the road the Cali feels planted, cruising effortlessly at 100km/h (no excuses for holding up traffic) with very little wind noise. There's even enough power in reserves for overtaking – heck, we managed to pass a couple of slow pokes ascending the Bombay Hills! You're always wary of the GCs grand dimensions but it does appear to shrink around you after a while. There's great all-round vision with large mirrors, parking sensors and a high-mounted reversing camera.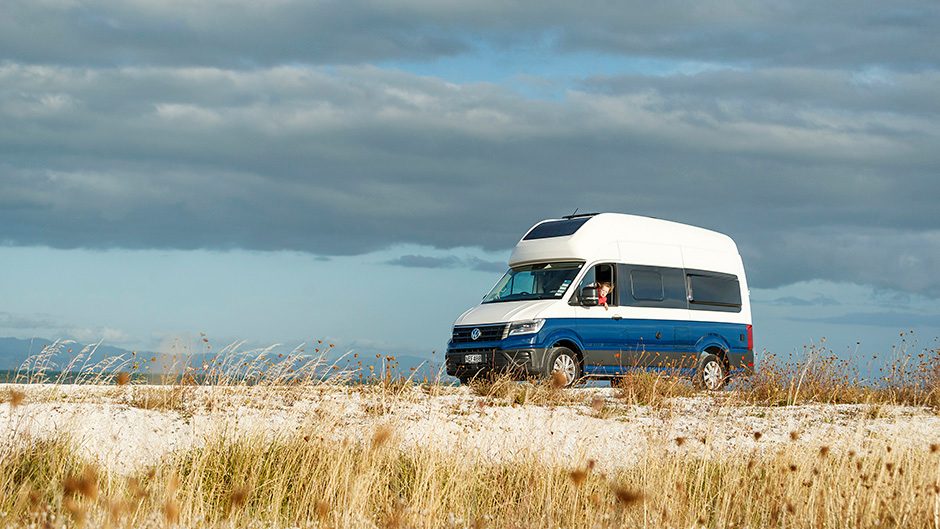 Keeping you alive are all the safety systems we expect in a car these days but are often AWOL from commercials. Along with 4Motion there are multiple airbags, ESC, AEB, forward collision warning, lane keeping, lane assist, active cruise and crosswind assist. Isofix and top tethers are included on the bench seat. However, we found this to be on the mean side so some jiggery-pokery was needed to make the kids' seats fit.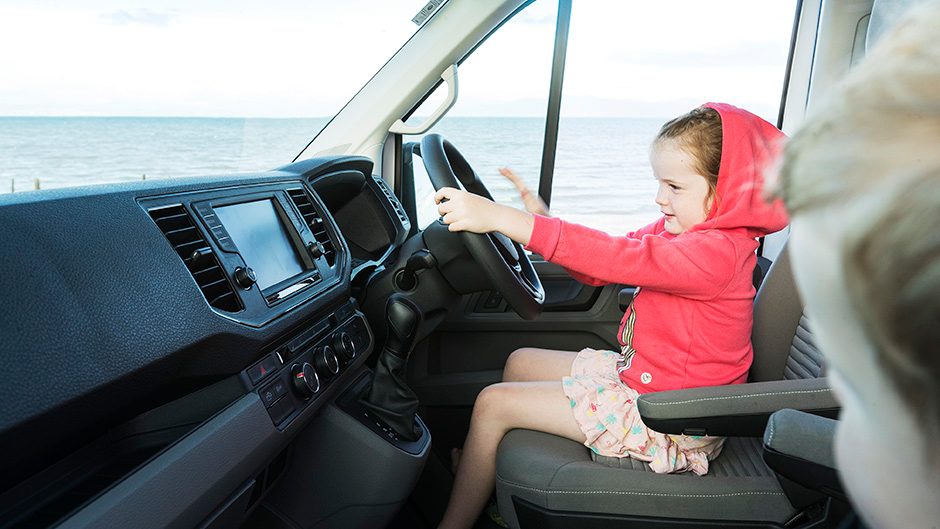 Rather than attempt freedom camping with the two little monsters we opted to stay at Miranda Holiday Park. The campground is beautifully maintained and has all the facilities you'd expect, along with some unexpected ones like a BMX track, trike hire and mineral hot pools. While the Cali can run all the essentials using its various power sources (gas, diesel, battery), the use of 240v devices requires plugging the van into the mains. USB compatible gadgets can be powered at any time with one of the many sockets dotted around. Solar panels are fitted as standard to help replenish the on-board batteries.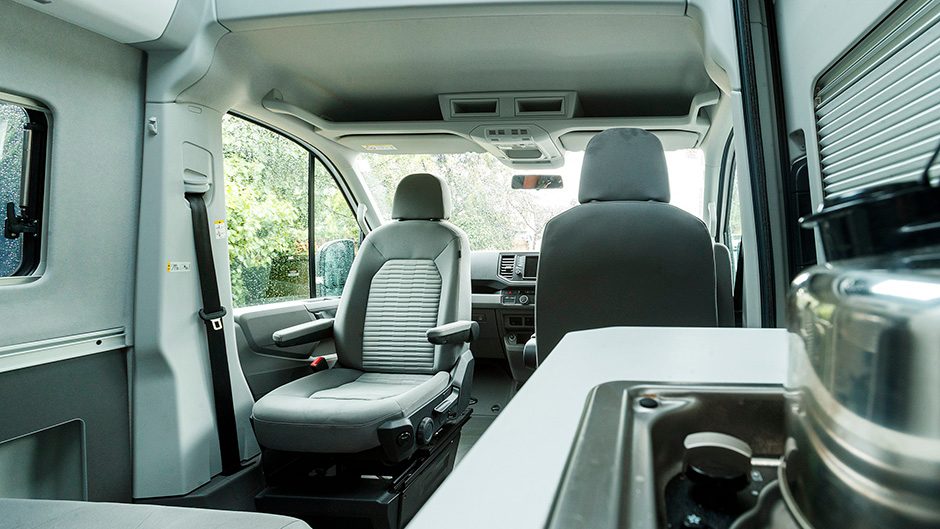 Bedtime couldn't come fast enough once I had shown the kids the pull-out bunk bed. For safety/parent's sanity this includes a net/cage to keep the little darlings contained. The skylight above features bars for the same reason. However my daughter quickly discovered that they were no match for a lanky five-year-old and promptly disappeared onto the roof. Typical. Skylight locked and it was back to the bedtime routine. The bunk is really only suited to kids, although it can accommodate a taller bod with one side featuring a flip-down extension. It's a super cosy spot and the kids loved it which made bedtime a lot easier than usual. If only getting them out of the bed the next morning was as easy! The main bed consists of a chunky mattress over 'plate springs'. It afforded a great night's sleep with just enough length to accommodate my six foot frame. When not in use, the mattress can be partially folded to allow access to the rear doors and the generous storage space underneath.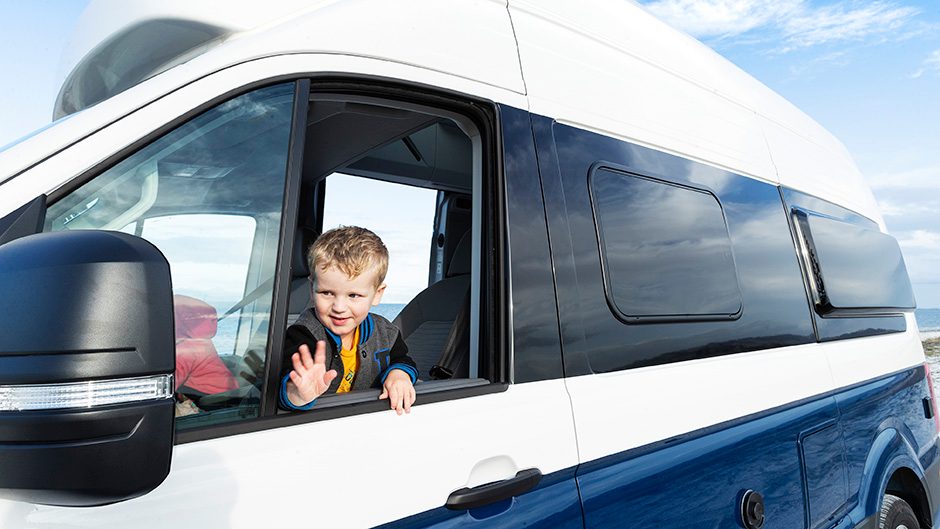 All the fixtures and fittings appear to be high quality and well considered. There's plenty of storage and even the front doors will swallow a tonne of stuff. The kids didn't break anything (a minor miracle), although the kitchen tap did part ways with the sink at one point but thankfully was an easy fix. A couple of the cupboards were hard to open. The sliding door requires a lot of muscle to operate and is hard to close quietly; it really needs a soft-close function.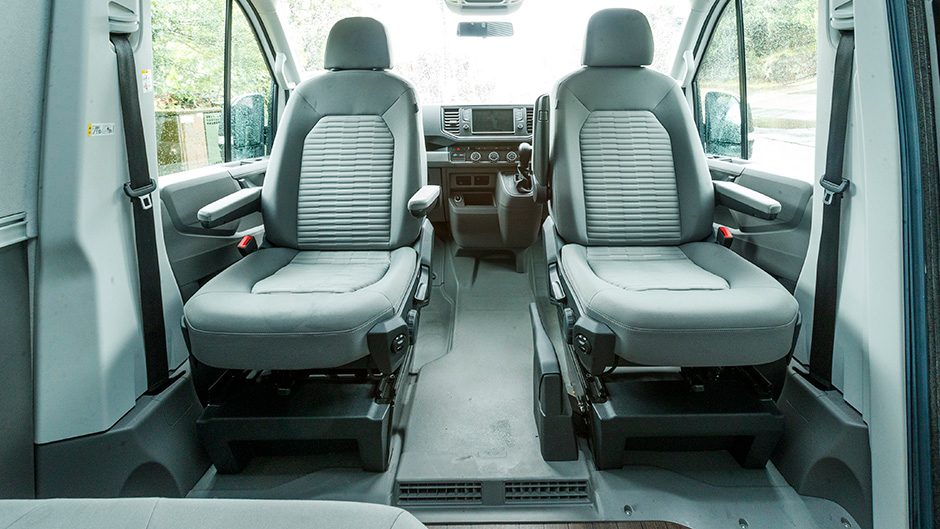 With the side door open there's good indoor-outdoor flow and the cleverly positioned fridge means that rapid drinks retrieval from the outside is a breeze. To maximise outdoor living a large roof-mounted awning is included, as is a picnic table and chairs. Keeping the bugs out are nets and blackout blinds on most of the windows.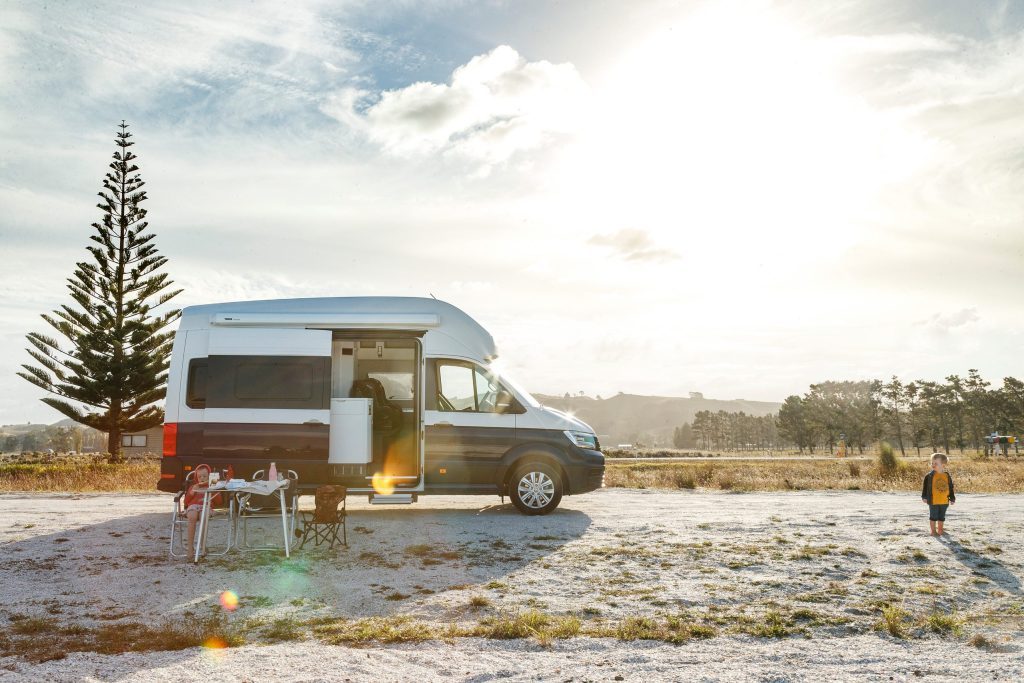 Without a doubt, the most striking aspect of the Grand California is the two-tone paintwork. There are four variations available all at no cost so why wouldn't you? It looks sensational and is bound to be better for resale. The bodywork is largely free of the various vents, doors and other addenda that usually decorate the sides of campervans. The resulting clean lines and Candy White/Deep Ocean Blue hues attracted many lustful looks and comments. For the less adventurous there are three single-tone variants.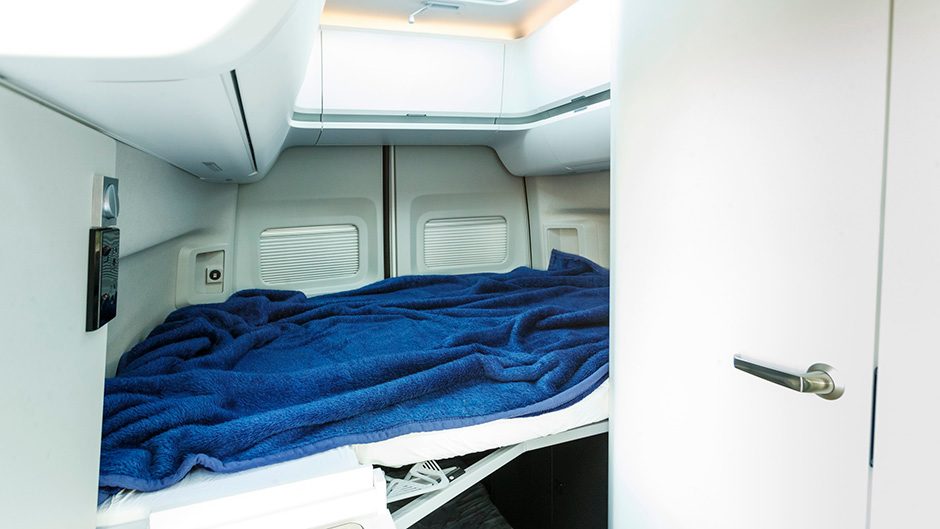 Perhaps the most unique aspect of the Grand California is that it is built by Volkswagen and not a third party, as with most other campervans. There's a dedicated production line in the Polish plant that's apparently one of the 'most advanced car factories in the world'. The conversion process takes around 60 hours and requires over 1000 unique parts. Finished vans are rigorously tested, including for water tightness!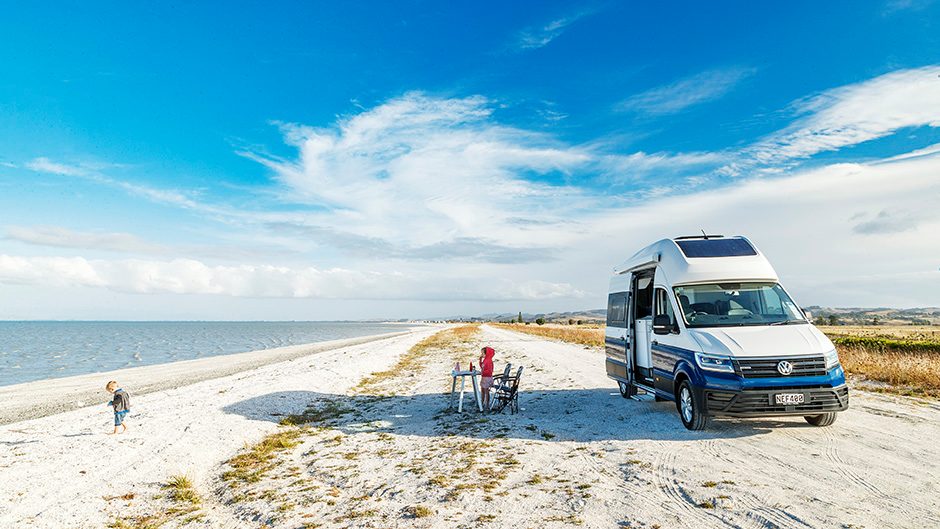 The Grand California's price puts it at the top of its segment but its unique features and sharp styling set it apart from the competitors. Service intervals are 30,000kms/two years with fixed price plans coming. Roadside assist is also included and the five-year factory-backed warranty means that issues with any aspect of the camper (the fridge/shower/toilet etc) can be sorted by a Volkswagen dealer.