Neither coupe nor convertible, Porsche's 911 targa is a stylish half-way house. But is it functionally any good? We sample the lone offering here, the 4S.
What an odd bird the Targa is, you're probably thinking. And you'd be right; it isn't quite a convertible and nor is it a coupe, though it shares features of each. Whatever you may think of it, it has staying power. The Targa first dotted down in the mid-60s, making it much the same age as me (you wish – Ed), and is now into its eighth generation. This is the third body variant of the new 992 generation to debut (after Coupe and Cabriolet) and is all-wheel drive, as are all three Targa models. But we get only the top level S version of the 911 Targa 4. That has more power, prestige and price.
It's not what you'd call a massively big seller in this part of the world but is popular in places like California, where it seldom rains. And even if it does, roof closure takes 20sec, with the proviso that you're stopped at the time. And it's quite something to watch, auto origami, the huge rear section of glass moving up and out, the canvas top folding away neatly beneath a hard top tonneau cover, and then the rear glass repositioning itself. You need to be clear of impediments behind, lest the glass section smash to smithereens against a garage door or a cinder block wall.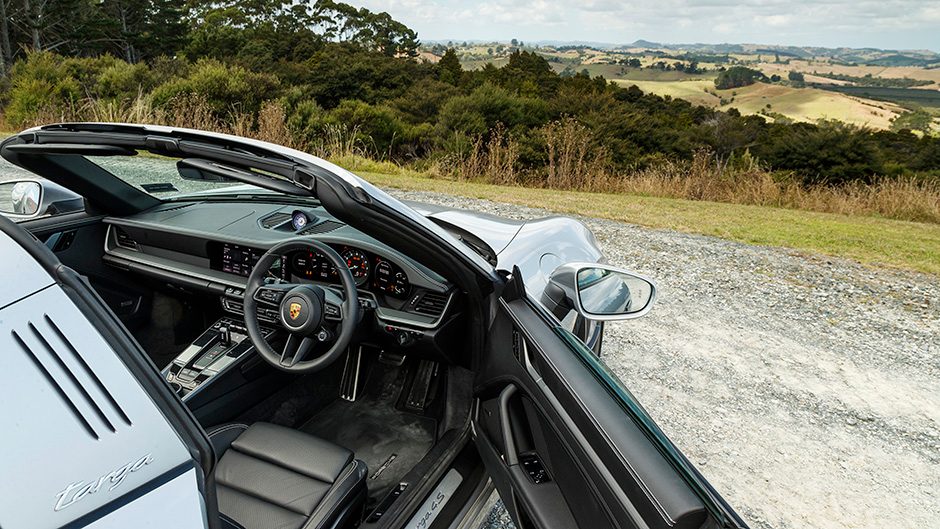 How'd it come about then?
The original idea behind the Targa is that structural integrity is more or less maintained by the fixed roll bar, while with the roof off it's much like a convertible functionally. So it gives the wind in the hair experience without all the bluster or noise.
Back in the day, the original panel was a removable fold-away structure and the rear window a plastic item that caused problems – one of which was excessive cabin noise. The floppy window was soon replaced with a solid glass item.
In the 90s the Targa transitioned to a 911 with a large sliding panoramic roof, power operated for ease of use. However, it didn't really look like a Targa, so the 991 model introduced the system that has carried over into the current 992. It's complex, and weighs a fair amount compared with previous iterations, but the look is right, and it's convenient to operate. Why it can even be done from the key fob, its party trick.
One interesting factoid about the Targa is that Porsche registered the name but didn't invent the genre. It was dreamt up by an Italian named Michelotti and introduced in 1957 on a Fiat 1100 concept car. Targa, by the by, means shield or plate in Italian.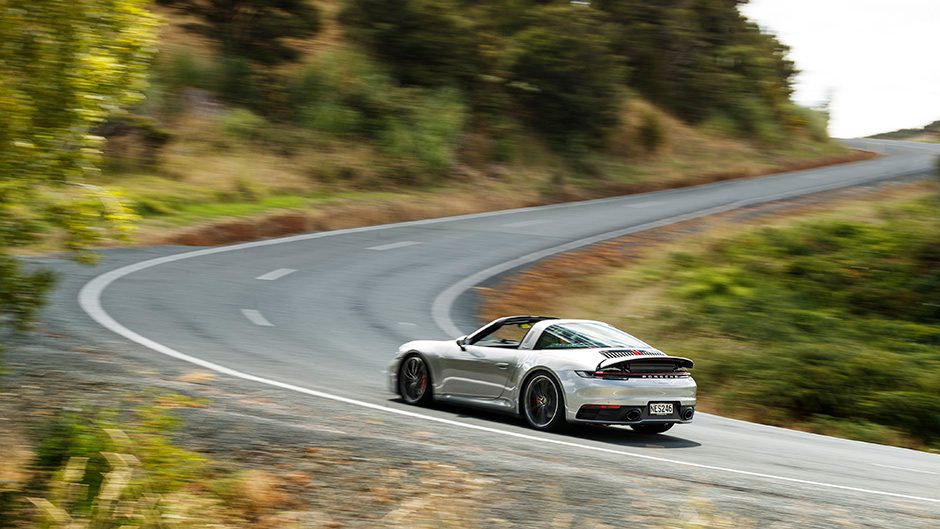 Distinctive Targa look
The previous 911 Targa, a 991 variant, was evidently a bit loud on the go, and suffered from buffeting. We can report that things have improved in that regard. With the top up, the worst in-cabin noise levels averaged 73.6dB. Lower the top and there's not a whole lot more noise, surprisingly, depending on whether you have the air deflector raised or lowered. This sits above the leading edge of the windscreen, and with it up there's a bit of wind whistle. Figure on mean noise levels being 2dB higher, but with it down, where there's a bit of buffeting, the noise levels are only one dB worse than with the roof up at 100km/h. That's providing both side windows are raised. As for what it does to your hairdo, think of this as being no worse than a sunroof essentially.
There's no mistaking the Targa – it's quite distinctive, and from most angles, except arguably the front three-quarter, where the big glass section makes the hiney of the Targa look exaggerated, it's a smart looker.
Roof down, you hear more exhaust sonics, especially in town with the exhaust flap open. And with spoiler up, it's quite the puff piece. We drove the Targa most of the time with the roof in place, and amped up the exhaust by opening the valve. On Sport Plus it pops alluringly on the overrun.
Tiger, not Targa
This reminds of a Carrera 4S. Funny that. Only the Targa is based on the same strengthened and therefore heavier platform as the Cabriolet, so it's not quite as pure as the regular Carrera S. It's virtually indistinguishable on price with the equivalent Cabriolet 4S, both of these around the $285k mark. But Porsche asks you to pay for some things others wouldn't consider extras, so the price tag ended up starting with a three. We imagine few would leave the showroom without adding the eight-speed twin-clutch transmission (comfortably the best I've ever experienced), sports exhaust (worth the $5110 for the extra clamour), adaptive cruise control ($3340!), and sports seats (no cost option), 14-way power adjustable.
Our particular vehicle also had the $4950 Sport Chrono package fitted, and that evidently shaves 0.2sec off what is already an impressive sprint time. It also means you get a mode adjuster that's attached to the steering wheel, inside of which is a go-hard button for a 20sec blast of superpower to help with overtaking. Not that 20sec are really needed!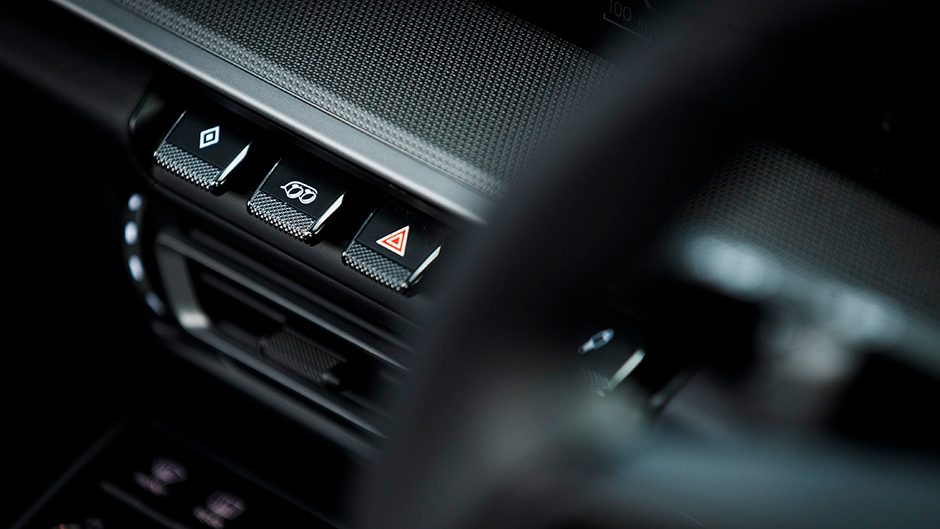 This Targa 4S is no slouch. Its 3.0-litre twin-turbo flat six makes 331kW, which is evidently 22kW more than its predecessor. Torque is also up by 30Nm to 530Nm, and it's said to blast to 100 in 3.6sec, apparently 0.4sec quicker than the last generation. Likely the swift-shift PDK gearbox contributes, doing nearly everything at reference level. Shifts are so silky you can't even feel them, let alone hear them.
The gearbox is also adaptive. Even in the Normal/Comfort mode, if you're plying an uphill or downhill switchback type of road, the transmission somehow senses this and becomes more responsive. So while there are paddles to hand, they get very little activation. Perhaps at the track they'd be handy, but for on road use, not.
Modes away
And, truth be told, it's the same for the modes. If you want more response, you can rotate the button on the steering wheel round one notch to Sport. This hypes the engine and transmission but not the standard-fit adaptive dampers. That suggests the default suspension mode, Comfort, is the one that Porsche figures works best in general use. And for our general rumpty roads that's precisely the case. On smoother surfaces by all means check out Sport damping; it is still reasonably compliant.
We took the Targa along highway 16, aka the alternative road north out of Auckland. We'd argue not any more. Not since Waka Kotahi have plonked 80km/h signs along much of it. In something like the Targa 4S, at 80km/h you're at the high end of second gear, with six to go.
So undertaking performance testing out there would have been highly illegal. The following day on our regular strip, with Sports+ dialed in (and hence launch control – why can't M cars be this simple?) the first run registered 3.29sec. The launch is so fun, as you'd expect of something with rear-biased AWD, and biturbo power. And the overtake is equally effortless. Just add a cm or so of throttle, the PDK instantly backs down two gears, and you're quickly done. An optimised 80-120 requires just 2.11sec or 60m of road. Anything around the 2sec area is in supercar territory.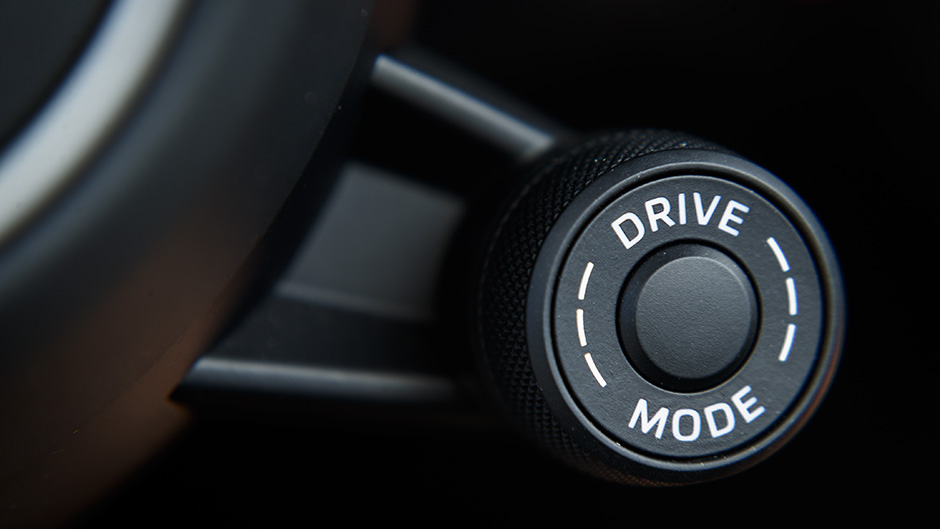 A dime anyone?
We're always in awe of 911 braking prowess. Yes, they have top notch brakes, big ventilated six-potters up front, four-potters down the back, but it's the Carrera's special weight distribution, with one-third up front and two-thirds rear that makes these slow in such devastating fashion. Hit the picks hard and weight suddenly evens up so the rears (305s in this instance) contribute as much as the fronts. Our worst figure of 33.1m to a full stop from 100 tells the tale. Of those we subsequently undertook, two were just over 30m, the penultimate was 29.9m and the best was 28.73m. Five of the ten best stopping vehicles we've recorded have been 911s, so now the Targa would make that six out of ten.
Purists decried the day Porsche added turbos to the mix, but their hand was forced; smaller capacity engines and turbocharging mean fewer emissions. The 4S is rated at 9.9L/100km. We saw the odd 10 cruising and usage went no higher than 12.5L/100km. That's because there's so much torque developed down low, the turbo effect well apparent by 2000rpm. There's 530Nm available from 2300-5000rpm. With tall overall gearing, you are doing 110 indicated at 1500rpm. Much of the time we'd see upshifts happening well before 3000rpm, and you're still honking along. Use all the throttle and the engine spins to over 7000rpm, spectacular for a turbo. In town, it breezes around at 1000-1500rpm.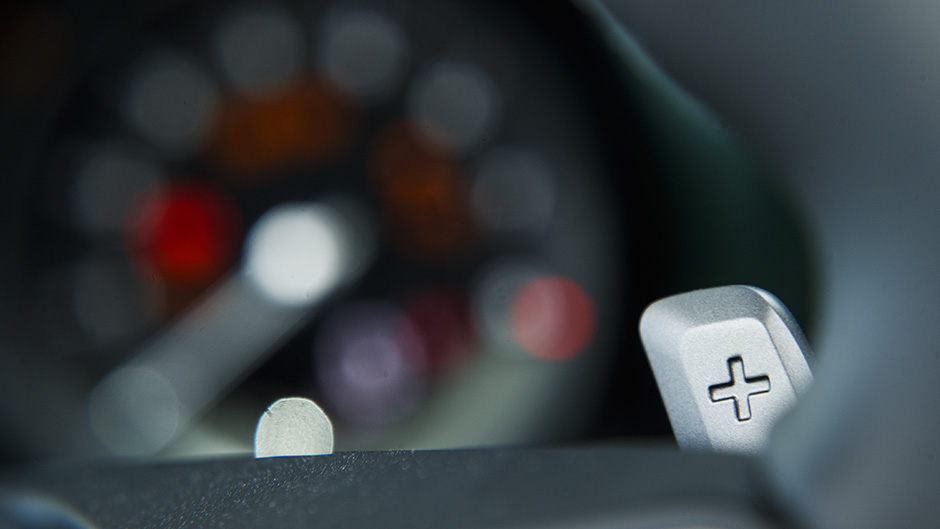 Bend swingin'
With AWD grip to burn, torque vectoring and so little weight over the front wheels, this turns with ease and enthusiasm. It isn't so pure as the Carrera S but the differences aren't marked for while it's nominally AWD this is essentially a rear driver until sensors dictate that some of the torque should be sent north. As corner entry speeds increase this merely rises to the occasion. Eventual understeer kicks in, best tamed by a throttle lift whereupon the front obediently whips back on line. Unlike Carrera where you can add extra throttle to remedy understeer, this doesn't like that.
With some low flyers, you feel hemmed in but not here, the seats truly plumbing the depths so bigger folk can still apply. Controls are so well laid out, so sensibly sited, and once you've discovered that fiddling with modes isn't really necessary it's more or less a matter of braking to set entry speed, steering and repeat. Gear selection the 4S does intuitively. Like any great GT, you arrive at point B much quicker than you'd have expected. And also less fatigued.
Is it the best Carrera? No. Nor is it the least expensive, but it's quite some character. And the Targa 4S is the charger now as well.
| | |
| --- | --- |
| Model | Porsche 911 Targa 4 |
| Price | $253,800 |
| Engine | 2981cc, flat 6, T/DI, 309kW/500Nm |
| Drivetrain | 7-speed twin-clutch, all-wheel drive |
| Fuel Use | 9.0L/100km |
| C02 Output | 184g/km |
| 0-100km/h | 4.2sec |
| Weight | 1675kg |