For the sixth iteration of Polo GTI, VW has given it the Golf GTI engine, detuned of course but with launch control. Can it run down big bro?
Volkswagen may be guilty of one dodgy thing, but it had a truly sensible idea that created a trend when it began engine downsizing. Hand in hand with that went forced induction, generally by turbocharging. The trend became a tsunami so that now it's almost impossible to buy anything above about $50k that doesn't have a downsized engine with a turbocharger attached. And VW continues the trend right down to its base vehicles like Polo.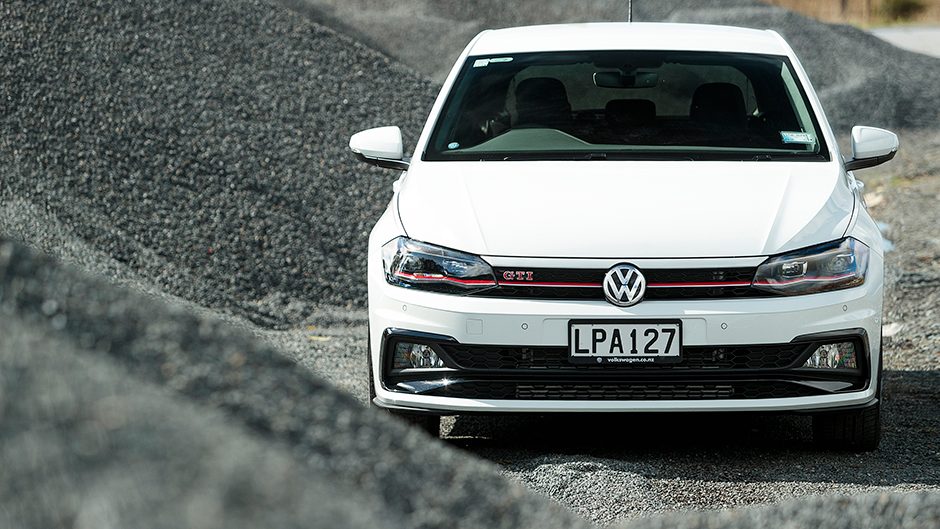 On that, the new sixth-generation Polo GTI has arrived and it promises to be the best yet, mainly because they devised the GTI at the same time they were developing the cooking models, not as an afterthought. So it's been simmering away for a few years, and while larger it feels more playful and of course is quicker.
Bigger is better…
On size, dimensions expand liberally, so it is now much bigger than the original Golf. Length is up 81mm to 4053mm, and it's 63mm wider at 1751mm. The added length is courtesy of a 92mm wheelbase stretch to 2548mm. And with that, both interior and luggage carrying capacity grow, the latter up from 280L to 305L, and 1079L with split folding. That's a bit less than regular Polo's 350L because of the underfloor battery.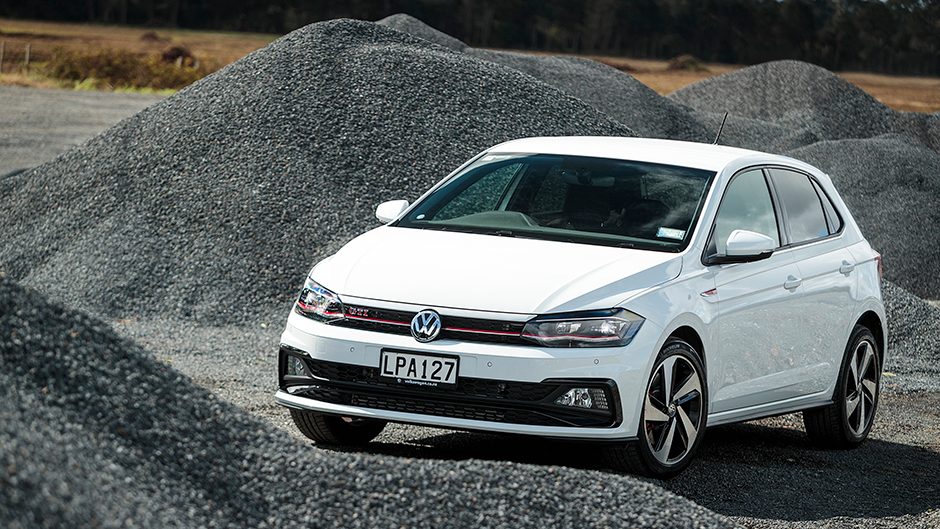 It again comes to us in five-door format only, and with the twin-clutch transmission, handier than rivals like Fiesta ST (manual only) and Mini Cooper S (7DCT is a $3000 option over the manual). VW has determinedly maintained the GTI ethos with its latest piping Polo, making the car one you can handily drive to work of a day and then take for a workout on the track in the arvo.
…also under the bonnet
It's what they've done to the engine that's probably of most note. For once again they've reverse downsized the engine. In the previous generation it went from the 1.4 twin-charger to a 1.8 turbo, and in this one to a 2.0 turbo. How come? Volkswagen discovered that downsizing is fine for chasing economy, but there's really no replacement for displacement when chasing action. I recall VW mentioning engine size 'appropriate for application'. Quite. In the 400cc upgrade to the fifth generation, there was a marked improvement in performance, blasting to 100 in 6.56sec.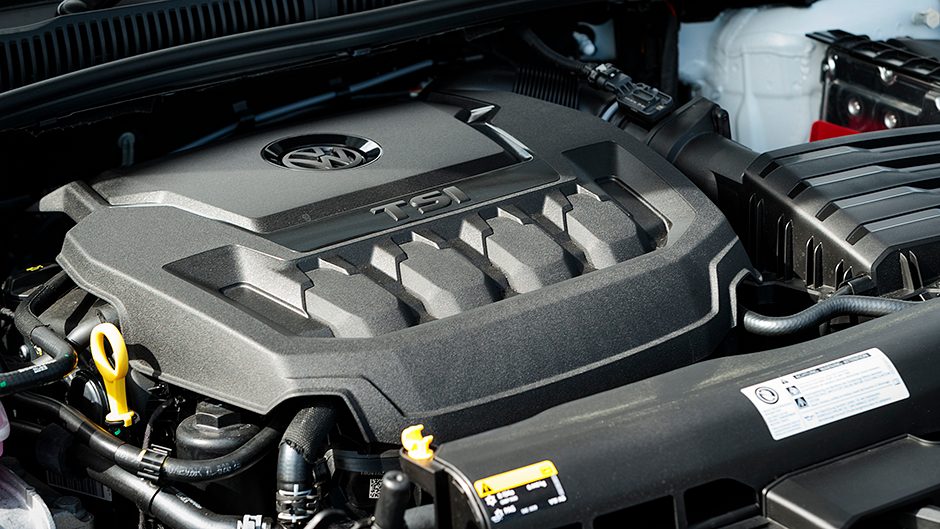 The latest picks up the Golf GTI engine, the EA888 2.0-litre turbo four, only in its original state of tune. It develops 147kW, up just 6kW on the 1.8T but torque climbs appreciably, from 250Nm to 320Nm, on tap from 1500rpm. Added output is good but it necessitated a new transmission. They've downsized that one, from a seven-cog unit, right at its torque limit, to a six speeder instead. With so much midrange twist, however, the missing gear isn't, er, missed. Top gear has the smallest GTI pulling 1800rpm at 100km/h.
But added weight
There's also a new chassis underpinning the latest Polo, the MQB-A0, only there are myriad suspension changes for GTI. It gets unique wheel hubs and steering knuckles, a stiffer torsion beam at the rear and 15mm lower ride height. Evidently there are also rerated suspension bushings and entirely different axle geometries and roll centres.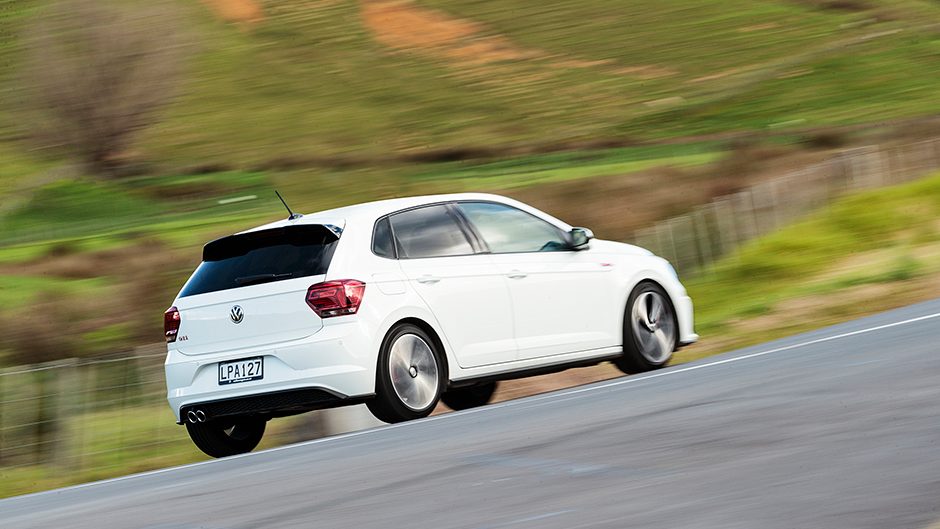 Unlike the last model which got adaptive damping as an option, this comes standard with 'selective dampers'. It's not quite the same as adaptive chassis control, but there are still dampers with two different compression and rebound settings that change according to where the Mode button is set (Eco, Normal, Sport or Individual).
What normally happens these days with new platforms is that they are stiffer and lighter because of increased use of high tensile steels. In the case of the latest Polo GTI, it's one but not the other, the previous generation GTI weighing in at 1245kg, and the new one at 1310kg. So with only 6kW extra, don't be surprised that VW quotes the 0-100 time at 6.6sec for the auto.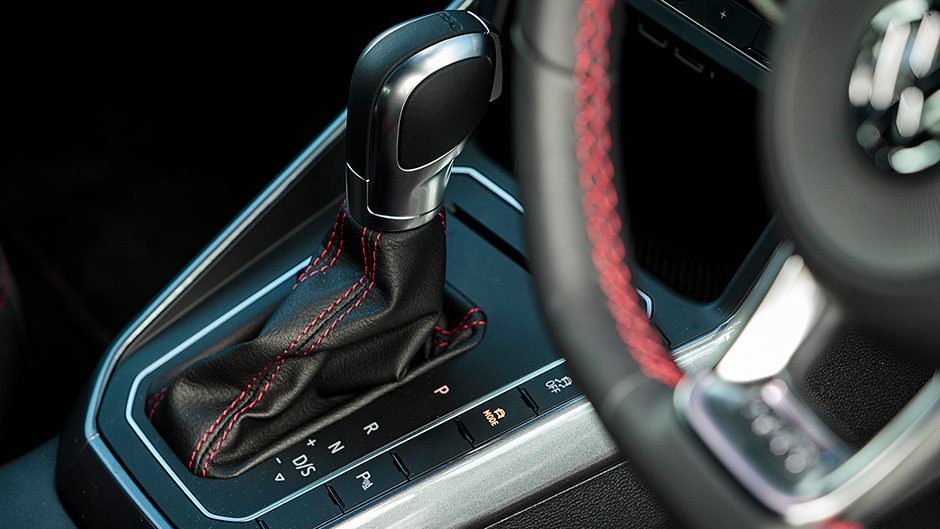 Quicker or not?
Most VWs don't like to have throttle and brake applied simultaneously but this one is different. With everything sportified, when you hold your left foot on the brake and floor the gas, 'Launch Control Program Active' pops up. The rev counter hovers at 3000rpm and if you're on a decent surface the GTI fair bounces out of the box, one run ending just before six seconds had elapsed.
The fastest front-wheel drive machine we've road tested remains the 222kW Seat Leon Cupra, followed closely by a 195kW Golf GTI 40th Edition; both clocked 0-100 times of under 5.6sec. Civic Type R wasn't far behind but it's the only manual; the rest use direct shift gearboxes. So now Polo GTI joins the sub-six-second front-drive group.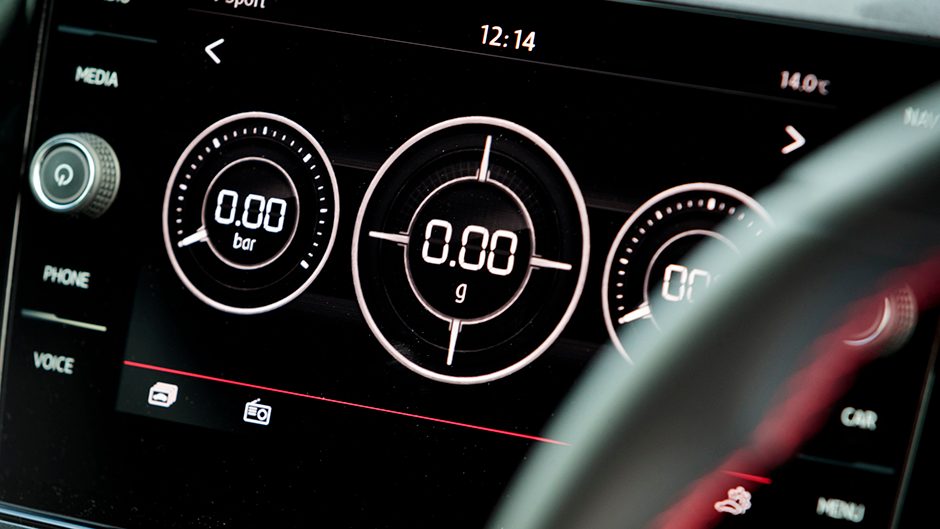 Golf GTI remains the quicker car, its 3.62sec 80-120 roughly half a second faster than its smaller namesake. The Polo GTI goes like the clappers in the midband though, once the turbo really starts to blow. It begins to bloom at 1500rpm and once you're past the 2500 mark it's off like the proverbial robber's dog. Milking the midrange from 2500-4500rpm it simply carves up the back roads, hanging on grimly through the corners. Driving it thus, we saw a worst fuel use figure of just 10.2L/100km.
Dynamics to the fore
This is what's most impressive about the latest GTI, not so much the fuel use but rather the improved dynamics. Not that we're overlooking its sprint time in any way, but cornering ability is really quite something. It reminds of madcap Minis. There's precious little in the way of torque steer as it fires off the line, while its decent low profile rubber helps with steering tactility.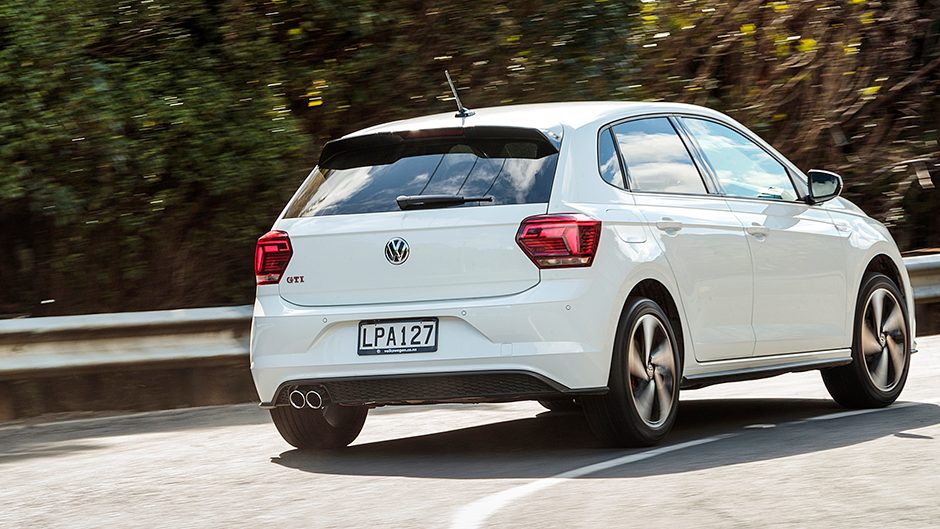 Weighting and precision are good, making it easy to place in corners. The boned up suspension keeps the body roll to a minimum, without ride becoming brittle. Oddly enough, we preferred the Normal setting to Sport for its mix of compliance and control. Perhaps on smoother surfaces, or in a track setting Sport would be ideal, but most of the time we chose Normal where there seemed to be the right amount of travel and bump absorption for lumpy Kiwi roads.
It still flies through the bends – we frequently saw over one lateral G on its performance meter – and the XDS torque vectoring by brake is helpful in getting the power down early on the exit. Only the frontal weight bias eventually makes it run wide of the line at the high grip limits but a quick lift or gentle trail braking going in help keep it on track.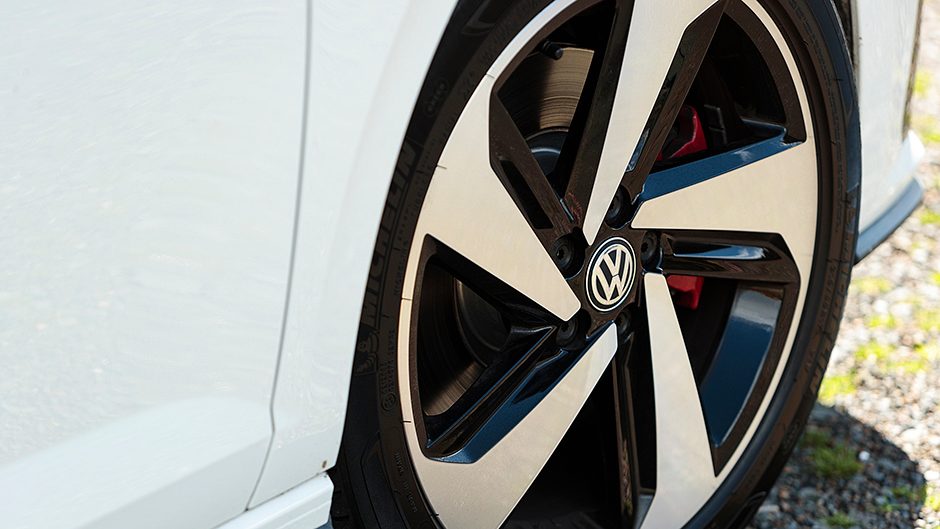 Look on the down low
What's also rather cool about the new Polo GTI is style; the aggression is subtly done, the badges and spoilers not too garish, the 17-inch wheels not overblown. Inside, you're never in doubt as to what model it is, with the tartan cloth and D-shaped wheel the main differences. New sports seats are truly hip hugging and have manual lumbar adjust as a bonus. They're set a fraction high for taller folk but that's not a deal breaker. Nor is the fact that they have no seat heaters that are part of a $2500 velour coverings upgrade.
There's been a $2500 price increase over the previous GTI but this does come standard with adjustable damping, previously a $1000 option, and there's also Discover media navigation, formerly a $750 upgrade. Standard kit includes LED lights all round, paddle shifters, idle stop, comfort entry, cruise control (active cruise adds $1000), dual zone air and an eight-inch colour touchscreen with reversing camera and sonar both ends. Safety runs to the usual ESP and ABS, along with city AEB and pedestrian detection, and blind spot monitoring. There are six airbags and Isofix in the rear.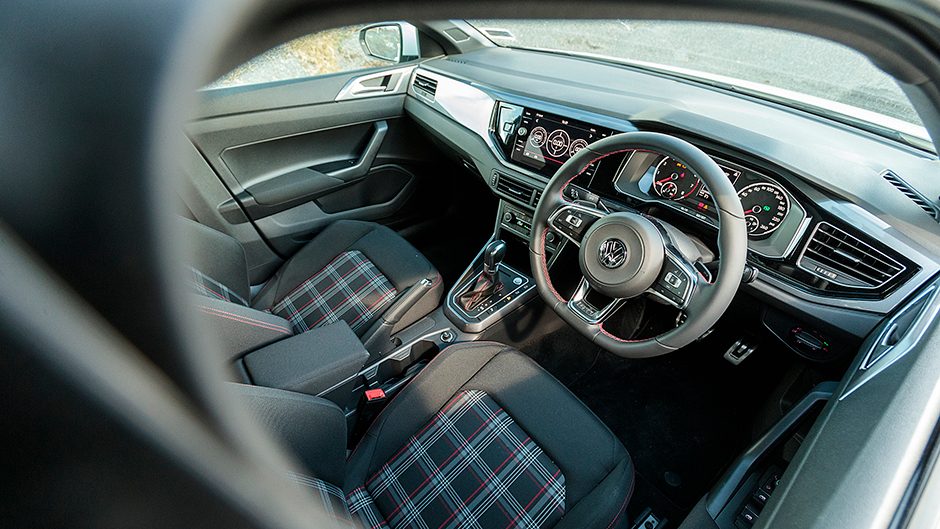 Polo GTI gets a bit of a jump on its Ford rival, the new Fiesta ST not due until Q2 next year. It too will be a five door with a 147kW engine, a three-pot 1.5 turbo. However, it will come with a six-speed manual only. VW has yet to confirm when or if a manual six-speed Polo GTI will be happening next year. And frankly, most won't care. You're getting almost Golf GTI performance and dynamics, if not quite the specification or size, but for less than two-thirds the price. Bears thinking about.
| | |
| --- | --- |
| Model | Volkswagen Polo GTI |
| Price | $38,490 |
| Engine | 1984cc, IL4, T/DI, 147kW/320Nm |
| Drivetrain | 6-speed twin-clutch, front-wheel drive |
| Fuel Use | 5.9L/100km |
| C02 Output | 134g/km |
| 0-100km/h | 5.96sec |
| Weight | 1309kg |