The follow-up to the original 21st century Mercedes A-Class is a more focused and high tech offering that also happens to have a smaller but feistier engine.
'Hey Mercedes' started the trend of interactive learning assistants in cars, let it be noted, for not long after the new second-generation compact premium went on sale, whaddayaknow but BMW follows with 'Hey BMW'. Coincidental timing? Hardly.
Mercedes is a female name and it kind of works, not quite as well as Siri, which has only two syllables. 'Hey BMW' sounds forced. Why not 'Hey Bimmer' for cars and 'Hey Beemer' for the bikes. No doubt we will soon hear 'Hey Audi' in the four-ring cars.
Anyhow, if you're into smart tech, you'll likely enjoy this MBUX (user experience) feature. We've been rabbiting on about how distracting some of the Human Machine Interfaces are. What was wrong with buttons for the common functions and future tech for the rest?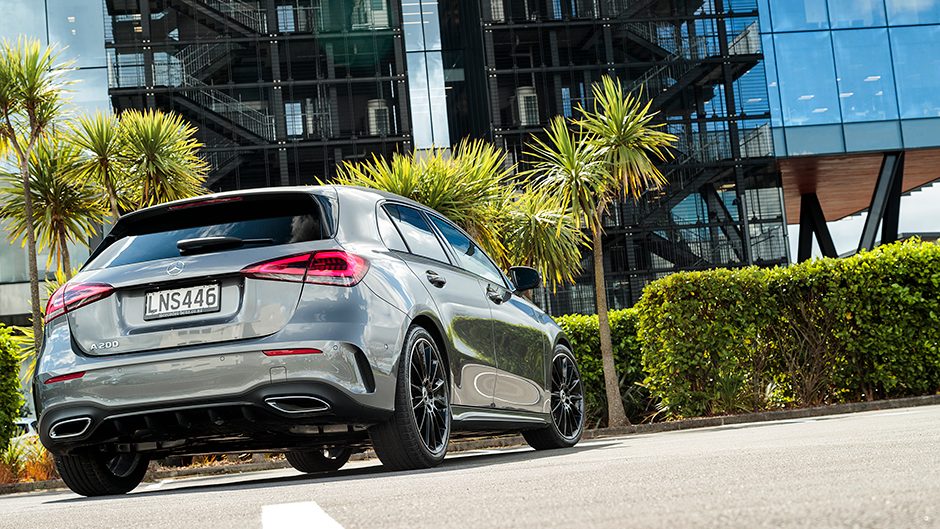 Distraction is a common theme in car crashes and fiddling with stuff in-car is one of the worst forms. The 'Hey Mercedes' feature can do a raft of distracting stuff for you, although changing cruise speed setting isn't one of them. Like for instance, play chosen music, turn on or change your seat heating, phone someone or suggest a route. There's even hidden humour here; the response to 'Tell me a joke' is: "I'm sorry, my engineers are German".
Using AI it learns how and where you drive and acts accordingly. It's clever. I used it for changing radio stations, not that easy in the modern era so I bet owners will really come to value it. It's a standard feature on the second-generation of the 21st century A-Class which has just gone on sale here, initially as the A 200 model that costs $60,900. An A 250 4Matic joins the ranks before year end, and next year an entry-level A 180 will debut, along with AMG variants.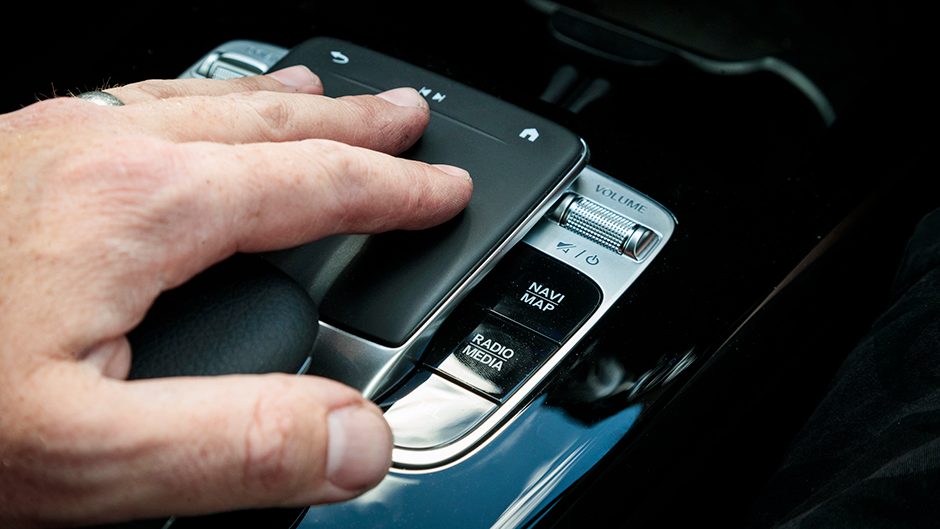 No longer a headbanger
We thought on our first drive of the new A 200 in the wilds of Victoria that it was a genuine step up on its predecessor, looking more menacing, and driving with more vigour and elan. Some of the improvements are because it rides on a new platform which is 30mm longer in the wheelbase and 15mm wider in the tracks. Out back there's 29L of extra luggage space, expanding to a useful 370L. The opening is more generous too. And on that, one of the bugbears of the 2013 car was poor head clearance when climbing into the rear of the vehicle. It's no longer a headbanger, and occupant space is better. Overall, it's even meant to be a bit lighter, by 20kg at 1375kg, but our's wasn't. Still at 1425kg it doesn't drive heavy.
More classy interior
What we admired straight off was the visual appeal, the new hatch much classier, especially on the inside. For it comes with an E-Class-like dual digital screen set-up, like two screens in one, elongated, without an instrument cowl. It looks great. Having one big screen in something this small lends the A 200 an air of prestige. It's just a shame a couple of items that really should be on the spec sheet are MIA.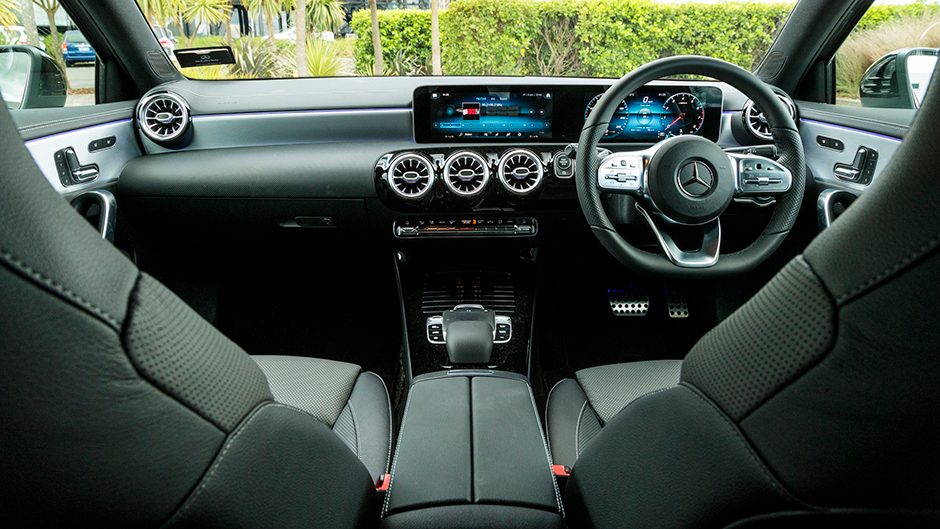 For example, there's push button start but no comfort entry. That costs $990 extra. At least what you're approaching looks much better. While the overall exterior doesn't seem that much altered – character lines are shorter, simpler – the new slimline LED headlights do add a predatory vibe to the car which it deserves, given the uprated performance and dynamics. A new jewel-like grille adds a touch of class, and the bonnet has more of a slope on it, enhancing aeros.
Tiny terror
The other big talking point around this car though won't be its flash new clothes or tech but it's significantly downsized engine. Where it used to run with a 1.6L four outputting 115kW and 250Nm, the new model uses a 1330cc IL4, and it yet it makes slightly more power (120kW) and just as much torque as its forebear. Naturally it uses less fuel as a result (5.7L/100km vs 6.1 claimed combined) and for almost the entire time we drove this car, the average remained in the low sixes. Only when we gave it a bit of a workout did it hit a maximum that still remained in single figures (9.8L/100km).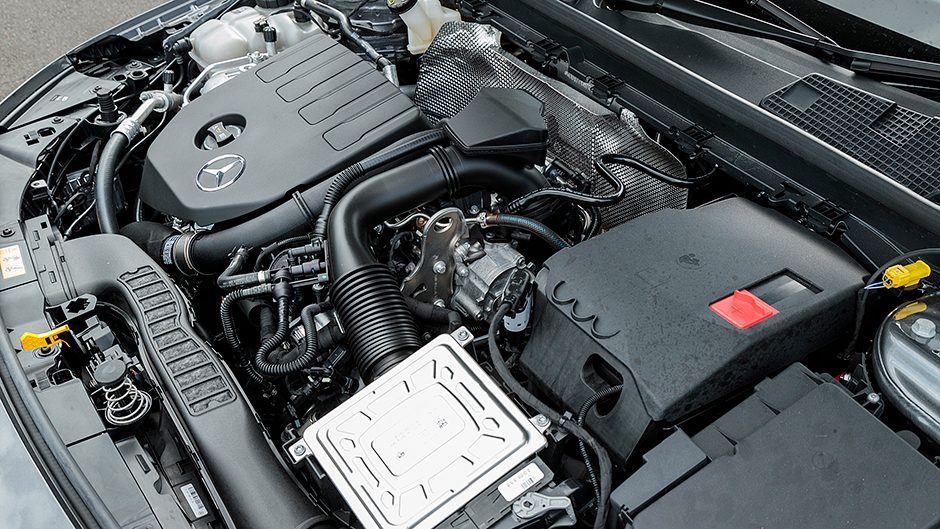 Much of that fuel efficiency you'd have to put down to the improved aeros, the new body having a drag figure of just 0.25 so it's clearly slippery through the air. Not that it's all that quiet, and if there's one criticism we have of the A 200 drive experience that would be road-generated noise. The average over our reference chip seal surfaces of 75.5dB is reflective of the sporty rubber, Turanza 225/40s, attached to the optional ($1390) 19-inch rims. Over most surfaces tyre thrum isn't an issue, only over the harsher tarmac.
We don't have in-house figures for the previous A 200 but it was meant to hit one hundred in 8.3sec and this one's rated at 8.0sec flat. It managed something beginning with a seven on the first run, and by short shifting we eked out a best of 7.50sec. The seven-speed twin-clutcher is no longer a slowpoke like the original, which helps crank things along.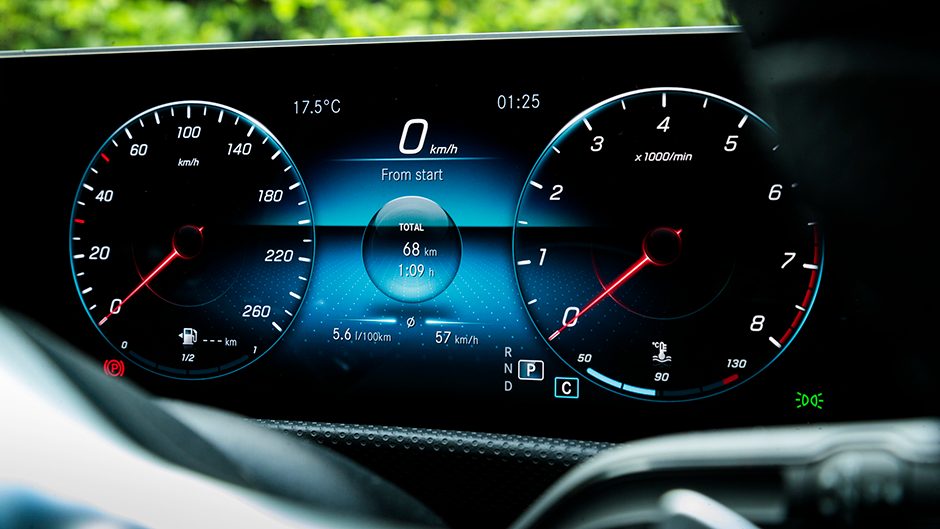 The thing is it really does feel zippy. Some small engines occasionally feel a bit flat but not this little whizz-bang. It's up for it all the time, with little in the way of turbo lag, and lots of syrupy grunt from around 1600rpm. That means you can drive it quite briskly using not many revs, and even quicker using a few more. Not only that but the A 200 goes genuinely well in Comfort mode. Naturally there's even more on offer when you hit the Dynamic setting.
Better with the multilink rear
We thought on the launch that the version with the optional multilink rear end handled and rode better than the standard A 200, which comes with torsion beam hind quarters. It's part of the AMG Exclusive package that we'd be looking to add ($3190). Along with a more supple rear end, there is adaptive damping, full leather trim, climatised seats, and dual zone air and ambient cabin lighting. While you're spending up, we'd also fit the Sports package ($1990) for this includes more hip hugging seats, metal and rubber pedals, and variable steering, along with shift paddles and lowered comfort suspension.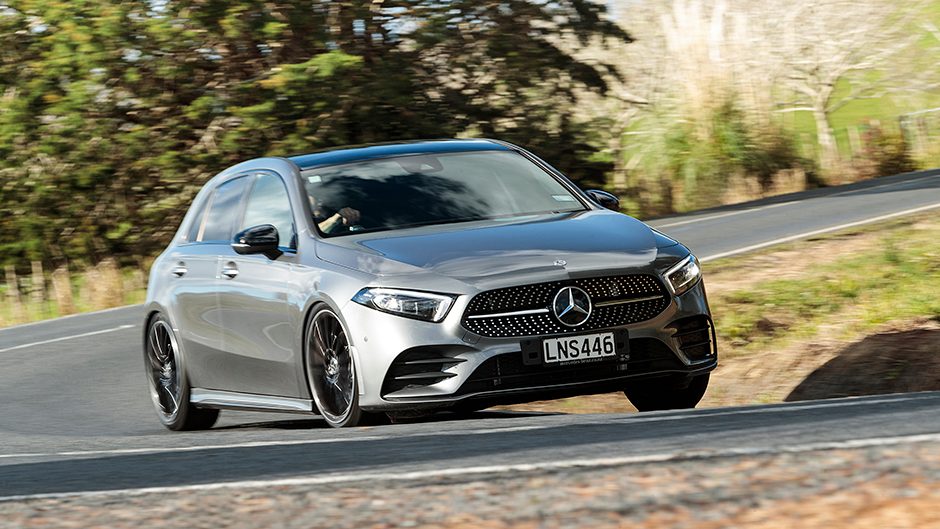 You're good to go hard with these two packages. You can push the envelope a little in Comfort mode, even with passengers aboard and it still rides commendably. Hit Sport and it bones up, body control improves, and it hangs onto lower gears longer. Yet it seems to learn what you're after, upshifting at moderate revs if that's how you're wanting to drive. It's all a bit intuitive, rather like 'Hey Mercedes'.
The direct steering assists with both parking and control when pressing on, with good weighting in both modes. Barred up in Dynamic this is a low flyer, and highly capable, with stacks of grip and talent. Brakes are outstanding too, with delicious bite as soon as you feather the pedal, aided by a well contained kerb weight.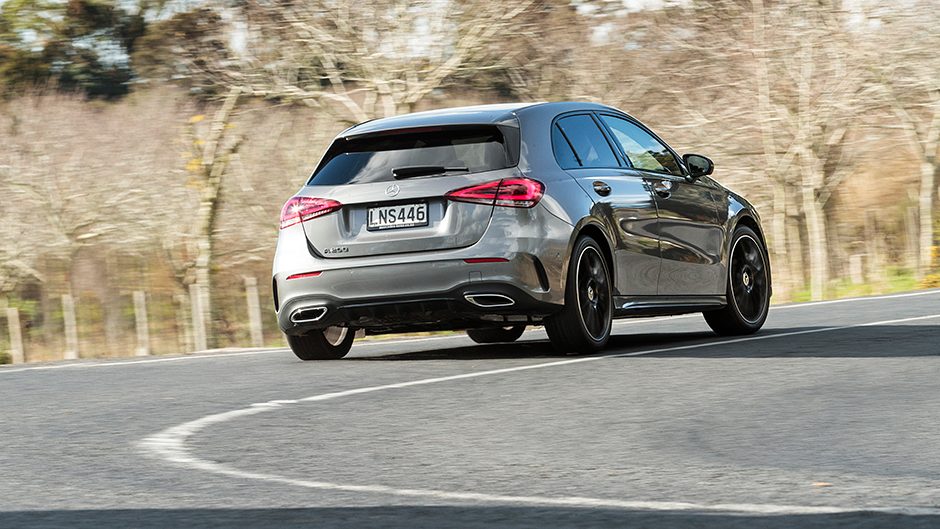 Extras mean extra outlay
Our car wasn't exactly standard, though all A 200s come with Dynamic Select (so Comfort and Sport modes), along with sports seats in man-made leather, lane keeping and blind spot monitoring, a host of USB-C connectors for which you need adaptors for MP3 players or flash drives, traffic sign assist (there's no excuse for being way over the odds here), navigation, self-dipping LED headlights and wireless charging.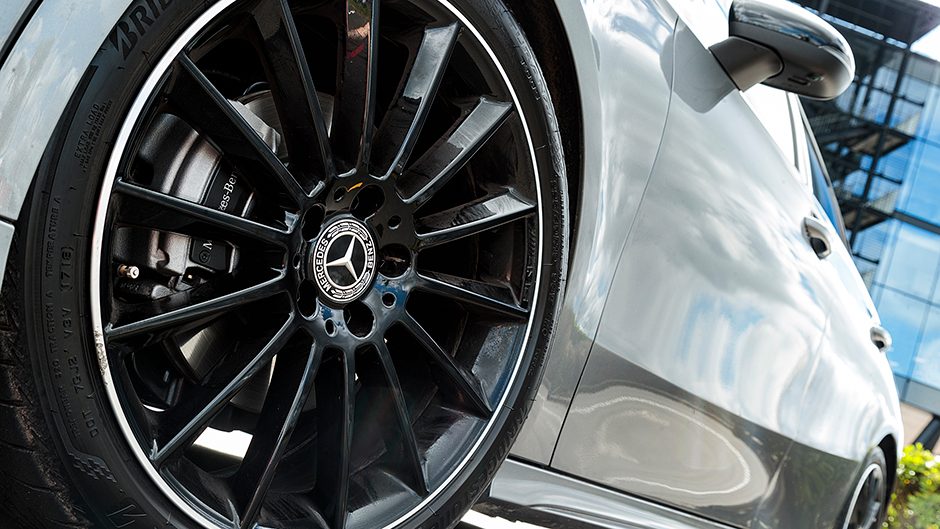 There's also a nine-speaker sound system with dedicated subwoofer. Four packages graced this vehicle and took the bottom line from $60,900 to $72,440. The seat comfort package ($1290) adds power operation and heating, and the Vision pack ($2490) multibeam LEDs, self parking with 360 degree camera, and a panoramic sunroof.
So the bottom line is really only the opening gambit. Not that you need all these, but the sporty bits do add flavour. Along with the higher power variants, A-Class sedan arrives next year with a drag coefficient of 0.22, amongst the best in the industry. And if you need bigger boot, a capacity of 420 litres is 50L ahead of the hatchback's.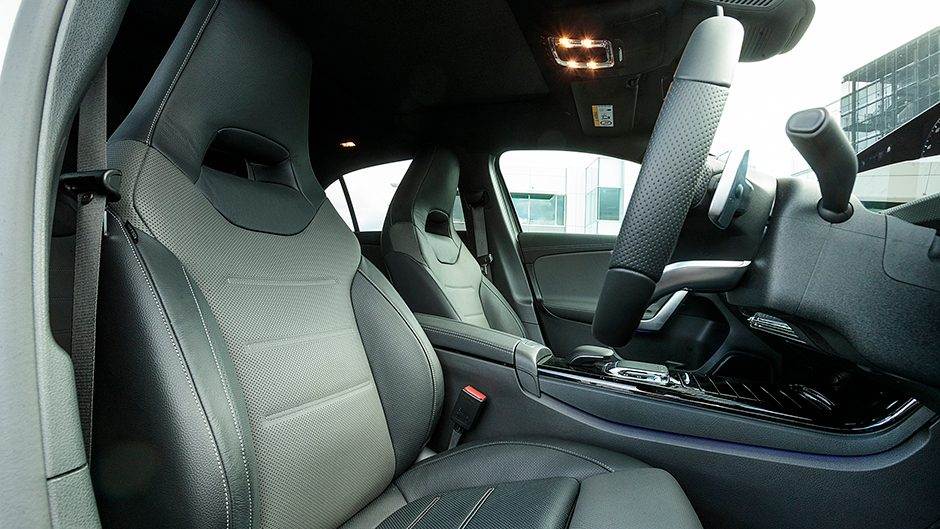 | | |
| --- | --- |
| Model | Mercedes-Benz A 200 |
| Price | $60,900 |
| Engine | 1332cc, IL4, T/DI, 120kW/250Nm |
| Drivetrain | 7-speed twin-clutch, front-wheel drive |
| Fuel Use | 5.7L/100km |
| C02 Output | 120g/km |
| 0-100km/h | 7.50sec |
| Weight | 1435kg |