Almost five years on from when it went AWD, AMG has run its magic wand over the E 63 S 4Matic+. Are the changes worth the extra asked?
Occasionally a new vehicle will sneak up and get under your skin when maybe you had no great expectations of it, like the new AMG E 63 S. But then we'd just stepped out of Audi's RS e-tron GT, so moving into a traditional V8-powered saloon seemed almost like it might be an underwhelming step back in time. Guess I hadn't thought that one through sufficiently. The updated E 63 S is really something else.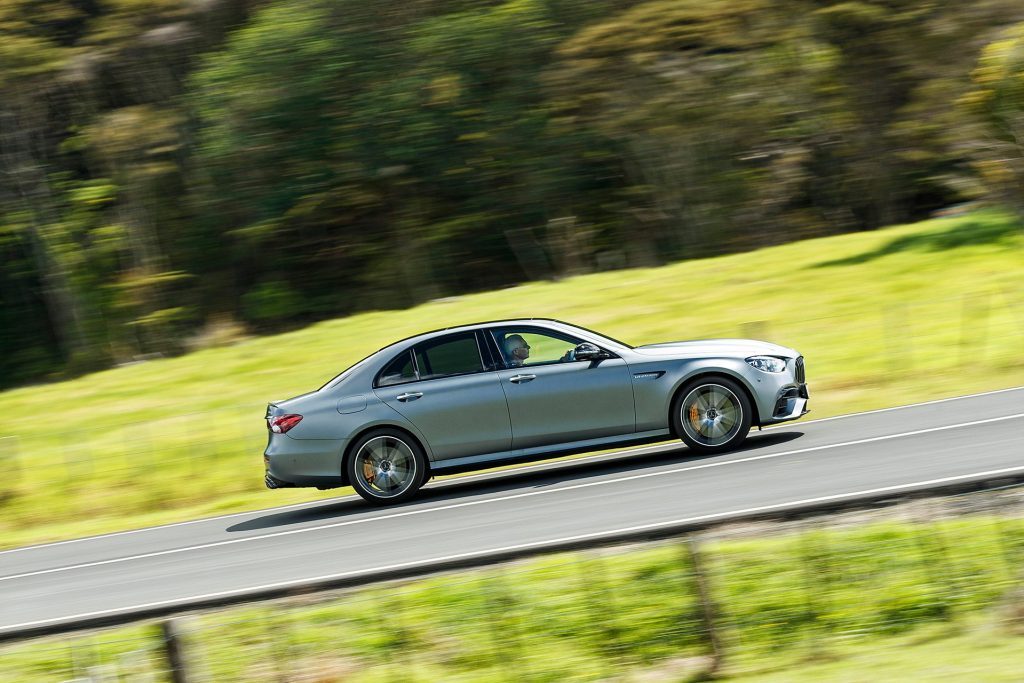 Perhaps the reason I had no great expectations was the fact that I hadn't driven an E-Class since well before its total renewal in 2017. At that time the editor did the honours and he was well impressed, not just with the stick from its new AWD status, but by its sheer performance.
Five years on and it's time to strap ourselves into the facelifted version, still the fastest saloon made by the Mercedes-AMG tuning shop this side of the AMG GT range.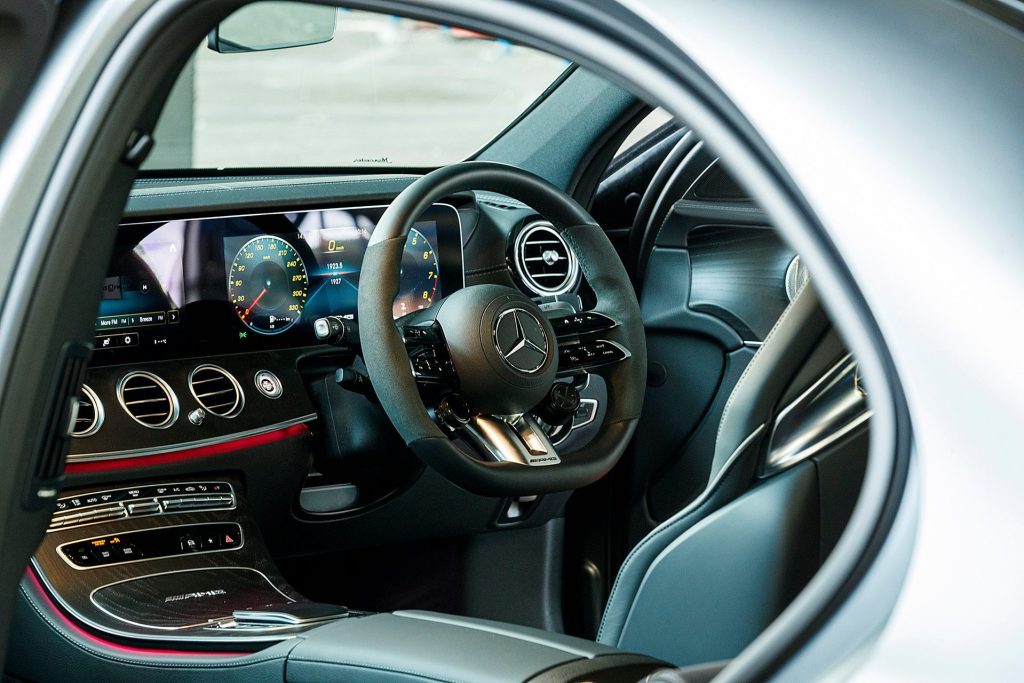 What's new then?
Well, quite a bit really, enough that when you look at it, you do realise that there are substantial changes. It's just putting your finger on what they are precisely isn't especially easy. The frontal design is essentially all changed, from the lights, through the PanAm grille to the air intakes and front splitter. Narrower lights and bigger air ducts, along with enlarged wheel arch flares to accommodate the 27mm stretch in front track make it look more up for a scrap. The back end is also reconfigured, with different LED taillamps, and an updated diffuser shape.
Our particular tester was finished in a matte grey colour called Selenite Grey Magno, a $4900 Designo cost option, which seemed to emphasise the upper and lower lateral character lines. The matte black wheel finish – new 20s are also aero enhanced – is in keeping with the paint. It's a special look, and evidently the shape is also aerodynamically enhanced, the new splitter said to reduce lift at the front axle significantly.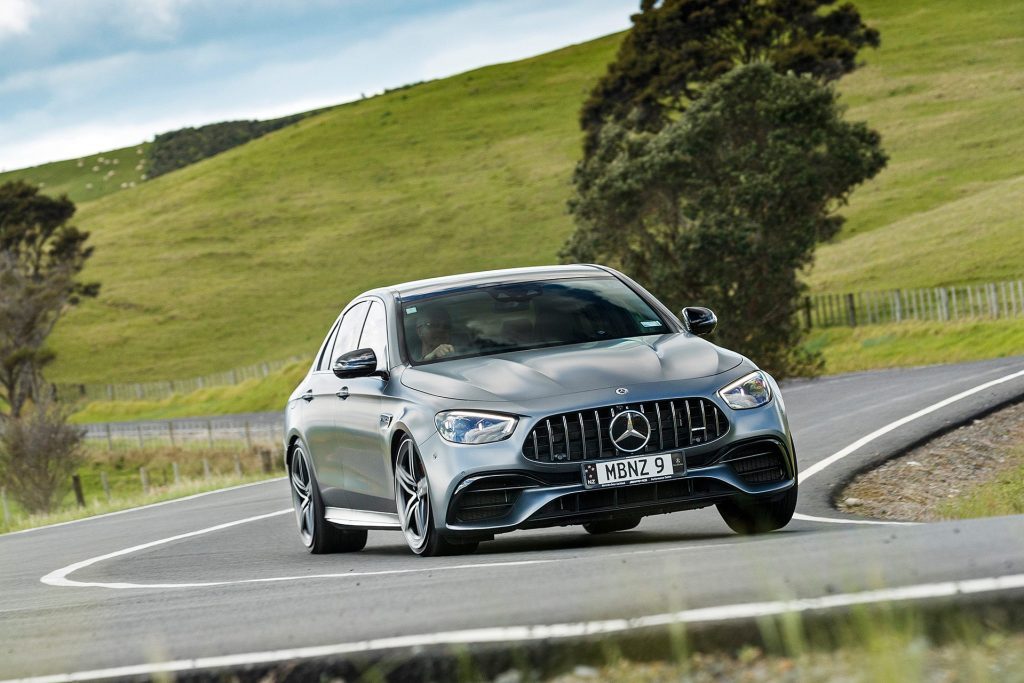 The hornbag exterior update is matched by an enhanced interior, now sporting the Widescreen Cockpit featuring digital instruments and infotainment behind one elongated glass enclosure. It looks the business.
Also new for the eagle eyed is the double-spoke performance sports steering wheel with affixed paddles labelled up and down, should you forget which is which. Doubt whether you will use them much though, such is the cleverness of the nine-speed gearbox this runs. It is capable of multiple downshifts within the blink of an eye, and with its wet multiplate start-off clutch the E 63 S flies out of the starting blocks using a launch control guidance system. It's also a blazing shifter, like a twin clutcher.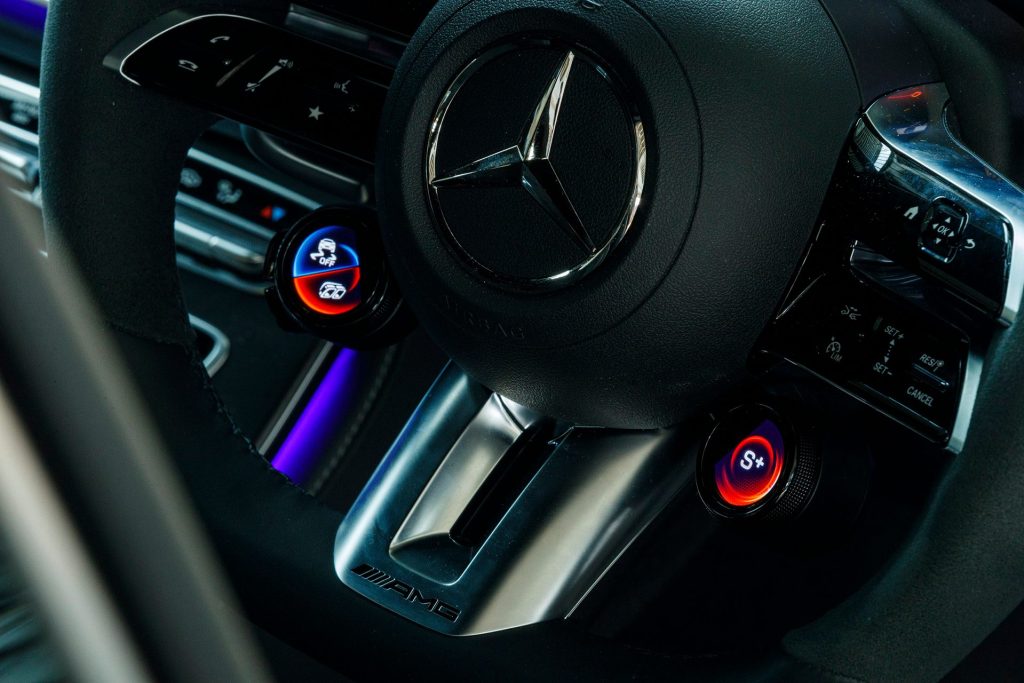 There's an exhaust button that makes it snarl when prowling about town in Comfort mode, while it can bellow in Sport when revving out, and it runs to 6750rpm before hooking the next cog. Only a bit more noise yet wouldn't hurt but you get that softening with a pair of twin-scroll turbos in the jet stream. There's also engine stop start in Comfort mode, and a gliding function in Individual. And when under little stress, at revs from 1000-3250rpm in Comfort, there's a cylinder deactivation mode, apparent when a blue light showing four pistons in a V shape illuminates.
The Hey Mercedes MBUX system now features and it's handy for myriad things, especially changing radio stations, not something that's always so simple in the touchscreen era. And the interior ambient lighting at night is exquisite, so too the Nappa leather extending up onto the dash.
The AMG engineers have tweaked the suspension system for more waft in the Comfort mode and more dynamics in the Sport modes, of which there are three here, appropriately, Sport, Sport+ and Race.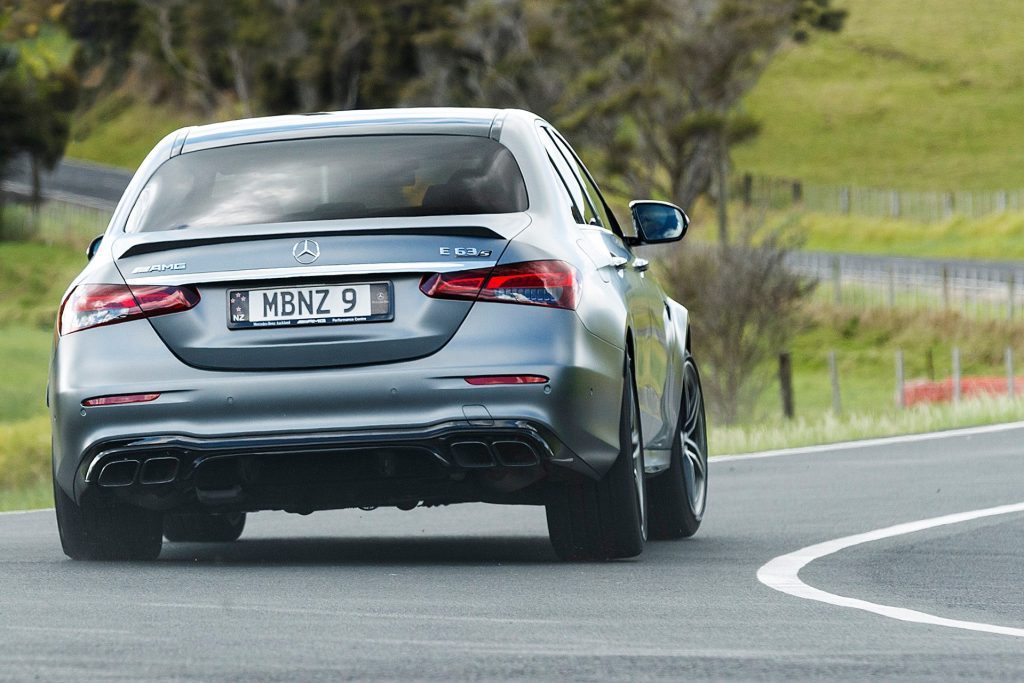 Hi Ho, Silver! Away!
It was the latter we checked out first because by selecting Race mode and dialing out ESP, you activate launch control. By the by, if you also select Manual trans mode, you can electronically ditch the front drive shaft and put all 450kW and 850Nm through the rear axle. So if you're a dab hand at drifting… Anyhoo, the powertrain is unchanged from before, the S outputs and claimed sprint time much the same as the electric Audi's. But the RS got the better of it by 0.2sec, perhaps unsurprisingly given EVs offer max torque from the outset. It's the same differential for the overtake, but as we've said before, anything under 2sec is rare, and awfully quick. This used to be the preserve of the supercars, but here's a saloon that can get from 80 to 120km/h in 1.92sec. That's still sufficient to keep it barely ahead of its rival from down the road, BMW's similarly priced M5 Competition.
And for completion this came to a halt from 100 in 33.4m, about what you'd expect for something with huge brakes and weighing in at around two tonnes. Only this didn't have the regular brakes but the $15,900 upgrade to Brembo's high performance ceramic braking system. Talk about phenomenal stoppers; they're hit-it-out-of-the-park brilliant, something you'd not necessarily expect from glancing at the numbers. But when you're driving this stealthy saloon, you're forever thankful that there's an antidote on hand to reign in its hedonistic pace (the speedo tops out at 330!). They're so effective that you can literally get to within sniffing distance of the corner turn-in point, wave your foot over the brake pedal and set the correct speed almost instantly. It's like the figurative stopping on a dime. They're amongst the best brakes you'll encounter this side of a supercar's. Sure, you're paying the better part of a quarter million to get behind the wheel (actually $241,400, a rise of $12k from 2017) but for the extra $15,900 you get security no insurance policy can provide. Were it mine and even if I wasn't track bound, I'd seriously consider these.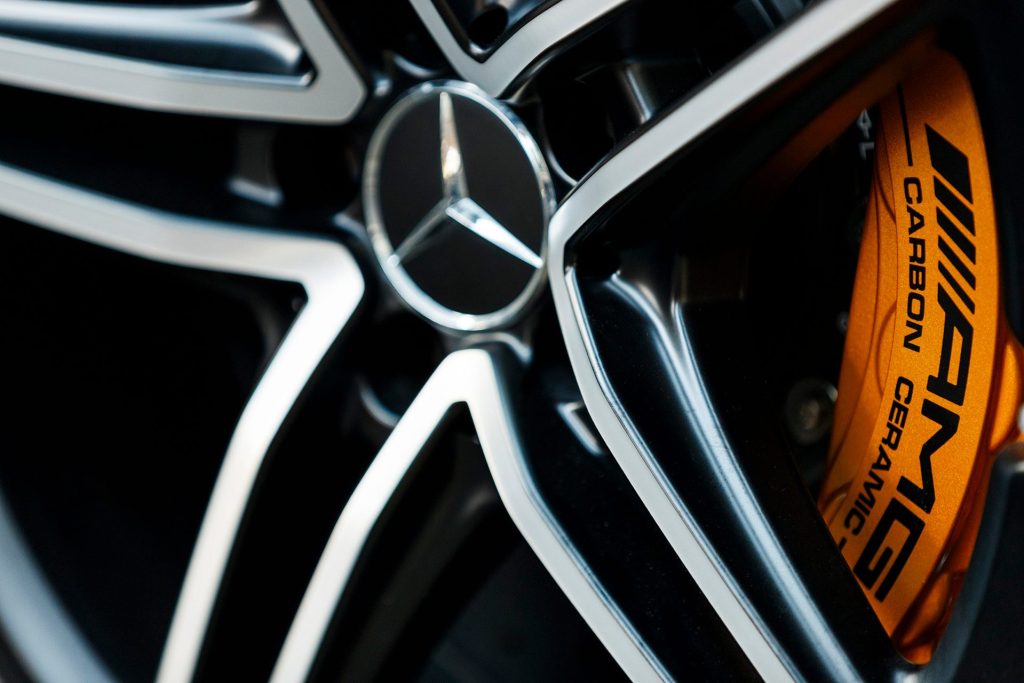 How to mix handling and waft
It's tricky to know what the suspension updates have achieved, not having driven this before. But the editor noted back then that "even in the Comfort setting, the air sprung ride is firm and there's a fair degree of tyre noise, even at 50km/h." Now in the default Comfort mode this is magic out of town, and the magic simply gets better as you rise up through the various sport settings. Only air suspension and dynamic engine mounts can deliver that mix of ride and handling in a sport saloon. Through the smooth corner we used for the images, there was a bit of tyre protest from the big PZeros but they're leech-like, though aren't quite so big as to cause excess road clamour (roughly 73dB in cabin).
Perhaps finally we should address what this doesn't do so well? Its turning circle isn't great and there's some binding on full lock. Moreover, there's a fair degree of steering heft, even in Comfort mode and some may like this, others might not. What's not in question is how deftly this turns and how resistant it is to running wide at corner tip in, even when you think you've overcooked it. You won't have.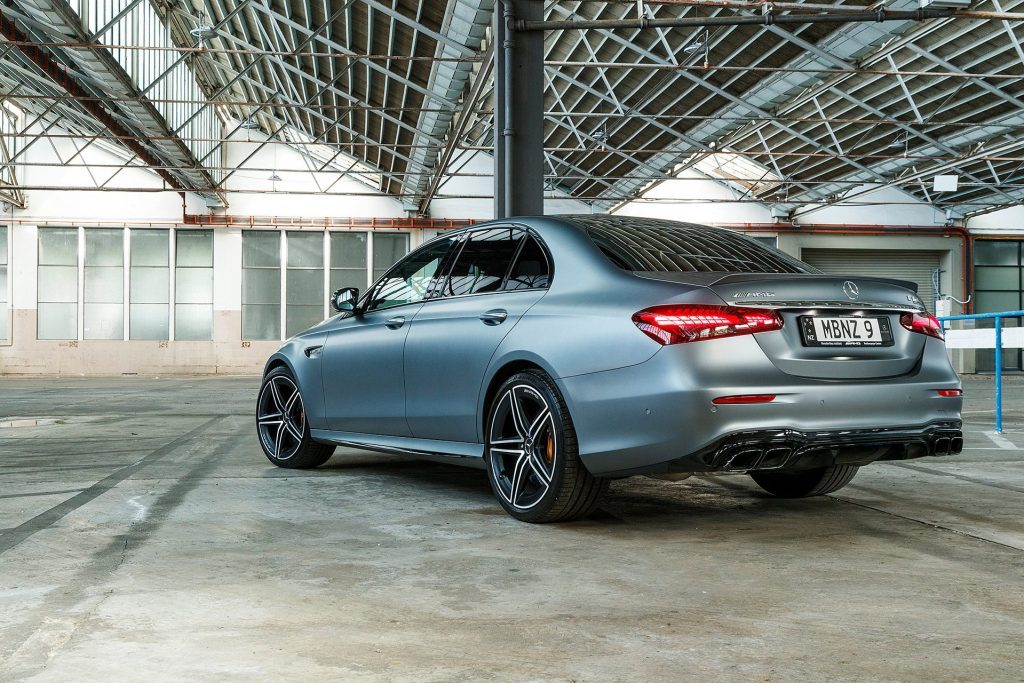 There's not much in the way of oddments space up front, other than the central bin with its annoying twin opening covers, and the driver's seat is pretty firm in the squab, though it's plenty adjustable, with heaps of lumbar support.
An average of 16-17L/100km during our time with the E 63 S 4Matic+ wasn't great though a claim of 11.6 is probably achievable. We drove similar distances in this and the RS e-tron GT. The latter was 'dry' on return, and this still had half a tank left. So range goes the way of the AMG, even if environmental creds go to the Audi.
Likely as not, this will be the last E 63 with an engine only – think hybrid next – but it's going out on a high. This is a classical gas.
| | |
| --- | --- |
| Model | Mercedes-AMG E 63 S 4matic+ |
| Price | $241,400 |
| Engine | 3982cc, V8, TT, DI |
| Power | 450kW/850Nm |
| Drivetrain | 9-speed automatic, AWD |
| Fuel Use | 11.6L/100km |
| C02 Output | 204g/km |
| 0-100km/h | 3.36sec |
| Weight | 1950kg |