BMW has reworked most aspects of its S 1000 RR to keep it ahead of the pack and top of mind. Has the makeover worked?
It has been some five years and change since we last tested an S 1000 RR, or any superbike for that matter. Which in part reflects the fact that they aren't as popular as once they were. Big, comfy, practical adventure bikes seem now to be in vogue.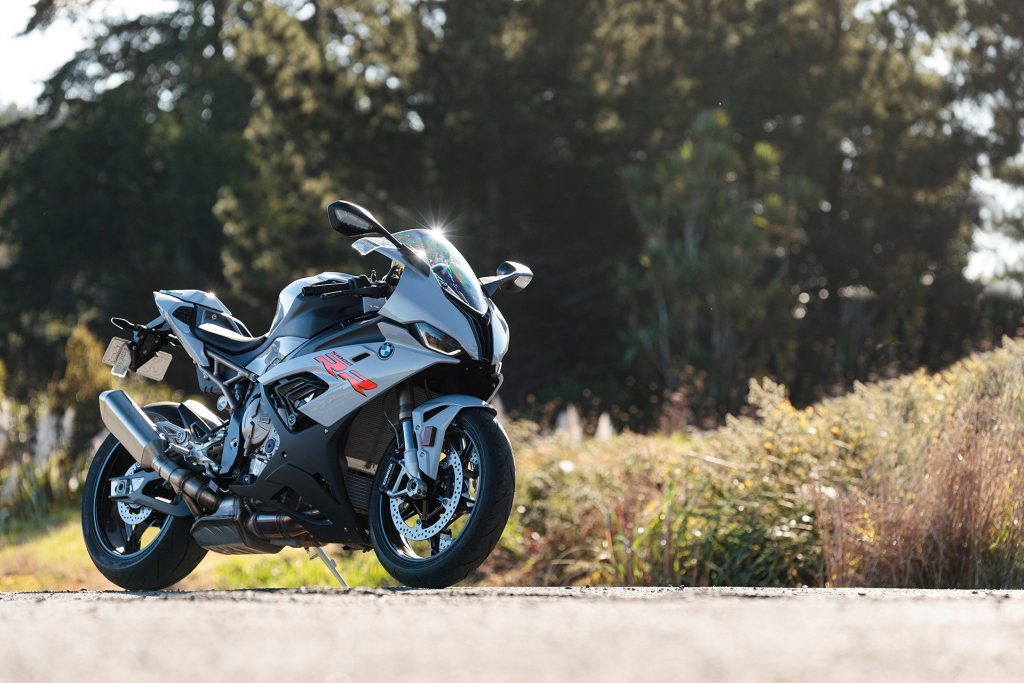 In 2016 the S 1000 RR went for $32,990 and it came equipped with electronic suspension, a bidirectional quickshifter, heated grips, and cruise control. All of which it still has but it now also comes with an M-endurance chain (no lubing necessary – how trick is that?), a GPS laptrigger and a USB charging socket. There's also cornering ABS, Dynamic Traction Control, Hill Start Control, a quartet of riding modes (Rain, Road, Dynamic, Race), a bigger TFT display, and full LED lighting, including for the turn signals. All of which will set you back $36,990.
This hell raiser has been totally reconfigured, sporting a new chassis, engine, and look. The original we felt was groundbreaking but looked crazy, with its asymmetric headlights. Now they are the same left and right, and it has a go-get-'em-Tiger look about it.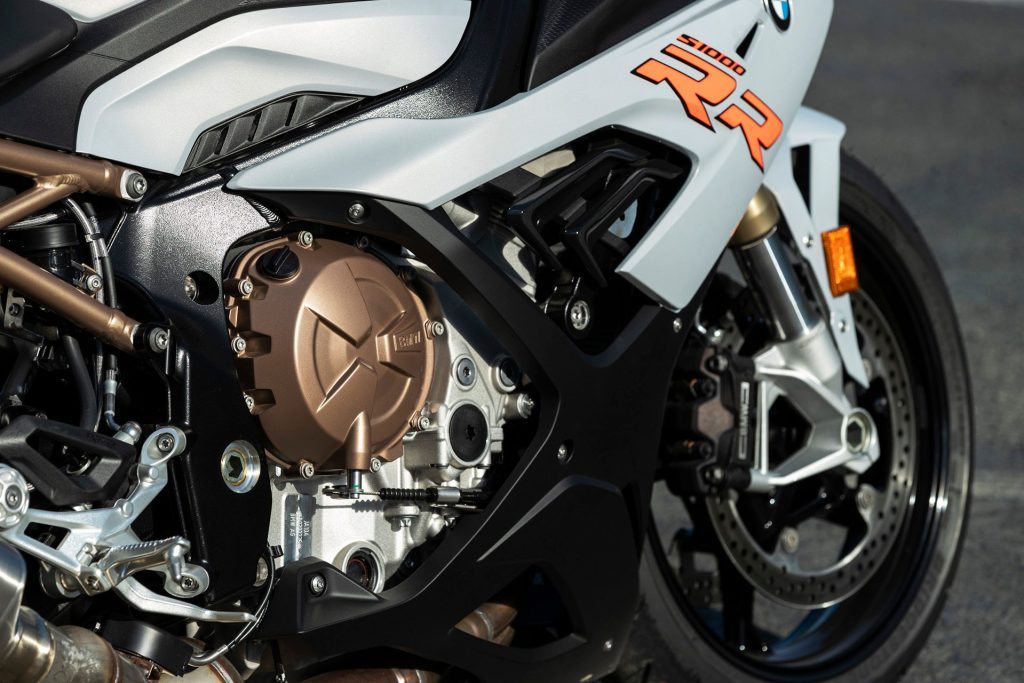 The changes that BMW Motorrad has wrought upon the engine and chassis are readily apparent. Last time we rode it, the RR made 199hp; now it's out to 207hp, as are its rivals. Torque is virtually unchanged, at least on paper, the 113Nm figure the same but it's developed at 11,000 instead of 10,500rpm. Yet BMW reckons there's over 100Nm to hand from 5500rpm to 14,500rpm. And that's because the engine has adopted the company's ShiftCam VVT+lift technology. This first showed up in the R 1250 GS and transformed it into the Mr Muscle of ADVs.
The system does a similar thing here, giving the RR stellar drive at real-world speeds in top gear. Contributing is increased lightness. It used to weigh 205kg but now you're not in the hunt unless the first figure is a stick. And that's the case here, tipping the scales at 196kg, ready to riot.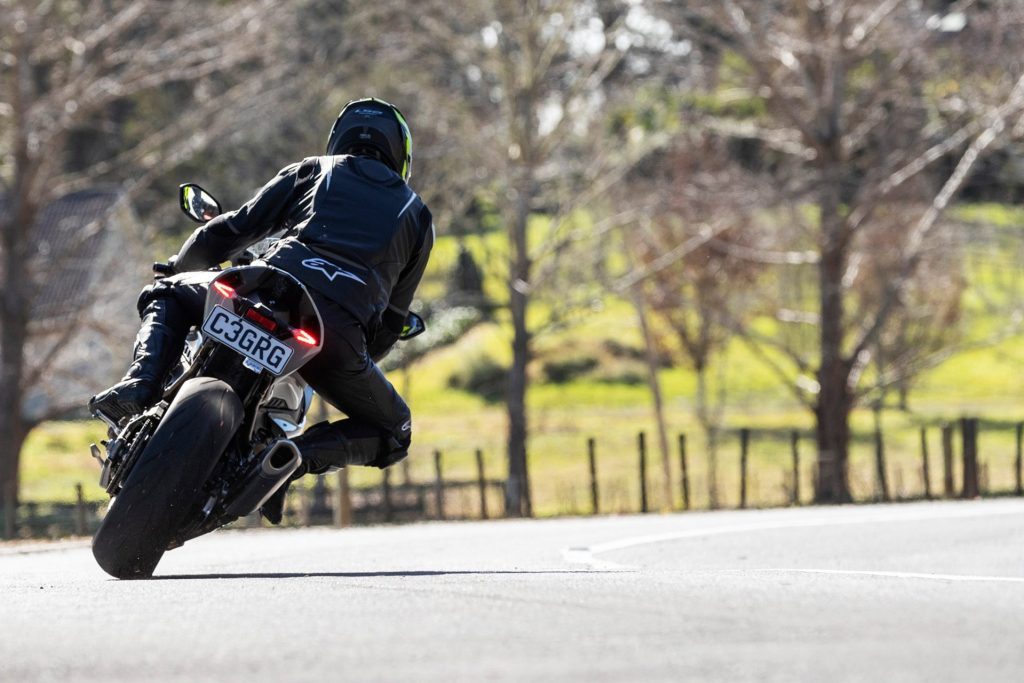 There's also a new frame, suspension and bodywork, and a fresh riding position which means this feels somewhat different. All changes aim to make it even more rider friendly. Not that it's any less arduous for an inflexible coot like myself. However, the bars are flatter and wider, and the seat and tank are narrower (by 30mm), making it easier to grip with your knees. Indeed, but the seat is set high at 824mm, and there's still a good old lean forward to the clip ons. Plus you need to lift your legs up and flex the hips plenty for the boots to actually clear the pegs. All of which adds up to extra ground clearance and deeper lean angles for the track addicts.
As before though, even at 100km/h the wind pressure isn't enough to relieve the weight on your wrists. So it's a matter of clinging on with your knees tightly to give the wrists a bit of a break. No wonder sales of sports bikes have fallen away over the years, especially as the supernakeds are so much more relaxed in their riding triangle with higher bars, lower pegs and plusher seats, not that they look as ornery.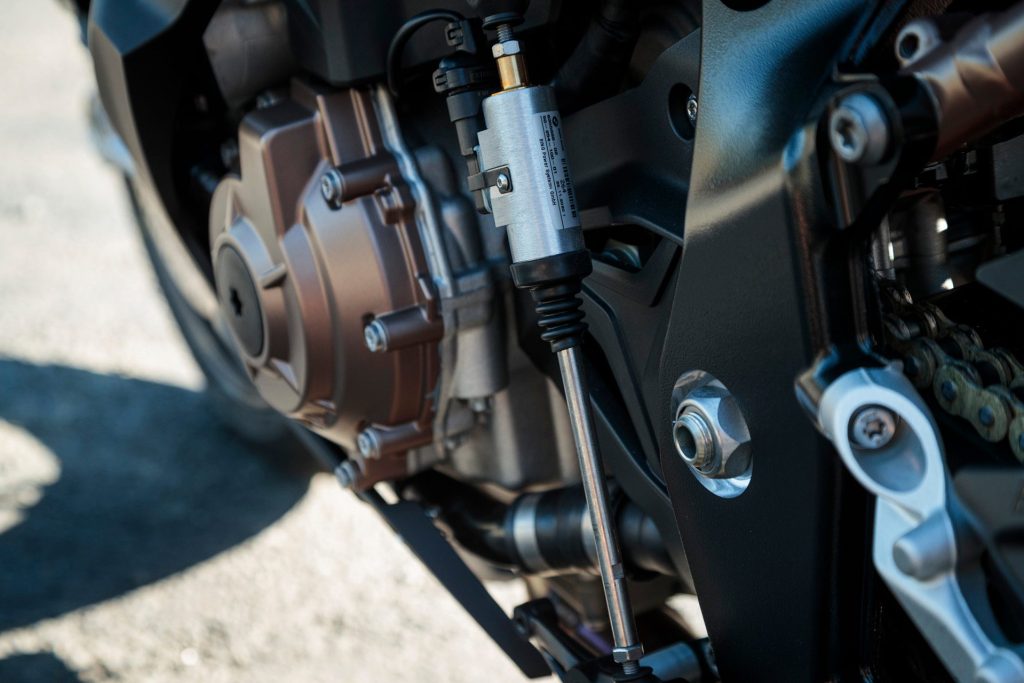 Not contributing one iota to ease of use is a lock that makes turnarounds in one go on a regular B road all but impossible unless you add in someone's driveway to increase road width. It reminds of Italian superbikes from days gone by.
After extracting the beast from the work garage – it was hemmed in so took about a dozen forward and backwards movements and lock-to-lock turns – we're off and running, clutchless upshifting and downshifting, both smooth and effortless. Quickshifter technology continues to impress, and while we still seem to defer to the clutch when downshifting, increasingly it's just not necessary.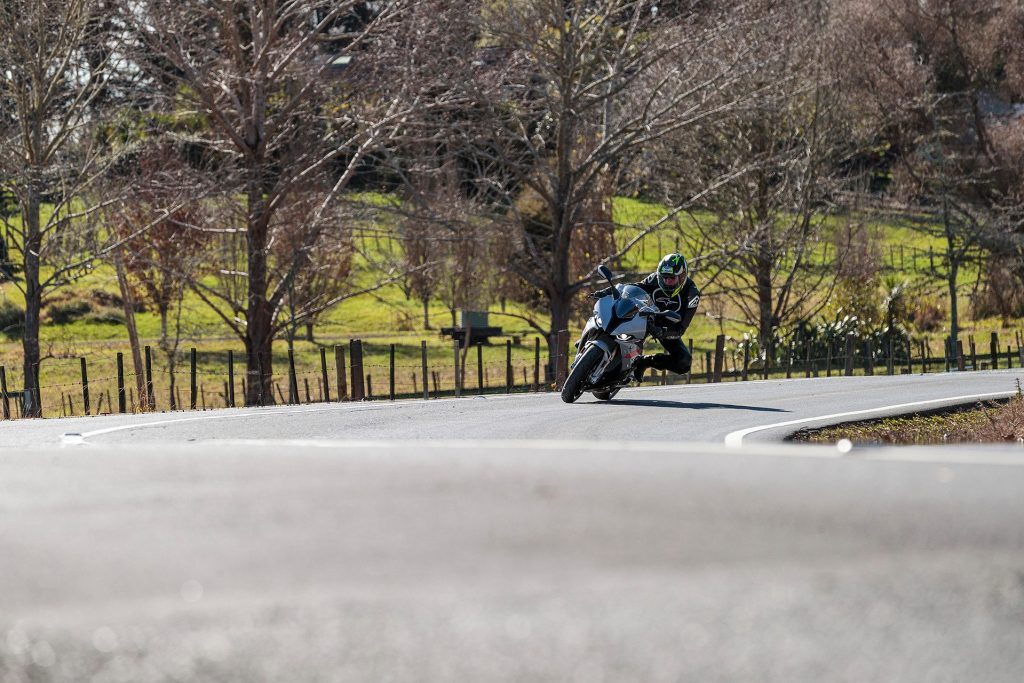 What else has changed? There are now three user configurable Race Pro modes under the Race setting. TC function has improved and it includes adjustable wheelie control. The exhaust is lighter by over 1kg, brakes add ABS Pro (a six-axis sensor makes it cornering ABS capable), and instruments now comprise a larger configurable 6.5-inch TFT screen.
All changes to user settings are done via the BMW wagon wheel, and menu button but they're still counterintuitive; just like early iDrive then. Try as we might, we couldn't change even basics like TC settings, without resorting to YouTube. And then we could.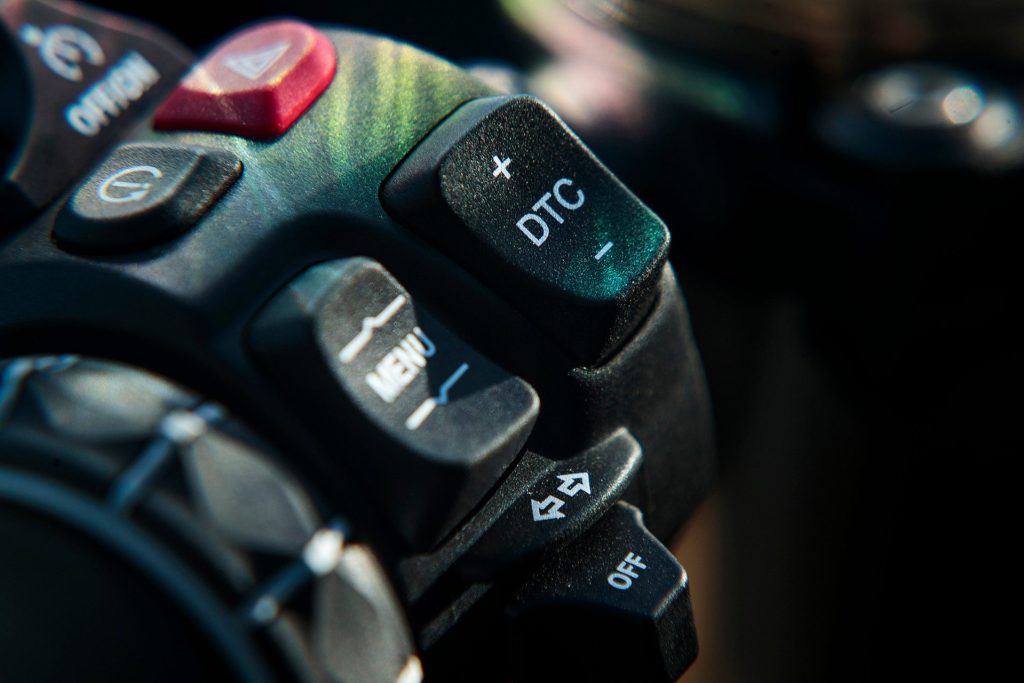 How different the various modes feel. Initially, because it was wet, we used Rain to reign in the horses. This also softens the suspension and electronic intervention kicks in earlier. The ride quality at open road speeds is most unlike that of more analogue (read stiff/hard) superbikes. There's a rather pleasing level of bump compliance in the Road setting too. You'd use this if you were mad/supple enough to want to commute on the RR.
Despite what BMW Motorrad claims about creating the perfect riding position, it isn't great for road work, though it is probably superb for the track. The pegs are now lower and so my hips weren't screaming blue murder after an hour in the saddle, nor my wrists. It's just the old neck that was giving me gyp. But for most of the ride, I was having too much fun to care.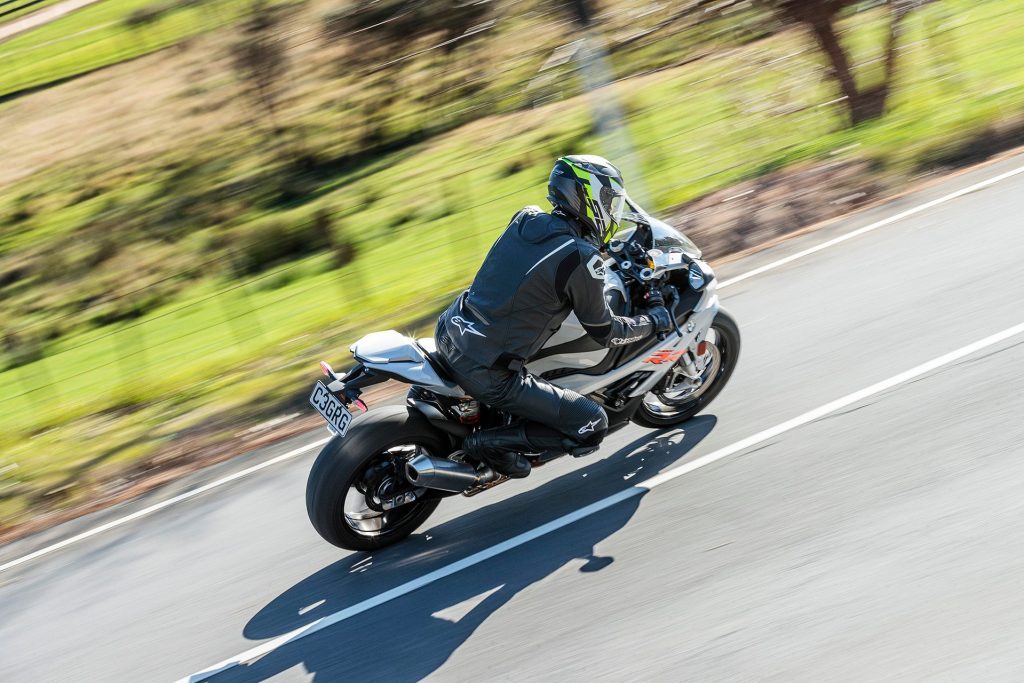 They've lengthened the swingarm (and therefore wheelbase) slightly, and compensated by making the forks more upright, so there's as much agility as before and better stability. It works in practice plus it feels lighter. Handling is superlative; incisive, confident. It steers and turns like the compact race bike it is. Think supersport 600 – it's that light and tasty.
We were eager to determine whether the ShiftCam influences general riding; it was transformational on the R 1250 GS. Well it is here too; this pulls crazily well from low revs, hauling right down to 40km/h in top gear and then you can ease away smoothly. Moreover, at speeds above 80 in top it pulls like a train, a bullet train at that, even up hills. What hills?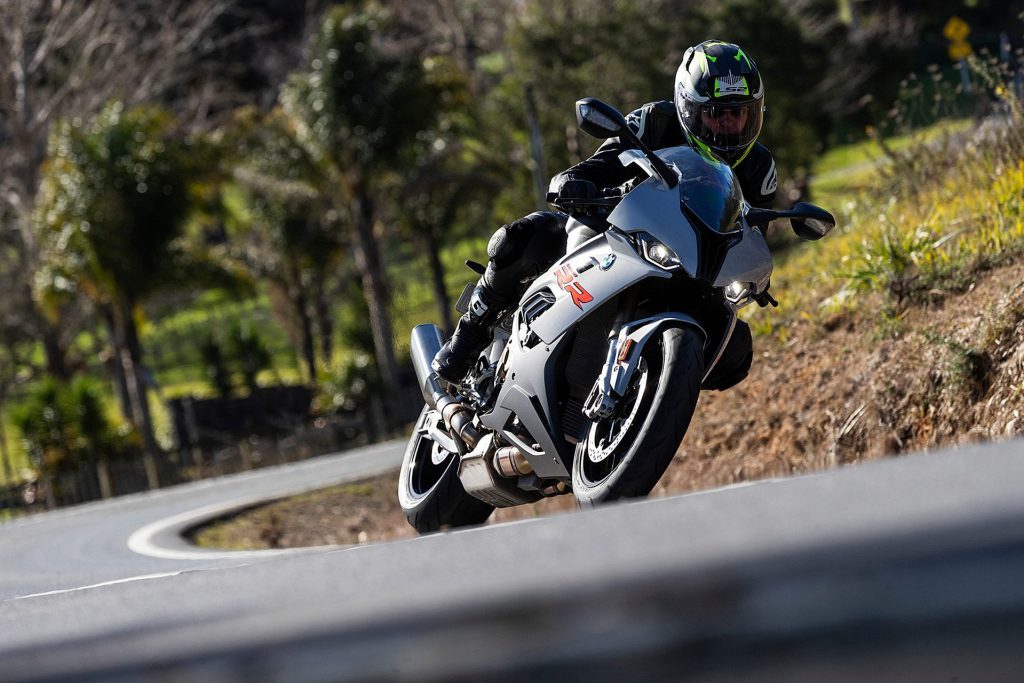 How about ShiftCam and acceleration? We had high hopes. Starting off in Road mode, first gear and the savage forward accumulation of speed stops abruptly at 96km/h or 9000rpm. Any amount of tinkering changed nothing. Then the penny dropped – BMW's M cars are rev limited until 1500km. Turns out their superbikes are too, the electronic governor removed at its 1000km service.
So a best 0-100km/h time of 3.7sec reflects little of its real potential. As to 80-120 overtaking, with the rev restrictor it requires a shift from second to third gear. Despite this, we recorded a best of 1.26sec, quicker than any S 1000 RR we'd tested before. Dang, this thing's a speed demon, even when rev-limited! Fortunately the safety package is just as impressive. We've not sampled better brakes than these Brembo Stylemas, even with just two fingers of lever pressure. They're top-shelf amazing.
Want the ultimate? Go for the M Package with tricolour paintwork, the M carbon wheels and sport seat, a lightweight battery, and the M chassis kit. Modern superbikes truly have superpowers, best savoured on track. The S 1000 R, based on the RR, promises to be a truly special road bike.
Model
BMW S 1000 RR
Price
$36,990
Engine
999cc, liquid-cooled,
fuel injected, IL4
Power
152kW/113Nm
Transmission
6-speed, chain final drive
0-100km/h
3.70sec
80-120km/h
1.26sec
Weight
196kg