Kia's new mantra is 'Movement That Inspires' and in new Sportage, they've taken that to heart. We determine whether the top-tier X-Line has the X factor.
Following on from the launch of Hyundai's Tucson range, we get to check out its fraternal twin, Kia's Sportage, now in fifth generation and with the-future-is-now styling. Moreover, the new range really does live up to its sporty title, at least if the range-topping X-Line is any indication. Not only does it look like a sci-fi version of an SUV but the new Sportage drives with the competence and composure of a modern estate. Where the Tucson has a controlling secondary ride, fidgety over sharper bumps, the Sportage gets the ride and handling balance just about spot on.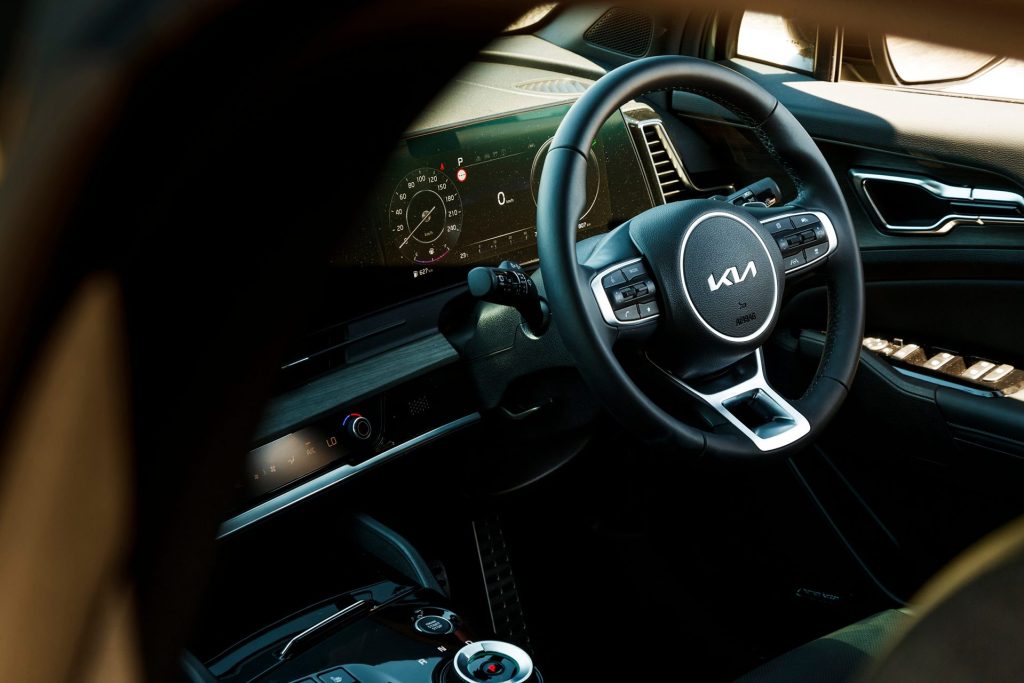 Wait though because there really is more here – amongst the eight-strong range there are three engines, one of which, the 2.0L turbodiesel, powers this range topping X-Line. It's hooked up to an eight-speed auto and the powertrain works a treat. There's the low-down authority that's nice to have in a medium-sized SUV and gear carrier. And it also has reasonable tow creds, with a maximum braked trailer weight of 1900kg, 250kg more than the petrols.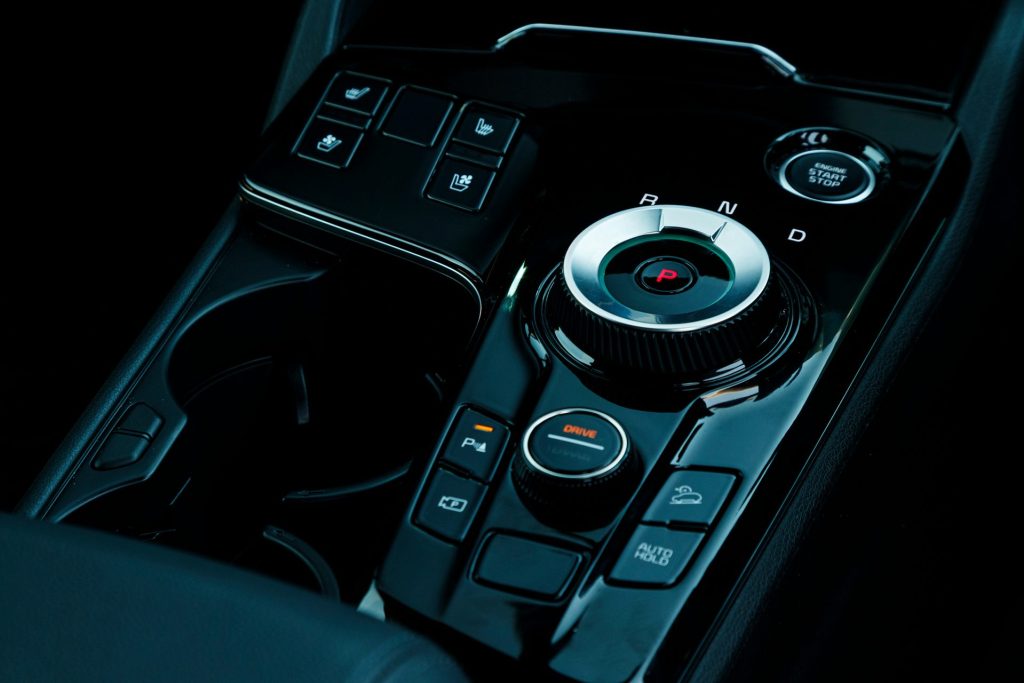 The icing is that there's better pricing from the factory-owned sales office here versus what they charge over at Hyundai, a privately owned distributor. This genuinely well specified top-tier model, the X-Line Diesel, goes for $62,990. There's no clean car feebate to pay from April either. And as we mentioned last month in the comparison of the Tucson with the Forester, at $68,990 with its 1.6L turbopetrol, the top Hyundai model is kind of pricey in the scheme of things.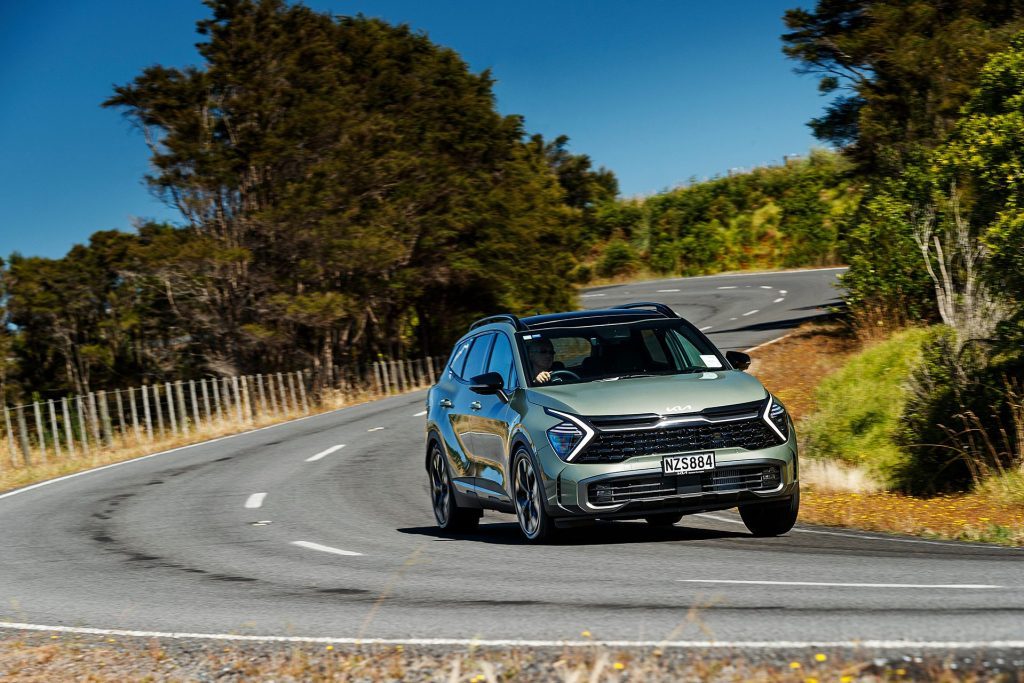 Strength in numbers
Not that the top Sportage isn't either but then the entry model kicks off at a more pleasing price point, $39,990 and, as we said, the top model gets an engine that suits Sportage well. It has the easy drive that comes with modern turbodiesels, a useful 416Nm available from 2000-2750rpm. That's precisely where it pulls like crazy too, so acceleration at everyday revs feels effortless. Better yet is that this engine is available in a base model costing $46,990.
Naturally a good proportion of that torque kicks in earlier and it's beavering away well before 2000rpm. On top of which, it can be persuaded to drink in moderation; in our hands it managed 8.1L/100km overall (claim 6.3). We added 350km to the odometer and used half a tank in doing so.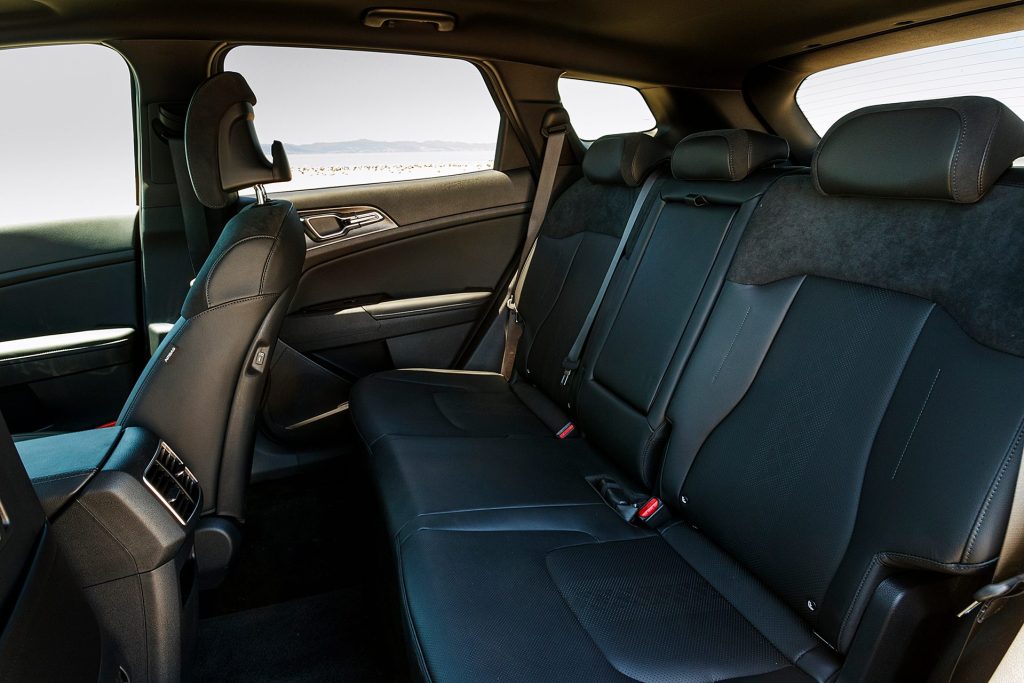 By the bum-o-meter it feels marginally quicker than the 1.6T variant of the Tucson. You can reckon on a 0-100 time of around eight seconds, while an overtake takes a shade under six seconds. But it's the ease with which it performs in the 2000-3000rpm range that so impresses.
Like Tucson, this is also a devilishly good stopper, its Nexen Roadian (great name) GTX rubber helping it to a 31m 100-0 figure. That's about as good as it gets in this sector and is a nice turnaround from previous generation Sportages.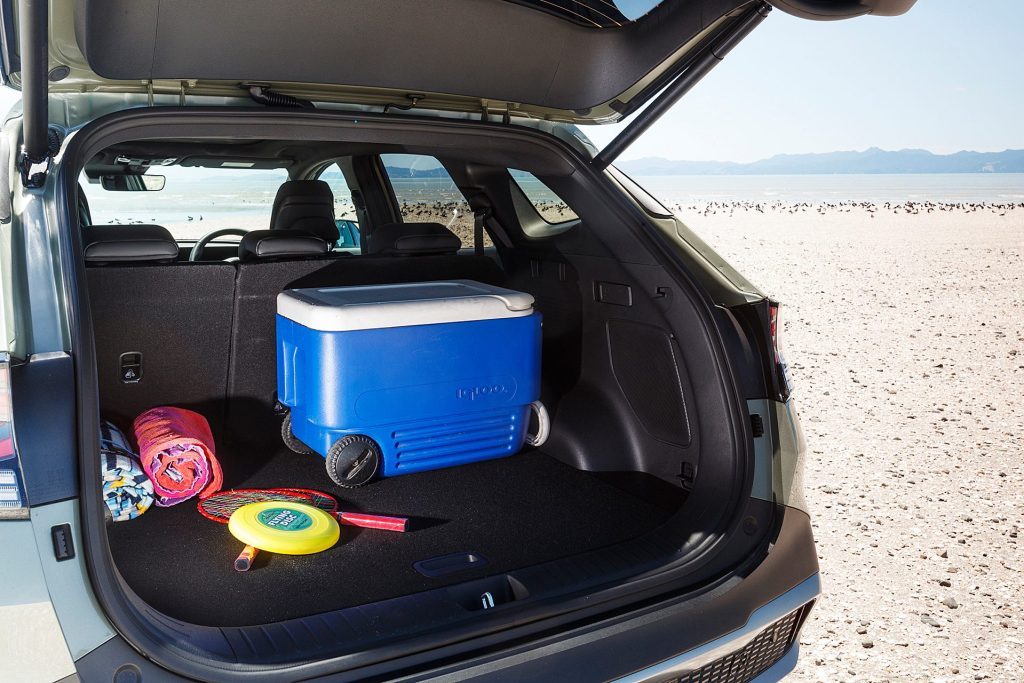 Shape should sell
And on things impressive, this is quite the windswept shape, with sculpted flanks (not so busy as Tucson's), and a futuristic front end with hidden headlights and slimline 'Tiger' nose grille, the Kia point of difference.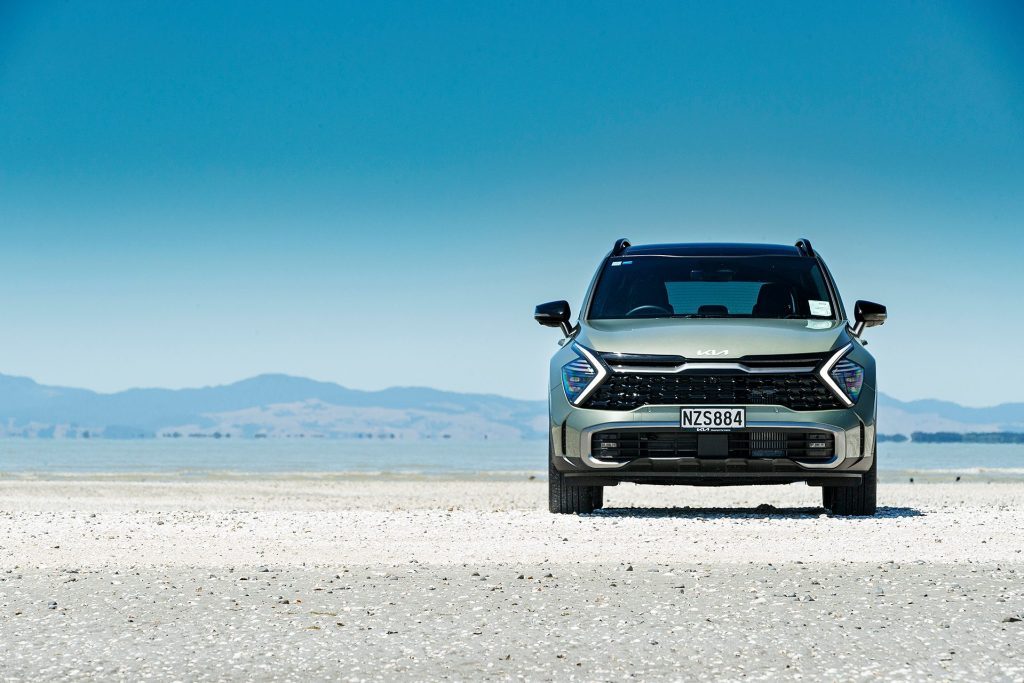 If ever there was a right-sized family vehicle this is close to that ideal. There's great room in the rear for adults, the middle occupant not suffering the usual indignities of straddling a hump or reshaping the roofline. And that's true also for storage, with a claimed 543-1829L of space back there, easily accessed via an automatic fifth door. Beneath the floor is a full spare too, unusual nowadays. Tucson has slightly larger figures but gets a spacesaver fifth wheel instead.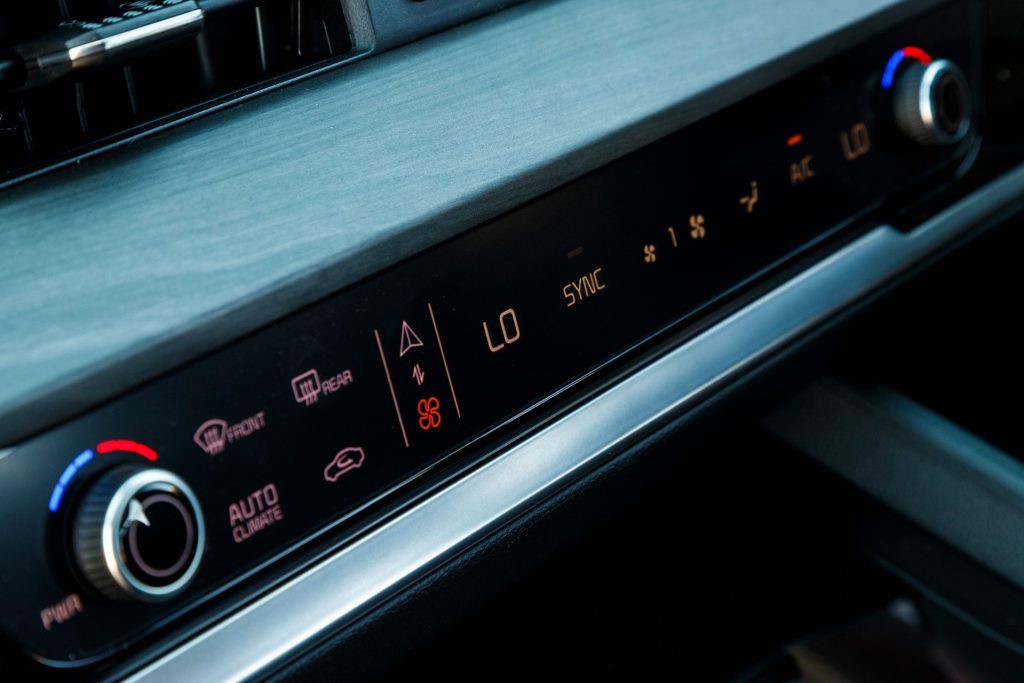 Just as this impresses with its external visual cues, slash-like DRLs, nice curves, shapely swept back silhouette, so too the interior with its pair of side-by-side 12.3-inch screens (all behind a widescreen section of glass), leather trim, powered, heated and vented seats, and auto-retracting steering column. Almost conspicuous by its absence is a head-up display but there's the expected fitout of a top-tier model costing $63k, including a powered sunroof, bi-LED lighting, a premium HK sound system, sat nav, surround view monitor, BSM with camera views in the LCD display, and CarPlay and Android Auto integration. The safety arsenal wants for little, and it's easy enough to dial out lane keeping and autonomous steering at the push of a button if you so choose.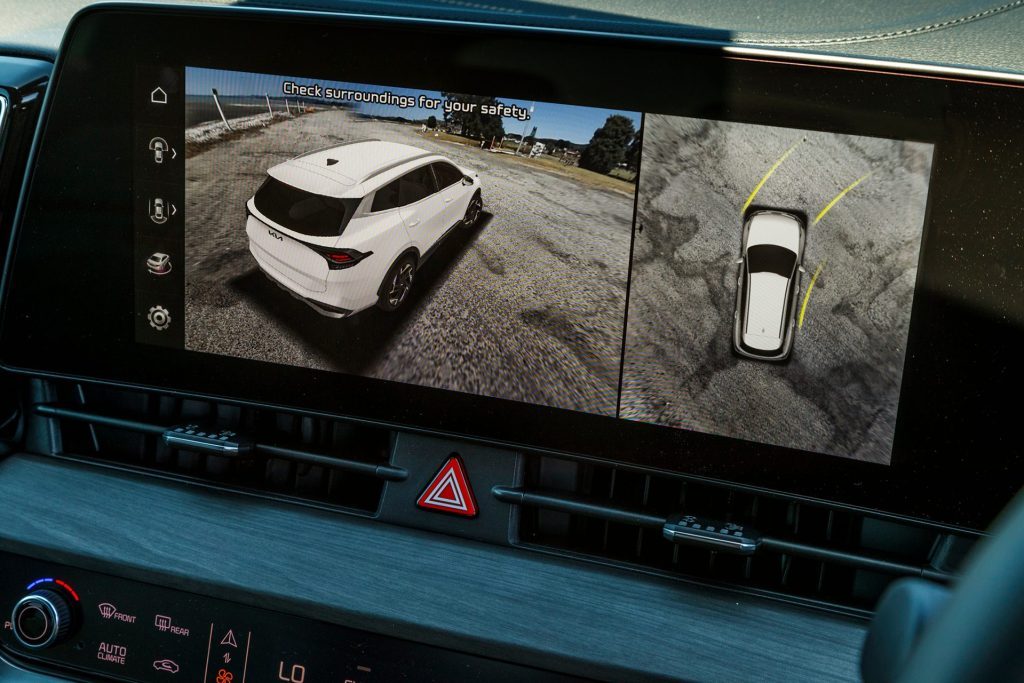 Ride and handling just so
But it's the drive that makes this even more special. We selected Smart mode and left it there most of the time. This automatically opts for Comfort, Sport or Eco, depending on how you're driving it and the terrain. Mention of, there's also a Terrain mode which optimises the AWD system for mud, sand or grass. We tried that on the beach and it never looked like getting into difficulty, even in the soft sand.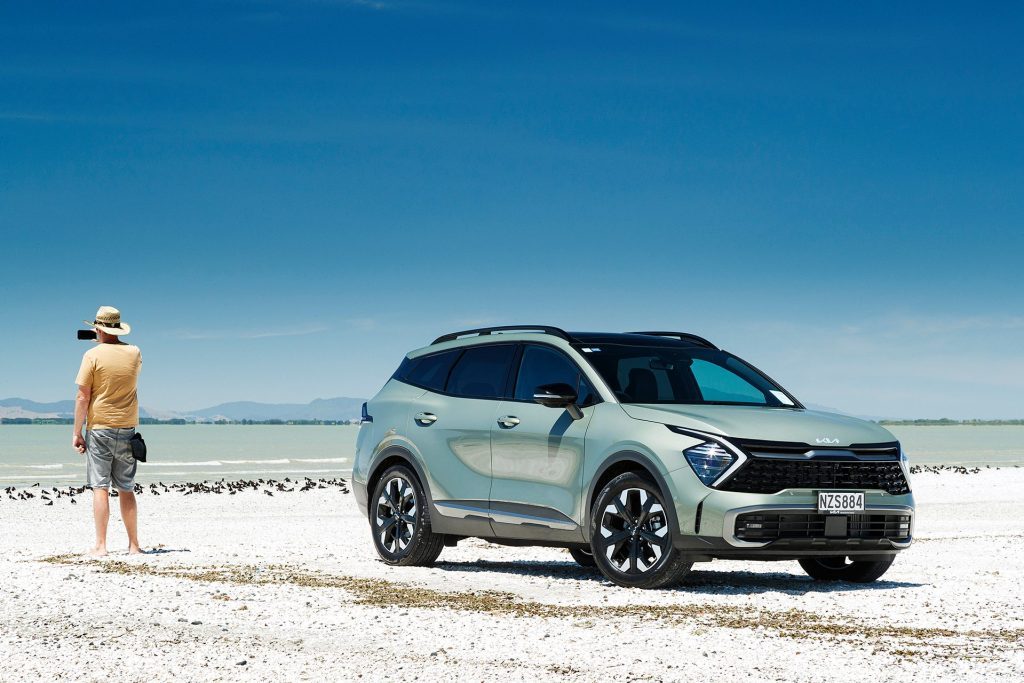 Sport works well too. This isn't quite as immune to understeer as the Tucson 1.6T but then the Sportage runs the 2.0 turbodiesel which will weight up the front axle rather more. The effect, however, is modest. This still carves corners like a downhill slalom racer, hanging tough with its Dynamax AWD system. If you can hit 100 through the corner we used for dynamic shots you're doing pretty well and this was right on the edge of its grip limits at that speed. Of course this is a family machine so in the main it's ride quality that's more relevant and here this passes muster better than the Tucson which can prove fidgety at times.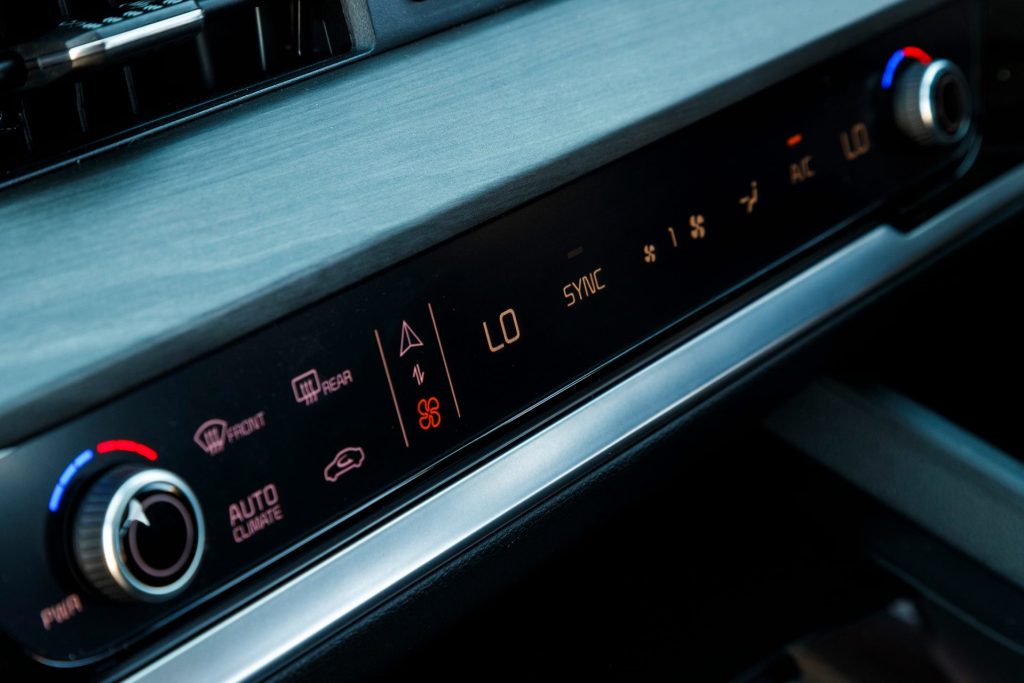 It's really quiet on the go too, the diesel subdued, and in all likelihood the multilayer acoustic windscreen plays a large part in its hushed progress, as does tall gearing, 100km/h equating to 1500rpm in eighth gear.
As to crashworthiness there's no ANCAP rating as yet but close relative Tucson which features the same platform and safety features received a five-star rating in 2021, with strong performance in adult and child occupant protection. In coverage of another sort, the factory warranty lasts for five years/100,000km and there's five years of roadside assistance to go with that.
So yes, new Sportage genuinely inspires. We liked the diesel engine but some won't on principle. Fortunately, there are hybrid options in the wings.
| | |
| --- | --- |
| Model | Kia Sportage X-Line diesel |
| Price | $62,990 |
| Engine | 1998cc, IL4, TDI |
| Power | 137kW/416Nm |
| Drivetrain | 8-speed auto, on-demand AWD |
| Fuel Use | 6.3L/100km |
| C02 Output | 181g/km |
| 0-100km/h | 8.24sec |
| Weight | 1750kg (claimed) |