For its fourth coming, Tucson debuts futuristic styling that will turn heads and in Limited guise wants for little. But has it priced itself out of contention?
Tucson is about as popular for Hyundai as Sportage is for Kia; it's the company's best seller in New Zealand, with over 24,000 finding new owners since 2004, if you include the ix35 in that tally. And on a global scale it's also their biggest model, having sold in excess of seven million units to date. No pressure when developing the new model then.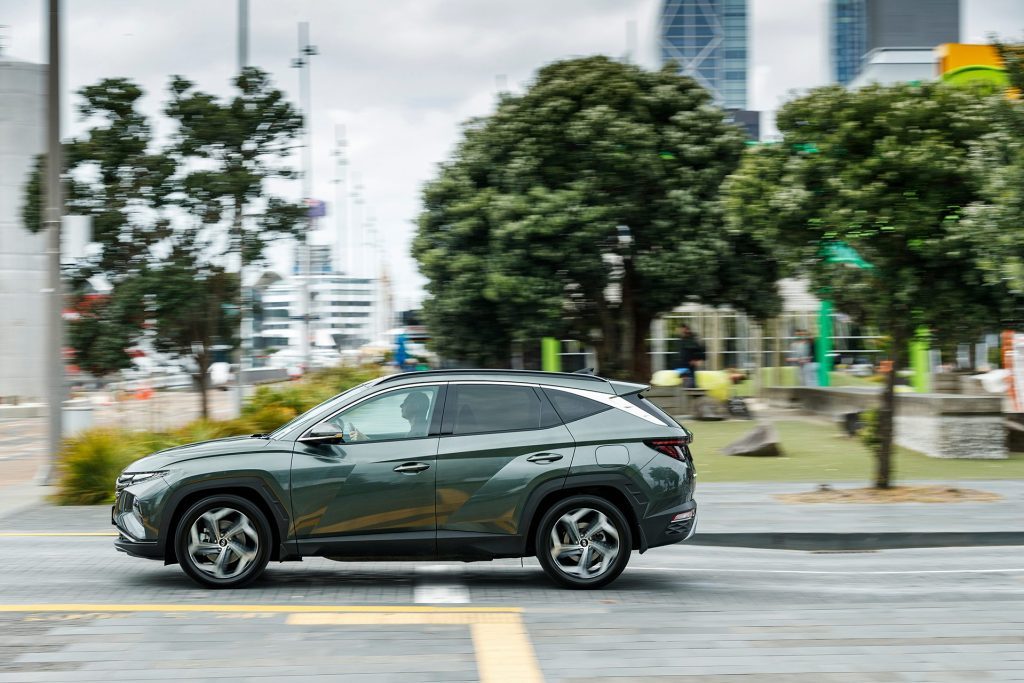 For the fourth generation of the Tucson, Hyundai has gone all out on exterior and interior design, while the rest is a bit more familiar, like the turbocharged petrol and diesel powertrains we get here. However, hybrids are coming next year, one with 169kW and 350Nm thanks to a helper motor for the petrol engine, and the other a plug-in, offering 195kW/350Nm of system power plus 50km of EV travel thanks to a 14kWh battery pack.
Pending their arrival some time in 2022, it's ICE power only at present, a mix of two petrols and one diesel. That means there are oodles of them to choose from thanks to different spec levels.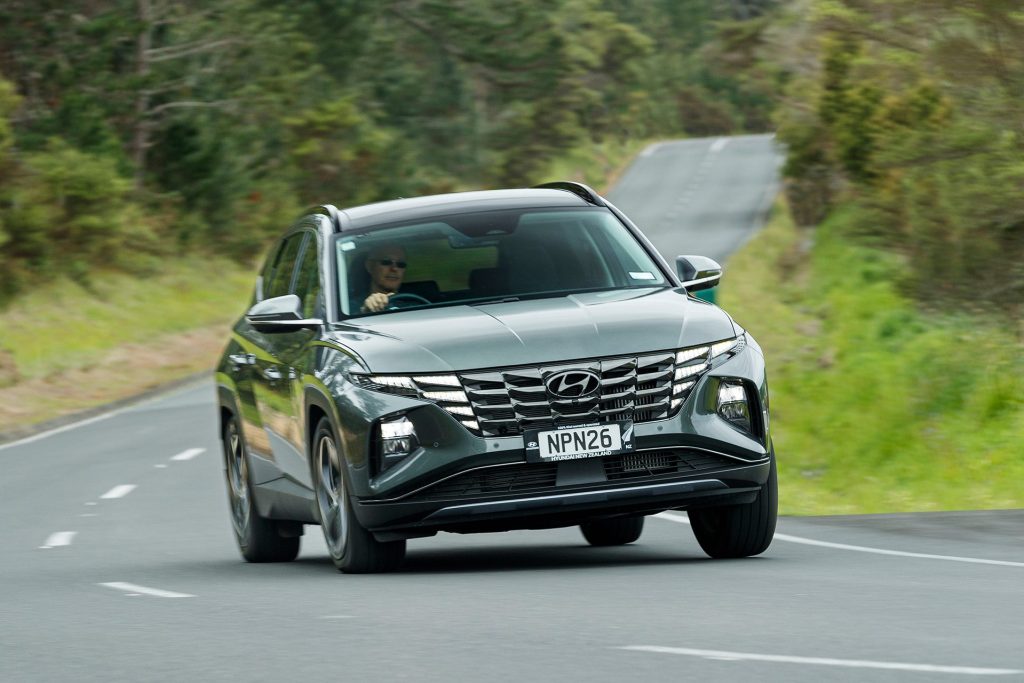 We've been sampling the Limited AWD version which sells for near to $70k, gulp, but it is really comprehensively specified, even if there's only a 1.6L turbopetrol under the bonnet. Yes, size does matter to some. Mind you, small turbos use less gas, this one seldom registering in double figures. It has a claimed combined figure of 6.9L/100km.
But bloody hell, $68,990 for a mainstream compact SUV. Back in the day, these went for late 40s but it must be said this is absolutely chock-a-block with safety, comfort and tech items. Because there's simply too much to list, we will just concentrate on the things of greatest interest. First off, a Krell sound system comprising eight speakers and a subwoofer. Holy smoke; you don't hear or see that name very often in automotive circles. And to be honest it's a rarity in home audio here too; Krell used to be amongst the most prestigious and expensive solid state American brands you could buy. So that may in part explain the big sticker this wears.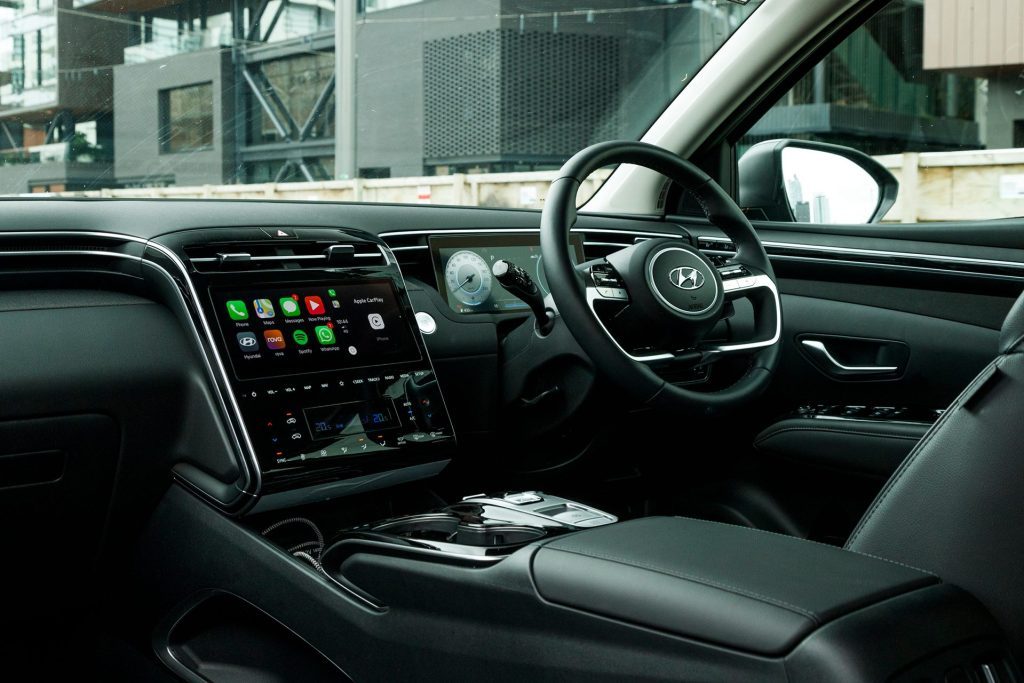 As will all the safety gear on board. This has everything you could imagine, right down to rear occupant alert, lest you've forgotten to evict the kids from the back. No, really. This type of system is currently being assessed by ANCAP. People leave dogs and kids in cars. Scotch that; bad parents/owners do. Anyhow, on ANCAP, the Tucson earned a five-star crash test rating.
We like the BSM monitor; each time you flick the indicators, a camera shows what might be nearby on the side you're turning towards, the images portrayed where the tacho normally is, or the speedo if turning right. There's also a 360-degree camera. And active cruise with stop and go you'd expect for this sort of money.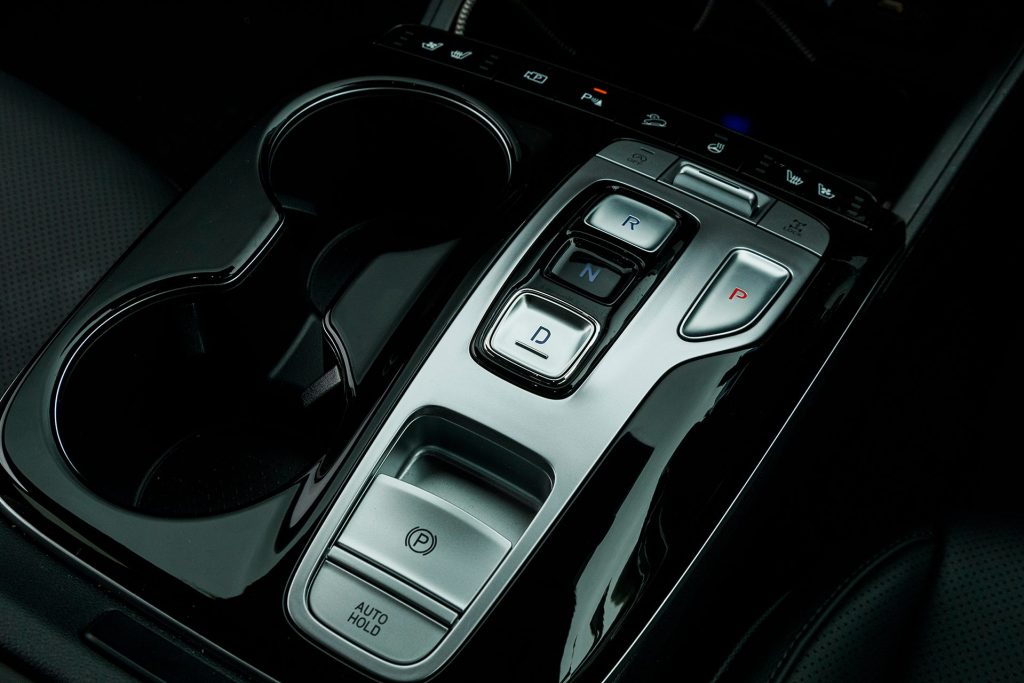 As to comfort and convenience, think largely everything, right down to seat heating in the front and rear, ventilation for the front seat passengers, and even a steering wheel heater. The power tailgate opens automatically if you stand there for three sec or more – no stupid kick gesture required – and there's full leather trim, power operated seats, and wireless phone charging. You get the picture.
There's no arguing that the design department has done a bang-up job of bringing Tucson into the third decade of the 21st century too. You sure can pick the new Tucson from its forebears. The previous generations were pretty ord if we're honest, nothing to write home about in a styling sense. However, this borders on surreal and people will probably love it or find it a bit busy. For there's an awful lot going on when you check out new Tucson. Slashes here, lines there and a real 3D sculpted look about it. Up front is pretty sci-fi too, with hidden lights that reveal themselves when illuminated. Ditto for the rear lights.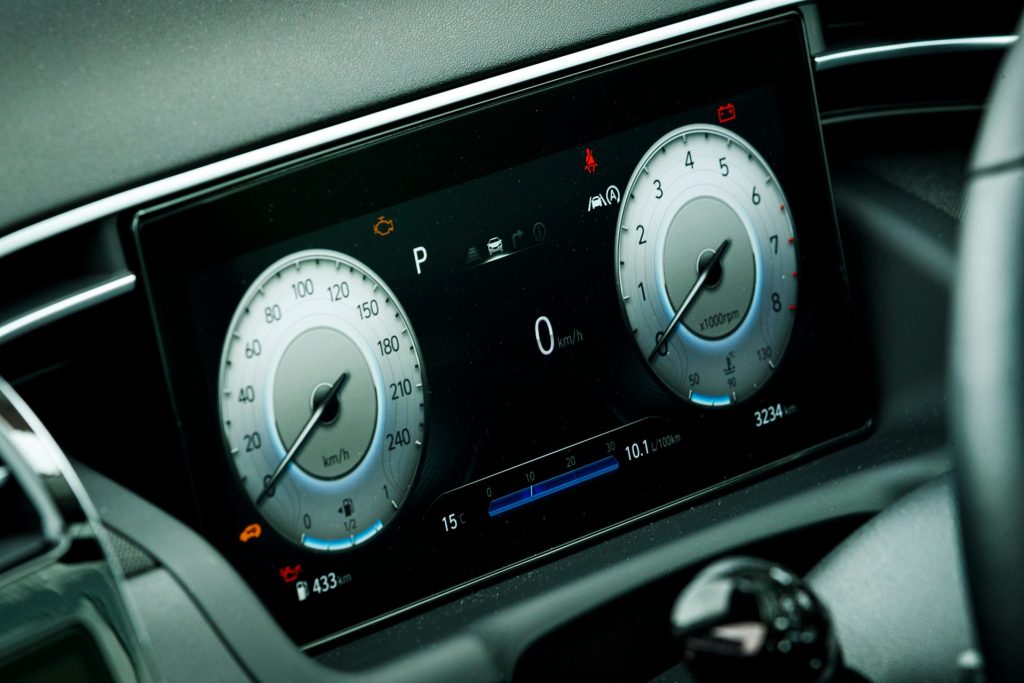 And the interior is not without its novelty factors, missing a binnacle to shield the digital instruments from sunstrike. We didn't see much of the sun in our time with the vehicle – don't you hate spring weather? – but nor did we notice any deficiencies as a result of running binnacle-less. It also features a kind of semicircular theme up the front, the dash extending seamlessly into the doors, and encompassing both front seat occupants while imparting a sense of space. Or so they reckon. Actually, it feels like that though.
Anyhow, they've also done a more than reasonable job of making this go about as ornery as it looks. For it's fitted with a dual-clutch transmission, a seven-speeder and, with 132kW of power and 265Nm of torque from 1500rpm, the blown four potter does an impressive job of motivating Tucson. It scoots to the metric tonne in 8.4sec, but would be a darn sight faster if you could build the revs up on the brakes. Being AWD you should be able to, as the power is divvied up north and south. But no, so it bogs off the line and 8.4sec is as good as it got.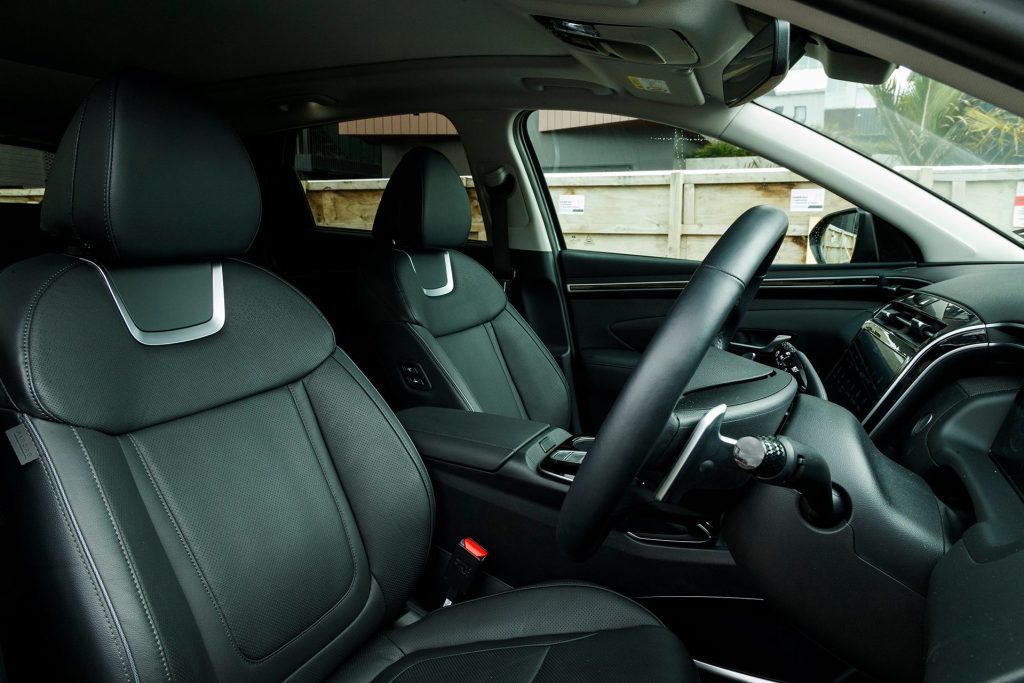 What's really impressive about the Tucson's performance is how, finally, at long last, Hyundai has got the message that maybe their brakes weren't quite up to snuff. They've always been fade prone, pretty much across the range, with average stopping distances. Not any more though, and with Michelin Primacy 4 rubber this is now a convincing stopper, actually a really convincing one, all ABS crash stops from 100km/h completed in the 33m or better bracket, with a best of 32.43m.
Great stuff, but wait, there's more, for this has taken a real step forwards dynamically as well. It turns quick smart, holds a line well and doesn't seem fazed by rough corners, despite a touch of steering kickback. With all four wheels driven, corner exit is more accomplished too. Primary ride is pretty decent, but secondary ride over shorter bumps a little less so.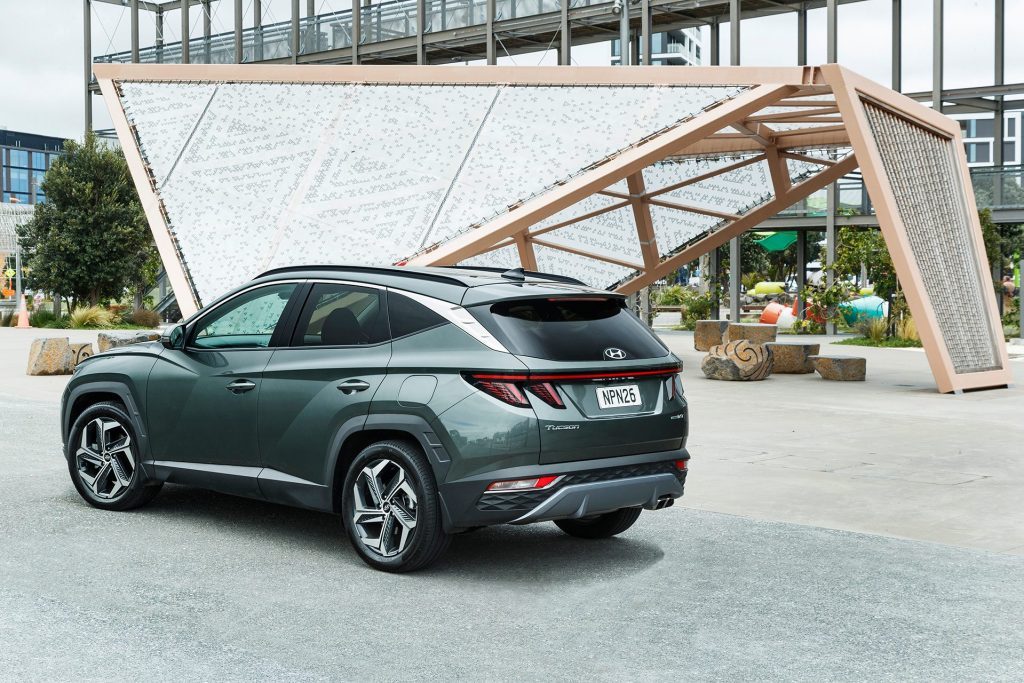 Practically speaking this is well considered. I could get my e-bike in the back after split folding which results in a nearly flat load bay and removing the cargo cover. No need to lower the seat or remove the front wheel either, just turn the bike around and reverse it in horizontally. There's 1800L of space in there evidently, 620L with all seats in use. And the back seat area where you might otherwise have accidentally left the kids and dog cooking, had it not been for the rear occupant warning, will take adults just as handily.
Essentially then, this is a really good thing that seems really expensive. We are of the view that when spending $69k these days, you'd probably want to consider electric as well, for you can get an $8k discount from the government just like that. Well, not here you won't, because Hyundai doesn't offer an electric Tucson. However, the PHEV is on its way but will naturally be even more expensive than the $69k Limited we've been driving. Still, there are plenty of other Hyundai EVs to consider.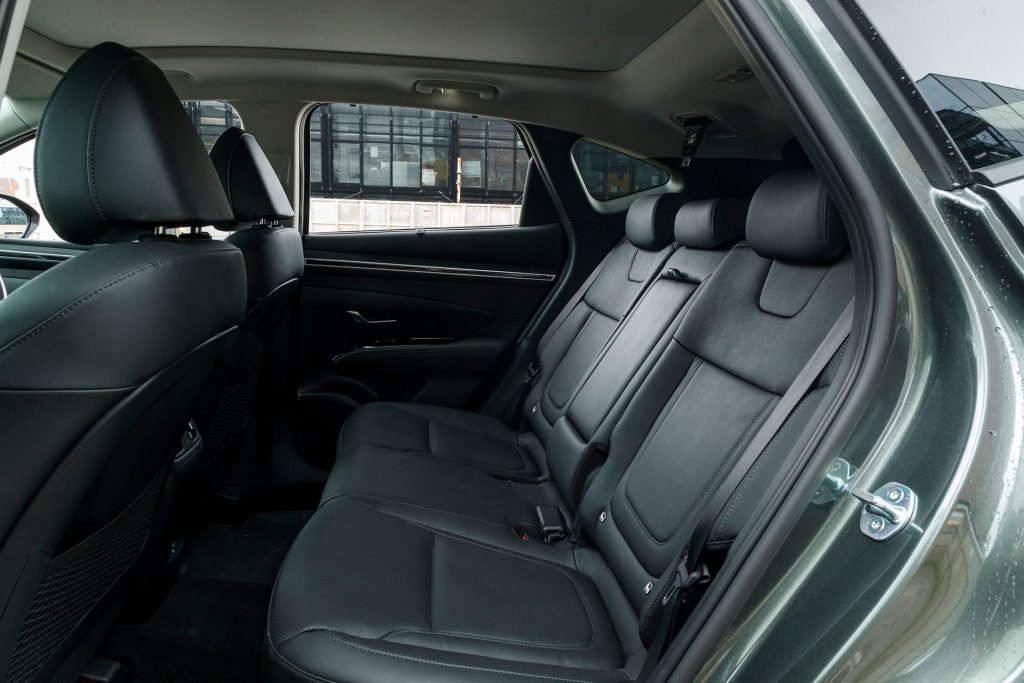 You can buy a Tucson for as little as $47k but for that you get an atmo 2.0 powerplant with a six-speed auto and front-wheel drive. So no thanks there. The stroppier 1.6T powerplant comes only with AWD, and such versions kick off at $57,990 but that's an Active model, which is below Elite spec.
What about compatriot Kia you ask? It's set to launch its mechanically similar compact SUV, the front drive 2.0L Sportage, also with quite out-there styling, offered for an introductory price of $35k. Same powertrain as the $47k entry Tucson too, but at $35k…. So yeah, nah, maybe wait for that one instead?
Model
Hyundai Tucson 1.6T
Limited AWD
Price
$68,990
Engine
1598cc, IL4, T, DI
Power
132kW/265Nm
Drivetrain
7-speed twin clutch, AWD
Fuel Use
6.9L/100km
C02 Output
157g/km
0-100km/h
8.38sec
Weight
1692kg (claimed)