Mazda is upping its ante in the big SUV stakes, with its new CX-90. It moves the brand further upmarket, with pricing to match.
It's been a while since Mazda has had a vehicle with a price tag as large as the CX-90's. You'd have to think back to the nineties and another Mazda with a nine in its name, the 929.
That was ridiculously expensive back then, and now virtually worthless. You'd have been better putting the money into an inner city villa back then.
And then having flicked the dilapidated hovel for millions, the tax-free gains would mean you'd now be able to comfortably afford the new $92,990 CX-90 (since we drove this, it has already gone up, now $93,690).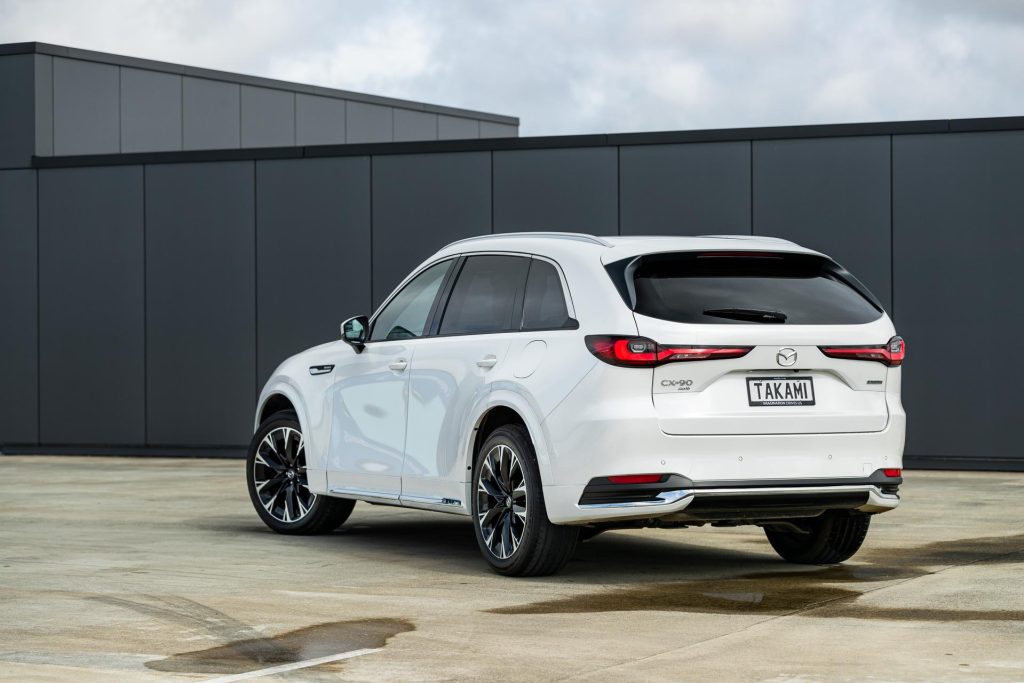 That moves Mazda towards the premium market, where everyone aspires to be. While rather pricey, the tags attached to luxo Euro models push ever higher, and so a CX-90 is about half the ask of the seven-seater Merc GLS or BMW X7.
But it's also not far off the price of the base XC90, albeit a model that's due for imminent replacement.
CX-90 is intended to replace the CX-9, which will be phased out at the end of the year, and so Mazda will no longer be competing in the meat of the seven-seater market.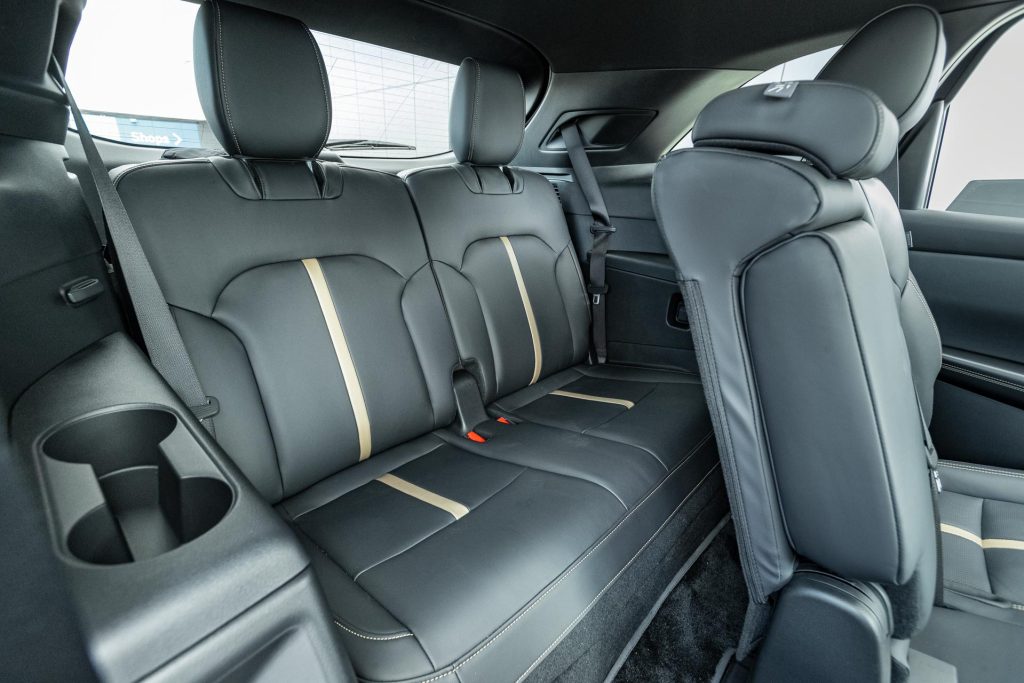 That's where you find the likes of the Kia Sorento (starting at $65k though rising right up to $95k for a top-spec PHEV), the hybrid Highlander (from $68K – $80K, all models now around $5k more expensive than when they debuted) and Santa Fe ($60K-$80K).
CX-90 is cheaper however than the Hyundai Palisade…
What's different then?
This is a big departure from what went before it, having little in common with the CX-9, save for it being a large seven seater designed for the US market.
It's part of Mazda's 'Large Product Group' that was 'developed in light of features that customers in the important North American market demand'.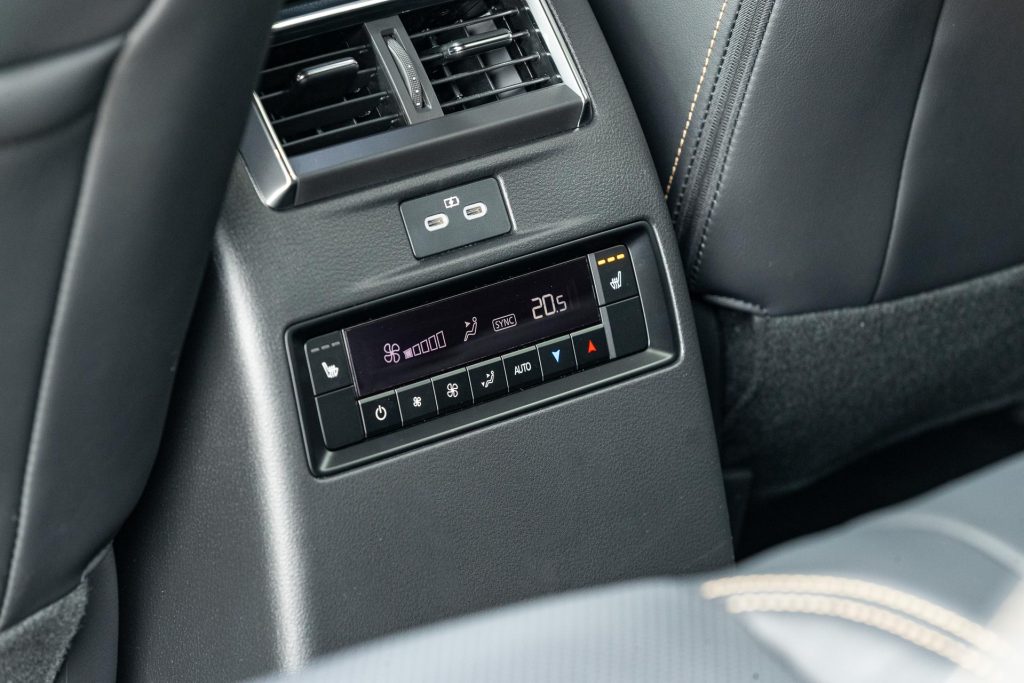 While the CX-9 is still available, and ranges in price from $63K to $74K, there is just one $93K CX-90 Takami model, which currently also attracts a $4025 fee. The CX-9 has a transversely-mounted, turbo'd four cylinder, a six-speed auto and an on-demand AWD system with a front drive bias.
The CX-90 adopts a new 3.3-litre inline six which is boosted by both turbocharging and mild hybridisation. It's mounted longitudinally, drives through a new eight-speed auto and powers an AWD system with a rearward bias.
There's a diesel for the Aussie market, but it won't be offered here, and there's no word yet as to whether the PHEV will make it to New Zealand either.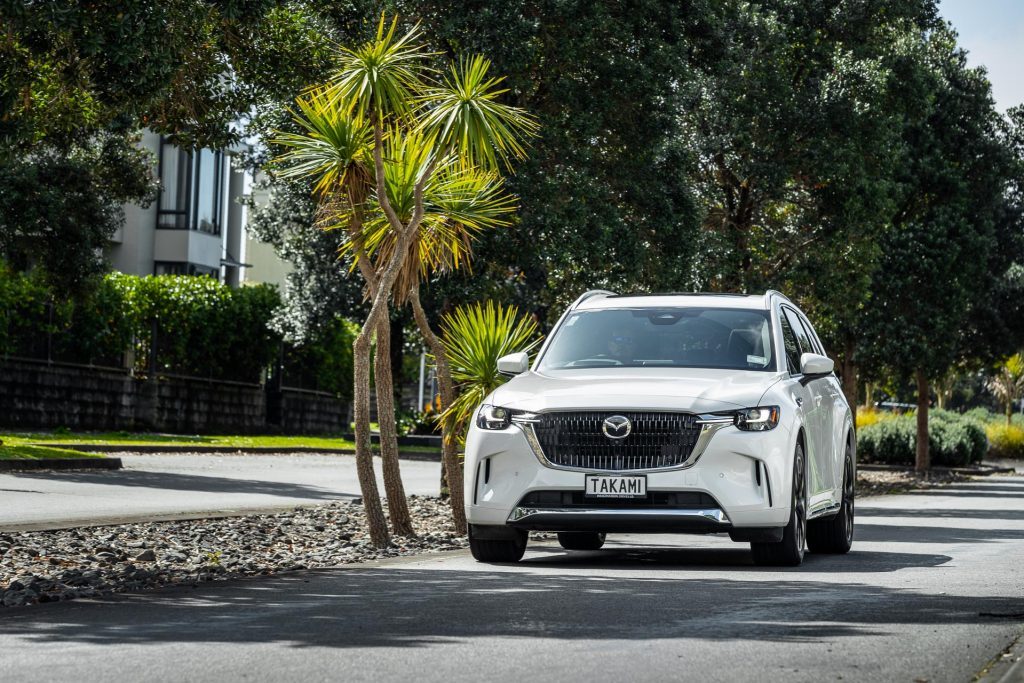 This isn't Mazda's first mild hybrid – that would be the CX-30 – but it's a different thing altogether. There's an electric motor placed in between the engine and trans, the 48v system giving a boost at low engine speeds and enabling more shut down time.
The Mazda-designed auto is interesting too, utilising a clutch pack in place of the usual torque convertor for gains in efficiency and packaging. Despite an increase in weight over the CX-9 (2220 vs 2011kg), the larger CX-90 does better on the fuel use test, 9.1L/100km vs 10 for the CX-9.
And it's packing more power with 254kW and 500Nm, beating the CX-9's 170kW/420Nm totals. It's quicker too, taking 7.2sec to get to 100km/h vs 8.1sec.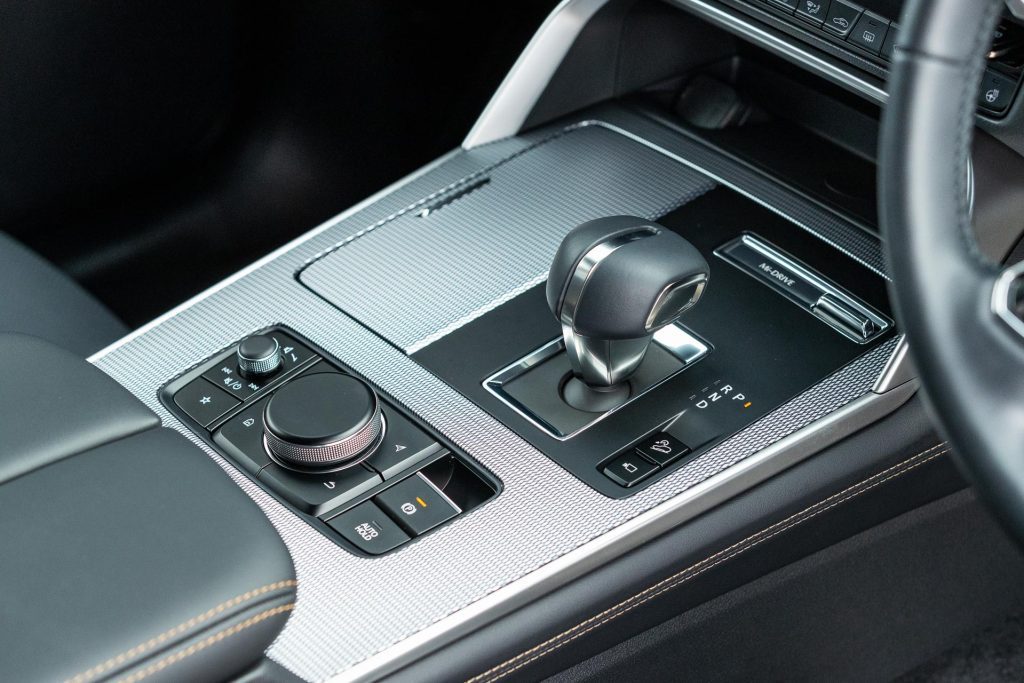 While it is not much longer or wider overall, 25mm more in each direction, it looks a lot bigger, menacing almost.
There's the longer bonnet line of the longitudinal layout, while the wheelbase is stretched by 190mm. It has a larger boot, and it can tow more, up by 500kg to 2500kg braked. So there's more of everything on offer but is it really $20k better than the CX-9?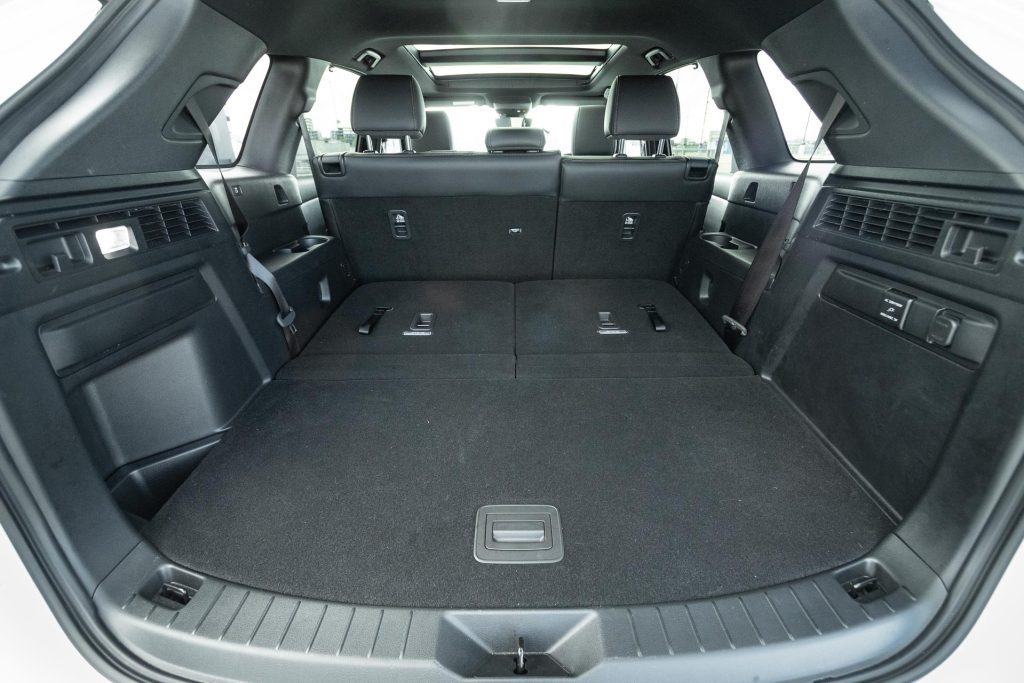 Premium drive?
The aural tones from the new six cylinder sure give off the right vibe. It's all smooth and refined, while it growls appropriately under the pump.
What's most impressive is how it can chug around town with minimal effort. It can be turning barely above idle yet it maintains speed as it climbs a decent incline. Guess we can thank the electrics for that.
While it has an impressive amount of low-end urge, it's strong throughout the range, the torque figure indeed feeling like it is present from 2000rpm through to 4500rpm.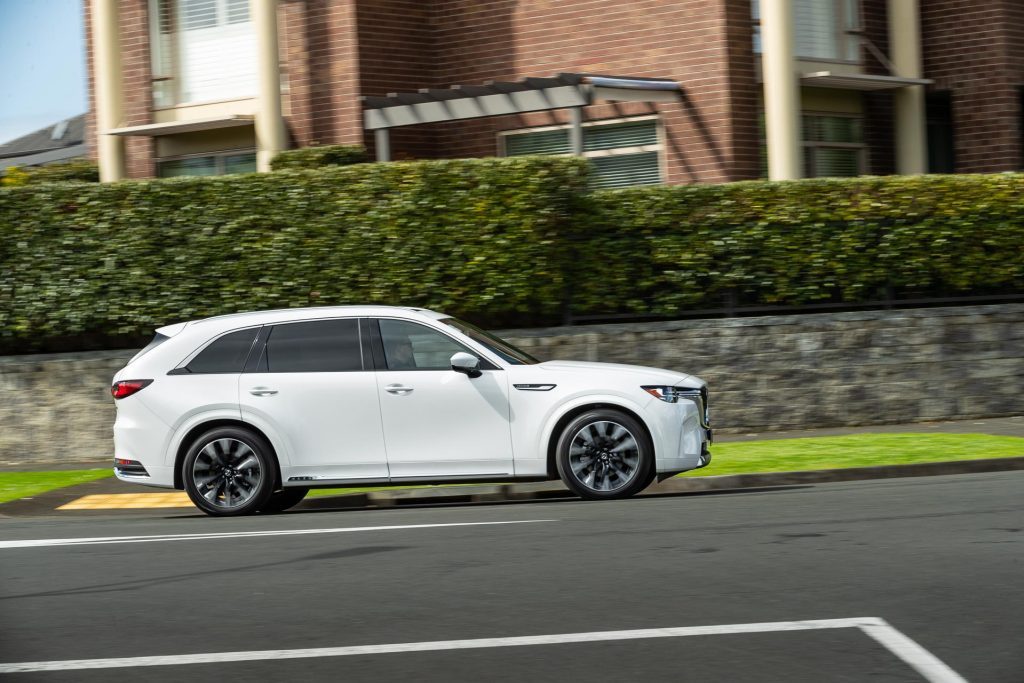 The new eight-speed auto could be smoother with its shifting at a sedate pace; there are a few jerks that really shouldn't be present in a machine with premium ambitions but otherwise it does the job. Despite the lack of a torque convertor, it's refined during take offs and hill starts.
The engine deactivation is very proactive, not only turning the six off when stopped but also during coasting. While it's quick to refire from a halt, it's not quite as smooth when it comes back on line while you're driving, with a slight hesitation noted.
It helps trim the fuel use which, during our week with the CX-90, registered 10.8L/100km. Not bad for a big machine, but not amazing given the volatile nature of gas prices. The spec sheet recommends 95 octane too.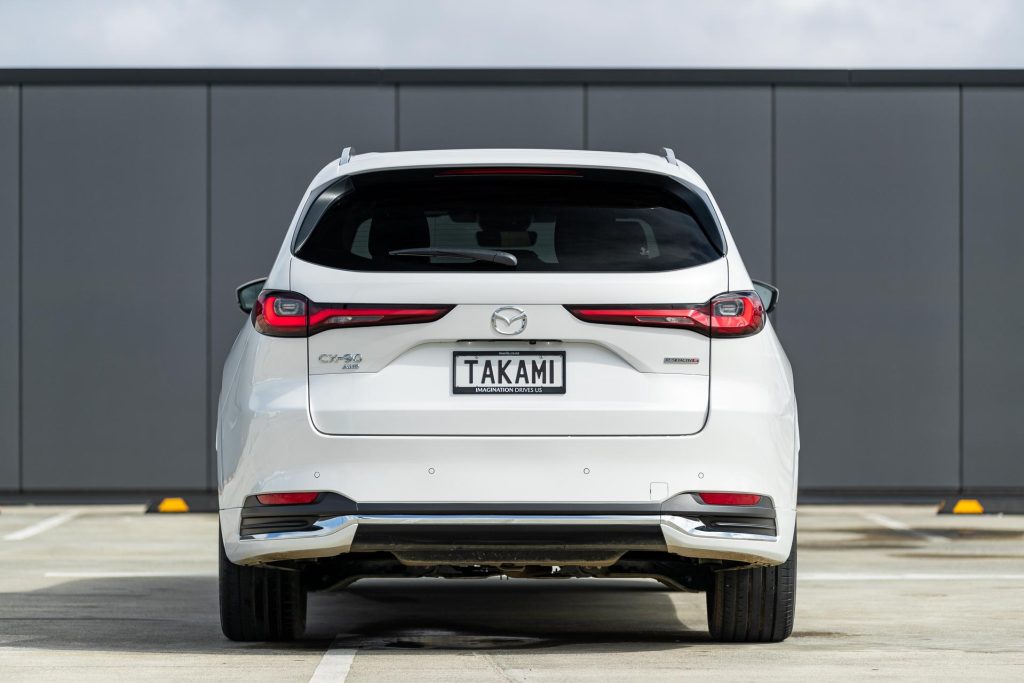 There are no adaptive dampers offered, and while the ride isn't bad, the CX-90 doesn't isolate the jolts of the sharper bumps. The road noise is well suppressed however.
Despite its dimensions, it has an okay turning circle, no worse than the CX-9's, though the steering is weighty at slow speeds.
With its recipe for better chassis balance, the CX-90 has impressive dynamics for a big bus. The steering is well connected yet it filters all the road muck. The CX-90 turns with genuine precision, its double wishbone front suspension helping there.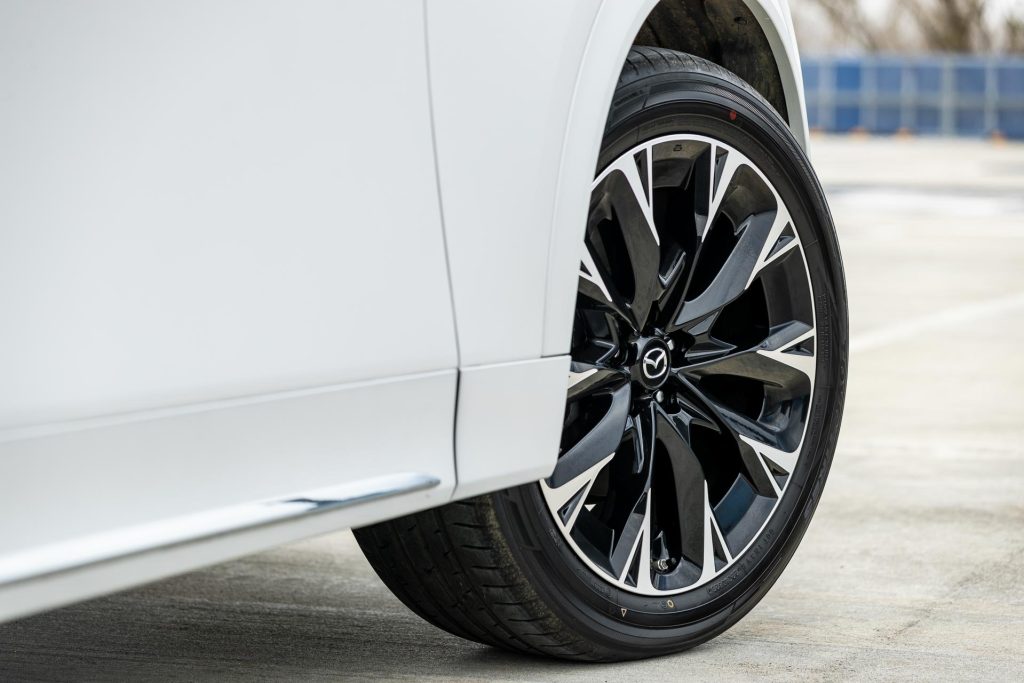 Yes, it does feel like you are in control of a big SUV, but it's balanced so doesn't sledge into understeer easily, generous 275 cross section rubber also lending a hand. And the roll is well managed so it doesn't get ugly at the other end either.
This has some of Mazda's dynamic finessers with subtle applications of the brake or a slight reduction in engine torque to keep things smooth.
And they must do something because it does all feel rather calm on the go, even when your driving style isn't.
Fancy inside?
This has the usual high Mazda quality in the cabin, but you couldn't point to any particular aspect of it as being vastly superior to the CX-9. With the sizeable price tag, you start to wonder whether the lower dash plastics are quite up to the money asked.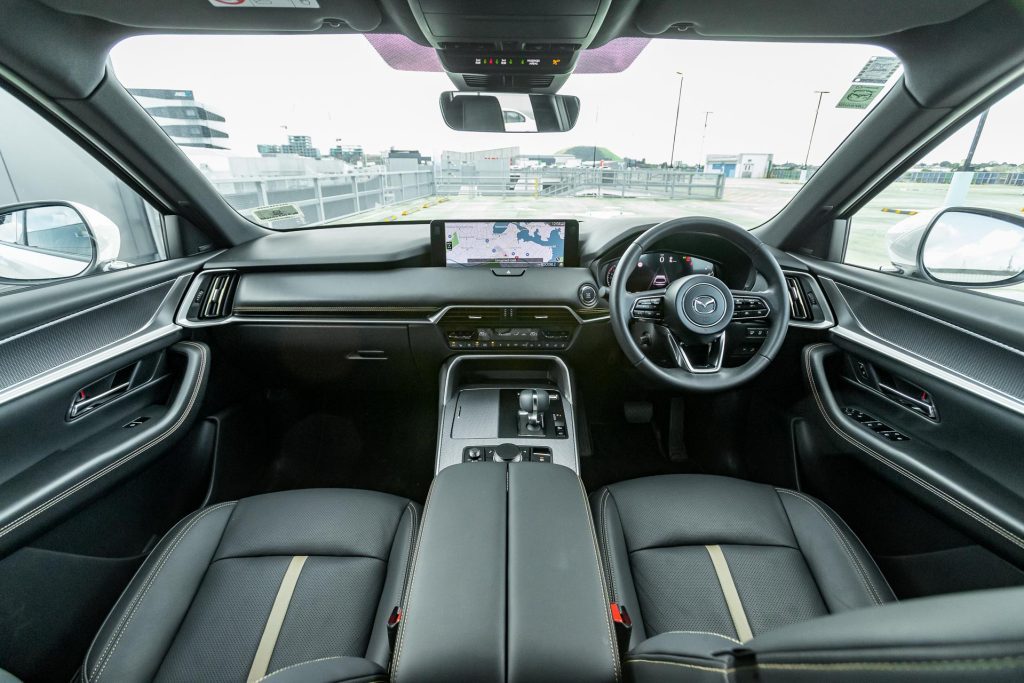 The driver's seat is a bit firm, and while there is plenty of adjustment, it's also lacking in form.
It's a new vehicle so it brings a few advancements, like a digital screen for the instruments. This is without the usual scope for customisation; what you see is what you get with most of the space given over to monitoring the safety systems.
The head-up display is handy, delivering warnings from the various active safety features as well.
Most of these are well behaved but we could do without the constant dinging every time you come to an intersection or driveway warning you of the potential for oncoming traffic. Despite trying, we couldn't seem to turn that off.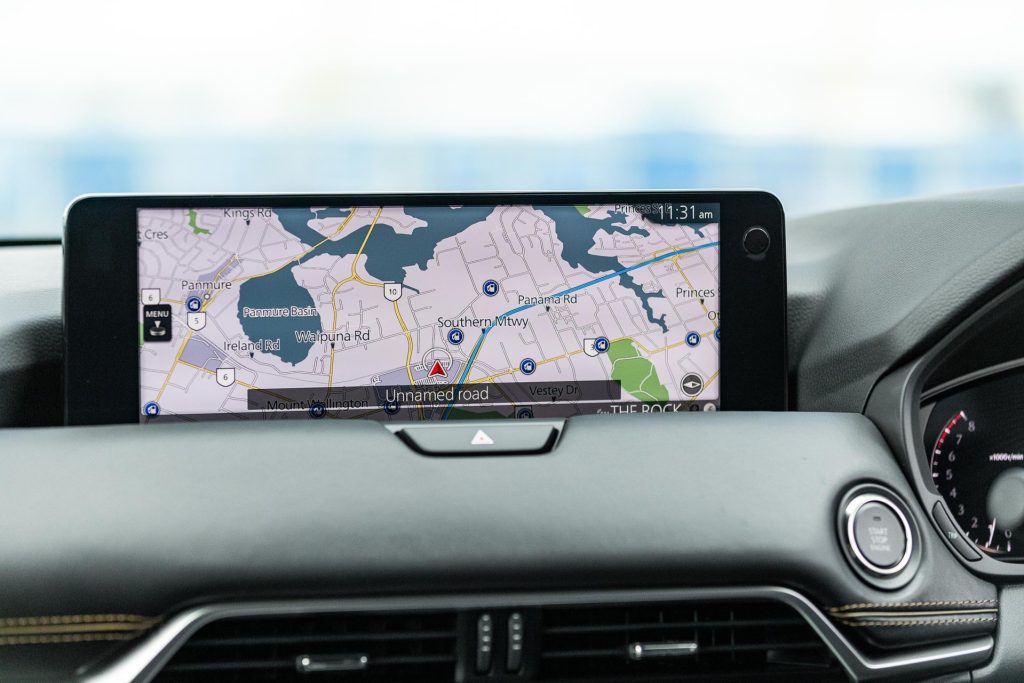 The infotainment system persists with its widescreen format though ones with a portrait style orientation relay the info better, especially when using the sat nav. These also give a better view for the 360 degree camera, which is a bit squashed here.
Some might like the quaint mouse controller too, Mazda content to go their own way with that. Good to have a few buttons for the ventilation however.
While the storage bins aren't that voluminous, and neither are they lined, the cupholders are practically positioned, there's a charge pad, and USB-C plugs too.
You get all the nice-to-haves here like a full glass roof, the hands-free opening tailgate, sun shades for the rear doors, three-zone climate control, and electric adjustment of the steering column; you get the idea.
There's good room in the rear, as you'd hope for something so large. The big, wide opening doors ease access, though caution is required when opening them in tight car parks.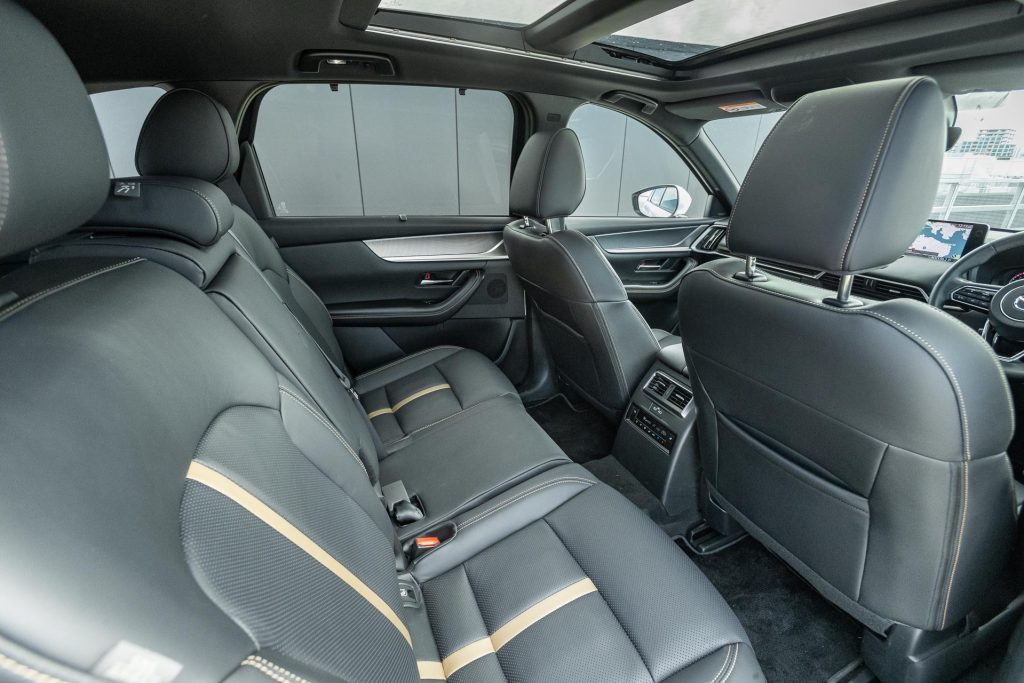 The back seat has the usual sliding, reclining and folding features, all easily achieved.
While the floor back here isn't flat, there's enough leg room for three (kids) across the rear and there are more USB-C ports back here, seat heaters, ventilation controls and Isofix points.
And there's good access to the seats in the boot too. Apart from a lack of foot space under the second row, these are rather comfortable with good headroom that makes them an option for adults but are more of a fit for the kids, as always.
They get a decent view out of the side window, cupholders aplenty, yet more USB-C ports and some air vents.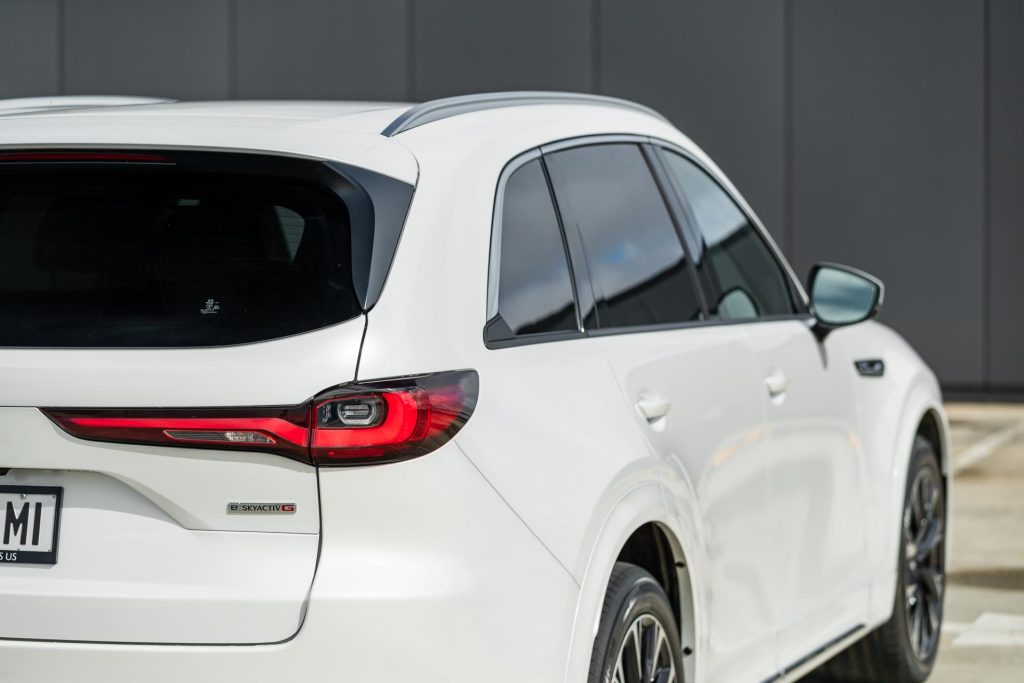 With all seats in use, there is some genuinely useful boot space left over, while the sixth and seventh pews fold away easily to give you a suitably large luggage area.
Worth it?
It's certainly an impressive vehicle, but so was the CX-9, and a former overall Car of the Year winner for us.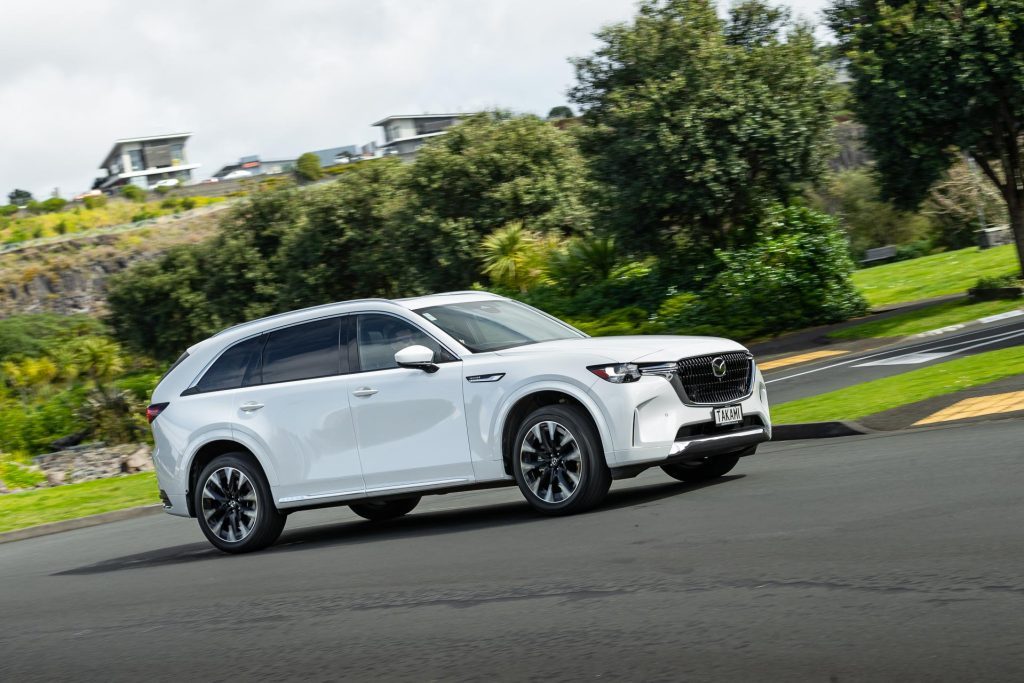 However, we doubt the CX-90 will replicate that feat, as it doesn't represent the same value for money.
But if that's not such an issue, the practical interior, refined engine and engaging dynamics make this an interesting option.
Model
Mazda CX-90 Takami
Price
$93,690
Clean Car Discount
Fee – $4,095
Engine
3283cc, IL6, T, DI
Power
254kW@5000-6000rpm
Torque
500Nm@2500-4000rpm
Drivetrain
8-speed auto / AWD
Fuel Use
9.1L/100km
C02 Output
210g/km
0-100km/h
7.20sec
80-120km/h
4.18sec (118m)
100-0km/h
36.99m
Stability systems
ABS, ESP, TV
Safety
AEB, ACC, BSM, LDW,
RCTA, ALK, AHB
Luggage Capacity
207-608-2025L
Tow rating
750kg (2500kg braked)
Fuel Capacity
74L
Scheduled Servicing
5 years/100,000km
Warranty
5 years/unlimited km
ANCAP rating
Not yet rated
Weight
2220kg (claimed)
This article first appeared in the 2023 November issue of NZ Autocar magazine