Big right, this large SUV? Yes it is here but in America this 5m seven- or eight-seater Palisade is considered medium sized.
Their large entrants are monstrous. Locally, you know you're in something big when it's almost 2m in width.
Even out on the open road you don't want to be distracted because when you look up again you may have veered right or left towards the verge or the oncoming traffic.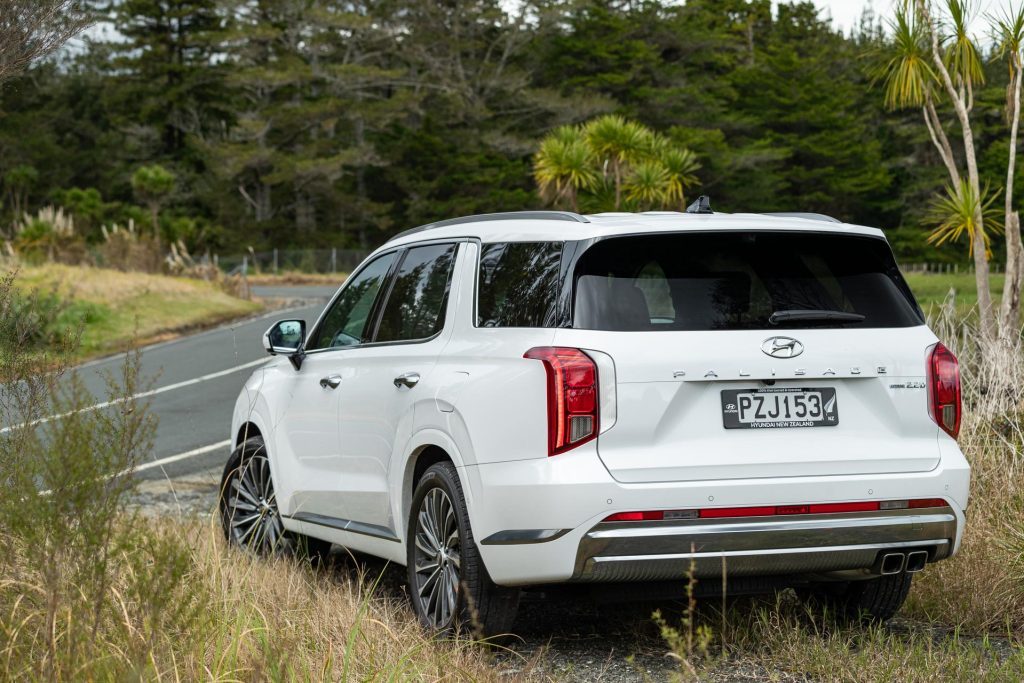 And mark my words, you will be distracted when driving this, because the bongs from the many dangers you might be encountering – you're a kay over the limit – will drive you, er, bonkers.
You can go through the system and turn plenty of them off but next time you fire it up, the pesky safety reminders are back in action. Cue the hair pulling.
The primary bonging issues from the traffic sign recognition system. There's a six-step touchscreen method to quell this. Hit Set Up, then Safety, then Driving Convenience, then Speed Limiter, and then Speed Limiter Off.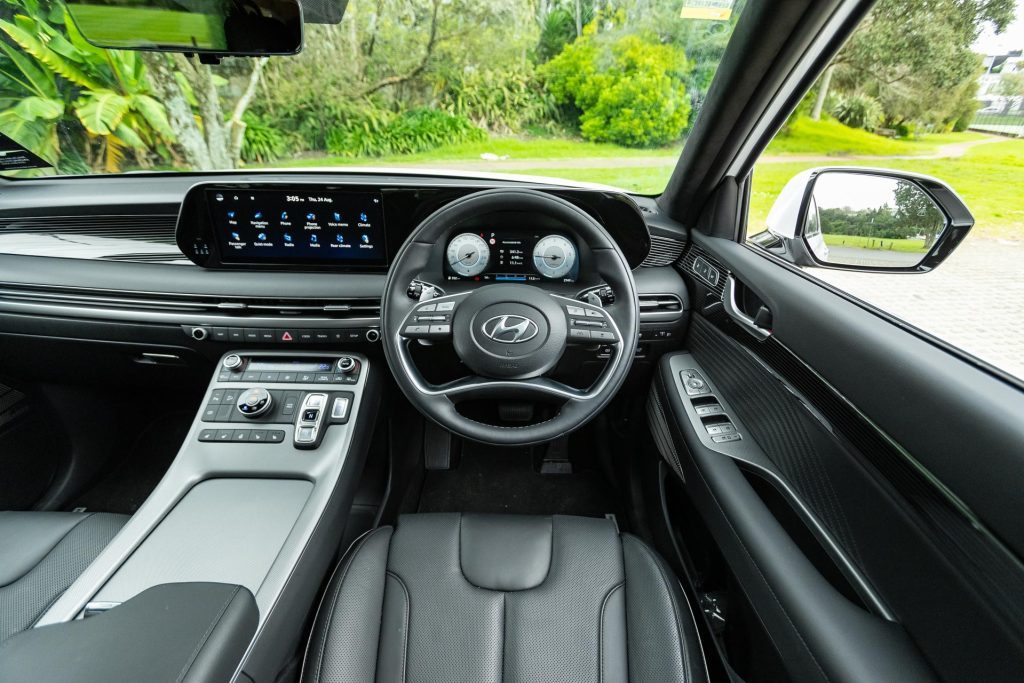 Then hit Map and lo, within the sat nav there's the traffic sign recognition again but with the sounds of silence, plus you have actual speed readout just above that.
Better still, you can be told how much over the local speed limit you're doing by your SO. Handy.
One other thing you'll want to do before setting off and that's hit and hold the lane keeping button on the steering wheel.
It's particularly irksome every time you stray near any road marking.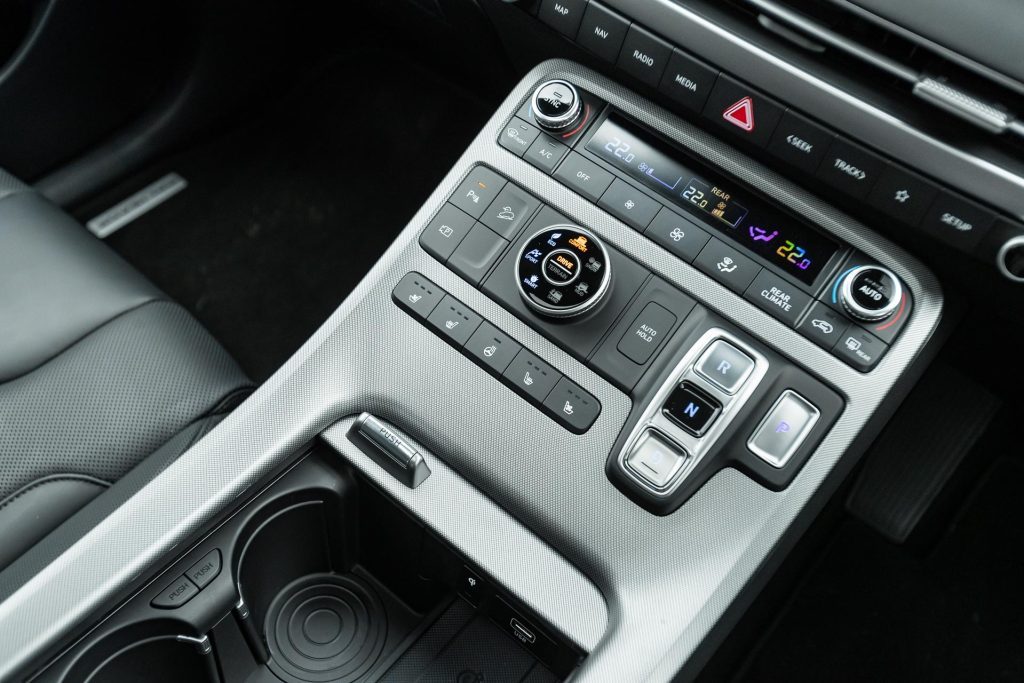 So then you're set. Except that each time you shut down, it's the same procedure if you want to maintain your sanity.
Pity that because otherwise the reconfigured Series II Palisade is a bit of alright. That is, providing you really do need either eight or seven seats, in this case the latter.
The middle pair are captain's seats, making things a bit easier to enter the third-row pews. Most of the time when you don't need that third row you can simply fold the seat backs into the floor, which takes about 10sec, and then you've a veritable truckload of room, just over 700L.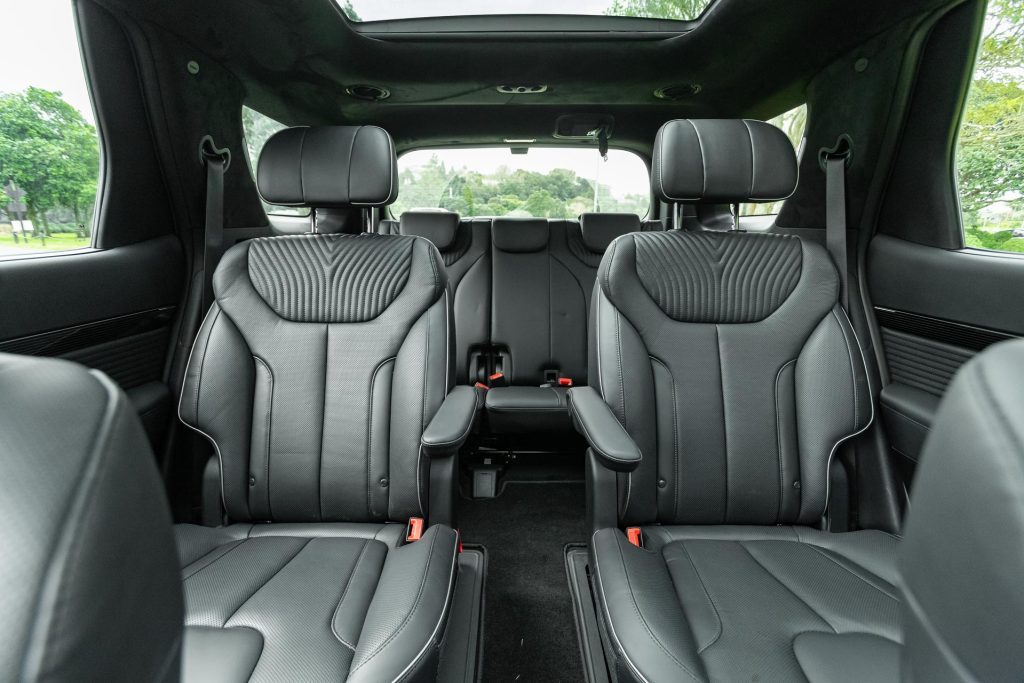 You can also fold down the captains chairs so the seat backs lie flat and then there's 2447L available for longer loads.
Despite the size, it is reasonably agile. That's in part because the passive dampers are somewhat variable. Push on and they firm up, ease off and they do the same, thanks to an additional oil passage.
So the ride is pretty good. There's perhaps a tich more road roar from the tyres than you might expect but it's still quiet enough, the max dB in the early 70s. The well soundproofed 2.2 turbodiesel creates 147kW and 440Nm, and evidently is good for 8.4L/100km overall.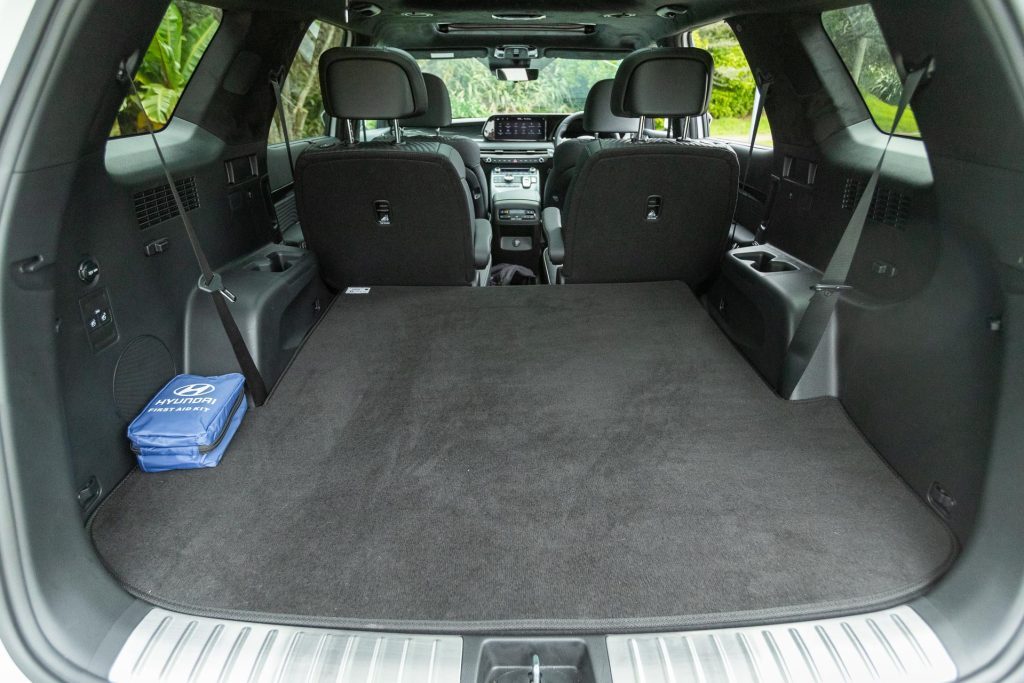 We saw 9L/100km, almost regardless of how it was driven. Given its size and height and the air it must push, this seems pretty good.
Quick this isn't – an overtake requires more than seven seconds or 200m – but it gets by just fine in that easy loafing diesel way, and on a full tank you can expect 650-700km.
There are two Series II Hyundai Palisade models and ours was the top Calligraphy variant ($119,990; suggested transaction price of $114,990) and carrying a clean car fee of $4773. There are enough safety items that bong to merit a five-star ANCAP result.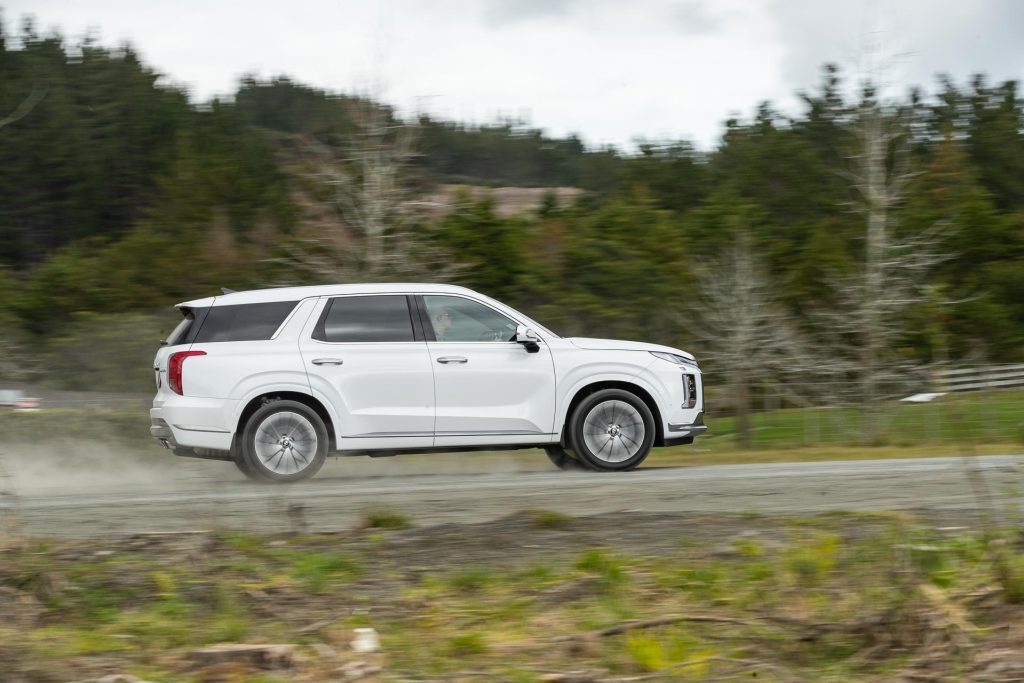 It comes complete with pretty much everything else you might want too, right down to seat heaters and ventilation (even for the second rows seats), trizone air, a steering wheel warmer and, apparently, 17 bottle holders.
Only the steering column is manually operated, weird on a premium vehicle and given everything else is powered. Like the tailgate which can open and close at two different speeds. We're not sure why; faster is better, surely.
The seats are leather bound and the roof is finished in suede, well, the bits that aren't sunroof are, while the new vertical headlamps are full LEDs and there's a clear head-up display.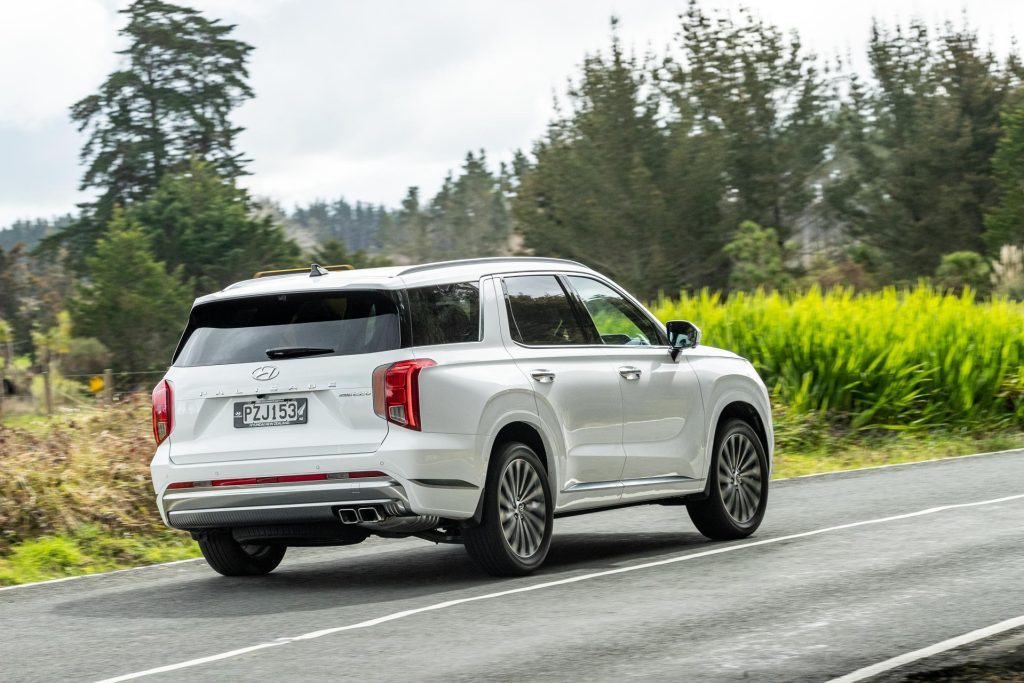 That said, at certain times the sun reflects from the device onto the windscreen right in the middle of your vision.
The look is aimed at America. Super-sized grilles are the norm nowadays and this one looks, if you squint, a little like a cascading waterfall. The multispoke 20-inch turbine-like wheels and bold horizontal character lines, along with wheel arches well delineated, add to the American allure.
We like the one-button easy entry to the third-row seats, though these are for children only, adolescents at a pinch if middle seats are slid forwards.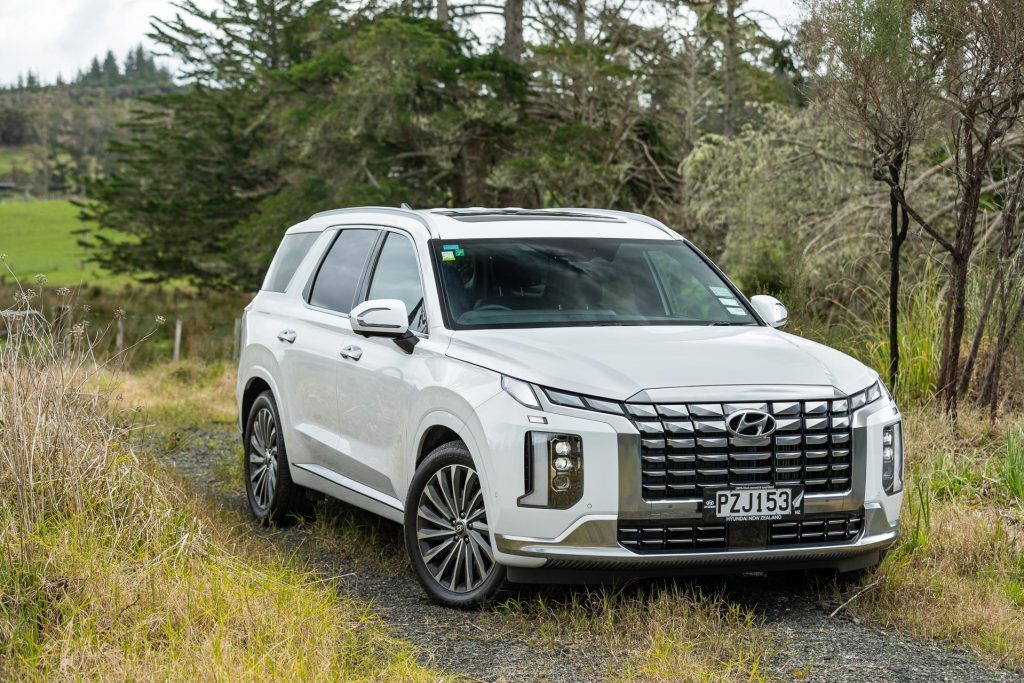 If this seems all a bit much, you could always try the base model which is $106,990, (RRP $99,990). But why not just get a seven-seat Santa Fe instead?
It has the same engine as the Palisade, the same gear count, the same off-road potential and can tow more (2500kg braked vs 2200kg).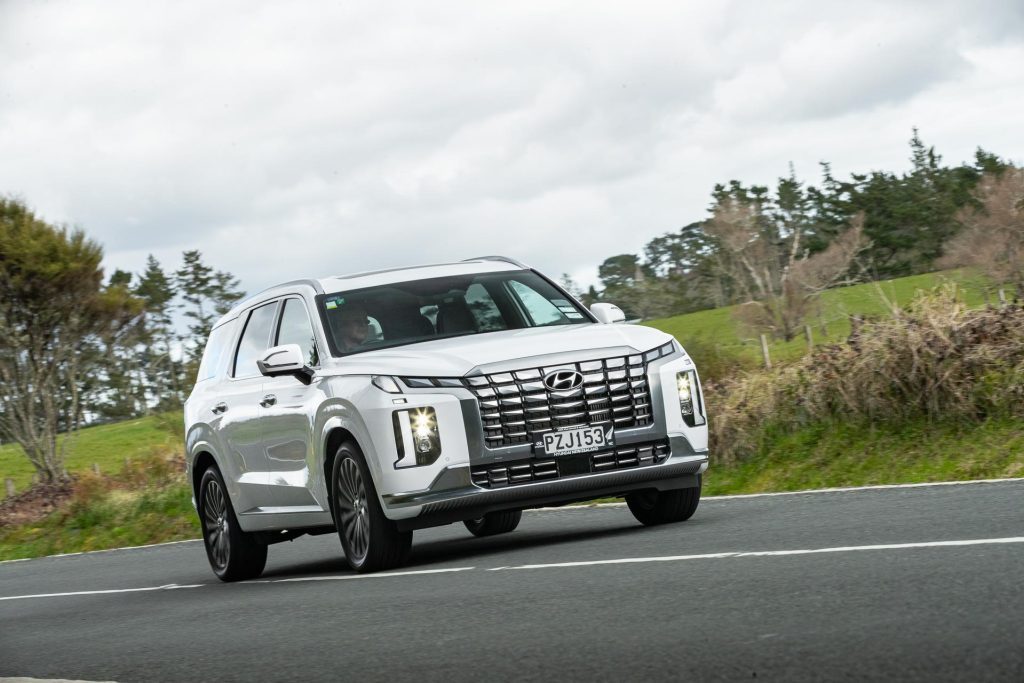 Further, all models have seven seats and it is more appropriately sized for New Zealand conditions. Plus it's priced from $70k-$90k, and there's a hybrid too.
Alternatively, wait until early 2024 for the new bolder, boxier looking Santa Fe.
| | |
| --- | --- |
| Model | Hyundai Palisade Series II Calligraphy |
| Price | $119,990 |
| Clean Car Discount | Fee – $4,772 |
| Engine | 2199cc, IL4, T, DI |
| Power/Torque | 147kW@3800rpm / 440Nm@1750-2750rpm |
| Drivetrain | 8-speed auto, AWD |
| Fuel Use | 8.4L/100km |
| C02 Output | 223g/km |
| 0-100km/h | 9.25sec |
| Weight | 2057kg (claimed) |
This story first appeared in the October 2023 issue of NZ Autocar magazine