Hyundai raises the stakes in the realm of seven seaters with its shiny new Santa Fe. It's mighty impressive, but is it worth the premium?
Santa Fe has been around for 20 years and the latest iteration has arrived earlier than expected. Hyundai's most popular SUV was only renewed a couple of years ago and now we have another new model. Hyundai and its subsidiary Kia have shared common underpinnings between the Santa Fe and Sorento for some time, each taking turns to debut a new design to provide a point of difference. Yet now they are on an equal footing with both the Sorento (debuting in September 2020) and Santa Fe packing a new diesel, a slick eight-speed twin-clutch auto and a revised platform sitting underneath shiny new clothes. We rated the Kia Sorento highly so expected the same good things from the Santa Fe. But does it deliver more to justify its price premium over the Sorento?
The design continues Hyundai's bold styling run, the so-called cascading grille dominating the front end with some rather interesting light signatures. Santa Fe is a little longer and wider now but the wheelbase is unchanged and so most of the interior dimensions are similar, though they say there's a bit more legroom in the second row.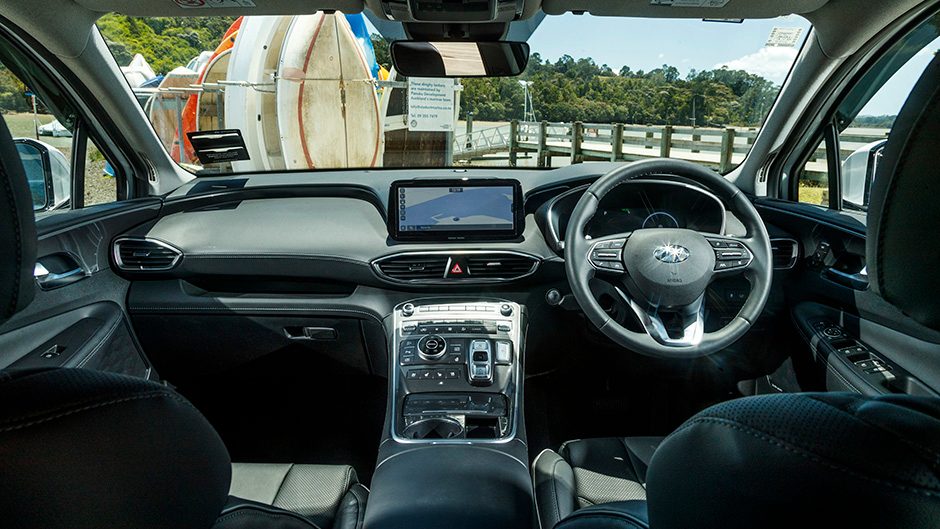 Santa Fe can be had in three trim levels; Entry, Elite and Limited, with the choice of a 2.5-litre petrol four or the 2.2-litre diesel. It starts at $62,990 for the Entry, the Elite is $73,990 and the Limited is $82,990. However, those prices are for the 2.5; the 2.2 diesel demands a $7000 premium. Like the 2.2, the 2.5 petrol models are AWD, the engine making 132kW and 232Nm and gets a six-speed auto, Hyundai rating consumption at 8.7L/100km. The Limited model alone is also available with a 3.5-litre V6 (200kW/331Nm/10.5L/100km) driving the front wheels for the same money as the 2.5. Despite the steep premium, we'd recommend the 2.2 diesel. While it has similar power and torque figures as before (148kW and 440Nm), it's a new unit, lighter thanks to alloy construction and more responsive with revised induction and turbocharging.
It has a new friend alongside in an eight-speed twin-clutch trans. They say it delivers smoother, faster shifts and is more efficient than the torque convertor auto it replaces, sucking less of the drive in its operation. Overall consumption is rated at 6.1L/100km, while the 2.2 models can now haul up to 2500kg braked.
The bones of the new model have been improved with more high strength steel to produce an SUV with a better crash structure while added rigidity helps its dynamic ability. As does a new multilink rear suspension design and front end geometry. These are said to deliver improvements in ride and handling while also removing extraneous road noise.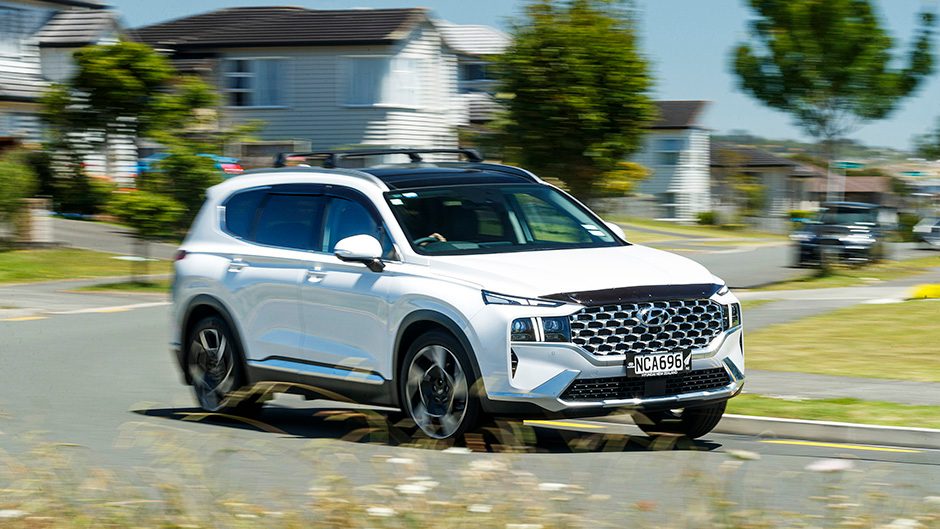 And how does it all manifest on the road? Rather well; this and Sorento would have to be our pick of the big seven seaters at present for their refinement, mix of grunt and economy and a certain dynamism you don't usually associate with a big wagon.
Round town, the Santa Fe doesn't waste time getting up to speed. The twin-clutch ensures a smooth and efficient take off and the diesel is on boost quickly. The transmission can be a little slurry at slow speeds as it eases in the torque, but generally it's a polished operator. And when on inclines, there is no unnerving rollback. It doesn't waste time wondering what gear to be in, especially when you've selected the Smart drive mode. This is the only one you'll ever need, as it switches itself between the eco, normal and sport modes quickly and er, well rather smartly.
The Santa Fe averaged 8.1L/100km in our hands, without much thought to preserving the juice. We'd deem that pretty good considering the size of the thing, and how it gets along. It's a responsive powertrain; cruising at 50km/h with 1500rpm on the dial, it'll pull cleanly, no need for a gear change. Bring everything to bear and the big bus will hit 100km/h in 8.7sec, which is the same time the Sorento lodged, funnily enough.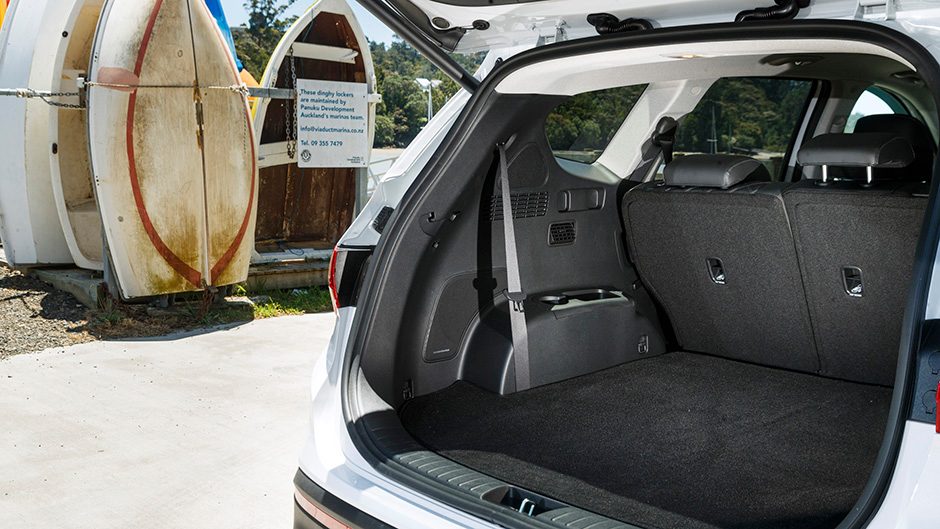 The steering is well conceived, light enough without any weird assistance and the turning circle is okay for a big wagon. Its overall ride has a slight edge to it with the big 20-inch wheels, though competent damping sees decent bumps diffused without undue crashing and bashing. It's pretty quiet too in terms of road and suspension noise.
Santa Fe has the now usual long list of safety widgets, which on the top model includes things like a blind spot view monitor, cameras projecting what might be coming up alongside you, the image temporarily showing up in the digital instrument binnacle. There's also auto reverse braking if the sensors think you're about to back into something, and a remote parking feature, where you can summon or dock the Santa Fe into a tight spot.
The active cruise is your friend in traffic while the lane keeping function is a bit too keen on helping out, but also easily nullified when not required.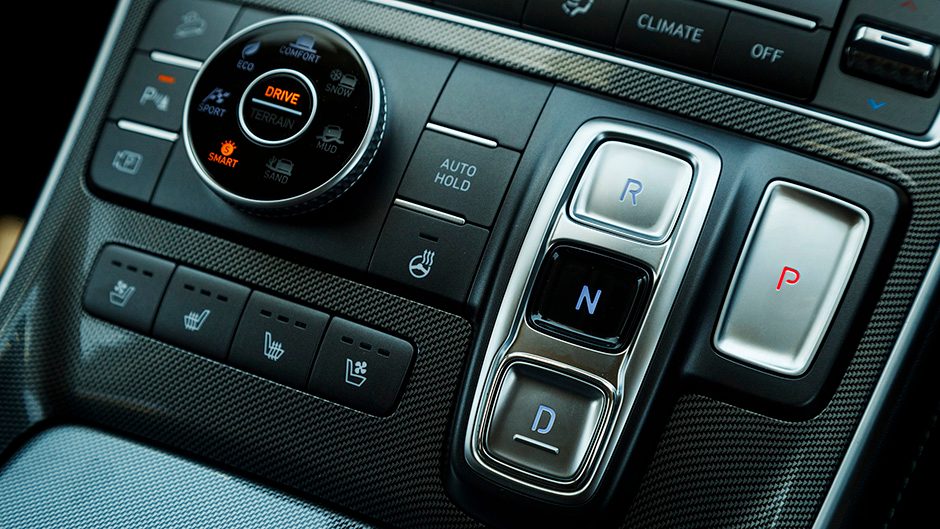 On main highway running, the ride still picks up a few blemishes on the tarseal but it's a sharp driving wagon. You can steer this confidently into the bends, the helm well weighted, blotting the bad stuff yet providing enough feel to help probe the edges of grip. And its adhesion impresses; this is no understeering pig, a trait some immediately associate with the large barge genre. There is diligent body control, but it doesn't thump over the bumps and isn't ruffled by gnarly road surfaces in the bends. This picks its way down a winding road nicely, keeping itself tidy while those inside remain calm. The Smart mode kicks the powertrain along when you've got the throttle down but then settles everything just as quickly when cruising. Helping with civility is a gearbox that's a calculated operator; you'll only be interfering if you use the shift paddles. The engine always seems to be pulling, the low-end torque sufficient that pushing it beyond 3000rpm is only required for a quick overtake. We guess few buyers will worry about that sort of stuff, but know that when you're in a hurry and need to gas it out of an intersection onto the main road, the Santa Fe is going to fire out quickly, and track faithfully as it puts its power down efficiently and safely.
The Santa Fe matches its exterior flash with an equally impressive display in the cabin. It's a pretty swish affair with lavish trimmings and a solid quality.
While most manufacturers are on a mission to eliminate buttons, Hyundai is embracing them. The Santa Fe's console is awash with switches but they make control of the minor functions rather easy, no need to tap, swipe and tap to change the fan speed for instance. There are even push buttons for the transmission. We guess you'd get used to it and they do engage the gears quickly. There's a wide format touch screen providing a clear image for the parking camera which has various angles, including a decent surround view.
They haven't forgotten about the passenger space either, with considered room in the second row. The bench is split 60/40 and is on runners. You'll need to scoot this forward a smidge to give more space for those in the rear, but with a little give and take, everyone should fit well. There's a handy one-touch entry mode for those accessing the rear, the seat on the left tilting and sliding out of the way to allow little people to sneak through. The third row folds easily into the floor to provide plenty of cargo toting space, while in seven-seater mode, there is just enough left over to stash a few sports bags.
This is a great family SUV, but the RRP is up there, especially when compared with that of the Sorento. The Kia starts at $59,990 for the entry-level diesel, the top Premium at $77,990, meaning the Santa Fe Limited, with an all but identical spec list, charges a $12k premium. And the Sorento comes with a three-year/100,000km servicing deal. Clearly some deal making is going to have to happen here. And Toyota's new Highlander hybrid will be along soon too, which might be worth waiting for. But if you can handle the price, the Santa Fe's a top choice.
| | |
| --- | --- |
| Model | Hyundai Santa Fe Limited 2.2 |
| Price | $89,990 |
| Engine | 2151cc, IL4, TDI, 148kW/440Nm |
| Drivetrain | 8-speed twin-clutch, on-demand AWD |
| Fuel Use | 6.1L/100km |
| C02 Output | 160g/km |
| 0-100km/h | 8.80sec |
| Weight | 1960kg |